Searching for the "highest paying plasma donation centers that pay near you?" Here's an extensive list of places where you can donate plasma for money.
Donating plasma is one of the easiest and quickest ways to make extra money. All you need to do is show up at the donation center and sit down for a screening interview. If eligible, then you'll have your plasma drawn out off you. The first plasma donation process takes less than two hours, and you'd be making money basically doing nothing.
But you might be wondering: can everybody make money donating plasma? What are the requirements and conditions to be able to donate plasma? And more importantly, which plasma donation centers pay the most money?
Read on to learn everything you need to know about making money by donating plasma.
What is Plasma and Why Donate It?
Plasma is the largest portion of the human blood, consisting of up to 55% of the blood component. The rest of our blood is made up of platelets, red and white blood cells.
Plasma performs crucial tasks, such as transporting proteins that promote immunity and clotting, carrying sodium to our muscles, and maintaining healthy levels of pH and blood pressure.
Human plasma is an important resource in the pharmaceutical industry as it can't be made synthetically. Plasma donations are used for various forms of treatments and therapies, especially for fatal and rare diseases.
So when you think about donating plasma, you are not only making money but also saving lives. That's the main reason why plasma is called "the gift of life."
Blood Donation vs. Plasma Donation: What's the Difference?
Most of us are already familiar with blood donation, so what's the difference between donating blood and donating plasma?
When you donate blood, you provide whole blood, complete with all its components. Blood donations are often given to patients needing transfusions.
Meanwhile, plasma is a component of the blood. When you provide plasma, you are hooked up to a machine that separates plasma from your blood, and the rest of the blood is returned to your body.
Plasma is then created into therapies and treatments that help with a lot of conditions. For instance, convalescent plasma helps people fight against severed COVID-19 cases. Plasma treatments are also administered to trauma and shock patients, people with certain types of cancer blood clotting deficiencies.
This post contains affiliate links. I may earn a commission at NO extra cost to you for your purchases made through these links. Disclosure.
Who Can Donate Plasma?
Whether you're in a tight financial bind or just want to do a noble act of helping others, you might have wondered whether you can donate or not. According to DonatingPlasma.org, you can donate plasma if you:
are 18 years old and above
weigh at least 118 pounds
tested negative for hepatitis and AIDS
pass the medical examination for donors
It is also essential to inform the plasma donation personnel of the following:
any medication that you are taking,
recent trips or travels
if you have donated blood in the past four months
if you've had sex with the same gender in the past year
and body piercings or tattoos you've obtained in the past year (applicable for specific states).
How Often Can You Donate Plasma?
If you are going to turn plasma donations into a money-making opportunity, then it's important to know how often you can do it.
According to Healthline, donating plasma through Red Cross can only be done once every 28 days or a total of 13 donations per year.
However, a lot of plasma donation centers will allow you to donate more frequently. According to the US Food and Drug Administration, you can donate twice per week, and each donation must have a 48-hour gap.
How to Donate Plasma?
Make sure to prepare the following documents before going to a plasma donation center:
Requirements
A valid photo ID
Social security identification
Proof of residency
The Donation Process
If you are a new donor, you should expect that the donation process for you would be a little lengthier for you than the repeat donors. According to DonatingPlasma.org, this is what a typical plasma donation process looks like:
Present your valid ID at the reception of the donation center.
Fill up a donor history questionnaire.
Go through a health and medical history screening.
If eligible to donate, a needle is injected into your vein to allow the collection of plasma. The process is called plasmapheresis takes place, wherein whole blood is collected, plasma is separated, and the rest of the components, such as your red blood cells, are returned to you.
Claim your payment. A lot of the donation centers issue a prepaid debit card so that you can easily withdraw your compensation.
How Much Money Can You Make For Donating Plasma?
Plasma donor compensation varies depending on a few factors. But according to Money, you can make between $50 to $75 from each donation, depending on your location and how much plasma was collected from you.
First donations are generally paid higher because donors spend some time going through interviews, testing, and medical screenings. Some plasma donation centers could pay as much as $1,000 a month to first-time donors.
Another way to make more money as a plasma donor is to refer others to donate as well. Some plasma centers provide generous referral fees when the person you refer donates plasma as well. So if you are going to scout for potential plasma centers to donate to, check out if they have a referral program.
Easiest Ways to Make Money Online
Highest Paying Plasma Donation Centers Near Me
Looking for the highest-paying plasma donation centers near you? Here are the top options to check out.
1.CSL Plasma Inc.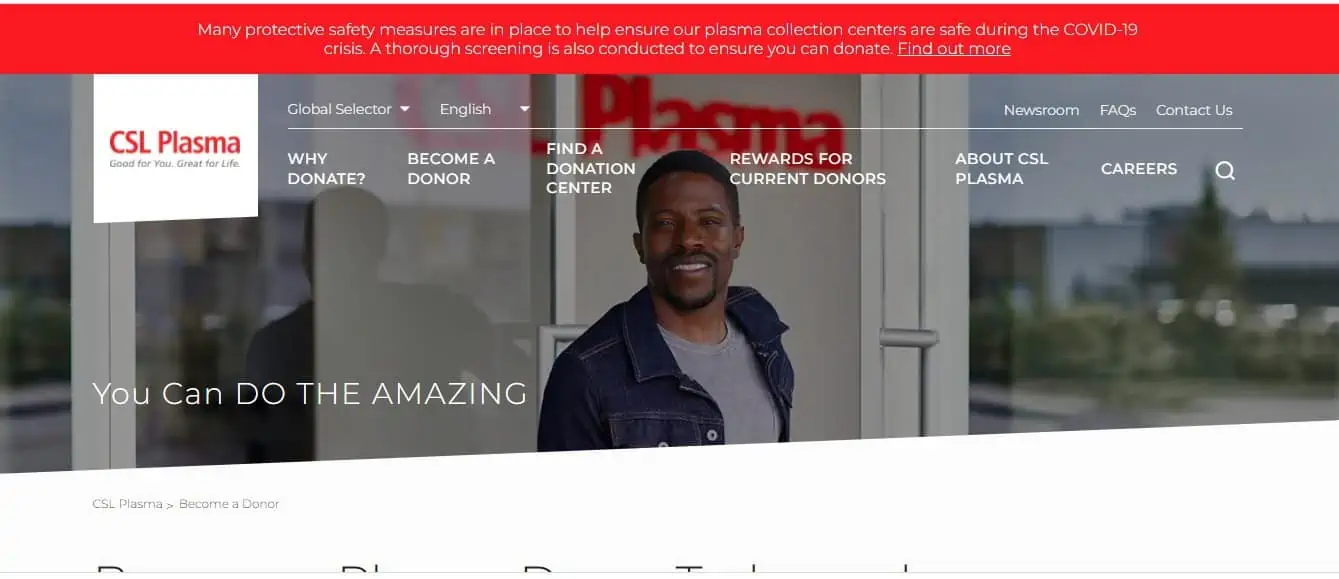 CSL Plasma Inc. has one of the biggest networks of plasma collection centers, not just in the US, but also in Germany and Hungary. CSL Plasma also happens to pay generously, claiming that you can make up around $50 on your first plasma donation and up to $1,000 on your first month donating with them.
There are numerous plasma collection centers under CSL Plasma Inc around the country. You can locate a nearby CSL Plasma donation center by going to their website and searching by zip code.
2. Grifols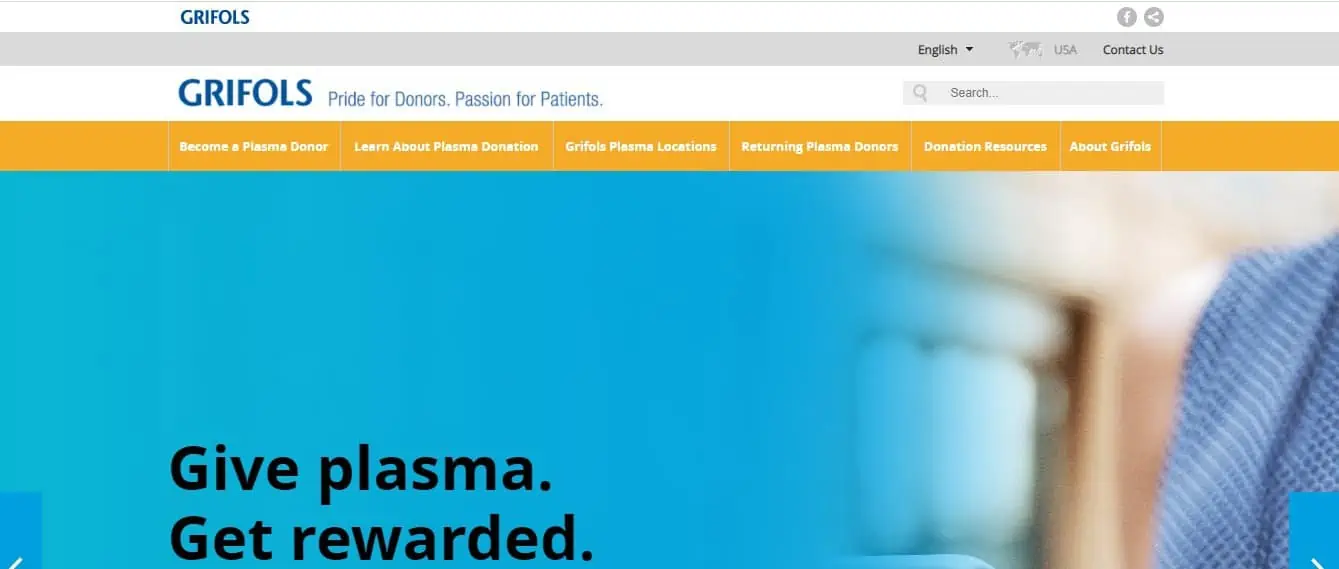 Grifols is one of the most established healthcare companies that pioneered in plasma science. It has collection centers in multiple locations where you can donate plasma. The donated plasma is then used for making medicines aimed to treat chronic, life-threatening, and rare medical conditions.
According to its website, Grifols pays up to $1000 in the first month to those who donate through them. You'll be given a VISA debit card which you use to access payment after every successful donation. But it is important to remember that only repeat donors are eligible to receive payments, so make sure that you return after your first donation.
3. OctaPharma Plasma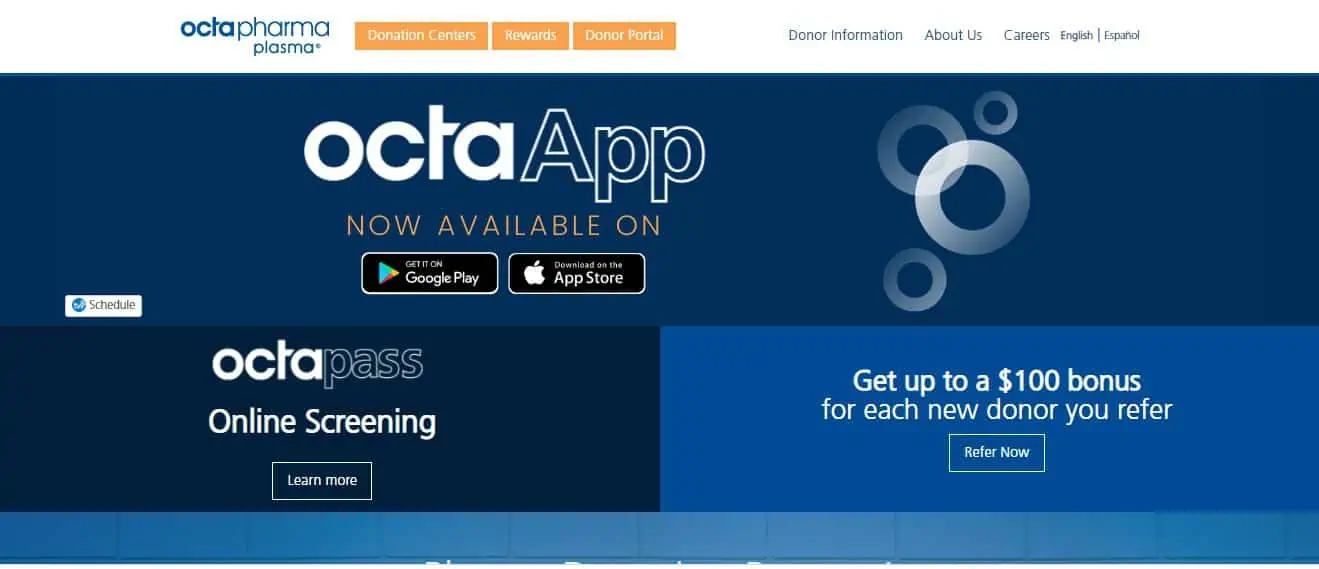 OctaPharma is a company based in the US that specializes in collecting plasma and creating plasma-based medicines. It has over 150 donation centers in various states, so you'll probably find a plasma donation center under OctaPharma near you.
The company does not specify how much you get paid for each donation, as it can vary per location, month, or current donor promotions. But most sources say that you could earn at least $50 when you donate plasma with them. As with their donor promotions, you can win exciting prizes plus extra money, up to $1,000, especially the new donors.
4. GCAM Plasma
GCAM Plasma is a company that specializes in the plasma industry. It has multiple plasma centers located in the country, and all you have to do is go to their website and find the nearest donation centers.
The rates for GCAM plasma donations can vary depending on the donation center, but according to GCAM's website, you can earn between $25 to $30 for every donation. GCAM also runs a returning donor bonus program where one can win cash rewards and prizes.
5. BPL Plasma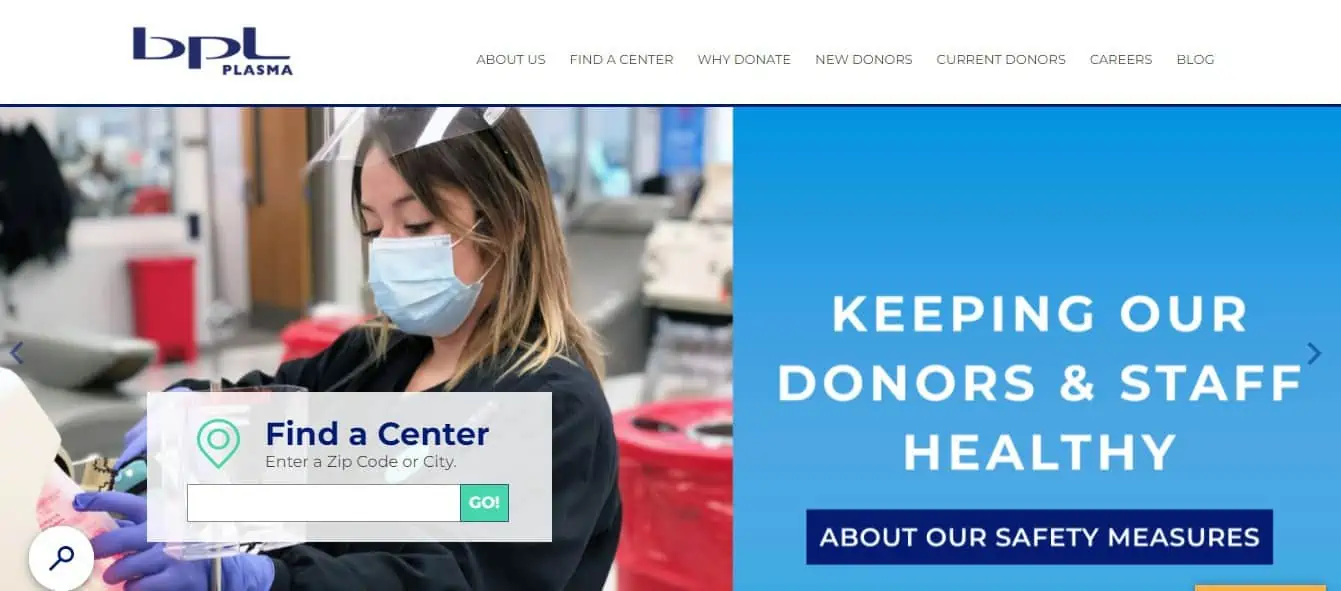 BPL Plasma collects plasma for the purposes of creating high-impact, high-quality therapies for various medical conditions. The company operates in various states in the US, so check if there's a plasma center near you.
According to BPL Plasma, you earn around $300 per month for repeat donations. But you can make more money by referring other people to a BPL plasma donation center. If the person you refer donates plasma, he gets compensated while you earn a referral bonus. BPL Plasma also runs raffles for loyal donors where you can win extra money if you get lucky.
6. BioLife Plasma Services
Biolife Plasma Services is a well-known and established plasma collection company. It runs numerous plasma donation centers in various states, such as in South Carolina, Alabama, Michigan, California, and Utah. The company continues to expand to reach more Biolife Plasma donors.
As for compensation, Biolife Plasma Services says that you can earn up to $900 on the month of your first donation. As these centers will always need more plasma, Biolife Plasma Services gives referral incentives of $150 for every person you refer and donates plasma through their center.
7. ADMA Biocenters
ADMA Biocenters is one of the good-paying plasma donation centers. It pays up to $1000 a month to new donors while returning donors get paid up to $500 per month.
Basically, the first five plasma donations are paid $70 each, plus you get $50 for every person you refer through the body bonus program. A prepaid debit card is supplied to all plasma donors for each access of their payments.
ADMA is also particularly looking for people with the negative blood group, as their blood has important antibodies that prevent certain birth defects and life-threatening illnesses. So if you have the rh negative blood type, your plasma donation with one of these plasma facilities is very valuable in helping others.
8. Biotest Plasma Center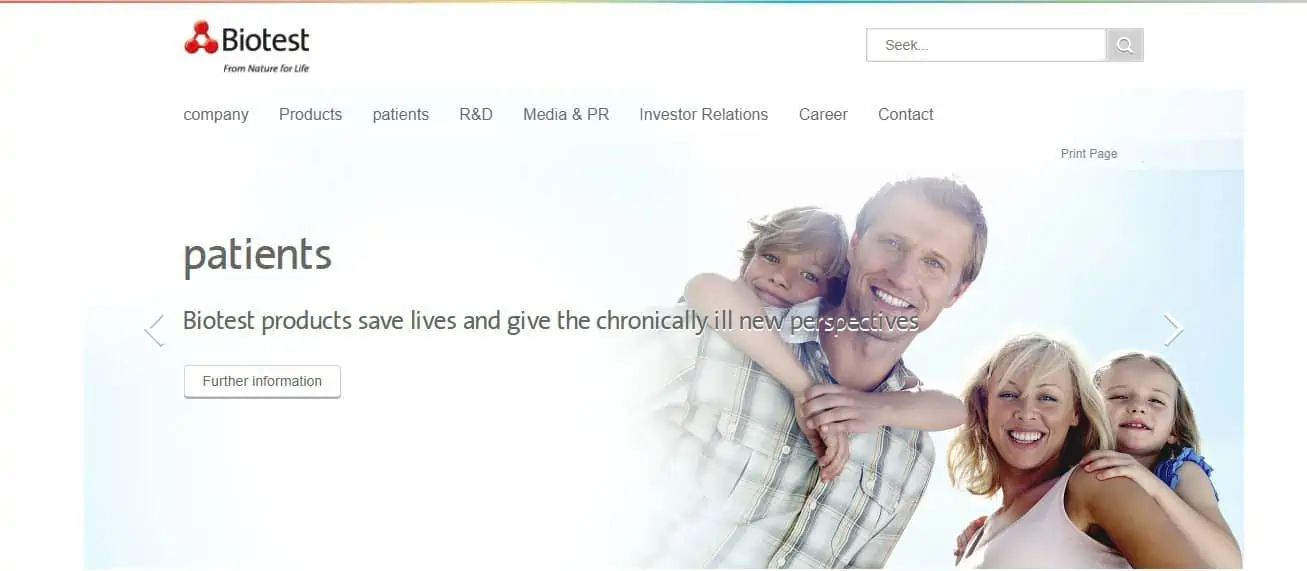 Biotest Plasma Center is a company that produces plasma protein products. Now operating under Grifols, Biotest Plasma Center operates a number of plasma donation centers around the world.
Biotest Plasma Center runs efficient plasma collection from donors in order to create essential treatments and therapies for plasma patients. The company does not disclose how much it pays for every plasma donation, but most sources say that you can earn an extra $400 a month. You can also make some extra money through Biotest's referral program and promotions.
9. Kedplasma USA
If you have rh-negative blood, you can enroll in Kedplasma's Anti D Program. This program aims to collect plasma from the negative blood group to create lifesaving therapies that are essential for unborn kids.
Kedplasma USA plasma donation centers have various payment rates for plasma donors, but most sources say you could earn an average of $400 a month. You also stand to earn more when you through its rewards and referral programs.
10. Biological Specialty Company
Biological Specialty Company has been in the plasma donation for the past 40 years, and it has quite a strong presence in California, Massachusetts, Tennessee, and Pennsylvania. It supplies the scientific community with biologicals like human plasma, blood, and white and red blood cells.
Most sources say that you can make up to $500 on your first donation if you qualify, making it one of the highest-paying plasma donation centers in the country. Plus, you get an extra $25 for every friend you refer to their donation center.
11. B Positive Plasma
If you are in New Jersey and you're looking for places to donate plasma for money, then B Positive Plasma is a plasma center you should check out.
B Positive Plasma welcomes donors of all blood types. If you qualify, you can potentially earn at least $300 per month donating plasma. There are also incentives for new and repeat donors, as well as a referral bonus when your friend successfully completes his second donation. All cash payments and incentives are loaded into a B Positive Plasma prepaid card issued to all eligible donors.
12. Interstate Blood Bank Inc.
Interstate Blood Bank is a plasma donation company that operates in 15 states. You can check if there's a donation center near you by searching on its website. You can also opt to search for a plasma center if you'd like to donate blood or only plasma.
The Interstate Blood Bank does not disclose its compensation for donors. But based on several testimonies on the internet, donors are paid around $50 for their first five donations and $25 to $35 for the sixth to the eighth donation. If you'd like to donate plasma, you can contact a plasma donation center near you and ask for the specifics on donor compensation.
13. Immunotek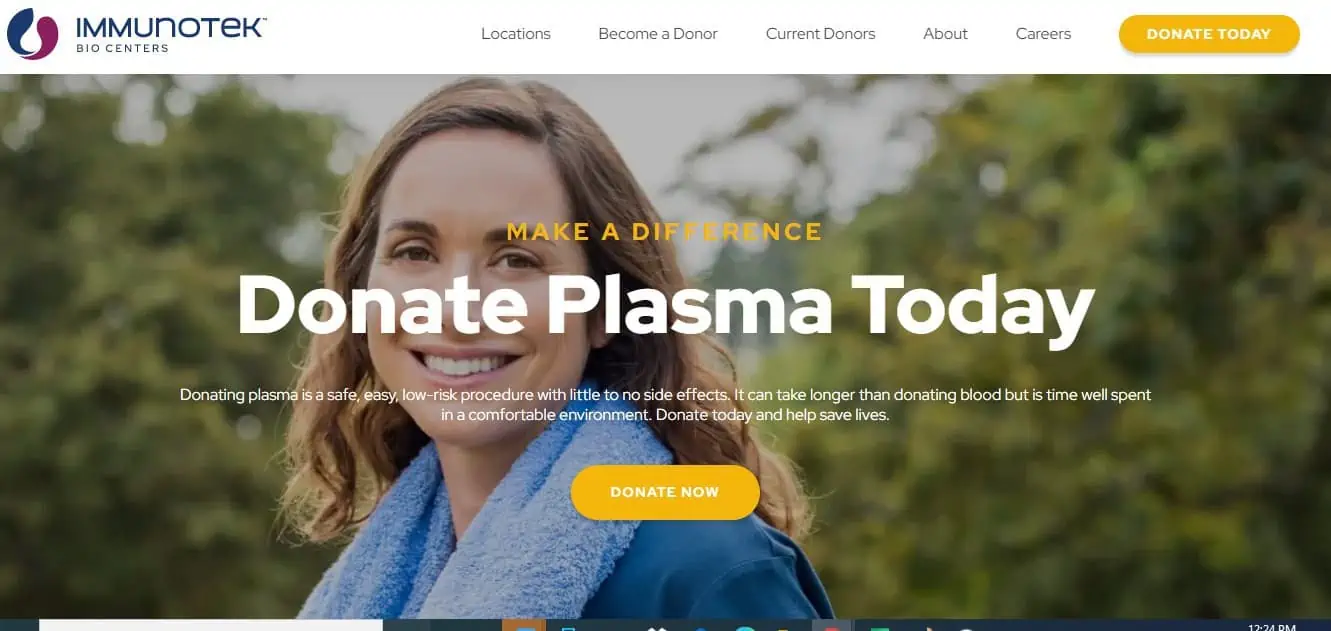 This plasma donation center has a couple of locations in the US. Although it does not disclose how much it pays per donation, most people say that Immunotek's rates are pretty standard with other plasma collection centers.
If you are interested in donating your plasma with Immunotek, you just need to locate a plasma donation center near you. You don't need to make an appointment. Also, you could make some extra cash by inviting another person to donate plasma. You will receive your referral bonus after that person's second successful plasma donation.
14. TrueHealth Plasma
TrueHealth Plasma is a local plasma donation center in New Jersey. While it's not as huge a company as the others mentioned on this list, TrueHealth is a high-paying donation center. It pays $50 for each of your first five successful plasma donations.
You can just walk in to the donation center whenever you're able to donate plasma. You'll receive a prepaid Visa Card where payments are credited.
15. Parachute Donation Centers
Parachute is a plasma donation company that has a fresher take on the donation process. It has an app where potential donors can quickly search for individual plasma collection centers near them. You choose a kiosk, show up, and go through the screening process. If deemed eligible, you can donate plasma and get paid instantly.
The base payment for each donation is between $30 to $40, but you stand to earn more through incentives, challenges, and rewards. For example, Parachute could reward you for picking a less busy time to donate plasma.
16. Scantibodies Laboratory Inc.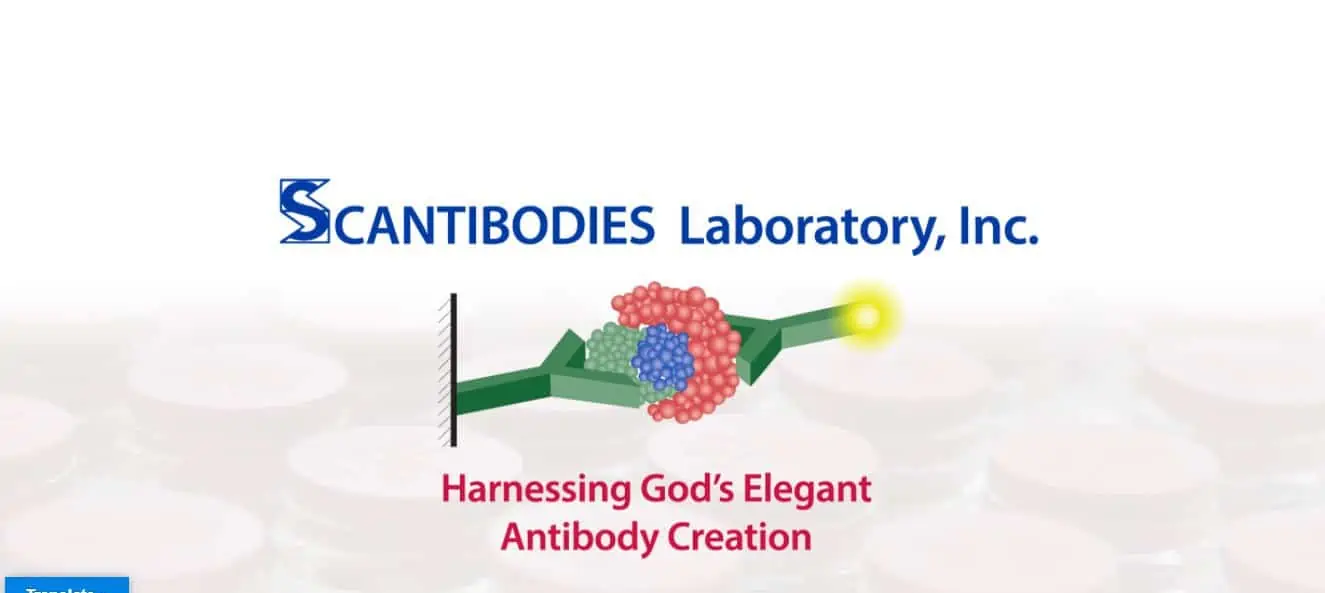 Scantibodies is a company that produces antibodies that would stop the debilitating course of the disease. Among its products is plasma, which is why Scantibodies pay people when they donate plasma.
The first plasma donation pays $40 and the second is $60. The company pays you directly with cash.
17. Hemarus Plasma
Hemarus Plasma is another high-paying plasma donation center where you can potentially up to $800 a month. You could earn more, depending on the rarity of the antibody.
Plasma collected by Hemarus is created into therapies and treatments for various issues, such as for patients who have undergone bone marrow transplants and clotting blood conditions.
18. Blood and Plasma Research Inc.
Headquartered in Texas, USA, Blood and Plasma Research Inc. is a company that collects plasma from human donors and turns this substance into essential therapies that help save lives.
As a donor, you get around $35 for every donation, depending on the characteristics of your blood.
Plasma Donation FAQs
What place pays the most for donating plasma?
There are several places that pay good money for people donating plasma, such as Octapharma Plasma, CSL Plasma, BPL Plasma, and Biotest Plasma Center. Some of these operate numerous centers around the country, while others are locally-based in specific states. You can go online and find a high-paying plasma donation center near you.
How much money do you get donating plasma?
Plasma donation pay varies per center, the rarity of your plasma or blood type, the amount of plasma collected from you, and any ongoing donor promotion of the plasma center. In most cases, the first donation typically pays $50 to $70 while the succeeding donations pay at least $25.
How much does Octapharma Plasma pay new donors?
Octapharma Plasma is a high-paying plasma donation center where new donors can make around $1,000 on their first month.
What blood type pays the most for plasma?
Although plasma donors of all blood types are encouraged to donate, those who have the blood type AB and rh negative blood types make the most money.
Related Posts:
Conclusion
Plasma donation is a noble act that helps a lot of people who battle with immunodeficiencies, rare and life-threatening conditions. By giving up some of your time a few times per week, you're able to help researchers come up with therapies and treatments for many patients.
But not only that, you are compensated for your time and effort. All you have to do is identify high-paying plasma donation centers near you, show up and donate. You can easily make a couple of hundred bucks each month and help save lives as well.
Other Side Hustle Ideas You Might Like
Have you tried any of these high-paying donation centers? What was your experience like?