Best Side Hustles for Moms
One of the most common decisions we, moms, face at one point or another is whether we should stay home with our kids or work outside the home. If you are a mom with small kids, I bet that you also dream of staying home to raise your kids. However, from a financial standpoint you might think that it is not a practical decision.
When I became a mother, I knew that I wanted to stay home with my son. So, I decided to try some of the best side hustles for moms so I could stay home with my son.
And I can tell you this: It is possible more than ever to make money from home or make money online!
With all the work-at-home opportunities available today, becoming a stay-at-home mom does not always mean giving up an income.
I know that working from home is not for everyone but if you see yourself shifting to working from home so you could be with your children, I am here to walk you through some of the best side hustles for moms like you.
I do #1,4 and 8!
---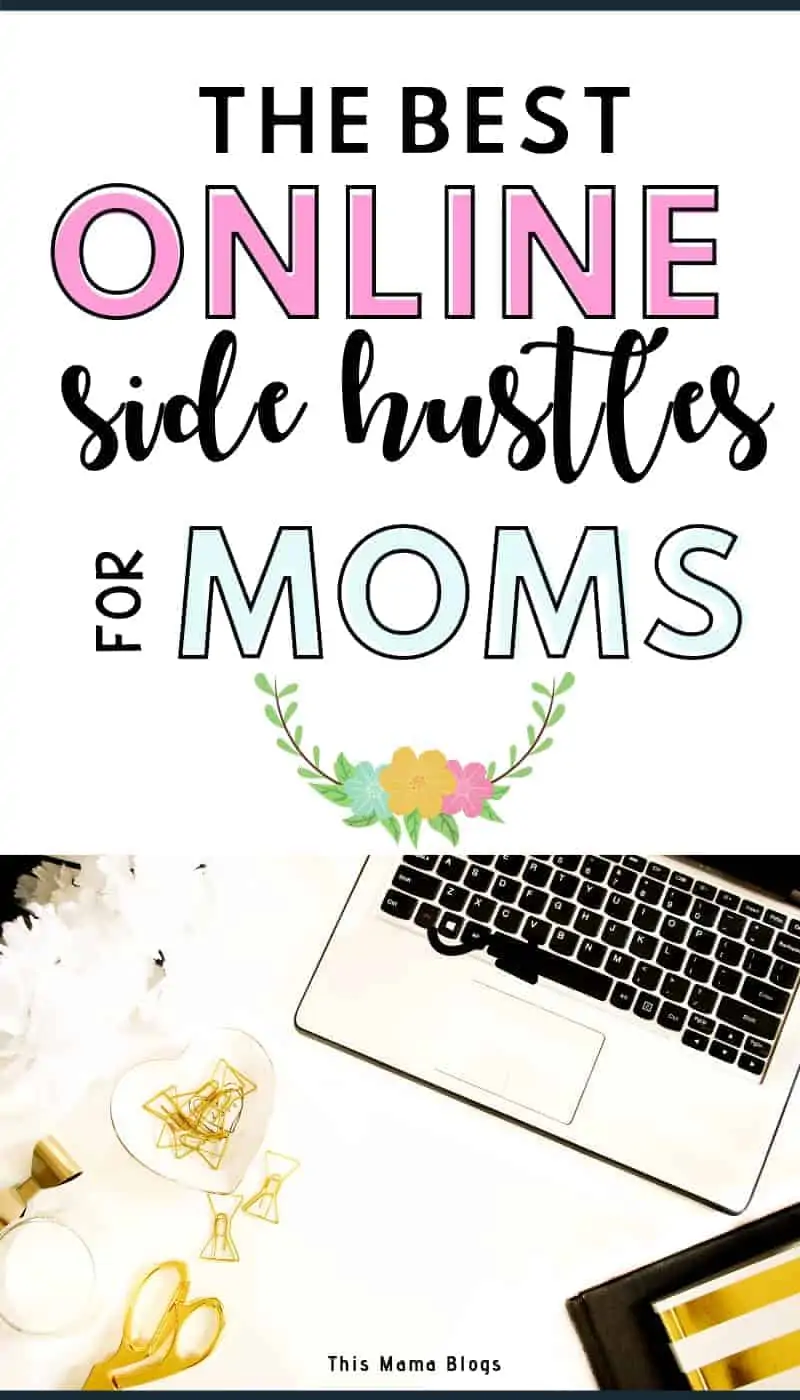 PIN THIS! Or follow me on Pinterest!
1.Freelance Writing
If you like writing, then this might be the answer for you. You can make money as a freelance writer writing blog posts, website content, product reviews, product descriptions and even newsletters for companies or websites.
I currently have a few writing projects going on that pay me to write blog posts for finance sites and product descriptions for Amazon brands. The best thing about freelance writing is that you can earn consistent income through it once you find good long-term projects.
If you're a beginner, head over to sites like Upwork, Elance, and Project4hire. I've tried and earned more than $50k from one of these sites, too! The only caveat to using these sites is that they can be competitive and you'll find more low-paying jobs.
If you want to demand higher rates, I recommend starting a website to showcase your writing skills. Starting your own freelance writer website will help you stand out, get clients faster, and ask for better rates.
Start a Writer Website
I was able to negotiate a special hosting price for my readers. For a limited time, you can start your own freelance writer website with Hostgator for only $2.75 per month.
If you need help with setting up your website with Hostgator, you can also use this easy step-by-step tutorial here.
Related: How to Become a Freelance Writer with No Experience
---
If you want something more stable and regular than week-long or month-long freelancing projects, teaching English online could also be a great option! The best thing about this side hustle is that you can work remotely, from anywhere in the world, and at your preferred time.
English as a Second Language or ESL teachers get paid up to $26 per hour, which is a pretty good rate for also being able to stay home with your kids.
All ESL companies that connect Chinese kids to English tutors have some requirements you have to meet including reliable Internet connection speed, fluency in the English language, or being a native English speaker. Most companies do not require you to have a teaching degree to qualify but may require you to have a degree/certification in any field or at least a proof that you are working towards a degree.
If you don't have a degree, I recommend getting yourself TEFL certified to have a better chance of getting hired.
Top ESL Companies Hiring English Teachers Right Now
There are two companies that come to mind when it comes to ESL teaching.
Vipkid
VipKid is one of the more popular sites where you can make around $22 per hour as an English teacher. To apply to Vipkid, you need to have a bachelor's degree in any field, eligibility to work in Canada or the US, and formal or informal teaching experience such as homeschooling or tutoring.
Magic Ears
Magic Ears is the new kid on the block when it comes to ESL teaching but has been quickly growing. They offer higher rates, up to $26 per hour, and has been aggressively recruiting new teachers. They have also been receiving excellent teacher reviews, which makes this company worth to try if you want to make money teaching English online.
For more information about Magic Ears, head over to the following posts:
---
3. Become a Virtual Assistant
There's a huge demand for virtual assistants (VA) these days. There are lots of companies operating online that need remote workers. As a virtual assistant, you do administrative jobs from social media management, sending out emails to clients/subscribers, to producing content and creating graphics for Pinterest.
Virtual assisting is a lucrative job that pays good money from $20 to $50 or more per hour. I was even able to interview this mom here who's making $100 per hour as a VA.
There is a wide range of services you could offer as a virtual assistant but you could also focus on a niche.
Here are some of the most common virtual assistant services that you can provide to clients:
• Data entry
• Customer service
• Social media management
• Email management and correspondence
• Ghostwriting
• Marketing
• Recruitment
• Appointment setting
• Event planning
• Graphic design
Related
4. Answer surveys
It does pay, yes, but of course, don't expect your earnings to be as high as a freelance gig or even a tutoring job. However, it sure is a great way to earn extra money while raising the kids.. They're also less mentally stressful compared with freelance projects or online tutoring as these surveys generally just require you to share your opinion about products or services.
If want to get paid completing surveys, I recommend the following legitimate survey sites:
This is a fun survey site where you can get paid to answer surveys, watch TV and shop online (through cash backs). Inbox Dollars have paid over $57 million in rewards to date.
You can sign up here to receive the $5 Welcome Bonus. US and Canada only.
For each quick survey you complete, Pinecone Research awards you with a minimum of 300 points. This equates to $3.00 USD. With Pinecone Research, you could earn $12-$15 per hour answering surveys.
The best thing about Pinecone Research is that you will never get disqualified for any survey. Once you are accepted to participate in their research or surveys, the company sends you 1 to 4 surveys that you can complete in 10-15 minutes each. That makes you $12-18 per hour!
Pinecone Research is an exclusive online survey website run by Nielsen, one of the world's top market research company based in New York.
The site is exclusive because you need to be invited and then qualify to join.
You can join Pinecone Research here.
This is perhaps the most well known and trusted survey site and one of the first I've tried. Swagbucks is a search engine, survey company, and cashback site in one. When you answer surveys here, you can earn SB's which you can redeem as cash or convert into gift cards. You can also earn SB's when you make a purchase, use the site for research or watch a video through the site.
Swagbucks currently offers $10 free as an incentive for just signing up.
This company offers up to $50 per survey and a $2 incentive for just signing up. Sign up for Vindale Research and claim your FREE $2 here. For USA, UK, Canada and Australia.
Similar to Pinecone Research, Global Test Market pays you for your opinion about products or for learning about new products before they even hit the market. They pay up to $5 per survey and have paid over $32 million in 2014.
Other legitimate survey sites you can also try:
Related Post
Legitimate Paid Online Surveys to Make $300 per Month
5. Snap some pictures and sell them online
I like including this in most of the posts I write about making money from home mainly because I see the demand for such digital products these days. I myself pay for stock photos for this website!
If you like taking beautiful photos and have the eye for photography, you could definitely make a living selling stock photography.
Imagine if you have 100 members paying $20 per month! That makes at least $2000 passive income every month!
You don't need to have the fancy tools (although it's a bonus, of course!) to get started– just the eye for photography.
---
6. Become a Transcriptionist
If you are not sure what a transcriptionist does, it is transcribing audio or video to text. If you are a fast and accurate typist and have good listening skills, then you have a world of opportunities to work from home as a transcriptionist. Among your potential clients are business analysts, SEO experts, digital marketers and social media marketers.
To learn more about transcribing and whether it is a good fit for you, I recommend checking out these FREE mini-courses:
FREE General Transcription Mini-Course
FREE Legal Transcription Mini-Course
Related Post
How to Make $60k Per Month Converting Audio Files to Text
7.Earn extra cash with your free space
Have an adjacent cottage in your yard, a guesthouse or a spare room in your home? You might also want to consider renting it out on Airbnb. You have full control of who you would like to admit as guest into your home – and it doesn't have to be a long-term rental; you can freely choose when to open your space to guests.
Getting started on Airbnb is free and you basically handle all transactions on their very user-friendly site.
You've probably read this everywhere online but it's because it's a great side hustle that can make you a good living from home. I have tried many side hustles before, and blogging is by far my most favorite and probably the best investment of my time.
I love blogging! I get to share my opinion about topics I deeply care about, so earning from it is a bonus for me!
If you love writing and passionate about certain topics, you could make money blogging about it, too! Trust me, you don't have to be the best writer to make money blogging.
I've stopped writing income reports for a few reasons, but here are some of my first income reports that I wrote to document my blogging journey:
November 2018- How I Made $1937.65 Blogging
December 2018- How I Made $1745.60 Blogging
I'll be honest,though: it takes time and a plentitude of work to start making money from blogging, but I can guarantee you that it is possible! I now make a full-time income blogging and even making more than I ever made from my previous jobs!
If you are interested in becoming a blogger, I have a detailed guide here to help you get started and make money blogging even without experience!
More THIS MAMS BLOGS posts you might enjoy
9. Become a Proofreader
If you are a great writer/proofreader/editor, this side hustle is for you. In 2014 alone, Caitlin Pyle made over $43,000 proofreading part-time. And to help others make money proofreading or learn the exact steps she did to earn a full-time income from this side hustle, she created Proofread Anywhere. 
Caitlyn is offering this 76-minute FREE workshop or introductory course to proofreading. This course presents the perfect opportunity to find out for yourself if proofreading business is for you.

Related Post
How to Become a Proofreader from Home with No Experience
It's true that being a stay-at-home mom is like having a full-time, demanding job. But I've also discovered that there are downtimes too, and it's during these times that I can do something that I like that also doubles as profitable work.
I WOULD LOVE TO HEAR FROM YOU!
Does any of the ideas above appeal to you?