How to Make 200 Dollars in One Day
You've probably asked yourself this before: how to make 200 dollars in one day? I know many of us have.
When I was pregnant with my son, I was asking myself the same thing! I wanted to stay home with my baby, so I decided to seriously look for ways to make money from home. I've learned so many cool ways to make money as a stay-at-home mom. Many of these extra income ideas can even make you $200 a day!
Learning how to make 200 dollars in one day is not only a valuable skill that will help you pay an overdue bill when you lack the cash. It may also help you reach your financial goals faster, and maybe allow you to leave your 9-5 so you can stay home with your family.
Ready to learn how to make 200 dollars in one day? Read on.
This post contains affiliate links. I may earn a small commission for purchases made through these links at NO extra cost to you. Please read my Disclosure for more information.
Make Money Fast without Surveys?
If you want to know how to make 200 dollars fast, I suggest NOT to waste your time with surveys. I know there are many articles online that recommend surveys like Swagbucks or MyPoints to make $200 a day. I've done it and it didn't make me that much money in a day.
But , don't get me wrong. They are still great if you want to make quick money and they even give you $5 FREE for just joining! But there is no way you can make $200 a day with these sites.
There are other fantastic ways to make extra money and it only often takes some skill, your spare time and perhaps a little investment to get your money-making machine rolling.
When you find something on this list that you think you can do well, learn the skills needed for the job, and invest in education and tools to succeed. The good thing is, there are even FREE online courses and education that will help you get started!
Let's dive into some of the best ways to make $200 fast! No matter what your skills are, I believe you can find something here that will work for you!
---
How to Make 200 Dollars in One Day
1.Start a Blog
How to Make 200 Dollars in One Day with Blogging
One of the best ways to make $200 or more in a day is starting your own blog. It's one of my most favorite stay-at-home mom jobs because you work completely on your own schedule and it can generate a full-time income.
With a blog, you can make thousands of dollars in a month through display advertising, affiliate marketing, sponsored posts, selling your own products and more!
Setting up a blog is easy and cheap (best price here!), and it doesn't require high-level technical skills to manage and maintain a blog.
But here's the catch: it does take time to grow a blog. I started this hobby blog in January 2018 and it took me about 10 months to start making a good amount of money from blogging.
You may not make $200 right away if you started your blog today, but you could be making that much or more in a few months depending on how much work you put into it.
How to get started
If you are interested in blogging, I have an in-depth blogging guide here to help you start your blog and make money.
Related: 15 Inspiring Hobbies that Make Money
---
2. Make $200 Fast by Cancelling Subscriptions
You can make 200 fast by just creating room in your budget. How? Get rid of your unnecessary subscriptions to bring down your bills by using this app called Trim.
Trim works like a personal finance assistant because it aims to help you save money by looking into your spending. It spots subscriptions that you don't use and cancels them for you. It also negotiates your Comcast bill so you can pocket even more money.
Obviously, you won't make $200 consistently every day using Trim but depending on your subscriptions, it might help you put hundreds back into your pocket per month.
How to get started
---
3. Deliver Stuff
Most of us know how Uber and Lyft works. Basically, you drive people in your car and make money for taking them to their destination. But did you know that you can use your car (or your bike or go on foot) and make money by delivering orders?
Working as a package or food delivery driver is a flexible side hustle idea that can make you up to $25/hour plus tips! What's even great about it is that it allows you to work whenever you want and need.
And it's a growing industry! More and more companies are looking for delivery drivers today.
If you are interested in this side hustle idea to make $200 a day, check out these companies hiring delivery drivers:
Postmates is a service platform that pays you to deliver things like retail items, groceries, and more to its customers.
When you start with Postmates, you'll get a delivery bag and a prepaid card which you use to purchase customers' orders. You can get paid every week, or if you need to get $200 fast, you can opt for instant deposit.
The average rate for delivering for Postmates varies depending on your location, but most of them start at $11/hour, plus tips that you can keep 100%.
You can apply to Postmates here!
Related: Postmates Driver Review: Is Postmates Worth It?
DOORDASH
As "dasher" for Doordash, your primary job is to deliver take out orders of customers. This is how it works: people go to the Doordash site or app and place their orders from their preferred food service provider or restaurant. You will see these orders from your end as well, and pick the ones that you'd like to deliver.
This job offers immense flexibility as you'll decide when to work and for how long. In many cities, dashers can earn around $25/hour, plus tips.
You can apply to Doordash here!
---
4. Make $200 Fast with

Airbnb
A lot of people are now looking into Airbnb accommodations over pricey hotel rooms.
If you have one or several vacant rooms at home or even a second property that you can rent out to others, you might want to prep it up and get it ready for occupancy to make quick money! You can make $50, $100 or even $200 per day depending on your property's location and the amenities it offers.
What's so fantastic about renting out spare rooms, or even an entire house, via Airbnb is that your listing gets good exposure with millions of travelers using Airbnb each year! The Airbnb app also streamlines the entire booking process so that you can focus your attention on making your unit marketable.
If you could get your space rented out for at least a couple of nights a month, you might make enough to cover your mortgage and maintenance.
How to get started
You can check out how much properties in your area are earning via AirBnb and list your property here!
---
5. Get paid to proofread
Proofreading is another great way to make $200 fast from home. If you have an eagle eyes for errors in syntax, spelling, grammar or sentence structure, you can easily make money as a proofreader.
There are millions of websites and probably thousands of business owners or eBook writers who need your skills. This industry alone is a gold mine for proofreaders, but there are also many other fields where you can score high-paying proofreading and editing jobs.
Proofreaders make an average of $44,000 per year and you can even make more with a freelance proofreading business or if you specialize in legal proofreading.
Real-Life Story: From Unemployed to a 6-Figure Earner
After getting brutally fired, Caitlyn Pyle decided to start a freelance proofreading business from home to keep the lights on at home. Within that year, she earned over $40,000 proofreading part-time. Proofreading became her primary source of income in 2012, 2013 and 2014.
In 2014, she created her blog Proofread Anywhere to share her passion for proofreading, along with the most comprehensive proofreading training program to teach you the skills you need to make money proofreading like she did.
Her online business has exploded since then and she earned over $1.5 million in only two years!
If you want to learn how to become a proofreader, attend Caitlyn's 76-minute FREE proofreading workshop by clicking here!
Related post: How to Become a Proofreader from Home with No Experience
---
6. Make $200 in a Day Selling Stuff
Wondering how to make 200 dollars in one day without a real job? Take a tour of your home, collect the things that you don't need or have in multiples, and sell them. Remember that one man's trash is another man's treasure.
You can even sell most stuff that you no longer use, such as electronics, gym equipment, books, clothes, shoes, toys, and so much more.
How to get started
Once you've rounded up the things that you can put on sale, set up a garage sale at home or take them online. Some of the best places to sell these things online are:
Decluttr – sell old electronics, CDs and DVDs, books and more!
Poshmark – sell used name-brand clothing
Facebook Marketplace – sell anything
Craigslist – sell anything
---
7. Tutor Kids
We probably all have knowledge and skills that we can teach others to make money. So, how about banking on your expertise?
If you are quite an expert on a particular subject or have a passion for teaching, tutoring can be one of the best ways for you to earn money fast.
There are several companies and agencies that are always hiring tutors. Their requirements can vary. Some companies require certification and teaching degree, while others only require a teaching experience with kids.
Online tutors generally have a base pay of $12/hour, but it could go up if you book more classes. Some tutors teaching advanced subjects can earn upwards of $50 an hour.
If you're already a native English speaker and are passionate at teaching English, you can earn $22-$26/hour as a beginner by teaching English for the following companies:
Related Post
---
8. Flipping Items
My husband used to do this and I think it's one of the easiest ways to make money 200 dollars fast. If you are passionate about picking and thrifting, then this is the gig for you!
To start, go to the free sections on Craigslist and find free stuff people are disposing of. If the item is still in excellent condition or you can still restore the item, pick it up and restore it to sell for a profit.
Alternatively, you can scout for items you can flip at garage sales, consignment shops, thrift stores, and flea markets.
The best part about flipping items for profit is that you don't need to have a sales background or prior experience flipping. You just need to learn what you can buy and sell that will make you money, and where to sell the items quickly.
Real Life Story: How Rob and Melissa Makes $100,000 per Year Flipping for Profit
In 2016, Rob and Melissa decided to work on their reselling business full-time after their third child was born. They made $133,000 in sales their first year full-time!
They quickly grew their reselling business and since 2016, they've been making over $100,000 in profit per year!
They founded The Flipper University to share their passion and livelihood and teach people how to create a profitable reselling business quickly.
"Because of flipping, we not only make enough money to do this full time, we also have a lot more time to spend with our three kids," Rob said.
If you think reselling/flipping is a perfect fit for you, sign up for this FREE workshop created by Rob and Melissa to help you make cash from your clutter in the next 14 days!
---
Want to learn how to flip money instead? Check out our list of legit ways on how to flip money!
---
9. Babysitting
If you're reliable around kids and you enjoy spending time with them, you can make babysitting an excellent side hustle. Not only does it pay quite well, but it also allows you a significant level of flexibility.
You can get started working as a babysitter by offering your services to people you already know. Another great way to find babysitting jobs near you is to sign up with babysitting platforms like Sittercity.com and Care.com.
How much you earn from babysitting depends mostly on many things – your area, your experience, the age of children, etc. Generally, brand new babysitters can make around $10 per hour.
You can increase your rate as you gain more experience and take on extra work during on-peak seasons (valentines, holidays, or offer additional services like cleaning.
---
10. Pet-sitting with Rover
How to Make 200 Dollars in One Day as a Petsitter
Those who like their furry creatures might as well make money by taking care of other people's pets. This is easily one of the best and fastest ways to make $200 a day.
After all, pet-sitting is now an ever-growing industry, and there's always a demand for pet-sitters. Pet-owners will, at one point, need the services of a pet-sitter, whether they need to go on a weekend trip or can't walk their dogs for any reason.
You can start a pet-sitting career by signing up with Rover, a platform that connects pet-owners and pet-sitters. If you take this gig seriously and work a couple of hours each day as well as the weekend, you can make $200 fast.
The best thing about this side hustle is that you can take care of a few dogs at a time, thus increasing your income.
---
11. Virtual assistance
If you have some administrative and business-related skills, you can work as a virtual assistant. But how to make 200 dollars in one day as a VA? First, you should know which skills you want to market. Ideally, these skills should be essential in helping your clients run their businesses.
For instance, if you have an e-commerce client, skills in Amazon and Shopify listing and customer service would come in handy. You may also be assigned to do other tasks, such as setting appointments, making calls, managing email, calendar management, data entry, social media management, content production, and more!
You can score clients on various platforms, such as Upwork, Fiverr, and Outsourcely.
Alternatively, you can work as an independent contractor and acquire clients directly (without platforms serving as middlemen). If you have an outstanding portfolio and excellent negotiation skills, you can earn a nice income with virtual assisting.
If you want to get serious, check out Gina Horkey's comprehensive VA course Fullybooked VA. She also has a free video training here that will teach you how to get 3 clients in 3 days!
Related:
Best Work-at-Home Jobs that Provide Equipment
How to Make an Extra $100 a Week Effortlessly
---
12. How to Make $200 Fast with Cash Back Apps
If you want to know how to make 200 dollars in one day without having to work for it, try using cash back apps! You may not consistently make $200 a day with this option but it could make you money quickly for doing things you normally do such as shopping.
But how to make 200 dollars in one day with cash back apps? Take advantage of their referral program and refer friends to earn referral fees!
I've earned over $1500 from these two apps below:
Ibotta (Receive $20 Sign-Up Bonus + Referral Fees!)
Ibotta is a cash back app that pays you for buying grocery items such as toilet paper, meat, canned goods, detergent and more. I've made over $800 in cash back and bonuses for simply taking a picture of our weekly grocery receipts via the app.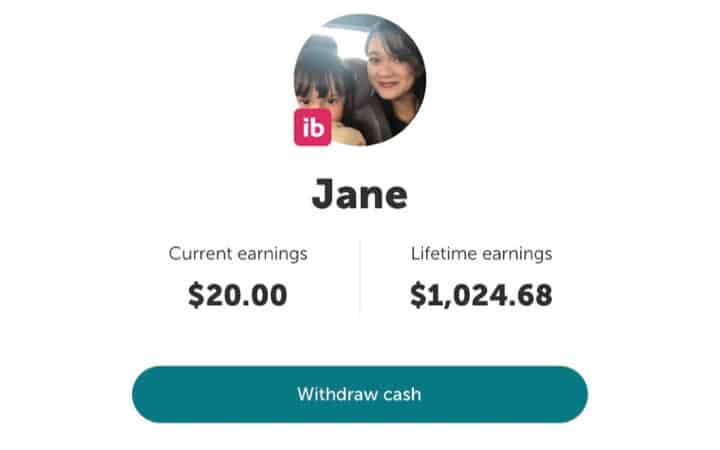 A bonus? Ibotta will give you up to $20 free for just trying the app, plus $5 or more (depending on the bonuses they offer during the month) per friend that signs up through your referral link. You can do so by tapping "Invite Friends" on the app. Check it out here!
To learn more about Ibotta, read my Ibotta Review here!
Rakuten (Receive $10 Sign-Up Bonus + Referral Fees!)
If you constantly shop online, then you would probably love this rebate app! It pays you cash back for your online purchases at over 2500 partner stores, which include Amazon, Best Buy, Macy's, Apple, JcPenny and even booking sites.
Rakuten offers up to 40% cash back and also pays you $25 per friend you refer to Rakuten. How to make 200 dollars in one day with Rakuten? Simple use it when you shop and earn $25 per friend that signs up with Rakuten. You'll need
---
Final Thoughts
There are so many opportunities on how to make 200 dollars in one day. Whether you find yourself in a tight spot or need to bump up your earnings, consider these fantastic ways to make $200 fast. Most of them are flexible, require little zero to little investment, and earn pretty good if you take them seriously. So if you need some easy ways to increase your income fast, these jobs are great ways to do it!