Dollar stores have been a staple in the lives of many people for decades. These are places where you can find everything from home goods to food items, all for a dollar or less. But what if I told you there was an even better option? Online dollar stores offer the same low prices but with none of the hassle! There's no need to drive anywhere when your favorite products are just one click away!
There are more than 30, 000 dollar stores across the US, and it's highly likely that you have one in your area, but if you prefer to shop online, check out these online dollar stores instead!
How to make the most of your money from online dollar stores
Online dollar stores aren't created equal. Most of them stay true to their name, offering goods at $1 each while there are others that sell at 99 cents. Meanwhile, there are dollar stores that sell for a much higher price. But in general, online dollar stores are cheaper than established retailers and big box stores.
Although online dollar stores are already crazy cheap, that doesn't mean you can't get even more savings. Here are some useful hacks when doing your dollar stores online shopping.
Compare prices
When you shop at different online dollar stores, you'll find that the sizes of the same product vary. It helps to do the math and compare the products per-unit price of dollar items online to find out which ones are the cheapest.
Purchase in bulk
Another nifty way to save money when shopping at a 1 dollar store online is to stock up on your frequently purchased products. Buying in bulk often saves you more money than buying one or two items at a time. And since you'll be shopping online, it could help save you money on shipping fees too.
Stock up on seasonal products
When you shop at a dollar store online, you'll find that there's an endless supply of seasonal products, such as pumpkins for Halloween, Santas for Christmas and bunnies for Easter. These products are pretty common in style and design, but they make cheap decors for an office Christmas party, for instance. And if you're one with crafty hands, you can purchase lots of crafts materials from one dollar online store and then make your own seasonal decors.
Use coupons
Using coupons when you shop dollar stores online is a fantastic way to save more money. You can find most coupons on the websites of these online dollar stores. Some stores may also accept manufacturer coupons. So, before you shop around, try to find applicable coupons first.
Related:
Best Coupon Websites to Find Amazing Deals in 2021
Frugal Living Tips from the Great Depression
No Pressure Money-Saving Challenges for 2021
Top 10 Online Dollar Stores
This post contains affiliate links. I may earn a commission at no extra cost to you for making a purchase through these links. Read my Disclosure for more information.
When it comes to one dollar store online store shopping, Dollar Tree is probably one of the most popular. There are more than 15,000 Dollar Tree physical stores in the US and some places in Canada, so it's pretty well-known among most people.
Dollar Tree is popular as everything $1 online store also offers products at $1 each across various product categories such as seasonal products, school supplies and household items. Dollar Tree is also notoriously known for cheap party supplies such as balloons, disposable plates and cutlery and table cloths.
Dollar Tree has a free in-store pick-up wherein you can choose a nearby Dollar Tree store to get your orders from. You may have your orders shipped to your address with applicable shipping fees.
Dollar Fanatic is a crowd favorite among savvy shoppers. While it does not sell everything at $1, its prices are hard to beat. Most of the items found in the store sell up to $10. It's like a hybrid for a dollar and wholesale store, making it a fantastic destination for savvy shoppers.
Looking beyond the typical $1 products, Dollar Fanatic carries some amazing deals, such as the 10 for $11. It means you can purchase any ten different products and get one free for only $11. The store also regularly offers 50% deals on select products.
Shipping is free for orders $35 and above.
Dollar Store is another popular destination among bargain hunters, thanks to its massive inventory of products in various categories, ranging from home products, toys, cosmetics, and many others in between.
Dollar Store is quite straightforward in its pricing in that it doesn't entertain coupons or cashback programs. Nonetheless, you'll get the products at such affordable prices, especially if you purchase in bulk.
As for shipping, Dollar Store offers free shipping for transactions that are $25 or higher. All products are shipped from Southern California.
Dollar General is perhaps the closest contender for Dollar Tree in terms of a number of physical stores with over 16,000 stores across the US. But unlike Dollar Tree where every item costs a dollar each, Dollar General sells merchandise between $1-$7. But that isn't so bad because Dollar General is known to provide hefty discounts, coupons and rebates.
If you're a dollar store fan, then you should download the DG app which gives you discounts for your purchases and alerts you of upcoming sales and available coupons. You can also use browser extensions like Honey to find legit coupons that apply to the products in your cart.
Dollar General provides free shipping for orders $25 and up.
MISS A is the dollar store for women. Established in 2013 by Jean Baik and her husband, MISS A was supposed to be a fun hub that helps women find great but cheap cosmetic products. The company later expanded its product offerings, which now include jewellery, skincare and hair accessories. It's even more admirable that MISS A's products are cruelty-free and FDA-approved, so you are sure that you can use their lotions and soaps with ease.
Like Dollar Tree, MISS A is an everything 1 dollar store online. You might find curated kits that cost more than a dollar, but still far cheaper than buying them individually elsewhere. Miss A ships from Texas to the rest of the US, and even internationally.
Shipping is free for orders $35 and above.
Dollar Days has been around for the past 20 years, and it has managed to establish itself as one of the most established online dollar stores nowadays, primarily serving nonprofits, charities, and other organizations. It has a wide selection of products, ranging from hygiene kits, outdoor toys, kids' clothing, office and school supplies, and more. Most of these products are purchased wholesale and distributed during fundraisers.
So if you're looking to purchase in bulk, whether you're an individual or a member of an organization, Dollar Days is an excellent choice. You can find numerous items at bargain prices.
The downside is that you need to reach at least $499 to enjoy free shipping. However, the site has a free shipping discount from time to time.
Dollar King prides itself as a one-stop-shop for your needs, may it be for fashion, personal care, party needs, crafting and more. It is widely known for offering products at $1.99 or less.
Dollar King has a couple of on-ground stores in the US, but if you want to shop with convenience, you should just go to its online store. The online store is pleasantly designed per product category so it's easy to locate whatever you need. If you're looking to save more money, you ought to check out the Promo of the Week.
Unlike other online dollar stores that require a minimum amount for free shipping, Dollar King requires you to purchase 15 or more items to enjoy this perk. Apart from that, the store also offers several payment methods and a 100% money-back guarantee.
Bulk shoppers swear by the deals of H&J Closeouts. The store was established 30 years ago, and it has become a popular destination for bulk purchases, selling to both small and big stores, even Amazon and eBay. So if you need something in large quantities, H$J Closeouts should make it to the top of your list.
H&J Closeouts is popular for selling products in bulk, as most, if not all of their items are sold by the case. Running the math, each item would cost $0.05 at the very least. For instance, the rubberized metal pen costs $0.35, and a case of 200 pieces is only $70.
H&J Closeouts sell products in various categories, including baby, apparel, school and office, crafting, holidays, electrical and more. It also has sections for specific deals, such as the one-dollar deals, 50 cents and 15 cents deals to help you find the cheapest products the store has to offer. Shipping is free within the US.
The 99 Cents Only store started out as a small liquor store way in the 1960s, selling liquor at only 99 cents. Proving that this pricing scheme is such a hit, the store grew its inventory and included name brand product. What didn't change through these years is that all items are still $0.99.
Right now, the 99 Cents Only online dollar store has become premier shopping destination among frugal consumers. The store carries a massive inventory of products, from beers and wines, cleaning supplies, seasonal supplies, home goods, pet products and more. And quite amazingly, their stores offer fresh products too! Who would have thought you could buy apples, bananas and red bell peppers from an online dollar store.
Unfortunately, 99 Cents Only does not ship to your residential address. You could shop online and have the good delivered to the branch near you. Buying in bulk entitles you to free shipping.
For the frugal fashionistas, this is the online store for you.
RoseGal is not exactly a $1 online store in that it doesn't sell products at a dollar apiece, but there are so many cheap deals that you would not find in other online fashion stores. There's the Deal Zone where you can find fashion products at $0.99, and flash deals where you can save serious money.
RoseGal is home to numerous fashion products, including tops and bottoms for men and women; swimwear and intimate wear. The store also sells plus size clothing for curvy women.
You can use coupons to deepen your savings. All new RoseGal members get to enjoy $110 off from their first purchase. Shipping is free for orders $59 and above.
---
Conclusion
If you want to save money on various products, especially seasonal decors, party supplies, arts and crafts, and school and office products, these online dollar stores are the way to go. And instead of going in person, you can do dollar store online shopping at the convenience of your home. You can have your goods delivered to the nearest branch for pick-up or right on your doorstep.
How do you do your dollar shopping online? Do you have tips to save more money and catch more deals? Let's connect in the comments.
---
Looking for More Ways to Save Money?
Use Ibotta to earn cash back on items you regularly buy at the grocery store, such as milk, bread, vegetables, fruits, meats, toilet paper, toothpaste, medicine, or yogurt.
I am an Ibotta user, too, and I've earned over $1000 in cash back and bonuses by using the app! Check out Ibotta here!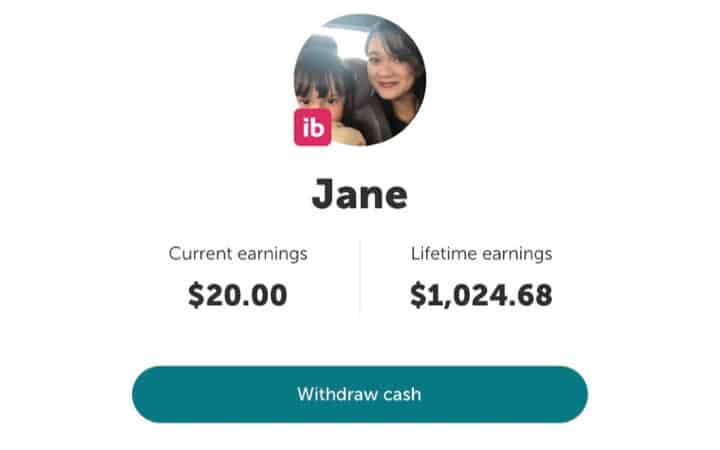 USE RAKUTEN WHEN SHOPPING ONLINE
Rakuten is a FREE app or site that pays up to 40% cash back for your online purchases at any of Rakuten's partner stores. The company is affiliated with over 2500 stores including Amazon, Macy's, Apple, and Best Buy.
I highly recommend signing up with Rakuten if you always buy things online. You'll also receive a $10 welcome bonus when you sign up here and make your first $25 worth of purchases.
I've also earned over $1000 from Rakuten so it's legit. If you want to learn more about Rakuten, check out my Rakuten Review here.