Welcome to my Income Report for December 2018!
December was a lazy month for me. I spent lesser time on Pinterest and only worked for around 40 hours blogging so I could enjoy the holidays with my family. Despite my absence, my blog still performed well and generated some income which is cool.
But, due to my longer-than-usual blogging break, there are a lot of things I have to catch up on this month. So let's get right into the numbers!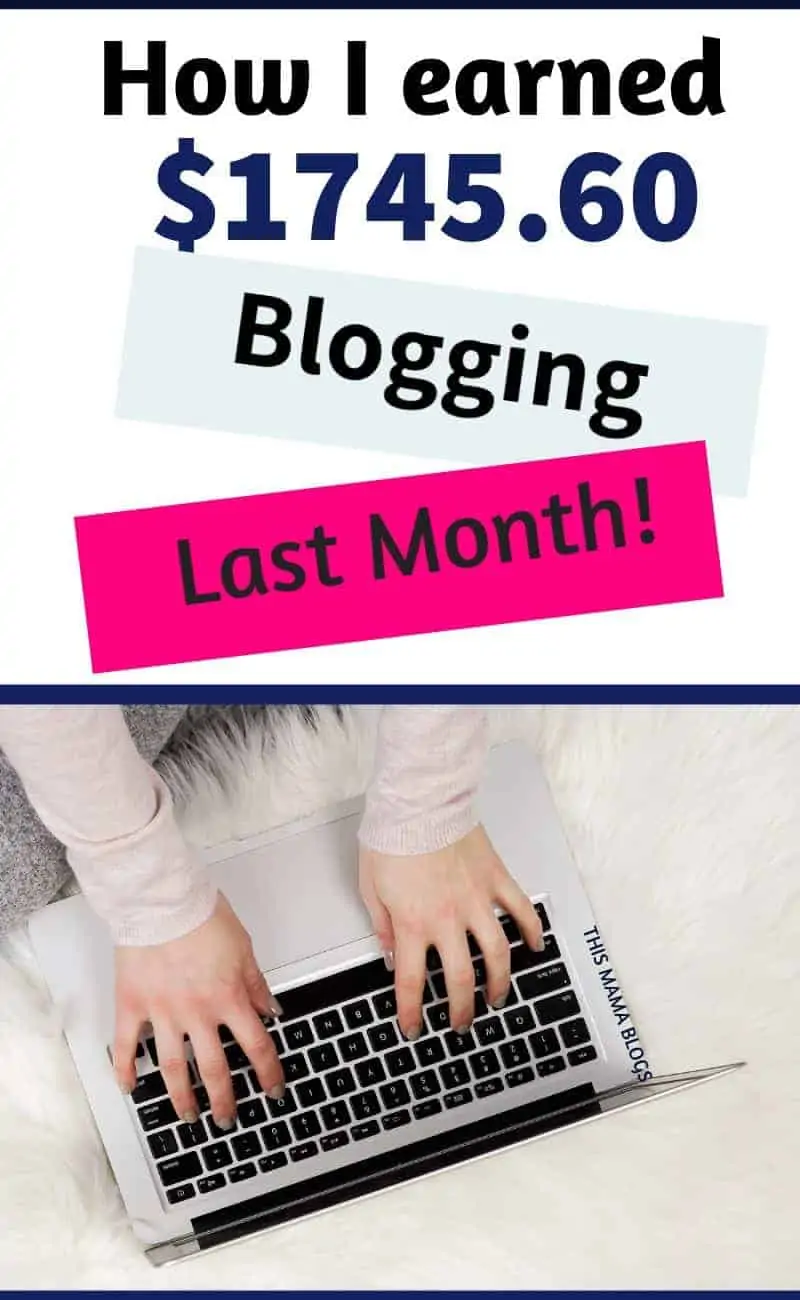 Psst…If you care about why I publish my blogging income, you can read my reasons in my previous income reports. Seriously I got tired of repeating it here today so check out these posts below if you want to know more about why I publish my blogging income:
*This contains affiliate links. Please see my Disclosure for more information.
Income Breakdown
| | |
| --- | --- |
| Mediavine | $1,348.19 |
| Ibotta | $60 |
| $5 Meal Plan | $75.90 |
| Ebates | $25 |
| Amazon | $192.16 |
| Flexoffers | $4.50 |
| Awin | $17.60 |
| Igain | $3 |
| The She Approach | $19.25 |
| Total | $1,745.60 USD |
Some proofs
Note: This is income before expenses and since Mediavine's payment cycle is NET 65, I won't get paid for my December ads earnings until March. Also, my income is in US dollars.
Don't have a blog and want to give blogging a shot? You can start your own blog for cheap, for only $2.75 a month through this link. This site is hosted by this same hosting company which I've been with since I started blogging. They can also help you set up your own blog in less than 15 minutes.
Income Analysis
My blogging income dipped a little from $1,946 to $1,745.60 mainly due to a decrease of around $300 in my Mediavine earnings last month and I believe it was because of the expected drop in RPMs near the end of December and into the 1st quarter. You can learn more about it here.
The good news is that my affiliate earnings has been improving since I took this affiliate marketing course and last month I made $397.41 in affiliate income from $262.35 in November. Not a big increase but I am happy to see that it keeps increasing each month and the strategies I've learned from the course are working. So overall, my income in December only dropped by $192.05.
Still, a big portion of my December earnings was from ads and I am so grateful that I was accepted into Mediavine. Otherwise, my income wouldn't reach the $1k mark! Thank you, Mediavine!!!!
Traffic Update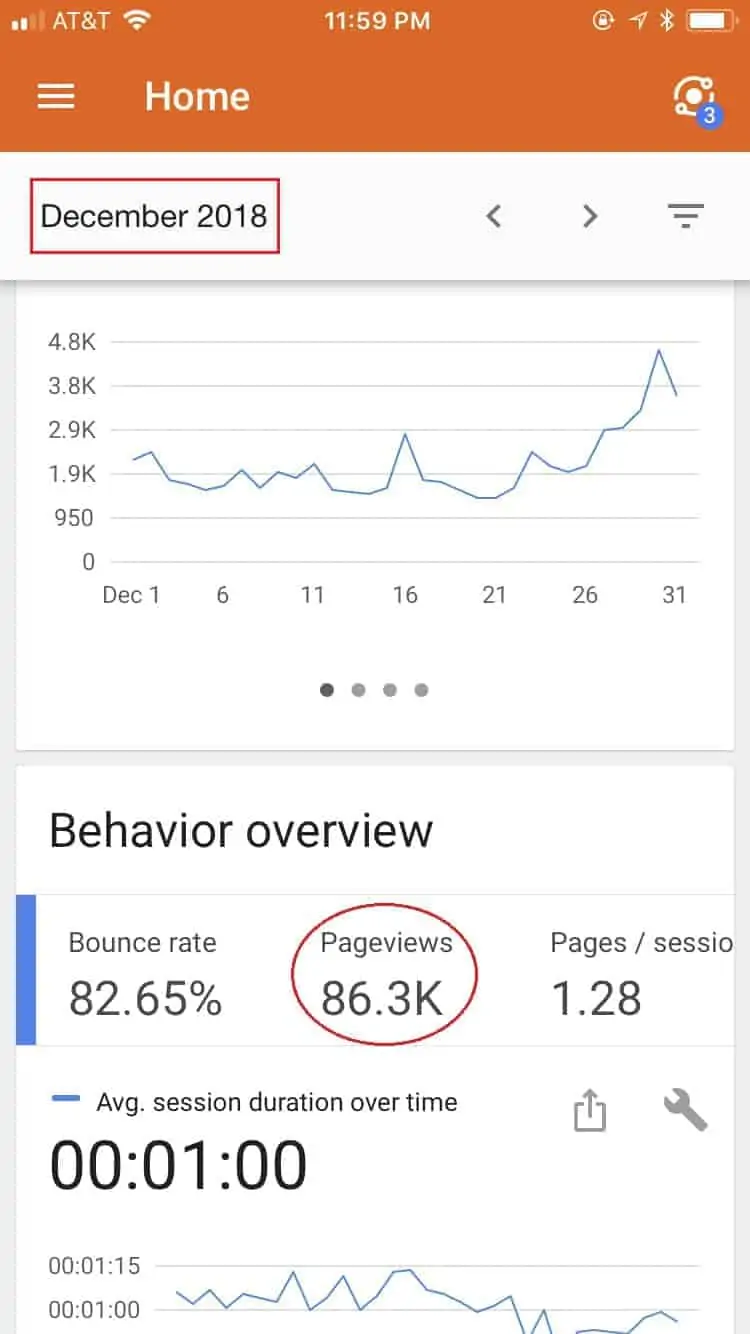 Pageviews : 86,312
Sessions: 67,190
Users: 61,626
Goals
I am so excited for 2019 as I have some big plans for my blog this year, including creation of my first digital products. Maybe I'll talk about this some other time.
In addition, I want to:
Improve my affiliate earnings to $2-3k per month.
Hit 100k to 150k pageviews a month.
Explore other income streams such as sponsored posts.
Learn SEO by taking a course.
I am really hoping to reach these goals this year but I am sure that these are achievable goals if I don't give up, keep putting in my best efforts and keep learning. What are your goals for 2018?
You can start your own blog for cheap, for only $2.75 a month through this link. This site is hosted by this same hosting company which I've been with since I started blogging.
BLOGGING RECOMMENDATIONS
As in my previous Income Reports, I recommend the following products if you want to grow your blog faster. And I want to say this again: don't get scared of investing in the right resources. They will help you save time and take the guesswork out of blogging.
These are the blogging products/services that I highly recommend and that have truly helped me grow my blog from $0 to now over $1k per month.
I can't recommend this Pinterest eBook highly enough. This product helped me grow my Pinterest monthly viewers from 200k to now over 1 million and it is so affordable at $35!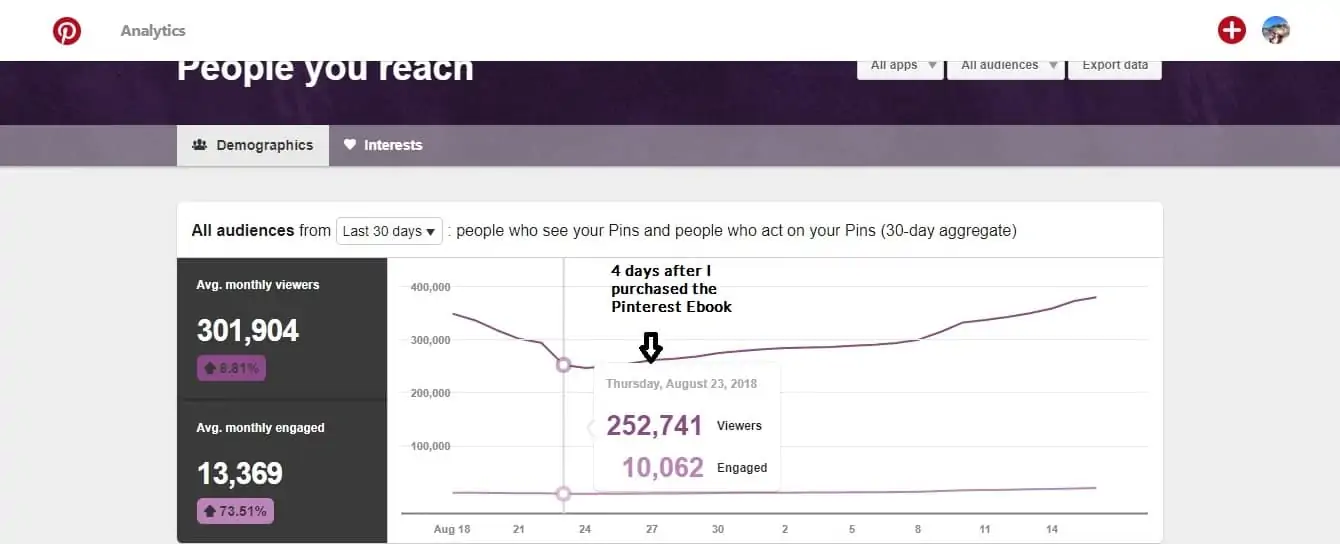 You can read more about this product in my September Income Report:How I Made 596 Blogging and Tripled my Traffic
I definitely recommend this eBook if:
You are new to Pinterest and have no idea how to use it to drive traffic to your blog.
You've been using Pinterest for some time now but your efforts have not been generating results.
I decided to take this affiliate marketing course in October to improve my affiliate income of $37 (September 2018). I've read a lot of great reviews about this course as it was created by a successful blogger who consistently makes $50k a month through affiliate marketing and in this course, she shared all her strategies.
Since taking the course, my affiliate income increased from $37 in September to:
There's still a bunch of strategies I need to implement so I do not expect immediate results. However, I can honestly credit the recent increase in my affiliate earnings to this Affiliate Marketing course.
I schedule my pins using Tailwind so I appear active on Pinterest even when I am sleeping. Tailwind helped me grow my Pinterest followers organically to now over 5k.
I highly recommend automating your pins through Tailwind because who has the time to pin all day, right? Grab your free $15 Tailwind credit when you sign up here.
This was the course that walked me through starting a blog—from selecting a niche to setting up the blog , to creating graphics , building list and more! This is a great course to take if you want to blog but literally have no idea how to start.
Don't have a blog yet? Why not? You can start your own blog for cheap, for $2.75 a month only through this link. This site is hosted by this same hosting company which I've been with since I started blogging.
DID YOU ENJOY THIS POST? PIN THIS! Or follow me on Pinterest!