Motivational Money Quotes You'll Love!
Whether we like it or not, money is an important commodity in our lives. Money affords us our basic necessities and allows us to enjoy our wants, whether that's as simple as a pint of ice cream or a lavish vacation to an exotic island.
Although I believe that money should not define us as individuals, it also can't be denied that money has a profound impact on our lives.
Money quotes for motivation: Why do we need them?
Struggling with money is a common experience among many people. Whether you're trying to put food on the table before your paycheck runs out, fund your child's college education, operate your business or purchase your dream home, I think that many of us have experienced struggling with money at different points in our lives.
So, I figured I could compile the best motivational money quotes to inspire us to move forward despite the financial curveballs we encounter. We need these quotes because:
They remind us of the wisdom of great people. From ancient personalities like Aristotle to modern-day figures like Joe Biden, these people have something wise to say about money.
They provide inspiration and encouragement. Inspiring money quotes tell us that there is always a silver lining in our financial struggles.
They fuel you to take action. When you come to a point when you're doubting yourself or you hesitate over a decision, motivational save money quotes give you insight and a subtle nudge. Sometimes, it's all it takes to take the risk and move forward!
I know some of us doubt if we could really save up for something huge, or pay down that mountain of debt, or earn the desired income figure. You're not alone! We all have our battles. So, if you need to find hope and inspiration, wherever you are in your financial life right now, I hope these saving money quotes will give you that.
Motivational Money Quotes on Earning Money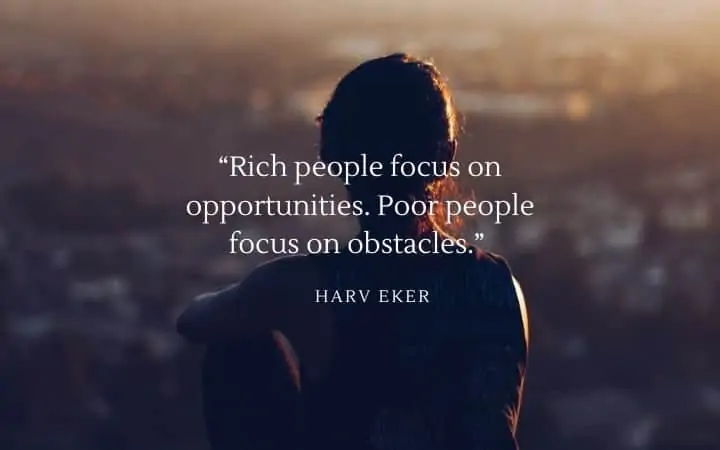 1. "I will tell you the secret to getting rich on Wall Street. You try to be greedy when others are fearful. And you try to be fearful when others are greedy." – Warren Buffett
2. "Every day is a bank account, and time is our currency. No one is rich, no one is poor, we've got 24 hours each." – Christopher Rice
3. "If you can get paid for doing what you love, every paycheck is a bonus." – Oprah Winfrey
4. "One penny may seem to you a very insignificant thing, but it is the small seed from which fortunes spring." – Orison Swett Marden
6. "The money you make is a symbol of the value you create." – Idowu Koyenikan
7. "The more you learn, the more you earn." – Warren Buffett
8. "The trouble for most people is they don't decide to get wealthy, they just dream about it." – Michael Masters
8. "Making money isn't hard in itself. What's hard is to earn it doing something worth devoting one's life to."― Carlos Ruiz Zafón
9. "If you're good at something, never do it for free." –  Jonathan Nolan
10. "Wealth is not about having a lot of money; it's about having a lot of options." – Chris Rock
11. "Money won't create success, the freedom to make it will." – Nelson Mandela
12. "It's not how much money you make, but how much money you keep, how hard it works for you, and how many generations you keep it for." – Robert Kiyosaki
13. "Money is only a tool. It will take you wherever you wish, but it will not replace you as the driver." –  Ayn Rand
14. "To get rich, you have to be making money while you're asleep."– David Bailey
Motivational Money Quotes on Spending Money
15. "Too many people spend money they haven't earned to buy things they don't want to impress people they don't like." – Will Rogers
16. "Don't tell me where your priorities are. Show me where you spend your money and I'll tell you what they are." – James W. Frick
17. "Spend not where you may save; spare not where you must spend."  – John Ray
18. "It's not your salary that makes you rich, it's your spending habits." — Charles Jaffe
19. "Beware of small expenses; a small leak will sink a great ship." – Benjamin Franklin
20. "It's good to have money and the things that money can buy, but it's good, too, to check up once in a while and make sure that you haven't lost the things that money can't buy."— George Lorimer
21. "Just because you can afford it doesn't mean you should buy it." Suze Orman
22. "Once you really accept that spending money doesn't equal happiness, you have half the battle won." –Ernest Callenbach
23. "Spend your money on the things money can buy. Spend your time on the things money can't buy." – Haruki Murakami
24. "Only buy something that you'd be perfectly happy to hold if the market shuts down for ten years." –Warren Buffett
25. "If you wish to get rich, save what you get. A fool can earn money; but it takes a wise man to save and dispose of it to his own advantage." – Brigham Young
26. "The person who doesn't know where his next dollar is coming from usually doesn't know where his last dollar went." – Unknown
Motivational Money Qoutes on Saving Money
27. "A simple fact that is hard to learn is that the time to save money is when you have some." – Joe Moore
28. "Being frugal does not mean being cheap! It means being economical and avoiding waste."- Catherine Pulsifer
29. "Look everywhere you can to cut a little bit from your expenses. It will all add up to a meaningful sum." – Suze Orman
30. "A budget is telling your money where to go instead of wondering where it went." ― Dave Ramsey
31. "The art is not in making money, but in keeping it." – Anonymous
32. "The habit of saving is itself an education; it fosters every virtue, teaches self-denial, cultivates the sense of order, trains to forethought, and so broadens the mind." – T.T. Munger
33. "If you're saving, you're succeeding."― Steve Burkholder
34. "The best way to save money is not to lose it." –Les Williams
35. "Try to save something while your salary is small; it's impossible to save after you begin to earn more." – Jack Benny
36. "Money looks better in the bank than on your feet." – Sophia Amoruso
37. "You must learn to save first and spend afterward."   – John Poole
38. "It is thrifty to prepare today for the wants of tomorrow." –Aesop
39. "Do not save what is left after spending, but spend what is left after saving." – Warren Buffett
40. "A man who both spends and saves money is the happiest man, because he has both enjoyments." –Samuel Johnson
Motivational Money Quotes on the Value of Money
41. "That man is the richest whose pleasures are cheapest." – Henry David Thoreau
42. "Money, like emotions, is something you must control to keep your life on the right track." ― Natasha Munson
43. "Money is good for nothing unless you know the value of it by experience." – T Barnum
44. "Success is walking from failure to failure with no loss of enthusiasm."- Winston Churchill
45. "Money is always eager and ready to work for anyone who is ready to employ it." – Idowu Koyenikan
46. "Money is a guarantee that we may have what we want in the future. Though we need nothing at the moment it insures the possibility of satisfying a new desire when it arises." – Aristotle
47. "It's better to look ahead and prepare than to look back and regret." ― Jackie Joyner-Kersee
48. "Rich people focus on opportunities. Poor people focus on obstacles." – Harv Eker
49. "Twenty years from now you will be more disappointed by the things that you didn't do than by the ones you did do."— Mark Twain
50. "Money is numbers and numbers never end. If it takes money to be happy, your search for happiness will never end." – Bob Marley
51. If a person gets his attitude toward money straight, it will help straighten out almost every other area in his life." – Billy Graham
52. "The first thing I learned about having money was that it gives you choices. People don't want to be rich. They want to be able to choose. The richer you are, the more choices you have. That is the freedom of money." – Trevor Noah
53. "A wise person should have money in their head, but not in their heart." – Jonathan Swift
54. "The longer you're not taking action the more money you're losing." – Carrie Wilkerson
55. "Do something today that your future self will thank you for." ― Anonymous
56. "It's easier to feel a little more spiritual with a couple of bucks in your pocket."― Craig Ferguson
57. "An investment in knowledge pays the best interest." – Benjamin Franklin
58. "Trade money for time, not time for money. You're going to run out of time first." – Naval Ravikant
59. "Being rich is having money; being wealthy is having time." — Margaret Bonanno
60. "Opportunity is missed by most people because it is dressed in overalls and looks like work." Thomas Edison
61. "Don't think money does everything or you are going to end up doing everything for money." – Voltaire
62. "The more your money works for you, the less you have to work for money." – Idowu Koyenikan
63. "Buy when everyone else is selling and hold until everyone else is buying. That's not just a catchy slogan. It's the very essence of successful investing." – J. Paul Getty 
64. "The real measure of your wealth is how much you'd be worth if you lost all your money." —Anonymous
65. "Money has no grey areas. You either make it or you lose it." – Kevin O'Leary 
66. "If we command our wealth, we shall be rich and free. If our wealth commands us, we are poor indeed." – Edmund Burke
67. "Wealth is the ability to fully experience life." – Henry David Thoreau
68. "The money you have gives you freedom; the money you pursue enslaves you." Jean-Jacques Rousseau
69. "Empty pockets never held anyone back. Only empty heads and empty hearts can do that." – Norman Vincent Peale
70. "Everyone wants to ride with you in the limo, but what you want is someone who will take the bus with you when the limo breaks down." – Oprah Winfrey
71. "Wealth is not about having a lot of money; it's about having a lot of options."  – Chris Rock
72. "Money doesn't change people. It unmasks them." – Unknown
73. "The real measure of your wealth is how much you'd be worth if you lost all your money." – Anonymous
74. "My favorite things in life don't cost any money. It's really clear that the most precious resource we all have is time." – Steve Jobs
75. "There is no dignity quite so impressive, and no independence quite so important, as living within your means." –Calvin Coolidge
76. "Finance is not merely about making money. It's about achieving our deep goals and protecting the fruits of our labor. It's about stewardship and, therefore, about achieving a good society." – Robert J. Shiller
Don't Be Scared To Take Action!
It's true that money can't buy everything, and that the most important things in life are priceless, but we have to admit, we can't live without money! These money quotes tell us that money is merely a tool, so don't let that define your happiness.
If you're struggling with money right now in any way, feel free to go back to this list of motivational money quotes and you might just find the inspiration you need!
Which of these money quotes resonate with you? What is your favorite quote about money? Do share in the comment!
---
Looking for money-making ideas?
Check out our readers' favorites!