Are you currently earning $18 an hour and are wondering whether this income is enough for you to live with? I understand your sentiment. A lot of people are paid at an hourly rate, and sometimes, we just can't help but wonder if our income would help us achieve our financial goals. And it often helps to know how your hourly rate translates on a per year, month, week, and day basis when you're mapping out your finances. So, in this article, we will learn 18 an hour is how much a year and determine if this is a livable wage.
$18 Dollars an Hour is How Much a Year: What Does It Mean to Earn $18 an Hour?
Converting your hourly wage to annual income helps you see the bigger picture of your finances. So if you'd like to know $18 an hour is how much a year, you first need to know how many hours you work annually. Let's start by determining your income if you work full-time and part-time.
How Much a Year is $18 Dollars an Hour for Full-time Workers
If you are working full-time, it typically means you are rendering at least 30 hours of work per week, 40 hours being the most common. So, to determine how much is 18 an hour annually, you first have to multiply the number of hours you work per week with the number of weeks you work per year.
If you work 40 hours per week and work all 52 weeks of the year, we calculate it this way:
40 hours x 52 weeks = 2,080 hours
2,080 hours x 18 per hour = $37,440
Therefore, full-time workers who make an hourly wage of $18 will make $37,440 a year before taxes.
How Much is $18 Dollars an Hour Annually for Part-Time Workers
But what if you only work part-time? 18 dollars an hour is how much a year?
Part-time workers in the US generally render around 20 hours of work per week. So just like what we did above, we multiply the number of hours you work per week to the number of weeks you work per year:
20 hours x 52 weeks = 1,040 hours
1,040 hours x $18 per hour = $18, 720
So if you do part-time work for $18 an hour, your annual salary would come to $18,720 before taxes.
$18 an Hour is How Much a Year After Taxes?
Another pressing question is this: how much is 18 dollars an hour after taxes?
There is no universal answer to this question because the amount of taxes taken from your income depends on a lot of things, such as your filing status, adjustments, and deductions.
But for the sake of envisioning how much is 18 an hour after taxes, you can use this free tax calculator.
So, if you are single, work full-time, and make an hourly wage of $18, your after-tax annual income for $37,440 is $29,209. If you are married and earn this much gross annual salary, your take-home pay or net income is $31,777.
Meanwhile, if you are working part-time, and make $18,720 a year, your net income is around $15,886 if you are single and $17,099 if you are married.
Related:
$15 an Hour is How Much a Year?
$45 an Hour is How Much a Year?
How Many People Make $18 an Hour?
According to Statista, people who make $18 an hour or a yearly income of $37,440 belong to the 11.7% of people who make an annual income between $35,000 to $49,999.
Additionally, the median household income is 68,703 U.S. dollars, which means you are making relatively less than the average American worker.
Meanwhile, the poverty threshold in the US as of 2019 is 26,167 U.S. dollars. So if you make a yearly salary of $37,440 from your full-time job, you are still above the poverty line.
Daily, Weekly, Monthly Salary for $18 an Hour
Now that we've learned what is $18 an hour annually after taxes, let us now break down this income into daily, weekly and monthly basis.
What is $18 an Hour Salary Per Day?
If you'd like to know what your $18 dollars per hour income is when converted as a daily income, all you have to do is multiply the number of hours you work each day by 18.
So if you work a regular eight-hour shift every day, that would be 8 hours per day x $18, giving you $144 per day.
How Much is $18 an Hour Per Week?
Most people work five days a week, eight hours a day, which usually totals to 40 hours per week.
So, to compute your weekly income, you just need to multiply 40 hours by $18 dollars, which ends you up with $720 per week.
● How Much is $18 an Hour Bi-weekly?
What if you get paid every two weeks, how much is $18 an hour bi-weekly? The easiest way to compute this is to take your weekly income, which in this case is $720, and multiply it by 2. Therefore, you should make $1,440 bi-weekly.
● How Much is $18 an Hour Per Month?
Finally, let's see how much your monthly income is if you make an hourly pay of $18 dollars. Assuming that you work full-time 40 hours per week, your monthly income should be $3,150 per month.
However, do note that some months have more or fewer days, so you might experience slight differences in your monthly income depending on the month that you're getting paid.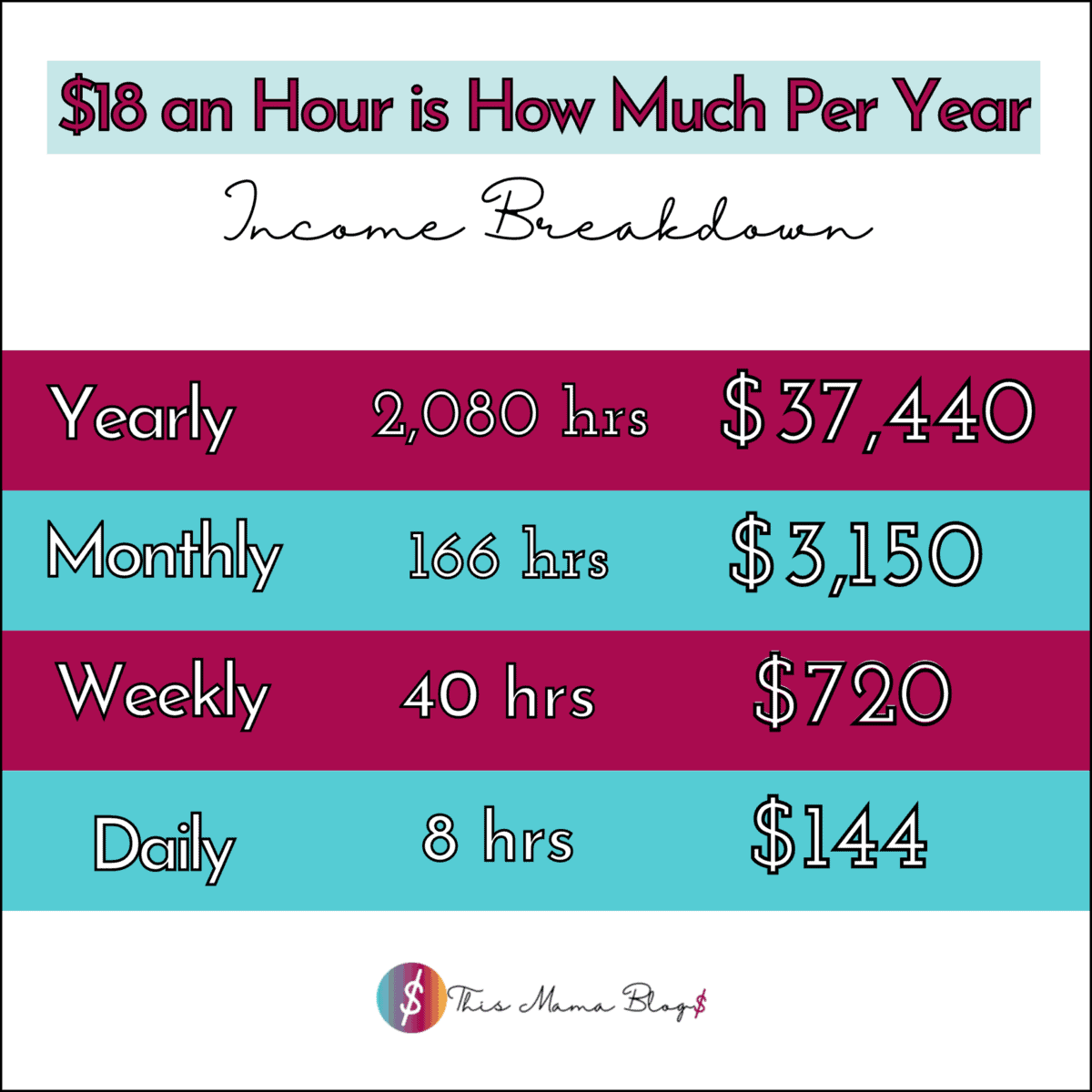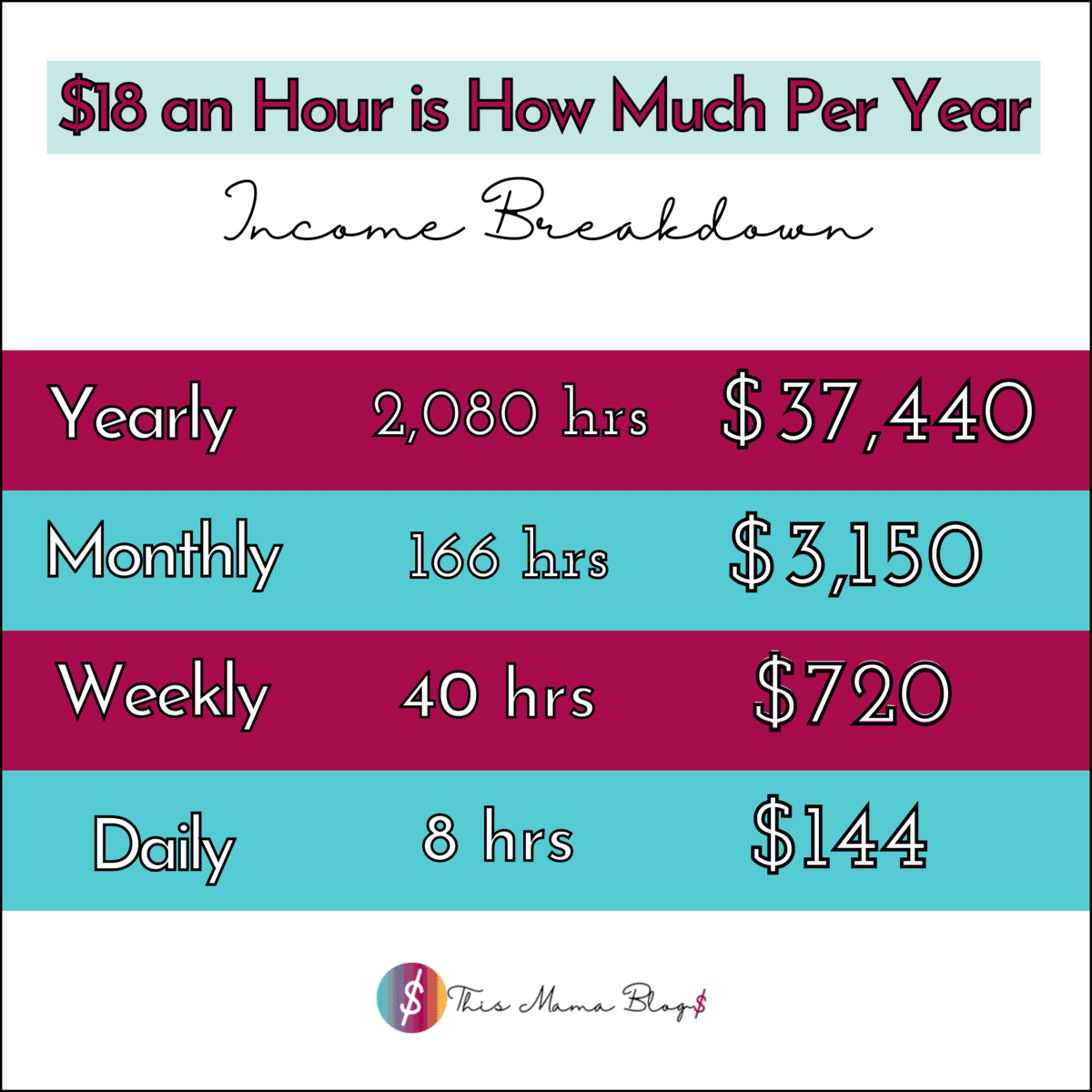 Can You Live Off of $18 an Hour?
Now that you know $18 dollars an hour is how much a year, it's time to determine if this is a livable income.
So, is $18 an hour good money?
If you are earning $18 per hour or $37,440 per year, your income is less than the median personal income in the US, but it is above the minimum wage. You check out how much is the minimum wage in your state here.
You may be able to hustle your way to live with this wage, but it's probably far from comfortable, especially if you live in areas with a high cost of living.
For instance, if you want to live in California, but you're only making $18 per hour, you should expect a lot of struggles coming your way. According to this report, you'd need to make around $70 per hour, or work five jobs with minimum wages, to rent a two-bedroom apartment in San Francisco.
Meanwhile, if you live in Texas, which is one of the most affordable states, you might be somewhat comfortable with $18 per hour. According to ZipRecruiter, the average hourly rate in Texas is $19 per hour. So if you are single and live in a cheaper location, $18 per hour might just be sufficient. But if you are married and have kids, then you should improve your cash flow.
What Jobs Pay $18 an Hour?
Most of the 18 per hour jobs do not require higher education or formal training. According to the Bureau of Labor Statistics, here are some jobs that pay $18 per hour:
Traditional Jobs that Pay $18 an Hour
Bill and account collectors
Material moving machine operators
Camera repair technicians
Metal plastic workers
Fence erectors
Quality control inspector
Furniture store sales
Small engine mechanics
Rehabilitation counselors
Online Jobs that Pay $18 an Hour
Reservations agent
Call center representative
Customer service agent
Transcriptionist
Appointment setter
Online tutor
Want to earn more? Check out this list of jobs that pay $20 per hour.
Or you could find side hustles that make 100 dollars a day.
Sample Budget: Monthly Budget to Make $18 an Hour Work
I understand that living with a relatively small income can be quite a struggle. But as most experts would say, budgeting is a key activity that can help you manage your finances, regardless of their size.
So, here's a sample monthly budget to help you manage your $18 per hour income.
Assuming you make $3,150 per month, you take away the taxes of around $241, then your take-home pay should be around $2,909. As you can see in this monthly budget, you still have a budget for savings, basic expenses, and a little recreation.
Housing 30% $872.7
Food 15% $436.35
Transportation 10% $290.9
Clothing 5% $145.45
Insurances 15% $436.35
Utilities 10% $290.9
Fun and recreation 5% $145.45
Savings 10% $290.9
---
Related posts:
Tips to Live on $18 an Hour
If you feel like living with 18 dollars per hour is too hard for you, then you should act on it. There are several ways to increase your cash flow, and these are my top recommendations:
Create and Stick to a Budget
Having a budget helps you manage your income, even when money is tight. According to finance expert, Rachel Cruze, you can have a practical budget by prioritizing your expenses, paying your debts, and trimming unnecessary bills. By following these three important tips, you can make a small income seem more manageable.
Related: How to Live Frugally: 50 Frugal Living Tips
Check out these posts to learn more ways to save money!
Get a Side Job
You don't have to stick with a single income stream if you're just barely surviving with it. You can improve your quality of life if you spend a couple more hours each week doing side jobs.
Thanks to the internet, you can find work-from-home opportunities even if you don't have the degree or experience. Some of the high-paying side gigs you can consider are bookkeeping, virtual assisting, teaching online, or freelance writing. You may also want to look into money-making ideas that allow you to earn passive income such as blogging, affiliate marketing or selling online.
Ask For a Raise
It doesn't hurt to ask for a raise, especially if you've given your best to your role and have helped the company grow. You may be due for a raise, and perhaps all it takes for your employer to realize this is when you lay the subject on the table. If you need help broaching this topic, here are helpful tips from the Wall Street Journal.
Improve Your Credentials
You can forge a different, high-paying career path or climb the ladder and earn more money by improving your credentials. You can do so by going back to school and earning additional units, taking online courses, and earning more certifications.
---
Conclusion
Now that we've learned 18 dollars an hour is how much a year, which by the way, is $37,440 before taxes, you probably now realize if this is a livable wage for you.
Some people manage to make it work, especially if they have no dependents and live in low-cost areas. However, you might find it inadequate if your location is quite expensive and you have a family to take care of.
That's why it's important to keep your options open when it comes to opportunities. You don't need to stick with this wage if you can find better-paying jobs. Some of them even make six figures, even without a college degree.
Finally, be frugal and live below your means. You can be happy even when you don't have so much. Having a healthy money mindset can help you survive even with low income, and push you in achieving your financial goals.