Learn Dave Ramsey's advice on personal finance to help you become debt free and achieve financial freedom.
Do you want to start saving money but you don't know how to get started? Perhaps you're living on a low income and just barely making ends meet…
I know how tough it can be to try to save money, especially when you're living paycheck to paycheck. My family has been there as well, living on a $22k a year income–without any savings and emergency fund.
Thankfully, with extra hard work, sheer luck and strong motivation, we were able to turn our finances around! I also learned a lot of financial tips from Dave Ramsey, a certified financial planner who teaches ordinary folks like us on how to maintain a better and healthier relationship with our finances.
If you aim to break free from debt, make more money, and achieve your financial goals, learning some Dave Ramsey finance tips can be a good start.
And today, I will break down Dave Ramsey's advice on different aspects of personal finance.
This post contains affiliate links. I may earn a commission at NO extra cost to you for your purchases made through these links. Disclosure.
Dave Ramsey's Baby Steps Towards Financial Freedom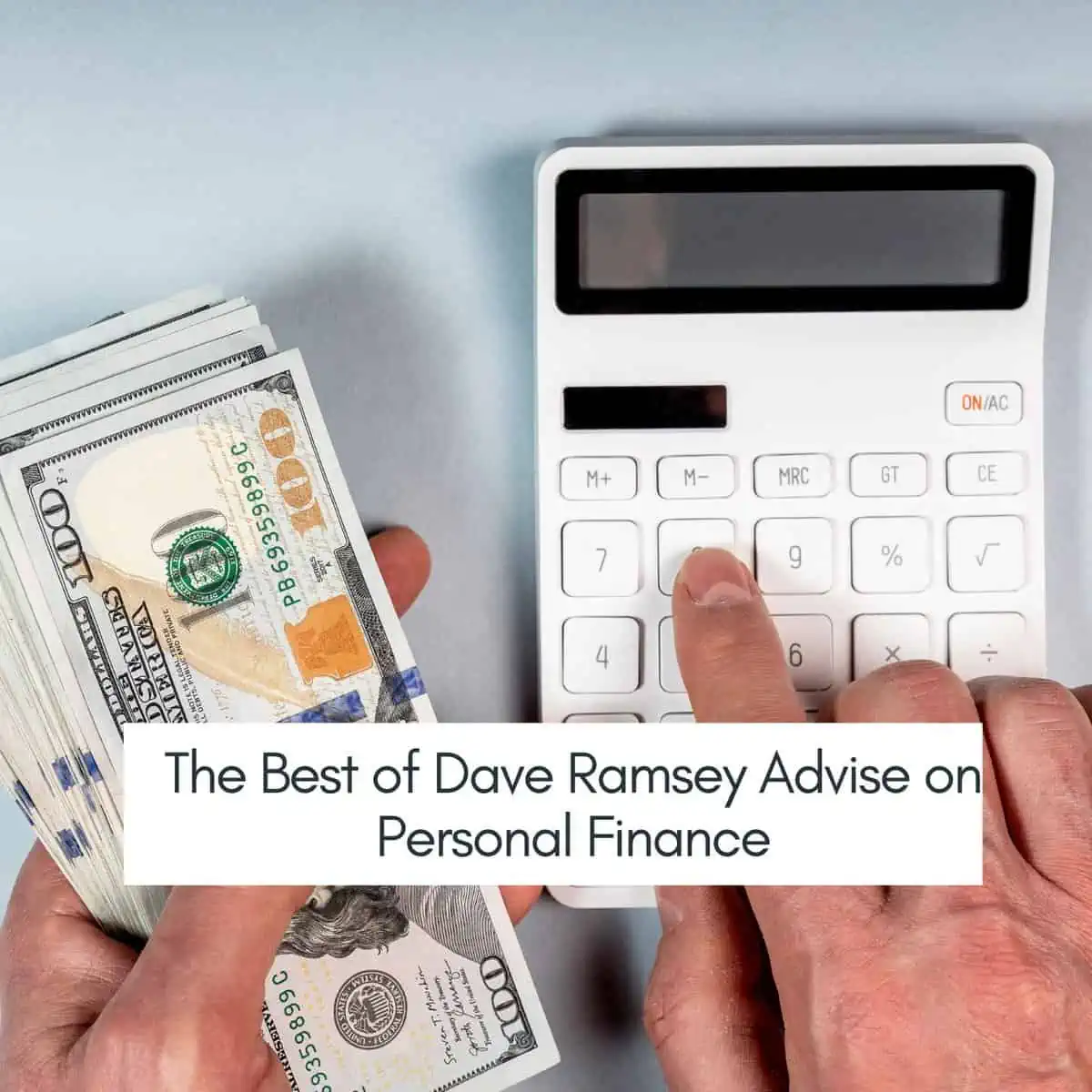 Dave Ramsey is most popular for his concepts of baby steps to paying off debt and building wealth. In a nutshell, the seven baby steps consist of the following:
Save an emergency fund ($1,000)
Use the snowball method to pay off your debts (except for the house)
Start a fully funded emergency fund (consisting of 3-6 months worth of expenses)
Set aside 15% of your income for retirement
Start saving money for kids' college
Pay off your home early
Build wealth and give
These steps outline what you have to do to achieve financial freedom. It encourages you to take care of your finances one step at a time.
21 Best Dave Ramsey Advice on Money
Now let's try to pick out Dave Ramey's brains and see what this renowned financial advisor has to say on various aspects of managing money, from budgeting, tackling debt, saving for retirement, and more.
Saving money
What is Dave Ramsey's advice when it comes to saving money? As the best-selling author of Total Money Makeover and several other personal finance books, you will find Dave Ramsey constantly giving financial advice on saving money in every possible way.
Set up an emergency fund
The best way to cope with financial emergencies and put yourself on the right track to being debt-free is to set up an emergency fund. As mentioned in his baby steps, you must allocate a portion of your monthly budget for emergencies. That way, you'll have a safety net and the resources to cope with financial stress without digging yourself deeper into debt. Start with $500 in mind, and keep adding until you have saved three to six months' worth of expenses.
Related: Emergency Savings Fund: How to Start an Emergency Fund with No Money
Reduce your grocery budget
Dave's advice on spending money on groceries is wise and practical. He suggests buying in bulk when it makes sense, trying out generic brand names, doing a meal plan, reducing meat consumption, and even shopping online.
Related: 51 Extreme Frugality Tips for the Super Frugal
Go on a spending freeze
If you want to save money, you have to stop spending money. Going on a short-term spending freeze allows you to radically save money and contemplate your spending habits. You could go on a day, week, or month of spending only on essentials, such as food, transportation, and housing, helping you save a few hundred dollars.
So, you are not supposed to spend anything on wants and luxuries, such as new clothes and shoes or restaurant meals. You then put that money you save towards inflating your bank account, paying down debt, or any other financial goal.
Learn to say "no"
Learning to say "no" is another essential piece of Dave Ramsey's advice on saving money. Sometimes you have to say no to your wants and impulses if you want to get rid of credit card debt. You also need to say "no" to others to focus on more important goals. You have to learn to say yes to things that are important to you and are aligned with your goals. So if something is out of the budget, don't spend money and just say no.
Build your sinking funds
Dave Ramsey also advises building a sinking fund so you have a budget for predictable expenses over the year. The main premise of a sinking fund is to set aside a portion of your income for specific goals, such as for gift giving on Christmas or a house improvement project in spring. If you make more money in any given month, throw the extra towards your sinking funds to easily finance those goals without going into debt.
Budgeting
Effective budgeting is crucial for financial stability and success, as emphasized by Dave Ramsey's principles and recommendations.
Try the zero-based budget
If you have trouble managing your monthly budget, Dave recommends following a zero-based budget. This type of budget is all about giving each dollar a job so that when everything is accounted for, you'll end up with zero dollars. One of the best ways to implement this is to do the classic envelope system, where you divide your income across all bills, savings, and financial goals. You then put the cash value for each spending category into envelopes and only use the amount that's allocated for each expense.
Use cash
Many people can't get rid of consumer debt because having constant access to credit cards makes them believe that they have unlimited financial resources. But let's be real: credit card debt is not fun. It's another monthly payment you have to deal with.
So instead of swiping your card in all your purchases, pay cash. As mentioned above, using the zero-based budget method and cash envelope system empower you to use pay cash. And when you pay cash, you realize how painful it could be to part from your hard-earned money, making you rethink your purchases and become more vigilant with your spending.
Related: Stylish Cash Envelope Wallet to Avoid Overspending
Debt
Dave Ramsey has experienced bankruptcy himself, so he knows how stressful it is to deal with it. The financial guru teaches us that dealing with and getting out of debt is an essential step toward financial freedom.
Get out of debt
If you're burdened with debt, it's important to work towards becoming debt-free and avoid accumulating new debts. One suggestion from Ramsey is to discard your credit cards and opt for cash payments. Refrain from taking out fresh loans or opening new credit lines while addressing your current debt. Additionally, prioritize debt repayment by reducing discretionary spending.
Stop using credit cards
Dave Ramsey has always been vocal about credit cards — and how he's against them. If you can't manage credit card debt, Ramsey suggests not using them. Save up for an emergency fund and start paying things with cash. While not everyone may agree with this, I think this advice is highly practical for people who are extremely stressed with debt.
Tackle debt with the debt snowball method
Dave Ramsey is the proponent of a debt repayment called the snowball method. This method basically teaches you to start paying off your smallest debt to the largest debt, regardless of the interest rates. Ramsey calls it the snowball method because you gain more motivation and momentum as you tackle a small debt and move on to the larger debt.
According to Dave Ramsey, do not focus on the highest-interest debt, but on the smallest debt because it seems more manageable for you. Think of the snowball as your determination and resolve to become debt free: when you get rid of the smallest debt, you feel more empowered to tackle the next one!
Cars
Since Dave Ramsey is not a huge fan of debt, he has some practical and wise advice when it comes to buying cars.
Buy a used car
First, Dave Ramsey advocates paying cash, so he suggests getting a car once you've saved up for it. If possible, do away with getting a car with a loan or credit. Additionally, the average household pays $713 in car loans, so it often makes sense to buy a used car instead of a new one.
Also make note about the best time to buy a car, which are typically at the end of the month or quarter, or during a weekend sales. Lastly, think of a car as practical investment and a means of transportation. Do not consider it as a status symbol and get into debt trying to impress others with a flashy new car.
Get out of debt before buying a car
It's also worth noting that a car is not an asset allocation, but a depreciating liability. The car loses its value, so it doesn't make sense to get into debt to acquire it. If you want a new car, save up for it and get out of debt before buying a new one. This saves you the stress of paying for car loans when you could use the money elsewhere.
Insurance
Insurance is a type of protection that helps us cope with the variabilities in life. Dave Ramsey suggest getting the right type of insurance and determining the level of coverage you need.
Get the right type of insurance
There are different types of insurances out there and he recommends getting policies for things that could impact your finances. For example, medical insurance gives your financial coverage against high medical costs, life insurance provides a safety net for your family if you die, and auto insurance covers you for damages and injuries caused by vehicle-related incidents.
Avoid unnecessary insurance
Once you've figured out what types of insurance you need, now you have to determine what those policies cover. In many cases, insurers will sell you high-cost policies, telling you that you need all sorts of add-ons. But Dave Ramsey suggests studying the policies carefully and only get what you truly need.
Retirement
Dave Ramsey believes that we should save money for our retirement, and rightly so. Many people retire only when they reach retirement age, but some proactively invests in their future that they're able to retire early and live life on their own terms.
Save for retirement early and consistently
If there's one piece of investment advice that I truly treasure, it would be to save for retirement early and consistently. Always set aside a portion of your take home income towards retirement. Take advantage of the retirement packages offered by your employers because they're essentially free money. Keep hustling with this long-term goal in mind.
Dave recommends saving 15% of your income consistently towards retirement. In his book, The Baby Steps Millionaires, Dave says putting aside 15% of your income into tax-advantaged accounts can help you retire in 20 years or less! He says this the sweet spot to consistently save for retirement while achieving other financial goals, like saving for your kids' college and paying off mortgage.
Easiest Ways to Make Money Online
Home Buying
Owning a home is a massive achievement, but you should also be prepared with the challenges that come with home ownership. Here are Dave Ramsey's golden nuggets of wisdom when it comes buying and selling a house.
Buy a house you can afford
Only consider home ownership when you have a fully funded contingency fund, you are debt-free and you can pay the down payment without getting into debt.
Also, he suggests keeping your housing costs less than 25% of your take home income. You should be able to afford your mortgage while reaching your other financial goals.
Do not borrow from retirement
No matter how badly you want to buy a home, you should preserve your retirement resources at all costs. Dave Ramsey cautions us against borrowing from retirement funds as it gives us long-term security. Instead, save for your dream home and only buy when all your ducks are in a row.
Lifestyle
Dave Ramsey also offers lifestyle advice on financial stability. Here are some of the best insights worth noting.
Live within your means
Do not supersize your lifestyle if your budget does not permit it. Don't force yourself to spend money you don't have. Live within your means, even if it means simplifying your meals, downsizing your home or pondering your purchases.
Related: How to Live Cheaply
Make sure you can afford your purchases
If you need to pay something with credit, then you can't afford it. You can afford your purchases if you follow a budget and you save money for them. It may be true that you can "afford" a luxury bag right now, but you really can't if it means you're not able to pay your debts and bills.
Don't keep up with Joneses
Life is not competition. You won't be happy for the long-term if your only focus is to outshine others. Living life that's meaningful to you is what really matters, so it doesn't matter if your phone is at least two generations older and you haven't replaced your well-maintained vehicle in 10 years.
More Money-Saving Tips!
Sign up with Ibotta to earn cash back each time you buy grocery items at over 300 grocery stores in the US. Receive up to $10 for signing up here.
Make a meal plan! Plan out your meals for the week to avoid food waste. Check out how I meal plan on a budget and download my free meal planner template. If you don't have that much time for meal planning and are looking for a simple family-friendly meal plan to follow every week, let Erin from the $5 Meal Plan help you!
Practice gratitude and contentment
Having positive outlooks in life can make you rich. Contentment, or being happy at where you are and what you have. When you are contented, you are less likely to want to show off, knowing that happiness doesn't come from material things.
Additionally, Dave Ramsey emphasizes on the power of gratitude. In his website, Ramsey Solutions, he wrote that gratitude is one of the five characteristics of successful people. Regardless of where you are in life and how much you make, feeling grateful means you are happy to live the life you are given with. It may not be the best life (yet), but you are celebrating every little accomplishment you make.
Final Thoughts
If you need enlightenment and motivation in your personal finance life, I suggest reading and/or listening to Dave Ramsey.
He has really wise and practical advice, especially for people who are struggling with debt. It's not wrong to want to be debt-free even if the rest of the society thinks debt is normal. Go over his advice once more and see which works for you, which you can relate and resonate with, and reject those you don't agree with. At the end of the day, what's more important is that you are improving your life, day after day, and that you are living a life of contentment and gratitude.