Wherever you are in life right now, it's undeniable that the amount of income you make can have a profound impact on your choices and decisions. Money, after all, is an integral part of our lives. And it is very important to understand how your annual income translates into various units. If you are making $40K in annual income, then $40,000 a year is how much an hour? And will you struggle or live comfortably with this income?
Income Distribution in the US
Before we get into the details of what is the hourly rate for $40,000 a year, let's first see the trends of income distribution in the US.
According to Statista, the median annual household income in the US was $68,703 as of 2019. Meanwhile, 11.7% of American households make an income of $35,000 to $49,999.
So, if you are making $40K a year, you are earning less than the average personal income in the country.
But does earning 40K make you poor? Are you within the poverty threshold?
Not quite. According to the US Census Bureau, the poverty threshold for a family of four, as of 2020, is $26,246 to $27,131. However, if you have a huge family, say with at least seven members, the poverty threshold is at $42,605.
Therefore, an income of $40,000 a year is not a very lucrative income for most people, but it's livable, especially if you are single or only have a few dependents. However, you might find it difficult to sustain a huge family with this income.
Let's remember though that when we talk of $40,000 as an annual income, we mean the total amount of money you earn before taxes and deductions. When you take away taxes, retirement contributions, insurances, and other deductibles, your take-home pay would be less than $40K.
How much is $40,000 a year hourly?
When you're scouting for a new job, one of the first things you'll most likely look at is the hourly compensation. So, 40 thousand a year is how much an hour?
If you work all 2,080 hours in a year, your $40,000 would be around $19.23 per hour. This is assuming that you work full-time (40 hours per week).
However, keep in mind that you might not work all 52 weeks of the year. If you take two weeks off as unpaid vacation, then you'd have 50 weeks of the year, and that raises your hourly wage to $20 per hour.
Now, how much is 40K a year per hour if you take the holidays into consideration?
According to the Bureau of Labor Statistics, full-time American workers get an average of 7.6 paid holidays. So, if you take seven paid holidays this year, your hourly rate will change to $19.69 per hour.
---
How much is $40,000 a year per day?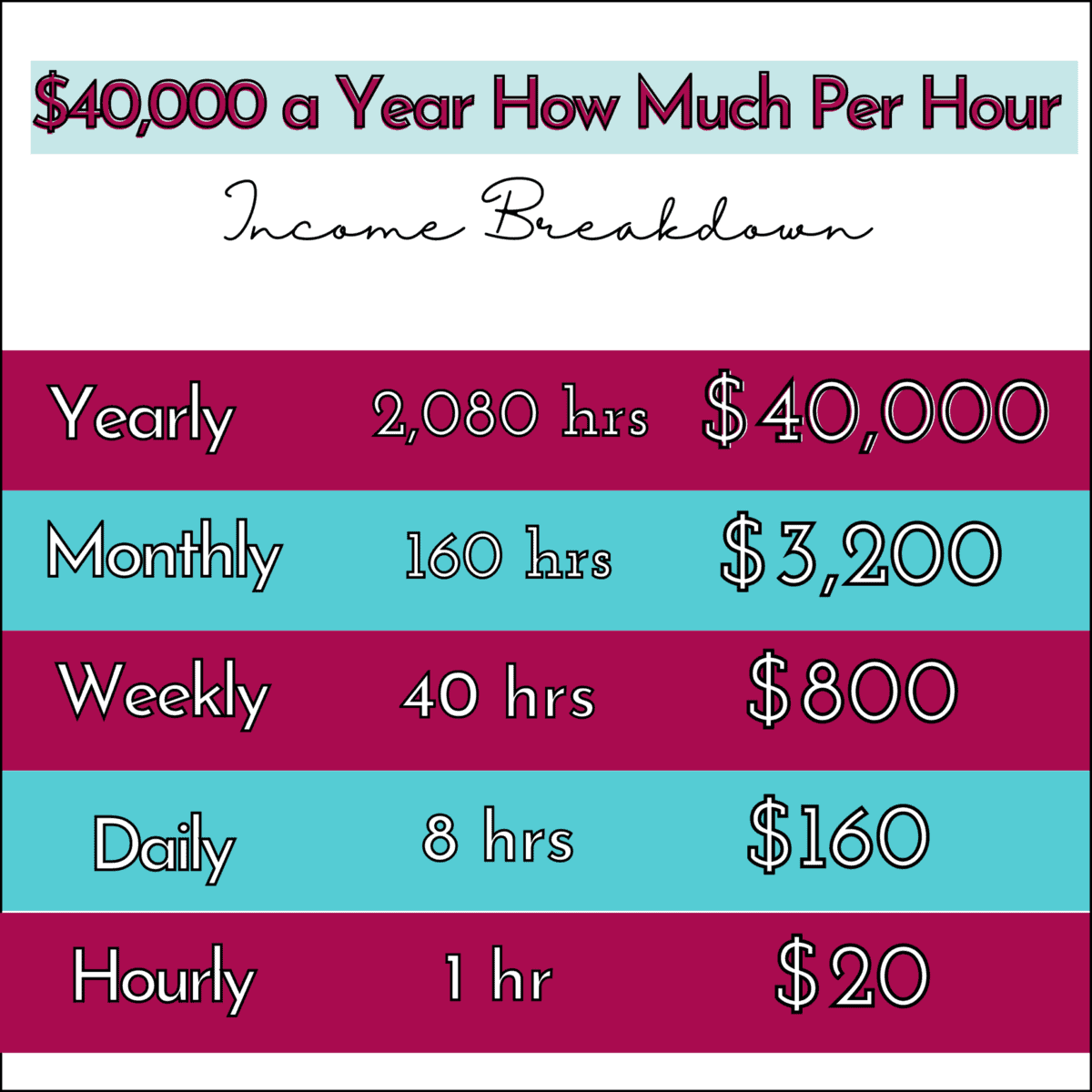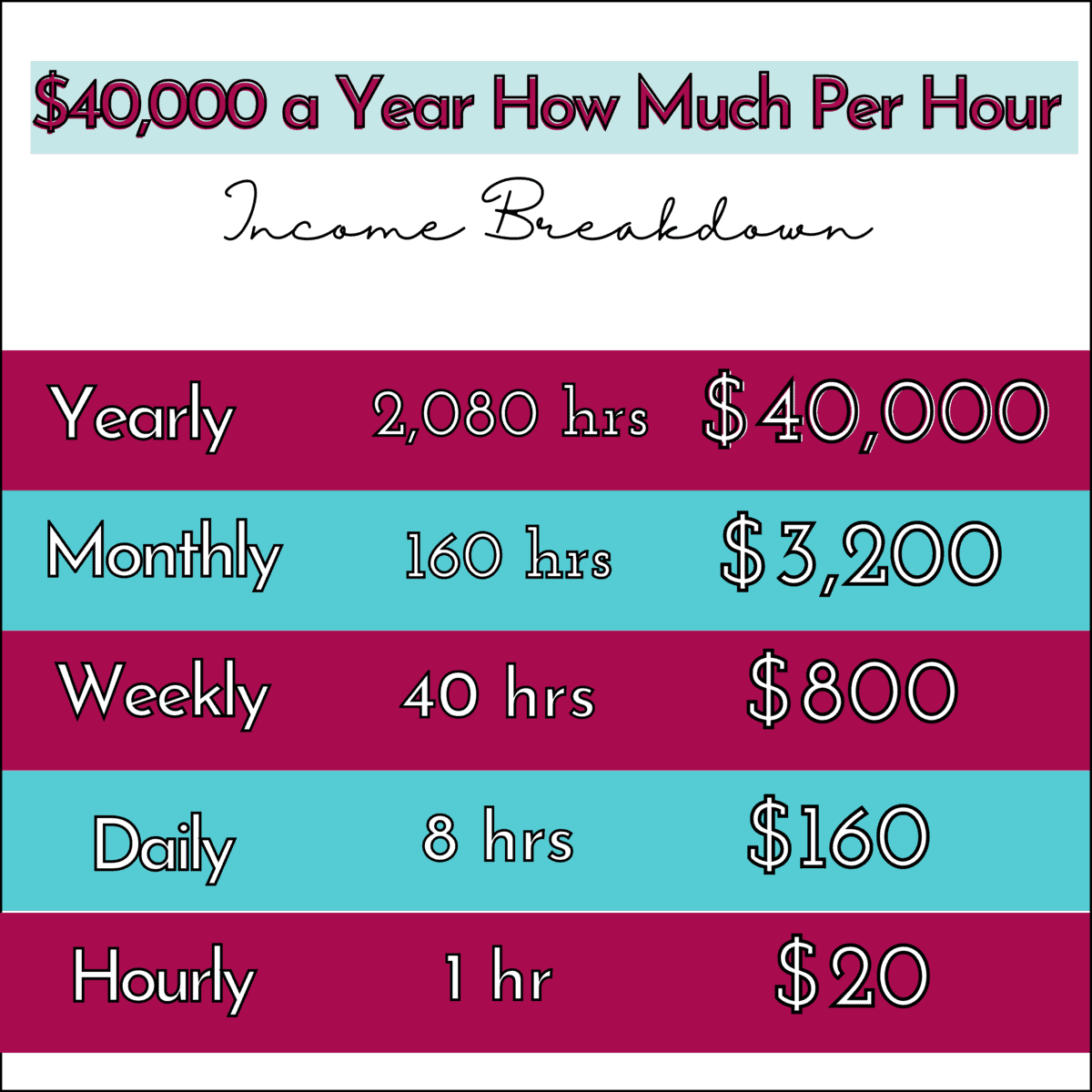 Now that you know how much is $ 40,000 a year hourly, let's convert the income to a per-day basis. If you are working full-time or eight hours per day, then you simply need to multiply your hourly rate by eight:
8 hours x $19.23 / hour = $153.84 per day
How much is $ 40,000 a year per week?
The answer depends on how many weeks you work per year. If you work 52 weeks a year, 8 hours a day, then you'd make $769.23 per week.
$40,000 a year is how much an hour biweekly?
If you happen to get paid every two weeks, then your bi-weekly rate for your $40K income is $1538.40
However, take into account that some months have five weeks, while others have four weeks. Your bi-weekly rate fluctuates on months that have an extra week.
$40,000 a year is how much a month?
How much is $ 40,000 a year per paycheck? In the event that you receive your paycheck once a month, then your monthly income would stand at $3,333 per month.
Traditional Jobs That Make $40k A Year
If you're looking to make $40,000 a year or more, these are some of the entry-level jobs that you should consider, according to Indeed:
1. Equipment operator – $40, 860 per year
2. Carpenter – $41,440 per year
3. Machinist – $42,940 per year
4. Mental health counselor – $44,360 per year
5. Sheet metal mechanic – $44,360 per year
6. Firefighter – $44,276 per year
7. Solar technician – $45,100 per year
8. Electrician – $47,760 per year
9. Plumber – $48,440 per year
10. Forensic science technician – $50,050 per year
As you can see, several of these jobs don't require a degree. However, if you'd like to increase your earning potential, consider taking up a trade career, getting industry-certified, and finding opportunities for apprenticeship. Adding more experience, skills, and certifications to your resume gives you a good advantage of earning more, possibly a six-figure income.
Online Jobs That Make $40K A Year
There are numerous online jobs that make 40K or more a year. Unlike traditional jobs, some remote and home-based jobs do not require you to work eight hours a day. Some jobs are project-based, others are on per hour basis.
Additionally, online jobs have different deductions than traditional jobs. Generally, you are in charge of filing your own taxes, and benefits like health insurance, retirement plans, and paid holidays depend entirely on your arrangement with your employer or client.
But, putting it into the $40,000 per year context, here are the top home-based and online jobs that make you this much income:
Social media marketing
Graphic design
Is $ 40,000 a year a good salary? Will you struggle or live comfortably with it?
Whether you're looking for a job or have been offered an opportunity to earn $40,000 a year, you probably also wondered whether earning this income would be good enough for you.
I wish I could give you a straight answer. But the truth is, 40K per year may be enough for one person, but direly lacking for another. To help you determine whether $40,000 is a good salary for you, here are the things to consider:
Location and cost of living
First, you need to consider where you live. According to Business Insider, if you live in Wichita Falls, Texas, which was named as the city with the lowest cost of living, then your 40K income would stretch far. The median home price is $97,000, which makes housing quite affordable in this area.
However, if you're earning 40K and live in New York City, which is one of the most expensive cities in the US, you might find yourself struggling. Everything is expensive in New York, particularly housing, which stands at $652,000 on average. Also, according to this article, you need to work around 76 hours per week and make at least $21 per hour to live a comfortable life in New York.
Size of family
As I've already cited, the size of your family also affects how far your 40K annual income would go.
If you are single or married (with at most 3 kids), earning 40,000 a year does not sound too bad. But that also depends on other factors, such as whether only one or both parents are working and the age of kids (the cost of daycare alone can eat up a lot of your income).
Your lifestyle
Some people have no trouble living with $40,000 a year. Sure, it's not even the median personal income in the US, but when you make money work for you, you can live a decent life with zero to little struggle with this income.
For instance, you can opt to relocate to an area with a lower cost of living to make room for more savings. If transportation is a budget killer, you could try moving closer to work so you wouldn't have to drive your car on a daily basis. You could also lower other lifestyle costs by opting for cheaper entertainment, cutting unused subscriptions, and planning your meals.
If you're a big spender, 40K a year will most likely be not enough for you. And if you're not careful, you could end up with more debt than you can manage.
---
Tips for Making the Most of Your $40,000 per Year Income
Now that you know how much $40,000 a year per hour, and whether or not this income is good enough, it's time to learn how to stretch your income as far as possible.
If you're making $40,000 a year and would like to make the most out of this income, here are some of the things you can do to make life easier and convenient for you:
Set up a budget and track your expenses
You want to know where every dollar goes, so allocating your income even before it hits your bank account is a good way to manage your finances. There are different budgeting methods, and you can study each one of them to find out which would work best for you. The important thing here is you stick to your budget so you don't overspend and still manage a portion of your income.
Tracking your expenses goes hand-in-hand with budgeting. Keeping a record of how you spend your money gives you some solid data to analyze your spending habits later on.
Even if you were dealing with a lower annual income, you can still find ways to save if you put your mind to it. Paying yourself first should be part of the budget, and it should also take top priority. Ideally, you'd want to build up an emergency fund first so that you can keep your savings safe in case of a financial disaster. And then, you can start saving for your financial goals: college education, retirement, home improvement, vacation, new car, etc. The most important thing in saving is being consistent, so make sure to take a portion from your paycheck and put it towards savings.
You might be surprised with the amount of money you can free up if you can identify places where you can cut expenses. For instance, if you've always dined out once a week, you'd be saving hundreds of dollars if you do it once a month, or during special occasions. You can also try downsizing if housing costs are too much to bear or cut back on transportation costs if you take public transport a few times a week. By making some of these sacrifices, you might find $40,000 a livable income.
Bonus tips to Earn More than $40,000
Are you still struggling with your $40,000 a year income despite putting in your best efforts? Unfortunately, some people just can't live within this income because the cost of living is too high or they don't have the option to relocate to a cheaper place. So instead of cutting back on expenses when you're already on a bare-bones budget, focus on increasing your income instead.
You can supplement your income from your day job by taking up side jobs. There are lots of home-based and online jobs that you can probably do in your spare time. For instance, this man drives for Uber Eats, and he's made $8,000 a month. While he took delivery driving as a full-time job, you can just see the potential of making extra income with a side hustle.
Or, you could read these working parents' online jobs success stories. Not only were they able to find a rewarding job from home while taking care of their families, but they were also to create an extra income stream that helps them move ahead financially.