Looking for the best ways for females to make money online? Here are in-demand home-based and online jobs you can do in 2022!
I have been working from home, online, for a few years now, so I can say for sure that there are SO MANY ways for females to make money online.
Sure, working from home may have its drawbacks but for me, the drawbacks definitely outweigh the benefits.
This work setup has allowed me to stay home with my family and work in my own time and terms.
So ladies, if that's what you've also been dreaming of, then look no further. Here are some of the best ways you can make money online as a woman!
15 Best Ways For Females To Make Money Online
1. Virtual Assistant
One of the best ways to make money online is to become a virtual assistant. Virtual assistance is all about providing aid and support to your client.
Your tasks as a VA can vary, but generalist virtual assistants do administrative work, calendar management, appointment setting, customer service, data entry, managing social media accounts, and more. But if you want to make more money, consider selling special skills to raise your rates.
The beauty of virtual assistance is you can scale it and turn it into a full-time business. A lot of virtual assistants make $10k per month from home working on their own schedule.
Want to learn more? Check out this free workshop that will teach you how to get 3 clients in 3 days.
Pinterest Virtual Assistant
Pinterest is one of the most lucrative VA niches, so if you know the platform by heart, then consider becoming a Pinterest virtual assistant.
Pinterest VAs encourage organic traffic to their clients' websites by creating pins, managing their accounts, and interacting with their audience on Pinterest. It's an enjoyable job for someone who has graphic design and social media knowledge.
And just so you know, new Pinterest virtual assistants make at least $15 per hour per client. But if you want to earn more, you could set up a Pinterest virtual assistant business wherein you manage multiple clients and hire a few more VAs. This way, you are not only making an income for yourself, but you're also helping fellow women too.
I learned how to use Pinterest with this very affordable Pinterest eBook. It's jampacked with tips and a great resource for beginners. Now my Pinterest account gets over 3 million views per month!
eCommerce Virtual Assistant
Another niche that always has a constant demand for virtual assistants is eCommerce. Online shopping has truly exploded over the last couple of years, and online business owners find themselves being swamped with work. With that, many online entrepreneurs realize how important it is to have an assistant helping them with their businesses.
The typical duties of an eCommerce virtual assistant include updating the products, prices, and information on the online store, processing orders, handling customer queries and concerns, and promoting the store and its products. So if you have an interest in providing assistance to online businesses and entrepreneurs, this VA job is a great fit for you.
2. Sell Images
You can sell images and make money from home or online. Believe it or not, you can legally sell body pictures (particularly of your feet) and make money fast. If you have an eye for taking good pictures, you can also sell your images to stock photography websites.
Sell feet pics
Women can sell body pictures, particularly of their feet, stay anonymous, and make some good money. You can start a business selling feet pics on platforms like OnlyFans, Instafeet, and Feetfinder. All you need is a decent camera, a pretty pair of feet, and a catchy profile. Most feet sellers are able to charge as much as they want, but some platforms do take a commission fee. Even so, selling feet pics can be one of the best ways to make money online as a woman.
Sell Images to Stock Photography Websites
If you think of photography as a hobby, then it's high time you start making money from your awesome pictures. You can sell your photos to stock photo websites and earn money from royalties. This can be a source of passive income because you'll keep earning as long as anyone downloads your photos. Check out sites like Dreamstime, Shutterstock, iStock, and Foap to learn how to make money online from your photos.
3. Social Media Influencer
Do you have a loyal following on Instagram, TikTok, Facebook, and/or YouTube? If so, you can make money online as a social media influencer.
A lot of women have become famous and successful social media influencers. Many of them have millions of followers. But don't feel too pressured if your number of followers isn't as much as theirs. Even micro-influencers, or those who have around 1,000 to 10,000 followers, are being chosen by brands because they look and feel more authentic and often have a more dedicated following.
Related Posts:
4. Online Gamer
Online gaming is a common hobby among guys, but girls can rock it too. In fact, according to research, women now make up 41% of all the online gamers in the US. But instead of playing just for fun, you can play online games and make money today.
There are several apps and platforms that allow you to make money from playing online games. Mistplay, for instance, lets you choose a game to play and you'll earn rewards for reaching milestones. You can also test games and get paid for the money and time you spent.
Additionally, you can join esports competitions and tournaments and win huge cash prizes. But a lot of women gamers make great money streaming their games on YouTube.
For instance, Lia Wolf, a.k.a. SSSNIPERWOLF, is one of the most popular personalities on the gaming niche on YouTube. She has over 30 million subscribers on YouTube, and a net worth of $6 million.
Her popularity as a gamer has led to numerous opportunities, such as brand partnerships and endorsements. She's just one of the several women who has successfully made a name in the world of online gaming.
Related Posts:
5. YouTube Content Creator
You can also make money as a woman sharing your passion with a larger audience as a content creator on YouTube.
One great example of this is Michelle Phan, one of YouTube's prominent beauty content creators. Michelle started posting on her channel in 2007, featuring makeup tutorials. Her content impressed her beauty-savvy audience, as well as makeup brands.
Now, she has over 8.8 million subscribers and her net worth is said to be $50 million.
Michelle's story proves that you can make money online on YouTube. Take a look at your interests and perhaps you can talk about them extensively on your channel. It doesn't matter if you are a stay-at-home mom who loves cooking, gardening, crafting, etc. What matters is that you're able to create content that reflects your passion in an entertaining and engaging way.
It does take some work though, from brainstorming topics, filming to editing. But with effort and utmost authenticity, you can win the trust of your followers and perhaps become a potential ambassador for brands.
You can also make more money on YouTube from your ads income, sponsored videos, affiliate content, and sales from your own merch and digital products.
Related: How Much Do YouTubers Make
---
6. Freelance Writing
If you have a way with words and are able to create valuable written content, you can earn money as a freelance writer.
With this job, you can set your own rates, work on your own schedule and pick projects that you're most comfortable with. It's not surprising to see a freelance writer commanding three digits for a single piece of short content.
So, if writing is your forte, then you can start scouting writing gigs on sites like Upwork, Fiverr, and Flexjobs.
As you grow your portfolio and earn more experience as a freelance writer, you could pitch your services to brands, companies as well as print and digital publishers. These places often pay a premium for excellent content to freelance writers, plus you get the opportunity to put your name out there.
FlexJobs is my most recommended site for flexible jobs like freelance writing. All job listings on the site are screened by FlexJobs so you are assured the jobs are scam-free.
Related posts:
Write and Get Paid Instantly: 38 Best Places for Paid Writing Work
Textbroker Review: Is It Legit or Not? (Full Review 2022)
Verblio Review: Get Paid to Write Online
---
7. Blogging
Blogging comes highly recommended as one of the top ways to earn money from home. As a blogger myself, I can attest that this money-making opportunity works, especially for stay-at-home moms like me.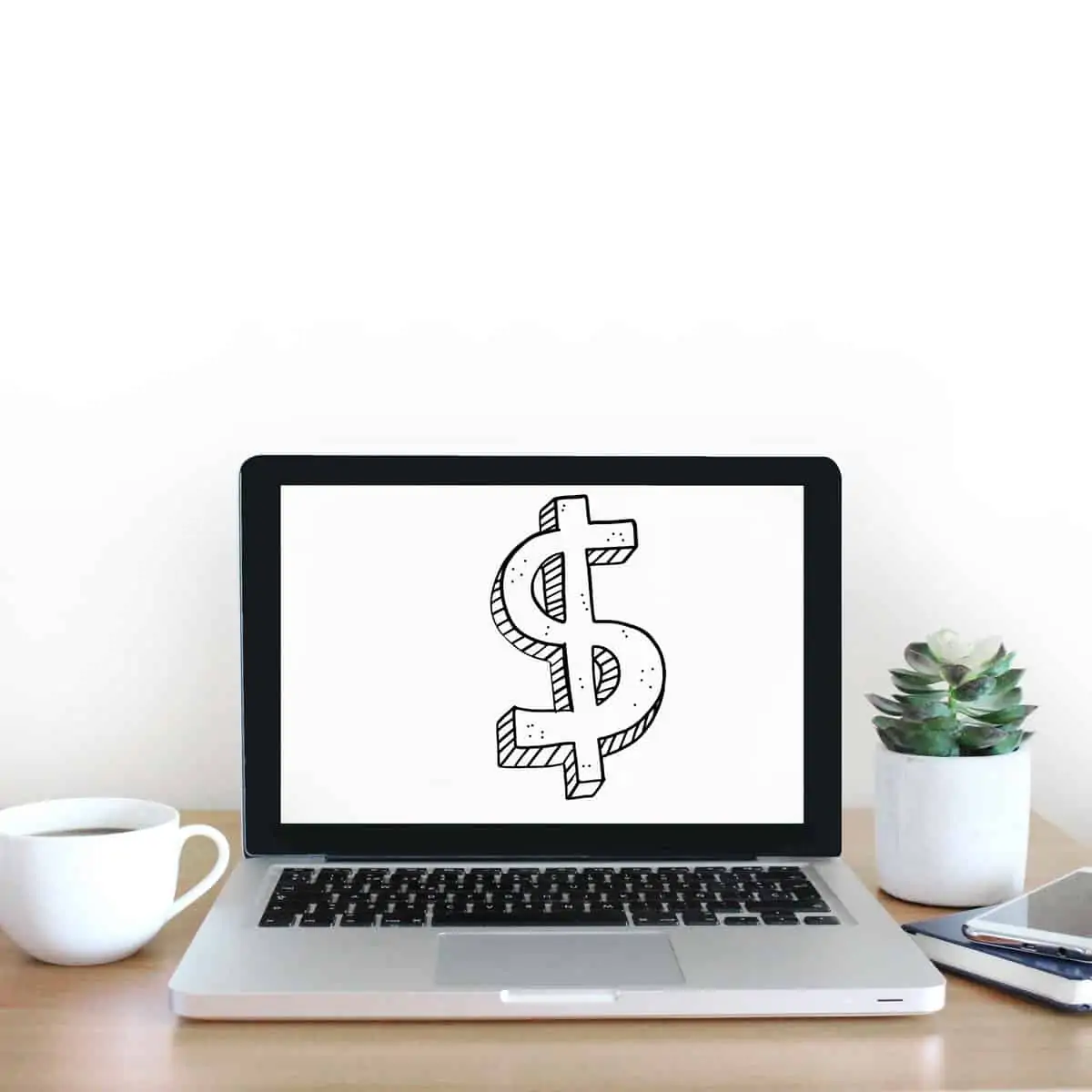 The blog is not just an outlet for you to express your thoughts on topics you care about, but also a platform to build reputation, authority, and community.
Blogging gives you enormous flexibility on what content you'd like to put out. For example, I love writing about how to save money, make money on the internet, and ideas for a frugal lifestyle. These are topics that I'm most passionate about, and they resonate with my target audience.
Your own blog is home for your thoughts and opinions. Your blog post can talk about your passions and interest on your blog, whether that's travel, food, and cooking, fashion and lifestyle, personal, etc. And as long as you keep it helpful and relevant, your audience will keep reading you.
There are several ways to make extra income from a blog: ads, sponsored content, and affiliate content. Other bloggers have become authors, keynote speakers, podcasters, and even entrepreneurs. You'll never know just how much your little blog could grow and earn extra cash over time.
Want to learn how I earned $75,000 per year from this blog? Check out this detailed blogging guide!
---
8. Affiliate Marketing
If you're already blogging, the next course of action to further make money is to learn affiliate marketing. Although you can earn money from affiliate marketing without a blog, most people I know just earn money more effectively if they have a blog or website.
Put simply, affiliate marketing is the process of promoting other people's products or services through your unique link. You create content about these products and then attach a link so that visitors can check them out and make a purchase. Each purchase entitles you to a commission.
So think of it as a source of passive income because you'll keep making money from that same link over and over again.
One of the most prominent bloggers/affiliate marketers is Michelle Schroeder-Gardner. Her personal finance blog has made her a millionaire, allowing her to travel full-time and become financially independent.
I can highly recommend Michelle's course Making Sense of Affiliate Marketing if you want to know how to make money from affiliate marketing. I have taken the course myself when I first started blogging and have learned a lot from it.
9. Selling Printables
If you're quite an organized person, you can translate your organization methods into digital products and help make other people's lives easier. You can create templates, meal plans, planners, checklists, and more, and then make money quickly from them.
I'm talking about making and selling printables. It's one of the best ways for females to make money online. Printables can be a side gig or a full-fledged business that earns you more than a decent income.
Sarah Titus is the best example of a woman who runs a successful online business selling printables. She made more than $50K selling printables on her Shopify store in her very first month. Years later, her business grew into a seven-digit empire.
And the great thing about this online business is that you don't need much to get started. You don't even need to be a phenomenal graphic designer.
Nowadays, you can create printables using easy apps like Canva which I also personally use to make printables for my digital shop and Etsy shop.
Selling printables is also a source of passive income. Once you get them up on your store or website, you will keep making money from the same thing each time someone purchases them.
If you have no idea how to get started, here's a free printables workshop you can sign up for to learn more.
10. Online Teaching or Tutoring
For women who enjoy teaching, online tutoring is the best way for them to make extra money. It is a great side hustle for moms because all you need is an internet connection to start offering your tutoring services.
You can connect with your students through a video chat on Skype or similar apps. You could also easily find students by joining online tutoring companies.
The best thing about online teaching is that there isn't a lot of upfront costs involved for you to get started. You might need just a few teaching materials if you're teaching English as a second language to kids, but most platforms already come with interactive classrooms that make learning fun.
If you are teaching students in the higher grade, you'll go by with the learning resources supplied by their school.
Online teaching or tutoring is also very flexible. You can set a time to meet with your students online or you could pick a work schedule that's most convenient for you.
The pay is also decent. Online English tutors can make up to $26 per hour and could go up depending on the hours you work, your teaching credentials, and your experience.
11. Run an Online Business
Want to satisfy your entrepreneurial spirit without leaving home? There are several online business options you can explore!
Nowadays, you can manage a business entirely from home, and earn an equivalent to a full-time income, even more!
Here are some options worth exploring if you'd like to generate revenue and make money from home:
Start an Etsy shop
If you have a passion for creating things, whether these are baby headbands, wedding favors, or digital products, Etsy is one of the best places to sell. It's so easy to learn selling on Etsy, the fees are low and you get to open and close shop as you like.
Check out my new Etsy shop here! 🙂
Amazon FBA
Another great way to sell and make money online is to piggyback on Amazon. With its FBA program, you can sell almost anything (within legal limits) without holding an inventory of the physical products.
Instead, you send the products to an Amazon warehouse, and Amazon takes care of the packing, shipping, and even customer service.
This allows you to focus on finding the best products to sell and marketing them while Amazon takes care of the logistics for you.
As an Amazon seller myself, I highly recommend taking an Amazon course if you want to take this route. It's because putting up your own Amazon FBA business can cost some money for your inventory.
You want to make sure that the product you want to sell on Amazon has demand, has less competition, and is profitable. You want to know how much your competitors are making for selling this product and more.
If you want to learn more about selling on Amazon, I highly recommend Kevin David's Amazon Ninja Course. Kevin is a 7-figure seller himself and has taught thousands of people how to sell on Amazon and make money fast.
Check out this free 5-step guide that will teach you how to repeatedly sell simple everyday products on Amazon as a beginner.
Dropshipping
The concept of dropshipping is almost similar to that of Amazon FBA except that the manufacturer sends the products directly to customers without them having to go through a warehouse.
You find some hot products to sell, negotiate with the supplier, and then market those products. You won't have to spend on the physical products unless someone orders them, allowing you to minimize your upfront investments.
Print on Demand
Another good way for creative women to make money is through POD or print on demand.
This business model is perfect for people who have a creative flair in them. In a nutshell, print on demand is all about creating designs that can be slapped into a wide variety of merch products: shirts, mugs, caps, fans, pens, etc.
With Print on Demand, you are in charge of creating the designs, while the supplier prints your designs on white label products, and then ships them to the customer.
This means you can almost always focus on the creative side while the supplier focuses on the order logistics. It's a win-win for both parties.
Check out platforms like Printify to start your POD business.
12. Get paid to sites
You don't always need formal training or a bachelor's degree to make extra money. Some money-making methods like answering online surveys and watching videos are easy and straightforward.
There are a couple of legit get-paid-to sites that literally pay you to take online surveys. Most of these are free apps, so you can download them to your smartphone without any charges. In most cases, you'll readily make money when you sign up and when you successfully refer other people to the app.
Here's a rundown of some of the best and legit get-paid-to sites that you can join right now:
Swagbucks
This app pays you to answer surveys, shop online, play games, and more. The minimum cash out is $3 worth of gift cards or $25 if you opt to get paid through PayPal. You can sign up here for free and receive a $5 bonus.
Ibotta
It's one of my favorite apps for saving money! It pays you to shop groceries in-store and online.
You can redeem your cashback if you have at least $20 in your Ibotta account, and transfer it into your Venmo or PayPal account. Join here and receive a $5 bonus.
MyPoints
This is also a get paid to site that rewards you for doing a variety of online tasks like watching videos and taking surveys. The minimum withdrawal amount is $3 and you can choose a variety of gift cards to redeem.
Join MyPoints and get a $10 gift card after making your first purchase with MyPoints.
Inbox Dollars
This free app pays you to shop online, answer surveys, search the web, and more. You can redeem your points if you have at least $30 and choose among gift cards, checks or VISA prepaid cards as payment methods. Join InboxDollars here and get $5 free.
Answering surveys and doing simple tasks online are some of the easiest side hustles that any of us can do. While you can't expect them to pay as much as a part-time job, they still bring in some money here and there.
So if you find yourself having pockets of idle time throughout the day, download some of these apps and make money today, fast and easy.
13. Work at Home as a Customer Service Rep
Females who have some prior experience in working as customer service associates may want to consider seeking employment opportunities where they can work at home using their own telephones and computers.
This presents an excellent opportunity to begin building a client base while simultaneously gaining more experience that will look good on any future resumes.
Even if you're just starting out, you can get paid anywhere from $7 – $15 per hour depending on your background and what type of product or service you'll be providing to the client.
It should also be noted that this profession has a high turnover rate due to how demanding and stressful many customer service jobs can become.
14. Sell Your Artwork through Redbubble
Redbubble is an online marketplace that facilitates the selling of artwork created by independent artists, including those who specialize in creating custom t-shirts and similar items.
The website employs a print-on-demand model which means that your designs are printed once they're purchased. It can be an extremely profitable way for female entrepreneurs to make money online because there's no added cost involved or inventory needing to be stored at home or work.
15. Make Money Online with Transcription Work
A transcriptionist is someone who listens to audio files and creates written summaries of what's said during the recording. Since there are countless people in need of professional transcription services, it can be an extremely profitable way for females to make money online especially when you consider how much time listening to audios usually takes up in most people's daily routines.
To get started, check out my list of companies that offer transcription jobs for beginners.
If you want to get serious, check out Transcribe Anywhere's General Transcription course, or get this free mini-course to learn what transcription is all about.
Other Ideas for Females to Make Money Online
Here are some unusual ways how to make money as a woman fast!
Related:
22 Side Hustles For Single Moms Who Need Extra Money
Conclusion
If you want to make money today, then you should take stock of your skills, talents, knowledge, and material resources to find a side hustle that's most appropriate for you. Thankfully, there are plenty of options at your disposal, some of them even have zero to minimal upfront cost involved.
How do you make money online as a woman? Share your tips in the comments section below!