I confess, I am not really a "people person." I don't like talking to people for a job.
When I learned more about my personality, I knew that what I needed were jobs where I could work alone or jobs that don't involve working with people.
If you also flinch at the idea of talking to people for a job, and you see yourself thriving more in jobs that don't deal with people, you're in luck because today I have a list of "jobs for people who hate people."
But, you don't really have to "hate people" to like these jobs. These "introvert jobs" are for those who find themselves more productive, creative and successful working alone.
Extrovert vs Introvert: What Type of a Worker Are You?
But first, what exactly is an introvert? How would you know if you're an introvert? Why you should be looking for careers for introverts if you're one?
Some of us do well in careers that require constant human contact.
These people, often called extroverts, thrive despite the chaos and pressure of a busy working environment. They might even find it extra stimulating when they need to face customers or colleagues on a daily basis.
In a traditional work environment, these people often get higher positions and well-paying jobs. They are great leaders and at managing people.
But there are some of us who like to work alone and in peace, and this group is often called the introverts. These people are even most creative, efficient, and productive when they work alone.
Often, introverts like working by their lonesome. They don't like the noise and chaos of a crowded workplace and would rather work independently.
In a traditional work environment that requires more human interaction, introverts often find themselves more stressed and overwhelmed instead of succeeding.
As an introvert myself, I know how stressful and nerve-wracking it can be to go through day by day doing something beyond my comfort zone.
If you are also an introvert (which, by the way, is fine) and you struggle working in a "traditional workplace," you might want to look into these jobs where you work alone and where your strengths will shine!
Join my mailing list to receive updates on online work-from-home jobs by email!
This post contains affiliate links. I may earn a commission for purchases made through these links at NO extra cost to you. Please see my Disclosure for more information.
Easiest Ways to Make Money Online
Jobs for People Who Hate People: 12 Best Careers for Introverts
Thankfully, there's a huge selection of jobs where you work by yourself. And you may be surprised that there are also plenty of jobs for introverts that pay well!
1. Blogger
If you're looking for jobs where you work alone at home or online, then blogging might just be the perfect fit for you.
As a blogger, you have full control of almost every aspect of your "job." You can blog whenever and wherever you like and you get to decide on your content.
You can even operate multiple blogs without having to show your face to people.
There are many ways you can make money from blogging. You can make money from display advertising, sponsored content, and affiliate marketing.
It's also possible to earn a full-time income from a blog. Successful bloggers even make so much more, that many of them were able to quit their jobs!
The drawback, however, is that it can take some time to grow a blog. It took me several months to start making money from this blog, and it took a year to start making at least $1,000 per month. However, my income has been consistently increasing.
How to get started
Fortunately, setting up a blog is easy and cheap (best price here!), and it doesn't require high-level technical skills to manage and maintain it.
Here's a quick tutorial to help you get started with Hostgator for only less than $4 per month.
I also recommend reading my comprehensive guide on how to start a blog and make money. This guide will show you the strategies I used to grow my blog to earn a full-time income from home.
---
2. Transcriptionist
Transcription is a great job option for introverts because it does not require speaking.
As a transcriptionist, your main job is to type the words you hear from an audio file.
You may have to transcribe meetings, interviews, or video conferences.
But, transcription extends far beyond converting audio into text. As a transcriptionist, you also need to make sure that the transcript you produce is free of grammatical errors.
According to ZipRecruiter, the national average salary for transcriptionists is $58,441 /year.
How to get started
To get started, check out this list of companies that offer transcription jobs for beginners.
If you want to get serious and learn how to set up your own transcriptionist business, check out this post:
Transcribe Anywhere Review: Is This Course Really Worth The Cost?
I also recommend checking out this free general transcription mini-course to learn more about general transcription.
Reviews of Transcription Companies that Hire Beginners
---
3. Website Proofreader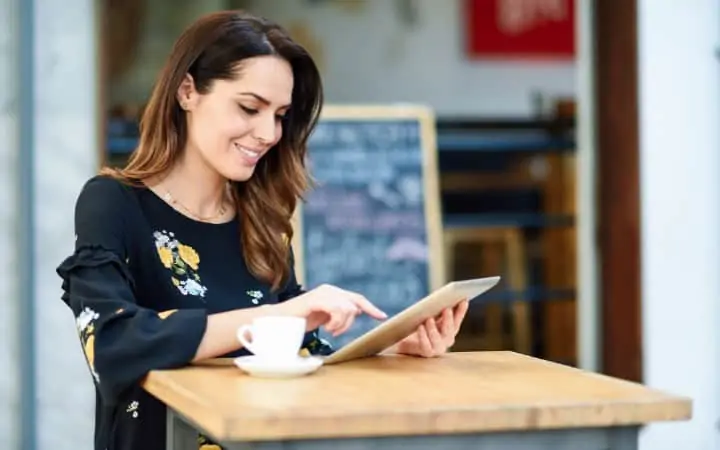 Proofreaders go over texts and correct them for errors in spelling, grammar, formatting, and syntax. It is easily one of the best jobs where you work alone and a perfect job for grammar nerds.
Proofreading doesn't require certifications as accounting jobs would. However, you need to have an eagle eye for spotting errors to become an excellent proofreader. Having a bachelor's degree, although not required, may help also you land proofreading jobs faster.
According to Salary.com, the salary for proofreaders in the United States ranges from $47,554 to $54,192.
How to get started
Not sure whether proofreading is for you? Check out this free 76-minute proofreading workshop by Caitlyn Pyle. Caitlyn is a professional proofreader herself and the founder of a popular proofreading blog called Proofread Anywhere.
Related post: How to Become a Proofreader from Home with No Experience
---
4. Court Transcript Proofreader
Court transcript proofreading is a more specialized field of transcription dealing with legal documents.
If you are already good at spotting grammatical errors, you might want to enhance your skills by learning legal transcript proofreading, which pays more than general proofreading.
As a court transcript proofreader, you work for a court reporter, proofreading legal documents and making sure that they are accurate and error-free.
Court reporters are busy professionals, and they often do not have the time to proofread their work. So, they hire proofreaders to help them proofread their transcripts.
According to ZipRecruiter, the average salary for legal proofreaders in the US is $48,439 a year.
How to get started
Check out this free proofreading workshop to learn more about proofreading or enroll in their signature Legal Proofreading course.
---
5. Freelance Writer
Freelance writing is one of the best jobs for introverts who love writing, and it also remains one of my favorite side hustle ideas!
Fortunately, freelance writers are in demand, so you'll never run out of writing opportunities online. You can write blog posts, reviews, webpage content, or eBooks for business owners. You can also make money writing thesis and essays for grad students.
How much money you can make from freelance writing varies per client, project, and specifications.
According to Indeed, freelance writers in the US make an average of $23.12 per hour.
However, well-paid freelance writers like Holly Johnson make six figures from freelance writing.
Freelance writing can indeed be very lucrative if you know how to market your services and know where to find clients.
How to get started
Check out this list of websites to find writing jobs for beginners.
I also recommend creating a high-quality portfolio to show to your potential clients and your own professional website.
Check out Holly Johnson's free freelance writing workshop to learn:
Holly's "6 Keys to Online Freelance Writing Success"
Techniques she has used to build her writing income to over $200,000 per year
---
6. Virtual Bookkeeper
Do you like working with numbers and going into the nitty-gritty of a financial transaction? If you do, you'd make a fine bookkeeper.
Bookkeepers are professionals who help businesses keep their finances in order. As a bookkeeper, you're in charge of recording a business's financial transactions, managing general accounting ledgers, and generating financial statements.
You don't need formal education or a degree in accounting to be able to work as a bookkeeper. And thankfully, if you need to learn bookkeeping skills, you can take online courses on bookkeeping.
According to Salary.com, the average Bookkeeper salary in the US is $45,167 but the range typically falls between $39,641 and $50,671.
How to get started
Check out this FREE 3-class series to learn more about bookkeeping and whether it is for you.
---
7. Virtual Assistant
Virtual assistance is another excellent career option for introverts.
As a virtual assistant, you provide business owners support from home–from data entry and scheduling to managing social media pages or graphic designing.
You typically work from home on your computer, so there's no need to interact with other people face to face. If anything, it may only require minimal interaction with your client.
Virtual assistance has a huge scope, and there are so many VA services you can offer your clients, including:
Data entry
Social media management
Email management and correspondence
Ghostwriting
Marketing
Recruitment
Appointment setting
Event planning
Graphic design
Virtual assistance can be lucrative, too, most especially if you have a lot of skills to offer your clients. It's one of the remote jobs that does not require a bachelor's degree but can make you six figures a year.
How to get started:
Check out this free 3 Clients in 3 Days Video Training by Gina Horkey to learn how to easily sign clients without feeling awkward, pushy, or desperate.
Related: 18 Virtual Assistant Jobs for Beginners
---
8. Social Media Manager
Many business owners just can't find the time to update their Facebook and other social media accounts with fresh content. And this is where social media managers can help!
As a social media manager, your role is mainly to keep your clients' pages active on social media platforms. To do this, you need to post content regularly to keep your client's followers engaged and attract more followers.
Social media management is one of the best job prospects for introverts like yourself because this job allows you to work independently from home.
It's the perfect job option if you are knowledgeable of how social media works, and love creating visual content. You may also be required to have knowledge of Facebook ads as well as some copywriting skills.
According to Payscale, the average salary for social media managers is $52,724 per year.
How to get started
You can find job opportunities at job boards like FlexJobs.
FlexJobs is my most favorite online marketplace when it comes to remote, flexible, and stay-at-home jobs. It's because the company vets every job listing carefully to weed out scams.
For cheap advanced skill training to improve your skills and become a competent social media manager, check out the following online courses at Udemy:
Social Media Manager: The Complete Manager Bootcamp
Become A Freelance Social Media Manager – Home Business
---
8. Tutor
Tutoring online is one of the top jobs where you work alone. Although you'll have to be online through a video chat, it isn't as bad as facing a client face-to-face.
Additionally, most times, your clients are going to be kids, specifically, if you're teaching English as a Second Language or ESL, so it's actually a fun job to have.
Some companies hire tutors with or without teaching experience, so if you're passionate about teaching, that should be a great start.
How to get started
Check out this list of teaching platforms to find tutoring jobs for beginners.
---
9. Pet Sitter
If you're not a people person, there's a huge chance that you love the four-legged creatures. And if you do, you can make some nice side income from this interest.
Pet-sitting and dog-walking are some of the easiest jobs for introverts. You just need to love dogs, and you'll most likely be fine with this side hustle.
How to get started
To start your pet-sitting and dog-walking job, you can connect with potential clients at Rover.
Rover is an app that brings together pet-sitters and pet owners in your area on one platform. They may book your services via the app, as well as use it as a communication tool while on the job.
---
10. Graphic Designer
Jobs for People Who Hate People
If you love designing content and materials, then working as a graphic designer or artist is perfect for you.
Graphic artists typically design brochures, posters, business cards, and other marketing collaterals. It's one of the best jobs where you can work alone, especially if you're quite adept with the computer and designing software.
There may be times when you have to communicate with other people, such as when meeting with your clients or if you work for a company. But most times, you are left alone to work on your designs.
How to get started
Check out jobs boards for graphic designers such as:
11. Become an FBA Seller
Do you want to have your own retail company but don't want to actually face customers or employees? Then, the Amazon FBA program offers the best opportunity for you.
The best thing about the Amazon FBA program is that you can work alone and focus on finding products or creating your own products, and let Amazon take care of the logistics (shipping your items to your customers) for you.
There are a few ways to make money as an FBA seller:
Retail arbitrage– shop at physical stores and make a profit of your purchases by reselling them with a markup price on Amazon. This business model is called retail arbitrage
Privte label– source your own products and sell them on Amazon.
How to get started
Check out The Selling Family's Amazon Boot Camp or sign up for their FREE 7-day email course here to learn more about how to make money reselling items on Amazon.
Jessica from The Selling Family makes six figures per year as an Amazon seller and she's also helped a lot of stay-at-home moms make money on Amazon doing the same thing.
If you are interested in building your own brand and selling your own products, I recommend doing private label. It is more scalable, and it's what the majority of the 7-figure sellers on Amazon do.
I've done this all from home without having to "face people." If you are interested in this business idea, I recommend taking this free 5-step guide (normally $47) and learn the steps to start, grow, and scale your own brand on Amazon. This guide will teach you how to find products that sell with almost zero competition.
Related: 16 Worst Jobs For Introverts and The Best Career Routes For Shy People
Jobs Where You Work Alone: Do What Makes You Happy
Whether you want to take a different career route or simply find jobs where you work alone from home so you can be more independent and autonomous, the good thing is, there are plenty of opportunities out there for you.
Your dream job doesn't have to be in a huge office building where you chat with your colleagues during break time. It could be one that you can do online and from the comforts of your own home, with little to zero human interaction. You crave the focus, the silence, and the accountability to do your own tasks. It isn't a crime to be an introvert and does not like talking to people.
So, if you happen to like jobs where you work by yourself, then, by all means, go for it!