Welcome to my Daily Transcription review!
Transcription is unarguably one of the most convenient stay-at-home jobs these days. Essentially, this involves listening to audio or video recordings and converting them into written documents. Today, we are taking a close look at Daily Transcription, a popular company that offers transcription jobs for beginners.
With this Daily Transcription Review, I am going to help you answer the following questions:
How much does Daily Transcription pay?
What are the pros and cons of working for Daily Transcription?
What have people said about Daily Transcription?
Is Daily Transcription legit or a scam?
Is Daily Transcription worth it?
Disclaimer: I am not a member or an affiliate for Daily Transcription. It is my goal at This Mama Blogs to help you find legitimate money-making opportunities. In line with this goal, I write unbiased reviews of opportunities, such as this Daily Transcription Review, to help you decide whether they are a real deal or not.
This Daily Transcription Review has been researched with information or testimonials available on the internet. Any conclusions drawn from this post are entirely my own.
What Are the Types of Transcription Jobs Available?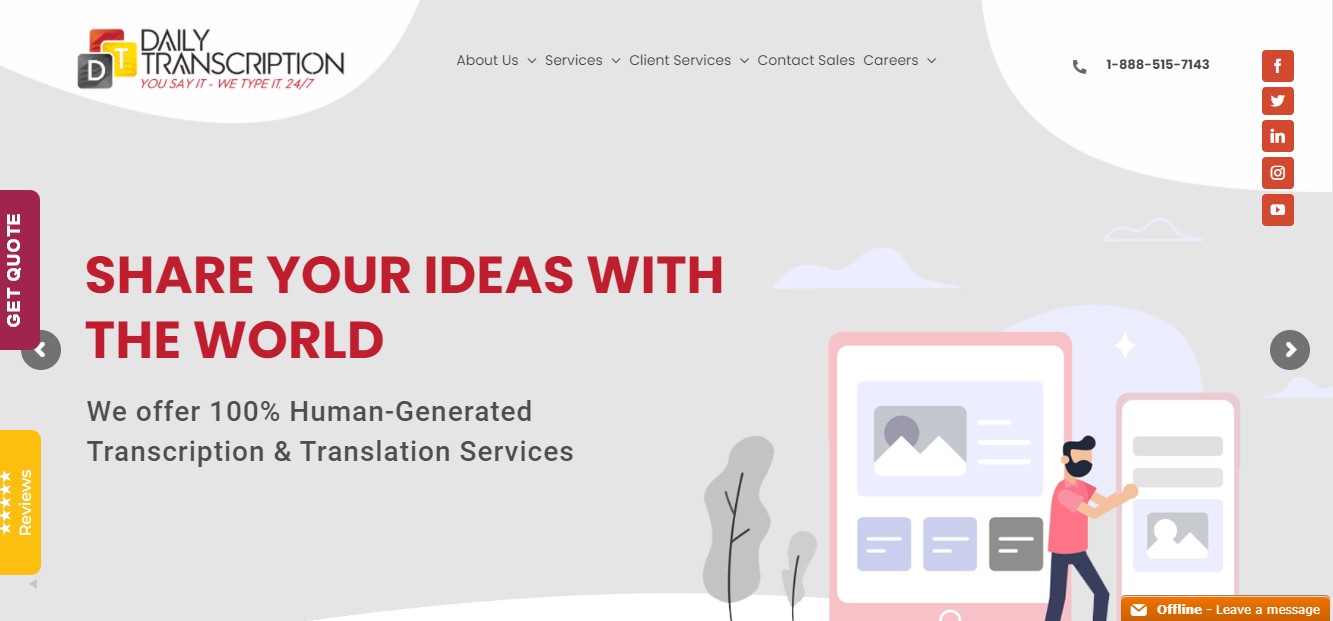 But first, what kinds of transcription jobs are out there? According to the Transcription Certification Institute, there are three main types of transcription jobs available:
General transcription covers most industries including government agencies, organizations, and businesses. These jobs require conversion of audio and video files from events, workshops, or meetings that can be used for research, simple data recording, and varied other purposes. Oftentimes, general transcription jobs don't require specialized training or transcription experience.
Medical transcription entails transcribing dictations of doctors for documenting patient records, or dictation of medical and health procedures and processes. This requires knowledge of medical jargon and a very high degree of accuracy. In a lot of instances, most medical transcriptionists also undergo a formal training or certification process.
Legal transcription jobs require recording courtroom proceedings, client-lawyer interviewees and legal meetings. A high level of accuracy is also expected and excellent grammar and proofreading skills.
---
What is Daily Transcription?
Daily Transcription is a Los Angeles-based transcription, translation, and captioning service for over 10 years now. They handle a wide range of content – from audio and video formats for media and entertainment outfits, to corporate, market research, and legal content. They work with clients from various sectors such as universities, government agencies, and private companies.
Their range of services is also diverse, covering transcription of various audio formats, translation services, and post-production transcription services that involve specialized and customized formats.
That said, the company has worked with companies like HBO and MTV and organizations such as the Bank of America and Harvard Business School in the past.
---
Who Can Work at Daily Transcription?
Anyone who is at least 18 years old can apply. The company welcomes students, stay-at-home parents, or any individual looking for part-time work to add to their regular income.
Also, unlike other transcription companies, Daily Transcription welcomes both beginners and those with transcript work experience.
You only need to display excellent listening skills, a reasonable typing speed of at least 50 words per minute, and a good command of the English language.
Overall, I'd say that Daily Transcription is one of the easy transcription services companies to get into if you want to get transcription experience. And because it also offers translation services, it can also be a good fit for bilinguals.
According to the company's website, translation services are available for languages like Arabic, Chinese, Japanese, German, French, Spanish, and Russian.
---
What You Need to Get Started Working At Daily Transcription?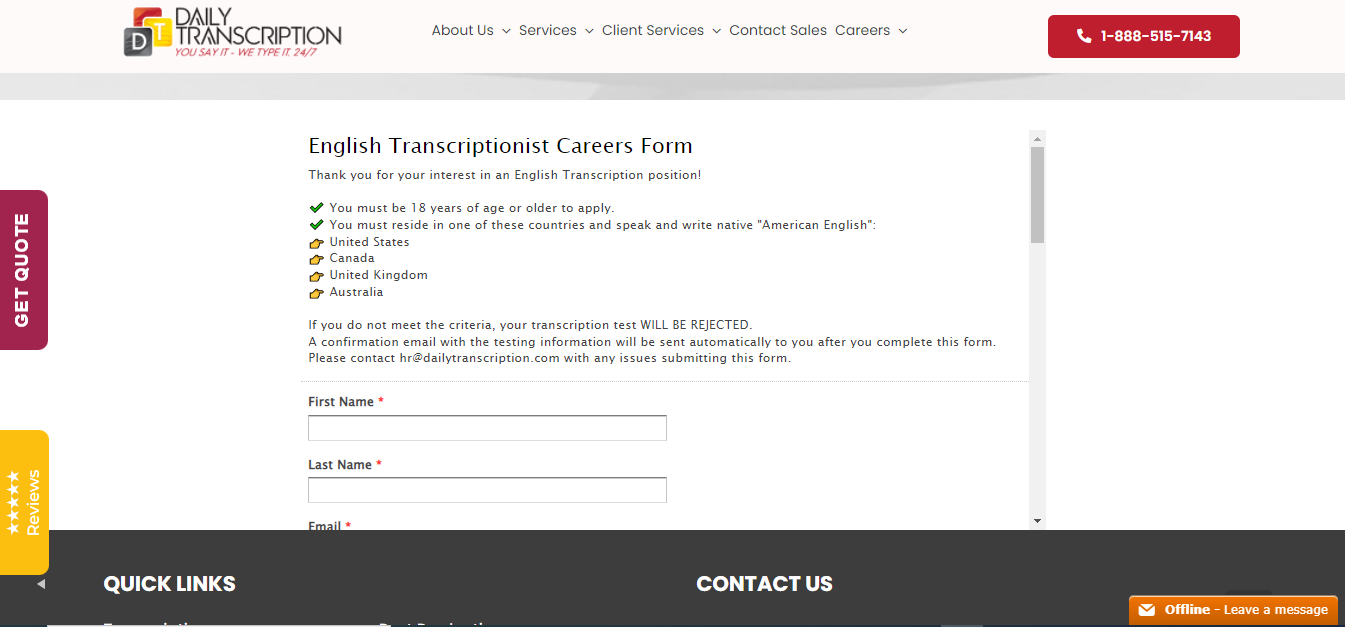 With the range of products offered by the company, one can make a go at any of these Daily Transcription careers:
You can work as a transcriptionist, translator, subtitler, or captioner at Daily Transcription. These are mainly freelance positions, and your earnings are computed based on the assignments you complete.
The application process is pretty straightforward. Simply head over to the Daily Transcription Career page and fill out the form of the role you are interested in. You'll need to pass both the transcription test and skill assessment test for your area of expertise.
To start working, you'll also only need very minimal hardware. You must also have reliable Internet and a high-quality headset. And although not required, you may want to invest in a good foot pedal which can help make your transcription work easier.
---
If you're interested in transcription but have no experience or idea on how to get started, check out this free transcriptionist training to learn more about transcription.
---
How Much Does Daily Transcription Pay?
Like most assignment-based freelance work, your earnings will depend on the kind of content or assignments you completed. However, according to Indeed, the average pay of a Daily Transcription transcriptionist is $48.57 per hour.
On average, transcriptionists in the US earn about $13.90 on the hour. That said, Daily Transcription's pay rate seems considerably above the average.
According to the Daily Transcription website though, starting rates are typically at $0.75-0.85 per audio minute. That means you could earn up to $51 per audio hour.
Payouts are made every week and are computed based on the completed transcriptions of the previous week. Again, this amount is dependent on the kind and number of assignments you've completed for that period.
---
Other This Mama Blogs posts you might like!
How to Become a Transcriptionist
15 Stay-at-Home Mom Jobs that Pay Well
How to Make 200 Dollar in One Day
15 New Economy Hobbies that Make Money
---
Pros and Cons of Working for Daily Transcription
Pros of Daily Transcription
There are a number of good reasons to consider working for Daily Transcription.
Regular payment scheme. Most remote jobs pay only on month-end, and others still only when the assignment is finished, which could last for a couple of weeks or more. Daily Transcription's weekly payment arrangement means money comes in faster so there's no long waiting time if you're short on cash.
A chance to learn a skill. Daily Transcription offers training and coaching, and I think this a major selling point of the company especially if you're a newbie in the industry. This offers a good opportunity to learn transcription skills that can prove advantageous to you if you want to seek our advanced and higher-paying transcription assignments in the future.
You can work on your own schedule and time. Transcription work gives you the opportunity to design your work day however you want it. Unlike other remote jobs, Daily Transcription does not require you to log in at certain hours of the day, or put in a minimum number of hours for work every day. You simply just have to work on the assignment, at a time you can, and finish it within the timeframe given.
Cons of Daily Transcription
However, working as a transcriptionist is not always for everyone.
Daily Transcription is limited only to US and Canadian residents.
No guarantee of consistent assignments. Though earnings are released on a weekly basis, the company's disclaimer about no guaranteed regular and consistent assignments is worth noting especially if you're looking for regular tasks that could also mean more regular income.
Require self-discipline. Online transcription jobs for beginners and professionals alike demand a high degree of accuracy and the ability to meet deadlines. In order to get paid and increase your chances of being assigned new projects next time, you'll need strong motivation and control over your time in order to meet transcription deadlines.
Some Daily Transcription Employee Reviews
There's a blend of comments from people who've worked for or are working for Daily Transcription.
This one review on Indeed from a current employee commented on the timely pay and interesting work while allowing her a chance to make time for her family.
"This job allows me to make a living while still being able to stay close to my family. The pay is timely and easy and the work is interesting."
Another comment from a former employee also remarked on how the mentoring and training process can help improve the quality of work.
"Managers were good in giving feedback and assisting you if you need anything"
A Reddit user pointed out that the company offers a decent pay rate, however, communication with the company sometimes tends to be unprofessional, with some emails and guidelines for certain assignments poorly crafted.
"The emails I receive are unprofessionally formatted…The guidelines for particular jobs are often worded poorly."
Daily Transcription : Is It Legit or a Scam?
Daily Transcription is a legit transcription service company and one of the pioneers in the transcription business in the US. Testimonials and reviews of employees from platforms like Glassdoor and Indeed also show that the company is not a scam and assignments do pay at a reasonable rate.
But Daily Transcription itself offers a caveat to working for them: they cannot guarantee a set amount of assignments every day or week. This means that while their payment scheme is more regular than others, there may be days or weeks when you also don't have anything to work on. You will still need to find a primary source of income or take on a couple other projects on the side.
The company also attests that its top transcriptionists take home about $250-$950 a week. However, if you're starting out, it may take a while for you to develop the skills and reach this level of proficiency to get assigned the more high-paying projects.
Nevertheless, if you're alright with less than regular assignments and just want to break through into the transcription business and would like to get some solid experience, Daily Transcription is a legitimate company worth considering.
Has this Daily Transcription review helped you? Let me know in the comments.
---
Other Transcription Companies You Might Be Interested In!