Are you looking for a transcription course that can help you set up your own transcription business? Transcribe Anywhere claims to do just that. But is it really worth it? Read this Transcribe Anywhere review to learn more!
If you want a work-from-home job with the least barrier to entry, then you should be looking at transcription. After all, transcription is simply a matter of typing what you hear, or so they say.
But the truth is, transcription is also hard work. You don't just listen and type, but you also have to do both meticulously while maintaining a respectable degree of speed and accuracy. You need to make sure that your transcript is error-free, follows the correct transcription guidelines and time coding format.
But the good thing is, if you wing the transcription process by implementing the right strategies and best practices, you could pretty much put up your own business offering services to clients.
And the best way to obtain the skills and knowledge to become a successful transcriptionist is to get a transcription course.
Today, Transcribe Anywhere's courses are among the most popular learning resources for transcription.
But what is Transcribe Anywhere and are their courses really worth investing in? Let's find out.
What Is Transcribe Anywhere?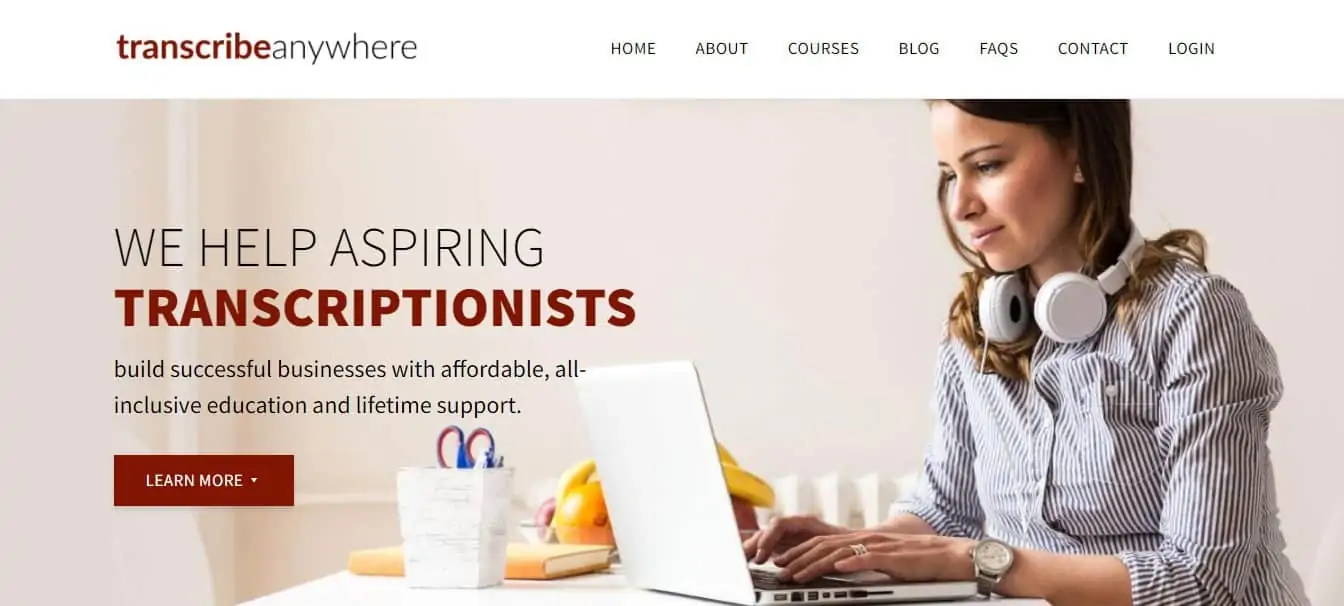 Transcribe Anywhere is a transcription course designed to help you become the best transcriber you can ever be. The course was created by an expert transcriptionist, Janet Shaughnessy.
As the course creator, Janet has had decades of experience in the transcription industry. She uses the course as a platform for sharing her expert insider knowledge so you can start your own transcription business in a matter of months.
Apart from Transcribe Anywhere, Janet also founded Zoom Transcription Services which provides general, medical, and legal transcription services to various clients and companies.
So, you can take comfort in the fact that Transcribe Anywhere who the brainchild of someone who was once in your shoes and has accumulated years of experience, skills, and techniques in the transcription industry.
---
How Does Transcribe Anywhere Work?
According to Janet, there's more to transcribing audio and video files. The process is just one thing, but the business side of transcription is another matter entirely.
Transcribe Anywhere promises to teach you these two aspects – process and business – so you can start making money from home from your transcription business. The courses at Transcribe Anywhere are packed with comprehensive content, training materials, and even come with community support and mentoring.
Basically, how it works is you take the course, go through the training materials online, pass exams, get certified, and then start your own transcription business.
---
Is Transcribe Anywhere Legit?
Anybody who's reading this review is probably asking this right now: "is Transcribe Anywhere legit?"
And that's good. When there's a financial investment involved, it always helps to be at least a little bit skeptical and careful.
But to answer the question: Yes, Transcribe Anywhere is legit.
In fact, while there is no accreditation body for both legal and general transcription programs, Transcribe Anywhere is one of the online transcription schools approved by the American Association of Electronic Reporters and Transcribers (AAERT).
Numerous people have taken and are happy with Transcribe Anywhere's transcription courses and so far, I have not heard of a single review that says Transcribe Anywhere is a scam.
But whether if it is truly worth it, let's dissect Transcribe Anywhere more in terms of cost, pros and cons, and contents of the courses.
---
How Much Does Transcribe Anywhere Cost?
The one thing that most people would find shocking about Transcribe Anywhere is the price tag.
The cost varies depending on which course you take. As I said, there are two courses being offered
by Transcribe Anywhere:
The general transcription course is currently priced at $797 but they also offer a payment plan of $227.00 USD monthly payment for 4 months.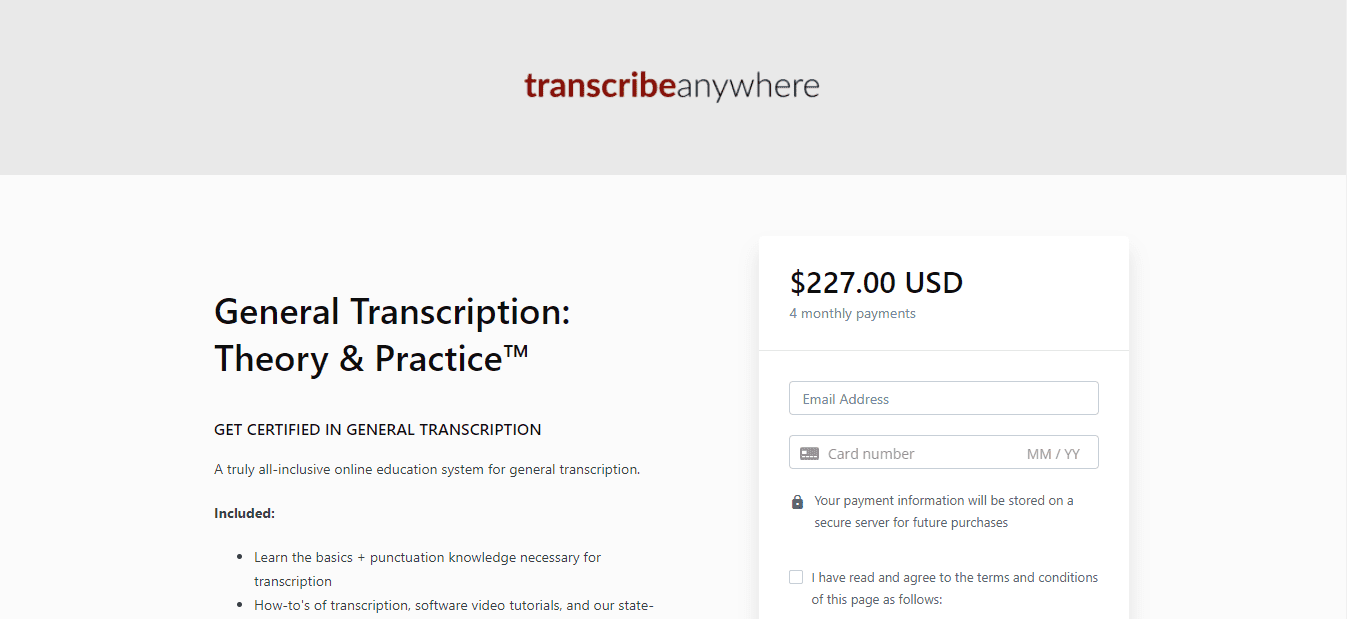 Meanwhile, the legal transcription course is priced at $897 and they also offer a payment term of $247.00 USD per month for 4 months.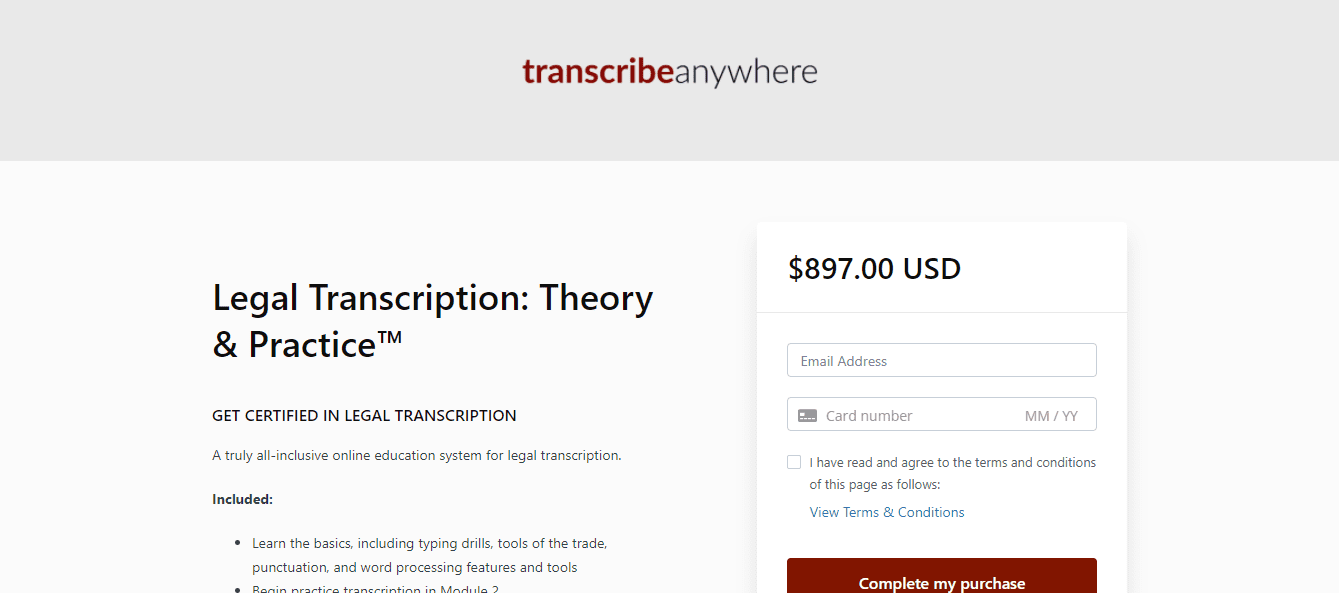 However, if you want to avail of both courses, the cost is $1297, giving you almost $400 in discount.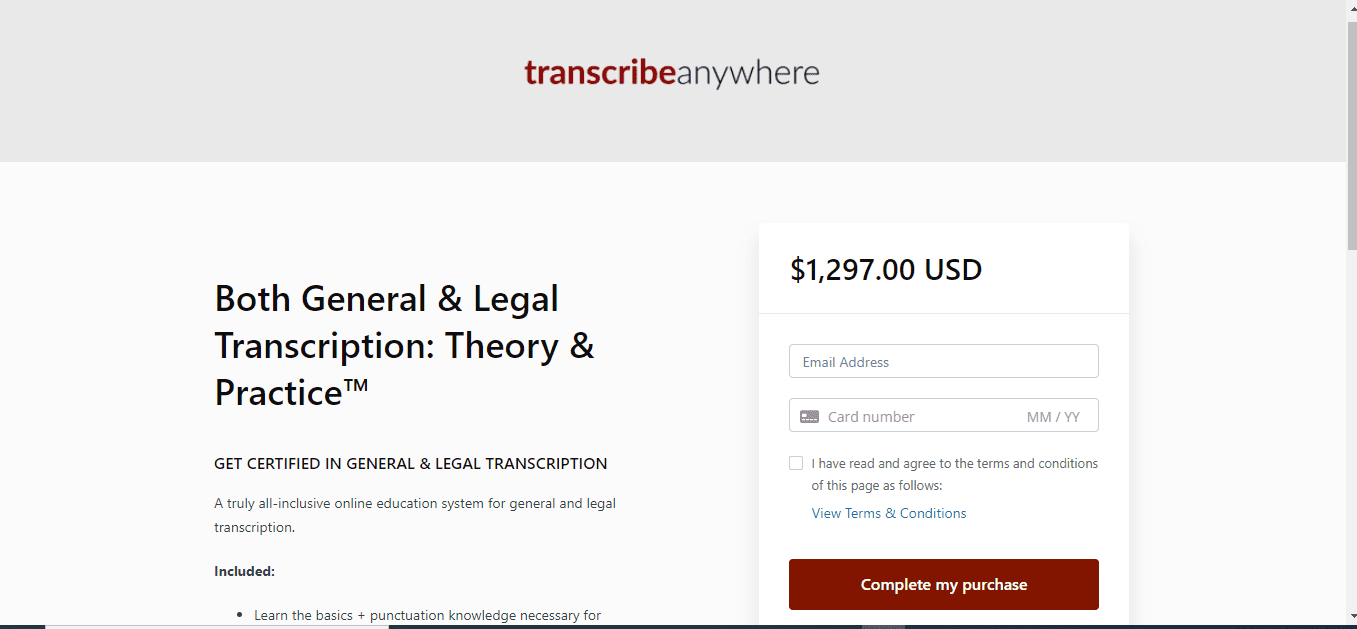 You may also opt to pay-as-you-go and pay a $347 monthly payment for 4 months if you don't want to pay for the entire course right away.
Note: Transcribe Anywhere does not provide a refund or money-back guarantee.
Admittedly, Transcribe Anywhere courses are a bit steep. However, when purchasing a course, I always don't just consider the price, I also look into the content, the potential income that I am going to earn from learning the skills the course teaches, whether the course offers lifetime support, as well as the and time I am saving and networks I am gaining from taking the course.
---
FREE MINI-COURSE
If you don't want to invest yet in Transcribe Anywhere, at least take the free mini-course that Janet is currently offering:
Free General Transcription Mini-Course
This free course will give you a glimpse of what transcription is, if it's a good fit for you, how to make money from transcription, and the equipment and time-saving tools you need to provide high-quality transcription jobs.
So, if you want to see Janet's teaching style and have an initial assessment of what the job entails before forking out the money, then I recommend checking out the free mini-course first.
---
TRANSCRIBE ANYWHERE COURSES: GENERAL AND LEGAL TRANSCRIPTION
It is important to understand the differences between these two niches and ultimately decide on a course to take (or you can take both if you like).
WHAT IS GENERAL TRANSCRIPTION?
General transcription covers the transcription of materials from various industries.
General transcription could include interviews, podcasts, meeting minutes, films, recorded lectures and conferences, and more.
In general transcription jobs, you could encounter audio files with single or multiple speakers. You might also experience transcribing poor audio. But don't worry because the general transcription course covers how to deal with these challenges so you can furnish an accurately transcribed document.
WHAT IS LEGAL TRANSCRIPTION?
On the other hand, legal transcription is a specialized niche in transcription that deals with legal documents.
Legal transcriptionists must be well-versed with the legal terminology to listen and understand legal correspondence correctly. Additionally, legal transcriptionists must be able to use the legal transcription style guide to ensure the quality and accuracy of transcribed legal documents.
That said, legal transcription requires accuracy in their legal forms and records, so a knowledgeable legal transcriptionist is often sought out.
Thankfully, you can learn legal transcription skills from Transcribe Anywhere's legal transcription course.
Also, legal transcriptionists typically get paid more because they need legal transcription training which does not come with the general transcription course.
Lawyers and other legal professionals turn to legal transcriptionists to transcribe court proceedings, prepare legal documents, law office letters, and revise legal transcripts if needed.
---
TRANSCRIBE ANYWHERE CORE FEATURES
What can you expect from Transcribe Anywhere? Here are the core features that this course offers:
SELF-PACED LEARNING
From practice dictation exercises to actual transcription, you get to learn at your own pace. If you have a lot of time in your hands, then you should be able to finish the entire course in a matter of weeks. But if you're a hands-on parent, have a day job, or run a business, you can devote a few hours per week studying the course — it's all up to you!
YOU GET LOTS OF COMMUNITY SUPPORT
One of the best things this course offers is community support. You have access to Transcribe Anywhere's Facebook community where you can ask questions or seek motivation. The course creator is active in the community as well.
YOU LEARN THE BUSINESS SIDE OF TRANSCRIPTION
Transcribe Anywhere won't just teach you how to type quickly and follow time coding instructions. You will also learn how to set up your business, market it, how and where to get paying clients, and more.
YOU WILL EARN A TRANSCRIPTION CERTIFICATION
Transcribe Anywhere will award you with certification after passing the final exam. The certificate is a handy tool to establish yourself as a credible transcriptionist.
YOU HAVE LIFETIME ACCESS AND SUPPORT
The course claims to provide lifetime access to all the materials, like practice files and transcription templates, forever. You also don't pay extra for any updates made on the course.
---
WHO IS TRANSCRIBE ANYWHERE FOR?
Transcribe Anywhere is for anyone who's dead serious about making money from transcription by way of putting a transcription business.
The courses comprehensively cover what you need to be a successful transcriptionist and not just one who works for transcription farms. The end goal should be it's you who puts up a transcription agency and provide transcription jobs for others.
If you were looking to learn transcription just so you can earn some side income, this course might NOT be for you. For one, there are numerous transcription firms that would take in people without experience. Once you get hired, you'll learn as you go.
Also, there are free online resources if you'd want to learn transcription by yourself. It's easy to find audio files that you can practice transcription with. Using audio and video files as exercise materials, you will be able to improve your typing skills.
So, if you were thinking of paying for this course only to earn a small amount of money at the end of the day, then you're not really gaining any profit from this course. It would take a long time before you can recoup the costs.
But, if you take this course seriously, Transcribe Anywhere claims that you should be up and ready in a matter of weeks. By then, you would have learned how to market your business, pitch to clients, and retain a healthy relationship with them. By looking at the bigger picture, you begin to see that this course is for someone who aims to scale up as the business grows.
TRANSCRIBE ANYWHERE REVIEW: WHAT'S INSIDE THE COURSE
MODULE 1 – LAYING THE FOUNDATION
Within Module 1 of the general course are the required tools and teaching of the skills needed to become a proficient transcriptionist. Upon completion of Module 1, students will have an understanding and appreciation for what general transcription is and is not and the skills needed to master the art of transcription.
The lessons include:
Tools of the trade and equipment
Submitting support requests
Transcript format
Standard and strict verbatim
GT style
Cyber security
Jobs you can get as a general transcriptionists
MODULE 3 – ESSENTIAL SKILLS FOR EXCELLENT TRANSCRIPTION
In this module, you'll learn the following to become an efficient and effective transcriptionist:
Sentences, fragments, and run-ons
Clauses and phrases
Parts of Speech
Spelling and punctuations
Transcribing numbers
MODULE 3 – TIME-SAVING TOOLS FOR EFFICIENT TRANSCRIPTION
Module 3 is about efficiency and speed. The lessons include:
Using shortcut keys and text expanders
Use of transcriptionist templates (downloadable)
Time coding
Most frequently used English phrases
Spell check
This module includes the Midterm exam.
MODULE 4 – INTRODUCTION TO PRACTICE DICTATIONS
In this module, you'll practice dictations with real-world video and audio dictations.
There are seven practice levels, beginning with easier dictation files and moving through to more difficult transcription exercises.
MODULE 5 – FINAL EXAM AND CERTIFICATION OF COMPLETION
There are two main parts of Module 5:
Final exam with an instructor. The instructor will provide valuable feedback to you on which areas you may still need to improve on.
Certification – if you pass the exam, you'll be awarded a Certificate of Completion. Otherwise, you may retake the test as many times as necessary.
This module will teach you how to set up your own home-based transcriptionist business and where to find contract work. The lessons in this module include:

---
MODULE 1: INTRODUCTION TO LEGAL TRANSCRIPTION
MODULE 2 : TOOLS OF THE TRADE
The lessons in this module include:
Legal transcription style guide
Typing accuracy and speed
The right equipment to use
Practice audio files
MODULE 3: ESSENTIAL SKILLS
In this module, you'll learn parts of speech, punctuation, phrases and clauses, transcribing numbers, and legal terminology.
MODULE 4: MICROSOFT WORD FOR LEGAL TRANSCRIPTIONIST
In this module, you will learn how to properly notate transcripts, spell check and use shortcuts to improve speed. This module includes video tutorials as well.
MODULE 5: LEGAL CORRESPONDENCE & PRACTICE DICTATION
In this module, learn how to work with and understand legal documents from legal professionals.
Here are the contents of Module 5:

MODULE 6: LEGAL PROCESS AND COURT PROCEDURE
In this module, you'll learn more about the different types of law and how a case moves through the legal process. This will help you understand more the court transcript you will work with. The lessons in this module include:
Anatomy of a court transcript
Steps in a criminal and civil case
MODULE 7: FORMS AND TEMPLATES
In this module, you will learn more about the types of legal documents used in judicial proceedings.
Module 8: Practice Transcription of Court Proceedings
In this module, learn how to effectively practice transcription of court proceedings.
Module 9: Depositions
Here, you will learn how to transcribe depositions.
Module 10 – Law Enforcement
Learn how to work with law enforcement transcripts.
Module 11 – Conferences and Legal Association Meetings
Learn how to transcribe conference files with multiple speakers.
Module 12- Time Coding for Legal Transcriptionists
This module will teach you how to insert timestamps in legal documents.
Module 13.Resource List & Final Exam
This is the final exam module for legal transcription.
This legal transcriptionists module supplies links to various tools and resources used by the legal transcriptionist, including:
Dictionaries
Medical and legal resources
Writing and style guide
Upon passing the test, you will be awarded Certificates of Completion.
Module 14: Building Your Legal Transcription Business
This module will teach you how to market your skills, set your rates, handle taxes and finances, create a business plan and find contract transcription work.
BONUS – Transcriptionist Pro Website Theme
---
Which Transcribe Anywhere Course is Better for You?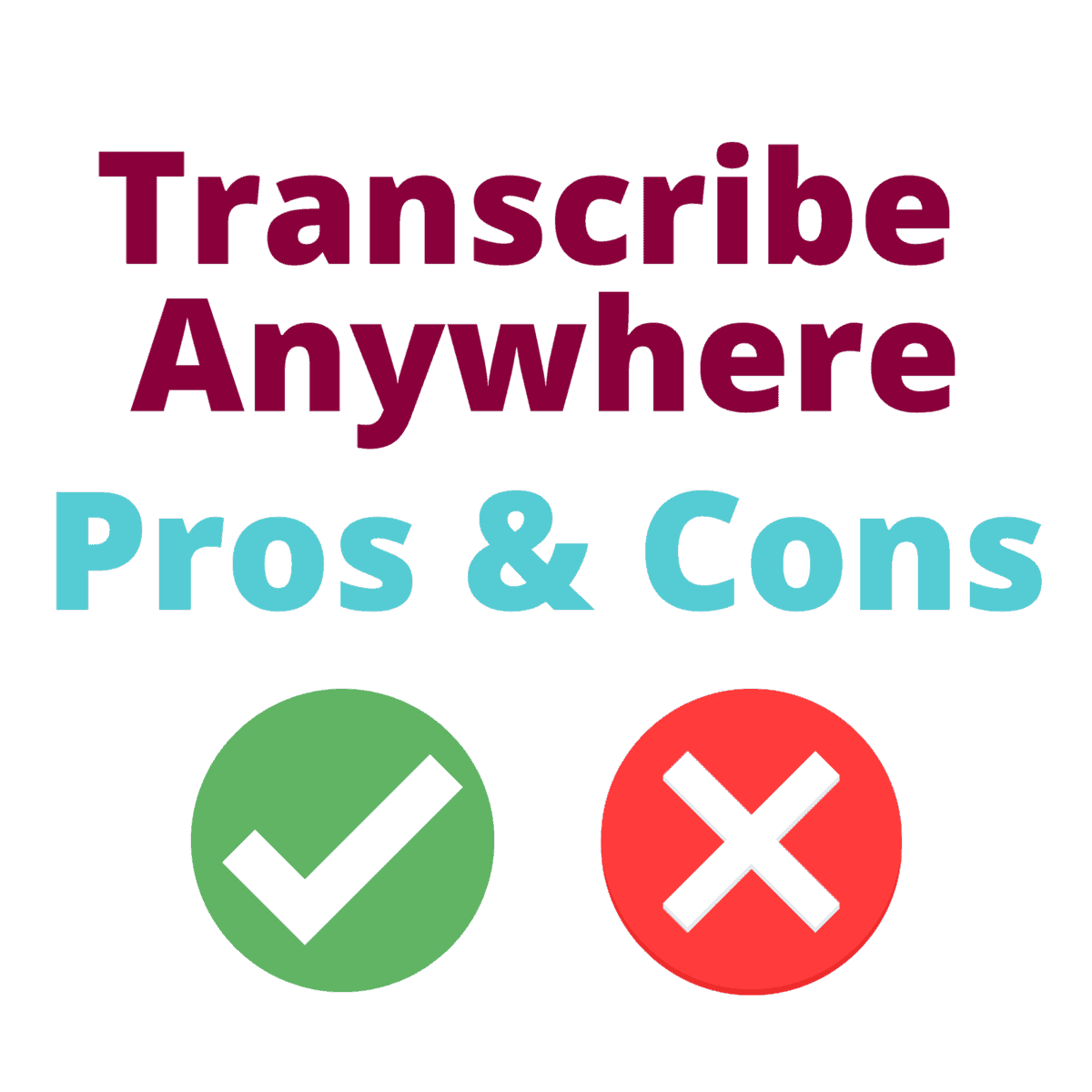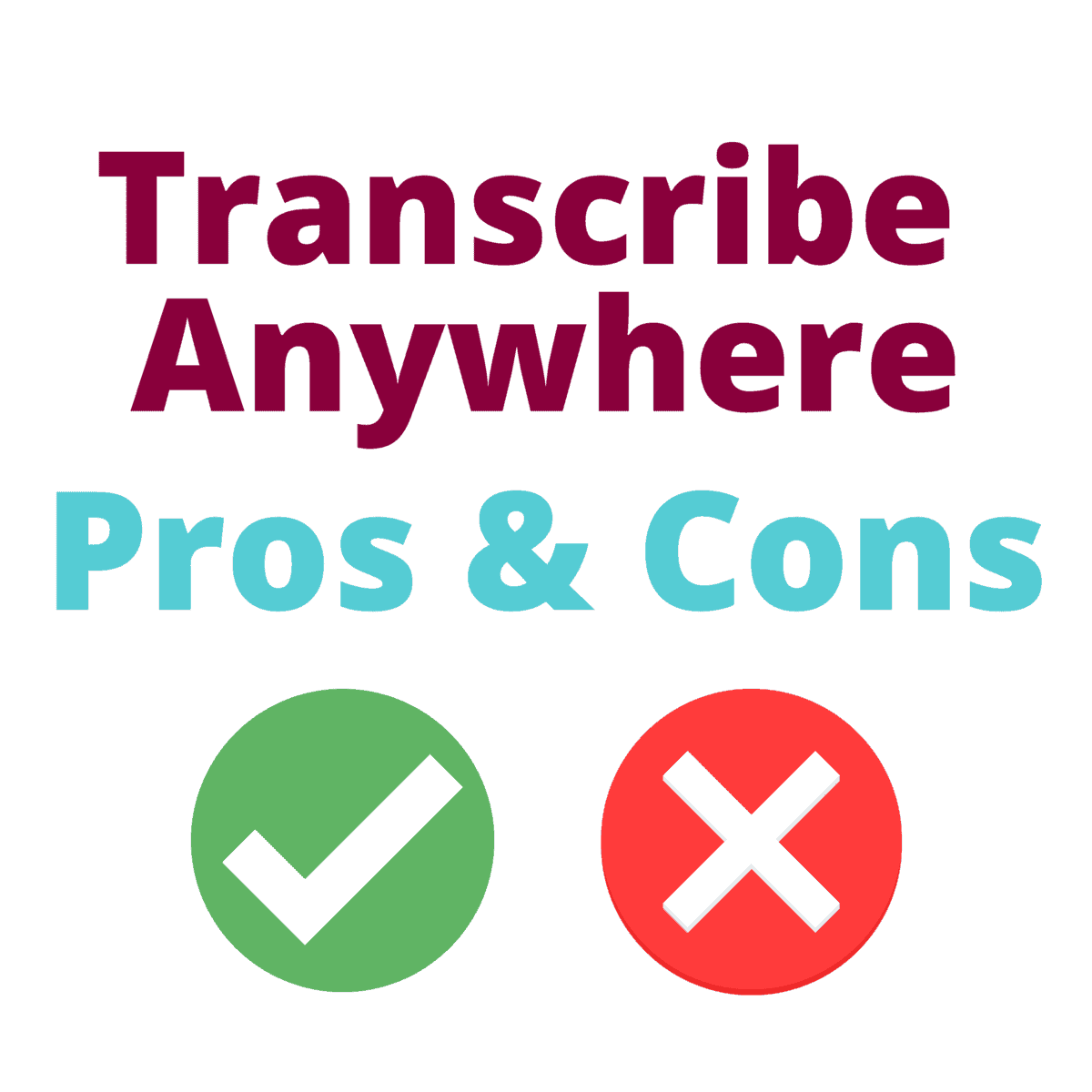 This really all depends on your career goals. If you want to focus on general transcription because of the abundance of general transcription work, then the general course is great for you.
But comparing the contents of both courses side by side, I find the legal course to offer a lot more value for just a hundred dollars more.
There are also overlaps between the general and legal transcription courses. Many lessons in the general transcription are also taught in legal. So personally, I would choose the legal transcription course if I had to choose only one and I want to save money.
What I Like and Don't Like
If you're still on the fence about taking this transcription course, then let me present to you its pros and cons, which might help you land the right decisions.
PROS
The courses are comprehensive. Most students cite that Transcribe Anywhere has the most comprehensive online transcription course they've ever encountered. It is jampacked with learning materials, walking them from to A to Z of the transcription process.
Transcribe Anywhere is accredited. While there's still no official accreditation body for general and legal transcription, Transcribe Anywhere is approved by the American Association of Electronic Reporters and Transcribers.
You are taught to set up and run your own transcribing business. You can earn more money as a transcription business owner rather than as a transcriptionist who is getting paid per audio minute.
The courses are self-paced. If you have other things going on in your life, you don't have to rush to finish the course. You can study the course at your convenience.
CONS
There is no refund or money-back guarantee. You should be wholeheartedly committed to learning transcription because you won't get your money back if you realize you don't like it. For this reason, I recommended taking the free courses first to have a better idea of how online transcription works.
The cost of the courses. Although Transcribe Anywhere is very comprehensive, not everyone can shell out hundreds of dollars right away. However, you can opt to pay per course as you go if that is more financially convenient for you.
---
Related: Best Work from Home Jobs that Provide Equipment
TRANSCRIBE ANYWHERE FAQS
HOW DO I BECOME A TRANSCRIPTIONIST? 

You can become a transcriptionist and get paid transcription work even without taking a course as long as you have excellent typing and listening skills, know the grammar and punctuation rules and can proofread your work. You can apply to online transcription jobs, but you can also pitch your services to clients. 
HOW MUCH DOES TRANSCRIBING PAY?

According to ZipRecruiter, a general transcriptionist makes around $15 per hour. However, specialized transcription niches, such as legal and medical transcription, pay more. According to Glassdoor, legal transcriptionists can make more than $50K a year.
DO YOU HAVE TO BE CERTIFIED TO TRANSCRIBE?

No, you don't need to be certified to start offering services or applying to transcription jobs. But a certification proves that you have trained under an accredited or approved school or course, which significantly boosts up your resume and makes you more marketable. 
HOW DO I BECOME A CERTIFIED TRANSCRIBER?
One of the best ways to become a certified transcriber is to train under schools or platforms that the American Association of Electronic Reporters and Transcribers endorses, and one of which is Transcribe Anywhere. Transcribe Anywhere will provide you with a transcription certification after passing the final exam. 

If you are interested in medical transcription training, you may look into U.S. Career Institute. 
ARE TRANSCRIPTION COURSES WORTH IT?

Transcription courses like Transcribe Anywhere are worth it ONLY if you're looking into starting or scaling your transcription business.

However, if you think of transcription jobs as part-time gigs, you may want to carefully reconsider investing a huge amount of money in a transcription course. 
HOW MUCH DOES TRANSCRIBE ANYWHERE COST?

The more comprehensive legal transcription course costs $897 while the general course is currently priced at $797. You may also buy the course on a pay-as-you-
go basis. 
IS TRANSCRIBE ANYWHERE LEGITIMATE?

Yes, it is legitimate. It has helped students learn more about transcription. Both the general course and legal course were created by someone who has decades of transcription experience. Janet herself also owns a transcription agency. 
IS TRANSCRIBE ANYWHERE A SCAM?

No, this course is not a scam. It is a legit course that even provides certification to students who have successfully finished it.
CAN YOU REALLY MAKE MONEY TRANSCRIBING?

Absolutely. Transcription is one of the best money-making methods particularly if you're looking for something flexible. You can find transcription jobs that allow you to work at your own pace and during your free hours, and you'll make money as long as you hit the deadline and furnish high-quality transcripts. 

Those who consider transcription as a business make even more because they're able to work with multiple clients and set their own rates. 
TRANSCRIBE ANYWHERE: IS IT WORTH IT?
My honest review of Transcribe Anywhere is that it is worth it. With the sheer amount of learning materials, from using the transcription software, recommendations for time-saving tools to time coding tips, and getting clients, I believe this course is a goldmine.
However, if I had to buy only one course, I'd probably get the legal course for only a hundred dollars more. The legal transcription course has 14 legal transcription modules (compared to 6 of the general course) and covers a lot of things that the general course teaches. So for me, the legal course has a lot more value.