Are you considering running your own business selling feet pictures and wondering if it would be worth selling feet pics on Etsy? Or should you sell feet photos on FeetFinder? Let's look at how these two platforms work and which is the better choice to make money selling feet pictures online!
Selling feet pics? I know it sounds unconventional, and some people even think it's weird. But this is a perfectly legit business that you can run from the comforts of your home, at your own schedule, and you get to be your own boss.
With much demand for feet pictures nowadays, websites and platforms have sprung up to facilitate the buying and selling of feet pictures. Etsy is one of the contenders, as it generates billions in revenue and is home to millions of active buyers and sellers. But should you start selling feet pics on Etsy? And how does Etsy compare to FeetFinder, a platform that specializes in buying and selling feet pictures? Read on to learn more!
However, my short answer is: Etsy isn't the best place to buy and sell feet pics. I'd still recommend FeetFinder, and I'll tell you why in this post.
This post contains affiliate links. I may earn a commission at NO extra cost to you for your purchases made through these links. Disclosure.
What is Etsy?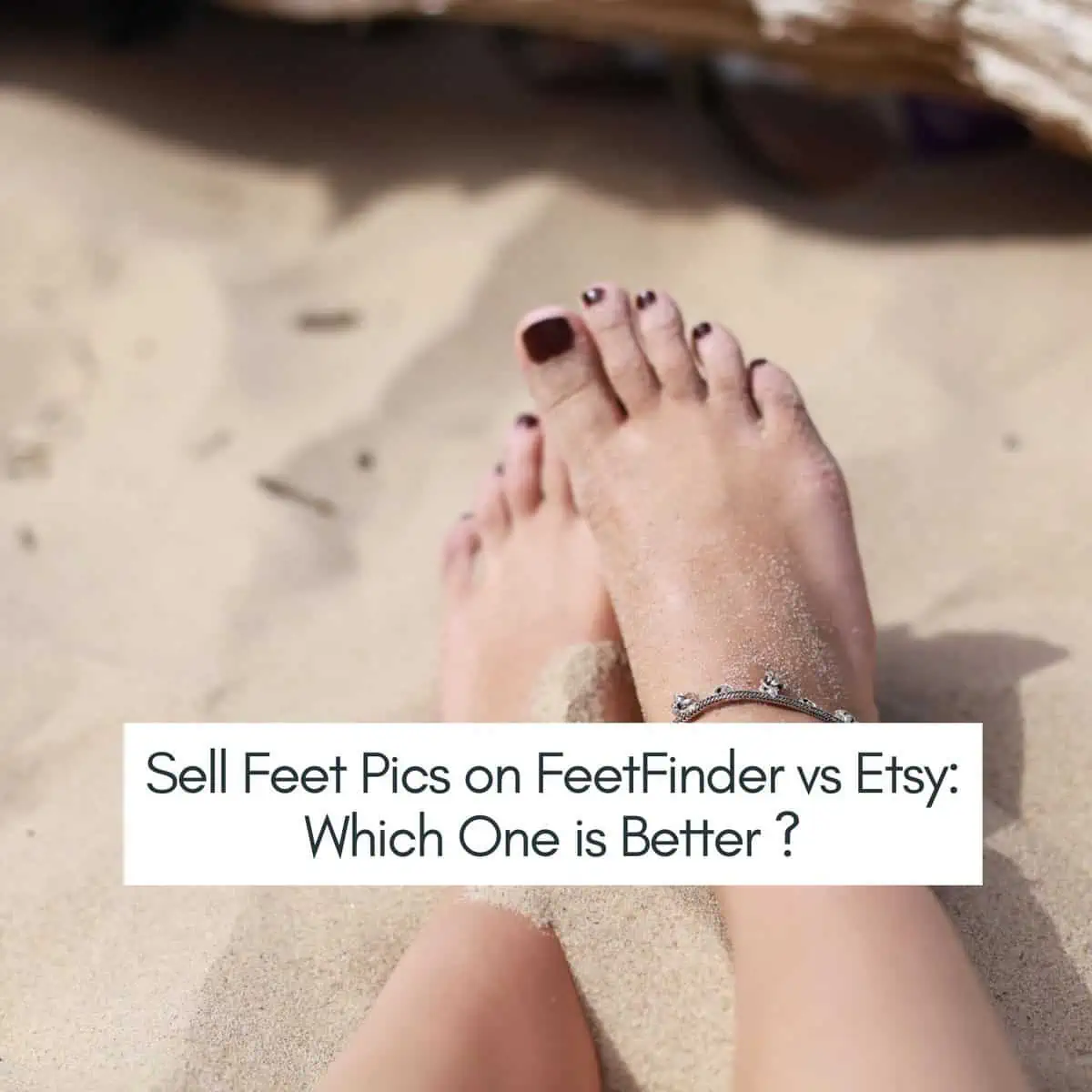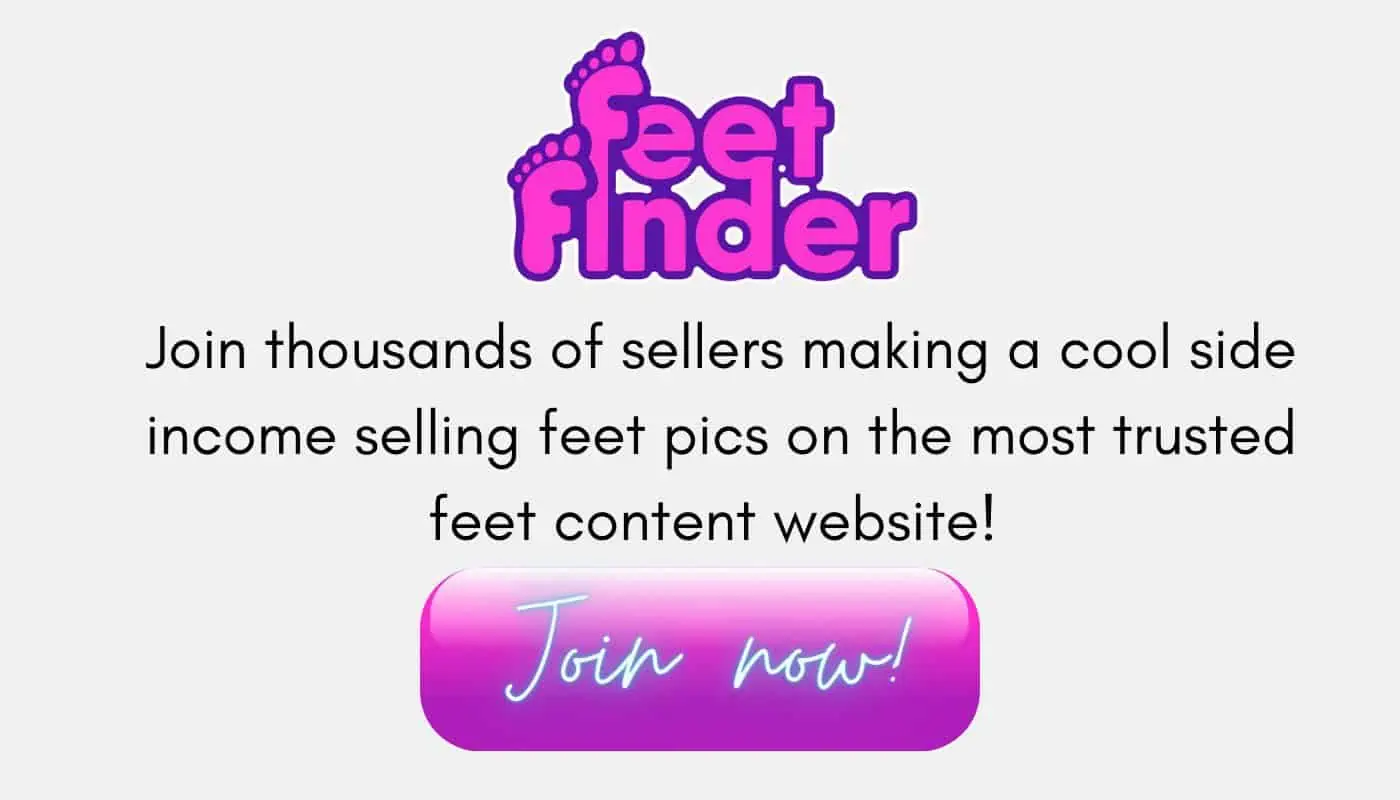 Etsy is a marketplace that primarily sells handmade, customized, vintage, and unique items. It's also a great place to sell digital products, such as wedding invitations, printables, wall art, and, you guessed it — feet pictures! You can also sell feet pics on Etsy and make money from home.
I myself run an Etsy store, and I know that it's indeed a fantastic platform to make extra money. And here are the reasons why I love selling on Etsy:
It has an established community. You piggybank on Etsy's customer base, so you don't have to build your own from scratch. Also, Etsy reaches customers all over the world, giving your Etsy shop an even wider exposure.
It is easy to sell on Etsy. Once you have an Etsy account, you can list your products and sell them right away. There's only a slight learning curve, but overall Etsy is a user-friendly platform that you can easily navigate even without prior experience. No need to spend on your own website!
You can easily set up an advertising campaign on Etsy. Another notable feature you can leverage for your Etsy store is to run ads. You can create your own advertising campaign based on your budget and target timeframe. Ads give your product more exposure and appear dominantly on relevant searches, which potentially boosts sales!
How To Sell Feet Pics on Etsy
If you want to start selling feet pictures on Etsy, here's what you have to do:
Set up an Etsy seller account
You can easily acquire a basic Etsy account using your email address. However, you'd want to upgrade to a business account to unlock more features, such as advanced analytics, custom web address, and exclusive marketing perks. With a business Etsy seller account in place, you can create your own Etsy store where you can sell foot images.
Create your Etsy shop
Before you start selling feet pictures on Etsy, you must first have a place to display them, which is the purpose of creating an Etsy store or shop. You need to give your Etsy store a name. At this point, think of something catchy and creative that easily relates to feet. Do not use your name if you wish to sell feet images anonymously.
Create product listing
Next, put up the feet pictures you want to sell by creating a product listing. Here you'll put a title, description, variations, price, and quantity for the foot pictures.
One important thing to remember about selling feet pics on Etsy is that unlike FeetFinder, Etsy does not blur or protect your images. So, make sure not to upload the full pictures for sale. You may want to edit the images with watermarks, text or banners to cover a portion of it, and only send the pics after a completed order.
You may also offer customized feet pics on Etsy.
Set up your payment details
Next, add your payment details. You need a bank account to receive payments from buyers and a credit card to pay Etsy fees.
Advertise your feet pictures
While it's true that Etsy has a huge customer base, it helps to promote your products on your social media platforms and other websites. Apart from advertising on Etsy itself, you can also run ads to show people that you are selling feet pictures on Etsy.
Etsy vs. FeetFinder
After reviewing several websites and platforms for selling foot photos, I have found FeetFinder to be the top choice for foot pics sellers, and it's far better than Etsy. If you want to take selling feet pictures seriously and make money through a secured platform, check out FeetFinder, as it ticks all the boxes.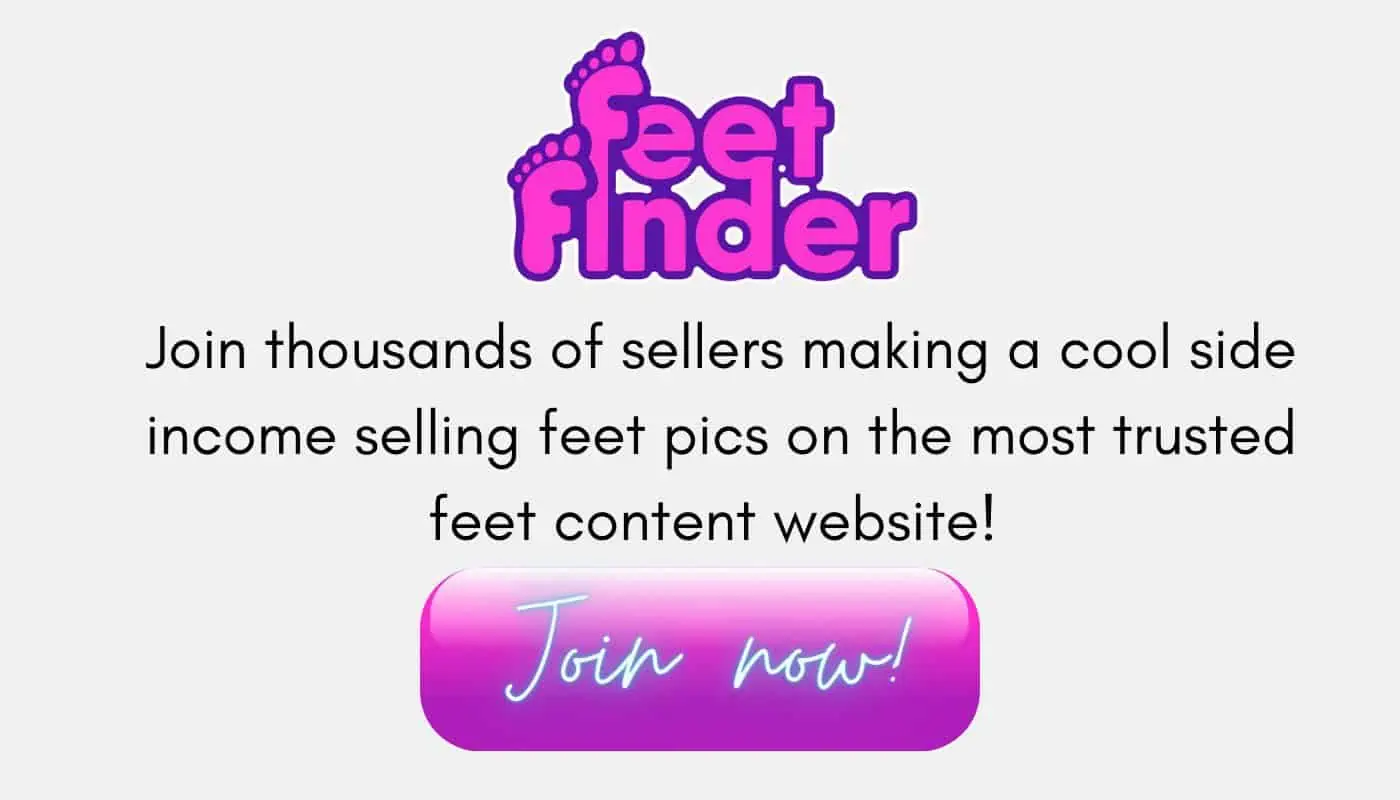 What is FeetFinder?
FeetFinder is a website for buying and selling feet pictures. It is a massive community with an impressive database of foot pictures and videos. Also, FeetFinder is a "niche" website dedicated to selling foot content only, so people who need foot pics and even custom feet pics can find what they're looking for on FeetFinder.
FeetFinder's Top Features
FeetFinder has a number of impressive features that make it the top platform to sell pictures of feet.
Verification: All buyers and sellers must go through an ID verification to ensure everyone on the platform is legit. This also helps eliminate fake accounts and scammers.
Secure payment processing: FeetFinder uses safe and secure platforms to help sellers get paid for every foot picture they sell. US-based sellers use Segpay, while outside US sellers use Paxum to get paid to sell foot pictures on FeetFinder. All transactions go through the FeetFinder platform, and you can track your payout requests here. Also, FeetFinder will never share your bank account information.
Built-in messaging: Sellers of feet pictures on FeetFinder have the capacity to interact and negotiate with people who want to buy feet pics. This feature is also very helpful when communicating with customers who want custom feet pictures.
Cost of Selling Feet Pictures on Etsy vs. FeetFinder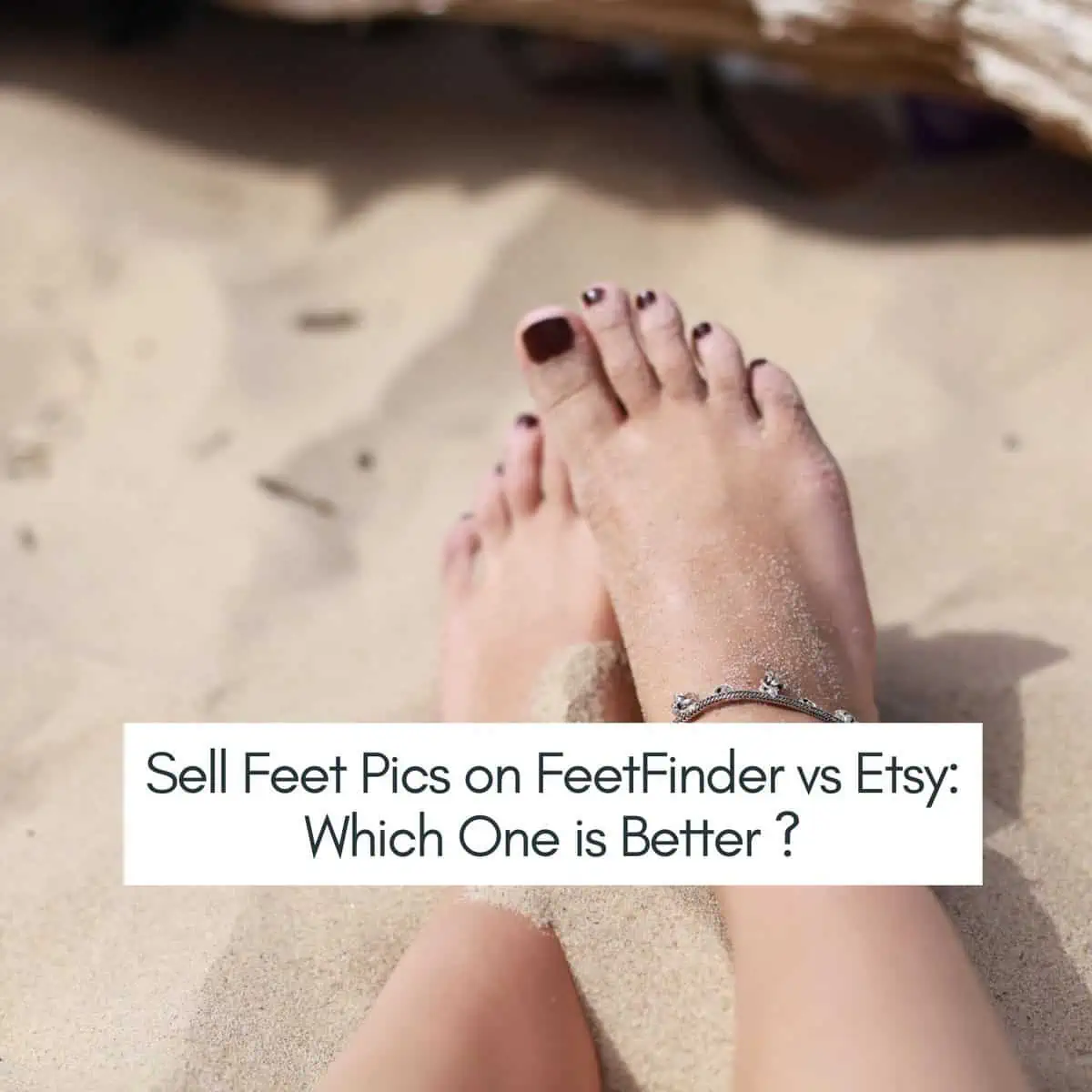 You need to invest in running a business selling feet pics, and one of the expenses you can expect is platform fees. So how much does it cost to sell feet pics on Etsy as compared to selling feet pictures on Feet Finder?
Here are the associated fees when you sell pictures on Etsy:
Listing fee of $0.20 for every feet pic you list on Etsy
A transaction fee of 5% when you sell foot photos on Etsy
And another 3% for Etsy payment processing
The cost of selling feet pictures on FeetFinder:
At FeetFinder, you only need to choose a plan (basic or premium), and that's it; you can sell foot pictures without worries! Here are the subscriptions you can choose from:
BASIC PLAN – $4.99/month, $14.00/year, or $40 for a lifetime subscription
PREMIUM PLAN – $14.99/month, $49.99/year, or $80 for a lifetime subscription
It may seem like you have to pay more money to start selling pictures on FeetFinder and that's because FeetFinder is not just a place to sell feet photos. It also pays for platform maintenance, payment safety and security, and marketing.
Also, FeetFinder is a niche site that attracts hundreds of thousands of buyers who are ready to buy feet pics.
How much can you make selling feet pics on Etsy vs. FeetFinder?
Between Etsy and FeetFinder, which platform promises the most income potential?
Both Etsy and FeetFinder allow you to put a price on your own feet pictures, so you can go as high or as low as you want. But, you don't want to sell pics too low that you lose out on profit or too high that you drive away potential customers. Etsy sellers should keep their pricing competitive. When you do a search for feet pictures on Etsy, you'll find that many of them sell for around $5.
On the other hand, foot models can make money on FeetFinder in multiple ways. First, through a flat monthly subscription rate. Customers can pay your subscription fee to have access to all your feet photos. Additionally, you may put up albums of feet pics and sell them for at least $5, going as high up as hundred dollars. Plus, you can offer customized electrifying feet pics through direct chat with buyers.
If you can make money selling feet pictures on FeetFinder through all three methods, then you could potentially earn good money on this platform. Just keep in mind that you keep 80% of your earnings, and you pay 20% commission to FeetFinder. Also, you need to make at least $30 to process a transfer.
Do not expect massive income immediately if you're selling feet pics on Etsy or FeetFinder. You need to work on your account, upload high-quality images consistently and interact with potential customers. This business may require lesser work than manual work, but it does not mean you don't work on it!
Can you sell feet pictures anonymously on Etsy? What about FeetFinder?
Another crucial thing to consider when selling pictures of your feet on whatever platform is your safety and security. It's good to know that you can make money online selling feet pics while staying anonymous on Etsy. That's why it's important to think of a creative name for your shop from the start and never use your real name.
It's the same way with FeetFinder. As a foot model, you can choose an unforgettable alias so you can remain anonymous. You also don't need to show your face to sell a feet picture. A couple of fantastic close-up shots, various poses, and a catchy description are what you need to entice customers to buy feet pics from you.
Pros and Cons of Selling Feet Pics on Etsy
PROS:
Etsy is a legit platform for selling digital products and instant downloads, which includes selling feet pics.
You pay fewer fees selling feet pics on Etsy than selling photos on other websites.
Etsy has a massive and global customer base. You don't need to build your own following or community when you sell feet pics on Etsy.
I like that you can run ads on Etsy but paying for ads may work against you if there is not enough pics buyers on Etsy.
CONS:
Etsy is not a "niche" website or platform specially designed for selling feet pics. Buyers with particular needs like foot fetish are more inclined to buy feet pictures from other platforms.
The average price of feet pictures on Etsy is lower compared to other platforms.
I browsed around and found most, if not all, of the feet pics sellers on Etsy has only made 1 sale or no sale at all. My personal opinion is that feet buyers probably don't want to buy feet pics on Etsy.
Pros and Cons of Selling Feet Pics on Feet Finder
PROS:
FeetFinder also has a built-in and massive community for foot models and buyers of feet pictures. You can also sell feet pictures on a global scale through FeetFinder.
FeetFinder has three amazing ways to help you monetize your feet pics: a flat subscription rate, pay-to-view albums, and request for custom feet pictures and videos.
FeetFinder places a premium on safety and security, so all members must go through ID verification. Foot models are also assured that payments are processed safely on FeetFinder.
FeetFinder has great reviews from sellers. Read what sellers have to say about FeetFinder here.
CONS:
Sellers need to pay a steeper subscription fee to sell feet pics on FeetFinder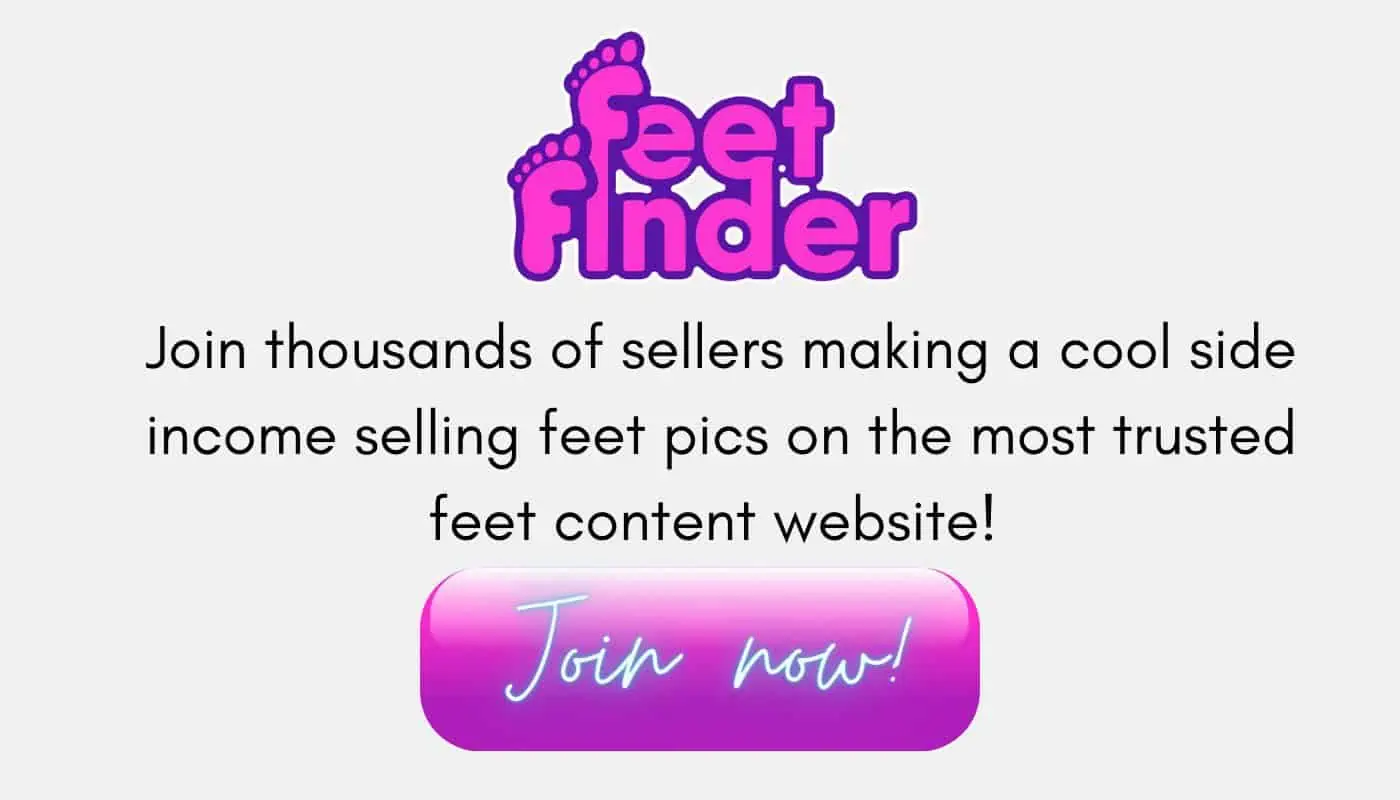 The Verdict: Etsy vs. FeetFinder
When it comes down to the best platforms for selling feet pics, FeetFinder definitely gets my vote. Etsy may be a good starting point, especially if you don't have that much money or experience selling feet pics. On the other hand, if you're here to take your feet content business seriously, you need to invest in the best platform where you have the best earning potential, amazing security features, superb customer service, and remain anonymous. And FeetFinder has them all.
Since selling pics is a legit and serious business, I suggest studying all your options carefully and not putting all your eggs in the same basket. Instead, find the right platforms that serve your needs as a foot model or content creator. It's common for these platforms to take out commission from your sales or require you to pay for a subscription, and these are all part of running the business. The bottom line is to pick one that's worth your time and money and guarantees a safe and rewarding experience in selling feet pictures.