When it comes to selling feet pics, you probably have come across these two platforms: FeetFinder and FunWithFeet. But, which one is better? What's difference between FeetFinder and FunWithFeet? How do both websites work and the advantages they offer to people selling feet pics? If you are asking these questions, then read my full FeetFinder vs FunWithFeet comparison!
In this review, I dug deeper into how the platform works, ease of use, cost of joining, and real user reviews of both FeetFinder and FunwithFeet.
In summary, I like FeetFinder better! It's more established and has a large community of feet pics buyers—which means, you have more opportunities to make money from selling feet pics! And there's so much more!
Disclaimer: This comparison is a personal opinion only based on FunwithFeet and FeetFinder reviews I gathered online.
This post contains affiliate links. I may earn a commission at NO extra cost to you for your purchases made through these links. Disclosure.
FeetFinder vs FunWithFeet : How Do They Work?
About Feetfinder
FeetFinder is a popular platform for viewing, buying and selling feet pictures online. It is a massive community with millions of members, and the platform sports thousands of positive reviews.
What makes FeetFinder stand out for buying and selling foot photos is that it offers a safe and secure environment for both buyers and sellers, with top-notch security features and firewall systems to protect the data of all its members. I like that they highlight safety of sellers and buyers alike.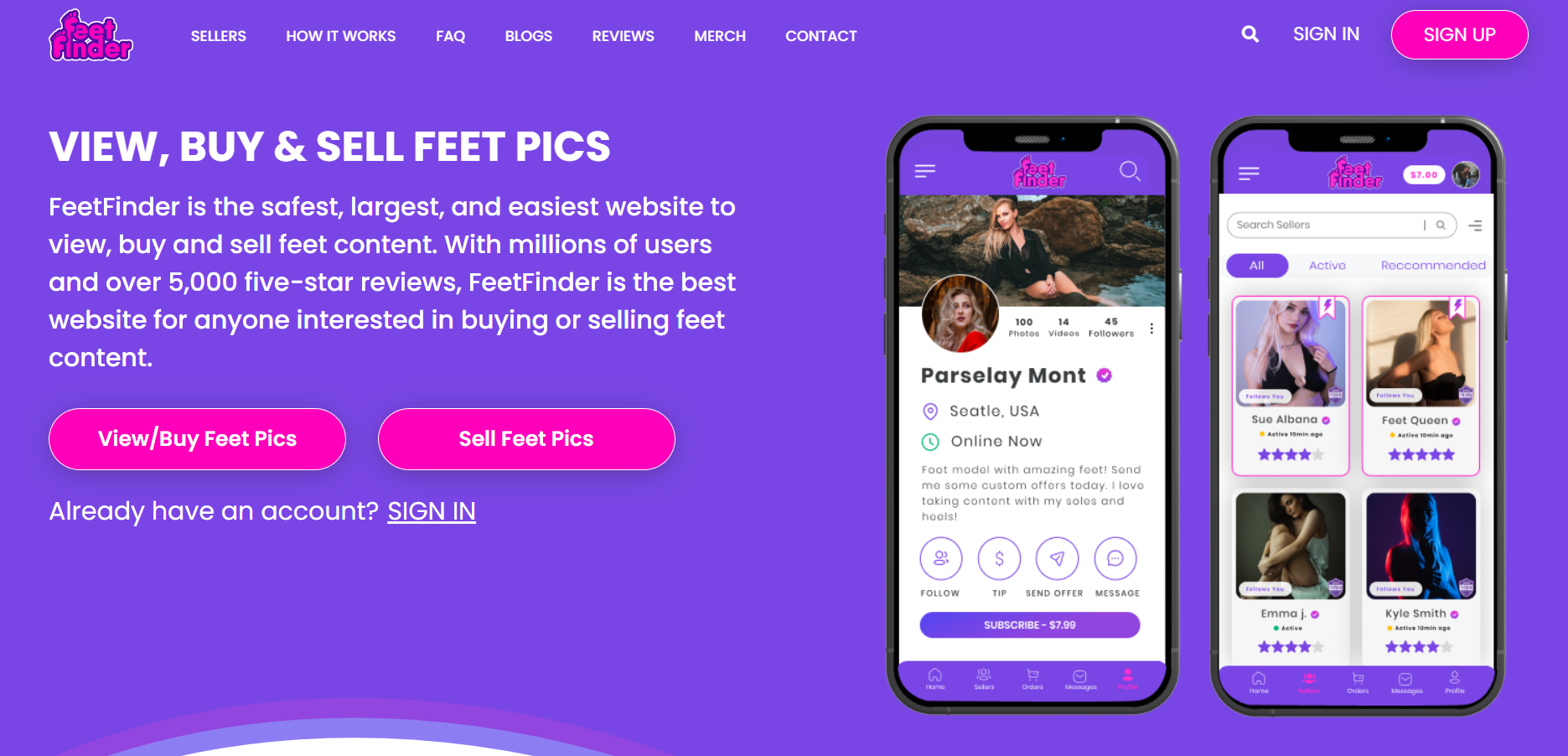 How Does FeetFinder Work?
Selling feet pics on feetfinder is easy. Join FeetFinder and create a profile.
Next, go through ID verification. This step is crucial to ensure FeetFinder and its members know that you are who you say you are. You also have to be at least 18 years old to start selling feet pics on FeetFinder.
To start selling feet pics, buyers may pay for individual feet pics or albums, or opt to subscribe to your profile for a flat monthly fee. Buyers may search for seller usernames, or type in specific keywords, such as "nail polish," "socks," "soles," "tattoos" and so on. They may also use filters to find sellers or specific feet pics. Keep these search terms and key phrases in mind when listing your feet pics for sale.
Are you worried that people may steal your feet pics on feetfinder? Don't be! Uploaded feet pics are blurred, and are only unblurred when a buyer successfully makes a purchase.
You may also sell customized pics and set your rates. You can negotiate the rates with buyers on the site.
Now you may be wondering, "I have cute feet pics to sell on FeetFinder, do I have to pay anything to do that?"
Yes. Sellers need to pay either a basic or premium plans to conduct business on FeetFinder.
Another thing to remember when selling feet pictures on FeetFinder is that sellers keep 80% of their earnings while Feetfinder keeps 20%, which pays for website maintenance and updates, and for keeping your data and transactions secure. This fee, however, seems to be the standard for feet pics websites.
About FunWithFeet
Unlike FeetFinder that has a huge community of feet photos buyers and sellers, FunWithFeet is a tad bit smaller. It is a newer company established only in 2021.
Most people who come to FunWithFeet have foot fetish. Apart from selling feet pictures on FunWithFeet, you could also sell customer feet pics and videos and chat with buyers.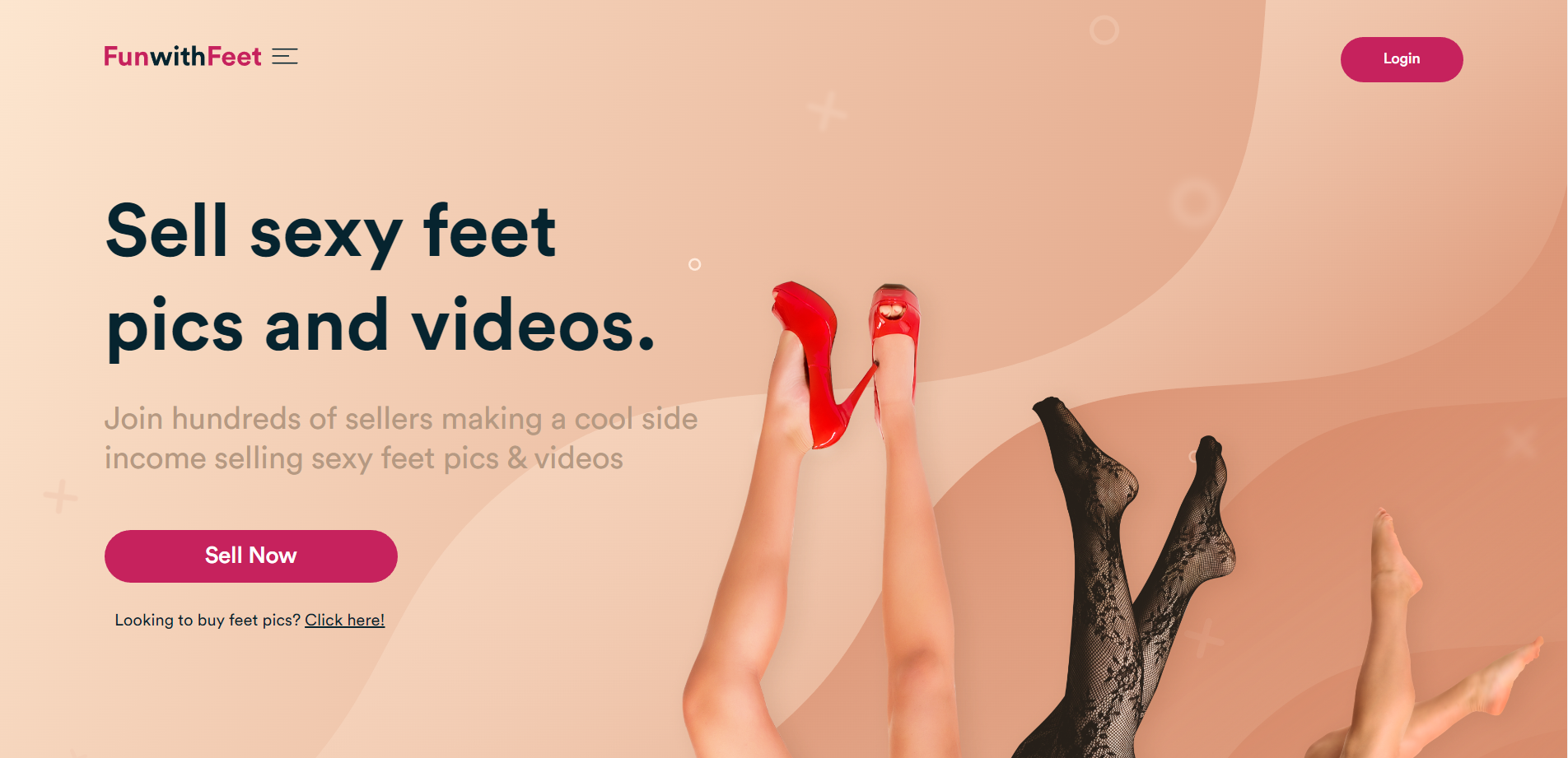 How Does FunWithFeet Work?
You can make money selling feet pics on FunWithFeet in three easy steps: create a profile, share your profile, and sell feet pics online within the FunWithFeet platform.
You could think of a "niche" or category when selling feet pictures on FunWithFeet. You might upload feet pics with high heels, socks or lotion, etc. Just like with FeetFinder, using these categories or keywords allow potential buyers easily find the feet pics that they're looking for.
Just like on FeetFinder, you could charge as high or low as you like on FunWithFeet, and you keep 80% of your income. You also need to pay a monthly subscription fee to continue using FunWithFeet as a platform for selling feet pics online.
Like on FeetFinder, you can also stay anonymous (if you like) on FunWithFeet by using an alias, not showing your face, and not giving sensitive information when you chat with potential buyers.
When it comes to the company's trustworthiness and how the platform works, I definitely cast my vote on FeetFinder being a more established company that attracts millions of users. They also seem to give more emphasis on the security of buyers and sellers alike as said on their homepage.
FeetFinder vs FunWithFeet: Cost of Joining
Selling feet pics on FeetFinder and FunWithFeet comes at a price, and it's best to know how much you need to pay to sell feet pics online on these platforms.
FeetFinder
The basic plan costs $4.99/month, $14.99/year, or a one-time lifetime subscription fee of $40. The premium plan costs $14.99/month, $49.99/year, or $80.00 for a lifetime subscription.
FunWithFeet
You can sell feet pics on FunWithFeet for $9.99 for 3 months or $14.99 for 6 months.
Winner: FeetFinder
Although FeetFinder comes out $1.66 more expensive per month than FunwithFeet, they actually offer a cheaper option if you opt for a lifetime subscription. I like that FeetFinder offers this option if you want to make selling feet pics a long-term business, allowing you to save money in the long run.
FeetFinder vs FunWithFeet: Payment Methods
Another important consideration when you sell feet pictures online is to determine how payouts work on different platforms.
FeetFinder
FeetFinder makes it easy and safe to redeem your earning once you've started selling feet pics on the platform. The transactions are handled within the platform, and foot models redeem their income through Segpay (for US-based sellers) and Paxum (for outside US sellers).
FunWithFeet
When buyers purchase your feet images, the payment goes straight to your FunWithFeet wallet. You can then directly withdraw your earnings to your bank account.
Winner: FeetFinder
Personally, I am not a fan of putting my bank account on websites. That being said, the winner for me in this area is still FeetFinder. FeetFinder uses Segway and Paxum, which are legit and secure platforms to receive money. But, it would be better if FeetFinder can also pay through PayPal, Xoom and other payment platforms to give its users more options.
FeetFinder vs FunWithFeet: Ease of Use
User-friendliness is another factor to consider when using platforms for buying and selling foot pictures. People looking to buy feet pics and foot models are likely to find more success in platforms with intuitive interface and excellent user experience. Let's see how Feetfinder and FunWithFinder stack up against one another in this area.
FeetFinder
According to most feetfinder reviews, Feetfinder is super easy to use. It is easy to navigate, making it even more appealing to both buyers and sellers. It is also mobile-responsive.
FunWithFeet
FunWithFeet also offers an excellent user experience, although some users say that sometimes content is inconsistent, making it slightly hard to find and browse through feet pics.
Related Posts:
FeetFinder vs FunWithFeet Reviews
Feetfinder Reviews
Wondering what it's like to sell feet pics on FeetFinder? I looked up FeetFinder reviews on the internet to sellers think of the platform.
Feetfinder has a 4.8-star rating on TrustPilot, and 91% of the reviews are positive. Many of the reviews rave about Feetfinder's awesome customer support.
FeetFinder has over 5,500+ reviews, mostly raving about FeetFinder!



Overall, most of the Feetfinder reviews emphasize it as a safe and secure platform for selling feet pics online. FeetFinder also acts promptly on issues and concerns.
FunWithFeet Reviews
FunWithFeet also has good reviews on TrustPilot, most of which focus on the great community vibe and helpfulness of customer support. However, compared to FeetFinder with over 5,000+ positive reviews, FunWithFeet only has 300+ reviews with a 4.3 star rating.
Check out what users say about FunWithFeet below.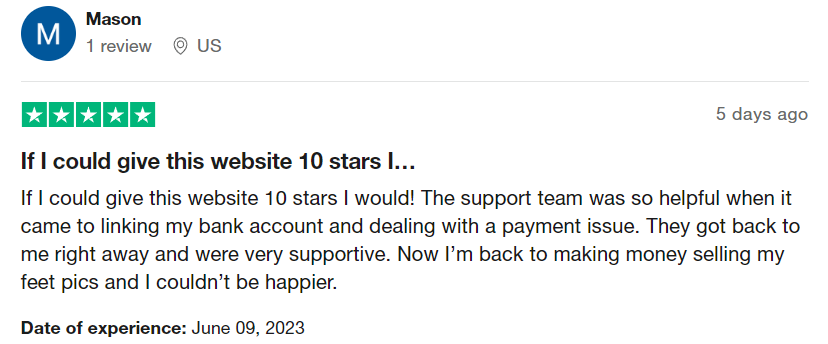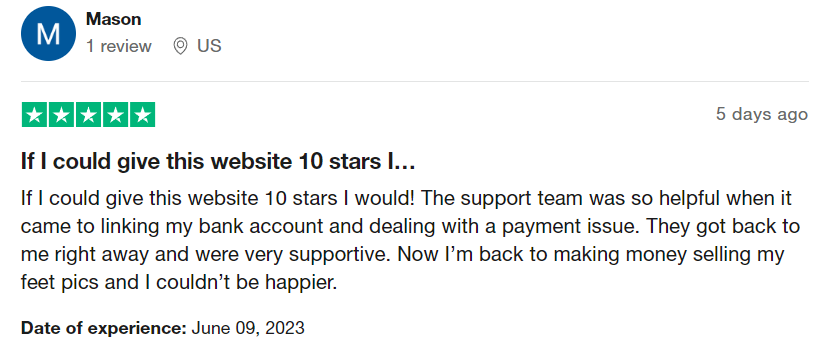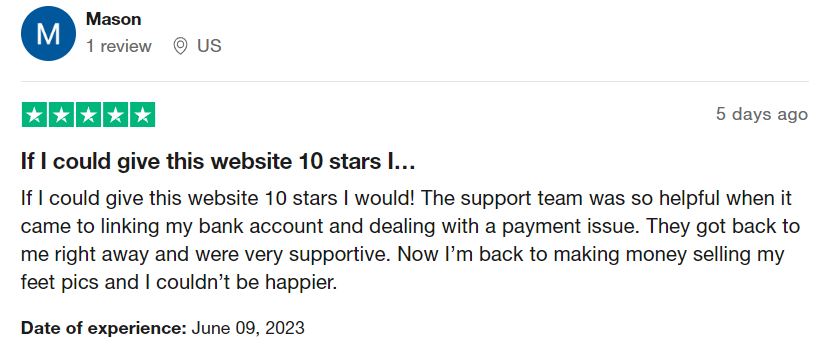 Winner: FeetFinder
Definitely, the winner is FeetFinder with higher rating and more positive reviews!
FeetFinder vs FunWithFeet Pros and Cons
Feetfinder Pros and Cons
If you're still unsure whether or not FeetFinder is the best platform for selling feet pics, consider the following pros and cons to help you make an informed decision.
PROS
It is a safe and secure platform. Every member goes through ID verification, which helps weed out scammers
It has a large community of feet pics buyers, giving you more potential to make money on FeetFinder
It contains a large database of high-quality foot pics and videos
Excellent customer support
An easy-to-use platform for selling feet videos and photos
CONS
It takes a 20% commission for feet pics and videos you sell.
FunWithFeet Pros and Cons
Or do you think FunWithFeet is the best place to sell sexy feet pics? Consider the following FunWithFeet pros and cons to find out.
PROS
The rules for content are more lenient than Feetfinder
It has a smaller community which means lesser competition among sellers
It has a great database of high-quality photos and videos
CONS
FunWithFeet takes 20% off your earnings as a commission
The platform is not as strict and secure, so expect scammers and fake accounts
Overall Winner : FeetFinder
Based on the areas discussed above, I cast my vote on FeetFinder. Being a more trusted company with a huge community, I believe FeetFinder also offers more opportunity for sellers to make more money.
Tips for Maximizing Your Income Potential When Selling Feet Pics
Whether you want to make money on feetfinder or funwithfeet, take this advice seriously on taking feet pics and selling foot photos to increase your chances of success.
Consider good angle and lighting when taking feet photos. While you don't need an advanced camera to take foot pics that sell, basic knowledge of photography is really handy! Also, high-quality photos and high-resolution images keep your buyers coming back for more.
Go creative with foot poses. Use props if required by your niche or category. Selling feet photos take some effort and minimal investment, so don't be afraid to get out of the box to make them stand out!
Find inspiration from competitors. Take a look at the feet images of your competitors, and even look into other platforms. This helps you create a sound strategy for selling feet pictures and videos.
Advertise your business. If you want to make money selling feet pics, then you need to let people know. Promoting your business on social media platforms is really great help in expanding your exposure and reaching people who want to purchase feet pics.
Never share sensitive information. Many platforms allow you to connect directly with buyers through built-in messaging features. Keeping your identity private is important, not just to separate business from your personal life but also to keep scammers at bay. Never reveal your real name, address, and financial information, and it's best to keep a separate email dedicated to making money selling feet pics.
Feet Finder vs. FunWithFeet Frequently Asked Questions
Is FeetFinder legit?
Yes, FeetFinder is legit. It is one of the best platforms to sell feet pics. All members go through an ID verification process, sellers enjoy a secure payment platform, and strict rules keep the community peaceful and organized.
Can you really make money on Feet Finder?
Yes, FeetFinder and other platforms like FunWithFeet can help you make money off of your foot pictures. But before you decide on a platform, study how it works and read reviews to ensure it's the best fit for you.
Is FeetFinder worth it as a seller?
FeetFinder is worth it as a seller, whether you're selling sexy feet pics for feet lovers or close-ups of feet pics that can be used for marketing or publication. Selling pictures on FeetFinder is easy and safe, too!
Is selling feet pics online legit?
Yes, selling foot pictures online is legit. Many people consider it as a side hustle or remote business, and many have had success selling feet pics legally online. However, if you're unsure about this, check your national or state laws, as it can vary from one country to another. Also check if your religion allows you to sell feet pics online.
Final Thoughts
If you are going to pay for subscription to start selling feet pics, I definitely recommend that you start with FeetFinder.
I like that the company is pretty established, has amazing reviews, offers great customer support, and, most of all, is safe and secure for buyers and sellers.
Also remember, whether you're selling feet pics or considering a different side hustle, these things matter if you want to make money online. Of course, I would still suggest learning as much as possible about the industry, getting more inspiration from other sellers, and studying how to run this kind of business.