Want to earn rewards from your purchases? Save your shopping receipts, download the Receipt Hog app, and earn cash back easily! But how does Receipt Hog work, and how much in cash back can you potentially make? Find out now in this Receipt Hog review.
Do you throw away your receipts after you shop? Uh-uh, not so fast. Our shopping receipts can help us make some money through cash back with an app called Receipt Hog.
I know. There are plenty of cash back apps nowadays, so how is the Receipt Hog app any different? Well, apart from letting you earn rewards from shopping, you can also make extra money from answering surveys. And if you're lucky, you could even win in the sweepstakes!
But is Receipt Hog really worth all that hype? Is it legit? And is it better than other cash back apps? Keep reading this Receipt Hog review to find out!
This post contains affiliate links. I may earn a commission at NO extra cost to you for your purchases made through these links. Disclosure.
What is Receipt Hog?
Receipt Hog calls itself the "top receipt rewards app." It was established in 2011 and has been helping consumers make some extra cash from all their shopping. On top of that, Receipt Hog also rolls out surveys, giving consumers an amazing venue to provide feedback on brands and retailers.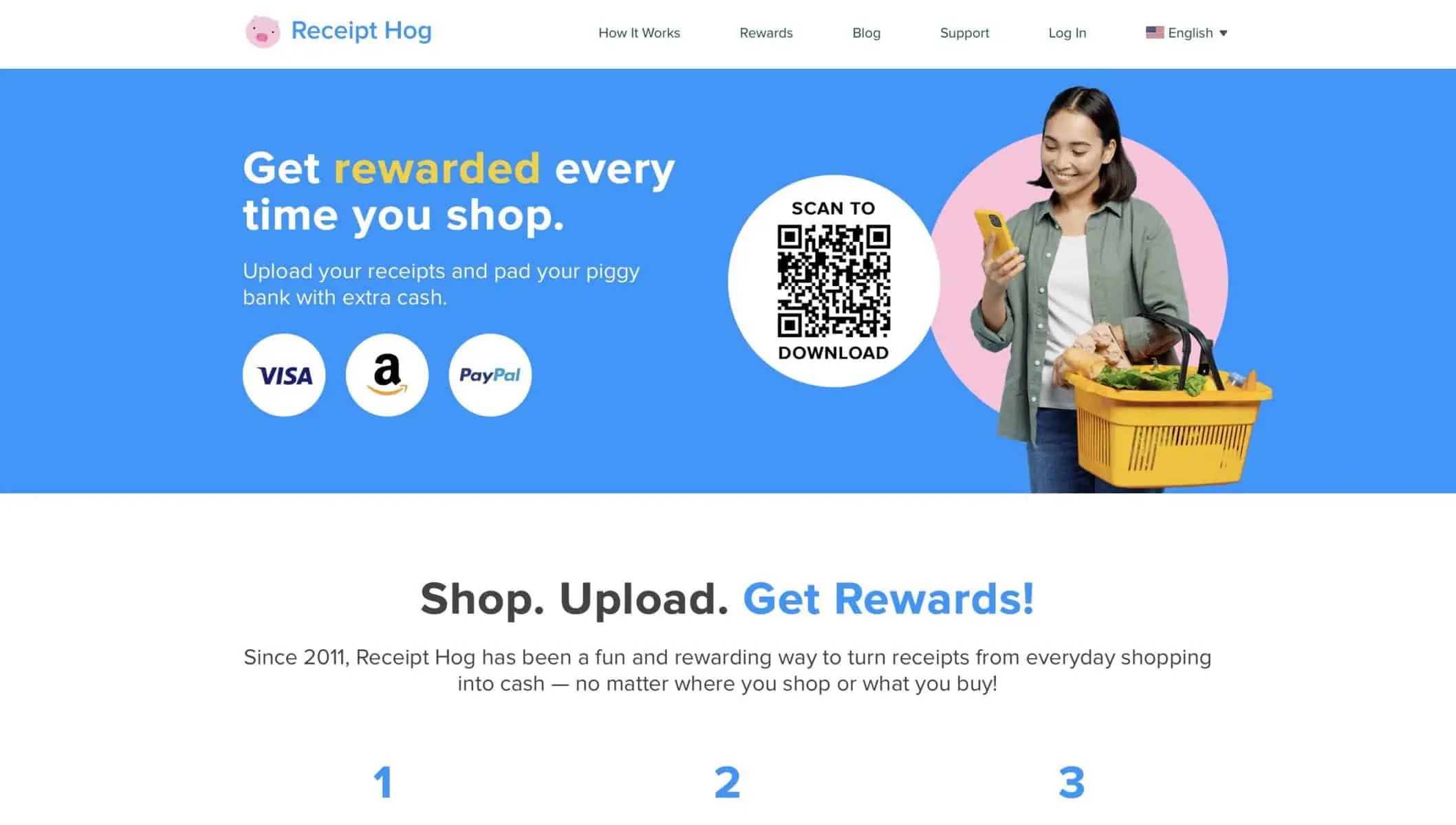 If you have used other receipt scanning apps, such as Ibotta, then using Receipt Hog should be easy. With your Receipt Hog account, you can scan receipts from almost any type of store — retail, grocery stores, pharmacy, sports stores, liquor, and beverage — you name it! The more receipts you scan, the more Receipt Hog coins you earn, so the more money you make!
The Receipt Hog app is available in the US and Canada. It is also available to download from both Google Play Store and the App Store.
Receipt Hog has established a positive reputation as a receipt-scanning app. It claims to have over 200 downloads an hour, six receipts uploaded every second, over 250K 5-star reviews on Apple and Google, and over 350K coins earned every day! From these numbers alone, we can see that Receipt Hog is a promising app. So now, let's learn how Receipt Hog works.
Easiest Ways to Make Money Online
How Does Receipt Hog Work?
Are you considering downloading the app and becoming a Receipt Hog user? First, here's what you need to know about the Receipt Hog app.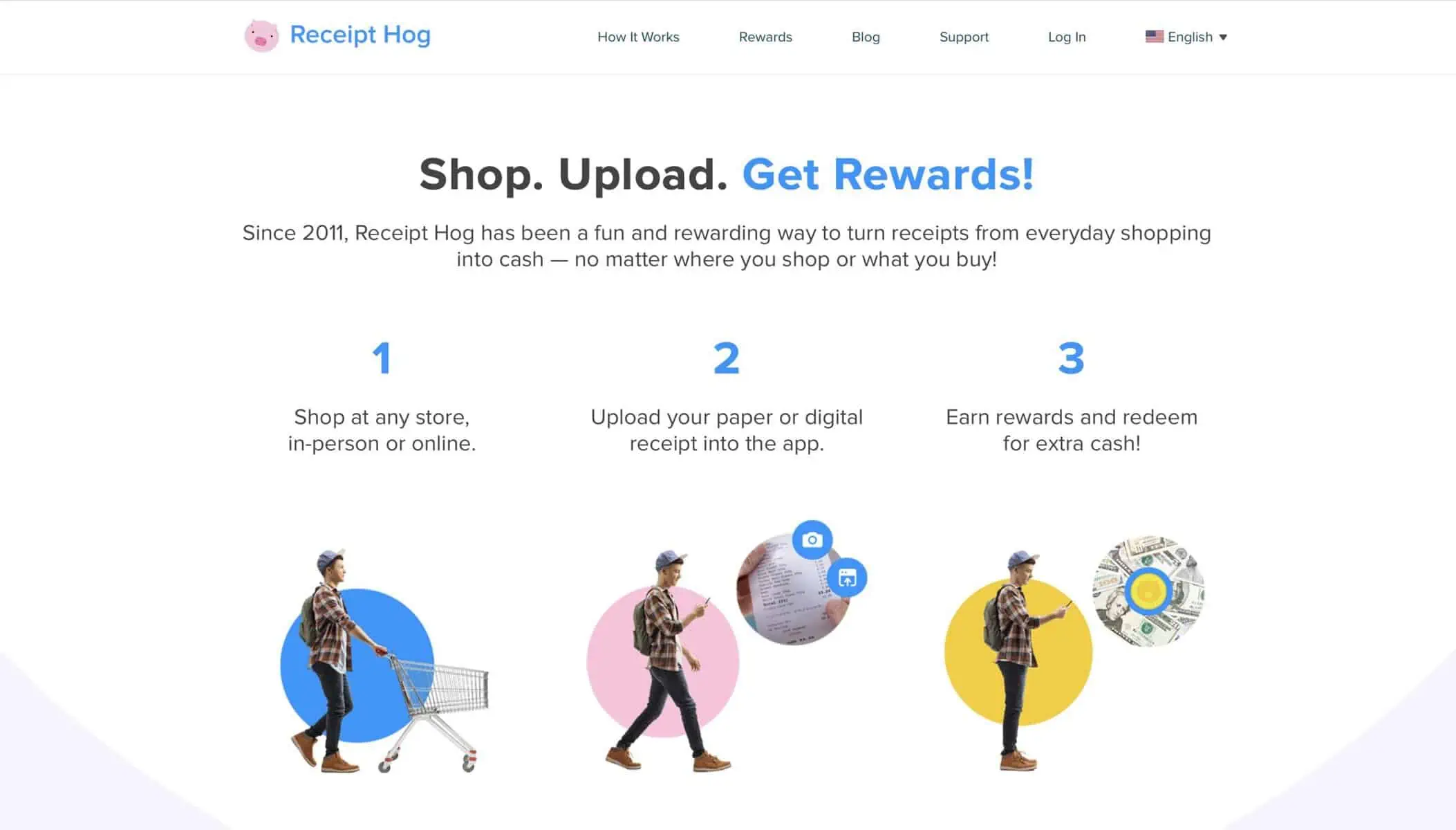 To create your Receipt Hog account, download the mobile app to your iOS or Android device. Complete your profile and accept your bonus coins.
You can submit both physical receipts and digital receipts to Receipt Hog. For physical receipts, just lay down your receipt on a flat surface and take a photo of it using Receipt Hog's built-in camera feature. Make sure that important information, such as store name, transaction date, list of purchased products, and total amount.
You can upload receipts from any member of your household, which gives you more ways to earn Receipt Hog coins.
Scanning receipts is also easy with Receipt Hog. Simply connect your email account or shopping accounts, and Receipt Hog will scan online receipts for you. The app automatically collects data from your digital receipts; all you have to do is approve the receipts you want to submit.
Tip: It's best to submit receipts as soon as possible. Receipt Hog does not accept receipts for purchases that have been made more than 14 days ago. And you can submit up to 20 receipts per week.
Now that you've learned how to submit both physical and digital receipts to the app, you're now ready to reap Receipt Hog rewards.
Receipt Hog has its own in-app currency called the Receipt Hog coin. Each submitted and approved receipt earns coins. As you collect more Receipt Hog coins, you'll have the opportunity to redeem them as cash or gift cards, enter the monthly sweepstakes and take a shot at the Hog Slots.
Other Ways To Earn Rewards on Receipt Hog
Hog Slot
The Hog Slots is Hog Receipt's own version of the slot machine. The mechanics are pretty much the same, too.
You must submit spin receipts to play the Hog Slot. Spin receipts are from purchases of non-consumable goods, such as clothing and footwear. You get one shot at the Hog Slots for every spin receipt you submit.
There are plenty of prizes to be won at the Hog Slot. The most enticing would be the Daily Trip Winner, wherein the winner wins their last shopping transaction in Hog coins.
Also, you can earn bonus rewards and get extra spins for completing monthly challenges.
Monthly sweepstakes
You could also earn coins through Receipt Hog's monthly sweepstakes drawing. Coin receipts are required as sweepstakes entries, so you'll need to submit receipts of consumable products that you have purchased.
Coin receipts include purchases made from grocery stores, supermarkets, pharmacies, convenience stores, pet stores, beauty stores, and more. You also get a qualifying coin receipt from the gas stations, restaurants, bars, cafes, and delis.
Each qualifying coin receipt gives you an entry to the monthly sweepstakes, where you can win up to 5,000 coins. Sweepstakes winners are announced on the first day of the month.
Surveys
Apart from uploading receipts, you may also win bigger rewards when you participate in paid surveys. You will need to answer the initial questions, which serve as a screening method for respondents. If you are qualified, then you will answer the full set of questions, earning you bigger rewards. You'd still earn a small reward even if you did not qualify.
Stay tuned to available paid surveys by logging into the app frequently. Receipt Hog surveys are displayed on the Home Page or Rewards page. Respond to a survey as soon as possible, as many of them expire after reaching the desired number of respondents.
Referral
You also win extra Hog Slots spins by referring your friend to the platform using your unique referral code. Your friend must enter your referral code upon signing up. You get 10 extra spins when your friend submits a receipt, and he gets 5 bonus spins as well.
How much does Receipt Hog pay?
Receipt Hog pays in coins which you can later redeem as cash. But how many coins do you make for submitting receipts? Well, that depends on the total amount on each receipt.
5 Coins = $10 or less
10 Coins = $10 to $49.99
15 Coins = $50 to $99.99
20 Coins = $100 or more
This breakdown applies to both paper receipts and online receipts.
Now how do we turn these Receipt Hog rewards into actual cash?
First, you must earn at least $1,000 coins. If you do the math, 1,000 coins are equal to $5.
How to redeem Receipt Hog rewards?
Let's say you've accumulated 1,000 coins, and you're ready to redeem your cash. There are three ways to go about this:
Transfer to your PayPal account
Amazon e-gift card (the code will be emailed to you)
Visa e-gift card (the code will be emailed to you)
Note that Receipt Hog will never send you physical cheques or gift cards. Check your email periodically to track your e-gift card code.
Is Receipt Hog Legit?
By the looks and the way it operates, Receipt Hog is a fantastic receipt-scanning app. Uploading receipts is easily done within the app. The app also initiates scanning receipts if you connect your email or shopping platforms to the app. You can also earn cash from your online receipts and paper receipts.
But the question is this: Is Receipt Hog legit?
Yes, it is legit and is one of the top-rated receipt-scanning apps right now. It has millions of downloads from both Google Play and App Store and tons and tons of 4-5 star reviews. It is also transparent with data safety, informing users of the type of data being collected.
Related Posts
Receipt Hog Pros & Cons
Are you still on the fence about whether or not Receipt Hog is worth your time? In this part of our Receipt Hog review, we present to you the pros and cons of using this receipt scanning app and hopefully help you reach a wise decision.
Receipt Hog Pros
Easy to use and free to download
To begin with, the Receipt Hog app is free on both the App Store and Google Play Store. It is user-friendly and easy to navigate. You will find everything you need on the app easily.
Receipt Hog lets you earn money after spending some money. Whether you've gone on a shopping trip at Walmart or made online purchases, Receipt Hog will give you cash back for uploading receipts into the app. Apart from getting rewards from receipt uploads, you also have the opportunity to win rewards on the sweepstakes draws and Hog Slots.
You know exactly how many coins you get for each receipt you submit. You can also keep track of the coins you've accumulated so you know how far or near you are withdrawing them as cash or gift cards.
Receipt Hog Cons
Limited earning potential
The number of coins you get depends on the total amount on each receipt and how often you are able to upload receipts each week. Also, reaching 1,000 coins can take a long time, so you'll have to be very patient before you can actually cash out.
Only certain types of receipts are accepted
Not all receipts are accepted by Receipt Hog. For instance, Receipt Hog does not accept credit card receipts, handwritten receipts, receipts older than 14 days from the transaction date, and foreign receipts. Also, some receipts may be rejected if the store is not yet added to Receipt Hog's database.
Receipt Hog Reviews: What Do People Think About Receipt Hog?
Receipt Hog reviews on the internet show mixed reactions from users. The app offers a fun way to earn coins and cash, but it also takes a long time to accumulate enough coins for a cash out. Here are a few reviews on Reddit.


Meanwhile, majority of the receipt hog reviews on TrustPilot are positive with a couple of negative feedback thrown in. It has a 3.7-star rating on the platform. Here are a few of the feedback on Receipt hog on TrustPilot.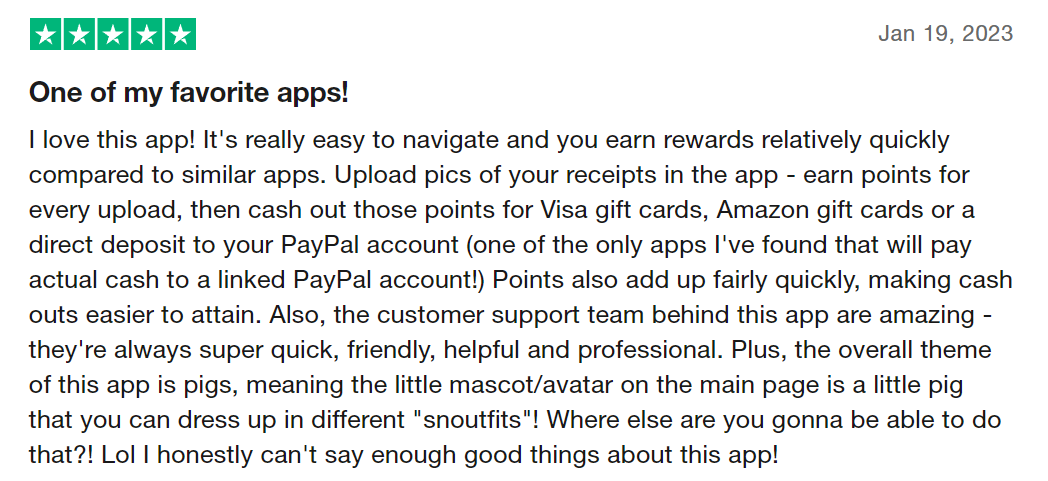 Easiest Ways to Make Money Online
Receipt Hog Frequently Asked Questions (FAQs)
Is Receipt Hog better than Fetch?
While Fetch gives you 25 points per submitted receipt, you need to accumulate 5,000 points to receive your reward. Receipt hog, on the other hand, requires 1,000 coins.
Which is better Receipt Hog or receipt pal?
Receipt Pal works in almost the same way as Receipt Hog. But with Receipt Pal, you earn 100 points per uploaded receipt and only need 400 points to convert to gift cards.
Is Receipt Hog trustworthy?
Yes, receipt hog is a legit and trustworthy receipt scanning app. It pays you to upload online receipts and paper receipts to the app as well as answer paid surveys.
Is Receipt Hog Worth It?
If you're looking for a receipt scanning app that's easy to use and legit, then Receipt Hog might be a wonderful option. It's accept both physical and digital receipt, so you can earn coins from almost anything you spend money on.
But what's the catch?
Sure, Receipt Hog is legit as far as receipt reward apps go, but it really takes a long time to reach the minimum withdrawal threshold – 1,000 coins. Imagine, your receipt worth $100 is only equivalent to 20 coins. How many 100-dollar receipts must you submit to earn a thousand coins? You do the math.
You can give the app a shot, but also don't close your doors to Receipt hog alternatives which may give you a better experience. Also, apps like these won't give you huge amounts of money, so just treat it as a fun way to earn free money, but not too seriously to the point of overspending.
Have you used Receipt Hog or similar apps before? How was your experience?