Want to start selling feet pics on FeetFinder and wondering how much money you can make from selling foot content on FeetFinder? Here's what you need to know.
Selling feet pics online is one of the most lucrative and profitable side hustles for people with pretty and sexy feet. FeetFinder, a reputable platform for selling feet pictures, allows you to run this business confidently. But how much can you really make when you sell feet pics on Feet Finder?
In this article, we will discuss the FeetFinder platform, how it works, and the potential FeetFinder income you can make selling feet pics online. So if you've always wanted to start selling feet pics online, you must read this article till the end.
This post contains affiliate links. I may earn a commission at NO extra cost to you for your purchases made through these links. Disclosure.
What is FeetFinder?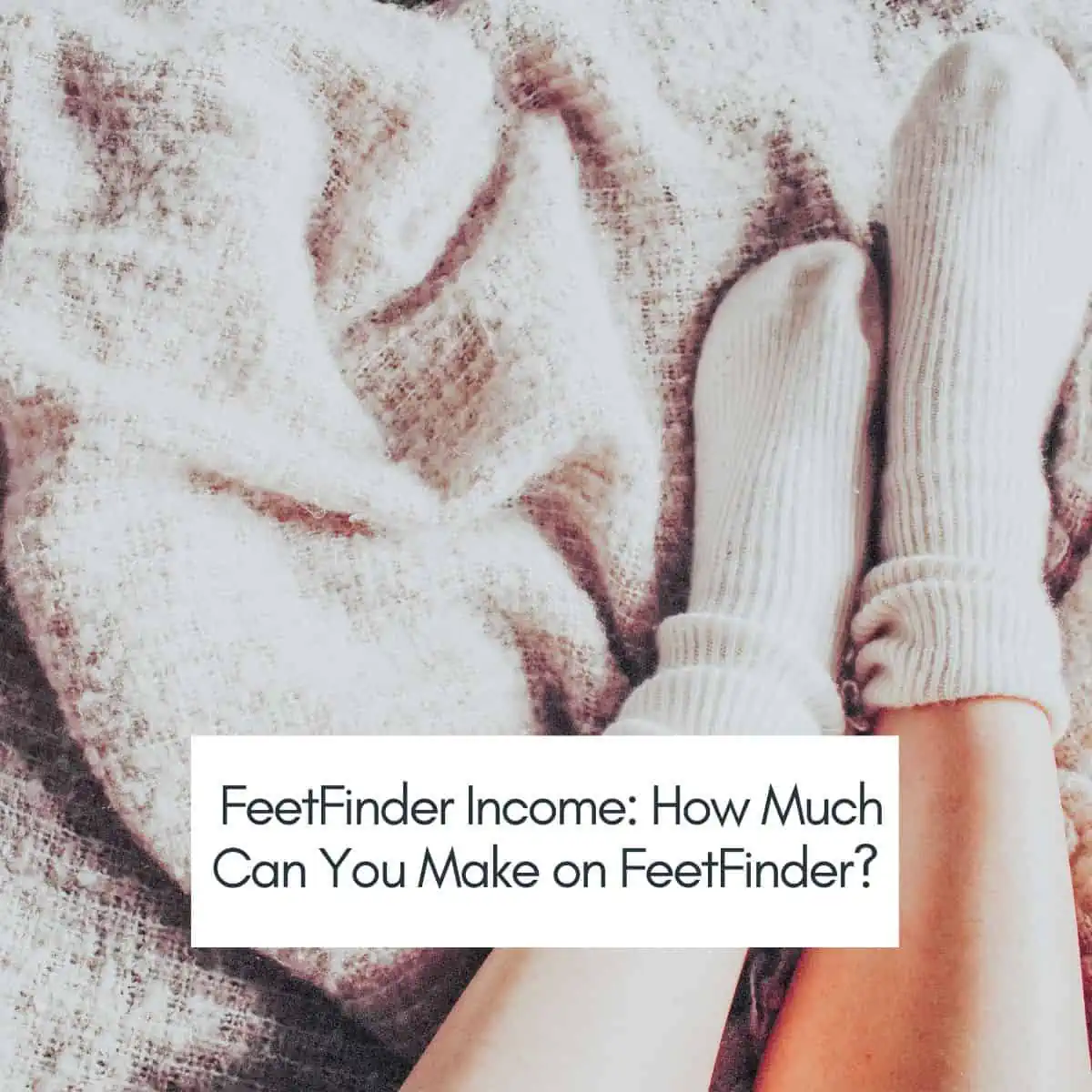 FeetFinder is a website designed for selling and buying feet pictures online. Many sellers use feet finder to sell feet pics online, while feet lovers come to this platform to buy feet pics and videos. FeetFinder has grown into a massive community of buyers and sellers, boasting of an impressive database for high quality foot content.
The main advantage of selling feet pics on FeetFinder is that it is a safe and secure platform, using encrypted servers and PCI-compliant security. Also, FeetFinder handles all financial transactions through FeetFinder's secured payment gateway partners, ensuring that sellers get properly paid.
So if you want to sell pictures of your feet, then FeetFinder is highly recommended.
How does FeetFinder work?
There are several ways to make money off your feet content on Feet Finder. But first, you have to create a FeetFinder seller account before you can start selling feet pics online. You generate income when you post high-quality photos and videos of your feet on the platform. Buyers pay to access your foot content, or they may subscribe to your account and have access to all content you post.
Is FeetFinder free?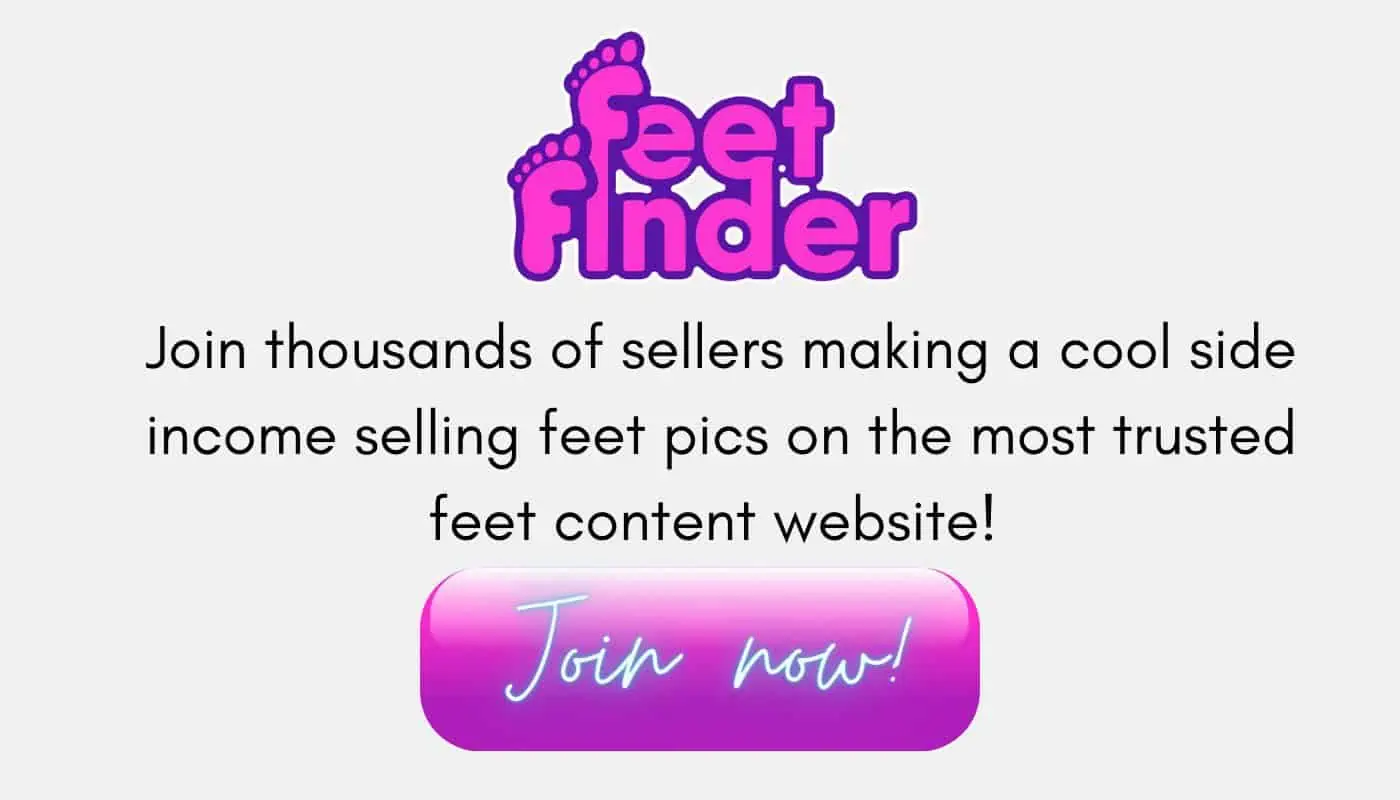 FeetFinder is accessible for people looking to buy feet pictures. But if you want to use FeetFinder to sell feet pictures, then you have to pick a subscription plan:
FeetFinder Basic Plans
$4.99 for a monthly subscription fee
$14.99 for the annual subscription fee
or a one-time lifetime fee of $40
FeetFinder Premium Plans
$14.99 monthly subscription fee
$49.99 annual subscription fee
or a one-time lifetime subscription fee of $80
According to many FeetFinder reviews, paying for a subscription is worth the cost for active sellers. The subscription fee pays for tons of new helpful features, marketing efforts, and data security on the FeetFinder website, making selling feet pics on FeetFinder easier and safer.
If you want to learn more about how FeetFinder works, check out my in-depth FeetFinder review. Here are also articles comparing FeetFinder to other platforms.
What types of feet content can I sell on FeetFinder?
The foot fetish community is pretty diverse, so many feet images are sold on FeetFinder. Check out FeetFinder's categories, and you'll see foot models selling pictures of feet of various types. You can sell dirty feet pictures, cute feet pics, arched feet images, photos and videos of chubby feet, feet pictures with stockings, high heels, lotion, and so much more!
How to make money selling feet pics on FeetFinder
What's so fantastic about the FeetFinder platform compared to other platforms for selling feet pics is that FeetFinder allows you to earn money in a couple of different ways:
Pay to view: buyers need to pay before viewing your foot photos. You can also create a few cheap albums and put your rates. You can keep making money on the same photos, videos, and albums, so that's like passive income!
Custom foot content request: buyers may ask you to create custom foot content for them. Buyers like to see high-quality photos and videos, and if they want to see more of your foot content that meets their fetishes, you could make extra money from that too!
Subscription to your FeetFinder account: buyers who want access to all your feet pics on feet finder may subscribe to your FeetFinder account.
Referrals: You earn money from every person you refer to FeetFinder.
How much can you make selling feet pics on FeetFinder? You may wonder how much an average feet pic sells and how much sellers make on FeetFinder.
Well, FeetFinder income can really vary across different sellers. Different factors affect your FeetFinder income, such as demand for foot content, the quality of your feet pictures, and your own negotiation skills. Compared to other platforms, though, you can make more money on FeetFinder, while allowing you to conduct your business in a more safe and secure platform.
Pricing your feet pics on FeetFinder is also crucial in determining your income potential. For instance, you can price a few mid-priced albums for at least $10. This should entice potential buyers to purchase your feet photos. According toFeetFinder's blog, most foot models charge around $22 for photos and $19 for videos. You want to keep your rates reasonable yet competitive and only sell high-quality foot pics on the platform.
Most people selling feet pics on FeetFinder would not reveal the exact amount they earn, but their stories give us a hint. For example, Raquel Leviss & Charli Burnett of Vanderpump Rules' reveal they have sold feet pictures to raise money for a nose job procedure. According to the American Society of Plastic Surgeons, rhinoplasty in the US costs at least $5,000.
There's also this woman from New York with the handle _sarahbellaaa, who bought her mom a new Mercedes after uploading her mom's feet pictures on FeetFinder. Here's the video of her mom's surprised reaction:
If these stories prove anything, it's that selling feet content is a lucrative side hustle. If you take it seriously, you can make more money than your day job. Of course, it still boils down to posting high-quality photos and videos and choosing the right platform for your business.
Final Thoughts
Making extra cash on FeetFinder is possible. You can achieve high FeetFinder income if you put in the work, such as by learning sexy feet poses, investing in your props, taking care of your feet, and learning how to market your foot content effectively.
Importantly, you must choose the right platform for selling feet pictures to improve your income potential. A brilliant website like FeetFinder makes it possible for content creators and foot models to earn good money from their feet while ensuring that each transaction is safe and secure.