These days, you can find apps for almost anything. But have you ever wondered if there are apps that pay you real money or apps that make you money?
Sounds like a dream, right?
What if I told you that there are actually lots of legit apps that pay you money or give you free money?
Even better, most of the best money-making apps can run in the background or require very minimal effort to use.
I've done the research for you so all you need to do is pick from this list of legit money-making apps!
These apps won't pay you as much as a full-time job would but using any of these apps is an excellent way to make money fast.
How to Avoid Money-Making Apps Scam
I'll be honest, while there are plenty of legit money-making apps out there, there are also apps that only offer false promises and only scam you into signing up.
So, how do you know which apps are legit?
Here are the red flags telling you that a "money-earning app" could be a scam.
It promises unrealistic rewards or payments.
Legit apps that pay you real money give out rewards or cash, that's for sure, but what you earn from them can hardly replace your full-time income.
If you find an app promising you hundreds of dollars upon sign up, and an extra hundred for a referral, think twice because it's most likely a scam.
It asks for confidential information.
You should never give away sensitive information online, even if you aim to make money. When you sign up with an app, the most that it would require you are your name, email address, PayPal address, and bank account information (for apps that you have to link your credit or debit card with).
Be wary of apps that ask for your social security number and driver's license number.
It asks you money to sign-up.
Legit apps that pay you real money are free to sign up.
If you're required to shell out cash even before you start making money with the app, you might want to reconsider joining.
---
How Do Free Apps Make Money?
When using apps to make money, it's also important to learn how these apps make money. You want to know how these companies are able to pay you even when their apps are free to use.
This knowledge should also make you feel comfortable about using these apps and help you weed out scams from the real ones.
I have categorized the apps on this list into the following to give you an idea on how these top money making apps work and make an income:
1. Apps that give you free money
These "free money apps", also called cash back apps, pay you for shopping.
Cash back apps are paid by their partner stores or brands each time you use these apps for shopping.
These apps work like a middleman. When you shop through them, they'll take you to the store, say Amazon, and Amazon will pay them a commission for your purchases.
But instead of keeping the commission all to themselves, they split this payment with you in the form of cash back.
The best cash back apps also offer a welcome bonus for just signing up, and they have partnered with numerous stores in the US so you'll have a lot of opportunities to make money using the app.
2. Survey apps that pay money
There are also apps that pay you real money for your opinion, and these apps, also called survey apps, operate a bit different from cash back apps.
You don't have to purchase anything to start making money with these survey apps. All you need to do is to share your opinion as a consumer.
Survey apps are paid by companies who want to know your opinion to improve their products or services.
These apps then compensate you for the time you spent answering questions like "Which of these coffee products do you often buy?" or "When will you likely buy a new car?"
3. Apps that save you money or make you money
These apps are designed to help you save money but I have also included apps that make you money in this category, including micro-investment apps.
This post contains affiliate links. I may earn a small commission for any purchases made through these links at NO additional cost to you. Please read my Disclosure for more information.
---
Best Legit Apps that Pay You Real Money with Your Smartphone
Best Legit Apps that Give Free Cash
Ibotta is one of my most favorite money-earning apps because you get cash back for grocery items. You buy groceries every week so there are lots of opportunities to earn money using this app.
This free money app has paid me over $1000 in cash back and bonuses from buying groceries alone!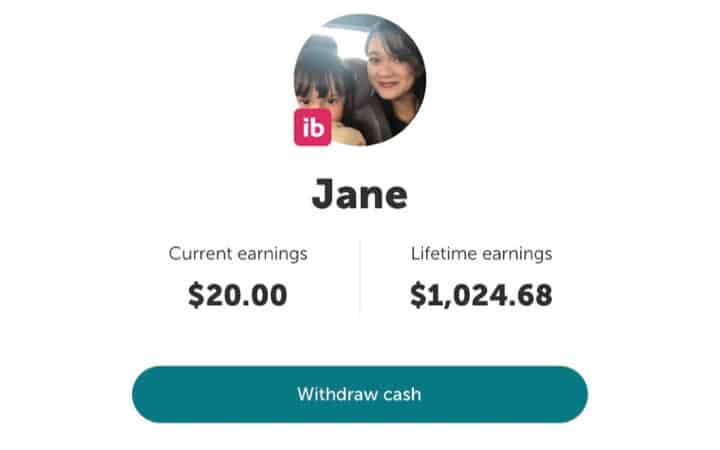 How does Ibotta work?
Ibotta works just like couponing without the need to clip coupons. All you need to do is upload your grocery receipts on the app and earn cashback on grocery items such as milk, meats, vegetables, bread, cleaning products, and more.
Ibotta has recently expanded and they are now offering cashback not only for in-store purchases but also online. Among the new categories you can earn cashback from are clothing, travel, eating out (restaurants), and home.
Important: You'll only get this bonus after uploading your first grocery receipt. If you cannot find any offer that you like on the app, you could buy a toilet paper or Colgate and you'll still come out ahead. Read my Ibotta Review here.
---
Related Posts
---
2. Rakuten (Ebates)
When you shop online, use this free money-making app to earn up to 40% cash back on your purchases at any of their 2500+ partner stores!
Not only will Rakuten pay you for using their app for shopping, they will also pay you $25 extra for each person you refer to them.
I've also made over $2,000 in cashback and bonuses for simply using this app!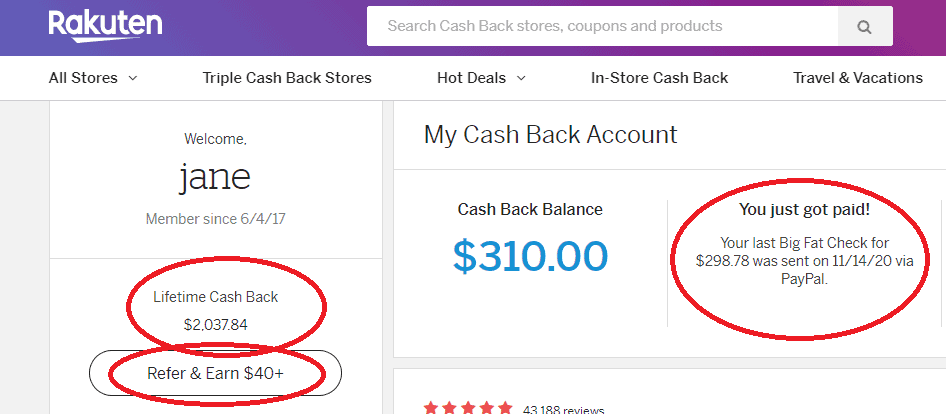 Want to know more? Read my Rakuten Review here!
3. Dosh
Dosh is an app that automatically collects cash back from your purchases from partner stores into your credit or debit card.
Dosh is free to use, and sign up is easy. It's best to link your most-used credit or debit card with Dosh to accrue cashback rapidly. Use that card to pay for purchases and then get cashback ranging from 2% to 10%, depending on the store. Whether you use the card to pay for in-store or online purchases, Dosh runs on autopilot, so you can keep getting cashback as you shop.
Apart from paying your purchases with the Dosh-linked card, you may also book hotels with the same card and enjoy $25 cashback on your very first hotel booking.
When you refer a friend to sign up for Dosh, you'll get an additional $5 cashback.
You can withdraw your earnings when you reach $25 of cashback and deposit the funds to your PayPal account.
4. Paribus
Ever paid full price for an item, only to find out a day later that its price dropped? Use this free app called Paribus so you'll never miss any savings when prices drop.
The best thing about Paribus is that it automatically gets the adjustment amount for you! There's no need to scan receipts or waste time finding out whether there's any price drop.
It also even helps you get paid for late Amazon deliveries. You can check it out here.
---
Legit Survey Apps that Pay Money
Survey apps are some of the best money-making apps out there, and they're legit too! The great thing about survey apps is that they're pretty easy to use, they're usually free to sign up, and collecting points is super easy.
5. Swagbucks
I personally use this app to earn money via Paypal, or earn Amazon or Starbucks gift cards.
Swagbucks is the biggest research panels on the internet that will reward you for doing things like completing surveys, watching videos, searching the internet, playing games and shopping online.
Swagbucks gives you SB points which you can redeem for gift cards or Paypal cash.
It is free to join and if you join below, you'll receive $5 FREE after confirming your email.
6. Inbox Dollars
Inbox Dollars is another rewards company that works like Swagbucks, offering you a few options to earn points, from watching videos, playing games or completing surveys.
This company has paid over $57 million in rewards and is currently offering a $5 sign-up bonus!
Like Swagbucks and other rewards sites, Inbox Dollars also offers a cash payout or gift cards as an option to redeem your points.
Download the app below and make sure to confirm your email to get your sign-up bonus!
Another survey app that pay money is MyPoints, which is also just as fantastic because they give you $5 when you sign up. You can also redeem your points in a variety of ways, including cash, travel miles and gift cards.
Most of these real money apps allow you to earn in different ways. So, apart from taking surveys, you could also earn from shopping online, watching ads, playing games, searching the web, and referring other people.
---
Legit Apps that Save You Money and Make You Money
8. Trim
If you think canceling a subscription you no longer use is such a hassle, you can let the app called Trim to do it for you.
Trim is a fascinating smartphone app that analyzes all your bills so you can see which of them continues to charge your account even if you aren't using them.
Got a gym membership costing your account month after month, but you don't go to the gym? Trim will remind you of that. Even better, the app can cancel the subscription on your behalf, so you don't even have to bother doing it yourself.
Trim can also help you negotiate your cable bill. If you think you are getting ripped off on cable or internet, download this free app that helps you save money.
Trim works with Comcast, Time Warner, Charter, and any other provider, and has helped its users over $1,000,000 over the last month!
Download this must-use money earning app here and start lowering your bills!
If you were quite the hoarder of electronic things, DVDs, Blu-rays, CDs, gaming consoles, and tablets (and surprisingly, legos too!), you might find disposing of them somewhat painful and regretful.
But a cash incentive in exchange for them might convince you. And that's what the money-earning app called Decluttr aims to do.
Decluttr is both an app and a website that accepts the abovementioned products and pays you with cash. You just fire up the app on your phone, scan the product's barcode, and Decluttr tells you how much they offer for each item.
If you like what they offer, Decluttr will send you a pre-paid box and shipping label to attach to your box, and then ship the box free of charge. Once they receive your items, they will go through them, and then send you the money through a check, PayPal, or bank deposit.
Download this free money earning app below and start making money selling your clutter!
10. Airbnb
If you have a second home, a vacation home, or even a spare room in your house, you can earn money from them by listing them up on the Airbnb app, one of the best real money making apps for those in real estate business.
First, you need to create a description of the rental property, post photos, set the price, and availability. When the listing goes live, people can make sense of what your property looks like, and if they like it, they'll book through the app.
Using the Airbnb app is an excellent way to establish yourself as the landlord as well as create a sense of trust with the potential guests. The app also comes with a rating and feedback feature wherein guests can rate and comment about their experience in your property.
11. Sweatcoin
Sweatcoin is known as an app that pays you money for walking. It's a fantastic platform that motivates you to become fit and healthy while earning money at the same time.
In reality, the app pays you a digital currency called sweatcoins, which you could use to buy Paypal vouchers to turn your earnings into real cash.
Sweatcoin works by tracking your steps through the app's GPS feature and then rewards you with sweatcoins.
The app does not count steps taken indoors, so make sure to gear up for a walk around your neighborhood. Once you've accumulated enough coins, you can visit the app's marketplace to purchase something you fancy, ranging from random knickknacks to a smart television, iPhone 6, or $1,000 worth of PayPal money.
Related Post:
Real User Sweatcoin Review: Is Sweatcoin Worth It?
12. Acorns
Need help saving money and investing your savings? I highly recommend using Acorns, one of the most popular investing apps for beginners.
You need to link your credit or debit account with Acorns, and then the app will round up your purchases using those cards, take the spare change, and invest them.
For example, if you spent $3.80 for a coffee using your linked credit/debit card, Acorns will see the transaction, transfers the spare change of $0.20 to your Acorns account. When your account hits $5, Acorns will withdraw the money and invest it.
I've been using it for awhile and here's a screenshot from my account after a few weeks: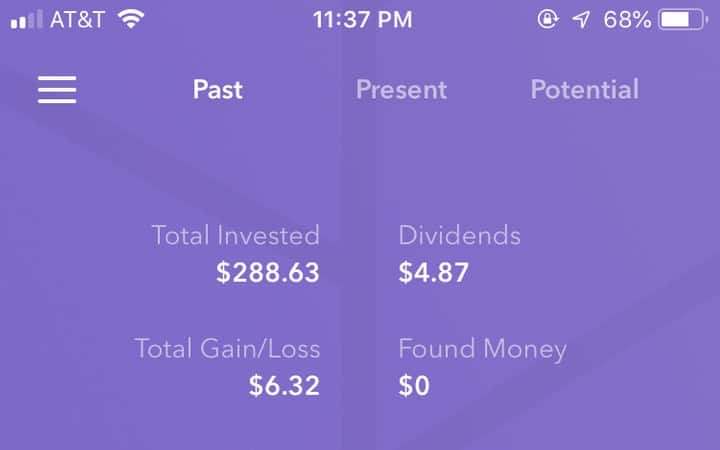 I've accumulated over $280 of spare change from my weekly purchases and gained $6.32 from that little investment.
If you want to save and save money without thinking, Acorns is definitely one of the best ways to go most especially if you are new to investing as well. You'll also receive $5 FREE from Acorns here after making your first investment of $5.
13. Robinhood
Robinhood is a free trading app that allows you to invest in stocks, ETFs, and options. As a mobile app, Robinhood gets you to invest with $0 account minimum and commission-free stock trading. It's an excellent app, especially for beginner investors who are looking to maximize their trading profits by eliminating commission fees from the picture.
Additionally, Robinhood has been intuitively designed so that users can schedule deposits, monitor day trades, and perform advanced orders. As a smartphone-based trading platform, Robinhood is one of the best legit money-making apps that allow you to invest right from your fingertips.
14. Poshmark
If you've outgrown a couple of your designer clothes, you may sell them on Poshmark. Poshmark is a smartphone buying and selling app, and most of the products traded herein are mostly designer clothes.
This is the ultimate for the fashionista, whether one has accrued more than clothing than your closet can handle, or you're looking to purchase high-end clothes at a lower price.
Have a couple of clothes to sell? You can set up your own store wherein people can like and comment on your items.
Download this free money making app below and start making money selling stuff you no longer use!
Legit Apps That Pay You Real Money: Are They Worth It?
The smartphone is such a powerful device that lets you do so many things, and having legit apps that pay you real money is one of the best ways to maximize your smartphone use. Whether you like to get fit, sell old products, shop online, or answer surveys, as they say, "there's an app for that." And if that app gives you money, then you're in great luck!