When it comes to apps that claim to pay you money, one of the first things that come to mind is: is it legit? It's exactly what I thought when I heard of this cashback app called Ibotta. Is Ibotta legit? Is Ibotta worth it? Read on and find out the answers in this Ibotta review!
There are affiliate links on this post. I may earn a small commission if you make a purchase through these links at NO additional cost to you. Please read my Disclosure for more details.
---
I discovered Ibotta two years ago as the ultimate app that helps you save money on everyday items like groceries and household goods.
We lived on a small income, and with a baby and growing needs, we needed to cut back on our expenses and find more ways to save money. So imagine my delight when I heard of this app!
I loved all the Ibotta app reviews I read online, so I decided to sign up and download the app on my phone. I went to Walmart that day, bought groceries, took a picture of my grocery receipt, and then uploaded it on the app.
And that same day, I received a $10 Ibotta sign-up bonus for trying the app + a dollar or two in cashback from my purchases. Fast-forward to two years later, I've received this much from Ibotta: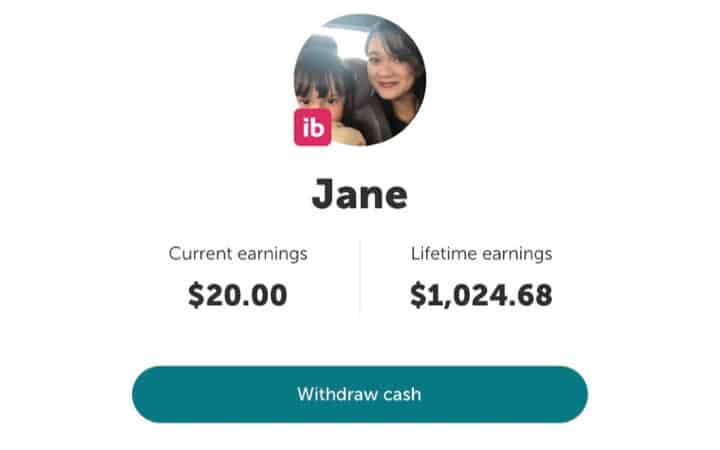 I've earned $1000 in cash back and bonuses for buying things I planned on buying anyway.
If you have also been looking for ways to save money on food, I definitely can highly recommend Ibotta. Ibotta is no doubt the most popular grocery rebate app, with over 35 million downloads as of 2019.
As of December 2019, Ibotta claims to have already paid its users over $600 million in cash back!
If you haven't joined yet, you can sign up with Ibotta through this link. Enter Ibotta referral code FNWCHUM and receive the $10 Ibotta sign-up bonus for trying the app. Joining is free!
---
So, What is Ibotta?
Ibotta started out as a grocery rebate company in 2012. The company offers cashback on grocery items such as canned goods, cleaning products, meats, bread, toothpaste over-the-counter medicines, and more!
If you are into couponing, then you will love Ibotta because it is pretty much the digital version of it.
But instead of getting your discount at the register, you get it on your Ibotta account. Once you've accumulated $20, you can withdraw it to your PayPal account or as e-gift cards.
While the company started out as a grocery rebate company, they have expanded outside of the grocery space into other areas such as gas stations, liquor stores, pharmacies, restaurants, and major retailers like Amazon.
How Does Ibotta Make Money?
Now, you might be thinking…Everything sounds great. It's free to use, it gives users free money, what's the catch with Ibotta? How does Ibotta make money?
When you are getting free money like this, it is essential to understand how the company makes money. Learning these important details will also make you feel comfortable using the app.
First, I want to assure you that there isn't really any catch. Ibotta makes a lot of money, too, and that's how they can afford to give you free money.
Ibotta partnered with over 300 retailers or stores within the U.S and Puerto Rico, including Walmart, Sam's Club, Costco, Ralphs, Kroger, and Target. You can find the full list of Ibotta stores ( partners) here.
Ibotta gets paid by their partner brands for any offer you redeem through the app. And Ibotta shares this money with you in the form of cashback.
Since they have millions of users, Ibotta gets paid by brands who want to get their products listed or promoted on the app.
You'll also notice a short consumer survey or video clips that sometimes pop up as you are unlocking a rebate. Brands pay a lot of money to get those videos shown to extremely targeted users like you.
That said, if you've ever wondered, "Is Ibotta legit?", there is no doubt that it is!
---
How Ibotta Works

?

Earning cash back through Ibotta is easy. Here is a quick rundown of how the app works:
Download the App for FREE.

Click here

to do that. ( It works on most iOS and Android smartphone devices. )

Open the app, browse through the rebates, and unlock the items you will likely buy by simply tapping the plus sign. Another way to do this is to select a retail store first, say Walmart, then browse through the rebates by category (i.e., fresh produce, dairy, and eggs, pantry, etc.) Unlock the Ibotta rebates by tapping the plus sign.

Shop at the store.

Redeem the rebates by uploading the receipts.

Get paid. You can withdraw your earnings via Paypal or Venmo once your Ibotta balance reaches $20.
Wash, rinse, repeat! It is truly that easy! No clipping coupons and the process of redeeming rebates only takes about a minute or less!
---
Ibotta Offers
What can you buy to earn cashback through Ibotta? Well, there are over a hundred products to choose from each week.
To give you an idea, here's just a few examples of Ibotta Walmart deals you could snag today:
You could also earn Ibotta money from "Any Brand" items such as these ones:
There are lots of products listed on each affiliated store so be sure to check out the Ibotta deals in your favorite partner store to not miss free money!
---
How Much Money Can You Make with Ibotta?
How much a person earns with Ibotta depends on your shopping habits, whether you use the products or services promoted on the app and the products you buy.
There are electronic items too that pay a $20 cashback, so make sure that before you purchase any item, check out the app!
If you have several kids in your household, you are going to earn more than those who don't have or just buying for one person.
You can probably earn from a few dollars a week for buying basic groceries to $50 per month for larger families. But if you are going to add restaurant and online purchases cash backs, you can realistically earn up to $100.
Overall, it really depends on what you buy and how often you use the app.
---
Ibotta
Pros and Cons
Pros:
1. Easy to use
As I mentioned, Ibotta works like couponing without the hassles of clipping coupons. So, if you are into couponing, I am sure you will love this app.
It has a user-friendly interface, too, that allows you to quickly browse through the rebates. You can choose to browse through the items by store and by categories. Overall, the process of using it is far from being cumbersome–it only takes a tap to unlock a rebate, and less than a minute to upload a receipt.
2. More Ibotta rebates
For me, Ibotta is the best grocery rebate app with the most amount of rebates available on the app.
They offer rebates on almost all categories, and they add new offers every week, so there are more opportunities to save money with Ibotta.
Among the categories you can get cashback on are: dairy/eggs, meats/frozen, fresh produce, beauty/personal care, health, and wellness, pet, pantry, wine, non-alcoholic beverages, and babies.
3. LOTS of amazing bonuses!
There are lots of bonus rebates going on every single month and completing these Ibotta bonuses allow you to earn extra cash in addition to the rebates you redeemed. For example, you may be able to make $2 extra for redeeming 5 offers within the month.
Another example is last month's bonus called "Share of $100k" where you can earn a share of this money when you refer two friends. That said, there are many ways to increase your Ibotta earnings, and each month there are new exciting bonuses!
It pays to know some Ibotta tips and tricks to increase your earnings!
4. Does not require you to link credit/ debit cards
One of the first things that turn me off when it comes to using an app is when it requires me to link a credit/debit card. Even when you've done your research and are sure that the app is legit, I understand that sometimes you feel worried about sharing your financial information.
Fortunately, you don't have to worry about this with Ibotta. Since you'll only upload receipts, it is not necessary for you to share your bank information like with other apps to earn cashback.
5. $0.25 cash back even if there are no product matches
I know what you are thinking. What happens if you don't purchase eligible items? Well, simply tap on the Any Item rebate on the app (the receipt rebate), scan your receipts, and Ibotta will give you a $0.25 cashback per receipt.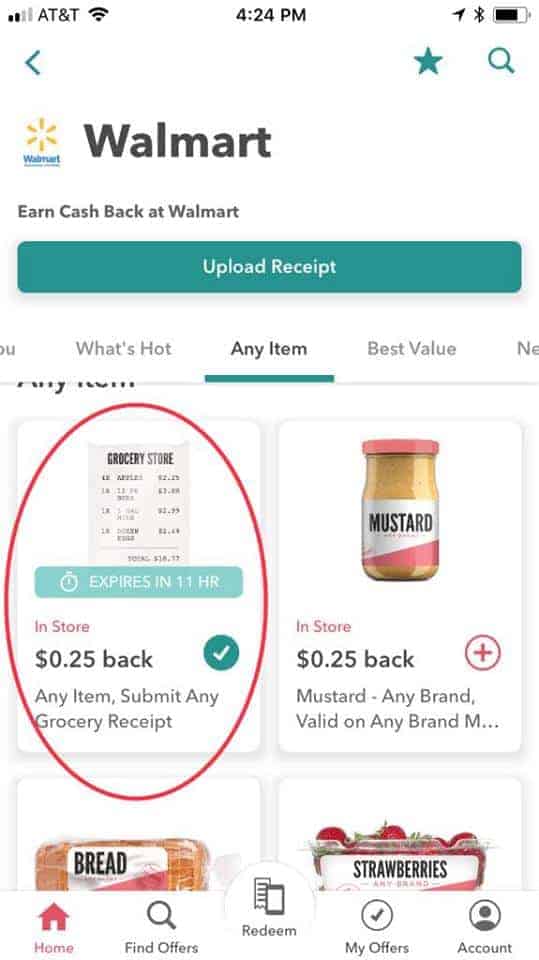 5. Earn cash back on Any Brand items
Ibotta offers few Any Brand bonuses each week, too, so you could earn cashback on some items no matter the brand of the product you buy.
For example, as of writing this, Ibotta offers $1.30 cashback for Udi's sliced bread.  What if you don't like this brand? Well, you could still earn $0.25 cashback on any sliced bread brand you choose.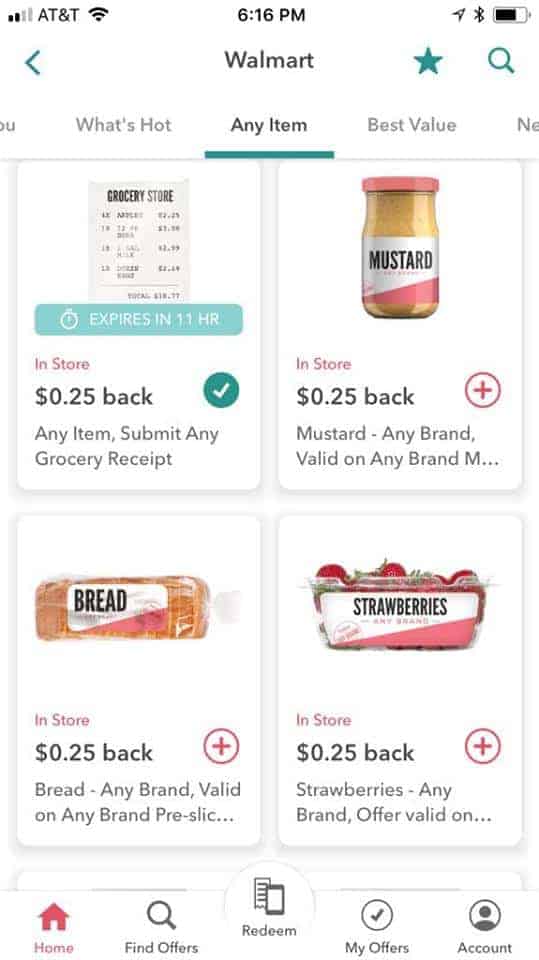 6. Build a team and increase earnings
You can quickly unlock bonuses by building a team. Each person, whether a friend or family, who joined Ibotta through you will automatically become a member of your team.  Your team can work together to unlock team rebates, which also count towards your monthly bonus.
7. FREE to use and offers a $10 Ibotta Welcome Bonus
On top of all the pros, Ibotta is free to use and download and offers a $10 sign-up bonus.
If you haven't joined yet, you can join Ibotta through this link or use Ibotta Referral Code FNWCHUM when you sign up. Remember to unlock a rebate to get the bonus.
Cons
1.It is easy to get tempted to redeem more rebates.
Yep, you might hate this when you get obsessed with redeeming more rebates. Buying stuff you won't need just to earn rebates doesn't make sense if you are trying to save money, so always stick to your list to avoid unnecessary spending.
2. Minimum withdrawal of $20.
You can't cash out your earnings until it reaches $20.
3. To get cash back, you need to upload/ scan your receipts using the app
I don't find this a disadvantage because, honestly, it only takes less than a minute to scan your receipt through the app. However, you might find this cumbersome if you've tried other cashback apps that don't require so.
If you hate scanning your receipts, Ibotta offers an option where you can link your store loyalty card to your Ibotta account, too. In this way, the store will send your receipts to Ibotta for you, so you don't need to scan your receipts each time.
---
Is Ibotta Worth It?
Is it worth the hassle? Do I love it or hate it?
For me, it's absolutely worth it! There are more features to love than hate about Ibotta so I definitely recommend it if you are looking to save money.
However, since most grocery items only offer between $0.25 and $5 cashback, you can't expect to earn hundreds in a month using Ibotta, unless you referred a lot of people to use the app.
But if you don't mind receiving FREE $20 or so per month on items you need anyway, then join Ibotta today!
Are you already an Ibotta user? What are your thoughts on Ibotta? Let me know in the comments below!