As we all know, it takes hard work to earn a living. You have to work for whatever you want in life. Some people toil in their jobs 9 to 5, while others put in extra hours to run their businesses. But what if I told you that there are jobs for lazy people? Would you jump in?
No, I'm not in any way encouraging laziness. But these "lazy people jobs" may require less effort and come with lower stress and pressure, yet they pay real cash!
They also offer more room for flexibility than a regular day job, so they're perfect for people who want to have more control over their time.
Just a heads-up: not all of these money-making ideas can replace a full-time income. But, they can be a great additional income stream!
Ready to learn what these "lazy jobs" are? Check out the list below.
Best Jobs for Lazy People in 2022
This post contains affiliate links. I may earn a small commission for any purchases made through these links at NO extra cost to you.
1. Play Video Games All Day
Do you enjoy playing video games? Why not sign up as a professional video game player? Sure, you have to be good at playing games but with jobs being as scarce as they are now, that might not be a problem.
Plus, if you're lucky enough to win tournaments and get paid handsomely for it, you can afford to buy yourself a new car!
You can monetize your gaming habits with paid live stream, creating video guides, or hosting a gaming podcast.
Related: How to Make Money on Steam
2. Downloading Apps on Your Phone
Here's a lazy job that doesn't require any work at all: downloading apps on your phone.
Companies like Apple sometimes offer jobs that let you download new versions of their software onto your phone ahead of its release date (a perk only available to employees).
If you're lucky enough to get in on this program, you'll be able to start using the latest version of iOS days before everyone else, and then get paid for it!
Radium One is a great site that pays you to test new mobile apps and websites. Just do what they ask, complete the required amount of tests in each category, then cash out when your balance reaches $20!
3. Get Paid to Shop
Do you have a smartphone? If so, then why not get paid to do the shopping you're already doing? It's super easy, plus many of these sites will pay you in gift cards or via PayPal so all you have to do is spend the money you've already earmarked for shopping.
Here are some of my favorite sites that pay to shop online and in-store:
Rakuten
Rakuten is one of the best sites to use if you're looking for online coupons and deals. I've personally earned over $2000 from this cashback site alone.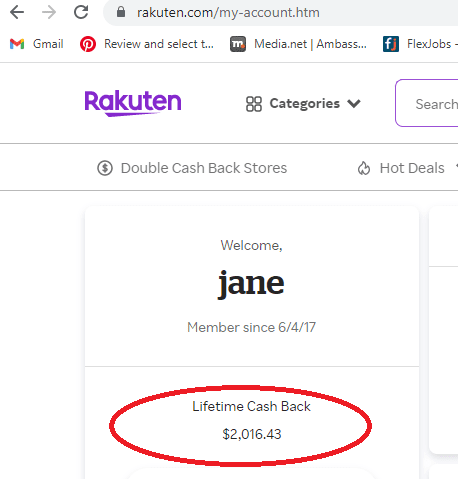 Once you sign up, make sure you go through Rakuten every time you make an online purchase. It's basically like getting cash back for shopping.
You can sign up here for free. Currently, they offer a $30 Welcome Bonus for your first $30 purchase using the app!
Ibotta
Get paid to shop groceries every week by scanning your receipt with Ibotta. It's an app that pays you to buy grocery items like meats, canned goods, bread, and more! You can sign up here for free and get a $5 welcome bonus!
4. Get Paid to Listen to Music
If you are looking for a real low-stress job, how about get paid to listen to music?
Many people listen to music anyway to relieve stress so why not get paid for it at the same time? Here are some companies that will pay you just for sitting back and listening to your music:
Music XRay
SliceThePie
iJigg
Audible Magic
5. Blogger
Don't get me wrong here. To become a really successful blogger, you gotta work hard, too. BUT!!! Blogging offers flexibility and you can choose how much time and effort to put into your blog, depending on your goals.
I know some people who blog as a hobby. They have full-time jobs and they only blog on the weekends for extra money. And they're also making a nice side income from their blogs!
For me, blogging is a "job" that does not feel like a job. It's something I am excited to do every day because I get to help other people through the content I post here.
It's my creative outlet, and it's a bonus that I am earning a good income from my blog. More importantly, it allows me to work on my own hours, giving me the freedom to become a full-time mom to my kid!
If you want to learn how to start a blog, I have a detailed guide on how to start a blog where I'll also show you how to grow your blog and make money from it. Trust me, you don't need to be a techie to start a blog and you could start one at $2.75 per month!
Related:
15 Inspiring Hobbies that Make Money
18 New Ways For Females to Make Money Online (I Love #7!)
---
6. Vlogger or YouTuber
Do you love creating or editing videos? How about starting your own YouTube channel about your passions? The great thing about becoming a YouTuber or vlogger is that you can work on your own time and get to create video content about the things you love!
I don't know if you've heard of this, but the highest-earning YouTuber is just a kid and he makes millions of dollars annually from his own channel! MILLIONS for playing and reviewing toys on a video!
With vlogging, you can make money from sponsored or paid content, affiliate marketing, and ads.
As I have mentioned, you can also vlog about anything you like. But be warned, this may require some passion and skills in filming and editing. If you do it right and become a legit influencer, your earnings can be pretty lucrative.
Interested in becoming a YouTube star? Read: How Much YouTubers Make Money and How They Make Money.
---
7. Sleep Study Participant
If what you're looking for is to make money while you sleep, then maybe you would be interested in participating in clinical trials about sleep. Sleep studies allow experts to discover treatments for sleep-related issues. And as a participant, all you have to do is… SLEEP!
Sleep studies need participants with specific age ranges, gender, or weight, so be sure to check these conditions before you apply. If you qualify, you can slumber your way to earning some nice cash, making it literally one of the best jobs for a lazy person.
---
8. Netflix Tagger
For the couch potatoes out there, this is one of the top jobs for a lazy person. Apparently, companies like Netflix need people to watch their shows, so if you have nothing better to do than stay on the couch all day, why not get paid for it?
Netflix editorial analysts, as they are called, tag shows according to their appropriate categories so that viewers have a pleasant watching experience.
Another way to get paid to watch videos and ads is by signing up with the following:
Swagbucks – Receive a $5 Welcome Bonus
MyPoints – Receive a $10 Amazon Gift Card
Inbox Dollars- Receive a $5 Welcome Bonus
---
9. Get Paid to Shop Groceries for Other People
Looking for a real low-stress job that involves grocery shopping? Since you need to go to the grocery store to buy food anyway, why not turn that grocery trip into a money-making opportunity by shopping for groceries for other people?
If you are interested, then become a grocery shopper for Instacart. You can get paid $20+ per hour, including tips. But the most efficient Instacart shoppers are earning up to $45/hour.
10. House Sitter
House sitting is another one of the best options for lazy people jobs. Many people hire house sitters when they go on vacations, and they need someone to look after their property while they're gone.
Your role is pretty low-key: collecting the mail, watering the plants, feeding the pets, and doing some light cleaning around the house. The advantage is that you get to have a change of scenery by living in someone else's house, and then earn money from it. According to Zippia, professional house sitters can make around $40/hour.
---
11. Brand Ambassador
If you're some kind of an influencer, you could earn easy money as a brand ambassador! As a brand ambassador, you represent the brands you believe in various settings, meet new people, and establish connections. This job puts you in the spotlight as you promote your brand.
Also, apart from cash, many companies generously provide free products to their ambassadors, so this is one perk you'll probably enjoy in this line of work. The rate for brand ambassadors varies, but according to Salary.com, you could make around $45k per year.
---
12. Mystery Shopper
If you think it's fun to get paid to shop, then you might enjoy mystery shopping. With this job, you'll be paid by a third-party market research company to go "undercover" and pretend you're a real paying customer.
While shopping, you may be asked to discreetly check out the prices and deals of a brand or take note of the staff's customer service. Mystery shoppers typically get paid per assignment, ranging from $10-$100.
Check out this post to learn how to find mystery shopping near you!
13. Professional Beer Taster
Is drinking beer your cup of tea? If so, this easy side job might be for you! You can spend your Fridays (or other days) drinking beer. Many large brewery companies hire beer tasters to provide them with honest feedback, allowing them to improve their products better. Although you don't need any fancy qualifications to become a beer taster, you do need to have discerning taste when it comes to beer.
---
14. Online Surveys
Taking online surveys is practically one of the no-brainer, low-stress jobs for a lazy person. All you have to do is sign up for a couple of online survey companies, such as Swagbucks, Survey Junkie, and Inbox Dollars, and then answer their surveys.
Most of these surveys are matched to your profile, so you'll basically be answering surveys that you're already interested in. Online surveys don't pay as much per hour, but you can complete a survey in mere minutes with just a couple of clicks on your smartphone.
---
15. Professional Cuddler
According to Healthline, cuddles help release stress, improve blood circulation, boost immunity, and more. Given the numerous benefits, it's no wonder people seek professional cuddlers for them to snuggle with.
I know it sounds weird to cuddle with a stranger and get paid for it, but if you're helping out someone who really needs it, this could turn into a really meaningful gig.
Those who are unaware of professional cuddling as something that involves sexual intimacy, but the truth is, professional cuddlers are experts in providing embraces, spoons, and tickles. Every transaction is purely business and platonic.
According to JobMonkey, you can make between $40-$80 per hour, excluding tips, as a professional cuddler.
---
16. Dog Walker
Dogs need to release their pent-up energy through walking, but a lot of pet owners don't have the time to walk their dogs regularly. So, if you're crazy about dogs, dog walking jobs could be the perfect job for you! Dog walkers can earn as much or as little as they work.
If you opt to walk more than one dog at a time, you could make double the income. To find dog-walking gigs in your area, I recommend signing up at Rover. According to Rover, some of their dog walkers make around $1,000 a month.
---
17. Sell Stock Photos
If you have an eye for taking good photos, then you could consider this as one of the best jobs for lazy people. You don't have to be a professional photographer to take photos that sell, but you at least need to have basic knowledge of things like framing, angle, and lighting. Plus, since you're selling these photos on stock photography sites, the money would just keep coming in as people purchase or download them.
Interested in selling photos of your feet? Then, check out this post on How to Sell Feet Pics and Make Money!
---
18. Hotel Tester
To work as a hotel tester is like going on vacation in a fancy hotel and getting paid for it.
High-end hotels need to make sure that they're providing the best amenities and services, so they hire hotel testers to work undercover.
Hotel testers evaluate a number of things during their stay, including but not limited to the staff's customer service, how clean the rooms are, how comfy the beds are, to the nitty-gritty like whether there's a constant supply of toilet paper.
It's a pretty chill job, but you do have to make sure you address all the questions of the report at the end of your assignment. Hotel testers are paid nicely, around $28/hour, according to Ziprecruiter.
---
19. Video Game Tester
If you don't want to make money as a professional gamer doing paid live streams or creating video tutorials, how about making money by simply testing out games?
Video game companies pay gamers to obtain feedback on their games on the various development phases: prototyping, development, soft launch, and after-release.
As a video game tester, you'll get the first dibs on the up and coming video games, play them out, and give your valuable feedback to the developers.
If you could stay at home all day playing video games, then this is a lazy job you might want to look into. You can check out Playtestcloud for game testing opportunities.
20. Get Paid to Surf
Perhaps one of the easy jobs for lazy people is to surf the internet. All you need to do is visit participating websites and click on specific links or banners. You're given points (and, in some cases, real cash) for doing so. And you can redeem your points for gift cards, merchandise, subscriptions, or donations.
Here are some popular paid to surf websites:
ClixSense – Earn points for clicking on ads, watching videos, or visiting sites. You can also refer others to the site and get 10% of their earnings for life. Cash out your balance once you have $20 in your account.
Swagbucks – Similar to ClixSense, Swagbucks pays you for surfing websites and clicking ads. You can also get points by watching videos, taking online surveys, and completing other tasks. Cash out once you have $5 in your account.
21. Sell Your Hair
Okay, this is not a job per se, but a low-stress gig you can earn money from every few months.
And this could actually be worth looking into—especially if it's something you were already planning on getting rid of in the near future. According to HairSellon, you can potentially get up to $1,000 for every six inches that you're willing to part with…and they even have an app, making it easier than ever before.
22. Fortune Cookie Writer
If you have a talent for creating witty, one-liner prophesies, quotes, or truisms we find in a fortune cookie, then you just hit the fortune cookie jackpot with this idea. You may be able to find fortune cookie writing jobs at sites like Indeed and FlexJobs but I recommend checking out the following fortune cookie manufacturers for job opportunities:
Keefer Court Food
Peking Noodle
Tsue Chong Co.
Golden Gate Fortune Cookie Factory
Wonton Food, Inc.
Bailey International
Sunrise Fortune Cookie
23. Food Critic or Food Taster
Yes, it's a real job and probably a dream job for many who love eating. Food testers make sure the flavor and quality of food meet standards before it hits supermarket shelves or goes out to restaurants. They work for private companies as well as government agencies, testing anything from baby food to pet treats.
Food tasters often specialize by type of product – dairy, meat, snacks – or may work in multiple categories.
You can find food taster jobs in the food manufacturing section. Check out this list of food manufacturing companies that might be hiring food tasters right now.
24. Sell Plasma
Donating plasma is a little different than donating blood. Plasma donations are used to create life-saving medications that help people who suffer from diseases like cancer, HIV/AIDS, and other autoimmune disorders. The process is simple but will require your time and commitment to an hour-long appointment every week or two weeks for about six months at the local blood bank.
Your first donation will be tested for several diseases such as HIV, hepatitis, and syphilis; this screening process takes about one hour to complete. If the exam comes back clean, you'll earn $20 for your first visit and $25-$35 each time after.
Jobs for Lazy People: Which Ones Are For You?
Whether you love to sleep, shop, watch TV, play video games or drink beer, there will always be jobs for lazy people that you can do. These jobs do not imply that you're lazy, literally. But these jobs are fun and don't require heavy lifting, so they come with less stress and pressure. If you're down for one of these jobs, go back to my list above and start feeling out what job suits you best.
Have you tried working on one of these jobs for lazy people? What was your experience like? Let's connect in the comments.
Did you enjoy this post? Save this pin/ post or share it with your friends!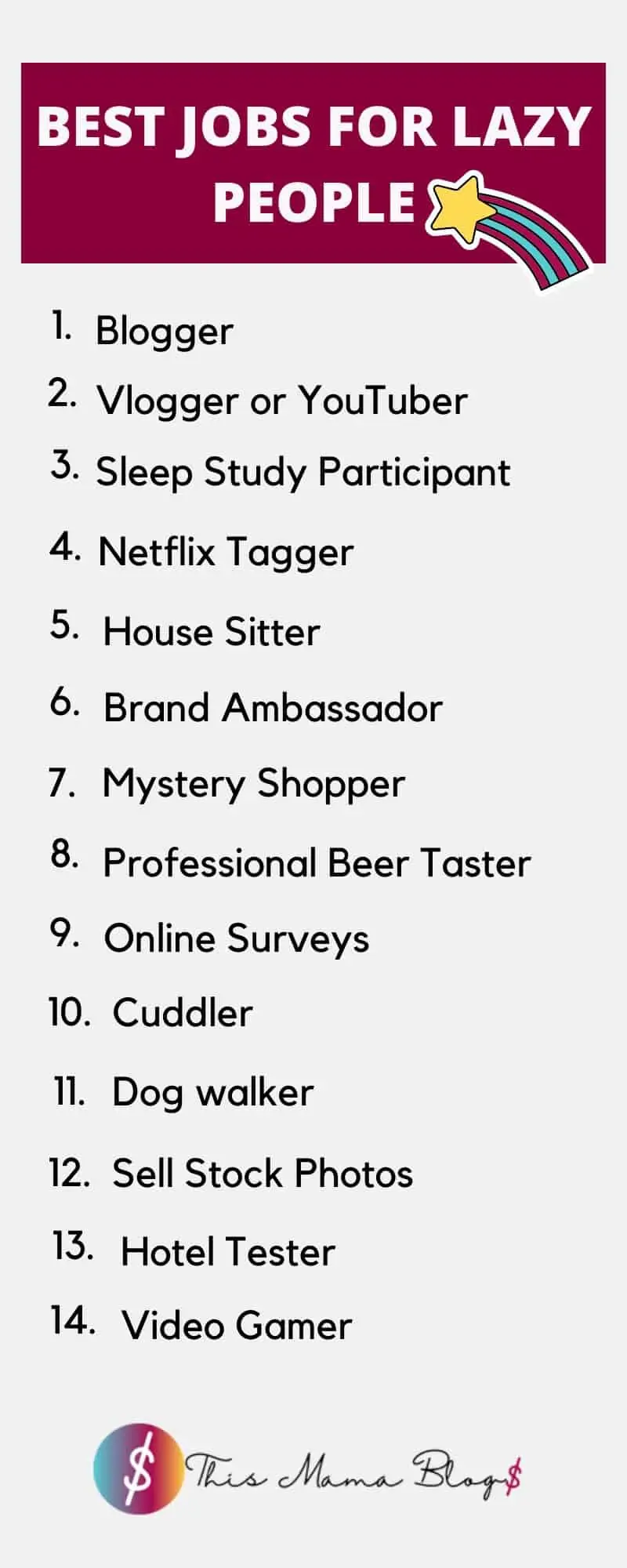 ---
Our shop is OPEN!