Online Moderator Jobs
Most of us are on social media. You're also probably a member of an online community on Facebook and other platforms where you can share your interests and passion with other like-minded individuals.
Well, those communities don't run on their own. They need people to manage the content, to ensure that such communities are free from abuse, spam, and other violations. And the people who perform such tasks are called online moderators.
If you have noticed, virtually any topic has a forum, blog, or social media channel on the web, no matter how mundane or trivial you think it is. For instance, if you run a quick search about the best baby products, you'll find lots of forums where parents can throw questions and give recommendations. These places on the web are great resources especially if you need to ask for other people's inputs.
When you join one of these communities, you'll likely be welcomed by a message outlining the page's rules and guidelines. These guidelines are like online moderators' handbooks. If you violate the rules, the moderator can impose consequences.
Online Moderator Jobs: A Quick Overview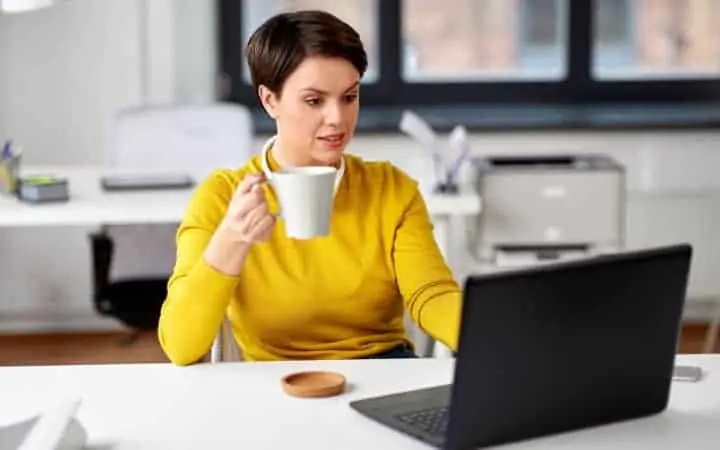 You've probably not given much thought about the moderator's job at all, perhaps not until now. But a job of similar nature can be the perfect side-hustle for you.
Online moderator work from home jobs are great for people who are fair and objective in handling user-generated content, as well as in fostering the community spirit.
Well, it's exciting to know that such jobs exist and they are in good demand especially with the heavy use of social media, forums, and other types of online communities. I wouldn't say it's the easiest job because you will be dealing with different personalities. But it's a real, legit, and often good-paying job that can help improve your household's cash flow.
But what do online moderators do, how much do they make, and where can you find online moderator jobs? Read on below and let's answer these questions one by one.
Online moderator job description: What does an online moderator do?
Online moderators are primarily responsible for regulating user-generated content in chat rooms, forums, social media, and blogs. Specifically, your job entails the following:
Approving posts submitted by community members
Deleting posts that violate the community's guidelines (for instance, topics around nudity, drugs or violence may be against your community guidelines)
Filter messages and removing spams
Calling out members who regularly violate the community guidelines
Banning members from the community if required
Answering questions and responding to comments
Starting threads that foster healthy conversations
Placing threads in their right categories
As an online moderator, you have a significant amount of power to regulate the conversations taking place in the chat room, forum, or channel that you're responsible for.
However, you are also prone to judgments and attacks from some community members, especially if they aren't pleased with your course of action. Online moderators need to stay calm, patient, and objective when dealing with heated conversations.
Skills and characteristics of a great online moderator
If you are looking into applying to some of the online content moderator jobs you see on the internet, well, it pays to know first what this job expects from you.
Communication skills
In online chat moderator jobs, you will be dealing with a lot of people of various personalities. Some of them may even disagree with the rules and guidelines. It is important to craft your message in a way that doesn't come across as bossy or offensive. You enforce the rules by being objective and fair.
Social skills
Social and communication skills work hand in hand, especially in paid online moderator jobs. You need to be able to engage the community in a fun and healthy way by starting interesting topics, answering questions, responding to comments, etc. An excellent online moderator makes members feel included in the community.
Patience
Online moderators deal with different issues in the chat room, forum, or comments section every day. Some people might "thread-jack" the page and infiltrate with spams. Others may leave nasty and derogatory comments that may put a brand in a negative light. New members may unknowingly break the rules.
As an online moderator, you need to have patience. Moderating an online community isn't always easy as you'll be dealing with different personalities, so it's important to remain calm even when opinions clash.
How much do online moderators make?
How much are online moderators paid? The answer depends largely on the company you're working for.
According to ZipRecruiter, the average rate for online community moderators in the US is $19 per hour. Meanwhile, a quick search on Indeed tells us that online community moderator jobs make around $13.98/hour.
Additionally, you can get hired as an online moderator on a freelance basis which offers more flexibility. In this set-up, you will be responsible for your own insurances and taxes. Meanwhile, others are hired as full-fledged employees, and their company takes care of their benefits.
Whether you go the freelance or employed route, it's good to know that the demand for online moderators nowadays is quite high.
From Facebook pages to niche forums and chat rooms, all these places need a moderator. Sometimes, a company might even hire more than one moderator, to ensure that their channels are carefully monitored outside the work schedule, at the weekends, and even during the holidays.
7 Best Places To Find Online Moderator Jobs
ModSquad
ModSquad has been around since 2007 and it is one of the best-known companies that offer online moderator jobs.
Moderators at Modsquad are called "mods" and they're primarily responsible for moderating forums, managing communities, performing some VA-related tasks, as well as giving customer support assistance.
ModSquad says the pay for their moderators varies, but those with high technical skills and native language abilities tend to earn more. According to Glassdoor, ModSquad moderators earn an average of $10/hour.
---
Baby Center
Baby Center is a website that provides information on parenting and pregnancy. It has a massive community of parents and medical experts.
Baby Center occasionally hires online moderators to oversee and regulate their forums. Online moderator jobs from home at Baby Center are usually full-time jobs. The site prefers applicants who have a strong sense of community, a team player and has excellent communication skills.
Unfortunately, the pay is not advertised on their website. You can check their job board to see if they are currently hiring.
---
Yelp
Yelp is a website that connects people to local businesses. People use Yelp to find products and services, as well as review and rate businesses.
Given that millions of people use Yelp, the website has a constant need for community moderators. However, you have to be residing in a specific area or city to apply.
According to Indeed, Yelp community managers are paid an average of $12-$10/hour. Visit Yelp's career page to see their vacancies.
---
The Social Element
The Social Element is a work-from-home agency that helps businesses thrive with the use of social media. The company offers services like insights and research, communications and strategy, and caters to big brands such as Nissan, Lexus, MTV, and Ford, among others.
As a moderator at The Social Element, you will regulate their clients' social media accounts and provide reports. If you are social media-savvy and have excellent communication skills, this job is a good fit for you. According to Glassdoor, the agency pays its social media moderator an average of $16/hour.
---
Crisp Thinking
Crisp Thinking is a company that dubs itself as the first line of defense against the weaponization of social communications.
Basically, Crisp Thinking moderates social media accounts to protect their clients' brands against the proliferation of fake news, disinformation, terror propaganda, and more. The company needs a stream of moderators, and they hire contractors from all over the world.
Although the company prefers applicants who already have moderation experience, they also offer no experience online moderator jobs to the right applicants. According to Glassdoor, moderators at Crisp Thinking are paid $15-$16/hour.
---
Live World
Live World is a social and digital marketing company agency that provides brand protection and marketing solutions to its clients. One of its services is moderation, so the agency needs efficient moderators to "sweep" clients' Facebook wall posts, message boards, photos, and videos.
Live World hires moderators both from within and outside the US. While they prefer people with moderation experience, they also welcome applicants who are social media savvy.
Live World doesn't have a published rate of its salary for moderators, but according to what I found in my research, the agency pays between $8-$15, depending on your location.
---
Zynga
Zynga is a company that develops social games, so if you'd like to land online game moderator jobs, this is the place to look.
Based in San Francisco and founded in 2007, Zynga's gaming community has grown so much over the years. To supervise and oversee these communities, Zynga needs efficient super moderators.
You need to have some moderating experience/background to apply and be able to commit to working full-time (40/hours per week). Zynga is looking for moderators who are team players, can multi-task and are tech-savvy. According to Glassdoor, Zynga super moderators are paid an average of $11/hour.
---
Life as an online moderator: What do people have to say about this job?
Online moderators have a tough job of keeping an online community a safe place for their members. But I also wondered: what do online moderators have to say about this type of online jobs? I poked around the web and found these interesting articles.
In an article on The Guardian, Dawn Kitchener describes her job as an online moderator as "sanitizing internet discussions." She intercepts social media messages before they become public on social media. Although community moderator jobs have their challenges, she says she's happy to get into this line of work, mainly because it offered her more flexibility.
"I loved it, reading this forum for pregnant mums and being able to do it from home. My youngest was about two at the time and I didn't really want to be working in town," Dawn said.
Meanwhile, Michele Panarosa, a content moderator for Besedo shares what it's like doing content moderation online jobs. Michele admits she had to go through a learning curve to do her job well, making sure she would spot frauds and patterns. She says she has a very interesting and dynamic job, but she loves it.
"I love this job because I get to make the world a better place by blocking content that's not supposed to be online," Michele said.
I must say though that lots of resources on the internet say that working on online moderator jobs can expose you to some of the cruelest and darkest content. But that's why online moderators are needed on the web: to clean up that dirt and make the internet a healthy place to be.
Online Moderator Jobs: Are they for you?
If you got this far, I assume you're now contemplating whether online moderator jobs are right for you. On one hand, online chat room moderator jobs are quite easy to penetrate. They're easily one of the best options for people looking for work from home jobs with no experience. A lot of companies and agencies are willing to train newbies and most of them require that you are internet-savvy and have the ability to multitask.
On the other hand, I don't think online moderation is as easy as it sounds. You are moderating a chat room full of people you don't know. Some of them may say bad things about you, and if you take those attacks personally, you might end up hating this job.
I believe online moderation is not for everyone. So, if you are interested in this line of job, it's best to apply to a reputable company where you can get lots of support.
Are you looking for flexible work-at-home jobs? Check out my list of the best stay-at-home mom jobs that pay well! If you are interested in blogging, I also wrote a detailed blogging guide for beginners to show you how I make a full-time income blogging!
Have you tried working as an online moderator? What do you think about this job?