Cars are essential parts of our lives. But when it comes to a point when you need to let go of a car because it refuses to run because of old age or damage, you start considering car buying services, such as Peddle. But what is Pedde, how doe does it work, and is it legit? Your questions answered in this Peddle review 2022.
Peddle is a company that buys cars, whether these are old cars, damaged cars, or really, for whatever reason. You can sell your car fast just by filling up an online form, receive an instant offer for your used car, and if you like it, Peddle will even send a tow truck, free of charge!
But before you start any transaction with Peddle, you'd probably want to know a few things first. In this Peddle Review, you'll learn:
How does Peddle work?
How much will it pay for your old car?
And importantly, is Peddle legit?
So, I've come up with Peddle review so you'd know for yourself if Peddle is indeed the right car buying service for you.
This post contains affiliate links. I may earn a commission at NO extra cost to you for your purchases made through these links. Disclosure.
About the Company: What is Peddle?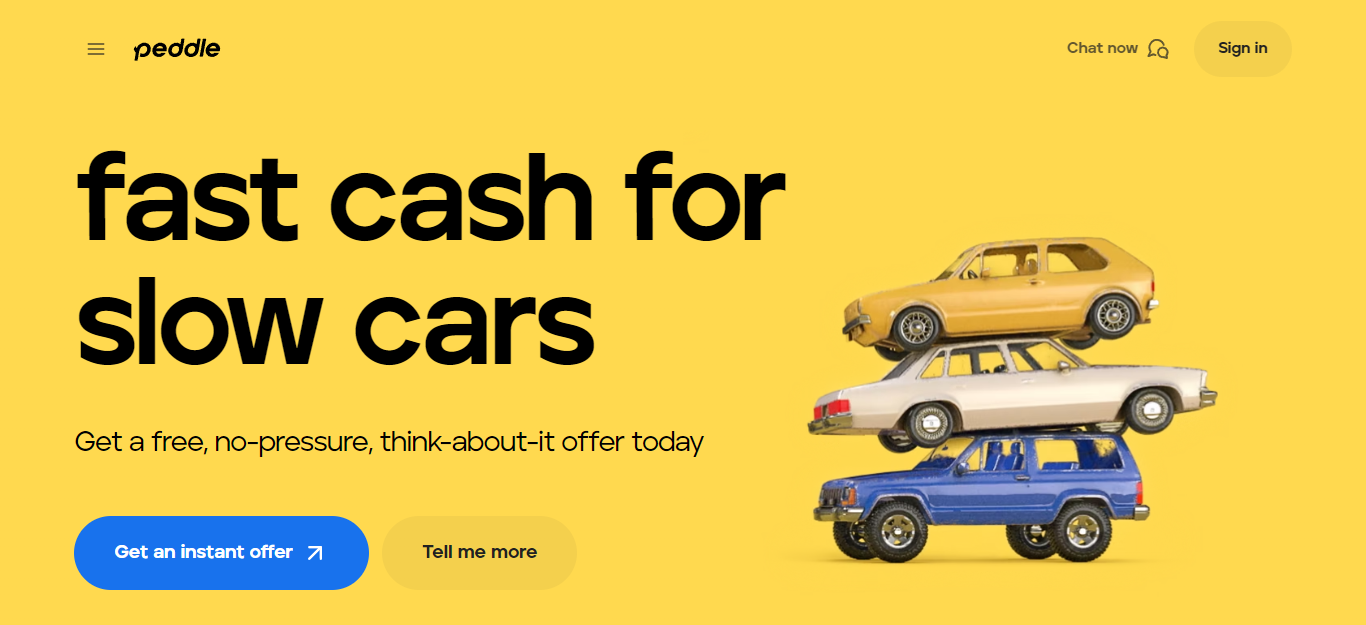 Peddle is a company that buys cars. While you can sell your car of any condition, Peddle in particular buys vehicles that are old and damaged which you might find difficult to sell to others. The company even buys junk cars which it then sells to salvage yards.
The company was started by Tim Yarosh, the CEO, in 2013. He started the business as Junk My Car, but later rebranded it to Peddle. Peddle has since then bought over 2 million old and junk cars from all 50 states.
How Does Peddle Work?
Unlike other car buying services, Peddle buys vehicles that are old and damaged. Regardless of the vehicle's condition, Peddle can give you an offer price that you can accept and decline, with no strings attached.
You can sell your car to Peddle following a very straightforward and easy process.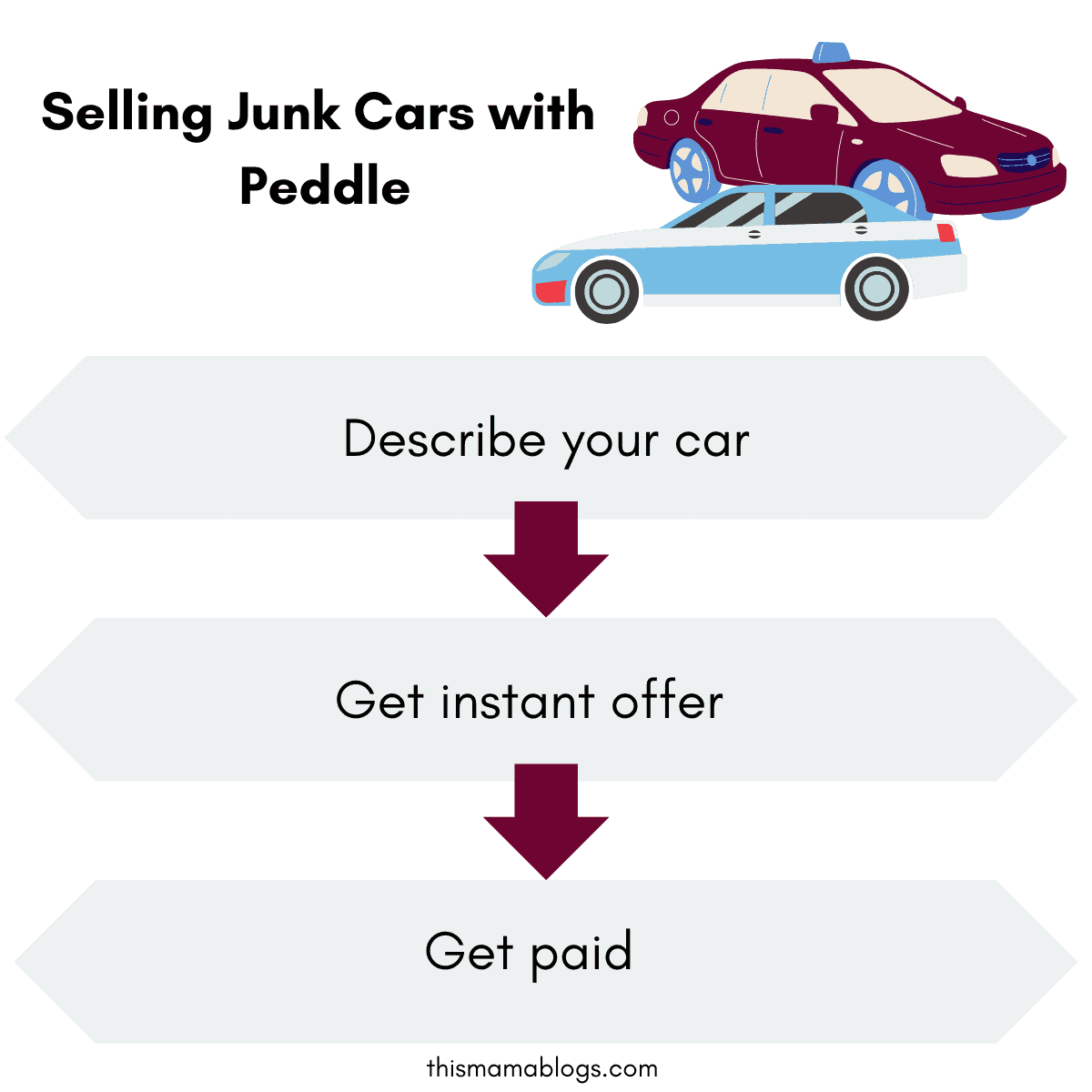 1. Describe your car
First, fill up an online form and let Peddle know more about your car. Indicate its year, make, and model as well as its mileage and overall condition.
To give you a better idea, indicate if the exterior body panels have been removed or replaced; are the wheels mounted are inflated, and if some interior parts are missing.
If you want to sell your car with to Peddle and get the most accurate offer, then you'd want to provide as many details as possible.
Note: you don't even have to provide your name at this point.
2. Receive an instant offer
Peddle will send you an instant offer online. You can mull over the instant offer price for seven days. This also gives you some time to look at offers from other sites.
3. Hand it over to the tow truck driver
If you've decided to sell your car to Peddle and accept the instant online offer, then the company will send you a tow truck driver to claim your used car. After the tow truck driver looked at your car and confirms that it is just as you stated on the online form, you will receive payment in the form of cash or check.
Easiest Ways to Make Money Online
How Much Does Peddle Pay for Your Used or Junk Car?
It depends on a lot of things like the car's current market value, but mostly, vehicles that are more in demand command higher instant offers.
Taking into account these factors, car sellers will always have different offers.
But if there's one thing to note about Peddle's free offer is that you're more likely to sell your junk car to Peddle for convenience. Keep in mind, that privately selling used cars or damaged cars isn't exactly easy, and car dealers have their own criteria when buying cars. Also, trade-ins are not always an option.
So if you want to sell your car quickly, regardless of its condition, then doing so through Peddle gives you the most convenience.
What's an Instant Offer?
Peddle gives you an online offer immediately after you've submitted the filled-up online form. Peddle will automatically calculate how much it will pay for your car.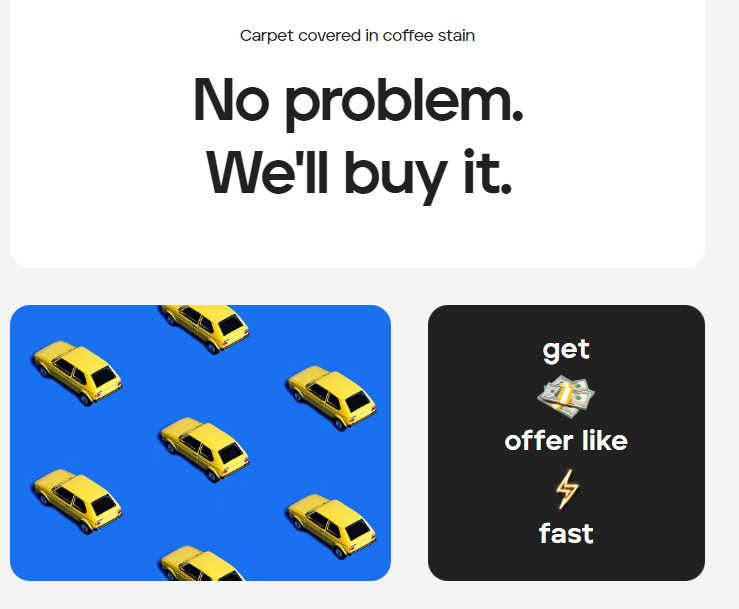 You aren't obligated to accept Peddle's instant offer.
You have up to seven days to decide if you'd like to accept or not.
This offer is almost always guaranteed. So if you take it, you will get paid cash or check for that exact amount.
Of course, you could reject the offer and sell the used car to a different vendor.
But if you accept, you can opt to have a carrier pick up from your home or drive the car to a drop-off location. A tow driver will pick up the vehicle, check it thoroughly, and then you get paid.
Related Posts:
What Happens During a Scheduled Pickup?
A tow truck driver will come to your location during the pick up date and time.
He will inspect the car and make sure that it is what you've indicated during the application. If everything checks out, then you receive your check or cash payment.
However, if there are issues that you did not disclose during the application, the Peddle representative reserves the right to modify or withdraw the offer.
It is for this very reason that Peddle asks you to honestly disclose the condition of your vehicle.
Will Peddle Buy My Beater Car?
So you have an old, beat-up car you want to get rid of. Sure, Peddle will buy it. It doesn't even matter if it's no longer running.
This may be hard to believe, but it's what Peddle is good at. You'll make money disposing of your old, run-down car, which would have been otherwise tough to sell by yourself.
Related Posts:
Do You Need the Car Title When Selling Your Car to Peddle?
Peddle would still buy your car even without the car title, and you must indicate this when you apply to sell your car to Peddle. However, the lack of a title could impact the amount being offered to you. It's also best to secure an alternative document to demonstrate your ownership of the vehicle.
Selling to Peddle vs. Selling the Car Yourself
You might wonder why many people would use a car buying service like Peddle instead of selling the car themselves.
It often boils down to convenience. Selling your car means listing it up on sites and other platforms, taking and uploading pictures, answering queries, negotiating prices, to meeting up with potential buyers. If it doesn't work out, then you have to do the process over again with another buyer.
But you get to set your own price and negotiate accordingly.
Using Peddle is like a shortcut to the entire selling process. Peddle buys your car right away, no matter the age and condition. However, Peddle might be offering slightly lower prices than if you had sold the car yourself. You can just think of it as the price to pay for such convenience.
Is Peddle Legit?
Peddle enjoys quite a good reputation online, thanks to its A+ rating on the Better Business Bureau.
You should know, that the rating a business gets from the Better Business Bureau is one of the indications of its reliability and trustworthiness. So while the BBB rating should not be the only thing to look at when dealing with a business, it's certainly a good starting point to check if the business is legit.
So with all things considered, Peddle is legit, and of the most trusted names in the automotive industry.
Peddle Review: Peddle Pros and Cons
Still on the fence whether you should sell your vehicle to Peddle? Here are the Peddle pros and cons to help you make the right decision.
Pros
Best for selling damaged and used cars when it's a hassle to sell them to private sellers and or a salvage yard.
Peddle makes it easy to sell used cars through its platform. You get an instant offer and have seven days to decide whether or not to go for it.
Peddle offers free pick up so you wouldn't have to bring the car to a Peddle location.
Efficient customer service team. Peddle emphasizes customer satisfaction heavily, and its team makes sure that every customer has a pleasant experience.
Cons
While you can easily sell a damaged car to Peddle, selling a new car to them would put you on the losing end. It is also not the best place to sell collectible cars.
Scheduled pickups are not always followed. Since Peddle uses a third-party towing service, some customers say that there have been delays in the collection of vehicles.
Offers may change during pick-up. Some customers say they experienced low balling purchase prices after a Peddle rep or tow driver inspected the car. If the information you submitted during the application did not match 100% during the visual inspection, then you might receive a lower offer.
Easiest Ways to Make Money Online
Peddle Reviews: What Can People Say About Peddle?
Now, let's check out what people can say about Peddle.
There seem to be a lot of positive reviews on Yelp, most of which revolved around how easy and convenient it is to sell cars to Peddle.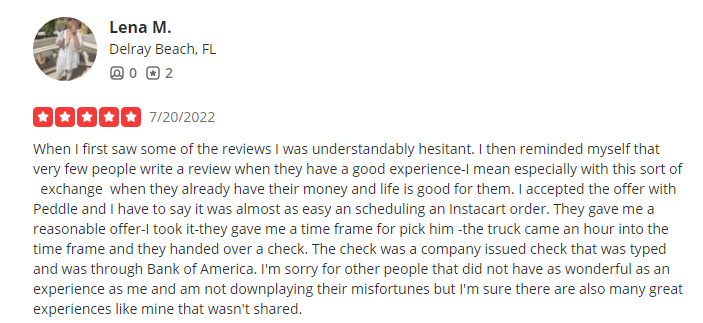 The negative reviews are commonly about rescheduled pickup.

I also checked out the reviews on TrustPilot where Peddle currently has a rating of 4.7. Peddle has 85% excellent reviews and 3% bad reviews on the platform.
For the positive reviews, many people share their exact same experience of being able to use this Peddle to quickly and easily sell their old cars.
Again, the most common theme of complaints is about delays in pick up. Some customers had to reschedule pickup because the tow truck driver failed to show up on the original date.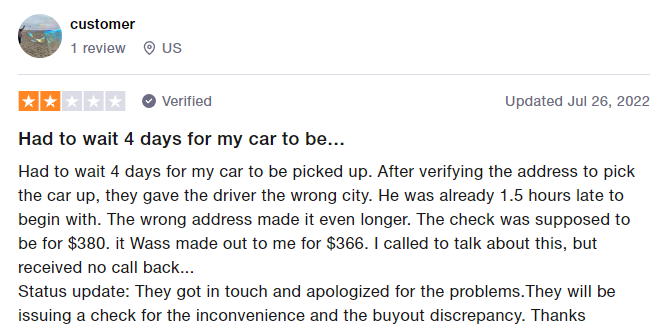 Frequently Asked Questions
What Does Peddle Do with the Cars?
It depends on the condition of the vehicle after Peddle buys it from you. It could be scrapped for parts or resold to other potential buyers.
Is Peddle Car Buying Legit?
Yes, Peddle is one of the most legit car buying services. It has an A+ rating at BBB and there are plenty of great reviews on other platforms.
Does Peddle Pay Cash or Check?
Peddle will almost always pay with a check, as its carriers deal with large amounts of money. So for security reasons, Peddle almost always pays with check.
However, you could ask in advance if you can get paid with cash.
Are Peddle Offers Guaranteed?
As long as you are honest about the condition of your car, then the offer is guaranteed. However, if the assigned representative found out that you have not indicated certain issues or exaggerated some of them, then Peddle may change its offer, or even withdraw it.
Is Peddle Selling Cars?
No, Peddle is only buying cars, not selling them. So if you're in the market for a new car, then it's best to check out car dealers.
Can I Sell My Car Through Cash Auto Salvage?
Yes, you can sell your car through Cash Auto Salvage, as it has partnered directly with Peddle. Don't worry because the offer and services are the same as what Peddle provides.
Conclusion
To wrap up this Peddle review, let's go back to the question: Is Peddle legit?
Yes, Peddle is legit. It provides an easy, quick and straightforward way for you to sell your old car. Simply get an instant offer, and if you like it, then you could proceed with the scheduling of the pick up.
Also, Peddle will buy your car regardless of the condition, but you just have to be honest about it.