With so many companies offering work-from-home arrangements nowadays, you've got plenty of options and opportunities if you desire to land remote work.
Concentrix, a customer experience company, has been offering its work at home set up, allowing numerous people to earn money from the confines of their own homes.
But how does Concentrix Work At Home actually work? How do you qualify for remote jobs? And how much do they pay? Let this be your guide to everything you need to know about Concentrix Work At Home opportunities.
What is Concentrix?
Concentrix is an award-winning company that provides various customer experience solutions to brands and companies in different niches and industries. It has over 250,000 employees and operates on 6 continents and 40 countries all over the world. Hundreds of its clients are Fortune 500 companies.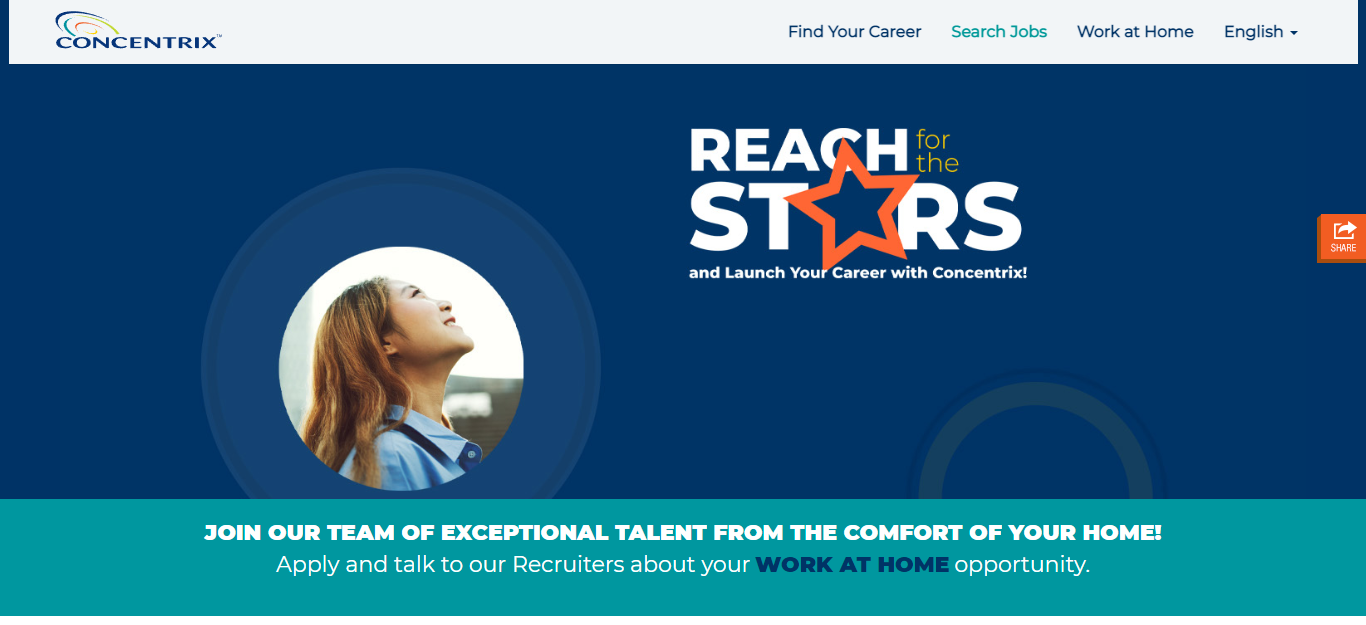 Concentrix has established quite a reputation over the years. It has earned the trust of numerous national and global brands and has been an amazing employer to thousands of people.
What Kinds of Jobs Can You Do at Concentrix Work At Home?
There are a good number of home jobs that you can do at Concentrix, but a lot of these jobs revolve around sales, management, marketing, and customer support. A quick search for the desired job title will yield results if there's an opportunity to work from home.
Some of the remote and work-from-home jobs that are currently hiring at Concentrix are the following:
Senior Sales Solutions Architect
Manager, Global Analytic Insights
Backend Engineer
Customer service representative
Tax Associate
Work at home Sales Representative
Bilingual Health Insurance Advisor
Inbound support service representative
and so many more
How to Work at Home for Concentrix
If you're interested in getting a job at Concentrix, then you must be able to supply the technical requirements for your home-based or remote setup, as well as successfully go through its hiring process.
The requirements depend on a specific job title. But since most people go to Concentrix for work-from-home customer support or sales representative jobs, then here's an overview of what you can expect when you apply today.
Concentrix Work at Home Requirements
You must have a dedicated workspace that's free from distractions
You have a high school diploma or GED
A desktop or laptop
high-speed internet connection
Some clients require dual monitors
a smartphone for verification and a landline (some clients may require this)
Peripherals like a headset and flash drive
Skills
Applicants are also assessed based on their skills. These skills are particularly important if you are hoping to land sales or customer service positions:
strong attention to detail
prospecting and negotiation skills
client relationship skills
It's also important to have the ability to answer calls and help customers resolve problems with billing, troubleshoot technical issues, and ensure that the customer has a pleasant and authentic experience.
Concentrix Work From Home Application Process
You can apply for a job or position at Concentrix by clicking on "Search Jobs."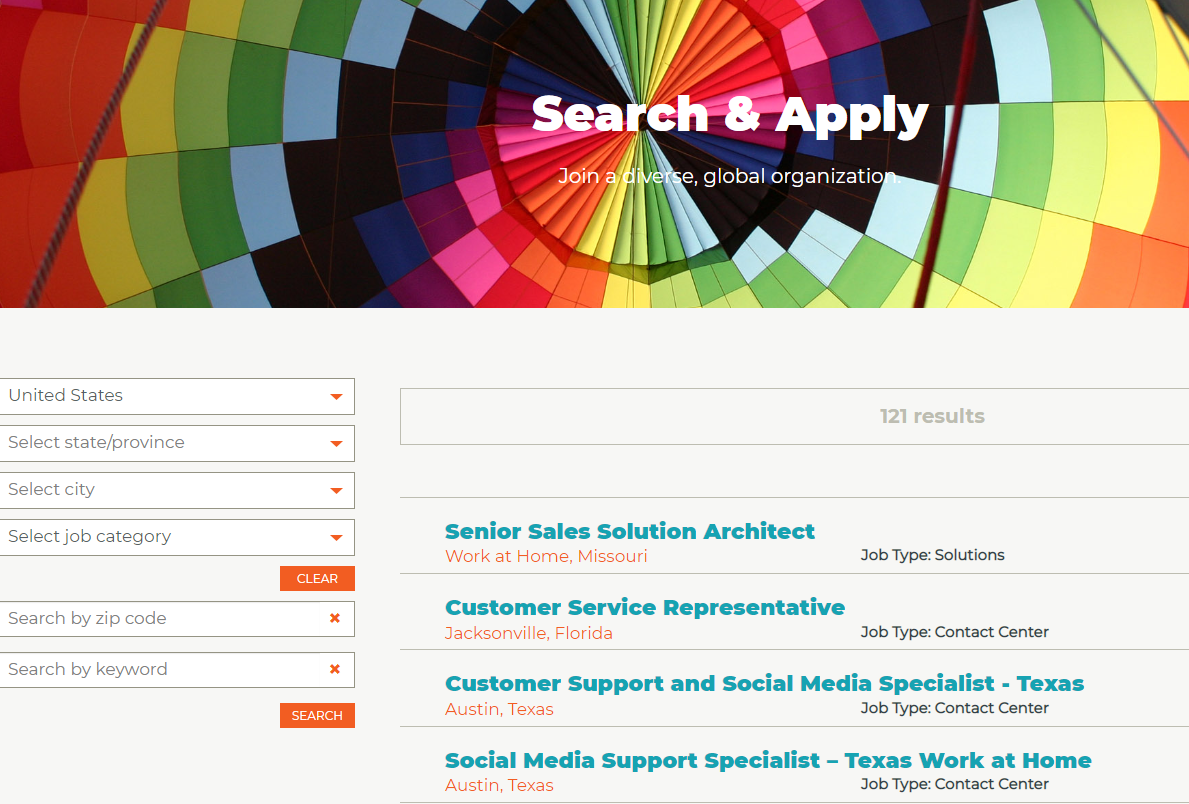 You can filter the search results by selecting your country, job category, and job title.
If you find a position that interests you, click on it to read the rest of the job details. Make sure to read the responsibilities, requirements, and skills required for the role.
Click "Apply" to proceed with the application.
Concentrix will review your application within 7-10 days.
What to Expect When Working at Concentrix
Types of jobs – as you can see on the search results, there's a good and varied amount of types of jobs on Concentrix. Your task will depend on the account or accounts that have been assigned to you.
The company will assign you an account or client based on the requirements.
Concentrix does regular performance evaluations to help you improve. You'll also get plenty of support from your team leader or supervisor even if you are working from home.
You are to undergo training for the clients or accounts that you would be handling. You will be paid for the training.
You will also go through tests at different points of your training to make sure you are ready to take the job.
Both part-time and full-time positions are available, but the operating hours depend mostly on the client.
You must render at most 40 hours of work each week.
Night and weekend shifts are also available.
How Much Do Concentrix Work-at-Home Jobs Pay?
Depending on the client and your location, you could expect to get paid at least $10 per hour. Remote representatives get paid twice a month, via a bank deposit or directly to a pay card.
Pros and Cons of Working for Concentrix
Still can't decide if you should work from home for Concentrix? Perhaps the following pros and cons would help you come up with the right choice.
PROS
Concentrix is a legit company with an excellent track record in the customer experience industry.
There's a good number of work-at-home positions. You could also opt to work full-time or part-time.
You will get paid training to fully equip you for your client or account.
Pay per hour is competitive.
CONS
Residents of specific states are not eligible for remote or work-at-home setups.
Equipment is not provided. You may also have to spend on some computer peripherals like a flash drive and dual monitors.
Is Concentrix Legit?
With the sheer amount of online scams nowadays, I think it's only right that we're asking this question: Is Concentrix legit?
The short answer is yes, it is a legit company. Several of its clients are reputable national and global brands, and it has also won prestigious awards in the customer service space.
Also, Concentrix does not ask for money when you apply. It even pays for your training.
But just to make sure you don't fall into a scam, only apply on legit job sites like Flexjobs or visit Concentrix's official website. The company does not open positions on social media.
Related Reviews
Concentrix Reviews
It pays to look at the reviews if you want to become part of the Concentrix team. This way, you can gauge the work culture and management style of the company, and ultimately decide if it's the best for you.
On Glassdoor, Concentrix has a rating of 3.8 out of 5. This employee, for example, said that working from home gave allowed her to access significant employee benefits, such as health insurance and 401K. However, work is time-consuming and not as flexible.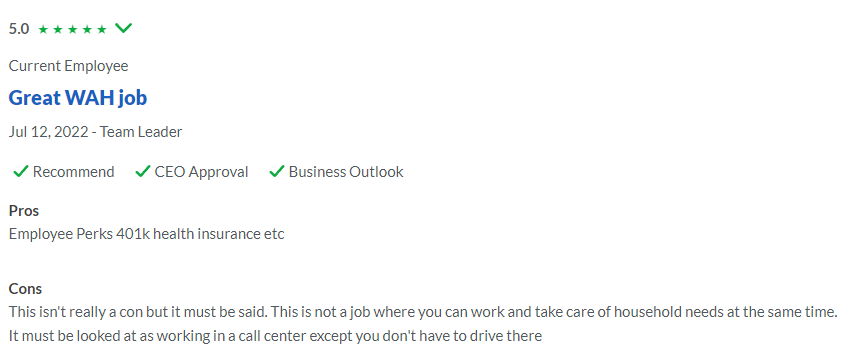 Meanwhile, on Indeed, the company has a rating of 3.4 out of 5. There's also a mix of bad and good reviews. This employee said that the quality of the experience depends largely on the project or account one is working on.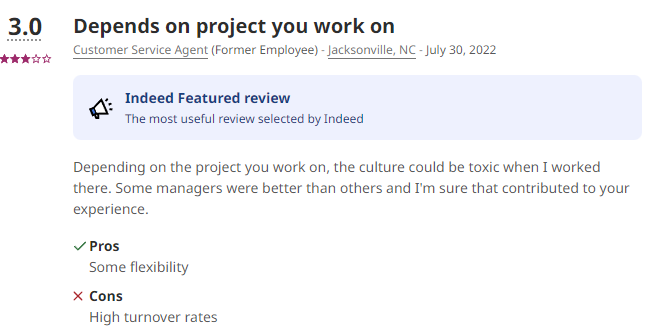 Frequently Asked Questions
What do they do at Concentrix?
Concentrix is a customer experience company that provides a number of solutions and services to its client companies. But it is popularly known as a good company offering contact center services. It hires people who can do sales and customer service roles, among others.
What do you need to work at home for Concentrix?
First, you would need a work-from-home setup, consisting of your own computer or laptop, a quiet workspace, and an internet connection. You also need to at least have a high school diploma or GED and be eligible to work in your state or country. As for skills, communication and technical knowledge should come in handy when you apply.
Is Concentrix training paid?
One of the things that set Concentrix apart from its rival companies is that training is free. Work from home employees goes through virtual training to make sure they are equipped to manage their accounts. The length of the training depends on the project or account.
Conclusion
Concentrix is one of the great places to apply for both full-time and part-time jobs, especially in the sales and customer service space. I love that there's a wide range of available jobs that allow you to work from the comforts of your own home and still make decent wages.
Also, unlike other companies where you pay for training, Concentrix does this for free. Most reviews also say that agents and representatives get a good amount of support from their team leaders and supervisors. While the company is not perfect, it's good to know that it is legit.
So if you have a keen attention to detail and possess excellent communication skills, you could consider working from home for Concentrix.