Using rewards apps like MyPoints is an excellent way to make money in your spare time, doing the things that you'd usually do online. But is MyPoints worth it? Read the rest of this MyPoints review to find out.
---
If you've been here before, you know that I love using cashback and rewards apps. I have earned over $3,000 in free money from using such apps. So, when I heard about MyPoints, I knew I had to give it a shot and compare it with other similar programs I currently use and love.
MyPoints is a free app that claims to pay you for browsing the internet, taking surveys online, watching videos, playing online games, or shopping online and in-store.
But is MyPoints really as good as it says? Is MyPoints legit and can you really make money with it? Or is it one of those scam online survey sites waiting to steal your money?
I signed up with MyPoints to find out and here's my honest MyPoints app review!
This post contains affiliate links. I may earn a small commission for purchases made through these links at NO extra cost to you. Disclosure.
---
What is MyPoints?
MyPoints is a popular rewards website and app that allows its members to earn points for menial tasks like taking online surveys, watching videos, playing video games, or shopping online. You can then redeem the points you earn as cash or gift cards.
MyPoints was established in 1996, making it one of the oldest rewards and survey websites there is. It now has over 20 million members, has partnered with over 2,000 retailers, and claims to have helped over 9 million MyPoints members earn extra cash from their purchases at MyPoints participating retailers.
---
MyPoints Review: Is MyPoints Legit?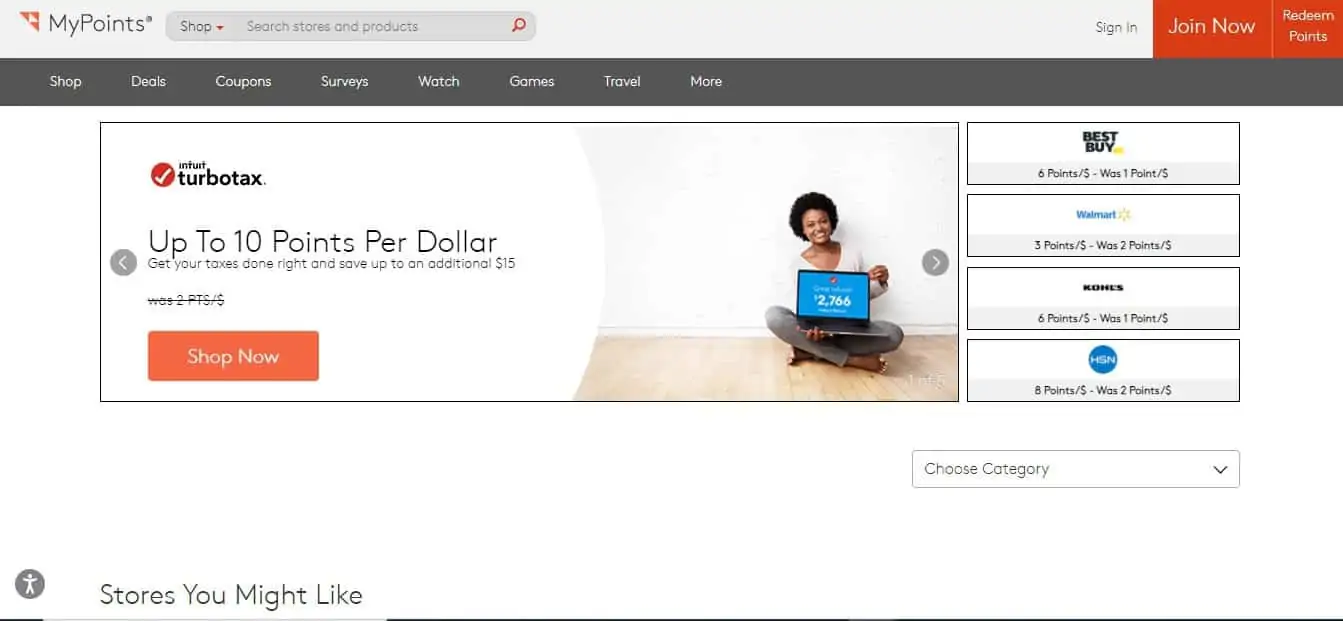 The short answer is YES, MyPoints is legit. It has been acquired by Swagbucks, and Swagbucks has quite a solid track record as a rewards company.
Additionally, MyPoints has an A- rating on BBB with a 4/5 customer rating.
My long answer is that MyPoints is a legit business that also makes money in various ways.
MyPoints partners with thousands of online retailers and they make money for referring customers like yourself to these retailers. Then, they split their earnings with you in the form of points which can be redeemed for cash via PayPal or a gift card.
So, instead of going directly to, let's say, Best Buy, use the MyPoints website or app to shop. MyPoints works like a middleman–it will take you to Best Buy and track your purchases. You then earn points for simply using the rewards platform for shopping, and MyPoints get paid by Best Buy for referring you to the store.
But apart from online shopping, there are many other ways you can earn cash, through MyPoints, which don't even require you to spend money. And MyPoints make money, too.
One of which is through online surveys. As you may know, major brands spend a lot of money on market research to get into the minds of consumers and to learn how they can further improve their products.
MyPoints help these brands by offering paid survey opportunities to consumers like yourself. MyPoints gets paid by these companies and as a thank you for taking surveys and sharing your opinion, MyPoints then rewards you with points.
By answering surveys on MyPoints, you don't only earn rewards that you can redeem as real money but also help companies improve their products and boost their sales.
In addition to online surveys, MyPoints also make money through advertising.
That said, I can confidently say that MyPoints is NOT a scam and created to steal money from you.
---
How Does MyPoints Work?
MyPoints works pretty much like other rewards or paid survey sites.
1. Sign up
Simply go to this page, and click the "Join Now" button to sign up. Provide the necessary information and click submit.
Note: MyPoints is currently available to US and Canada-based users.
You also earn a $10 sign-up bonus as soon as you sign up and use MyPoints to make a purchase.
2. Start earning points
You can start earning points right away with MyPoints by doing the tasks on your to-do list.
MyPoints offer various ways to earn points, including taking MyPoints surveys, shopping online, reading email, searching the web, watching videos, and more.
3. Exchange your points for gift cards, travel miles, or PayPal cash
MyPoints rewards you with points for completing easy online tasks.
When you've accumulated enough points, you can redeem those points as PayPal cash or convert them into travel miles and gift cards.
---
Ways To Earn Points With MyPoints
Like most rewards sites, MyPoints offers different ways to make money online and most of them are tasks you would be doing anyway. Let's discuss some of MyPoints' key monetization features:
Complete Surveys
Online surveys present one of the best ways to make money off MyPoints. To get started, complete your survey profile. You will also earn points per 10 questions you answer under Survey Profile. That way, MyPoints will be able to find online surveys that best match your demographics
You will get email alerts for new surveys that you qualify for, and you'll also find them when you log into the site or app.
According to most MyPoints survey reviews from users, you can find surveys that pay up to $3 to $6 each.
Shop Online
With the massive boom in the eCommerce industry over the past few years, it's not surprising that many people prefer shopping online to in-store. MyPoints will actually reward you for opting to shop online through the MyPoints shopping portal. MyPoints has thousands of partner stores, so when you shop with them, you can earn some cash back.
It offers up to 40% of your online purchases and this is comparable to the offer of another rewards program called Rakuten.
Related: Rakuten Review
Magic Receipts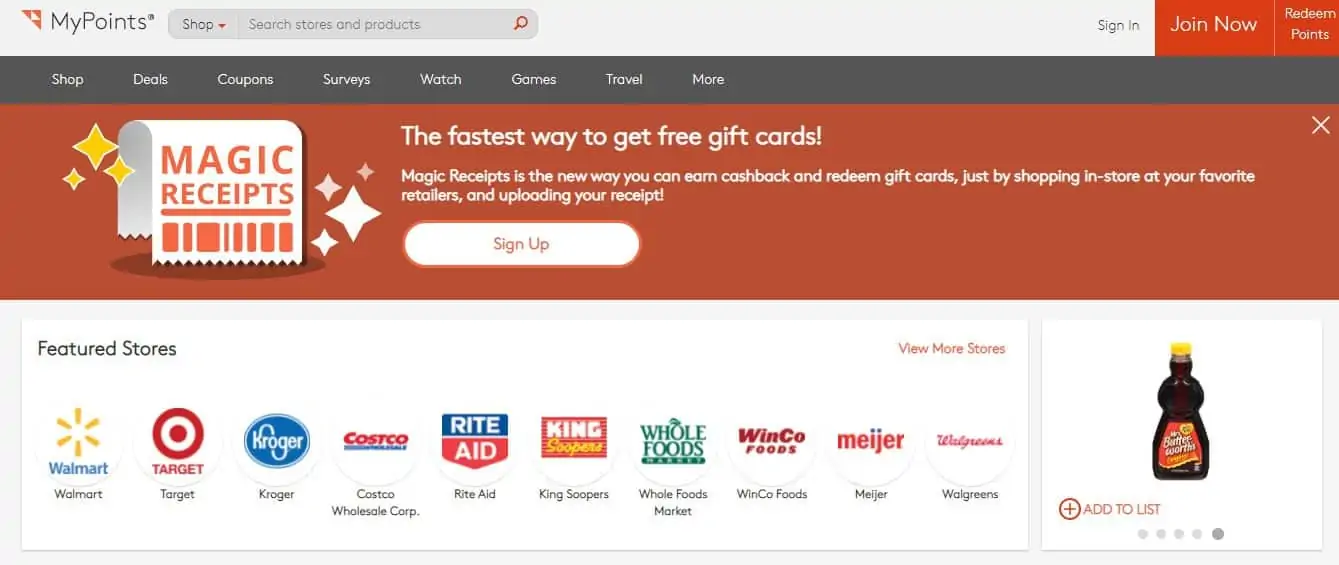 Magic Receipts is a new feature that allows you to earn points for submitting the receipts of your in-store purchases. So, if you recently went to Walmart, Costco, or any other eligible store, be sure not to throw away your receipts and check out MyPoints to see which items can earn you points.
This particular feature works like Ibotta, another popular reward program that allows you to earn cash back for in-store grocery purchases.
Related: Ibotta Review
Play Games
If you enjoy playing games on your phone when you're bored, you can hit two birds with one stone by playing games on MyPoints and earning money at the same time.
Note, however, that you can only earn points if you purchase tokens to keep playing your favorite games. You earn 50 points after your first purchase and 8 points per dollar on every purchase of Tokens at GSN.com.
Related: 20 Legit Apps to Win Real Money
Watch Videos
Another awesome and effortless way to rack up points on MyPoints to have a little extra spending money is watching videos.
To start earning online rewards by watching videos, simply click "Watch" on the menu and watch an entire playlist to earn as much as 500 points each day.
There are several categories for videos you can watch, including news and current events, entertainment, and music, so you'll likely find clips that you enjoy the most.
Search the Web
Since well all use the web on a daily basis, you can use MyPoints' Yahoo search engine portal instead and get paid doing searches.
Simply go to your dashboard's menu, click "more," and in the dropdown, select "search and earn." Then, simply enter your search term in the search bar.
MyPoints say that searches are paid in random, so it's kind of hit or miss. But hey, all the points count.
Print Coupons
You can also earn points quickly by printing coupons. Simply go to "Coupons" and print up to 500 coupons per month for free. You earn 1 point per coupon you print but redeeming coupons will earn you 50 points each. You can redeem as many coupons as you like to earn more points and save money!
Refer friends
Finally, you can make money by convincing others to use MyPoints as well. With MyPoints' referral program, you get a unique referral link that you can send to an unlimited number of people.
You can get your referral link by clicking on the "refer and earn" button on your dashboard's menu.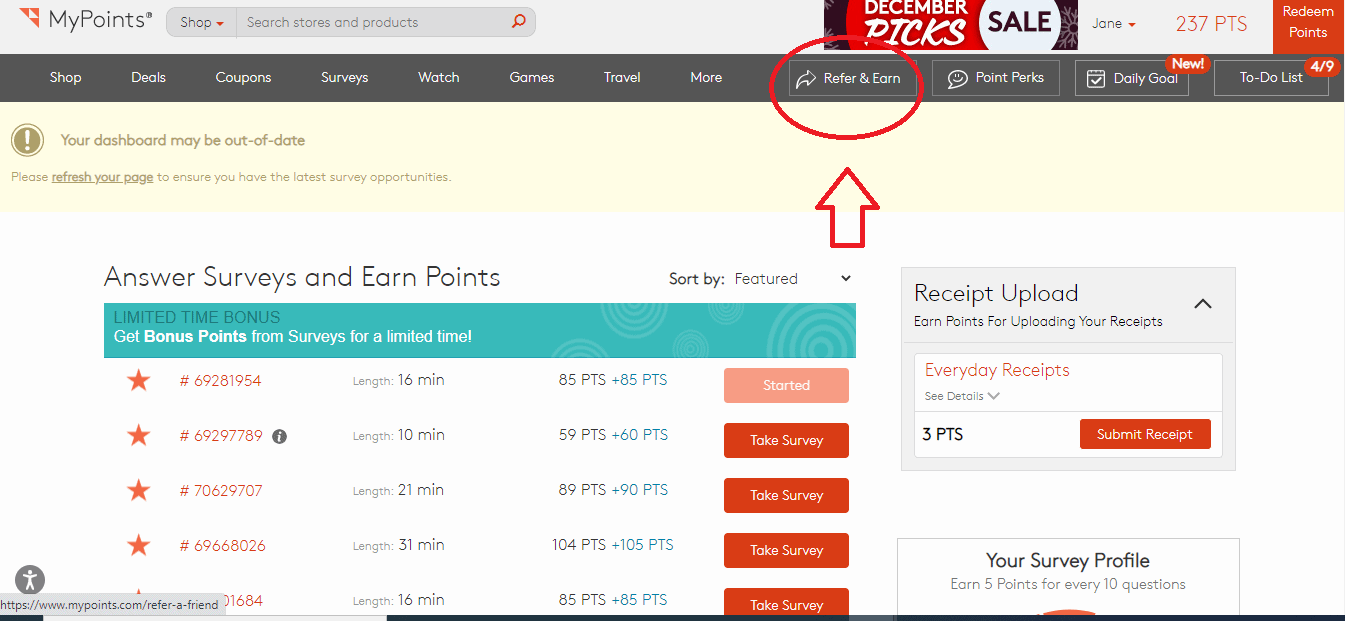 Each person that signs up with your link has to make at least a $20 purchase within the next 30 days for you to get your 750-points referral reward. Your friend gets a reward as well of 1,750 points.
Featured Deals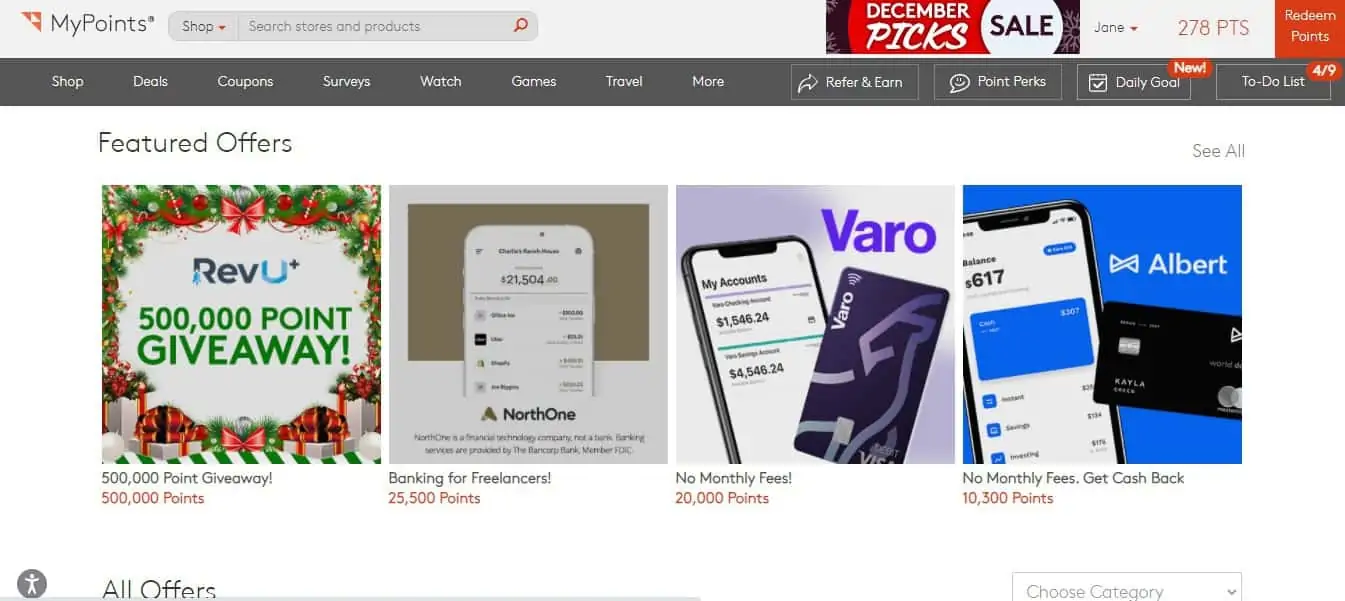 In my opinion, one of the best ways to earn points is by taking advantage of the featured deals. You can earn as much as 25,500 points which is equivalent to $150.00!
Here's an example of deals that would earn you 25,500 points!

---
My Own MyPoints Experience
Overall, I was satisfied with the user experience of MyPoints. The signup process was pretty quick and only asked for my name, and email address.
Then, I started accumulating points by simply clicking the items on my to-do list.
There were lots of opportunities to earn huge points as well, which was awesome. For instance, MyPoints offered $76 worth of points for signing up with Stash. Unfortunately, I was already a Stash user the time I signed up with MyPoints .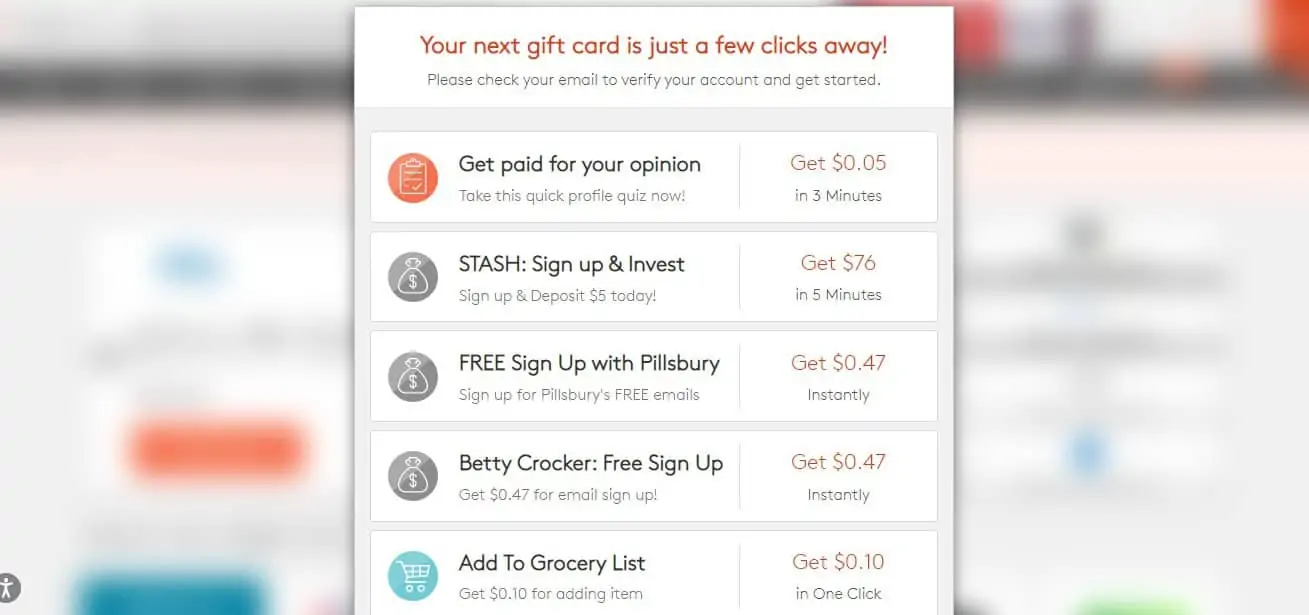 I love the website. It is well-designed and easy to navigate. Accumulating points was easy even though I did not qualify for any online surveys on the platform and I did not use MyPoints to shop online.
How Much Can You Make With MyPoints?
It's hard to say how much money you can make with MyPoints because it depends on the opportunities available to you and how often you use it. Some surveys pay a few dollars, but they're not always available to you every day.
From my experience, I earned over 200 points the day I signed up. I could earn an extra $10 worth of gift card if I used MyPoints for online shopping. Unfortunately, I didn't have anything to buy at the time.
There was also an offer of $76 if I signed up with Stash, an investing platform, through MyPoints.
If you use MyPoints a lot when you shop online, that should help you gain more points. Additional online activities such as playing games, watching videos, and searching the web can contribute to your points.
But just to give you an idea of how much some members are making, I've dug up some feedback from MyPoints review Reddit users and SiteJabber.com:
This should give you an idea that while MyPoints does help you earn some money, the income isn't good enough to replace a real income.
---
How Much is a MyPoints Worth?
The value of MyPoints depends on how you choose to redeem them. But normally, each point is equivalent to $0.006. A $3 Amazon gift card is worth 480 points which equates to $0.006 each.
How to Redeem Points In Your MyPoints Account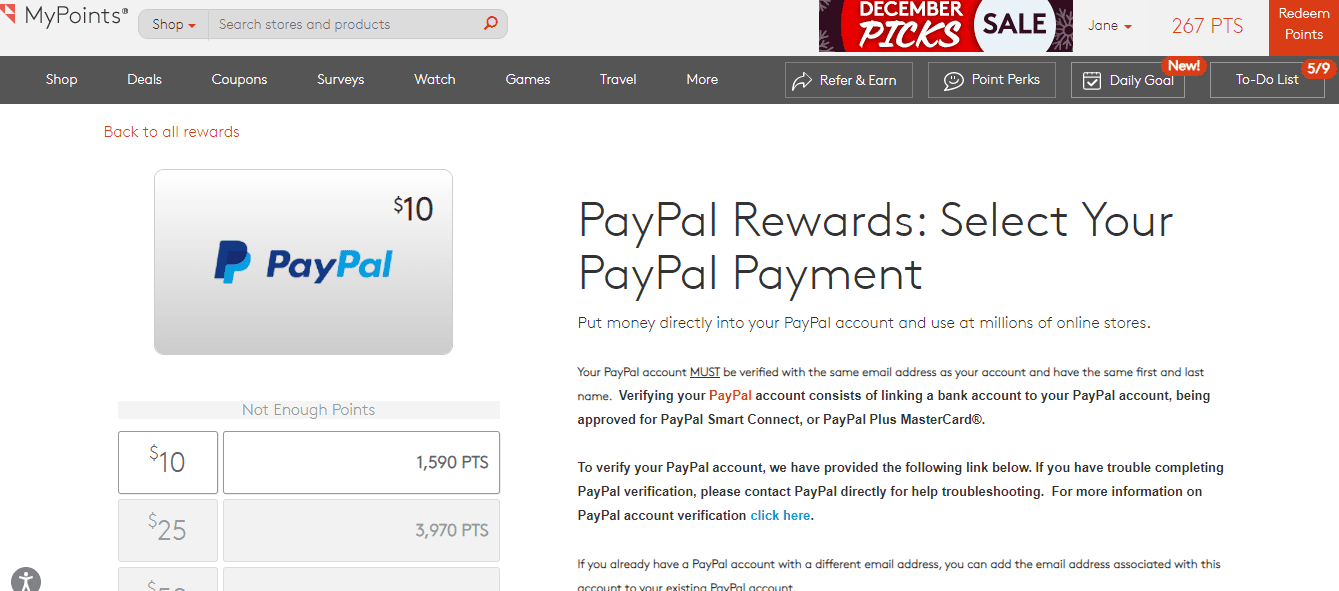 If you're using MyPoints often enough, you'll notice your points start to rack up. When you've accumulated enough points to exchange for a gift card or PayPal money, you can start converting your earnings.
What you have to do is log into your account and find the rewards you are eligible to claim. When you've found the gift card you want, click the "Get Rewarded" button.
According to MyPoints, you should receive your eGift card in your email within 3 to 10 days.
To redeem your rewards as PayPal cash, make sure to link a verified PayPal account with the same name you use with your MyPoints account. The transfer should complete in at most 5 business days.
Finally, you can redeem your MyPoints as travel miles. When you've had enough points to exchange for miles, you can select your desired reward and MyPoints will post it directly into your Mileage Plus account within 48 hours.
MyPoints Review: Pros and Cons
Pros
MyPoints offers a lot of opportunities to earn rewards.
Easy to use. Their app or website is easy to use.
Transparent. You know exactly how many points you'll earn for every task you complete.
Even completing your survey profile will earn you points.
You earn points for in-store purchases, which some rewards programs don't offer. I love being able to earn points from my weekly grocery trips!
You can redeem your rewards points in a variety of ways (cash or gift card)
It doesn't require lots of information to sign up.
Cons
You may not be able to take all online surveys, which actually happens with all survey sites I've tried.
I attempted to take a few surveys for three days but never got qualified to any. I am not sure if it was because of my location, Puerto Rico, or because nothing matched my survey profile at the time.
But on the upside, it only takes 2-3 seconds to know whether you qualify to take a survey. Simply click the "take survey" button of a survey, and MyPoints will tell you almost immediately if you are not qualified.
You don't always earn points for using MyPoints as a search engine. MyPoints also show search results powered by Yahoo, so it may be a disadvantage if you particularly like Google.
It takes days to redeem points with MyPoints, which may be disappointing if you need it quickly.
At least during the time I attempted to take surveys with MyPoints, many surveys on the platform only offered between 50 and 200+ points which were quite low compared to the offers I had seen on Swagbucks.
You may not be able to watch videos. I attempted to complete a watch activity but there were no videos available for me.
---
Is MyPoints Safe?
Whenever you're using a get-paid-to site, it's worth bearing if it's actually safe. In most cases, you will be giving away some personal information especially if you're keen on getting paid to take surveys.
Fortunately, MyPoints is safe to use. Since you will be linking your PayPal account, it is unnecessary to give away your bank account information to MyPoints.
MyPoints vs. InboxDollars vs. Swagbucks
Let's do a quick face-off with two other similar sites, InboxDollars and Swagbucks, see how Mypoints stack up against them.
MyPoints vs. InboxDollars
Both sites are free to join, and they both give you the option to exchange points with PayPal money and as gift cards. However, you can also redeem your points as travel miles with MyPoints.
Additionally, MyPoints' welcome bonus is $10 while InboxDollars is $5. MyPoints rewards can be redeemed as soon as you've gathered points to convert into cash or gift cards, so that can vary a lot. Meanwhile, you need to reach at least $30 to redeem your rewards on InboxDollars.
Winner: MyPoints
MyPoints vs. Swagbucks
MyPoints is currently available to members in the US and Canada, while Swagbucks is free to join in several countries.
MyPoints provide a $10 bonus, while Swagbucks only offers $5. Also, even if they both have almost similar ways to earn money, Swagbucks seems to have a lower minimum payout threshold.
Winner: Tie
Related:
MyPoints vs Ibotta
Ibotta started out as a grocery shopping app that pays you for shopping for groceries. Ibotta offers up to a $20 sign-up bonus while MyPoints only offers $10. However, MyPoints offers its users more ways to earn money.
Winner: MyPoints
I love Ibotta and have been using Ibotta for years but with MyPoints' Magic Receipts feature, MyPoints now offers similar features that Ibotta offers, which is awesome!
---
MyPoints Review: Is MyPoints Worth It?
Considering that MyPoints is less popular than Swagbucks, I thought that MyPoints is inferior compared to the latter. But it came out to be one of the best survey sites to sign up for. And I'd have to say that MyPoints exceeded my expectations.
I loved that it offers so many ways to earn money, and I loved its new feature "Magic Receipts" which incorporates the feature of the grocery shopping app, Ibotta.
I'd like to remind you, though, that the money you'll make on MyPoints is nowhere near enough to sustain a living, so use this app as a way to pass the time rather than put all your effort into it. At the end of the day, you need more than a mere gift card to put food on the table, so always keep your expectations realistic.
Have you used MyPoints? What can you say about this app? Let's hear your thoughts in the comments.