This Gogokid review will walk you through the requirements, application process, salary and pros, and cons of working as a Gogokid teacher.
If you're looking to make money from home teaching English online, then you've probably heard or read about an online ESL company called Gogokid.
According to most Gogokid reviews, this online teaching company pays up $25 per hour, depending on your credit score system. But is Gogokid a good company to work for? How do you become a Gogokid teacher and what does a Gogokid class look like? All your questions are answered in this Gogokid review.
This post contains affiliate links. I may earn a commission at NO extra cost to you for your purchases made through these links. Disclosure.
What is Gogokid?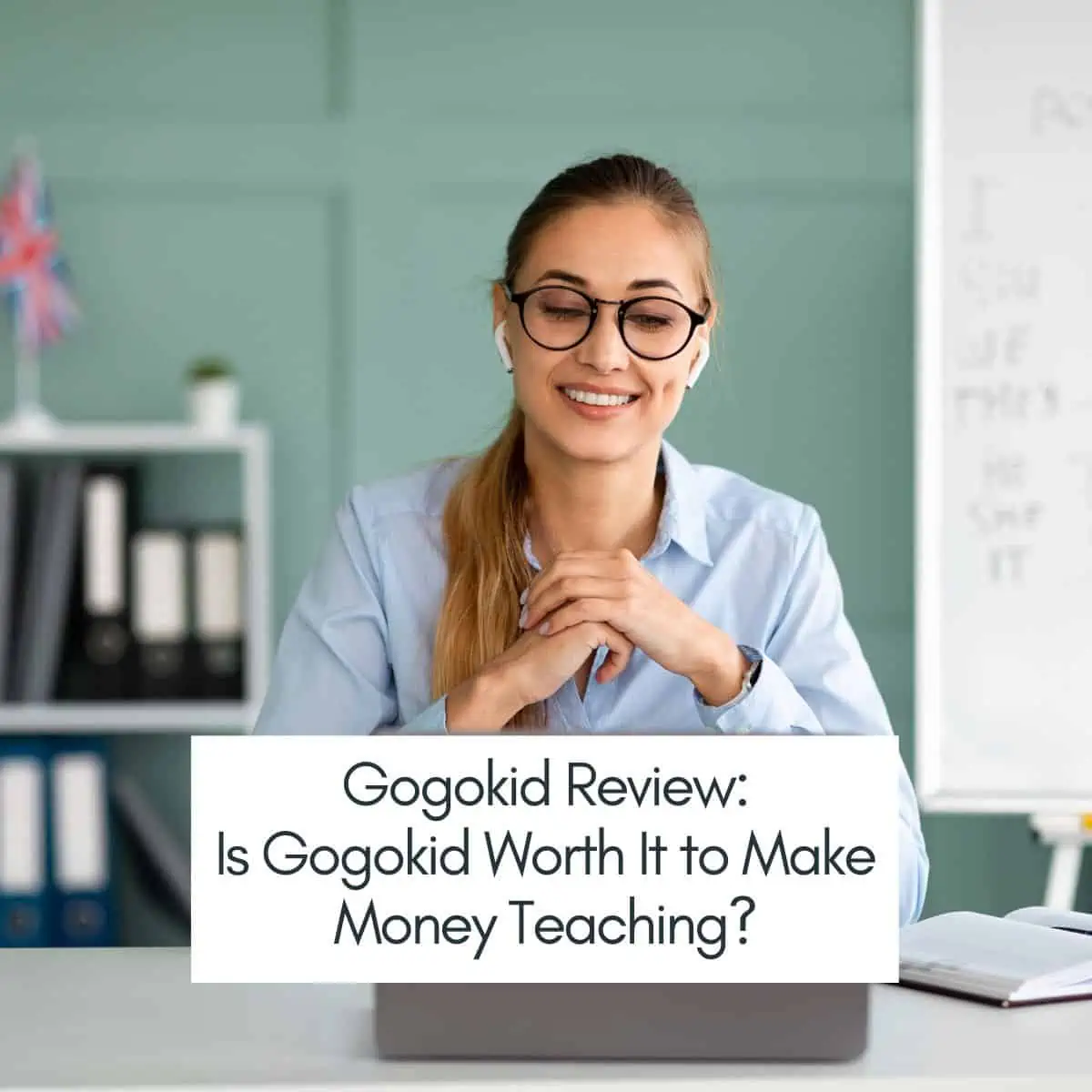 A popular online ESL company, Gogokid hires online teachers to teach English to Chinese students. It was established in 2018 and it continued to gain traction as an ESL company over the past few years.
It is similar to other online teaching platforms like VIPKid and Magic Ears wherein a native English speaker teaches young learners in a fun, interactive, and conversational way using a virtual platform.
How to Become a Gogokid Teacher: Requirements and Application process
If you want to make money teaching online on Gogokid, then you must familiarize yourself with the requirements and application process.
Gogokid Teacher Requirements:
The requirements for ESL teachers on Gogokid are pretty much standard in the online teaching industry. To become one of the new teachers on Gogokid, you must be able to meet the following requirements.
1. Bachelor's Degree
Online English teachers on Gogokid must have a bachelor's degree. Thankfully, it doesn't have to be specific to teaching and education. You can apply for an online teaching position as long as you have a bachelor's degree from an accredited university or college.
2. Online or Offline Teaching Experience
Another requirement that you must meet is teaching experience. You must have at least a year of teaching experience, whether as a classroom teacher, online teacher, or tutor.
3. Eligibility to Work in Your Country
You must also be a native English speaker to become a Gogokid teacher. Currently, the company only hires teachers from the US and Canada.
4. Certification
All Gogokid teachers must have a teaching certificate. Just like other online ESL companies, you must present an ESL or TESL certification when you apply.
5. Technical Requirements
You must also be adequately equipped with online teaching tools to be able to provide the best learning experience to your students. So here are the technical Gogokid teaching requirements you must comply with:
Your own laptop or computer
Stable and high-speed internet connection
High-quality webcam
Noise-canceling headset
Proper lighting
Additionally, you'd want to invest in a quiet space where you can teach online without distractions. It is best to dress up your Gogokid classroom so that it is conducive to learning. Also, prepare additional teaching props, such as flashcards and posters when you teach classes to keep the students engaged with your lessons.
Easiest Ways to Make Money Online
Gogokid Application Process
According to most Gogokid teaching reviews, their hiring process is so much simpler and quicker than other ESL companies. So what exactly does the Gogokid application process look like?
1. Online Application
Fill up the basic details required in the application, such as your name, email address, bachelor's degree, and teaching certificate.
2. Interview Process and Demo Lesson
These two steps are crucial in the hiring process because this is when the company gauges your skills and abilities in online teaching.
To do the demo lesson, you'll log in to the Gogokid teacher portal and pretend that you're doing a lesson for a student. You'll be given around 10-15 minutes to perform the trial class.
You want to make this trial class fun and engaging, so make sure to use some props, offer imaginary rewards and smile a lot.
After that, you'll go through the interview process. You'll have the interview materials in advance, so it's best to study them well. Once you're already feeling confident, visit the Gogokid teacher portal again and record yourself doing the interview.
No one will be there to interview you, but you'll respond to each slide on the portal, so it's as if someone is actually asking you questions. Initially, you'll introduce yourself and talk about your teaching experience.
You'll then answer questions like how many classes you can handle each month and your expected salary.
Click "submit" and wait to hear back from the company in the next few days.
3. Orientation
Now let's say that you've aced the Gogokid interview process. The next step of the hiring process is the orientation where you'll learn more about the company and how the classes work.
Gogokid will supply you with training materials and videos. You have to study these materials well because you'll answer a quiz later.
4. Accomplish the Paperwork
You're almost there. Now you just have to submit the required documentation to the company, such as your ID and certificates, as well as some of your pictures. You also need to submit an introduction video.
5. Contract signing
Finally, you have to sign a contract to formally become one of the Gogokid teachers. Gogokid contracts are good for six months and are renewable based on performance.
Related Posts:
How are Gogokid Classes Conducted?
All Gogokid teachers do their online classes using the company's teaching proprietary teaching platform which runs best using the Chrome browser. This online teaching platform comes loaded with all the things you need to teach English online to your student.
Here are other things you need to know about how Gogokid classes work:
Lessons are one on one. You get to focus on only one student for each session.
Lessons last around 25-30 minutes. You should be in the online classroom early to review materials and prepare your props.
No lesson planning is required. Everything you need to teach is already uploaded to the portal.
Be more fun and creative. Make your Gogokid classroom more inviting by putting up learning materials. Using teaching props is also encouraged.
How Do You Schedule Classes on Gogokid?
You can teach English online for as many classes as you can manage. There is no minimum number of classes that you need to teach each day, so you can make more money if you get booked for more classes.
You could also choose your own class schedules. Simply indicate your desired schedule on the teacher portal. Parents book classes for their kids, so it's important to keep your schedules around Beijing time.
Also, you could open your class slots and schedule your availability for the next three weeks. While you switch your teaching hours as you like, you want to keep a consistent schedule so that kids and parents are able to keep booking you without disrupting their routine.
Gogokids Peak Hours
The best way to book multiple classes is to have your schedule open during the Gogokid peak hours. Based on Beijing time, here are the best times to teach english online with Gogokids:
6 PM to 10 PM Monday to Friday
9 AM to 10 PM Saturday and Sunday
Keep in mind that these are schedules in China. Make sure to convert these into your timezone to properly manage your Gogokid bookings.
What is the Gogokid Credit Score System?
One of the things that make Gogokid stand out as an online ESL platform is its credit score system. It's also a concept that seems to puzzle many teachers.
So the credit score system refers to its incentive system. ESL teachers on Gogokid can get paid more than their base pay based on their Gogokid credit score.
There are a few factors that go into the computation of one's credit score: how many classes you teach and your performance as a teacher.
So if you want to raise your credit score and make increase your Gogokid pay, then you have to try to take more classes. Not only that, but you also need to provide exceptional performance in each class.
Your performance can include how you motivate your student to engage to participate in class, effective use of teaching materials, and teaching the whole session. Also, keep in mind that parent feedback can bring your performance rating up or down.
Easiest Ways to Make Money Online
How Much Does Gogokid Pay?
Now to the most awaited part of this Gogokid review: how much does Gogokid pay?
When you were first hired, Gogokid has already indicated its offered base pay for you, based on your performance in the hiring process as well as your credentials. The base pay, also known as the Gogokid service, runs between $7 to $10.
A class takes 25-30 minutes, so your hourly base pay is around $14 to $20.
But don't forget the credit score which goes on top of your Gogokid service fee. A lot of Gogokid reviews say that you can make up to $24 per hour.
Since the base pay is non-negotiable, you should strive to increase your credit score to earn more money.
How Does Gogokid Pay?
Gogokid salary is processed twice a month. It can be sent to your bank account as a direct deposit or transferred to your PayPal account.
Gogokid Pros and Cons
This Gogokid review is not complete without laying down the pros and cons of working for this platform.
PROS
You can manage your Gogokid bookings based on a flexible schedule. You can also take as many classes as you can handle.
There is no need for lesson planning. Many teachers from other ESL companies need to exert extra time and effort to plan their lessons. With Gogokid, all the lessons are prepared and accessed on the portal.
Gogokid pays decent money. You can make up to $24 per hour, which is quite competitive in the online teaching industry.
You'll get a referral bonus for successfully getting other teachers to sign up with Gogokid.
CONS
Gogokid requirements are quite strict, especially when it comes to educational background and foreign language certification. You must have a bachelor's degree, some experience teaching English, and certification to teach on Gogokid.
The credit score system is quite complicated and confusing.
Gogokid Reviews
I scoured the internet to find more Gogokid teaching reviews. I found a lot of positive reviews on Glassdoor, primarily pointing out the flexibility of schedules, awesome curriculum, and fun work culture.
Meanwhile, on Indeed, I've found a couple of flaws as pointed out by teachers, particularly with regards to class schedules and cancellation policy.
Frequently Asked Questions
How much do you make on Gogokid?
Your Gogokid salary depends on your base pay and incentives. If you teach more classes and have excellent performance, you can earn as much as $25 per hour.
What is Gogokid?
Gogokid is an online teaching platform that provides English teaching services to young learners in Asia. It hires native English speakers from the US and Canada, particularly those who are college graduates with teaching experience and certification.
What are the peak times for Gogokid?
The peak times for Gogokid follow the timezone in China. The peak hours are 6 PM to 10 PM Monday to Friday and 9 AM to 10 PM Saturday and Sunday. For many teachers based in the US, this could mean teaching early hours in the morning.
Conclusion
That wraps up my Gogokid review.
Now that you know about the Gogokid requirements and how much Gogokid pays, I hope you now have a better idea of what it's like to work at Gogokid. This company may be somewhat younger than others, but it seems like it's a great place to make money teaching English.
All in all, Gogokid does seem to have a good reputation in the online teaching industry. And as proven by a number of reviews, it is legit and not a scam. Check it out if you want to try your luck teaching at Gogokid.