If you have been researching about how to get paid by answering surveys, then you've probably also heard of or come across Kashkick. Kashkick is one of the more popular platforms that pay users for answering polls about brands and services.
Today, I decided to research about Kashkick so you don't have to. In this Kashkick review, you will learn:
What is Kashkick?
Pros and cons of Kashkick
How Kashkick pay its users
Is Kashkick legit or a scam?
Is KashKick worth your time?
Tell-Tale Signs of Scam Survey Sites
I understand if you are both excited yet cautious about making money on Kashkick. Paid surveys are a great way to earn a few extra bucks, but unfortunately, some of them aren't legit.
According to Debt.com, some of the telltale signs of scam survey sites include the following:
They ask for your personal information
They promise to give you a huge amount of money in exchange for answering surveys
Some survey sites are suspicious because they don't use a company email
The get-paid-to site has no privacy policy
The domain is new
They don't have any about page or contact page on their website
Let me just put it out there right away that Kashkick is a legit platform where you can actually make money answering paid surveys. If you're familiar with other companies that get paid to offers, such as Swagbucks, Survey Junkie, and Inbox Dollars, then you'd know more or less how Kashkick works.
But is Kashkick worth your time? How does it work, and how much does it pay? Find out right now in this Kashkick review.
What is Kashkick?
Kashkick is a relatively new company that allows users to earn rewards through its get-paid offers and paid surveys.
As an online rewards site, you can make money online through Kashkick in a bunch of ways, such as watching videos, taking surveys, playing games, answering short quizzes, and more. These are all the fun things that are common to other GPT sites.
It is easy and free to join Kashkick, as long as you are in the US. But don't expect a sign-up bonus because Kashkick does not give you one.
But perhaps the best advantage of Kashkick is that you earn extra cash in dollars. Unlike other survey sites where you earn rewards and points, which are convertible to free gift cards or cash, Kashkick readily lets you know how much each actual survey or paid offer pays in dollar value.
How Does Kashkick Work?
Just like other GPT sites, Kashkick works by paying to complete minor tasks. Kashkick pays users to shop online, play games, answer surveys and watch videos in your spare time. However, Kashkick's main selling point are its paid surveys.
To earn money online on Kashkick, you have to sign up and become an active user. Don't worry, it's free for US residents and the sign up process takes only a few minutes to complete.
Once you have an account, you can start doing easy tasks and start earning money. But if you want to make big bucks, you have to aim for high-paying surveys as other get paid to offers only pays small amounts.
Kashkick Surveys
There are plenty of survey opportunities on Kashkick. Brands and companies partner with Kashkick to conduct market research through surveys. They pay Kashkick to roll out those surveys, and you get a small portion of that income through cash rewards.
Qualifying for Surveys
The key to starting to take surveys and making money is to qualify during the preliminary survey.
The preliminary survey aims to determine if you belong to the target group that the brand or company is looking for. They may be looking for respondents of particular demographics and age groups, among other things. So you have to take the prequalification survey seriously so you can start taking surveys that pay real money.
Kashkick determines if you are eligible for relevant surveys. But before you actually start taking surveys, you can actually see how much each survey pays and how much time it'll take to complete those. This way, you can decide whether a specific survey is worth the price and your time.
Taking Surveys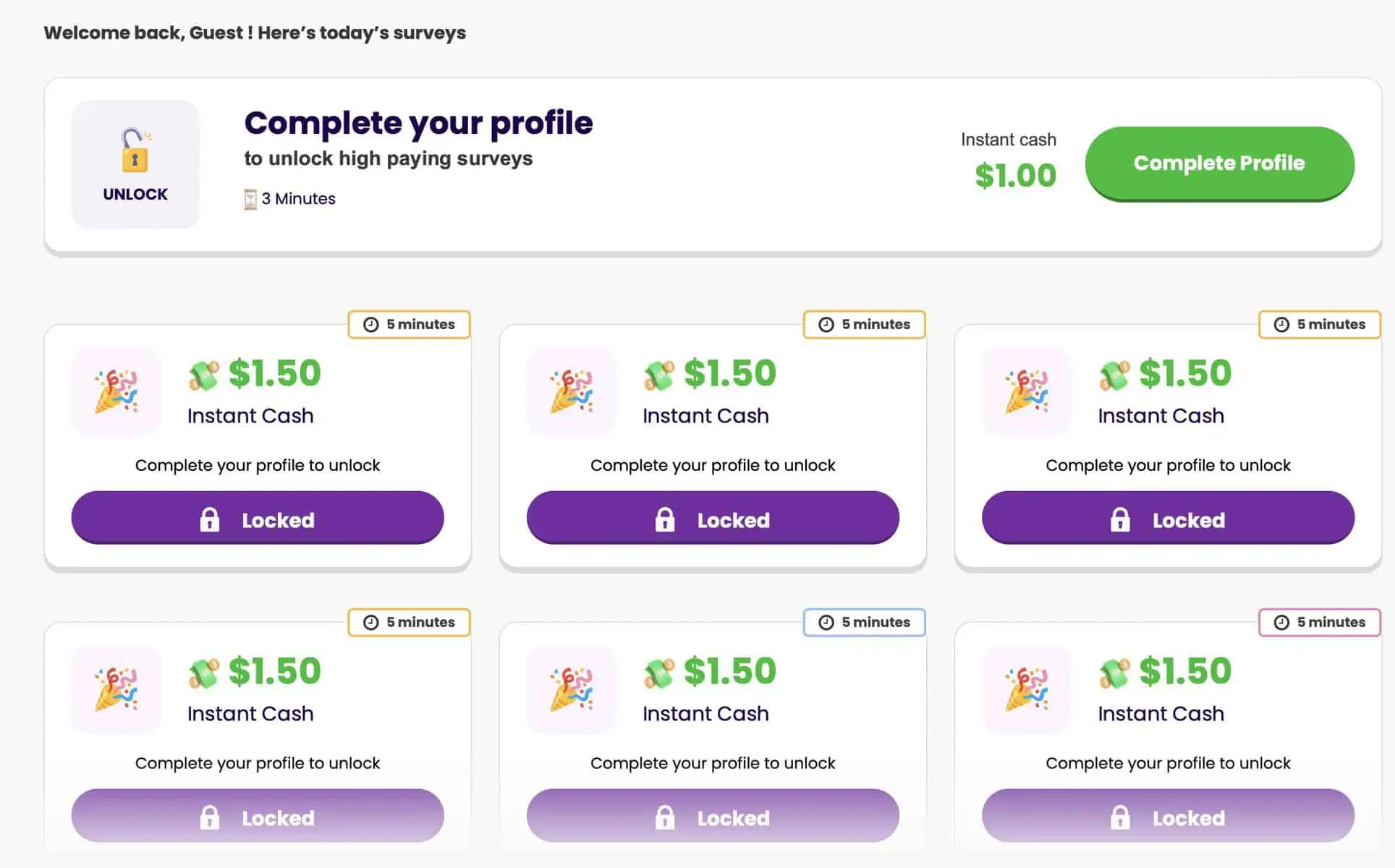 Obviously, simpler and shorter surveys pay less, while longer and more complicated surveys pay more. Also, you have to decide fast because there's only a limited slot for each survey.
So you accumulate your cash rewards for each survey you finish and get paid to options. Once you've answered enough surveys and you have reached at least $10 in your account (the minimum threshold), you can transfer your earnings to your PayPal account.
Unlike other sites, reaching 10 dollars is fairly easier and quicker. Other online rewards sites require at least $30 or $50 minimum before a transfer can be made, and sometimes approaching that limit just feels so tiring and demotivating.
Kashkick Referral Program
Another easy way to earn money from Kashkick is to refer the platform to others. You will receive a unique invite link when you sign up, and you use this link to invite family and friends to join Kashkick.
Kashkick's referral program also gives you an opportunity to earn some passive income. You earn 25% of the other person's earnings. So if your cousin earns one dollar by watching videos, playing games or answering surveys, then you get 25 cents without having to do anything.
How Much Does Kashkick Pay?
How much Kashkick pays you depends on the type of surveys you qualify for and the amount of time you spend on the platform.
Remember, each survey has its own rate. According to some Kashkick reviews, some surveys pay less than a dollar, while others pay more. So if you take 5 one-dollar surveys each day, then you make at least five dollars that day.
But also remember that you won't always qualify for each and every survey that comes your way. The income can be truly unpredictable, but at least you'd know how much each eligible survey pays you.
How Does Kashkick Pay Users?
There is only one way Kashkick pays its users, and that is through your Paypal account. So it's important that you have an active PayPal account even before you sign up for Kashkick.
It's also worth mentioning in this Kashkick review that you only need at least $10 in your Kashkick account to transfer your earnings to PayPal. As you know, other GPT sites have higher thresholds, and some of them only pays through gift cards.
Kashkick is different because you get to see your earnings in dollars, and you can withdraw your earnings to PayPal. From PayPal, you can use the funds to pay for online purchases or transfer them into your bank account.
Payments don't reflect in real-time, so it often takes some time before you see your earnings in your PayPal account. For instance, if you transfer your earnings in the third week, you'll receive the money in the next couple of days.
Related Posts:
MyPoints Review – Earn rewards for answering surveys and receive a sign-up bonus for joining!
Lucktastic Review – Win prizes for playing games online.
Swagbucks Review – Get $5 free for joining and earn points for answering surveys, watching videos and more!
Can You Use Kashkick on Mobile?
Another great thing about Kashkick is that you don't have to be tied to your computer to answer surveys or play games. You can access Kashkick through your mobile device and do the same things that you do on your computer.
If you don't want to use the app, you can also use the web browser on your phone. Fortunately, the Kashkick website is super mobile-friendly. You'll also see all your earnings whether you use a computer or mobile device to access Kashkick.
Kashkick Review: Is Kashkick a Legit Site?
Kashkick is admittedly a newer survey site, and it's not as popular as other websites like Swagbucks and Survey Junkie. So we understand if people ask whether Kashkick is legit or a scam.
Well, to set the record straight, Kashkick is a legit GPT site. You can truly make money on Kashkick by playing mobile games, answering surveys, and doing small tasks in your spare time.
But here's the deal with Kashkick and the rest of the GPT sites out there: you won't get rich just by taking surveys or doing petty online tasks. They're not supposed to replace your main source of income, so don't quit your job just to focus on Kashkick or any other GPT site.
It would take weeks or months to save money enough to buy you fancy lunch, but sorry, you won't make enough to buy yourself the newest smartphone. Kashkick is fun to use when you have a couple of idle minutes, say during your commute or lunch break, but that's about it.
I should also point out one drawback in using Kashkick: its customer service seems to be very lacking. Users don't get much guidance as there's not even an FAQ page on the website. You can send a message to their e-mail address if you have concerns, but that doesn't always guarantee a fast response.
Kashkick Review: Pros and Cons of Kashkick
Still can't decide whether you should sign up for Kashkick or not? Then check out the pros and cons of Kashkick.
Pros
It is free to sign up, and the registration process is quick and straightforward
There are plenty of ways to get paid on Kashkick, such as surveys and doing small online tasks
You get paid through PayPal
You only need at least $10 to withdraw your earnings
You can use Kashkick on your mobile phone
Cons
Kashkick does not offer a sign-up bonus
It takes some time before you can claim your money on PayPal
There's not much information about the company
It is only available in the US, Canada, Australia, and the UK
It is important that your account remains active for 60 days, or you will lose all your earnings
Easiest Ways to Make Money Online
Kashkick Reviews
I've made my rounds on the interwebs to see what people have to say about Kashkick.
On TrustPilot, Kashkick has a poor rating of 2.7. The reviews aren't very gleaming as well. The common theme seems to be that people aren't getting paid for the tasks they've completed.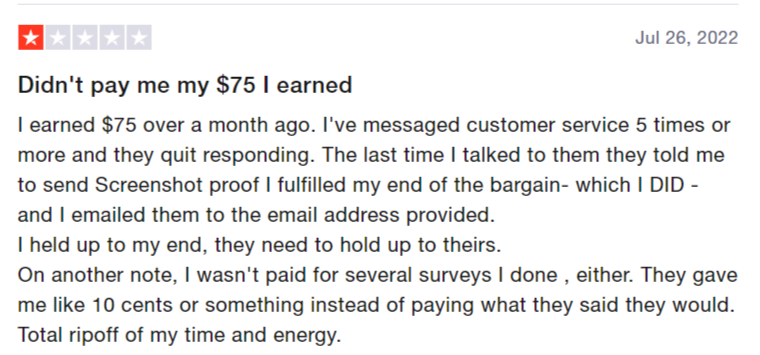 A lot of people are also unhappy with Kashkick's pre-qualification survey. Apparently, users spend some time doing the pre-qualification survey, only to end up getting disqualified. This one user even said that he gets disqualified after indicating that he is an African/American.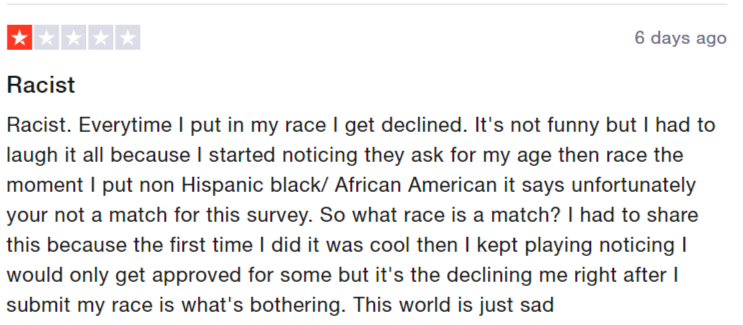 But there are a few people who have had pleasant experiences using Kashkick.

Easiest Ways to Make Money Online
Conclusion
Kashkick rewards people to do simple things online. It is a legit rewards site that's easy to use and make money from.
However, the developers of Kashkick need to work out a couple of issues to make it more appealing. First, they need to rethink their pre-qualification survey, second, their payment schedule, and third their customer service, or the lack thereof.
You can sign up on Kashkick to see how that works out for you, or you could explore Kashkick alternatives like Swagbucks and Survey Junkie if you haven't yet. These websites are more established, widely available, and accessible, and offer high-paying surveys too.
And my last reminder before I end this Kashkick review is to not rely on them for income. There are plenty of side hustles out there that pay good money per hour. Kashkick and similar sites are only good to use during your downtime, but they definitely can't match the earning potential of a real job.