Ibotta vs Rakuten
If you've followed this blog long enough, you know that I always recommend Ibotta and Rakuten (formerly Ebates) for those who are looking to save money.
These two are the biggest and perhaps the best cash back apps that pay you for shopping.
I personally use these apps, so I also often get asked: which offers the best cash back savings—Ibotta or Rakuten?
Today, I want to compare Ibotta vs Rakuten for those who are asking this question.
In this post, you'll learn about:
The key features of Ibotta vs Rakuten
The pros and cons of these cash back apps
Which one is right for you
This post contains affiliate links. I may earn a commission for any purchases made through these links at NO extra cost to you.
First, what are cash back apps? How do cash back apps work?
I'll admit, when I first heard of these cash back apps that give you money, I thought they were not legit. They can seem too-good-to-be-true  if you don't know how do cash back apps make money.
When you're getting free money like this, it is important to know how the company is able to do it. This information should also make you feel more comfortable using the app.
Ibotta and Rakuten are both cash back apps or rebate programs that pay you for shopping at their partner stores or buying items from brands they partnered with.
For example, instead of buying directly from Amazon, you can shop at Amazon through the Rakuten platform.
Rakuten is your middleman, he will take you to Amazon, and Amazon will pay Rakuten for taking you to the store. But instead of keeping the commission all to himself, Rakuten splits this payment with you.
The good thing about these best shopping apps is that they are easy and effortless to use. They automatically (or almost) track your purchases, so there's no need to tell the stores, "Hey, I purchased through Rakuten!" or tell Rakuten that you made a purchase at Amazon to get your cashback.
They are also both free to use, they offer a sign-up bonus, and unlimited opportunities to earn money for buying items you would buy anyway.
While they work pretty much the same, there are differences between these two platforms, most especially when it comes to features, stores that provide cash backs, items you can earn money on, and more.
So, let's compare Ibotta vs Rakuten (Ebates)!
Ibotta vs Rakuten : Pros and Cons
Ibotta started out as a grocery rebate company in 2012, offering cash back on grocery items such as milk, bread, vegetables, meats, canned goods, toothpaste and even over-the-counter medicines.
If you like clipping coupons, then you'll like Ibotta because it is the digital version of mailer coupon. It's more convenient because you wouldn't need to take your coupons to the cashier to get the discounts.
Ibotta partnered with over 300 retailers at over 500,000 locations within the U.S and Puerto Rico. If you constantly go to Walmart, Sam's Club, Costco, Ralphs, Kroger or Target, then you'll have a lot of opportunities to make money with Ibotta. You can find the full list of Ibotta partner stores here.
In recent years, Ibotta has expanded outside of the grocery space into other areas such as gas stations, liquor stores, pharmacies, restaurants, home and office.
Ibotta has more than 35 million downloads and as of November 2019, it has so far paid its users over $627 million.
I've also received a small share of this money for simply using Ibotta when grocery shopping!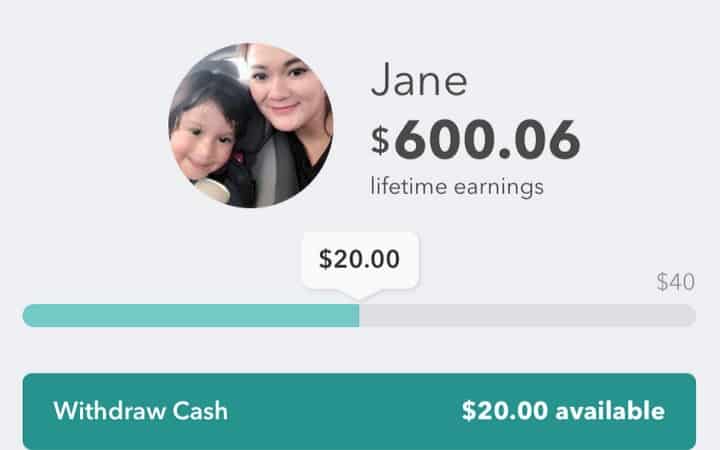 If you are not a member yet, you can join Ibotta here for FREE and receive up to $20 Bonus for trying the app!
How Does Ibotta Make Money?
Now, you may be asking yourself: how does Ibotta earn money?
Ibotta gets paid by their partner brands for any offer you redeem through the app. Ibotta splits this commission with you in the form of cash back.
Ibotta also has other means of making money, such as via advertising or surveys. Because it has millions of users, Ibotta gets paid as well by brands who want to get their products listed or promoted on the app.
You would also notice short video clips or consumer surveys that pop up on the app as you are unlocking rebates. These brands pay a huge amount of money to get those short videos shown to extremely targeted users like you or to get your opinion as a consumer.
How Does Ibotta Work?
It's extremely simple. Here is a quick rundown of how Ibotta works and how to make money with Ibotta:
1.Download the Ibotta App for FREE.
Click here to do that.
2. Open the app and browse through rebates.
Open the app, browse through rebates or offers, and unlock the items you will buy at a partner store by tapping the plus sign.
Another way to do this is to select a retailer store first, say Walmart, then browse through the rebates by category (i.e. fresh produce, dairy and eggs, pantry etc.) Unlock the Ibotta rebates by tapping the plus sign.
3. Shop at the store.
Redeem offers by uploading the receipt, which is basically taking a picture of it through the app.
4. Get paid!
Get paid! You can withdraw your earnings via Paypal or Venmo once your Ibotta balance reaches $20.
IMPORTANT!
Any Brand and Any Item offers do not count as qualifying offers towards the Ibotta Welcome Bonus. If you can't find a brand name rebate for items you normally purchase, I recommend buying a beverage or toilet paper which will only cost you $1-3.
Payment
Ibotta pays via PayPal, Venmo and e-Gift cards.
Ibotta Pros and Cons
Pros:
1. It's free to sign-up.
You can get the Ibotta Welcome Bonus after redeeming your first rebate.
3. There are a lot of amazing bonuses.
Aside from redeeming offers, you can also make extra money through bonuses. The more active you are using Ibotta, the more bonuses you will be able to unlock.
For example, you can earn an extra $1 for redeeming 5 offers or a few extra dollars when your team ( which refers to you and the people you invited to use the app) redeems a few offers.
Bonuses change every month so make sure to access the Bonuses section from the Main Menu to see how you can increase your earnings.
4. You do not need to link your credit/debit card.
All you need is your grocery receipt to earn cash back.
5. Earn cash back on "Any Brand."
Ibotta also pays for certain items you buy regardless of the brand you buy such as the following:
6. Ibotta referral code exists.
If you like Ibotta, you can recommend it to your friends and family and you'll earn $5-10 per person you refer to use the app. You can earn more through their referral program depending on the promo they are running for the month.
Cons
1. It's not truly automatic.
To get paid for your eligible purchases, you have to open the app, tap on the offer or product, and then upload the receipt. It's less cumbersome than clipping coupons but redeeming offers isn't that automatic.
2. Minimum balance to withdraw your earnings is $20.
You have to earn at least $20 before you can withdraw your earnings.
3. Ibotta requires a mobile device.
You cannot use it on desktop.
UPDATE 11/23/2019 -Good news! You can now use Ibotta on your computer with the Ibotta browser extension which you can use for online purchases at over 50 supported retailers.
4. Ibotta can only be used in the US and Puerto Rico.
---
What is Ebates (

Rakuten

)?
Founded in 1999, Ebates is a rebates program or cashback app that also pays you for shopping at their affiliated stores. To date, they have over 2500 partner stores where you can shop and get up to 40% cash back on your purchases.
In 2014, Rakuten acquired Ebates, hence the name change. Rest assured there are no changes on the platform. It's still the same thing with a different name.
So far, Rakuten has paid its US users over $1 billion in cash back! Rakuten has also paid me over $160 and below is a screenshot of one of the PayPal payments I received from Rakuten.
Sign up with Rakuten and get $10 sign-up bonus.
How Does Rakuten Make Money?
You might be asking yourself: what is the catch with Ebates or Rakuten?
Rakuten makes money through affiliate marketing. As mentioned, they make money by referring customers to their partner stores which pay them a referral commission and they split this commission with you. It's that simple.
Rakuten has partnership with these stores so they can give you good deals. Rakuten also offers a more convenient way to get these savings back into your pocket with just a tap of a button.
How Does Rakuten Work?
Using Rakuten is so easy it wouldn't even disrupt your regular online shopping routine. Here's a quick rundown of how to use Ebates and how to make money with Rakuten:
1. Sign up with Rakuten.
Sign up for free with Rakuten using your email or Facebook account. You can join here and receive a $10 bonus reward for trying the app.
2. Open the app or type in Rakuten into your browser to start shopping.
Instead of going to the store's direct website (such as Amazon.com), you just need to open the app or type in Rakuten into your browser if you don't want to use the app. Tap on the store where you want to shop and click "shop now" and Rakuten will then take you to the store.
Then, start shopping.
3. Get paid.
Rakuten will automatically track your shopping. Your cash back will accumulate as you use Rakuten each time you shop.
---
Rakuten Pros and Cons
Pros:
1. Easy and free to sign up.
You only need an email address or Facebook account to create an account in Rakuten.
2. Cash back applies automatically.
No need to scan receipts or do anything to earn your cash back. The Rakuten system tracks everything for you.
3. Generous bonuses.
You get an automatic $10 bonus for trying the app, plus $25 for every person you refer to join Rakuten. You can also earn up to 40% cash back on your purchases.
4. Lots of partner stores.
There's over 2500 stores to shop at to earn cash back.
5. Available in more countries.
Cons:
1. It takes a little time before cash back applies into your account.
Sometimes you may left wondering whether or not the cash back applied because it takes a couple of days before you see it on your account.
2. You only get paid once every three months.
Rakuten makes sure that you don't return a product after a cash back has been recorded on your account so they pay out once every three months.
Ibotta vs Rakuten : Who's the Winner?
Ibotta and Rakuten are not exactly alike so for me, comparing Ibotta vs Rakuten is like comparing apples and oranges.
If you are asking which cash back app is right for you, my answer is that it really depends on your shopping habits.
Ibotta is obviously the winner when it comes to grocery rebate apps and I highly recommend this app most especially if you are buying groceries for a large family.
However, when it comes to cash back savings from online shopping, Rakuten offers the most value with up to 40% cash back and with over 2500 stores.
The good thing is that you don't have to choose between Ibotta and Rakuten because you can use them together for free! You can earn $20 bonus for joining both ($10 from each) and enjoy unlimited cash back from in-store and online purchases.
To learn more about Ibotta vs Rakuten, check out my reviews below!
Be sure to follow me on Pinterest for more money saving tips + side hustle ideas!