Wondering whether you should use RebatesMe to gain cashback from online shopping? Then, read this RebatesMe review to learn more!
For so many people, online shopping has become quite the norm. Instead of visiting physical stores, customers simply need to go online, visit a store's website, choose products, add to cart, and pay. If you already know what you wanted to buy, the whole shopping experience will only take a couple of clicks.
According to BigCommerce, 22% of the global retail sales by 2023 will come from online shopping. That's how massive the eCommerce industry is!
But if you know how and where to shop, you could very well enjoy some of the money you spent from online shopping. Using cashback platforms like RebatesMe will help you do that.
In this RebatesMe review, I will answer the following questions:
How does RebatesMe work?
How does it compare to other cashback sites like Rakuten?
Is RebatesMe legit?
How do you make money with RebatesMe
Is RebatesMe worth it?
This post contains affiliate links. This means I may earn a small commission at NO extra cost to you for purchases made through these links.
RebatesMe Review: What is RebatesMe?

RebatesMe is an online website that offers cashback services to its members. It was founded in 2013 by a man named Daniel Dai.
According to its LinkedIn profile, RebatesMe has paid out over $30 million USD in cashback to over 350,000 users.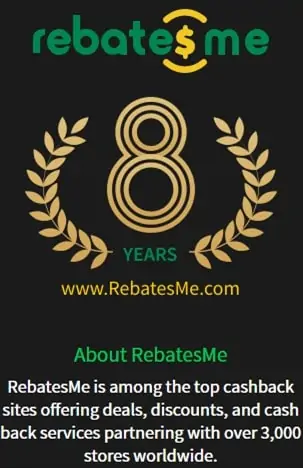 RebatesMe claims to be one of the top cashback sites that offer discounts, deals, and cashback opportunities from over 4,000 partner stores worldwide.
So, if you are into online shopping, signing up for legit cashback sites like RebatesMe may be a good idea. You can accumulate those cashback which you can save or spend the next time you go shopping online.
Related posts:
---
How does RebatesMe Make Money?
Now, if you're new to cashback sites, you might be wondering, "How do these cashback apps or sites work and how do they make money?"
Cashback platforms such as Rakuten, Swagbucks, and RebatesMe work by partnering with affiliate stores and promoting their deals to members like you. When you buy from those partner stores, the company passes an incentive to RebatesMe, and then RebatesMe gives you a portion in the form of a cashback.
With RebatesMe, you will have to use its website or browser extension when shopping online if you want to get cashback. So, if you wanted to buy some makeup from Sephora, you would have to search for Sephora on the RebatesMe platform, instead of going to Sephora's official online store. This is the only way for RebatesMe to track your purchases and give you an eligible cashback.
RebatesMe will then take you to the Sephora website, and you do your shopping like you normally would.
RebatesMe has partnered with thousands of big stores in the U.S. so there should be lots of opportunities for you to earn money with RebatesMe.
---
How Do I Use RebatesMe To Make Money?

The primary way to make money on RebatesMe is by shopping online. Here's how it works:
Shopping online – Receive $20 Welcome Bonus!
Step 1: Sign up for an account on RebatesMe. It is free, and you can also use your Google, Apple, or Facebook accounts to sign up. You'll also normally get a $10 bonus for signing up but if you sign up through my special link, you'll receive a $20 RebatesMe sign-up bonus!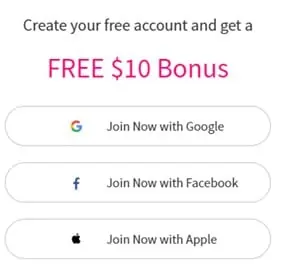 Step 2: Now look for deals. You can search for products or stores using the search bar. You'll also see " double cashback deals" as soon as you open RebatesMe. Simply click on the stores or deals and RebatesMe will take you to the partner store's website.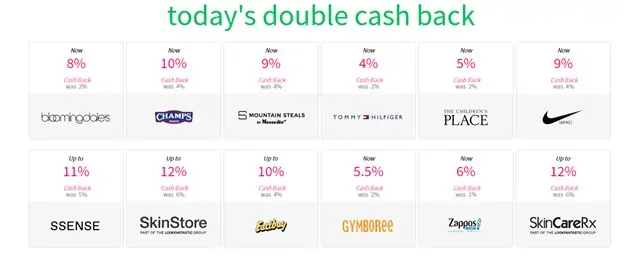 Step 3: Add the products to your cart and check out.
You don't need to report your purchases to RebatesMe or the partner store as your purchases are automatically tracked by RebatesMe.
Referrals
If you enjoy using RebatesMe, recommend it to your friends and family and RebatesMe will pay you for successful referrals.
RebatesMe assigns you with a unique referral code which you can find in "My Center." You can copy this link and send this to your friends. When they sign up using your link, RebatesMe will give you $10.
But, there's a catch.
The referral incentive will only take effect if your friend has reached at least $10 in cash back within a year. So, if you want to get the $10 reward, make sure that your friends would use RebatesMe when shopping.
You can invite as many friends as you want. The more people that sign up and use RebatesMe through your referral, the more money that you'll make.
How Does RebatesMe Pay?
RebatesMe offers four different ways of giving you payment, and you can choose one that's most convenient for you:
GIFT CARDS
CHECK
VISA OR MASTERCARD CREDIT CARD
PAYPAL
The minimum amount you can cash out is $10. RebatesMe says that it will not charge you anything for processing the payment, so you will get the exact amount that you withdrew.
RebatesMe will also process your withdrawal request within 2 business days. You can expect your payment in your PayPal account within 48 hours and one week for a credit card.
So if you're looking for free PayPal money, you should use RebatesMe whenever you shop online.
How Much Can You Make on RebatesMe?
It's hard to say how much in cash back you can make on RebatesMe. RebatesMe says that it offers up to 40% in cash back, but it still always depends on the deals being offered at the time that you shopped.
Cashback deals can vary from time to time. For instance, double deals mean you get twice the cashback that a store would regularly offer. Meanwhile, the top ten stores seem to offer between 4% to 8% in cashback.
Also, your RebatesMe income is affected by your referrals. You don't lose anything if you don't refer RebatesMe to others. However, your income could increase substantially if you managed to get people to sign up through your referral link and meet the minimum cashout amount. Once your referrals reach at least $10 in cashback, RebatesMe will also award your $10 referral incentive.
Also, note that your cashback can get depleted if you become inactive. RebatesMe imposes an account maintenance fee of $4.99 if you didn't acquire any cashback for the past 12 months.
About the Cashback Button
The Cashback button is RebatesMe browser extension. It helps you shop quicker in your favorite stores and not miss out on the sweetest deals.
The Cashback button alerts you when a store is currently offering a cashback deal. It will also show how much in cashback the store offers. If you would like to proceed shopping, you can just activate the cashback button and complete your purchase there.
So if you'd like to earn as much cashback as you can and stay in the loop of the best cashback deals, installing the Cashback button is a wise idea.
RebatesMe App
Considering that a lot more people use their mobile phones to shop online, it only makes sense for platforms like RebatesMe to have their own mobile apps.
The RebatesMe mobile app offers users a more accessible and streamlined way to shop. It's a great way to enjoy shopping and accumulate more cashback while on the go. The app is available for both iOS and Android devices.
RebatesMe vs Other Cashback Apps
I know that there are several cashback apps out there, and RebatesMe is probably one of your options. But how does RebatesMe compare to other cashback apps?
| | | | | | |
| --- | --- | --- | --- | --- | --- |
| | Best for | Sign up bonus | Referral bonus | Minimum Cashout | Payment methods |
| RebatesMe | Online shopping | $10-20 | $10 | $10 | Paypal, Check, Credit Card, Gift cards |
| Rakuten | Online shopping | $10 after spending $25 shopping | $25 for each referral that spends $25 shopping | $5 | Check, Paypal, donations to partner non-profits |
| Ibotta | Groceries | $10 | $10 | $25 | PayPal, gift cards |
| Swagbucks | Online shopping | $10 | $5 plus 10% of their earnings | $1 | PayPal, gift cards, donations to charity |
| TopCashBack | Online shopping | $0 | $10 | $0 | PayPal, gift cards, bank account |
RebatesMe fares pretty much its competitors when it comes to signing up and referral bonuses.
Its minimum withdrawal amount is higher, which encourages members to spend more shopping so they can get their cash back. As you can see, Rakuten, Swagbucks and TopCashBack have lower minimum cashout requirements, therefore members can withdraw their cashback faster.
Is RebatesMe Legit?
It's always worth checking out the legitimacy of a company that offers to give you money, whether or not it's in the form of a cashback.
So, I checked out RebatesMe on Better Business Bureau and found that it's been accredited since 2019. It also has an A+ rating there, which is quite impressive.
Although there are some complaints related to not receiving the advertised cashback, most of the RebatesMe user reviews I've found have been positive: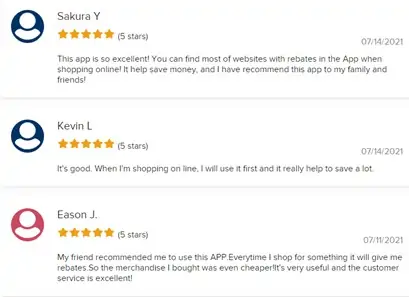 Source: Rebatesme BBB profile
Next, I searched for RebatesMe Reddit reviews to get a better picture of what people think about this site.
It seemed like users are quite fond of RebatesMe when it was starting out a couple of years ago. It held onto its promise of giving shoppers eligible cashback. People are also posting referral codes on Reddit.


Source: Reddit
Given the mostly positive reviews on Reddit and accreditation on BBB, I can say that RebatesMe is legit.
RebatesMe Pros and Cons
Still on the fence about whether you should join the site and get the RebatesMe app? Here are some of the most compelling pros and cons of this platform to help you decide whether RebatesMe is worth giving a shot.
PROS
Free to join. It doesn't cost anything to use RebatesMe.
4,000+ retailers to choose from.
Accessible through the site and app.
Different payout options.
CONS
The minimum withdrawal amount is still higher compared to other cashback apps.
RebatesMe imposes a fee of $4.99 if your account is inactive on the platform.
Common complaints about cashbacks not getting paid or pulled out from members' accounts.
FAQs
How does RebatesMe work?
RebatesMe works like a shopping service that partners with affiliate stores. Members can shop in those stores through the platform. RebatesMe then incentivizes members for using the site or app by giving them cashback deals.
How does RebatesMe make money?
Just like other cashback platforms, RebatesMe makes money by sending customers to its partner stores. The stores reward RebatesMe for sending them good business. Meanwhile, RebatesMe passes on some of these rewards to shoppers, hence the cashback.
How to cash out on RebatesMe?
You have different options to cash out on RebatesMe: PayPal, gift card, check, and credit card. Each of these has a minimum cashout requirement of $10, and the processing time can vary depending on the payment method.
---
Enjoyed reading this review? Check out my other reviews:
Qmee Review: Is It the Best Money-Making App?
PlaytestCloud Review: Can You Really Make Money Playing Games?
Ibotta vs Rakuten Review: Who's the Winner?
---
Final Thoughts
Is RebatesMe worth it? RebatesMe does not necessarily have the best deals when it comes to sign-up and referral bonuses. Even the minimum payout amount is still higher than other cashback apps.
But I believe that RebatesMe is still worth checking out even if you're already using other cashback apps like Rakuten. You can always compare deals or offers between apps and use the app that offers the best savings for you for a particular purchase.
Have you used RebatesMe? How does it compare to other cashback sites? Let's hear your thoughts in the comments!