Do you want to earn money from home, specifically, from the extra storage space you no longer use? Or are you looking for a storage solution for your personal stuff? If you say yes to any of these questions, then you might want to learn more about Neighbor Storage!
As an online seller and I pay for storage in the US to store my stocks, I know that there is a huge demand for storage solutions in e-commerce alone. Millions of sellers on Amazon are not even based in the US, so they pay for storage to keep their excess stocks.
Neighbor is an app that connects people with extra spaces at home (hosts) and people looking for such spaces (renters). This space could be as small as a closet or as large as a barn, garage, or warehouse.
You could even rent out your driveway or carport, attic, unpaved lot, and more. Whatever that space is, as long as it can hold things and vehicles can be listed on Neighbor. It's not surprising that the company earned the nickname "the Airbnb for storage."
But how does Neighbor work and can it really bring in passive income? Is it even worth it for renters? Keep reading this Neighbor review to find out!
This post contains affiliate links. I may earn a small commission at no extra cost to you for purchases made through these links. Disclosure.
What is Neighbor?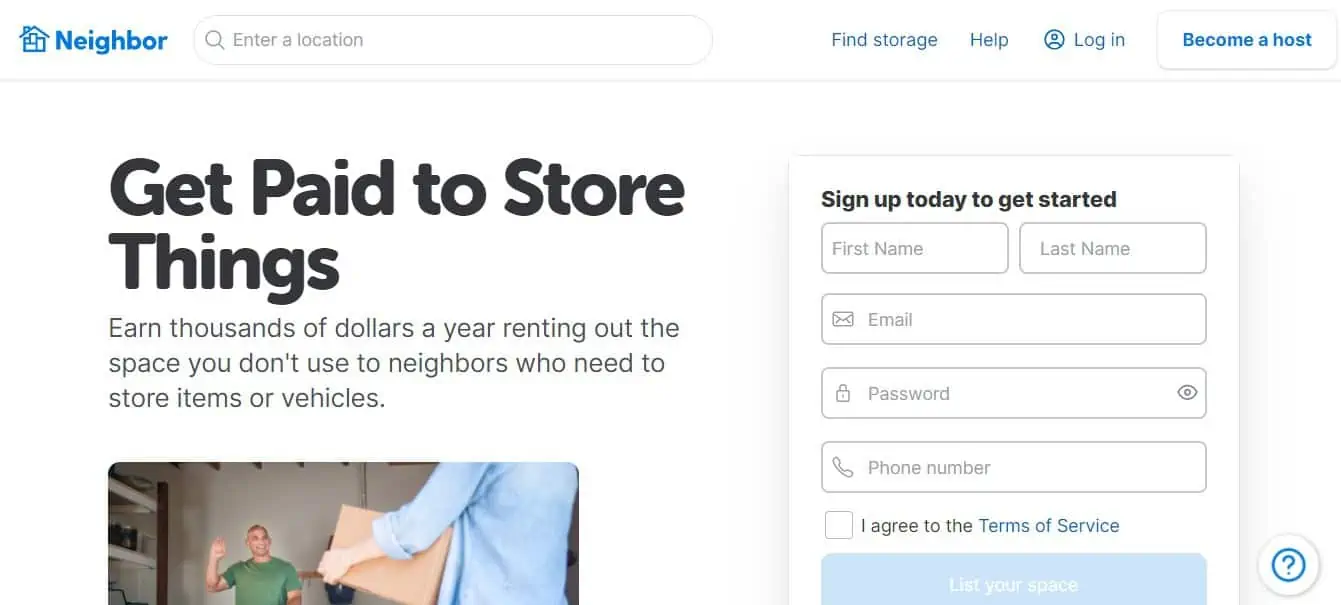 Neighbor.com is a peer-to-peer storage service and application. It aims to help people advertise their extra space in their homes or property, as well as help others, rent such spaces within their neighborhoods.
People need self-storage for different reasons. It could be that a renter needs to temporarily relocate and need an extra space to store their stuff.
Maybe the renter has a business that needs to hold stock of physical inventory and there is no more space at home or in the office. Or, it could be that the renter needs storage space for his vehicles, RV, or yacht during the off-seasons.
Neighbor is all about helping people find storage within their communities, as well as helping home and property owners earn an income from their extra spaces. It aims to serve both parties, efficiently and safely.
I'm quite impressed to know that Neighbor has indeed built an excellent reputation in the self-storage industry. According to TechCrunch, it has managed to obtain 53 million in funding from investors and has seen over 500% in annual growth.
It means that Neighbor has been living up to its promises, and it gives ordinary people, like you and I, the inspiration to turn unused space into extra money.
Neighbor vs. Commercial Self Storage Facilities
But why would people choose services like Neighbor over self-storage facilities?
Cost
According to move.org, renting a Neighbor storage proves to be significantly cheaper than getting a unit from self-storage facilities. The cost of conventional storage is $183 per month, while Neighbor storage costs only $140/month, depending on the type and size of the space.
Conventional storage facilities are often more expensive because they need to invest more in temperature control, maintenance and security.
Meanwhile, Neighbor storage units are just within the host's homes, so hosts don't have to pay extra for these features. That is why hosts can adjust their prices with more flexibility.
Ease of Use
Additionally, Neighbor.com's app allows for hosts to list quickly and easily, set their own rates and availability, as well as reject renters when they deem fit. Renters can also easily find a storage space right from their own neighborhood, which makes moving in of stuff a lot more convenient.
Protection
But perhaps the biggest advantage of Neighbor is that it offers comprehensive liability protection for hosts at no extra charges, amounting to $1 million.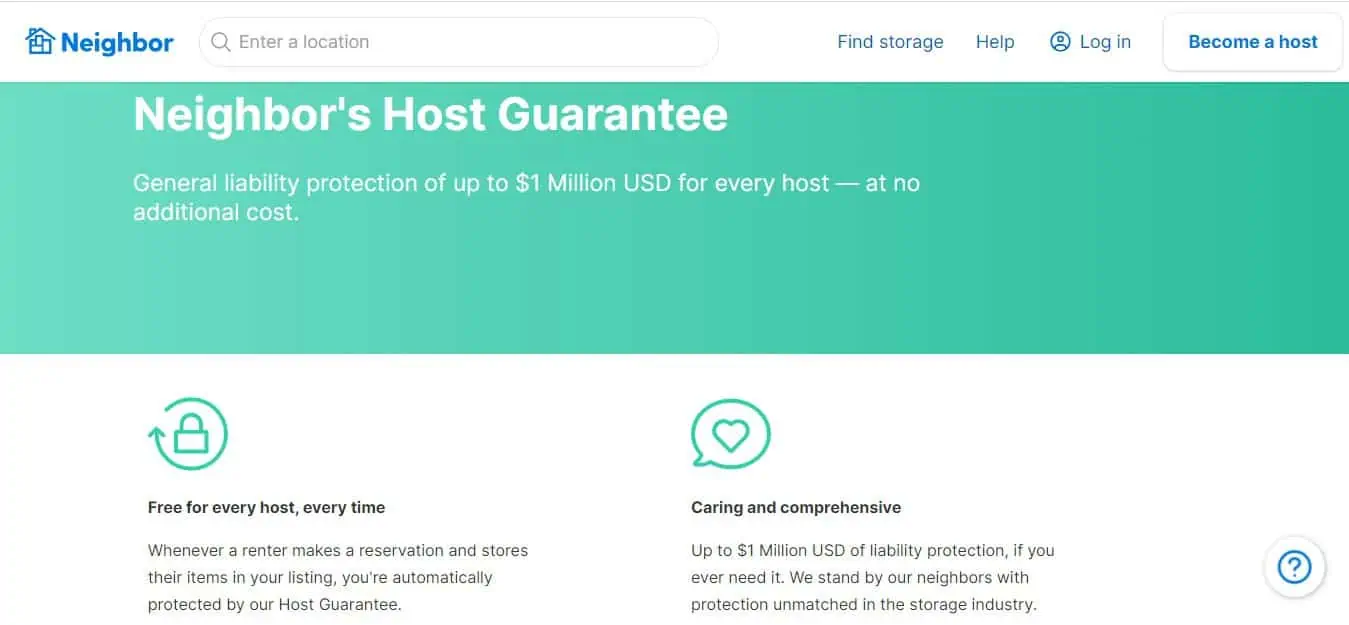 You can read Neighbor's full terms of service here.
Unfortunately, Neighbor.com terminated its renter guarantee of up to $25,000 on December 13, 2021. In the event of damage to the stored items and the host is found responsible for damages, Neighbor.com will determine the amount to be charged to the host to compensate the renter. Cases over $1000 in damages will be determined by professional arbitration between both parties.
Cancellations
Neighbor Storage also provides refunds for canceled reservations, depending on the circumstances of the cancellation. The renter can receive a full refund if he cancels the reservation within 24 hours or at least 3 days before the start date. After this date, the renter will receive an 80% refund.
What if you cancel a reservation as a host? You may do so if you have legitimate reasons, but note that hosts who demonstrate a pattern of rejecting renters may be suspended. Neighbor encourages members to welcome renters of all backgrounds.
Neighbor.com does take security and safety of both the renters and hosts seriously through these protection plans, and I believe it is one of Neighbor's finest selling points.
Easiest Ways to Make Money Online
How Does Neighbor Work?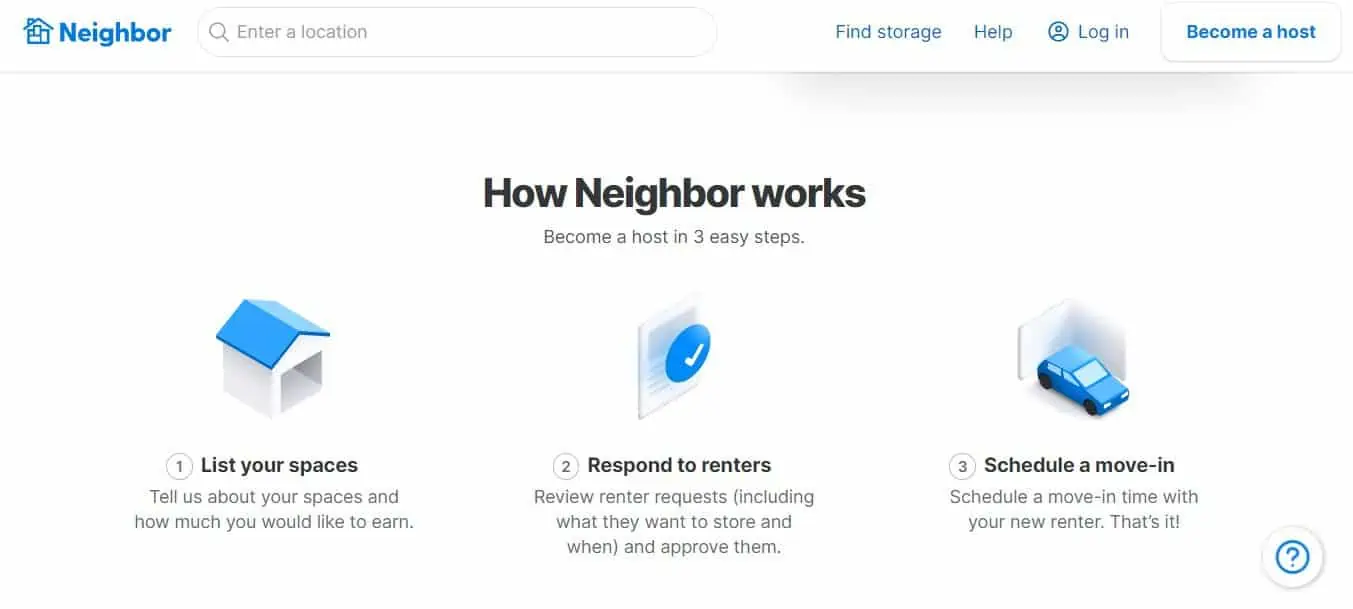 Source: Neighbor
Got an extra storage space at home? List them up on Neighbor and turn them into money.
How Neighbor works is extremely easy both for renters and hosts. But since we're exploring the idea of Neighbor as a form of passive income, let's look at it from the host's perspective.
1. List Storage Space on Neighbor.com
Say you've got an extra space at home or property. It could be a spare bedroom, the basement or attic, shed, garage, or even a farm barn that you can rent out to others.
You take beautiful photos of these spaces and upload them into Neighbor.com. Now, you have to describe this unused space, in terms of size and location. Finally, set your price.
2. Respond to Renters
Neighbor.com has made it super easy for renters and hosts to communicate. The app comes with its own messaging feature so all correspondences are made there without having to give away your personal phone number or email address.
Review the requests from renters and discuss the details of the reservation, such as the prices and start date.
Here, you have to make it clear what stuff cannot be stored on your property (hazardous chemicals, firearms, drugs, ammunition, explosives, animals, etc.). As the host, you have the right to reject or accept a reservation, depending on what your conditions are.
3. Set a Start Date
If the conditions of the reservation are amenable to both the host and the renter, then the renter can move in his or her stuff on the listed storage space on the agreed start date.
Neighbor takes care of the financial side of the business. Not only are Neighbor hosts qualified for liability insurance, but Neighbor also makes sure that the money changes hands efficiently. Neighbor will deposit your income into your bank account every month.

Types of Neighbor Storage
Wondering what kind of Neighbor storage you can rent out as a host? Well, Neighbor allows you to list virtually any spare space on the platform.
You can rent out any type of space of any size, as long as you own it or have the legal right to rent it out. Here are a few examples of types of storage spaces you can rent out on Neighbor:
Garage
Driveway
Parking Lot
Basement
Bedroom
Shed
Warehouse
Carport
Attic
Self-storage Unit
Closet
Shipping Container
Unpaved Lot
These rental spaces can serve numerous purposes: self-storage, business storage, indoor storage, college storage, and warehouse storage. That's the reason why Neighbor is dubbed the Airbnb of storage.
Becoming a Neighbor Host: Process, Requirements, Fees
If you decide to become a host, then you need to be fully aware of what it entails to run your Neighbor storage business.
Host Requirements
The great news is, anybody who has access to any extra space at their home or their property can become a host. There is no pesky paperwork involved, no training and diploma required. You can become a host and run your own self-storage business from home without going through hoops and loops.
Process
Once you've determined the unused space you want to rent out, you need to sign up on Neighbor as a host.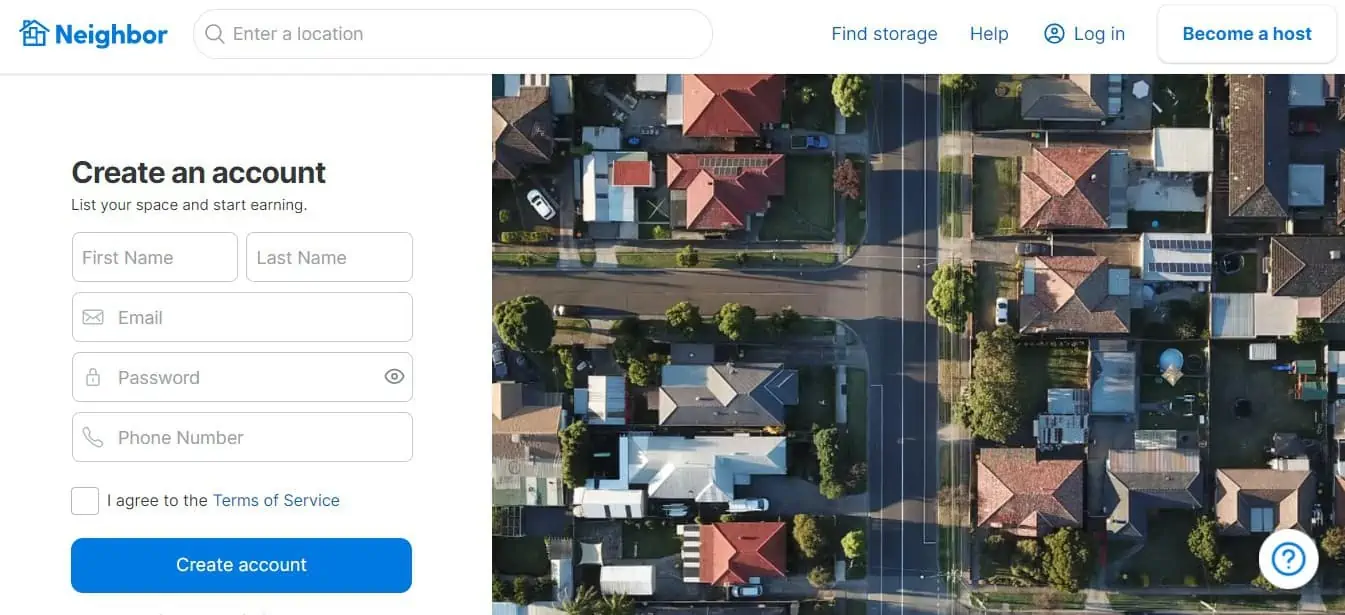 Next, you have to create a listing. Take high-quality photos of the space you want to rent out, write a description and set your asking price. Neighbor will not charge you anything for these listings.
Now, you want to give your listings as much exposure as possible to increase the chances of your space getting rented out quickly. Consider promoting your listings to friends on social media and local online forums.
When a renter contacts you, be friendly and professional. Make sure that the space is clean and clutter-free before a renter comes over to inspect it. If a reservation is made, try to update the renter regularly to assure him or her that his or her belongings are safe and sound under your roof.
Service Fee
As I've already mentioned, there are no fees for putting up your listings on Neighbor.
But Neighbor is a business, it's got to make money somehow, right? So, Neighbor does impose some fees to both parties so that everyone can continue using Neighbor's services.
Neighbor charges a tiny processing fee costing 4.9% plus $0.30 from your monthly rent payouts. This service fee allows Neighbor to protect its host and ensure seamless reservations.
Renters also pay a small service fee to use Neighbor.
Cancellations and refunds also apply to both hosts and renters on Neighbor. If you're the host and you need to cancel a reservation before the renter moves his stuff, then he will receive the full refund.
On the other hand, if the renter finds a need to cancel his reservation and does it within 24 hours, then he would receive a full refund. The renter would not receive any refund if he cancels his reservation on or after the start date.
Other This Mama Blogs Reviews You Might Like!
How Much Money Can You Make on Neighbor?
With Neighbor, you get to set your own prices for any storage space you list. Your income depends on the type of storage unit, its size, and your location.
For instance, you can find a 5×5 self-storage unit in New York City costing $24 a month, while a 6×6 storage space in Fresno, California costs $50.
The bottom line is, you want to price your storage units reasonably so that it's always booked, and that's the best way to guarantee passive income in this business.
Is Neighbor Legit?
Yes, Neighbor is a legit app that allows you to earn an income from any unused storage space you have in your home and property. While this venture was only launched in 2017, it has managed to secure millions of dollars of funding and its growth has been exponential even in the midst of the pandemic.
Neighbor.com Pros and Cons
Wondering if you should make a business from the free storage space you have at home through Neighbor.com? Here are the pros and cons you need to consider:
Pros
Hosts receive liability protection coverage up to $1 million at no extra cost.
Neighbor takes the safety and security of the hosts and renters seriously.
Listing your extra storage space is free.
You can earn passive income easily and steadily from your extra storage space.
You can screen renters and accept and decline reservations based on your discretion.
Receive payment on time every month.
Cons
The cost of renting a storage space through Neighbor is way lesser compared to conventional storage facilities, which means you'll earn less than those offering the same services. You have to also consider that you're not obliged to invest in temperature control and maintenance with Neighbor.
You have to pay a processing fee of $4.9% and $0.30 for every successful reservation. Neighbor has to make money too so they have to charge you these fees but know that the fees are taken out of your monthly payout, so you don't need to pay it before you even make money.
You pay a termination fee of $60 if you evict a renter and did not give a 30 days notice. This may be a disadvantage if you don't vet renters carefully.

Neighbor.com Reviews
Neighbor.com does look like a legit platform for renting out unused spaces at home. But what do hosts have to say about it? Let's take a look at a couple of Neighbor.com reviews on TrustPilot.
This new host seems to have had a great experience on the platform. He received support from the Neighbor team and got paid promptly too.
This person was happy to announce that his listing got noticed right away and his storage space was booked within 2 days.
And this host says he loves everything about the platform and its system.
While most hosts can only sing praises about Neighbor, some renters were not happy and satisfied with their experiences on the platform. Some renters' reviews revolve around the storage of their cars.
But to be fair, a lot of renters are happy with their overall experience on the platform.
A lot of neighbor.com reviews indicate that the hosts are happy at how easy it is to make money from their rental storage units. Some of them do say that customer service needs some work, though.
Neighbor.com Review Frequently Asked Questions
What does Neighbor do?
Neighbor.com is a company that connects people with extra storage space in their homes or property, to people who have a need for such space. You can list your car garage, spare bedroom, attic or basement, driveway, carport – practically any space that someone can use. It's been dubbed as the Airbnb for storage.
What is a Neighbor host?
A host is someone who owns an extra space in his home or property and is willing to rent it out to others.
How can I earn money by storing?
It is quite easy to make extra money on neighbor.com. All you have to do is list your free space, connect with a potential renter, and schedule for the move-in. You get to set your own price for your space, and the earning potential depends largely on your location and the size and type of your storage unit.
How much can you make with the neighbor app?
Since you get to set the price of your storage unit, then how much you can earn on the Neighbor app depends largely on you and how well you can keep the reservations. Keep in mind though that Neighbor.com also charges you a small service fee and processing fee for every successful reservation.
Is the app neighbor legit?
Yes, the Neighbor app, as well as the site neighbor.com, are legit. This company is known to provide storage services for both hosts and renters.
Is Neighbor.com Worth Trying?
First, for renters, I think that Neighbor.com offers affordable storage spaces. I also think that Neighbor offers a safer way to store your stuff than renting storage spaces of random people. After all, hosts at Neighbor have to abide by the company's terms of service to prevent untoward incidents happen.
Second, for hosts, I think Neighbor.com is a great option if you are looking to generate some extra passive income by renting out your extra space. I also like the fact that it's so easy to list your extra storage space and connect with renters.