You might be thinking that shopping is always spending money. But, what if I told you that you could also make money by shopping? I almost couldn't believe that I've made over $2,000 in free money from shopping online and in-store, all thanks to apps that pay you to shop!
But before you get too excited, let me make things clear. I don't want to mislead anyone into thinking you can make that much shopping in one month. No, you can't realistically make $2,000 in one month if you're a frugal shopper like myself. It took me maybe three years or so to make that much from these apps.
Secondly, in order to make cash with these apps that pay you to shop, you need to spend and make a purchase. For example, if you spent $300 for groceries, you could realistically make $30 or so back, depending on the items you bought.
Your earnings won't make you rich or pay for your bills consistently.
However, since you would be shopping anyway for food, personal products and groceries, it definitely makes sense to use these apps to save a portion of that money you spent and put it back in your pocket.
Want to learn more? Let's dive into the best apps that pay you to shop!
Top Apps That Pay You To Shop
1. Rakuten ($10 Bonus!)
Rakuten operates with the tagline "shop, earn, get cashback," and that's the simplest explanation of how it works.
Formerly Ebates, Rakuten is one of the hottest apps that pay you to shop online. It offers as much as 40% in cashback for purchases you make at their partner stores.
The company was founded in 2007 and managed to establish itself as one of the largest cashback and rewards companies in the market today. Rakuten has over 12 million American members and paid out over $1 billion in cashback!
I've earned over $1000 in cashback and bonuses from Rakuten myself!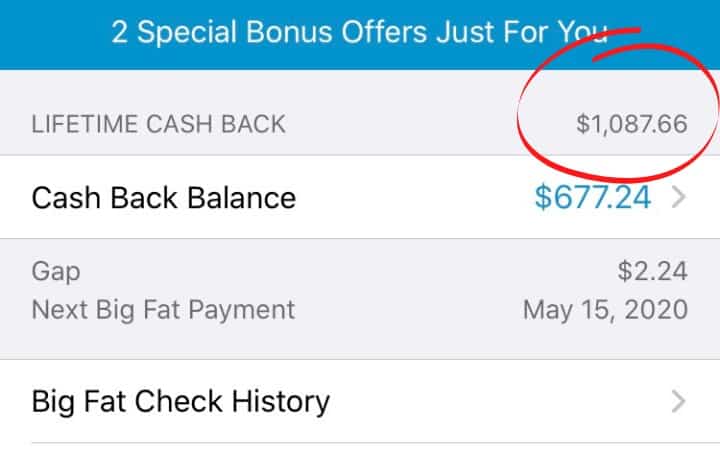 How it works: Sign up with Rakuten to get started. Then, on the app, find the store where you want to shop (Amazon, Apple, Best Buy, Home Depot, Macy's and thousands more!) and add items to the cart like you normally would. You would see how much in cashback you're going to earn from that store or purchase. Make the purchase and your cashback will be credited into your Rakuten account within the day.
Pro tip: Don't forget to check out Rakuten's discounts and promo codes. They have a double cashback and hot deals section that allow you to earn or save more.
Sign-up bonus and referrals: Love Rakuten? Tell your friends about this app, and Rakuten will pay you $25 per friend you refer to use the app. Rakuten also offers a $10 Sign-up Bonus for new members who purchase $25 worth of products through the app within 90 days.
Related
Rakuten Review: Is Rakuten Worth It?
---
2. Ibotta ($20 Bonus!)
Ibotta is one of the most popular apps that pay you to shop online and in-store, and it's my most favorite because I get to use it each time I buy groceries!
Founded in 2012, Ibotta has over 35 million registered users and works with over 300 retail chains, including companies that sell clothing, groceries, electronics and more, in over 500,000 locations.
The company also claims to have paid almost $700 million in cashback to its users. Ibotta started as a grocery rebate app but in recent years has expanded outside of the grocery space into other areas such as gas stations, liquor stores, pharmacies, restaurants, and major retailers like Amazon.
Check out the complete list of Ibotta's partner stores here.
I've made over $1000 in cashback and bonuses from Ibotta myself and here's a quick screenshot for proof: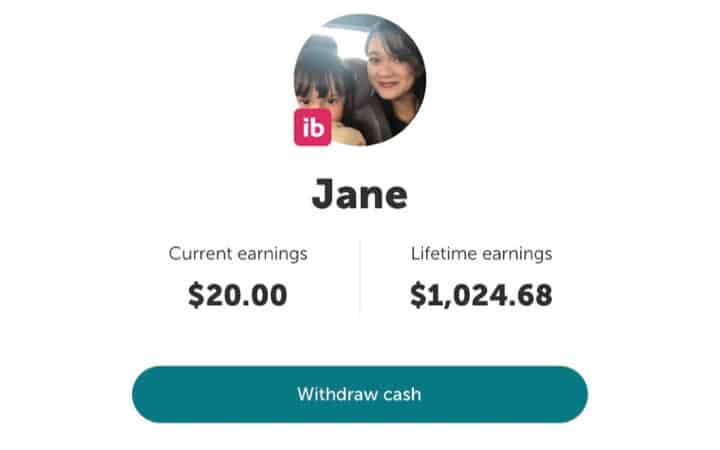 How it works: Ibotta works just like Rakuten, except that it mainly offers cashback for grocery items.
To start using Ibotta, sign up here for free and receive up to a $20 bonus for just joining and trying the app. Then, select a store and browse to see which items offer cashback and how much you're getting from them. If you see something you'd like to buy, simply tap on the plus button to activate it, and then go to the store to shop.
After shopping, take a picture of your receipt using the app and almost instantly, your cashback will be credited into your account . You can cash in your earnings through PayPal or convert it into a gift card when you've reached a minimum of $20.
Join Ibotta for FREE below and get up to $20 in bonuses!
Related
Ibotta Review: Is Ibotta a Scam? Is It Worth It?
---
3. TopCashback
TopCashback dubs itself as USA's most generous cashback site because it is free to join and free to cash-out without any minimum threshold. The company has partnered with over 4,000 stores and has over 11 million members worldwide.
How it works: The mechanics for using TopCashback are almost similar to using Rakuten. You need to use the site to shop online from your favorite stores. The site displays right away how much cashback you can earn. You shop online like you normally would, checkout and the site processes the cashback for you which may take a few days.
TopCashBack pays out after it verified your purchases and processed the transaction through an Amazon gift card, PayPal or ACH.
---
4. Honey
Honey is a coupon-finding browser extension that helps you make money from shopping. It finds valid coupons for the items you want to buy automatically, as well as alerts you for price drops and compares prices among sellers so you know you get the best deals. According to the company, Honey has 17 million users and has paid its users over $8 million.
How it works: Download the extension to your preferred browser (Mozilla, Internet Explorer, etc.) and activate it. Then shop online as you normally would. Before checking out, Honey will look for valid coupons that apply to your purchases so you can save money as well as time. If you register for Honey, you may also qualify for rewards when you shop at specific stores, which you can, later on, redeem as gift cards.
Honey also has a Droplist feature that tracks prices of products and alerts you when it goes low, as well as an Amazon price comparison tool that tells you a similar product is being sold at a lower price elsewhere.
---
5. Drop
Drop tracks your shopping activities using your linked credit/debit card, and gives you drop points when you shop from their thousands of partner retailers, including food, clothing, electronics and more! Drop works in the background, so it will keep accumulating points for you when you shop. The app is being used by over 1 million people around the world.
How it works: Download the app into your device and pick the top five stores you shop most at. Link the card you use for shopping and enter your login details. Then, shop at your favorite stores, and Drop will count and gather the points for you. The earning points vary in each retailer and 1,000 Drop points are equal to $1.
It typically takes 2-3 days for the points you've earned to reflect in your account. You can then trade your points with store gift cards in your preferred stores such as Walmart, Amazon, Target, Dunkin Donuts and more.
Drop also lets you earn more points when you refer other people to use the app. You get 5,000 points for any successful referral (the person must download, install and link a card to qualify for the referral bonus).
---
6. Acorns ($5 Bonus!)
Acorns is a micro-investing app that takes spare change from your shopping purchase, rounds it up, and then invests it. Acorns allows people to invest even if they don't have extensive investing knowledge. The app runs in the background so you wouldn't have to lift a finger as you save and invest money.
How it works: Download and install Acorns, and then link a credit card or checking account that you use most for shopping. Acorns will analyze your shopping spending, take out the spare change, and round it up to whole numbers. Acorns then collects that cash and puts it into your Found Money account.
Acorns work with numerous brands and retailers you may already be shopping at, such as Boxed, Walmart, Macy's, Sephora and more. When you've reached $5 in total, the app then withdraws the money from your checking account and invests it. The app is easy-to-use and ideal for novice investors. However, it's worth noting that it is not free. You pay $1 per month for the basic investing account; $2 for the investing + IRA account and $3 for investing, IRA + checking/debit account.
Related
Acorns Review: Save Money and Invest without Thinking
---
7. Swagbucks ($10 bonus!)
Swagbucks is a popular rewards site that mainly pays people to answer surveys. But one of the nifty ways to earn more rewards is using Swagbucks and get paid to shop online. Swagbucks is used by millions of people and claims to have paid over $414 million in rewards to its members. The company also has a B+ rating from the BBB.
How it works: Sign up with Swagbucks and receive $10 FREE for joining. Then, start shopping. Swagbucks has partnered with thousands of retailers as well as the well-known stores like Amazon, Target and Walmart. Shop as you normally would within the site and the app will collect the points for you.
How much points you earn for each shopping transaction varies, but you'll see that from the site right away. Also, look into using coupons and multiplier deals to further deepen your savings.
You can then redeem your points as PayPal money or as gift cards that you can use to shop in your favorites stores, including Amazon, Walmart, Starbucks and more.
Want to learn more? Read my Swagbucks Review here.
---
8. Groupon
Groupon is a massive directory that offers cash savings from almost every deal in the market – from retail, dining, massage spas, travels and more. Groupon is quite a popular app among deal hunters and frugal people, with over 43.6 million active subscribers, active in 15 countries and over 500 markets. The app also claims to help users save over $35 billion. Groupon gives out cashback, coupons and vouchers so you can save more money when you shop.
How it works: Groupon deals are available in its site and app. Sign up here and log in. Once inside, you'll find various deals across different brands and product categories. You'll get alerts on deals that are available in your local area. The app will give you a virtual voucher or direct you to the company's website so you can print the coupon. You then take that voucher with you when you shop in-store to enjoy the savings.
Additionally, you'll find plenty of other deals in the site's Deals of the Day page. These deals are time-sensitive and expire in 24 hours, so if you find something you need, that would be the best time to purchase that deal. Also consider using Groupon in booking your travel through the gateway page.
Groupon also has a $10 incentive when you successfully refer someone to join and use the app.
---
9. MyPoints
MyPoints is another popular rewards website that pays you to do easy tasks such as answering surveys, reading emails and shopping online. As for online shopping, MyPoints partners with over 2,000 top retailers, including the crowd favorites such as Amazon, Walmart and Target and gives back points for every purchase. The company has been around since 1996 and has over 9 million members.
How it works: Sign up with MyPoints (receive $10 bonus!) and start shopping online. You need to access the merchant's online store through MyPoints's website to qualify for the points. Shop like usual and checkout. The points will begin to accumulate as MyPoints verify each purchase.
If you want to go save money shopping in-store, you may opt to link a credit card you use to shop. Go to the local store and shop. Use your linked card to complete the purchase and MyPoints will give you the points after 10 days of the transaction.
Apart from the wide range of product categories, you may also use MyPoints to purchase airline tickets and book hotel rooms and car rentals. You may then exchange your points for gift cards at your favorite stores. Or, you may convert your points into airline miles or redeem as cash to a Visa card or PayPal account.
---
10. Shipt
Shipt is one of the best apps that pay you to shop for other people. Founded in 2014, Shipt is designed to connect local retailers with their app members and create a seamless and convenient grocery-shopping experience. The company also pays people to shop such orders, called as Shipt shoppers, and then deliver the products to the customers' doorstep. Shipt is now available in over 260 cities in the US.
How it works: To get paid to shop for Shipt, you need to go through a 3-step process: 1). apply and interview, 2). Get approved and 3). Download app. When you become a Shipt shopper, you'll see in the app when orders come in within your area. You can pick your own hours and days, which means it can be an excellent option if you're looking for a flexible side-gig .
From the app, you'll see the orders, which stores to shop from and the customer's delivery address. When you accept the order, you go to the specified store and pick up the items. After shopping, you deliver the products to the customer's home.
Shipt pays an average of $22 per hour to its shoppers through paychecks every week. However, you have the ability to earn more through a commission (7.5% of the total ordered amount) and tips from customers. With that said, the more orders you take and the better service you provide, the more money you'll make shopping with Shipt.
If you're interested to become a Shipt shopper, you must be at least 18 years old, own a vehicle (1997 or newer), carry car insurance and have a driver's license and can lift 40 pounds of products.
Related: How to Make 300 Dollars Fast in 2022
---
Apps that Pay You to Shop: Final Thoughts
We all spend to live, so why not take advantage of these apps to save some money while you spend? If you are not using any of these apps yet, you could be missing out on a lot of savings from groceries alone and stuff you buy online.
I myself never even thought I could save more than $900 from Ibotta alone. Imagine how much you could be saving if you used more than one app!
As long as you don't go overboard with your shopping and you don't go shopping just to earn points and cashback, these apps are amazing tools to help you put more money back in your pocket.