How to start an emergency fund with no money? Have you ever asked this question? If so, read on for practical ways to build your emergency savings fund when money is tight!
---
A few years ago, my father passed away. It wasn't unexpected as his health had been deteriorating for many years, but the last months of his life and his death brought expenses my family and I weren't prepared for. On top of some medical bills and palliative care costs, we had to come up with money for the funeral.
We didn't have savings set aside for these expenses, so we had to borrow money to pay for some of the costs. We also borrowed a relative's transferable life insurance for the funeral.
The saddest part of all was that because I didn't have the money for a trip that would cost me an extra $2000 or more in plane tickets and I couldn't board a plane because I was almost due to deliver my baby, going home was not an option for me. So, I was left with no choice but to watch my father's funeral through a video call from the other side of the world.
It's an embarrassing story and to be honest, I hate telling the world about it. But this experience woke me to reality that as soon as I recovered from childbirth, I immediately started building an emergency fund. Four months after resuming to my work-at-home jobs or freelance gigs, I was able to save a fully-funded emergency savings.
But first I want to tell you that I was not earning a lot of money. In fact, I was a broke new mom then working only part-time and our family was only relying on my husband's small income.
If I recall correctly, I only made $600 from freelancing on the first month I started freelancing again.
Luckily, my husband paid for our living expenses, so I had all my earnings to myself. But instead of blowing them off at the store buying unnecessary things, I saved my money for the rainy days.
One important thing I've realized from this savings challenge is that it is POSSIBLE to save money even with a small income.
If you've been wondering how to start an emergency fund with no money and you did not take action because you didn't think it was possible, I want to tell you that it can be done.
There are so many creative ways to help you save money and increase your income even as a stay-at-home mom. The hardest part is just getting started, putting in the effort and sticking to your savings goal.
But first, what is an emergency fund?
An emergency savings fund or savings buffer is basically an amount you set aside for emergencies so you can do what needs to be done without turning to credit cards or loans. An emergency fund is your financial cushion that you can access anytime in case something goes wrong unexpectedly.
Obviously, we need this money because emergencies could happen anytime. A strong storm could blow your roof off or your car could break down on the day you got fired. And there are even worse scenarios, such medical emergencies and death of a family.
While there are a few financing solutions you can turn to for quick financial relief, your emergency fund should be your first line of defense.
This is true for several reasons. First, you can use this money without the added cost of interest. Second, you can use it any time you want without the hassles of paperwork or having to find a co-signer if you have bad credit.
But what makes for an "emergency"?
In order to ensure that your emergency savings fund is available when you need it, it is important to know how to identify a real emergency. I see varying opinions on this subject. Some finance experts identify car or house repairs as a form of emergency, but for me, a true emergency is an unfortunate situation that you CANNOT predict.
The need for a major car repair is predictable in nature unless your car broke down because of an accident. You know you'll have to pay for car repairs at some point, but you just don't know when it will happen. That said, you should have another budget set aside for such occasional but predictable expenses. The same is true with house maintenance.
Here are a few examples of real financial emergencies where it makes sense to use your emergency savings fund:
Job loss
A family member passes away and you need last minute travel to the funeral.
Damages or accidents caused by a calamity such as hurricanes or earthquakes.
Major health expense. Unfortunately, basic health insurances do not cover many medical bills such as surgeries, so having an emergency fund in place could be a life-saver.
Now, you may be wondering, when should you NOT use your emergency fund? Here are a few examples of predictable expenses where you should not use your emergency fund.
It should not be used for planned purchases like a new car, house or vacation.
It is not for car maintenance, as explained earlier.
It should not be used for your kids' tuition because that expense is supposedly planned.
It is not for paying for vacations because you are supposed to have a budget for fun as well.
It does not have to be a large amount.
It is NOT a credit card. Even if you can use your credit cards for emergencies, you should still have an emergency savings fund to use anytime.
Tips on How to Start an Emergency Fund with No Money
How Much Should I Save for an Emergency Fund
There is no right or wrong way to saving for an emergency fund, but it is recommended to save 3-6 months' worth of living expenses. That means, if your bare-bone budget is $1500 per month, then have least a $4500 emergency fund. But if you are still paying off debt, having at least $1000 for emergencies is a good start.
Before we dive in and learn how to start an emergency fund with no money or with little income, I'd like to mention these important tips first:
First, set a realistic goal. If you want to save $1000, set a goal for when to achieve it and then budget for it. That means, if you want to build this savings in 3 months, you'll have to set a monthly budget of $333 for it.
Budgeting is one of the very important tools you'll ever have in managing your money. Without a budget, it's easy to spend your income indiscriminately. It is best to consider saving as another form of expense. Think of it as a debt (to yourself) and you need to make it a priority each time you have money.
Related: How to Set a Realistic Budget for Low Single Income Families
Pay yourself first.
The concept of paying yourself first is simple: you simply allocate a portion of your paycheck towards your own personal savings before anything else. Therefore, you need to pay yourself 1%, 5%, 10% or whatever savings rate you see fit before you pay the government, your insurance company and even your luxuries. With the saving already carefully stashed, you can then allocate the rest of your income towards your other expenses.
Automate it.
In the world of advanced technology, you can basically put most financial transactions on autopilot. When paying yourself first, take advantage of automation. It will be easier to pay yourself first if the money's gone and already tucked away before you even see it. This also helps eliminate the temptation of touching that amount and spending it elsewhere. Out of sight, out of mind.
I recommend saving your emergency fund in a savings account with a high APY. If you are fortunate enough to not have to deal with an emergency in a year, your savings would earn higher interest.
Track Your Progress
I don't know about you, but I am a visual person and I like seeing my progress to remind me of where I'm at in my journey.
Tracking my progress is a great motivator for me so I always have a savings tracker for all my savings goals, whether it's for emergencies, vacations, or retirement.
Check out this Emergency Fund Savings Tracker and other saving challenges at my new shop here.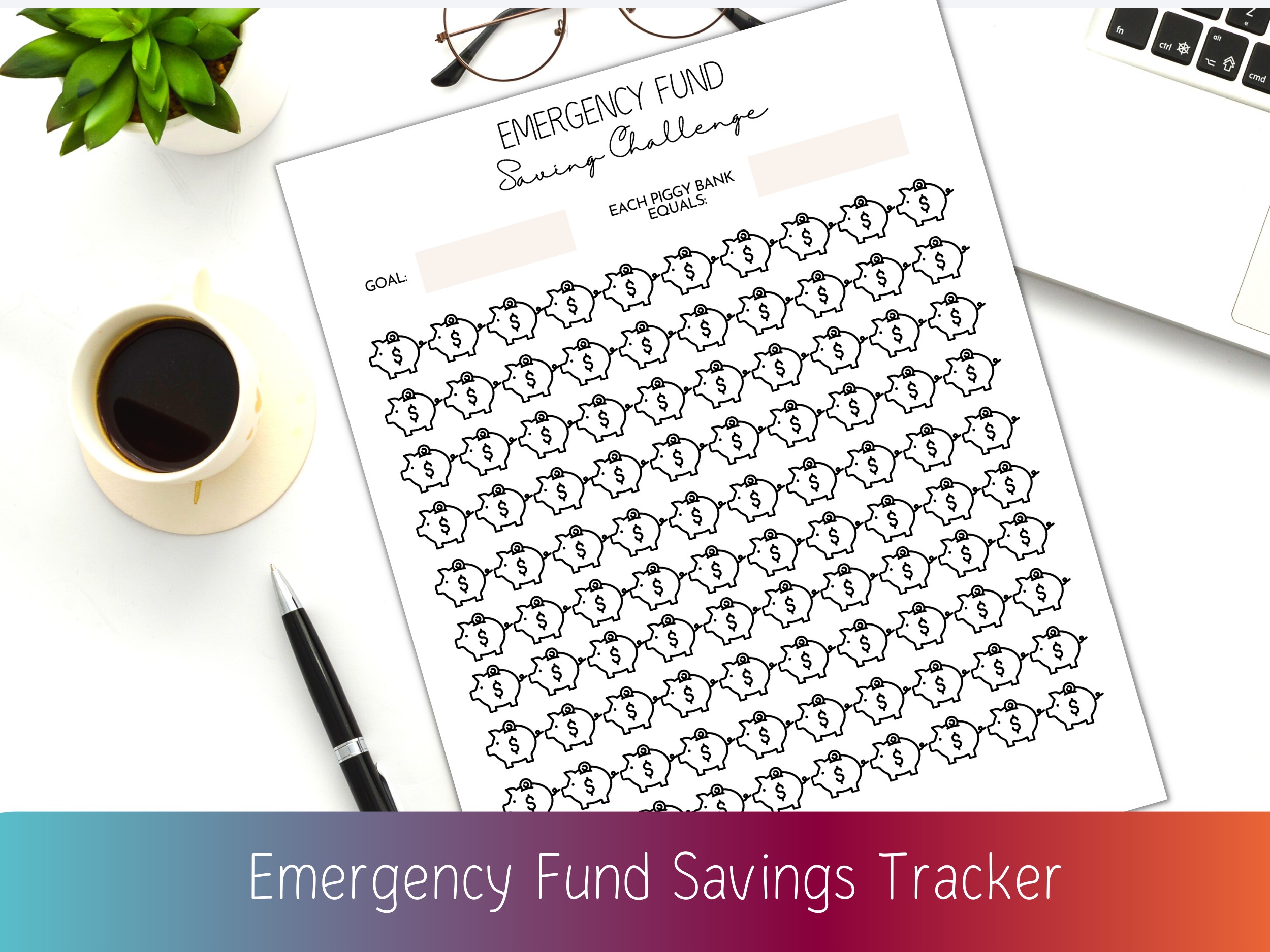 How to Start an Emergency Fund with No Money: Money Saving Tips
1. Cut your expenses.
I don't want to bore you with a long list of tips on how to cut your expenses because there are so many. Rather, I'd like to focus on a few practical tips to help you get started and save more money in a few months.
Here are some areas where you can cut costs and save money:
Cut cable
Did you know that you could save lots of money if you cut your cable and switch to streaming services such as Hulu or Netflix? We've been without cable for years now and we've been saving $500-1000 per year without it. We are using Hulu's Basic Plan and only pay $5.99 per month.
They offer a free trial so you can see for yourself if this service is for you. You can cancel anytime so there is absolutely nothing to lose.
If you want to get paid instead to watch shows and movies, how about learning how to get paid to watch Netflix? YES, you've read it right. You can get paid watching videos or movies on Netflix by working for them as a Netflix tagger.
Use Trim
If you don't want to cut your cable, try Trim to lower your cable bill. Trim is an Al-driven financial assistant that can negotiate your bill down for you. It works with Comcast, Time Warner, Charter, and any other provider and has saved over $1 million dollars in the last month. You can try it for FREE and put money back into your pocket without cutting cable. The great thing about Trim is that it can also help you get refunds for when there are outages.
Get FREE Internet
I've learned a lot of cool tips to get free Internet legally. If you are in the US, there are a few zero-cost options for you to get an internet connection. You can head over to this post below for the details. This could save you at least $50 per month!
Related Post: How to Get Free Internet: Your Best Legal and Zero-Cost Options for Internet Connection
Meal Plan
Food is expensive and it's an expense we cannot live without. That's a fact. If you've been spending a lot of money on food, try meal planning. Since I started planning out our meals, I've been able to lower our food expenses from over $600 to $300 per month and we've been able to avoid last-minute fast foods, saving us more money.
I have a FREE Budget Meal Plan Template here that you can use weekly for planning out your meals.
2. Cut your Luxury Expenses
When I started my emergency fund, I also cut my "luxury" expenses. I stopped buying unnecessary things and switched to free or cheaper entertainment. It was a little sacrifice, yes, but the reward was greater.
I am not telling you to totally cut it out from your life because I believe deprivation isn't a sustainable way of living.
However, if you really want to have an emergency savings fund, you might need to consider temporarily cutting back on luxury expenses until your emergency fund reaches a healthy balance. Here are a few examples of luxury expenses:
Luxury vacations
Expensive entertainment
Shopping
Expensive gym memberships because you can exercise at home or somewhere else for FREE.
Starbucks- Yes, I know it sucks if you're a coffee drinker, but did you know you could easily save $500 a year by reducing this expense?
If you don't want to give up Starbucks, get free Starbucks gift cards by answering consumer surveys via Swagbucks. As a bonus, you'll also receive $5 FREE for just joining.
I use this myself to get Amazon gift cards and shop without spending a penny on Amazon!
Need more ideas to save money? Check out these posts!
How to Live Frugally: 50 Best Frugal Living Tips
Simple Family Meal Planning Tips to Save Money
3. Get FREE Money using Cashback Apps
You obviously won't be able to build a $5000 emergency fund fast with this advice, but we are talking free money here that you don't have to work for. I've earned over $2000 by using these cashback apps and you can, too.
There are lots of cashback or rebates apps you can use to save money but I can only recommend the following which I also personally use:
Use IBOTTA to earn cash back on groceries.
Earn cash back on items you regularly buy at the grocery store, such as milk, bread, vegetables, fruits, meats, toilet paper, toothpaste, medicine, or yogurt. You can also make an extra $0.25 for each grocery receipt you scan through the app!
I have been using this app for over two years now and have earned over $1000 in cash back on my weekly grocery purchases.
Join Ibotta for FREE and receive a $10 Ibotta Bonus after scanning your first grocery receipts.
Use Ebates when shopping online.
Ebates is a FREE app or site that pays up to 40% cash back for your online purchases at any of their partner stores. The company is affiliated with over 2500 stores including Amazon, Macy's, and Best Buy.
Join Ebates and receive a $10 welcome bonus after making your first $25 purchase.
4. Sell Things You No Longer Use
We all have too much stuff in our lives and stuff lying around that we no longer use. Chances are, some people would be happy to pay for those things you don't use anymore. How about selling those things you have not touched in ages? You could make money selling them at sites like eBay or Craigslist.
Decluttr is also a great place for selling electronics such as iPhones, CDs, DVDs, and tablet.
You can also sell used items such as books, DVDs, cell phones, Kindle devices and more through Amazon's Trade-In Program. Amazon pays only in Amazon gift card credit which is still fine if you like shopping on Amazon anyway.
5. Try a No-Spend Month
A no-spend challenge means that you don't buy anything else, aside from your basic needs , such as food, for a month. Doing a no-spend challenge isn't just about saving money. A no-spend challenge is actually an excellent exercise for the following reasons:
Analyze your spending patterns. When you restrain yourself from making a purchase for a month, you'll come to realize where you mostly fail when it comes to spending. You might learn that you're more susceptible to Amazon ads, catchy marketing traps in the mall or store marketing newsletters.
Learn how to value money if you've been reckless with money. If you have to wait for a month before making a purchase, you also get an entire month to think whether this purchase is valuable or necessary.
6. Increase your income
Finally, one of the best ways how to start your emergency fund with no money is to increase your income.
When I decided to build my emergency fund, I not only zeroed my spending for three months by doing a No-Spend Challenge but also started a few side hustles. With a tiny baby, working outside the home was not an option for me, so I decided to increase my income by finding more freelance writing gigs. I also started other side hustles such as this blog, and even selling decorated cookies.
If you're working, you don't have to wait for a salary raise to be able to build an emergency fund. You could start a side hustle, start a small business in your free time or pick up a part-time job.
I wrote a LOT of posts about side hustle ideas for moms but my top choices are freelance writing, virtual assisting, proofreading or transcribing audio files as they can potentially generate a good monthly income for you.
However, those are not your only options. You could also beef up your emergency fund with one-time income opportunities such as delivering lunches, pet sitting, babysitting, or answering surveys.
Need more side hustle ideas ? I recommend checking out these posts!
Don't wait until an emergency happens to start saving!
I hope that this post gave you ideas on how to start an emergency fund with no money. I know saving money when you have no extra money to save can be daunting, but I think the most important way to go about this is to just get started.
Just start somewhere and do baby steps at a time. You'll see that the little savings you make by making simple lifestyle changes will easily add up and eventually grow into a valuable amount that can save your life in the future.
Did you enjoy this post? Share it with your friends!