A lot of fun things in life don't require spending money. So if you're looking for free things to do with friends, then you have come to the right place!
Our friends are some of the most important people in our lives. Nurturing our relationship with them often entails spending time with each other, whether you're going out to watch movies or concerts, eating brunch at your favorite restos, meeting at a coffee shop, or going shopping. Can you imagine how much you need to spend on these bonding events?
If you run the math, you might realize that you're spending a lot!
Yes, spending time with our friends can mean spending money as well. I'm not here to tell you that you should cut ties with them if you wish to save money. In fact, I'm gonna suggest amazing tips on how you can further strengthen your bond and friendship without spending money!
After all, what matters most is the quality time and the wonderful memories you share with one another.
This post contains affiliate links. I may earn a commission at NO extra cost to you for your purchases made through these links. Disclosure.
How to Spend Quality Time With Friends Without Spending Money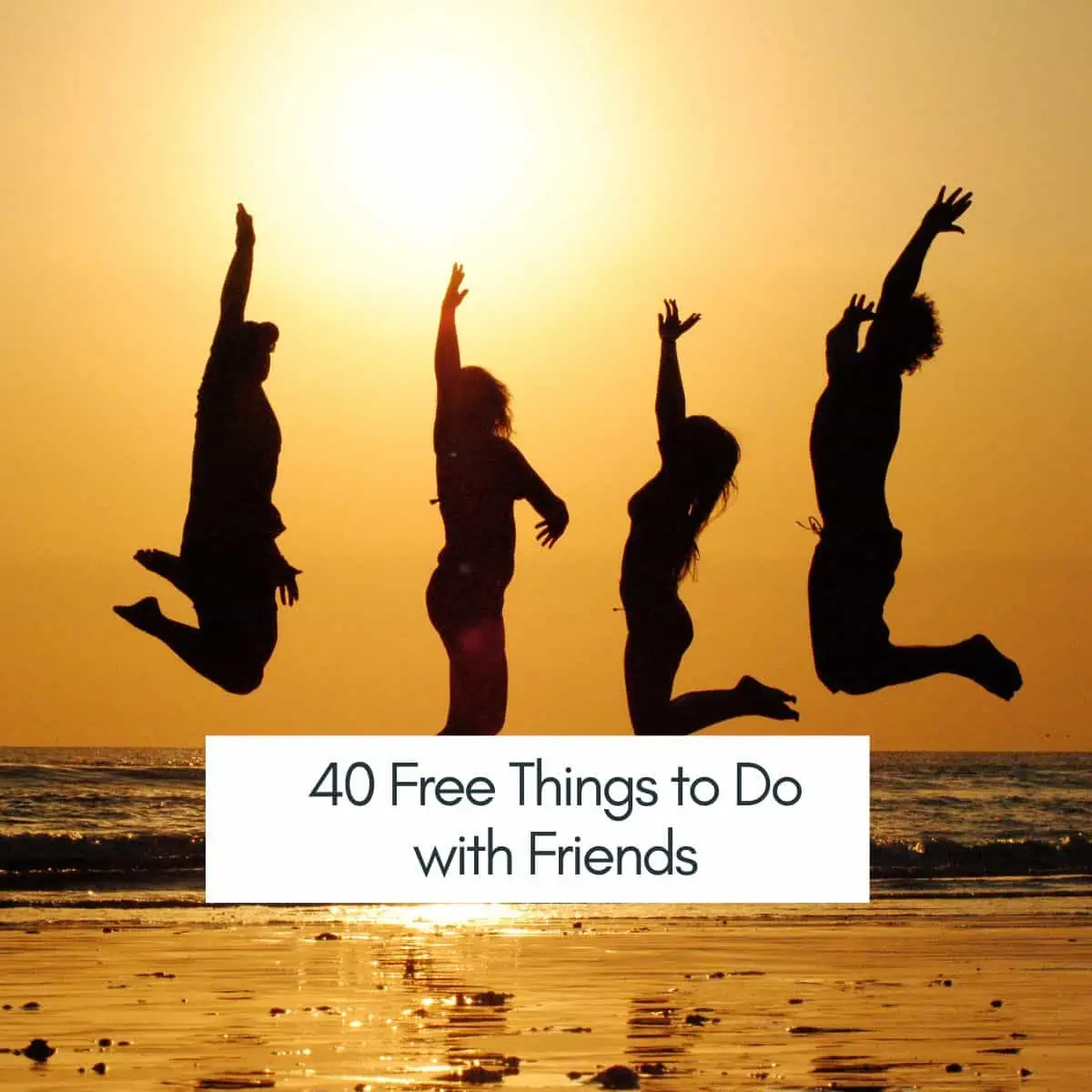 There are so many free things to do with friends that cost little to zero dollars. You'll find that most of these fun things are totally free, so you're doing each other's bank accounts a favor.
1. Play board games
One of the fun things you can do with your friends is play board games! Yes, board games are so much fun, and you probably have a few of them in your home, so there's no need to spend anything else. Set a board game night and bring a few snacks to share. This may seem like a simple activity, but it's a great way to bond with them.
2. Start your own book club
If you and your friends have a shared interest in books, then why not start a book club, so you don't have to spend further on those hard bounds? You could swap books each time you finish one. And when you meet up, you could talk about the best piece you've read lately.
3. Go to free concerts
Check out the free events happening in your time soon, and gather all your friends to attend them together. For instance, going to music festivals and free concerts is a nice way to spend time with friends without spending money!
4. Stargazing
Sometimes, the best fun things you do with your friends are those quiet times you spend with each other while stargazing. If you were spending the night over at your friend's house, you could take out a picnic mat and lay it in the yard. You could spend a few hours just watching the stars, talking about life under the clear night sky.
Easiest Ways to Make Money Online
5. Got to a local park
When it comes to saving money, going to the local park is always a good idea. You and your friends can simply sightsee or people-watch. If there's a good place for a picnic, you can bring your own food and enjoy some quality time over chips and cold dishes while taking in some fresh air. There are also plenty of free activities you can do at the park. For example, you can go skating at a skate park or use the park's sports facilities and play tennis. If your friend group loves dogs, you can set a date and visit a local dog park together.
6. Visit a local library
The local library is one of the best places to go with your friends where you don't have to spend money since everybody has free access to it. There are plenty of free fun things you can do at a local library besides reading or borrowing books. You can watch free movies, attend free classes, and even get free admission to museums!
7. Go window shopping
Shopping can cost money, well, unless you window shop. Window shopping with your friends is still fun and therapeutic if you're out of budget. You can look at stuff together and get each other's opinions. If there's something you like, you can save up for it once you get the cash. Let's just say window shopping is a fun way to curb impulse buying while you spend time with friends.
8. Play video games
If you're tired of playing a classic board game, take out your gaming consoles and play video games with your friends! Again, this is one of the best free things to do with friends because you don't need to be in the same room or physically together to have fun!
Related:
9. Set a movie night
Why spend on movie tickets when you can do a movie marathon together? If it's great weather outside, you could set up an outdoor movie for you and your friends to enjoy. Bring some food, too, since movies are always great with something to munch on. Just take out your laptop, connect to a projector and feel cozy sitting on cushions and bean bags. This is definitely one of the great ideas for free activities you can do with your friends.
10. Do an open mic night
Doing an open mic night is certainly a great way to bond without spending money. You can be just your fun, silly selves and entertain each other with your antics and jokes. You can take turns performing, some of your friends will serve drinks, and everybody will have a blast at zero cost!
11. Scavenger hunt
A scavenger hunt is also one of the fun things to do with friends on your free days. These hunts bring out your competitiveness as you compete to finish the tasks at the earliest times. You can do simple scavenger hunts in your homes, but if you want to level it up, split your friend group into teams and take the hunt outdoors.
12. Volunteer together
One of the best ways to bond together and show support for your causes is through volunteerism. In fact, volunteering is even more fun when doing it with people you love. You could volunteer at a local animal shelter, an orphanage, or wherever you think your group of friends can lend a hand.
More Money-Saving Tips!
Sign up with Ibotta to earn cash back each time you buy grocery items at over 300 grocery stores in the US. Receive up to $10 for signing up here.
Make a meal plan! Plan out your meals for the week to avoid food waste. Check out how I meal plan on a budget and download my free meal planner template. If you don't have that much time for meal planning and are looking for a simple family-friendly meal plan to follow every week, let Erin from the $5 Meal Plan help you!
13. Start community garden
Building a community garden is another fun and free activity that could further cement your friendship. Gardening is a therapeutic activity that helps relieve stress while allowing you to get a decent amount of exercise. Plus, it's fun to see your plants grow! Maintaining a community garden also gives you access to fresh free food while bonding with your group of friends.
14. Do an at-home spa day
Going to the spa costs money, but you can do a cheap DIY version at your own home and enjoy it for free! You can give each other mani-pedis and facials. Bring out the sheet masks and skin care products, take out a bottle of wine and glasses, and light up some candles. An at-home spa day is a nice and relaxing way to spend time with friends without breaking the bank!
15. Go to a free museum
Tired of your usual hangout? you can change the vibe and location by visiting a free museum in your area. Most local museums offer free museum days when you can get free admission. Apart from the opportunity to learn more about art, history, and culture, it's also a good time to bond with friends!
16. Do a yard sale together
After spring cleaning your homes, you may want to put together a yard sale so you can sell things that you no longer need or want. This is a perfect way to declutter your home while making some extra money and bonding with each other.
17. Go on a walking tour
Exploring the city is also one of the fun things you can do with friends, and it doesn't have to cost anything! Instead of hiring a tour guide, do some research about your itinerary and start planning your route. Identify the spots where you could grab a bite, take pictures or sit down for a moment.
18. Do a potluck dinner
Got new recipes you want your friends to try? cook them and bring them to a potluck dinner! Every friend brings his or her own dish so that everyone can share. If you want to make potluck dinners more fun but challenging, set a theme for the night. For example, your recipe must only have five or fewer main ingredients. This helps you curb spending money on expensive food items while sharing new dishes with some of the most special people in your life. It's a win-win!
Easiest Ways to Make Money Online
19. Swap clothes
Did you know that raiding each other's closets is so much fun?! So instead of buying new clothes all the time, invite your friends to do a clothing swap. Ask them to bring clothes they no longer want, and they can choose among the clothes you want to get rid of as well. This is a great way to help each other save money on clothing expenses!
20. Learn a new language together
Whether you need to learn a new language for work or just for fun, doing it with friends takes the boredom out of your lessons. You can converse in that new language, watch a movie or series with subtitles, or test each other's vocabulary.
21. Teach each other new recipes
Some of the most fun things in life happen over good food! But instead of going to that newly-opened restaurant, why not learn a recipe or two from each other? One of your friends can show how she makes famous pot pie while another demonstrates how to bake a yummy cheesecake. Well, the highlight of it is that you can share the food later, and next time, it would be your turn to show off your cooking skills.
22. Go on a picnic
Going on a picnic is a great thing to do with friends, and it doesn't cost that much! You can host a picnic in your own backyard or pick a local park or national park you like. Bring along some food you've prepared, cold drinks, a picnic mat, and chairs. If you have kids, you can turn it into a wonderful gathering where adults catch up while the kids play.
23. At-home Karaoke
There are times when you just want to kick your shoes, let your hair down, and sing your heart out. At-home karaoke is a great way to have some good times with your friends because you don't even have to be embarrassed if you're not exactly talented at singing (you know your friends won't judge you!).
24. Do a photoshoot
Is it time to update your profile photos on Instagram and Facebook? Instead of taking selfies, invite your friends for an afternoon of photoshoot! You can take turns taking each other's photos. To make it even more special, agree on a theme and have everyone wear something related to that theme (florals, cartoons, pastel colors, etc). Also, you don't have to rent a studio when you could decorate a corner of your home or the backyard for the pictorial.
25. Go hiking
Exploring hiking trails is an amazing way to connect with friends. You can find local hiking trails you've never been to before so that you can discover the area together. Not only will this free activity give your body some workout, but it will also give you the chance to unplug, breathe in fresh air and be one with nature.
26. Exercise at home together
If you've been unable to use your gym membership because you're too busy to go to the gym, you might as well cancel it and work out at home. But exercising alone can be lonely and boring, so having a workout buddy can be a great idea. You can keep each other accountable for your fitness goals, and you'll have a great time connecting.
27. Go to the beach
Going to the beach is another fun way to bond with friends, especially if you live near beautiful beaches. You can bring some food to share, cold drinks, and beach chairs. Besides swimming, you might want to try water activities like banana boats and jet skis. Bring the kids too so they can build sand castles while you chat with friends.
28. Camping
Camping is also one of the free fun activities to do with friends. You could explore a new camping site where you could also go fishing or cook a barbecue. If this is not doable, you could always pitch a tent in your yard and spend the night there.
29. Do crafts together
Exploring each other's crafting interests can be a fantastic way to learn new things. You can take turns sharing your crafts, whether one of you is into pottery or another friend makes ornaments. This is also a nice way to show support for each other, especially if these crafts are actually run as a business.
30. Walk your dogs together
If your group of friends loves dogs, then it's nice to set a playdate for the pooches! You can go to a local dog park where you can bring and walk your dogs. Once tired, find a spot where you can all sit down, and the dogs can play.
31. Donate blood together
Donating blood is a nice way to help others. If you or some of your friends are not particularly fond of needles and blood, then donating blood together might give you the courage to finally give it a go. It's also a wonderful memory to look back to, knowing that you made your first blood donation with friends cheering you on!
32. Build something together
Embarking on a home project can be tiresome and lonely. Whether you're revamping your old couch, building a doll house for your daughter, or doing a minor home improvement project, a few more pairs of hands can lighten up the load (and the mood!).
33. Join free classes
A lot of businesses and organizations hold free classes, so you want to keep an eye out for them so you and your friends can sign up before the slots run out. Consider business-related classes, cooking classes, even workout classes — anything that aligns with your goals and interests! These are excellent venues to acquire new knowledge while having fun with friends!
34. Join races or marathons together
Joining fun runs and races are also an amazing way to keep the bond alive with your friends. Consider training together and besting your personal records. On the actual day of the race, you'd be happy to see a familiar face telling you to keep going.
35. Give your home a makeover
If you're already tired of how your home looks, it's probably time to move things around. Invite your friends over and come up with a new and pretty layout. You can move couches together and rearrange the decor. You'll need all the hands and fresh pair of eyes that you can get, and you're lucky that your friends are there for you!
36. Binge-watch your favorite series
Not in the mood to go out? You can still have a nice time at home with your friends by binge-watching your favorite series. Take out the popcorn or pizza, get comfy on the couch, and watch the TV together. It's fun guessing the suspect's next move on the series, especially if you bounce ideas with friends!
37. Start a podcast together
Have you always wanted to host your own show and interview people? well, that's a fun hobby, but it's even more fun when doing it with friends! It's relatively easy to launch your own podcast. And the best thing is, you don't even have to be physically together to do a show. Podcasts are also excellent sources of income, so it is a nice way to earn more money with your friends.
38. Bubble bath
When was the last time you soaked in a hot tub for a nice, relaxing bath? if it's been ages, it's about time you do it again, but this time, with friends! There's nothing more comforting than sharing the tub with a best friend who listens to your stories without judgment. And don't forget to bring some wine while you're at it!
39. Write letters together
Writing letters may seem outdated in today's digital age, but receiving handwritten letters is heartwarming. So this time around, skip the digital holiday message and actually write letters to family and friends who live far away. Don't forget to attach a picture or postcard for more impact.
40. Do yoga or pilates together
Check out if your local park holds yoga or pilates classes which are usually free to join. But if there's none, don't worry because you can find plenty of instructors on YouTube. Meet at a friend's home, bring your yoga mats, and get ready to exercise and meditate with your friends.
Conclusion
As you can see, you can do so many fun things with your friends. These are free ways to bond and connect, and they don't need to cost money! Sharing your resources, spending time with each other, and having a lot of laughs are enough to keep your friendships going strong.
What is your favorite way to bond with friends that do not cost money? Let's read them down in the comments!