Things I've Stopped Buying to Simplify My Life
It's been over a year since I started simplifying my life, so I thought of looking back at this past year of my journey and listing down what extraneous items I've been able to tick off on my minimalist bible/ minimalist living checklist.
If you've followed this blog long, you've probably come across my post about the 13 things I stopped buying to save money. Please head over to that post if you are looking for ideas on what to stop buying to save money and how to save $1820 in 52 weeks when you're broke.
For more money-saving ideas, check out:
51 Extreme Frugality Tips for the Super Frugal
How to Live Frugally On One Income in 2022
Today's list, however, is all about the things I have stopped buying since simplifying my life.
I've stopped buying these things because:
They do not align with my goals.
These things do not fit into my new lifestyle.
They don't add value to my life.
These things also tend to own me back (they demand time, organization, storage, etc.)
They hurt my pocket and the environment.
I know, this list may not apply to everyone as each person's priorities and values are different. So, please don't treat this list as the ultimate list of things minimalists don't own or buy, because I believe there is no such thing.
But I hope that this post will inspire you to evaluate everything that you consume or buy to see whether they truly add value to your life and maybe to create your own minimalist living checklist to pursue your minimalism goals.
Important: This is not to shame anyone who buys any of the things listed below. The purpose of this post is just to give you ideas on what you could stop buying to start simplifying your life.
---
Things I Have Stopped Buying for Myself
Tip: if you want some motivation, download this free frugal living tracker and see how much you'll save by being less consumerist and more minimalist!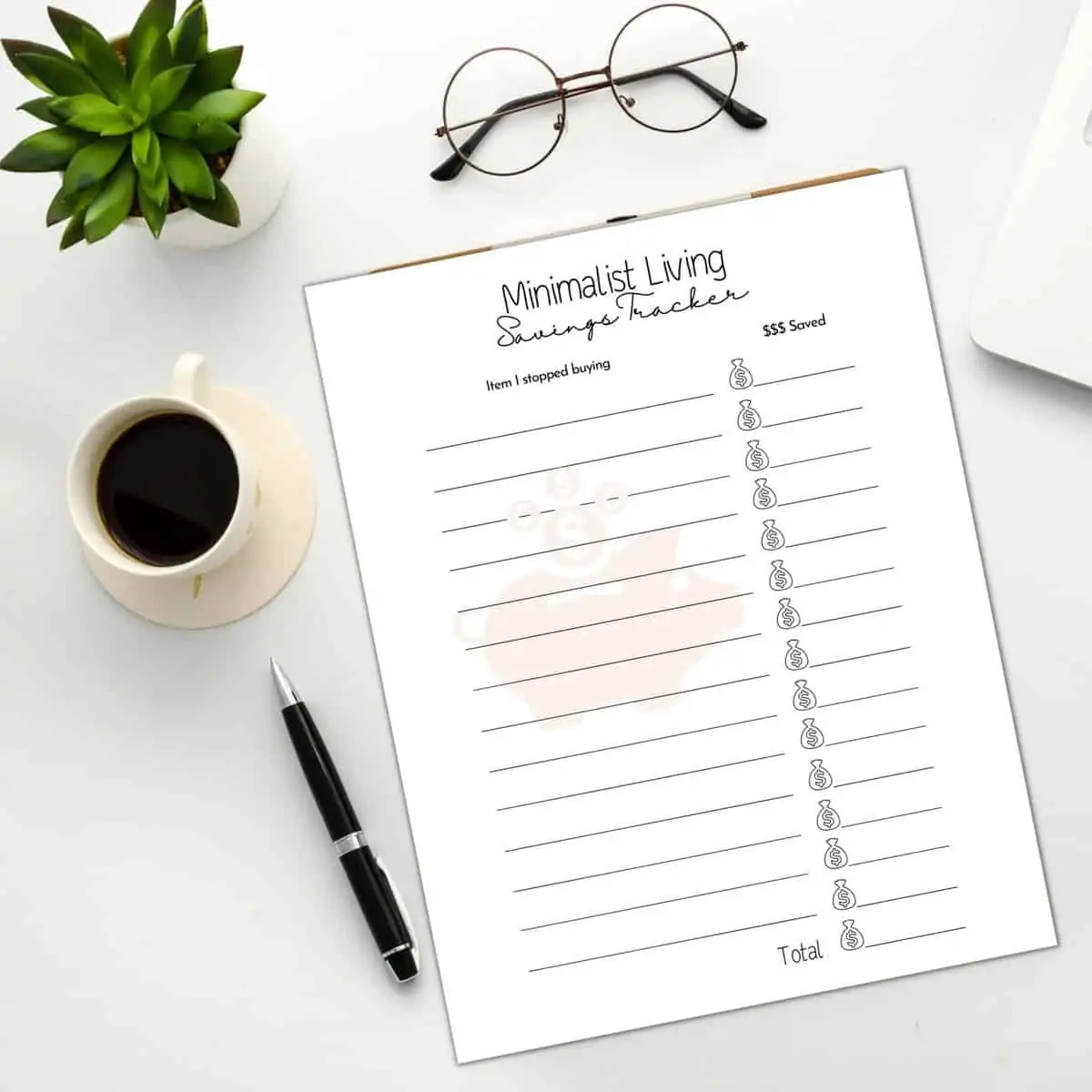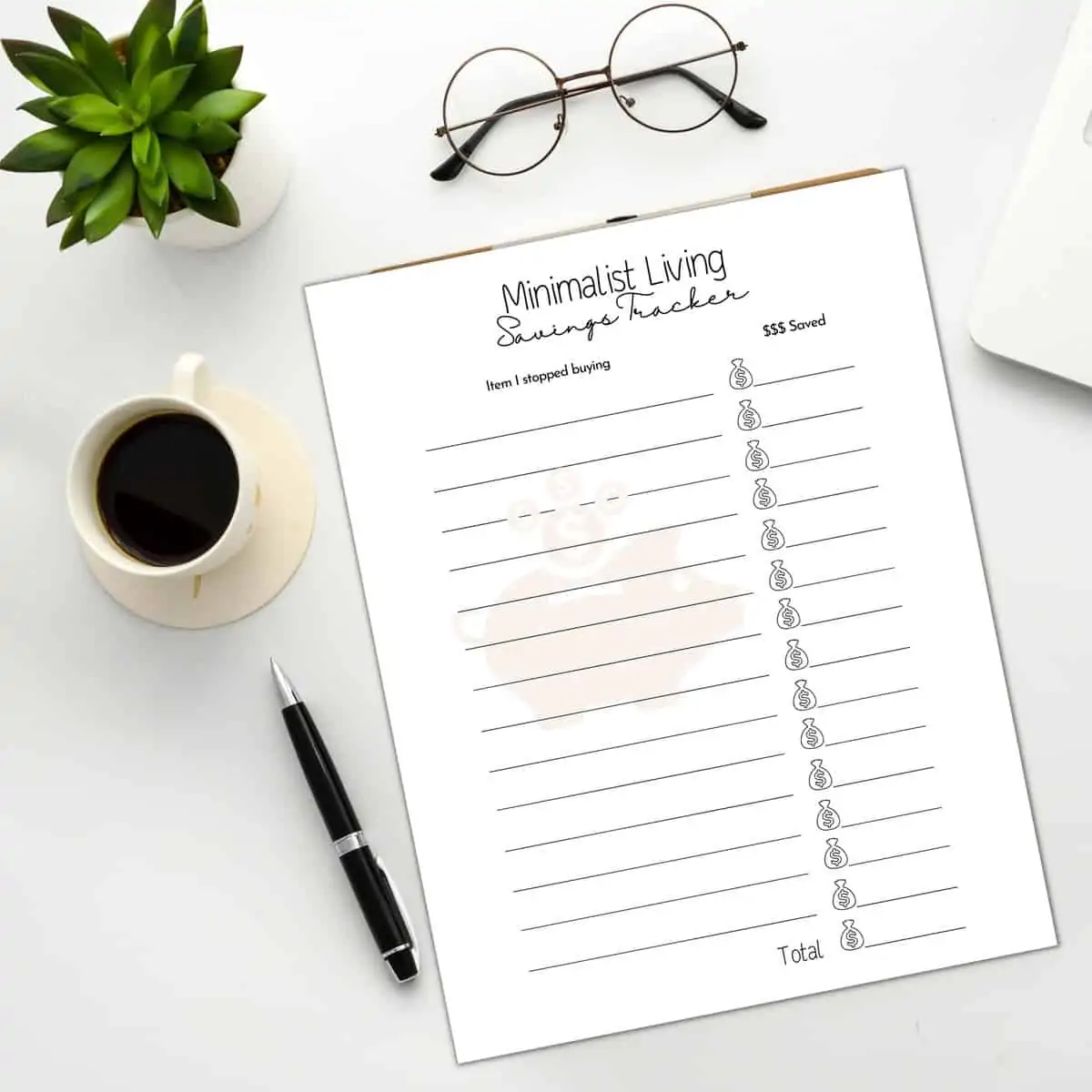 Jewelry/ accessories
I got rid of my fashion accessories because I rarely wear them. The few jewelry pieces I own were given as gifts.
Trendy clothes
I go for classic pieces that do not easily go out of style.
Trendy shoes
I avoid buying trendy shoes for the same reason as trendy clothes: they go out of style quickly.
Books
I am a literature major and I used to own a lot of books. I love books but they also require a lot of space. I've switched to buying eBooks (or borrowing), which solves the storage problems!
Cosmetics
I used to waste a lot of money on cosmetics. I still use a couple of products but I no longer buy extras/duplicates.
Hair and nail products
I only use a shampoo and occasionally a treatment cream. I no longer buy all sorts of miracle products for hair. I've stopped using nail polish as well.
BOTTLED SHAMPOO AND CONDITIONER
I know, this is not for everyone and you might roll your eyes at this. But, when I saw these shocking statistics about how much plastics people consume, I was inspired to find alternatives to every bottled product I consume.
I've stopped buying bottled water and other beverages in plastic containers. And to consume lesser plastics, I also researched alternatives to my hair products. I discovered eco-friendly shampoo bars and surprisingly, they work great for me!
Material gift to myself
I used to reward myself with useless things such as more clothes and purses. Now, if I want to give myself a gift, it would be a gift of experience and time or a gift of nothing.
Gadgets
I am content with my smartphone.
Any "life-changing" beauty products
Store-bought makeup remover
I no longer waste money on makeup removers. Instead, I use coconut oil to remove makeup.
Any thing that doesn't serve any purpose other than a "collection."
These things include travel souvenirs or extra purses.
Any upgrades on products or services
I am happy with the basic stuff.
Loans / Debts
I don't know about you but debt is one of the top things I don't want to worry about, and this is just a personal choice.
I understand that living debt-free is not a choice for everyone. Many people had to go into debt to finish school or solve a financial emergency. But I believe that if you really commit yourself to paying off your debt, you'll be able to do so. There are many ways you can increase your income to help you pay off faster. Check out the following articles!
Easiest Ways to Make Money Online
Household Items I Have Stopped Buying
Home decors
Since simplifying my life, my taste for home decor has also changed. If I buy anything, it would be something that has a timeless appeal and that I would keep for a long time.
Seasonal decors
I admit, I love Christmas decors and I used to buy new ones every year. But since simplifying my life, I've learned to reuse what I already have. It's nice to have nice decors every year but I like focusing my energy and money on other things that are far more important such as the company of friends and family.
Extra kitchen stuff
I have downsized our kitchen. Read more.
Plastic scrub sponge
I've switched to these plant-based scour pads for cleaning dishes and surfaces. It lasts long, natural, cleans well, and helps the environment!
Cable TV Subscription
We canceled our cable a few years ago and we've not looked back. It saves us at least $800 a year!
Containers/Storage for stuff
With less stuff, you don't need extra containers.
Any single-use kitchen gadget/appliance
It consumes space and generally doesn't really make my life easier. The kitchen items I use are listed here.
Aerosol Sprayers
They contain harmful chemicals.
New furniture
I want more space.
Complex Recipes
I love cooking my own food but I don't want to spend a lot of time in the kitchen, so I try to stay away from making complex recipes. Every week, I also create a meal plan not only to stick to our food budget but also to avoid wasting time figuring out what to cook every day. You can read more about my simple meal planning tips in this post.
CDs/DVDs
I don't know about you but I don't like keeping these things in the house. Besides, there's Hulu or Netflix or the Internet to rent movies from.
Grocery Items I No Longer Buy
Extra Food
Wasting food is common in American households. According to this survey, 20% of the food Americans buy is wasted. If you stop wasting food, you wouldn't only save money but also help the environment.
Sugary drinks
Drink more water. It's healthier and costs nothing.
Single purpose cleaner
I use a multipurpose cleaner to clean our patios, floors, kitchen sink, and other surfaces. This frees up more kitchen space.
Kids Items I Have Stopped Buying
I define "extra" as extra things that don't fit in my son's toy box or extra clothes that don't fit in his drawers. If I get stuff for him, I practice the 1-in-1-out rule, which simply means one has to go if I get him one thing new.
Extra toys
I don't leave my son toy-less, but I don't want toy overload either. I want to focus on giving my son experiences instead of giving him lots of material things.
Extra clothes
I am intentional about clothes as kids easily outgrow them.
While this list isn't set in stone and it may still change as my priorities change, for now, I am happy to have rid myself of these unnecessary items.
By ticking these things off on my list, I have found more time to pursue my passions such as this blog, save more money (by not wasting money on things that don't align with my goals), and clear distractions so I can focus more on what's truly important to me.
I WOULD LOVE TO HEAR FROM YOU!
What is your idea of minimalist living? What have you stopped buying to simplify your life and save money?
Enjoyed this post? Pin this! Or follow me on Pinterest!