There are many ways to make money online but the best ones typically require time and hard work. So, if you are presented to make money just by clicking one button every day after initially investing a small amount, would you take the bait? This is precisely how and why businesses like Website ATM have become famously controversial! But what does Website ATM do, and how can you make money from it? Let's find out in this Website ATM review!
Disclaimer
I am not a member or an affiliate of Website ATM. It is my goal at This Mama Blogs to help you find legitimate money-making opportunities. In line with this goal, I write reviews of opportunities, jobs, or companies to help you decide whether they are a real deal or not. This Website ATM review has been researched with information or testimonials available on the internet. Any conclusions drawn from this post are entirely my own.
What is Website ATM?
Website ATM is essentially an online business involved with building websites and affiliate marketing.
The company claims to help you make $500 fast, every day from home, with just a click of a button. It was allegedly created by a former accountant named Nick Harvey.
As you all know, affiliate marketing is a legit money-making opportunity. Affiliate marketing refers to making money by selling products using a unique referral link. When someone purchased the product through your link, you earn a commission for that sale.
And to market your affiliate products, you would need a blog, website, or another platform to promote your affiliate links.
The offer of Website ATM is that they will create that "money-making" affiliate website for you, but you must keep this opportunity a secret. The company claims that they can only give 300 slots, so you need to act fast before the offer is gone.
How does Website ATM work?
So, what Website ATM does is that you invest $47 for a subscription. The site will give you a website builder kit as well as an "affiliate marketing software." And with that small investment, you should start making $500 a day and you can withdraw your profits with a push of a button.
Making $500 a day has never been this easier, right? And if this business is true, then we could assume that many people would readily shell out $47 right now to make $500 a day, quick and easy. Who wouldn't want to make this much money without sweating?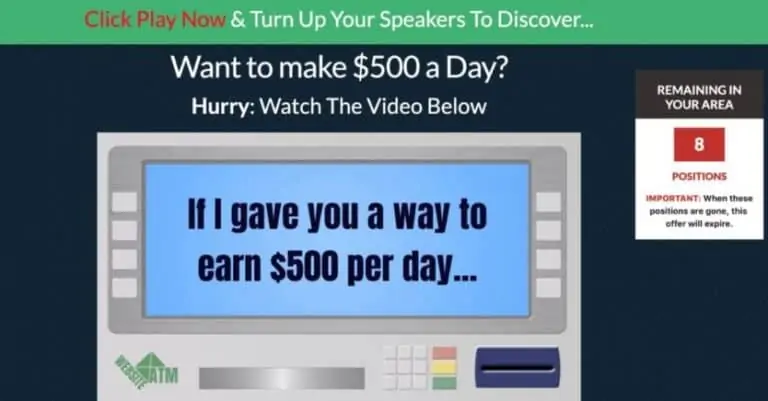 But I implore you to delve deeper because Website ATM is not what it claims to be.
There are lots of online scams waiting to prey on unsuspecting people. Even if you only invested $47 for this business, think of 10 or more other people making the same investment. The person behind this scam can easily make hundreds, even thousands of dollars, by fooling people.
It would be safer to check out our top choices for stay-at-home jobs to find real opportunities. 
Is Website ATM legit?
The short answer is NO. Website ATM is not legit.
When it comes to making money online, you should take a couple of things to heart. First is, if it's too good to be true, then it probably is.
Second, if it requires little to zero work, and promises you huge profits, then it's most likely a scam.
And Website ATM is both. It promises to help you make money by making a small investment. There's not much work involved, except for a few taps and clicks. And just like that, you'll start earning money without so much fuss.
But the thing is, these promises make Website ATM even more suspicious. So, we will get into the details of why I, and many other people, believe that Website ATM is a scam.
Why is Website ATM a Scam?
Here are reasons why I believe that Website ATM is a scam:
1. THE FOUNDER: NICK HARVEY
First, let's take a look at the founder, Nick Harvey. This ex-accountant has introduced his family in one of the videos and pictures on their sales page. His wife's name is Amanda, and his three kids are Sarah, Stevie, and Caleb.
Many claim that this is just a stock photo.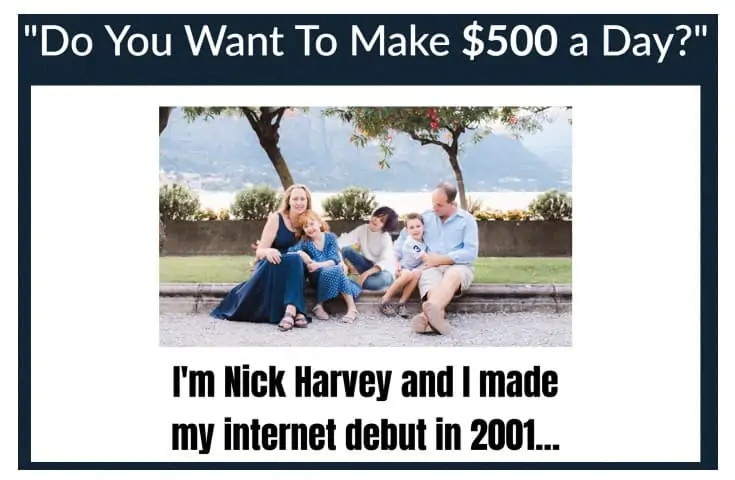 But did you know that there's another business called Money Sucking Website (MWS)? This business operates pretty much like the Website ATM. Even the content on both websites is almost identical.
But the catch is, a named Willy ran MWS. I'm not sure if it's just a coincidence that all of Willy's family members have the same names as Nick's family, but it does sure sound doubtful. More so because Nick and Harvey have the same business and backstory. Could it be that Website ATM is just the rehash of Money Sucking Website? I say that's very likely.
2. NO OFFICIAL WEBSITE
Any self-respecting, reputable entrepreneur knows that an official website is essential in running an online business. When you search Website ATM on Google, you'll find plenty of results, but most of them are Website ATM reviews, just like this.
So, I tried looking for www.websiteatm.com or www.websiteatm.net, but they aren't accessible. The site atmjobs.org which is said to be the official website of Website ATM is offline.
In short, the official Website ATM website is non-existent.
I'm not even sure if Website ATM goes by another domain name, but the fact that an online business does not even have its website just tips off my scam radar.
Also, I checked the Website ATM Better Business Bureau (BBB) profile, and it's not there as suspected.
Also, note that there's no official Website ATM app, so be wary when you encounter one.
3. EXAGGERATIONS AND OVERHYPES
Website ATM has made a lot of claims, and they are all ridiculous.
First, it says that you can make $500 a day just by investing $47. And because you've landed on the website, Nick says he's nice enough to let you into the opportunity. Your website will become an ATM because it will endlessly dispense $500 a day. Now, if only these were all true!
Investing $47 on a website builder will never assure that you'll make a good profit (and $500 a day, at that?) because a highly profitable website takes a lot of work and research. Using websites as a sales funnel for affiliate marketing is viable; I give you that. But before you can truly make some cash, you'd have to get on Google's good side.
And to do this, you have to:
Post content consistently
Optimize your content
Link out to reputable sources
Get other websites to link to you and this one takes LOTS of effort. FYI: Nobody would want to link to you unless you offer value
Speeding up your website and so much more…
How do I know all that? Because this site you are reading right now is making money through affiliate marketing as well and I invested lots of time and hard work to make it work! I spent money (definitely way more than $47) in courses and training programs to learn the secrets to creating a money-making website.
What I've learned? There is no shortcut to it! It all takes time and strategies!
So, as you can see, you cannot make a profitable website in minutes just because you bet $47 on Website ATM. It takes time to prove to Google that your business has a fantastic website that people should trust and buy from. Therefore, all of Nick's promises are downright empty.
4. Make Money with a Website without Writing?
Nick claims that his website builder will not bother you with any sort of writing. If that were true! I would invest in hundreds of such websites and just wait for my profits!
Unfortunately, it just doesn't happen.
Every good website needs good content, and you can't just rely on Artificial Intelligence or bots to do that for you. Google is far more brilliant than that.
Just to give you an idea on the work involved to grow my site, here's what I do consistently to generate traffic and make money:
Write no less than 4 posts on my site every single month
Networking to get links from other sites
Building my Pinterest account to generate traffic from Pinterest
Keyword research to find potential keywords I could rank for on Google. I pay for keyword tools like SEMrush to generate keywords
If you want traffic, get more engagement, and ultimately make more sales, you need content that speaks to your audience. And the only way to do that is to write good content (or have one written professionally for you). And investing $47 can't buy you a good writer.
5. PHONEY TESTIMONIALS
Testimonials are a great way to reel in potential customers. They also give more "credibility" to the business. But in the case of Website ATM, you could easily see that the testimonials are fake. Website ATM has made up all those names and claims and even slapped on some stock photos to make those testimonials seem real.
How to Make a Money-Making Website?
As I've said, it takes work and time to build a website/blog that makes money. And you'd first need to gain Google's trust to be able to do so. This takes some time.
If you want to learn how to start a money-making website//blog, then check out my blogging guide for beginners. It's a very comprehensive guide that will teach you how to start a blog, make money from it, and grow your traffic to generate consistent income from your blog. It will only cost you an initial investment of less than $3 per month, but it will require upfront effort (definitely not just a click of a button!) to turn it into a money-making machine.
Reviews You Might Be Interested In
Conclusion
I have covered all the bases and touched on a couple of pain points about Website ATM in this review. Hopefully, you learned from this Website ATM review that it takes more than $47 to make money from websites and affiliate marketing.
So, if you encounter this type of "business" or were offered a closely similar "opportunity," put your foot down and say no. This business is a scam, and it's better to put your money on legit investments. You could purchase a few classes on Udemy so you can enrich your knowledge and skills for potential jobs or businesses with that money.
If you want to make money from home the legit way, I have a comprehensive list of online jobs that pay daily. Or you could check out my post on how to make 200 dollars in a day. These are REAL jobs where you put in real effort and get paid with real cash.
No, you don't make $500 a day pushing buttons, but these jobs are as legit as they get.
Have you encountered the Website ATM scam or something of similar nature? What were you experience? Let's connect in the comments.