Easy to Make and Cheap Christmas Decorations
Every year, I always search the web for cheap Christmas decorations. Most especially for this Christmas! My kid (who's 3) already knows who Santa is, and I just can't help but to be super excited to decorate our home for the holidays!
Decorating your home for the holidays need not be a stressful and expensive activity. In fact, while Christmas admittedly can be one of the most commercialized holidays of the year, it's not one that should burn a hole through our wallets.
I've rounded up 15 cheap Christmas decorations you can put together on your own to bring out the holiday cheer!
Cheap Christmas Decorations You Can DIY
1. DIY painted letters
Christmas-themed words like Joy or Noel are great wall, donor or shelve decors. You can find these ready-made letters from craft stores, and all you need to do is spray-paint them with some Christmas colors. Hang them up on that column by the kitchen or the stairs, and add some wreaths, garlands or red and green ribbons.
2. Christmas jars and vases
A festive and eye-catching centerpiece for your living room side tables are Christmas jars and vases. Get out that empty good ole mayo jar or a clear vase and put in an assortment of Christmas balls of varying colors.Tie a red or silver ribbon around the vase, and voila, you have something for the console table by the hallway.
You can also choose to mix and match jars and vases of various sizes and height so you have a piece de resistance for your living room. For a different look, you can also try adding some dried twigs, acorns and pinecones. This video shows you a straightforward, simple way to put together this cheap Christmas decoration.
3. Christmas candles on a cake stand
You won't even need to buy actual Christmas decorative candles for this. Bust out those scented candles of yours, decorate them with some silver and gold ribbons and put them together on a cake stand. You can also opt to surround it with red or green garlands, twigs and acorns. They would be a nice, if not an amusing touch, on your kitchen table when the family comes around for Christmas Eve dinner. If you don't have a cake stand, a simple rounded flat basket or bread basket will even do, such as this one.
4. Wrap up prop presents
Nothing says Christmas better than gifts, so why not recycle old Christmas wrappers and gift boxes from years past and use them as prop presents? These are perfect additions to the Christmas jars and candles on your side tables and mantels. You don't even need to buy anything new to make them.
5. Natural Christmas tree decorations
I'd say that putting up the Christmas tree makes the holidays all the more real and the Christmas vibes more pronounced. Some of us may like a more curated look for our Christmas trees: glittery balls, festive baubles, maybe even family heirloom pieces. But this idea of natural cheap Christmas tree decorations made out of things straight from your kitchen – cinnamon sticks, dried orange slices and other dried fruits – also sound equally festive and fascinating. This video shows you how.
6. DIY Christmas tree baubles
Alternatively, there are also tons of other cheap Christmas ornaments for your tree that you can make yourself. Try making these twig ornaments with the help of some glue and colorful embroidery thread, or hand-paint wooden blocks and ornaments like this one. Not only won't these cost you any money but they're also very child-friendly activities that you and your kids can work on on a weekend afternoon.
7. Creative advent calendar
Part of the holiday fun is the build-up to Christmas day itself. Advent calendars are a fun way to start the Christmas countdown as you and your family discover small exciting trinkets or some holiday-themed activities in the days leading up to Christmas. Get creative with this paper bag advent calendar, or this Christmas tree advent calendar made out of scrapbook paper and makeshift card holders.
8. Natural Christmas wreath
A staple Christmas décor are Christmas wreaths festooned with red ribbons, twigs, and bits of holly on your front door. This video tutorial shows you how you can make your own Christmas wreath with materials you can pick straight from your garden. If you have more time, plan a walk around the woods with your children and forage for materials.
9. Personalized Christmas balls.
Personalized cheap Christmas ornaments can turn into valuable pieces that you can use for years to come and even add as heirloom items you might want to pass on to your kids in the future. These Christmas balls with personalized hand lettering only need an oil-based Sharpie in gold, some spray spraint and ribbons. Christmas baubles don't always have to go up on the tree. These Christmas pom pom ornaments that turn into personalized place settings at the dining table are also an excellent idea for the Christmas Day lunch with the whole family.
10. Paper stars and snowflakes
Hang a paper star by your window or have a flurry of snowflakes hanging over the mantel. Just take out crafting or cardboard paper, a pair of scissors, and some glue, and you're all set. Here's a video tutorial on how you can make mini star cutouts for your porch or windows, and these easy paper snowflakes are something even your kids can make!
11. Mini wooden Christmas trees
If you live in a small space, the idea of a proper Christmas tree filling up the four corners of the living room can admittedly be claustrophobic. So if you're embracing the idea of a minimalist Christmas, why not go for these mini wooden Christmas trees that you can absolutely DIY? You can put together a bunch in various sizes and height and make them the centerpiece for your living room.
12. Minimalist twig tree
This one's another idea for the minimalist at heart. Cut off a twig or a tree branch and simply paint it with your desired color. Put in a jar and decorate with some Christmas baubles. No fuss and no messing with your space.
13. Ribbon wrapped throw pillows
This idea may very well be one of the easiest and simplest things you can do to add some festive cheer to your house. Take out those ribbons from Christmas presents years past, and simply tie them around your throw pillows like a bow. Instant Christmas spirit at no cost!
14. Chalkboard Christmas sign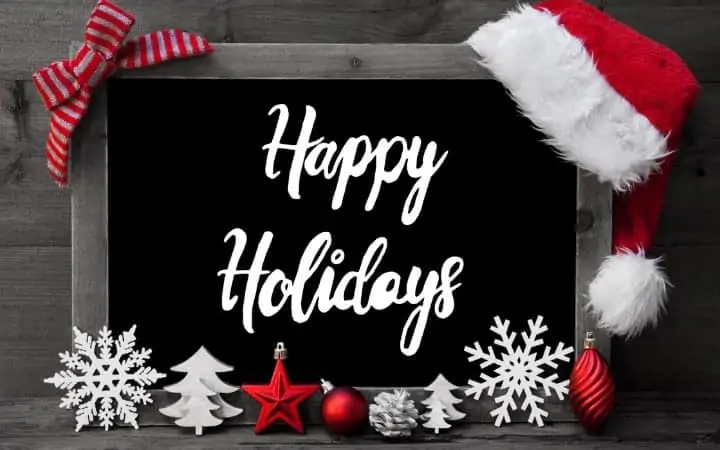 I love this idea of the good old chalkboard as a cheap Christmas decoration idea. You can hand-letter favorite Christmas lines, and decorate it additionally with paper stars and snowflakes.
15. Blue and green Christmas-themed bedroom.
Bring the Christmas vibe to your bedroom with a blue-and-green themed décor. This interior design post shows how you can transform your bedroom and add some festive holiday cheer with a couple of wreaths over the bed, blue throw pillows, and a cozy blue flannel blanket.
Here's an extra tip: Curate your space. This is an especially helpful reminder if you live in a small house where you don't want to overcrowd or overdecorate. You can also consider a color motif to unify decorations in certain corners or rooms of your house. But most important of all, get creative. Decorating our homes for the holidays does not always have to mean a trip to the shops. Get started on these cheap Christmas decoration ideas.
Looking for more money-saving ideas for the holidays?
Check out the following!
Christmas Gifts Under $10: What Your 10 Bucks Could Buy
Inexpensive Gift Ideas that Cost $25 or Less