We've gotten a bit tired of our usual dinner recipes lately. I know this is the case when my husband starts turning to his comfort ham and cheese sandwiches.
So, I've thought of researching some cheap and healthy dinner recipes online to make our weekly meal plan a little bit more exciting! Of course, I've only picked recipes that won't bust our food budget.
If you are looking for some cheap healthy dinner recipes as well, you might want to try some of these options below! They are delicious, easy to make and budget-friendly.
How to Feed Your Family Cheap Healthy Dinners
But, first, let me share a few hacks to keep your food budget low.
1. Plan your meals
Getting into the habit of planning our meals has helped us save an insane amount of time and money!
By planning your meals, you make sure you get to use the ingredients you have in the fridge and pantry, create meals based on what's on sale or in season, and rotate your dishes so that you don't get sick of eating the same thing over again.
Plus, you don't waste time trying to decide what to cook because you have them all lined up already. If you want to start doing the same, here are my simple meal planning tips you can follow.
2. Buy with a list
Never go shopping without a list, simply because it saves time and helps you avoid the temptation of overspending. It's also good to bring coupons and avail of the sales, promotions, and discounts you might qualify for. For Walmart shoppers like me, check out these Walmart hacks to save money.
3. Buy food in bulk
Although food is mostly perishable, you can still buy in bulk and save money. For instance, food like potatoes, rice, and pasta have longer shelf lives, so we buy them in bigger quantities.
Canned goods and staple condiments are best purchased in bulk. You can also buy meat in bulk, as long as you portion them before storing them in the fridge.
4. Opt for healthier snacks
Snacks for both adults and kids can sometimes get unhealthy. After all, it's easier to open a bag of chips than prepare a healthier alternative. You can serve healthier snacks, such baby carrots and hummus. Also, having a steady stream of fresh fruits like bananas, apples, and strawberries is always good. If they're about to go overripe, I turn them into smoothies or bake banana bread instead.
5. Grow a garden
Growing your own food is another proven way to serve healthy dinner recipes. You can grow a couple of vegetables even if you only have a small area in your backyard. If you live in the city, you can grow food in pots. It's also good to grow a couple of your favorite herbs because you can dry the surplus and store it for future use.
Meatless Dinners : Cheap Healthy Dinner Recipes without Meat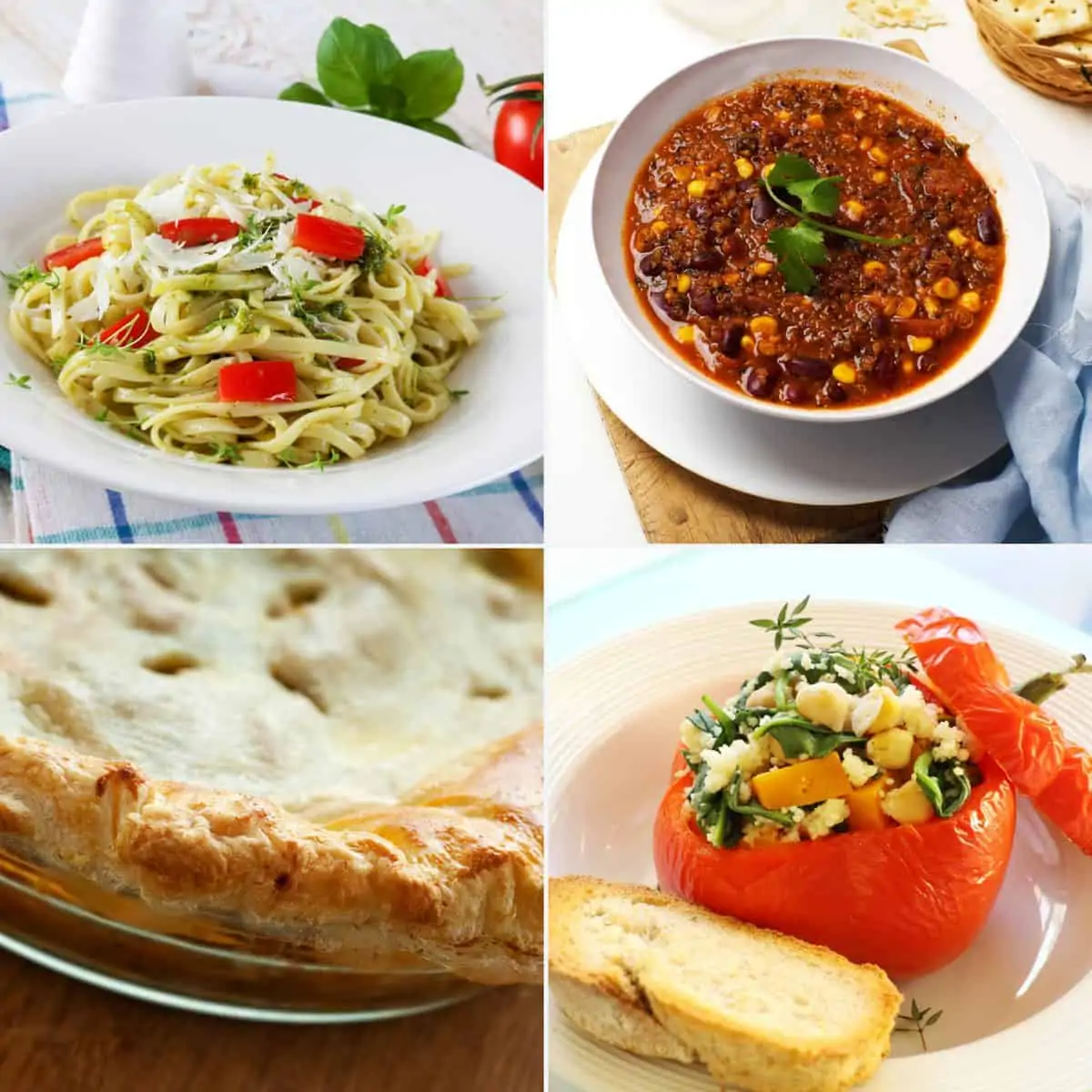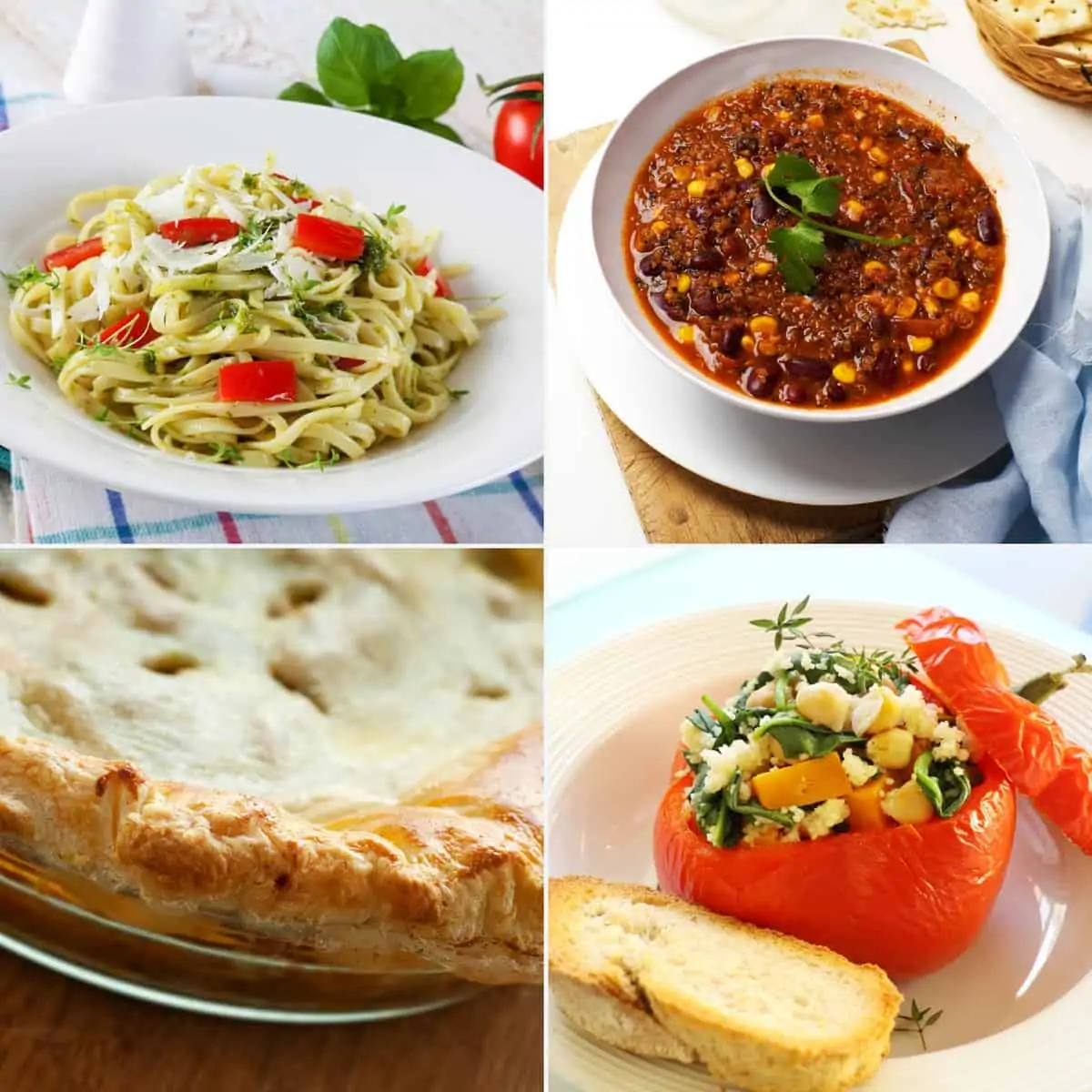 Whether you're vegetarian or just want to forego the meat one or two dinners a week, these meatless healthy dinner recipes are sure to be a hit in your family!
Related:
1. Slow Cooker Vegetarian Chili Mac
Image source: Kristine's Kitchen Blog
This recipe by Kristine's Kitchen is pure genius! You can just dump all the ingredients into the crockpot, and they will cook by themselves, without any added stress or hassle to you.
If you don't have a crockpot yet, I recommend this one.
2. Veggie Spaghetti
This is easily one of the cheap vegetarian meals you can whip in a few minutes. All you need are pasta and any vegetables at hand, sprinkle some cheese, and enjoy! Recipe by Inspired Taste.
3. Creamy Vegetable Pasta Bake
This delicious comfort food brings together veggies, pasta plus cheesy and crunchy toppings. Check out this creamy vegetable pasta recipe by Cook It Real Good.
4. Vegetable Pot Pie Skillet
Image source: Budget Bytes
You can turn a bag of frozen vegetables into this awesome dinner that all family members, both young and old, will not get enough of. Thanks to Budget Bytes for the recipe. Check it out here.
5. Vegetarian Stuffed Peppers
This recipe from A Spicy Perspective shows us another fun way to eat peppers for dinner. This has surely made it to the list of my top healthy dinner recipes for families!
6. Mexican Zucchini Burrito Boats
Image Source: Making Thyme for Health
This vegetarian dinner is full of flavors and cheap! Check out the recipe here by Making Thyme for Health.
7. Easy Veggie Stir-Fry
This is one of the easiest healthy dinner recipes vegetarian meals that never fail to impress. You can make use of any vegetables you have at hand and stir in the sauce. Check out the recipe here by Natasha's Kitchen.
Healthy Seafood Dinners
Seafood is rich in protein and low in calories, so they're the perfect ingredients for healthy dinners to lose weight. I have compiled some of the best healthy dinner seafood recipes below.
8. Creamy Garlic Butter Salmon
When it comes to the easiest and healthiest seafood recipes, this one is always on top of my list. This recipe from Café Delites perfectly demonstrates how to cook the juiciest salmon as it swims in creamy garlic sauce.
9. Honey Garlic Butter Shrimp & Broccoli
Shrimp coated in delicious honey garlic sauce and paired with broccoli is perfect for busy weeknights as it's done in under 20 minutes. Check out the recipe here by Butter Your Biscuit.
10. Garlic Mussels in Sour Cream Sauce
Cooking seafood becomes less intimidating when you can prepare something as easy and yummy as this. Thanks to Lavender and Macarons for the recipe.
Healthy Chicken Dinners
Chicken is one of the cheapest and flexible meats to work with. These healthy dinner recipes with chicken are sure to fill your tummies without messing with your budget.
11. Tuscan Stuffed Chicken
Image source: Easy Chicken Recipes
Here's how to enjoy chicken that oozes with cheese and packed with flavors. Thanks to Easy Chicken Recipes.
12. Grilled Chicken With Avocado
Image Source: Gimme Delicious
If you're looking for healthy dinner recipes for weight loss, this one fits that bill perfectly. It's a keto recipe featuring grilled chicken topped with avocado salsa. Recipe courtesy of Gimme Delicious.
13. Spinach Stuffed Chicken
This recipe by the Low Carb Life calls for chicken breasts stuffed with spinach and cheese and then baked to perfection. It's so good it's sure to become dish we serve for dinner regularly.
14. Oven Baked Chicken Parmesan
This no-fry healthy chicken recipe comes with a crispy outside and juicy inside. It is topped off with a yummy parmesan-based sauce. Thanks to Fox and Briar for the recipe.
15. Easy Baked Salsa Chicken
This is another delicious keto meal that's so full of flavors. Boneless chicken breasts are baked over tomatoes and are topped with shredded cheese. Recipe courtesy of DietHood.
Pork Dinners
Turn your usual pork meals into leveled-up dishes while staying within the budget. Here's a roundup of easy and cheap dinner recipes with pork that everyone in the family will love!
16. Sweet and Sour Pork
Image source: Pups with Chopsticks
Why order take-out when you can make this amazing Chinese dish right at home? Enjoy crispy pork cutlets covered in sweet and sour sauce with this recipe. Thanks Pups with Chopsticks!
17. Herb Lemon Baked Pork Chops
Watching your calories but don't want to eat guilty? These baked lemon pork chops are just too good to pass up! Plus, they're low in calories so they're one of the best healthy dinner recipes to lose weight. Thanks to Cookin Canuck.
18. Slow Cooker Pork Chops With Onions and Apples
Thanks to A Clean Bake, I have learned to make this amazing dump recipe. It's guaranteed delicious and perfect for busy nights. Check out the recipe here.
19. Asian Meatballs
Image source: The Tipsy Housewife
These Asian meatballs are incredibly cheap and easy, even a kitchen novice can make them in less than an hour! These are best served with mashed potatoes or warm rice, and some veggies on the side. Thanks to The Tipsy Housewife.
20. Ground Pork Chili
This dish is bursting with flavors as ground pork, chili, and kidney beans come together into this amazing recipe. It's amazing comfort food! Recipe courtesy of Fearless Dining.
Cheap Healthy Recipes
There you go! 20 cheap healthy dinner recipes for families!
What are your best cheap healthy dinner recipes? Do share in the comments.