Do you want to build a well-stocked pantry on a budget but need help knowing where to start? Here are the best pantry items to stock up on, so you can make quick and easy meals without the stress and fuss.
When life gets too hectic, it is often more convenient for us to order takeout food than cooking something from scratch. But admit it: it is often not cheap and healthy.
This is one reason why you should build a frugal pantry. This is also one of the best frugal tips I swear by that does not only help me save money but also time.
Having pantry staples lets you whip easy meals for the family. You can make a quick pasta, salad, and stir-fry vegetables. Many recipes don't even need sophisticated ingredients. There are plenty of great meals that you can make with eggs, canned tuna, pasta, and dried beans.
Also, making your meals from scratch gives you control over portions and ingredients. If someone has a food allergy, you can cater to that need and ensure you're feeding your family the right food.
How can I stock my pantry for cheap
Planning to stock your pantry with a limited budget is doable. You can build a frugal pantry over time with these steps:
Plan your meals. I can't emphasize enough how helpful meal planning is. With a meal plan, you can zero in on the pantry staples you know will get used and won't go to waste.
Avail sales and discounts. Grocery stores typically follow a sales cycle, so knowing when they'll put your desired pantry staples on sale would be advantageous. Also, avail of discounts to save money, but check the expiration dates.
Opt for store brands. Plenty of store-brand products are sold for a fraction of the cost of their name-brand counterparts. Think of sugar, salt, dried herbs and spices, and baking supplies.
Buy in bulk. Buying in bulk can save money, especially for pantry staples with a long shelf life, such as grains and pasta.
Store the products. Proper storage helps extend the life of your pantry items. Put frozen veggies and meat in the freezer. It's also good to portion them so you can just take them out and thaw what you need for that meal. Opened products must be transferred to containers with airtight seals. Keep your pantry closed and check it out occasionally to clear out critters and insects.
Remember to replenish your stocks. Don't wait till you run out of your pantry staples. Instead, do regular inventory so you know which products must be filled in your next grocery trip.
Related Posts:
Basic pantry staples list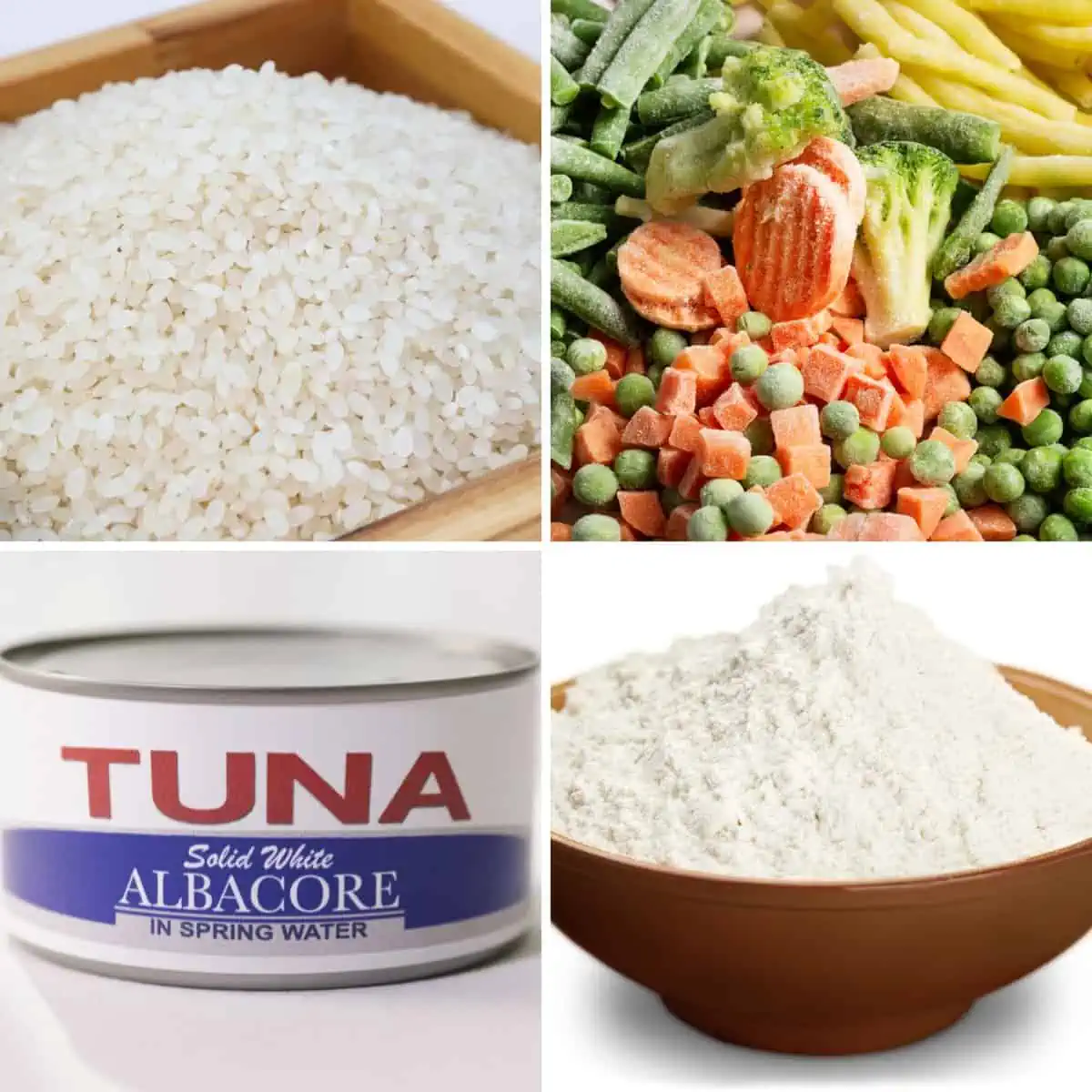 Wondering what pantry staples to stock at home? Below is a list of basic pantry items you frequently use, so keeping your pantry stocked with them is wise. But every family is different, so your pantry staples may look slightly different from this, and that's okay. What matters is you are saving money and feeding your family properly.
This post contains affiliate links. I may earn a commission at NO extra cost to you for your purchases made through these links. Disclosure.
1. Pasta
Pasta is a great pantry staple because you can use it in many recipes. Apart from the classic spaghetti and bolognese, I use pasta in soups, and salads as well.
2. Rice
Rice is another versatile ingredient that can stretch your main meals. Add it to casseroles, soups, sushi, rice balls, and more. You can make many recipes with rice with a few ingredients from your pantry.
3. Pasta sauce
I don't buy a lot of pasta sauce because I love making pasta sauce from scratch but it's still nice to stock on pasta sauce for when you don't have time to do it from scratch.
Pasta sauce has all the flavors in one jar or pack. Apart from pasta dishes, you can also use pasta sauce in homemade pizzas, stews, soups, and casseroles.
4. Tomato sauce
Pasta sauce is like seasoned tomato sauce, but you still want to keep some tomato sauce in your pantry for your favorite recipes. Or, if you have the thing for it, grow your own tomatoes or purchase a lot at the grocery stores when they're in season and make your own tomato sauce at home.
5. Flour
Flour can be used in various dishes, from baked goods and pancakes to batter for fried chicken and slurry to thicken soups. So, it's definitely a must have in your pantry!
6. Oatmeal
Oh, how I love having instant or quick cook oatmeal in my pantry! It's delicious, quick to make and rich in fiber!
7. Sugar
Sugar is another pantry staple that must always be in stock. It is used to sweeten coffee and smoothies and added to various recipes, from baked goods to savory dishes. Sugar typically has a long shelf life, so it's good to stockpile them in your pantry to save money.
8. Eggs
Eggs are super versatile, so they're a must-have in the pantry. You can make all sorts of meals with eggs, from breakfast omelets to baked goods like bread and muffins. In addition, you can make a healthy snack with an egg sandwich or a tasty side dish with an egg salad.
9. Canned beans
Beans are inexpensive, versatile, and great for whipping up a quick meal. For example, you can make chili with canned beans or kidney beans; if you're vegan, you can take out the ground beef from the recipe. Baked beans, burritos, and refried beans are some of the best meals you can make with canned beans.
10. Garlic powder | onion powder | chili powder
Keeping a decent amount of your favorite spices in powder form can also help reduce your grocery bill. For example, garlic powder, onion powder, and chili powder all keep well if stored properly, and they make the best alternative when you've run out of fresh spices or don't have the time to mince fresh garlic and chop onions.
11. Canned tuna
Canned tuna is a cheap source of protein and is perfect for replacing meat in some of your meals. It is fantastic as filling and can be turned into a delicious side dish, salad, or main meal.
12. Frozen vegetables
Frozen vegetables are also some of the best pantry staples. Unlike fresh veggies that go bad after a few days, frozen ones keep well in the fridge; all you have to do is take them out and use them. You can readily use frozen veggies in many recipes, including soups and stews, casseroles, stir-fries, etc.
13. Baking soda and baking powder
It's also good to keep baking supplies on hand when making baked goods from scratch. Baking soda and baking powder are cheap, and store brands work just as well as name brands.
14. Oils
Oils are must-have pantry items. You use them for almost all types of cooking, so keeping your kitchen stocked with your favorite oils is always a great move. For example, you can use coconut and canola oils for frying and stir-frying, while olive oil is perfect for making homemade salad dressings.
15. Apple cider vinegar
Apple cider vinegar offers excellent health benefits, and it can be used for salad dressings as well. This vinegar has a long shelf life too.
16. Powdered milk
Powdered milk is also always included in our grocery list. Although we also keep stock of fresh milk, powdered milk comes to the rescue when the fresh one runs out. You can also use powdered milk as an alternative coffee creamer, add it to your smoothies, and for baking.
17. Diced tomatoes
Diced tomatoes are some canned goods we always keep on hand. They can be used for soups, stews, and pasta, so it's always good to include them in your grocery budget.
18. Lemon juice
If you like that zesty flavor in your meals, then consider stocking up on lemon juice. Lemon juice can elevate the taste of your salads and make fish and meat-based meals even more delicious. And, oh, you can add lemon juice to cocktails.
19. Ground beef
Ground beef is one of the most flexible pantry staples. You can make meatballs, patties, chilis, and tacos out of them, perfect for throwing a delicious quick dinner for your family. While ground beef is not the cheapest type of meat, you can look around grocery stores to see if they're on sale and then buy them in bulk.
20. Dried herbs
It's good to grow your fresh herbs at home, but if that's not possible, opting for dried herbs is always a great idea. Dried ones last longer and are more convenient, although the flavors may not be as intense and potent as the fresh ones.
21. Canned meats
Canned meats like canned chicken are convenient, and budget-friendly, so they're great pantry items. You can make chicken salad with canned chicken. After adding herbs and spices, mayo, onion, and celery, you might forget that it's canned and not fresh.
22. Peanut butter
Love peanut butter jelly sandwiches? Then you should keep peanut butter on hand at all times. Peanut butter sandwiches are great and filling snacks, but you can also add peanut butter to your smoothies, salads, Thai peanut noodles, peanut butter chicken, pancakes, and cookies. Nut butters are excellent and cheap sources of protein and healthy fats, and their great pantry items for whipping up a quick side dish or healthy snack.
23. Chicken stock
Chicken stock is a handy pantry staple that you can use for soups, gravies, stews, and pan sauces. Using chicken stock in your grains and pasta dishes makes them even more flavorful.
24. Cocoa powder
Cocoa powder is one of the best pantry staples. You can make hot chocolate on a rainy day or pair it well with chocolate chips. If you have yet to try it, add cocoa powder to your smoothies for a richer flavor and texture.
25. Crackers
It's always great to have crackers for quick, delicious light snacks. It goes well with cheese, tuna or meats.
26. Frozen fruit
Frozen fruits are excellent pantry staples. You can top oats with frozen fruit or use them in your pies and cobblers. We turn to frozen fruits for our daily smoothies when fresh fruits are expensive.
27. Hot dog
Hot dogs are not the healthiest pantry staples, but we just like keeping them in stock for quick breakfasts. You can also make sandwiches using hot dog buns, ketchup, and mustard.
28. Frozen meatballs
Frozen meatballs are great products to keep in the fridge. From spaghetti with meatballs and meatball subs to meatball soup, there are so many recipes you can make it with. While you can make your meatballs from scratch, preparing frozen ones can save you during hectic nights.
29.Tortillas
Tortillas are also our favorite pantry items. Besides the fact that you can freeze them, extending their shelf life, they are also super versatile. We love making tacos with ground meat, cheap veggies, and toppings with tortillas. Other options include traditional Mexican fares like burritos, fajitas, breakfast wraps, and tortilla soup.
30. Carrots
When it comes to fresh veggies, carrots are always top of mind. Carrots have a long shelf life and can easily extend any meal at a low price. You can shred carrots, mash them, bake them with chicken, or add them to soups, stews, and casseroles.
31. Potatoes
Like carrots, potatoes are also cheap and shelf stable. Potatoes can be turned into mojos, hash browns, and fries. Potatoes are also great ingredients to add to soups and stews and are often used as a side dish to complement meat-based dinners.
32. Bouillion Paste
Bouillion paste is a concentrated product made with vegetables, meat, and seasonings. It's a cheap and convenient alternative to stocks. All you need to do is dissolve the paste in water, and it'll readily impart the flavors to your delicious recipes.
33. Cheese
Of course, don't forget to buy some cheese. It's versatile and can be used for salads, quesadilla, pizza or sandwich. You can also simply eat it with crackers or cold cut meats as quick snacks for when you're hungry.
Pantry Staples Frequently Asked Questions
What should I stock in my pantry for emergencies?
Apart from the basic ingredients, you also need to keep stock of ready-to-eat products and easy-cook meals for when the power shuts down, and you need access to the stores. For example, you can stock on some cup noodles and canned meats, bottled water, pasta, and rice.
What pantry staples do I need?
Every family is different, so your pantry items may look different. You'll want to stock up on the basics, like sugar, salt, coffee, tea, milk, herbs, and spices. If you're vegan, you don't have to stock up on meat but will focus on frozen vegetables and fruits instead. It's also important to consider the dietary needs of your family members when stocking up your pantry.
What is the cheapest meal I can make?
There are several cheap meals that you can make with pantry staples. For instance, an omelet for breakfast, a canned tuna sandwich for lunch, and perhaps a soup made with cheap vegetables for dinner. If you're on a budget, you can easily extend your meals using cheap pantry staples.
What are versatile foods to save money?
There are plenty of versatile ingredients that can help you save money. Eggs, for instance, can be cooked in many ways. Bread, and canned goods like canned chicken and tuna, can be turned into various dishes. Canned beans, dried beans, lentils, pasta, and rice are also flexible.
What cheap foods fill you up?
If you're looking for budget-friendly foods that are filling, then consider stocking up on oats, rice, pasta, sweet potatoes, bread, eggs, and canned fish.
Final Thoughts
Having a well-stocked pantry is not just good for the budget but for your sanity too. Think of the convenience of shopping your pantry for a quick and easy dinner. You can skip ordering take-outs or rushing out to buy ingredients.
You can build a frugal pantry by stocking up on the basics. It's essential to consider what your family would eat so nothing gets wasted. Once you've developed a good system for spotting sales, discounts, and meal planning, your well-stocked pantry will indeed serve you well.