Welcome to my PlaytestCloud Review! If you enjoy playing games on your smartphone, then you might be delighted to know that you can make money from it! On sites like PlaytestCloud, you can get paid to test mobile games from home.
Isn't it a dream come true for avid gamers: to get paid to play games?
I have a few friends who love playing games, even paying a lot of money for games!
So, I thought of writing this review to help my friends and other gamers out there make money from their hobby instead of spending money on it.
In this PlaytestClould review, you'll learn:
Is PlaytestCloud legit?
How does PlaytestCloud Work?
How much money can you make from PlaytestCloud?
Real Playtestcloud user reviews
Disclaimer: I am not a member or an affiliate of PlaytestCloud. It's been my mission here at This Mama Blogs to help you make money from home. This PlaytestCloud review has been researched with information available on the internet. Any conclusion drawn in this post is entirely my own.
The Industry of Mobile Gaming
You see, mobile gaming is a massive industry. According to Global News Wire, the mobile gaming market in the US alone in 2020 was valued at $15.1 billion.
Experts predict that it would be worth $153.5 billion in 2027. This is despite the fact that the global health crisis that ravaged the world in 2020 has caused a lot of business and economic loss. If anything, the pandemic only catalyzed the massive growth within the mobile gaming industry.
Additionally, the Business of Apps reported that the year 2020 saw a 12% increase in the number of mobile game players from 2019. There were over 2.5 billion mobile game players in 2020, and this number is expected to rise in the following years.
As you can see, mobile gaming is huge and popular nowadays, and I don't think it would be going away soon. It's an excellent sector that you can easily monetize. Some people opt to make money with Steam as game developers and freelance coders.
But if you want to just have fun and make money playing games in your spare time, PlaytestCloud might just be the place for you.
What Is PlaytestCloud?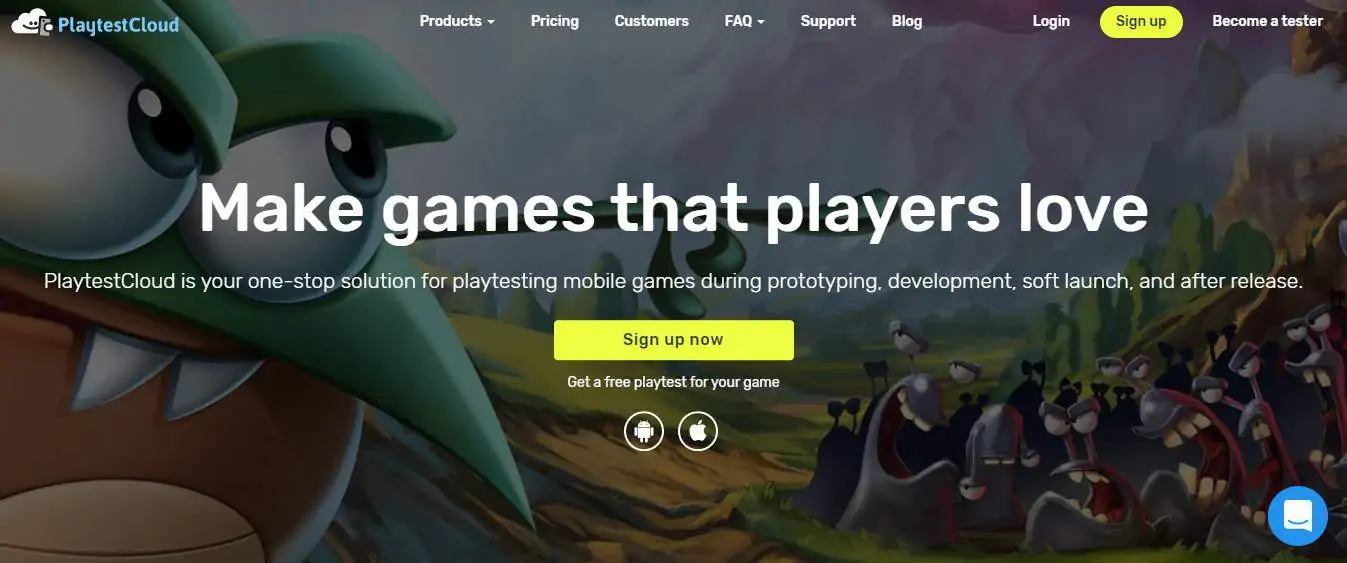 PlaytestCloud is a platform for game testing. Game developers go to PlaytestCloud to obtain feedback from real players on their games on the various development phases: prototyping, development, soft launch, and after-release.
PlaytestCloud provides an easy and effortless solution for playtesting. Its services are trusted by several gaming companies like WarGaming Mobile and Ubisoft.
PlaytestCloud hires game testers to test various games. Testers will provide valuable feedback which helps game developers and creators improve the overall gaming experience. You can think of this as similar to website testing where testers get paid to test websites.
Check out my TryMyUI Review to learn how to make money testing websites.
What is the point of playtesting?
Why do mobile games need to be "playtested?" you might ask.
Playtesting is an essential activity in game development. According to TechnoPedia, playtesting is when a group of players tests up and coming games to point out flaws, bugs, and glitches.
Playtesting also allows for players to point the fun and boring parts of the game, and any other aspect that could bring the gaming experience to the next level.
So, the whole point of playtesting is to generate real user feedback that can be instrumental in developing exceptional games.
With thousands of games available today, game creators and developers must step up with their final product. And with the feedback obtained during the game test, they can polish their games to perfection.
---
How Does PlaytestCloud Work?
PlaytestCloud is a playtesting platform. Game developers come to PlaytestCloud to get their new games tested by real players. Then, people who test those new games get rewarded with some cash.
1. Sign up as a tester
Joining PlaytestCloud is easy and free. First, you have to meet the game tester requirements:
Age: The age requirement is not mentioned on the site but you need to be 18 years old to have a valid PayPal account.
Device: You also to provide information about your gaming devices (iOS or Android, and their models). For Apple mobile devices, the required operating system is iOS 12 or 13 or higher.
For Android devices, they need to be at least Android 5 Lollipop.
Location: PlaytestCloud accepts game testers worldwide but the majority of the playtests are given to users in the US, UK, and Canada.
Language: English is the language used for most tests. There might be some playtest where other languages are allowed but if the language is not specified, then the required language is English.
To sign up for a tester account at PlaytestCloud, click on the "Become a Tester" button at the PlaytestCloud homepage. Then, you will be directed to an online form which you must fill up.
The form will require your basic information: your name, email address, and the games you love to play.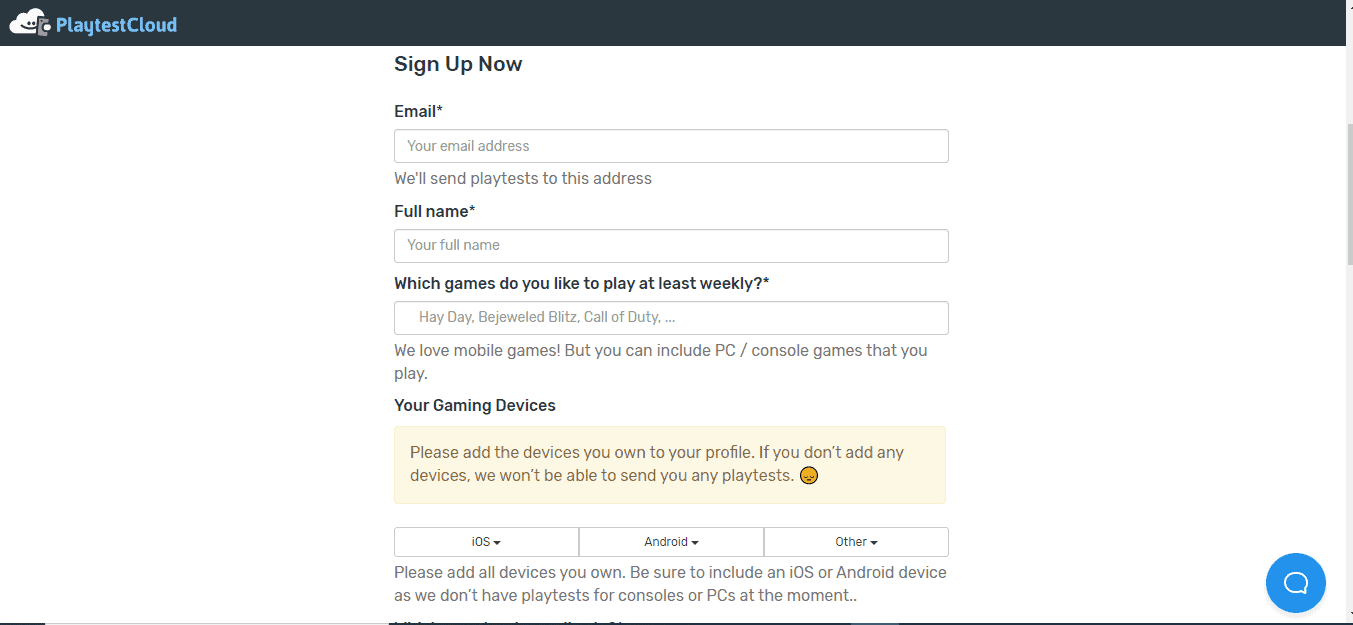 2. Take the Qualification Test (Unpaid Test)
After signing up, the PlaytestCloud team will look into your application and assess if you are a good fit. If you do, you will receive an email inviting you to do the qualifying test.
Unfortunately, the qualifying test is not paid, but it is short and easy. This is a simulation of what a real paid test would look like.
All you have to do is pass this test and you will become part of the PlaycloudTest family. Don't worry if you fail, you can still take the test next time.
In doing this unpaid qualification test, it is imperative that you vocalize your observations and impressions about the game. The more you can get into details, the better.
Once you pass the test, you will start receiving testing opportunities by email.
3. The Actual Game Test Process to Get Paid to Play Games
Now, we get to the actual, paid testing process!
After passing the first test, PlaycloudTest will then send you game test invitations by email. You will NOT always receive these test invites daily because game studios will still look into your demographics and assess if your profile is a good match.
But once you get an invite, just simply accept those invitations to game tests and do what you did in the qualification test. Each invite will contain instructions on exactly what the game developer needs in the test, the download link, and how much it pays.
If you decide to do the test, just download the link and begin testing. An entire test will typically last for around 15 minutes.
4. Take a Short Survey
After completing the test, you'll need to complete a short survey about the game. The game developers want to know your honest opinion to help them improve their game, so don't be afraid to give negative feedback if it's the truth.
5. Get Paid
You'll get paid via PayPal a few days after completing a test.
---
Things to Remember to Become a PlaytestCloud Tester
First, you must understand that PlaytestCloud will record your screen when you're in-game. They will record all the action on your screen and your voice while you're playing.
But note that the recording will stop or be suspended if a phone call comes in and you have to leave the game to check your mobile device.
Second, expect that some games may crash. Remember that the games to test at PlaytestCloud are still in the middle of development. If the game crashes, you can enter the game again but if the problem persists, contact the PlaytestCloud support team at [email protected]
Third, it is important to remember that because the games tested on PlaytestCloud are still in the development stage, you are not allowed to disclose the game to anyone. You also sign a non-disclosure agreement before every test, so by sharing the game information with anyone, you are violating the agreement.
Fourth, there is no guarantee of how many test invites you can get per month. According to the PlaytestCloud website, the company sends over 100,000 test invitations per month but not everyone will get a playtest.
To increase your earning potential with PlaytestCloud, be sure to keep your profile updated. Your earnings pretty much vary depending on the number of tests that match your profile.
---
PlaytestCloud Pay: How Much Can You Make on PlayTestCloud?
Now let's talk about the earning potential at PlaytestCloud. How much can you make with each test?
According to the PlaytestCloud website, each test can earn you around $9. That might not be much, but you only spent 15 minutes doing what you love, it might be something to consider to earn extra cash in your free time.
PlaytestCloud also doesn't have a payout threshold so there is no minimum amount to reach to get paid. You can also get paid a few days after your test is reviewed.
Remember that PlaytestCloud only pays through PayPal, so make sure you have an active PayPal account to receive your payments.
---
PlaytestCloud Pros & Cons
Pros
It is a fun and easy way to earn money
Pays promptly through PayPal
No minimum amount required to withdraw
Free and easy to join
Hobbyists and expert gamers are welcome to join
You get to play unreleased games
Cons
It does not provide a consistent source of income
The qualification test is not paid
---
Any PlaytestCloud Alternatives
If you love the idea of getting paid to test mobile games, then you might also want to check out the following websites:
TryMyUI – Check out my TryMyUI review here!
Userlytics
Bananatic
Gametester
However, if you are looking for quick ways to make money online without having to record your screen or voice, then you might want to consider answering paid surveys. Completing surveys works the same way as testing games: you give your honest opinion about products and services in return for a reward payment. The company will use your answers as part of its market research to improve its products or boost sales.
Here are places to get paid surveys to make easy money:
Swagbucks – Receive a $5 bonus with you sign up!
InboxDollars – Receive a $5 bonus when you sign up!
MyPoints– Earn a $10 Amazon gift card with your first purchase!
Related Post: 30 Companies That Send You Products To Review For Free
---
PlaytestCloud Reviews of Users
I scoured through PlaytestCloud reviews online to get a feel of what it's like to work on this platform. I saw a lot of people asking "is PlaytestCloud legit? Is it a scam?"
According to EricFarmer7 on Reddit, he didn't get that many tests anymore, but all those that he did got paid.
Jonflow also said that he earned $100 from PlaytestCloud in a month.
OhItsKillua also said that he got paid lots of times and he only needed to wait three days to receive the payments.
---
PlaytestCloud Frequently Asked Questions
Is PlaytestCloud.com a legit site?
Yes, PlaytestCloud is legit and not a scam. There are plenty of positive reviews about the site, and they have valid terms of service and privacy policy pages.
Is PlaytestCloud free?
Yes, joining PlaytestCloud is free to join. You don't have to pay anything when you sign up.
Do you have to be an expert gamer to become a playtester?
No, even novice gamers can join PlaytestCloud. The site allows a good mix of gaming-level experiences to generate quality feedback.
How do you qualify for PlaytestCloud?
First, you have to make sure that you have the right gaming gadgets. The operating system of your devices should meet the minimum requirements.
Also, those who reside in the US, Canada, and the UK get more advantages.
The main hurdle when joining PlaytestCloud is the qualifying test, so you want to do great on this.
You have to confidently speak out your thoughts while testing the game. Speaking clearly during the test, and substantiating your feedback could greatly help you in getting hired.
Is video game tester a real job?
No, I don't encourage you to take game testing as a full-time job. You can think of it as more of an under-the-table job. The gigs are not always consistent so your income will fluctuate on a month-to-month basis.
However, PlaytestCloud pays you for your time and thoughts. You can use your earnings to buy yourself a fancy dinner, or let it accumulate until you have enough for a big purchase.
If you're not at all that into gaming but still want an easy way to make money, you can check out how to make money by watching videos.
Is PlaytestCloud safe?
PlaytestCloud appears safe. It only requires your basic information like your name, email address, and PayPal account. PayPal is a legit payment method that's used by many people around the world.
My only concern is that whether or not PlaytestCloud vets its game developers to make sure that no viruses or malicious software are installed on the testers' device during the test.
That said, I would advise against using the device linked to your finances for PlaytestCloud.
---
PlaytestCloud Review: Is Testing Games Worth It?
If you are into gaming, you might like the idea of testing games for Playtestcloud. You can earn extra cash by doing what you like. So, I definitely recommend checking it out if you play games in your spare time anyway and want to help developers.
However, because you only get to playtest a few times a month (or maybe not), it is not a reliable source of income. If you are looking to really boost your income by doing side jobs, check out the following articles:
And if you want to learn how I make a full-time income blogging, check out this detailed blogging tutorial here!
---
---
Have you tried applying or working for PlaytestCloud? Do share your experience in the comments.