Welcome to my Qmee review!
As you may know, I love discovering ways to make money online. It has pretty much become my life's goal to help you find your dream job or business so you can stay home with your family. And I believe that there is a perfect opportunity online for everyone.
So, I write about flexible, stay-at-home jobs or opportunities to help you determine whether these opportunities are legit or worth your while. Today, I want to help shed light on a "money-making" site called Qmee and answer the following questions:
What is Qmee
Is Qmee legit?
How can you make money on Qmee?
The pros and cons of Qmee
Let's dive into all the juicy details in this review!
Qmee Review: What Is Qmee?
This post may contain affiliate links. This means I may earn a commission at no extra cost to you for purchases made through these links. Learn how this site makes money here.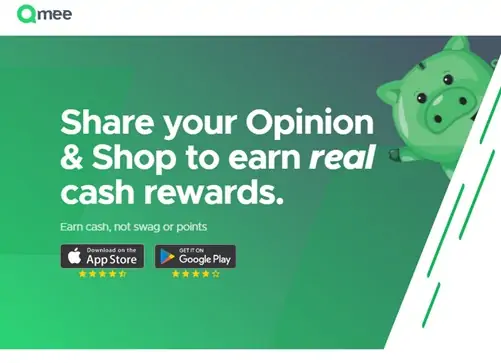 Qmee is a get-paid-to site that pays you for simple online tasks, such as doing surveys and shopping online. It was launched in 2012 and operates in the US, Canada, Australia, and the UK.
I have reviewed a couple of similar platforms on this blog, such as Swagbucks, and you'll see later on that Qmee works in essentially the same way, but with some standout features.
But to introduce it briefly, this is Qmee in a nutshell:
Platform: Qmee
Ways to make money: surveys, cashback offers, and surfing with its browser extension
Sign-up bonus: none
Earning potential: $1-$1 per hour
Payment methods: Gift cards, donations to charity and PayPal
Minimum cashout: $0.01
You can think of using Qmee and similar platforms as one of your side jobs. You don't need to follow a strict schedule, so you can easily insert Qmee during your downtime.
Since Qmee also comes with a mobile app, you can keep earning while on a commute or waiting for your turn at a cashier in the grocery.
Qmee Review: How Does Qmee Work?
Qmee works by partnering with brands and then having consumers like you, join the platform. Qmee rolls out surveys to get your thoughts on different things. The results from these surveys provide valuable insights to Qmee's partner brands so they can improve and provide better products or services.
As a member, Qmee will compensate you for the time and effort of using their platform. The pay rates are nowhere near as grand as having a full-time job (and we can say the same for similar other sites), but it does add up.
How To Join Qmee?
You can join Qmee if you are at least 16 years old and reside in the US, Canada, Australia, or the UK. You also need an iOS or Android device to run the Qmee app, as well as download the browser extension into your computer.
Also, remember to have a verified PayPal account as you'll use this to redeem your earnings later.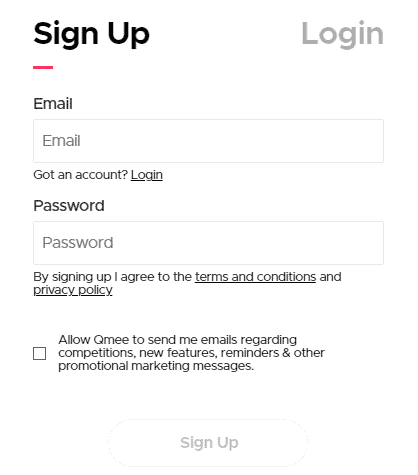 The signup process is quick and easy. All you have to do is input Qmee's official website into the browser. Once on the homepage, click on signup and enter the information it requires.
You'll also be asked to create your profile. Make sure to do this completely and honestly because Qmee surveys aren't rolled out to members at random. Qmee matches you with surveys that are most applicable to you based on the information that you provide.
Also, be sure to install the Qmee browser extension. This extension will show you shopping suggestions based on your queries, and Qmee will also compensate you for using this tool.
As a side note, I also have a detailed Drop app review. Drop is a cashback platform that links to your credit or debit account and gives you cash back for the money you spent shopping automatically.
How To Make Money With Qmee?

Now let's get to the most important and exciting part: making money with Qmee.
First, make sure that you have the Qmee app installed on your mobile phone or tablet, and the Qmee browser extension to your web browser.
Qmee Surveys
You can complete surveys on Qmee to make money. According to several Qmee survey reviews, Qmee has lots of surveys covering various topics like politics, fashion, entertainment, and more. These surveys are matched to your profile and demographics.
According to Qmee, surveys are available to all users, and you just have to opt in so you can get them.
On your dashboard, click on "Surveys" and answer the opt-in form. You'll also see the same opt-in survey when you log into the app. Qmee advises everyone to be honest when answering the opt-in questions.
Some users reported getting disqualified from some surveys, and it's mostly because of one of these three things:
The respondent did not meet the criteria for the survey
The survey has reached the maximum number of respondents
The respondent answered haphazardly or illogically
The Daily Poll
Apart from paid surveys, Qmee also rolls out a daily poll. The poll gathers the members' thoughts on a specific topic. These polls are quick to answer, and they're fun and interesting too.
Now, you want to answer the surveys and the Daily Poll every day because there's what is called the "Streak." When you answer the surveys and daily polls every day, without fail, your Qmee earnings also increase.
How much can you make with Qmee's paid surveys?
It depends on the survey. Each survey has its own rate. Some surveys, especially those that require you to use a webcam pay more. But according to most users, the average pay for each short survey is around $1.
Cashback
Another way to make money on Qmee is through cashback deals. Cashback is a regular offering among most get-paid-to sites like Qmee, and they're an amazing way to earn some of the money you spent.
Qmee's cashback deals work by allowing users to access cashback deals offered by Qmee's partner brands. You pick which cashback deal you wish to avail of, and then follow the Qmee link to complete the transaction. The brand will process the transaction at their end, confirm with Qmee that it is successful, and Qmee will award you with the cashback reward.
The thing about cashback deals with Qmee is that they don't happen instantaneously.
According to Qmee, you may have to wait up to 90 days for the cashback to successfully reflect on your account.
Also, some cashback offers are effective only when you've completed your end of the deal.
For example, if you availed of a travel offer, you will only receive your cashback reward after your flight or trip.
Alternatively, you can check out Ibotta vs. Rakuten, two other cashback apps that you can also use to earn money online.
You might also want to check out my RebatesMe review if you want more cashback apps options and receive a $20 bonus for signing up through my special link.
Search Engine Extension
And then, there's the Qmee browser extension. When you install the browser extension and shop online, Qmee will show you affiliate brands that are relevant to your query. You will get paid for interacting with those brands, fast and easy.
How does the Qmee browser extension work?
When you search on Google, Qmee displays additional research on the left sidebar of your screen. These results feature brands and products that Qmee partners with. For example, when you search "jewelry gifts," both Google and Qmee will give you relevant results.
But with Qmee, it is a paid search. Qmee will pay you for clicking on the brands it features in your search. Plus, Qmee deploys its automatic comparison tool so you know where to get the best prices.
Qmee will not affect Google's search results at all. It only wants to give you more options by offering you products from its affiliate brands. This feature allows you to earn and save money when you go online shopping.
Qmee Review: About The Qmee App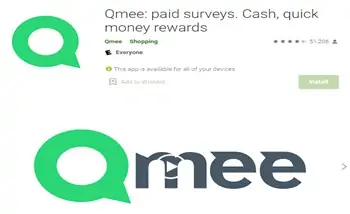 Another great thing about Qmee is that it comes with an app, so you can use it while on the go. If you are only going to rely on your computer and use Qmee for online shopping and answering surveys, you could be limiting your earning potential. The Qmee app allows you to keep taking surveys on your downtime, while waiting for the stew to cook or the laundry to finish, even during commute.
Inviting Friends to Qmee
Most get-paid-to sites and survey platforms come with a referral program. In most of these places, you invite people to join the site using your unique link and you get paid for getting them in.
While Qmee does have a referral program of sorts, it doesn't work like this. First, the ability to invite people to Qmee is not readily accessible to new users.
Why is that?
It's because Qmee wants to make sure that you've had enough time to explore and use the platform and find it enjoyable. According to Qmee, you can invite friends to Qmee when you've used the platform for quite a while. Qmee will let you know when this feature becomes available to you.
Of course, you'll make money when you've successfully recruited others to join Qmee. You will be given three personal link options, and each option comes with its own reward:
Link 1 : you'll receive all the rewards, $1 or £1 for each successful referral
Link 2: you split the reward between you and your friend, so you each get $0.50 or £0.50
Link 3: you can give all the rewards to your friend
Note that the rewards will only be accessible when your referral makes his or her first cashout to PayPal or gift card. The same rule applies: there is no minimum amount required for the payout.
How Much Can You Make With Qmee?
Like most paid survey sites, Qmee doesn't promise anyone a fixed income. You don't treat Qmee like a full-time job and expect it to pay the bills. If anything, Qmee will only supplement your income a little bit, allowing you to buy a fancy cup of coffee or add a couple of dollars to your grocery budget.
But according to most users, they make around $1-$2 per hour using Qmee.
The surveys can range from a couple of cents to a dollar or two.
Interacting with the brands featured by Qmee during your online search should also earn you a couple of cents each.
And the cashback deals do vary, depending on the offer of the merchant.
So if log into Qmee and complete surveys, take advantage of the cashback deals and use the extension for web searches, those small earnings here and there will grow in a few weeks.
How Do You Get Your Earnings From Qmee?
There are three ways to get paid by Qmee:
PayPal – you can have your earnings deposited straight to your PayPal account. Qmee will process the transfer quickly and you should see the money in your account within minutes.
Gift cards – you can also convert your Qmee income into a gift card. Qmee will issue you a gift card code which you'll use to redeem your gift card. You need at least $3 in your earnings to exchange your Qmee income to a gift card, while other gift cards are worth at least $5.
Donate to charity – if you're feeling generous and want to help others, you can opt to donate your income to charity instead. Qmee has a list of charities that are able to receive Qmee donations. Qmee gives 100% of your donation and won't take any cut.
Tip: It is important to have a verified PayPal account when you join Qmee even if you opt to donate your income to charity or exchange your earnings with a gift card.
You'll initially have to transfer a small amount to your PayPal account so that Qmee can verify your identity.
Is Qmee Safe?
With lots of online scams nowadays, it pays to be wary of any opportunity that comes your way. So it's only right to ask about the safety of using Qmee.
According to Qmee as well as its users, yes, Qmee is safe. Qmee's privacy promise includes keeping all your information within its servers.
And as you can notice, Qmee only asks that you provide your PayPal information, which means you don't have to provide any sensitive personal and financial details.
Some surveys may ask for more information, but it's still up to you if you'd like to take them. If you want to stay on the safe side, make sure to never give out any compromising information.
Is Qmee Legit?
Qmee is a legit platform and it has been around for a couple of years now. It has a 4.2 rating on Trust Pilot, and it's often cited as one of the best paid survey sites by publications, such as here and here.
Qmee is not perfect. It has mixed positive and negative reviews, but most people would say that Qmee does stand up to its promise of paying you, without worrying about reaching the minimum amount. You can always cash out your Qmee earnings even if it's just a dollar. In other survey platforms, you would need at least $5 to cash out.
Qmee Review: Qmee Pros And Cons
PROS
Quick and easy to join.
No minimum amount required for cashing out.
Cash out transfers are processed instantly.
Three options for cashing out: PayPal, gift cards, donations to charity.
Qmee extension is unobtrusive.
The Qmee app allows you to keep earning on-the-go.
CONS
It is not available in many countries.
Some users complain of surveys getting fewer and fewer.
You may get disqualified from surveys even while you're answering them.
Earning potential is low and won't replace a full-time income.
Compared to other survey sites, Qmee surveys pay less.
QMee Review: Frequently Asked Question
What is the fastest way to make money on Qmee?
Most users find answering surveys as the fastest way to make money on this survey site.
Some surveys pay a few dollars, while others only a couple of cents. Maintaining your Qmee streak by consistently answering surveys and polls can increase your Qmee earnings.
Does Qmee actually pay?
Yes, Qmee pays. Plus, you can withdraw your earnings instantly to your PayPal account as Qmee does not have a minimum cashout amount.
How does the Qmee browser work?
Qmee has a browser extension that gives you relevant results to your searches. Qmee pays you when you engage with its affiliate brands.
How old do you have to be on Qmee?
You need to be at least 16 years old to join Qmee.
Is Qmee Worth It?
Using a survey site like Qmeecan can be a fun way to make some money on the side. But you have to set your expectations properly. Think of Qmee as an under-the-table job rather than a source of a full-time paycheck.
If you're looking for more sustainable ways to make money from home or online, I highly recommend checking out this list of stay-at-home mom jobs or considering starting a blog! This blogging guide will show you how to start a blog from absolute scratch and make money from it as a beginner!
Have you tried using Qmee? How was the experience? Let's hear it down in the comments.