If you've read my September 2018 Income Report, you'll learn that I went through a big drop in traffic recently from 38k pageviews in June to 10k in August. And  I'm not gonna lie,  I was so discouraged and sad that my efforts were not working. 
Fortunately, I came across one of Finsavvypanda's income reports and I gave some of her recommendations a shot. (Finsavvypanda, I can't thank you enough for also personally sharing your tips with me!)
In a little over a month, I was able to improve my Pinterest monthly views from 200k to 500k+ and now to over 700k.  With referrals from Pinterest, my blog traffic increased from 34k pageviews in September to 50.9k (38.7k sessions) in October. This is the highest pageviews I've seen to date. I don't know how my stats will look like in the next couple of months because blogging is a volatile industry, but I am hoping and determined to do my best to maintain at least 50k pageviews per month.
So, today, I want to share how I earned this $977.10 with 50k pageviews.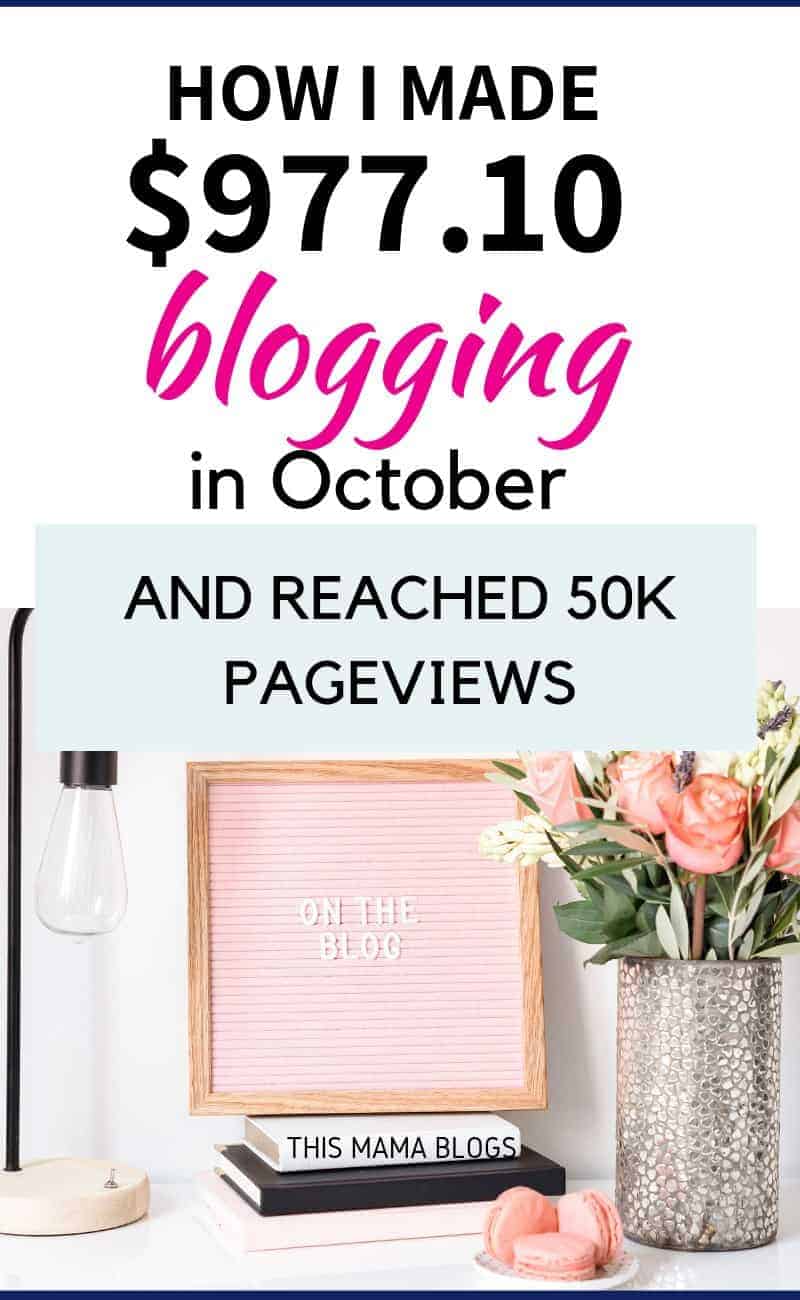 If you are new to blogging or planning to start your own  blog, I sincerely hope that somehow you'll find something useful from this income report–may it just be a bit of inspiration and motivation or some blogging insights.
*This contains affiliate links. Please see my Disclosure for more information.
WHY I PUBLISH MY INCOME?
Please skip the next part and head directly to the income details down below if you are not new here or don't care about why I write this kind of post.
Although I've been publishing my income since I started blogging, to be honest sometimes I feel uneasy or nervous doing this because: 1.) I don't want this to come off as bragging. 2.) Since each blog is different, I can't guarantee that all the things I share here will all work for you. Blogging is NOT an exact science so there's no one way of doing this and the strategies that may have worked for me may or may not work for you.
And 3.) I don't want this income report to sound like another "I made it so can you" income report—that  makes "making money blogging" sound so easy. But don't get me wrong, I still believe that it is possible to make REALLY GOOD money blogging and maybe you can do it too or you can do better than me. My point is that I don't want to sell the idea of starting a blog to make QUICK money. I don't want to mislead you.
You see, for me to earn this $900 in one month didn't actually happen on my first month blogging. It took me AT LEAST 10 months and hours and hours of work to get to this point. Plus, I am not even sure if I can beat this record in November. I may earn less or more, or I may earn nothing in the few next months—who knows?
To give you a little background on my blogging journey, in January 2018, I had ZERO pageviews  and $0 blogging income. In February, I had 3000 pageviews and still $0 blogging income.

I only started making over $500 in September with 30,000 pageviews.
But then again, I am not here to discourage you from blogging either. Blogging can be a very lucrative source of income and can totally change your life. In fact, there are so many bloggers making insane amounts of money and are now living their dream life. One perfect example is Michelle of Making Sense of Cents. She now makes over $100k per month from her personal finance blog while traveling full time.
Don't have a blog and want to give blogging a shot? 
PROMO ALERT! I was able to negotiate a special price for my readers so you can start your own blog for only $2.75 a month + get a FREE SSL certificate. This promo is only available for a limited time and when you purchase your hosting plan through this link.
This site is hosted by this same hosting company which is why I am confident to recommend them to you. They can also help you set up your own blog in less than 15 minutes!
Okay, I digressed.
So why do I publish my blogging income?
These Income Reports started out as Goals and Progress Update where I wrote about my online income (freelancing) and minimalism progress. In September though, I decided to only write about income related to blogging as it is what most of my readers are more interested in. I also think it's more fun to write about because blogging income is dynamic and changes from time to time. I also thought that writing these income reports allows me to reflect on my progress and failures in blogging, and to motivate myself to keep pushing through.
Other than personal reasons, I also want these income reports to be an avenue for me to share what I've learned hoping to help others as well.
What I did in October?
I focused on Pinterest
I just stopped promoting my blog on other social media and started focusing on Pinterest. As I've mentioned in my September Income Report, I purchased this Pinterest eBook which helped me improved my Pinterest views from 200k monthly views to now over 700k.  I continued implementing the strategies I learned from the eBook, such as creating more fresh pins, adding keywords to Pinterest boards and pins, repining top pins, etc.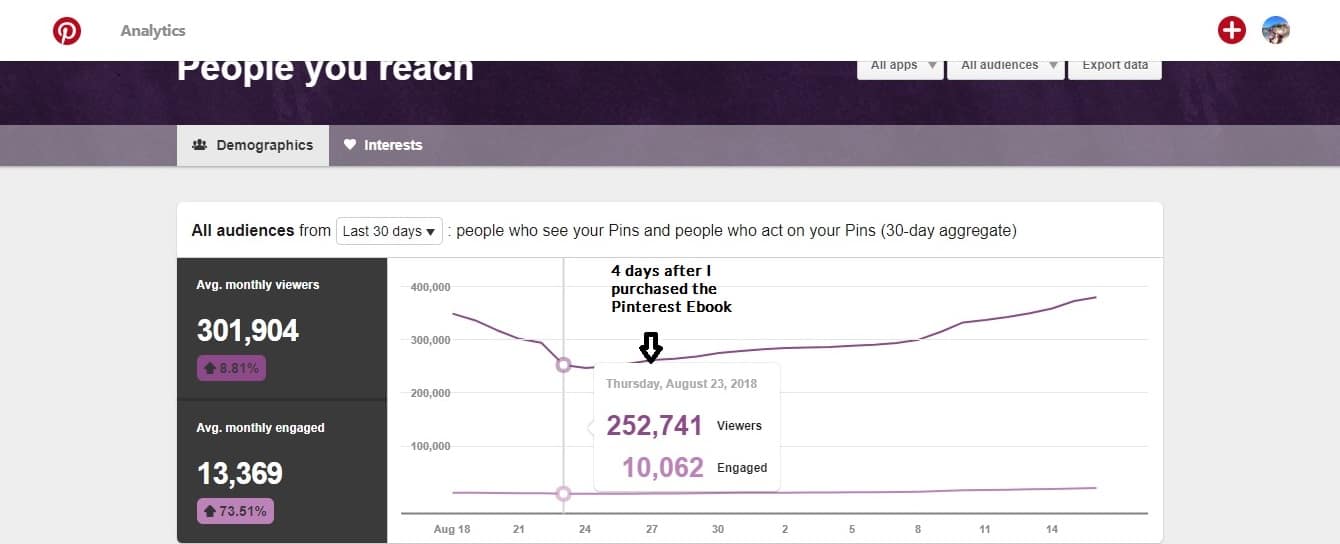 I cannot tell you more about what's inside the eBook but I can guarantee you that it is jampacked with information (with 170 pages) about how to improve your Pinterest views to drive traffic to your site and it is so affordable at $35! Believe me, I have purchased a few blogging products before and this eBook is by far the best one that has truly generated results for my blog. I can recommend this product to you if:
You are new to Pinterest and have no idea how to use it to drive traffic to your blog.
You've been using Pinterest for some time now but your efforts have not been generating results.
A/B/C/D/E Test Pins
This is one of the things I learned from Jeff and Ben of BTOP. Experiment, stop doing what doesn't work, and continue doing those that work. An example is this pin which never really got a lot of saves/repins and click throughs.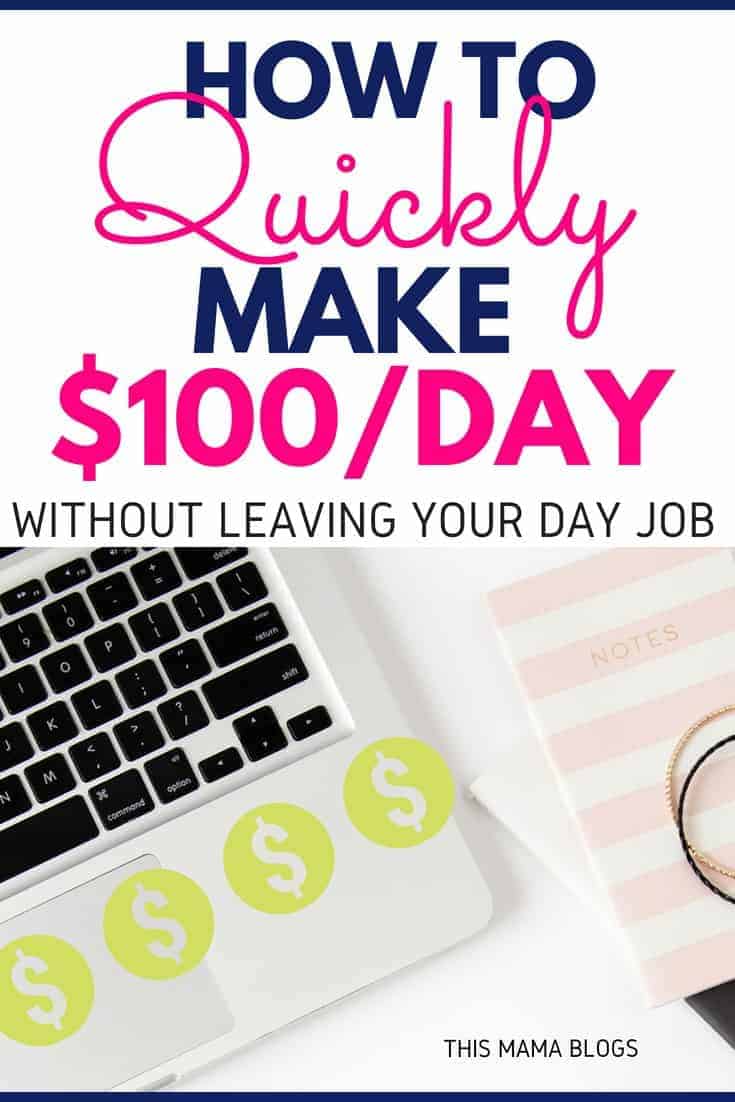 Unfortunately, it took me a long time to realize I was just wasting time and effort repining this pin for many months, waiting for more people to notice it.
Recently, I did another pin for the same article and after a day or two, the article started receiving more traffic through this pin.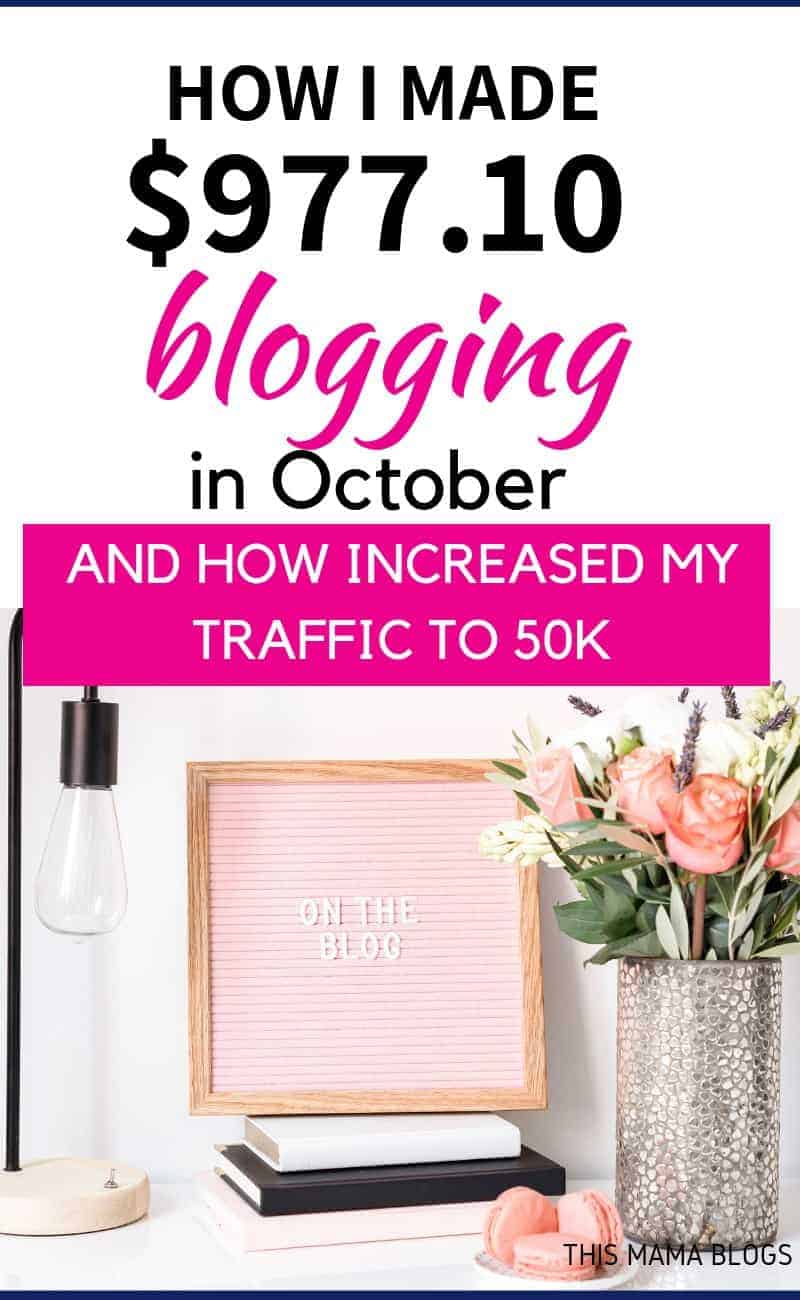 I can't tell what exactly made the second pin take off. Is it because of the fonts used? Colors? Picture?  Whatever it is, the major takeaway here is to never concentrate all your efforts and time on one pin or two because it or they may not work. Create multiple pins per post because you'll never know which title or image is going to do better.
Started Implementing Affiliate Marketing Strategies
I also mentioned in my previous income report that I enrolled in this affiliate marketing course in October and I am still currently implementing the strategies I learned from the course. I read a lot of great reviews about this course and since affiliate marketing is where I needed to improve next as my September affiliate income was only $37, I decided to reinvest my blog income back into my blog by enrolling in this course. So far, I am still implementing the strategies I learned from the course and it might take a while to start seeing results.
OCTOBER 2018 BLOG INCOME BREAKDOWN
Now, let's talk about my blog income last month.
 Some proofs:
I have just joined the following networks:
Impract Radius: $0
Awin:  $0
Total: $977.12
As you can see, nearly all of my income in October was from ads. I would really like to see more affiliate income in the next few months and perhaps try my luck in sponsored posts.
October 2018 Posts
Past Income Reports
Income Report: How I Made $596 Blogging in September 2018
Blogging Income Report for June 2018: $350.71
Blogging Income Report for May 2018: $117.97
Blog Traffic (Pageviews) – October 2018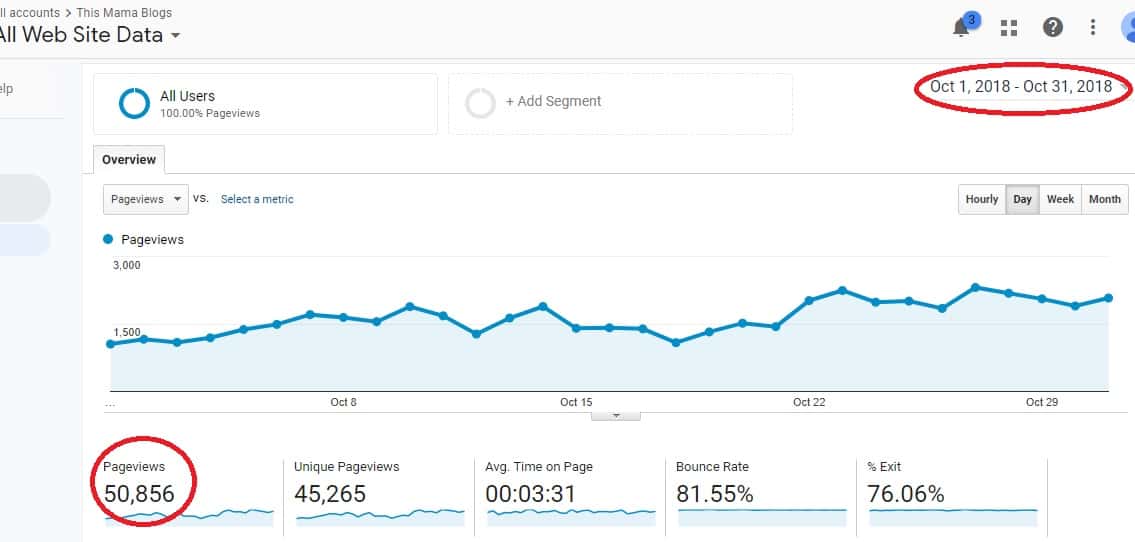 PARTING THOUGHTS
Sure, $977 is not much and cannot pay for all our bills but I also thought, how else could I earn $977 extra doing something I love, expressing my thoughts and helping other people while I am taking care of my 2-year-old? You see, while typing this post with one hand, I have my baby on my lap watching his cartoons.
Don't have a blog yet? Why not? If fear is what's keeping you from getting started, my advice is to JUST DO IT! If you are interested, grab this special deal of $2.75 per month . That's over 60% off regular pricing that's only available for a limited time only! You'll also get a FREE SSL certificate when you purchase a 36-month plan!
You can follow my step-by-step tutorial on how to start a blog at this page. 
BLOGGING RECOMMENDATIONS
Tailwind– Up your Pinterest game using this scheduler. Tailwind helped me grow my Pinterest followers organically  to 3.4k. Grab your free $15 Tailwind credit here.
Start a Mom Blog– This was the course that walked me through starting a blog—from selecting a niche to setting up the blog , to creating graphics , building list and more!
Stock Photos- I want my blog to look pretty and my Pinterest graphics attractive so I invested in stock photos. This library has over 1000 beautiful stock photos you can instantly download right now.
DID YOU ENJOY THIS POST? PIN THIS!  Or follow me on Pinterest!