Welcome to my Income Report for September 2018
My September 2018 Income Report is different from my previous entries in this series because I've included more blogging details in this post. I generally don't blog about blogging but because I was able to improve my traffic from 10,780 pageviews in August to 34,258 in September and over 45k in October, I thought of sharing what I've done hopefully to help others as well.
If you are in the same position as I was in July and you feel discouraged of your blogging progress, please DO NOT GIVE UP. Just keep learning, keep pushing through and enjoy your blogging journey because, as you may already know, blogging is a long-term game. While there are lucky ones who were able to earn their first dollar on their first day or month blogging, the majority earned theirs after a few months or longer. BUT NO, I am not here to discourage you. On the contrary, I am here to encourage you to persist because from what I've learned, it really does take time to grow a blog. But once you are able to do it, I am sure your blog can change your life.
This post contains affiliate links. Please read my Disclosure for more details.
PROMO ALERT!
Don't have a blog yet and planning to start one? Here's good news! I was able to negotiate a special price for my readers so you can also start your own blog for ONLY $2.75 per month when you use this link. As a bonus, you'll also get a free SSL certificate ($15 value) when you purchase a 36-month plan. That's 60% off regular pricing and is only available for a limited time!
WHY I PUBLISH MY BLOGGING INCOME
Please skip the next part and head directly to the income details down below if you are not new here or don't care about why I write this kind of post.
These Income Reports started out as Goals and Progress Update where I wrote about my online income (freelancing) and minimalism progress. In September though, I decided to only write about income related to blogging as it is what most of my readers are more interested in. I also think it's more fun to write about because blogging income is dynamic and changes from time to time. I also thought that writing these income reports allows me to reflect on my progress and failures in blogging, and to motivate myself to keep pushing through.
Other than personal reasons, I also want these income reports to be an avenue for me to share what I've learned hoping to help others as well.
SO, WHAT HAPPENED IN JULY AND AUGUST?
You know that feeling when you think you are making a BIG blogging progress and your hopes are up and then suddenly one day you realize that you are actually heading down…you scramble for solutions, try everything you can think of but nothing seems to work and you are at a loss as to what to do next? It sucks, right?
Well, that's how I felt in July seeing my traffic consistently going down.  As you can see in the picture below, from 38k pageviews in June, my blog traffic dropped to 16k pageviews in July and 10k pageviews in August.
Then, my Pinterest views also dropped from 700k to 200k per month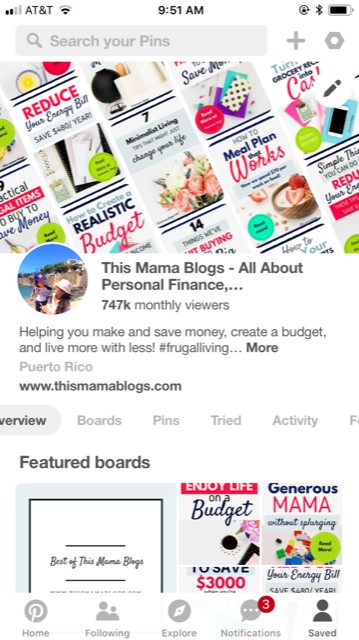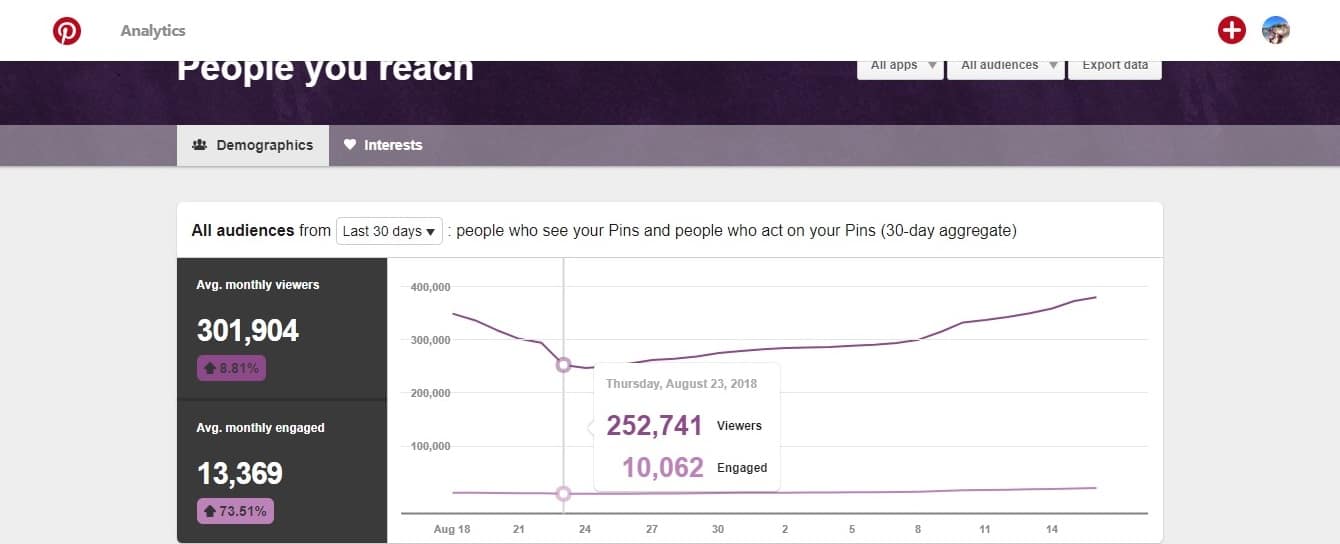 I was sad and frustrated because I know that I want to earn an income through this blog eventually but my efforts were not generating results.
One thing I am glad I never did was to give up. Instead, I stalked other bloggers (not in a creepy way!) and dug up their income reports to learn from them. That's how I learned about this Pinterest ebook through Finsavvypanda.
Like many people, I was also skeptical of paying for eBooks and courses thinking I could find the information I need online. I was scared that they will not work or are just a waste of money. BUT I am glad I took the plunge and purchased the product.
Two to four days after implementing the strategies in this eBook, my Pinterest views started improving. After about a month implementing the strategies, my Pinterest views increased from 200k to 500k and my pageviews from 10k to 34k and then to over 45k.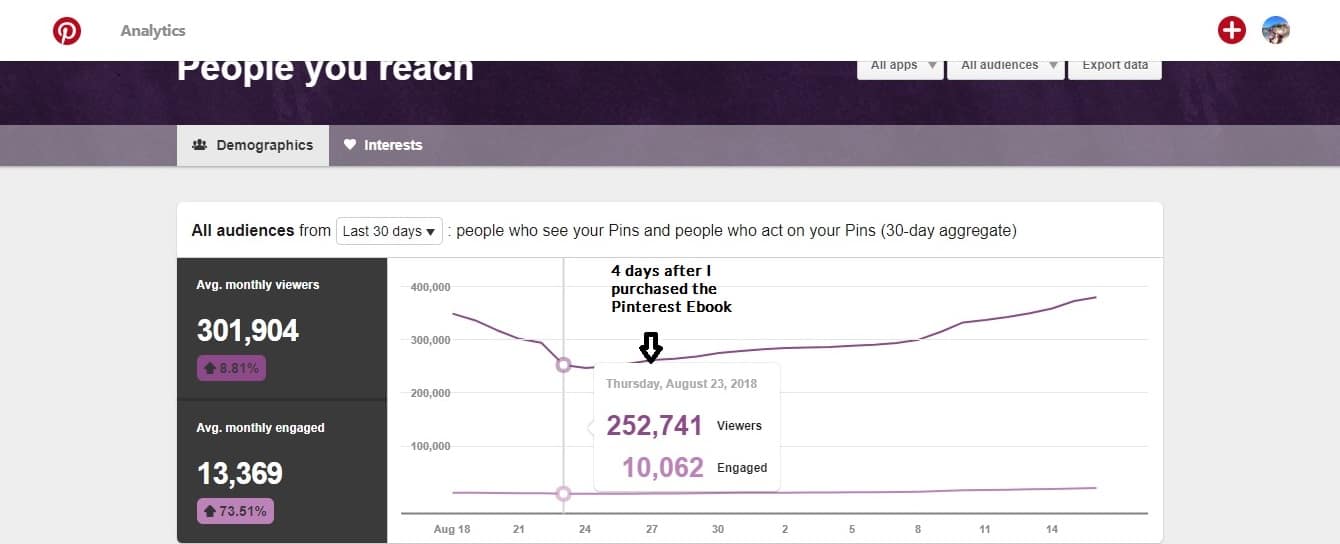 If you are a new blogger and have no idea how to use Pinterest to make money through your blog or you have been using Pinterest for a long time but you're not really gaining traction through it, I can definitely recommend this product for you.  It is jampacked with valuable information ( with 170+ pages!) that's really worth your money.
This small investment of $35 helped me make over $500 through ads in September.
The graph below shows my income and traffic progression from January to September 2018. Although I started this blog in around August last year, I consider January to be my official first month blogging as it was only then when I was able to start working on this blog because we lost power for 4 months due to hurricane Maria. In January 2018, I had 0 pageviews. 
Blog Income Breakdown
If you've been following my blogging journey, you may have noticed that I skipped writing income reports for July and August 2018. Honestly, I was really sad about my blog's performance in July, so I spent the previous months trying to figure out what went wrong, reading other bloggers' income reports to learn from them and implementing new strategies to improve my blog's traffic. But to be transparent with you and for the purpose of documenting my blogging progress, here is how much I earned in July and August.
July 2018 Income : 239.61 USD
Ads: 214.11
Affiliate (Ibotta, $5 Meal Plan etc. ): $25.5
August 2018 Income: 174.5 USD
Now let's talk about my September 2018 Blogging Income:
Ads (Mediavine) – $559 ( as shown in the picture above)
Affiliate Income- $37
I've just joined the following affiliate networks:
Total Blogging Income in September 2018: 596 USD
GOALS
I want to focus next on improving my contents/writing, creating tasty pins, learning more about affiliate marketing and implementing SEO techniques. I know that sounds a lot, but I don't have to do them all at the same time.
THE TAKEAWAYS
Lesson learned #1: Do not be afraid to invest in valuable blogging resources
One thing I've realized is that money spent on learning is usually well worth it. As I've mentioned earlier, I was afraid of buying blogging eBooks or courses thinking they are not worth the money or that I may still be able to find the information I need online for free. But who has all the time in the world to research and try out every strategy there is? Investing in the RIGHT resources will help you save a LOT of time second guessing what really works or not.
So, recently, I've also purchased (FINALLY!) Making Sense of Affiliate Marketing, a course I had wanted to buy since I started this blog but never did because of fear. This course was created by Michelle who is consistently making $50k per month in affiliate income through her blog Making Sense of Cents. With only $37 in affiliate income in September, obviously it is the area where I want to improve next. So let's see what happens after implementing Michelle's strategies!
By the way, if you want to follow my blogging updates, you may sign up below to receive my next blogging update.
Lesson learned #2: Master one social media first.
I learned this from Ben and Jeff from Breaking the One Percent. When I started blogging, I was all over the place. I was in every blogging group I could join ( And I am talking over 30 or 40 groups here!); I used twitter, Google+ and started my own FB group–which I eventually closed BTW because it no longer supports my goals.
And you know what? I spent a lot of time promoting my blog on various platforms and I was not really getting anywhere. It was only when I started focusing on Pinterest that I started seeing results. My traffic started growing without having to be active on all facebook groups or growing my followers on Instagram and Twitter.
Lesson learned #3: You can't learn it all in a day.
And you can't learn it all in a week, month or maybe a year.  But you don't have to learn it all first to get started. When I started this blog, I knew nothing about how to create a blog, more so about how to make money blogging but I decided to learn as I go. While I am still far from my goals, I now know that my goals are not impossible to reach. It just takes time and insatiable persistence.
Parting Thoughts
If you are discouraged right now of your blogging progress, think of it this way:
We all start at $0 income, zero pageviews and a dream, right? Do you want to give up on that dream without trying?
Don't have a blog yet? Why not? If fear is what's keeping you from getting started, JUST DO IT! Interested?  Hostgator can help you start your blog for less than $4 per month and set it up in 15 minutes. This blog is hosted on Hostgator, too, and I am very happy to recommend their service to my readers.
BLOGGING RECOMMENDATIONS
Tailwind– Up your Pinterest game using this scheduler. Tailwind helped me grow my Pinterest followers organically  to 3.4k. Grab your free $15 Tailwind credit here.
Start a Mom Blog– This was the course that walked me through starting a blog—from selecting a niche to setting up the blog , to creating graphics , building list and more!
Stupid Simple SEO– One of the things I regret not investing in when I started blogging was SEO. I really recommend learning SEO from the get go. The earlier you start SEO, the earlier you'll get traffic from Google.
DID YOU ENJOY THIS POST? PIN THIS! Or follow me on Pinterest!