Welcome to my AOJ Online Jobs Review!
American Online Jobs is a website that offers home-based work with lucrative salaries. But, are the AOJ work-from-home jobs legit?
In this AOJ Online Jobs review, I will discuss what American Online Job is, how it works, and whether it's a fraud or not. If you're looking for a legit home-based job and AOJ is one of your options, I suggest you stick around until the very end of this AOJ Online Jobs review.
Disclaimer: I am not a member or an affiliate of AOJ Online Jobs. It is my goal at This Mama Blogs to help you find legitimate money-making opportunities. In line with this goal, I write unbiased reviews of opportunities, jobs, or companies to help you decide whether they are a real deal or not.
This AOJ work-from-home jobs review has been researched with information or testimonials available on the internet. Any conclusions drawn from this post are entirely my own.
What is American Online Jobs?

At first look, American Online Jobs or AOJ seems like a legit job listing site. Most of the jobs posted are data entry work that promises at least $1,500 in wages per week. But looking closely, AOJ doesn't look like reputable job listing sites like FlexJobs.
When you visit the site, you will be met by a landing page that contains pre-screening questions. The questions are supposed to get to know you better as an applicant. So, you proceed to answer the questions, but strangely enough, your answers aren't selected. However, you could just click on any button and you will be taken to the following page. In short, that questionnaire was useless and totally irrelevant to your job application.
The next thing I noticed is that the site will ask you to sign up for a couple of survey companies. Now, I have nothing against legit survey companies, but I feel like AOJ is trying to dupe people here. You've come to AOJ to try to find a legit work-from-job, but it turns out, it isn't a job listing site after all, but a referral marketing company.
I've also heard of people signing up on AOJ being required to purchase an antivirus software costing $25. After making this purchase, you are deemed eligible to train with AOJ.
Training With American Online Job
The training part makes AOJ sound a little legit, but wait until you've gotten into it. In your training, AOJ will provide you with a couple of classes to teach you how to make money online using their site.
There are also supplementary training videos that are supposed to increase your knowledge and understanding. With these videos, you should learn how to do affiliate marketing on social media platforms. Seems legit, yes? But not quite.
The problem with this is that you're not training to become a data entry worker, or do any work-from-home job, for that matter. The training is all about affiliate marketing. You're supposed to learn how to entice other people to go to AOJ and sign up on survey sites. This is a referral marketing strategy that aims to improve one's income potential by getting more and more referrals to join the site.
AOJ is misleading people. The site makes them believe that they're training for an actual job that pays by the hour, but the truth is, you won't even get decent pay from several hours of work. You will be spamming social media sites with affiliate invitations (which many people find annoying, by the way), and if nobody signs up, you earn nothing. This is a far cry from the $1,500/per week income the site initially offers.
Is American Online Job Legit?
Whenever you're applying for a job online, it's always wise to check the legitimacy of the site. First, you will be giving them personal information, and you don't want to have that info falling into wrong hands. Second, you want to find jobs that are worth your time and skills. If you end up getting a bogus job, you might not get paid at all.
So, this question begs an answer: Is American Online Job legit?
Based on my research as well as other AOJ online job reviews on the web, AOJ is not legit. At first, it looks like a legit job listing site. But as you go through the process of training with them, you'll realize that it's an affiliate marketing site that aims to entice people to do the hard work for them. If you believe you'll find a legit data entry work here, you're up for a disappointment.
Signs of a Bogus Online Job Listing Site
Now that we've established in this AOJ online job review that American Online Jobs is most likely a scam, it helps to know the tell-tale signs that an online job site is a scam.
1). Unsecure website
Any reputable job listing website would make sure that it has updated security features, such as an SSL certificate. If you're a user, you don't want to enter personal information into a suspicious website. But as you can see in the pic below, American Online Jobs doesn't have an SSL certificate, so that's a red flag!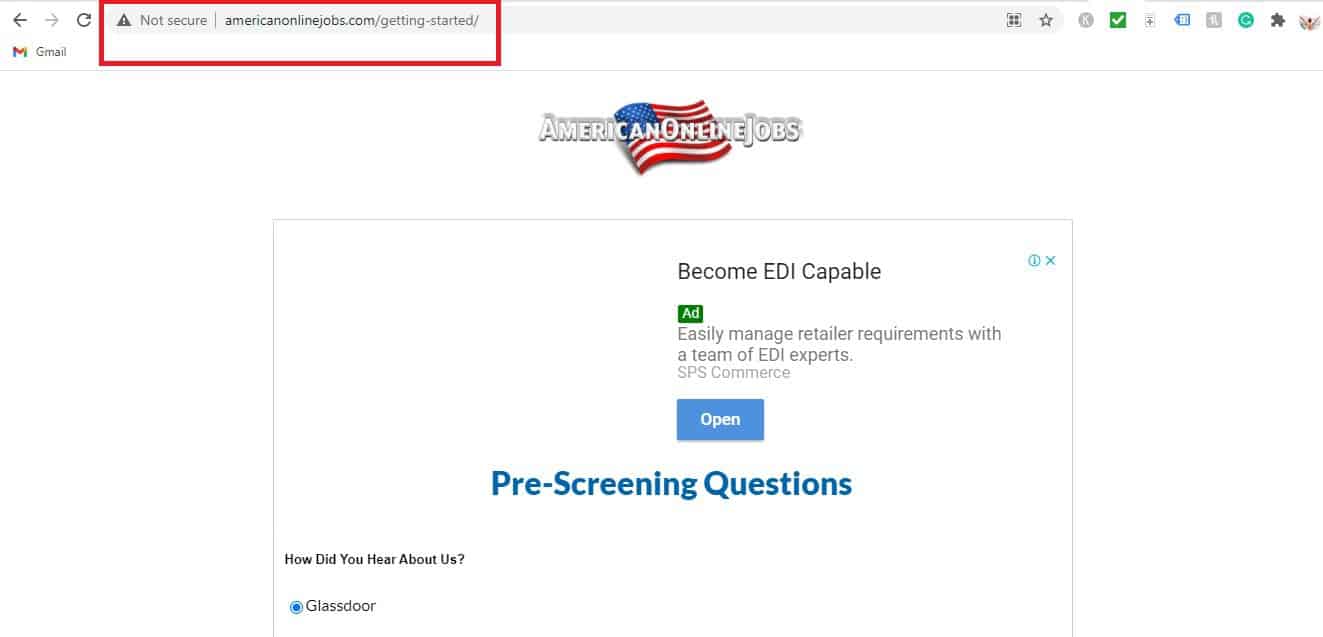 2). The website lacks important information
Another thing to note is that AOJ instantly directs you to a questionnaire. There are no details about the company or its contact information.
3). Its offer is too good to be true
$1500/ week for data entry work, really?! Mind you, data entry is a real online job. According to FlexJobs, data entry specialists make around $12/hour. Even if you work ten hours per day, you won't be making this much. So, if an offer is too good to be true, it's better to take a pass on it.
4). It does not provide legit online jobs
As I've already mentioned, data entry is a legit online job provided you work for the right company or agency. In this case, AOJ refers to data entry as answering surveys. Some online surveys are real, but others aren't. Also answering surveys isn't even a real job.
What's wrong with affiliate marketing? You might ask.
There is nothing wrong with affiliate marketing. Lots of people make real money from affiliate marketing. Even bloggers like us use affiliate marketing as a method to boost their income.
But in this case, AOJ uses affiliate marketing in an unethical, scrupulous way. The training teaches you to spam people and their social media feeds. By the way, this is hardly a good way to gain referrals, so you'll just end up wasting your time.
If you want to find legit online jobs, I suggest looking into FlexJobs. This job listing site is a reputable one, offering tons of legit online, part-time and remote jobs. You'll also find a lot of resources to help you score the best opportunity for you. Read more about my FlexJobs review here to learn more.
Final Verdict: Is AOJ Real or Sham?
Now that we've come to the end of my AOJ online jobs review, I hope that you take caution when applying to jobs online. AOJ is just one of the fake job listing websites out there looking to trick people with their dirty schemes, so be sure to inspect the legitimacy of a website. If you have the slightest suspicion that a job site may be a scam,
I recommend you check out Flexjobs if you are looking for a legitimate jobs site or my extensive lists of work-from-home jobs and side jobs below:
Have you encountered American Online Jobs? What are your thoughts about it? Share your AOJ online jobs review in the comments!