Looking for entry level work from home jobs? Check out this list of no experience online jobs–perfect for stay-at-home moms or anyone looking for extra income!
No Experience Jobs Near Me
---
Did you always want to work at home, but don't have the experience? You've never taught at a school before, written for a publication or even worked at an office. You don't have anything to show in your resume, and you're bummed thinking you'll never get a spot in the work-at-home field.
Well, the thing is, a lot of people dove into no experience online jobs and realized it was just the perfect thing they needed to get started. In fact, many stay-at-home moms these days are not just staying home but are also making a good living with work from home entry level jobs.
I myself am a stay-at-home mom making a living freelance writing and blogging, and I started these side hustles with no experience.
So, if you think that anyone without experience will never qualify for a job, that's far from the truth. A lot of people who have ventured into work at home jobs started with no experience at all, but they were full of passion, commitment and willingness to learn. They were keen on taking up new skills so they can be more effective in performing entry level online jobs.
You have to stop thinking that experience is the major qualification in landing entry level online jobs from home. You don't have to be a published writer to be able to blog or make a living freelance writing, nor do you need experience working in the Information Technology industry to test websites.
What you need are skills that translate well into the job, and of course, your commitment and dedication to make it work.
If You Don't Have Experience, You Probably Have the Skills
Some jobs need specialized experience, such as web development, business management and healthcare. But you still have a great shot to scoring a work-from-home job despite zero experience if you have the skills.
So, in lieu of experience, you can bank on existing skills so that your application stands out. Here are the top skills you need to gain excellent leverage in applying for "no experience needed" jobs:
Fluency in written and spoken English
Internet savvy and computer literate
Fast typing skills
Customer service skills
Admin and clerical
If you have at least one of these skills, you stand a better chance of landing a home-based job. It also helps to acquire new skills in your free time, or enhance existing skills that have become rusty over the years. The more skills you can lay on the table, the more your application becomes appealing to potential employers.
And if you can find the right job that you can grow with professionally and pay you decently, you can start living the life of a home-based, work-at-home mom: away from the stresses of daily commute and no boss hovering over your neck. Then, you'll gain more freedom and flexibility, allowing you to follow your passion and be there for your family.
Your skills are your stepping stones in acquiring more experience in work-at-home jobs. You basically start with zero experience, but with some relevant skills, you have a great potential in earning a sizable income and establishing yourself in the field.
How to Start Working From Home?
Online entry-level jobs may seem simpler to qualify for compared to jobs requiring experience, and there's truth in that.
However, you still need to properly prepare yourself because the job market can be saturated and you want to stand out despite the lack of experience. To help you score side jobs at home, you need to:
Prepare your resume
Some employers still seek out applicants' resumes during the screening process. Make sure your resume looks polished and professional and has all the updated information.
If you don't have relevant experience for the work at home job you are interested in, list down relevant skills instead. You may also include informal experience.
Portfolio
A portfolio is important when a potential employer asks you to show something that showcases your skills. So, if you don't have previous experience, what can you show?
If you're an aspiring graphics artist, for instance, you can show work you did during your free time. If you want to delve into content writing, submit your past written work, blog or website. That's why it's important to keep polishing and improving your skills to convince employers that your skills can offset the lack of experience.
Expect some tests
Apart from your portfolio, employers may also test you out to better gauge your skills and suitability for the job. Research and study. Prepare to take these tests and do your best in them.
Watch out for scams
You don't want to be scammed on your first work-at-home stint (or ever), so it pays to be more vigilant when looking and filtering for jobs.
If the rate is incredulously higher, you are required to pay a fee to get started or if the job sounds and looks illegal, you need to turn them down without hesitation. When it sounds too good to be true, then it usually is!
This post contains affiliate links. I may make a commission for any purchases made through those links, at no extra cost to you. Please read my Disclosure for more information.
The Best Entry Level Work from Home Jobs for Beginners
Below is a quick rundown of the top entry-level online jobs you can try right now. Note that these are all work-at-home jobs that don't cost anything to start.
1. Tutoring
If you believe you're pretty knowledgeable in a specific field, then you have high chances of getting hired as an online tutor. Online tutoring doesn't necessarily require you to be a college graduate, but some companies do require their tutors to at least be at the college level.
Apart from that, if you have the passion for teaching younger kids English as a second language (ESL) or any other subject like math or physics, then it's easy to get started. You'll likely need to have a good internet connection, high-quality webcam, and earphones, and you should be ready to go through the application process.
If you are interested in teaching English, below are the most popular ESL companies hiring English teachers right now.
VipKid
VipKid has been around for years and pays up to $22 per hour for one-on-one classes.
Magic Ears
Magic Ears is the new kid on the block when it comes to ESL teaching but has been rapidly expanding in the last two years. They pay up to $26 per hour.
---
2. Survey Jobs
Taking surveys is another great way to make money from home, even without experience. In fact, you don't need any special skills to get started as a survey taker – you just need to voice out your opinions. A lot of companies are rolling out surveys to find out what you think about new products, shopping habits, get answers to questions, and more.
You'll start racking up points which can be cashed in as PayPal money or redeemed as gift cards or check. Be careful who you sign up with because there's a lot of survey rip-off companies looking to get your vital financial and personal information. Check the site carefully and verify its legitimacy before signing up.
I also used to complete surveys for money back before I started blogging and I must say that completing surveys is an easy, no-stress side hustle to make quick money.
These are some of the companies that I can highly recommend if you want to earn extra bucks by sharing your opinion as a consumer:
This is perhaps the most well-known and trusted survey site and one of the first I've tried. When you answer surveys through Swagbucks, you can earn SB's which you can redeem as cash through Paypal or convert into gift cards. I personally use this site to earn Amazon gift cards but they pay cash via Paypal, too. I also got a few payments via Paypal such as this one: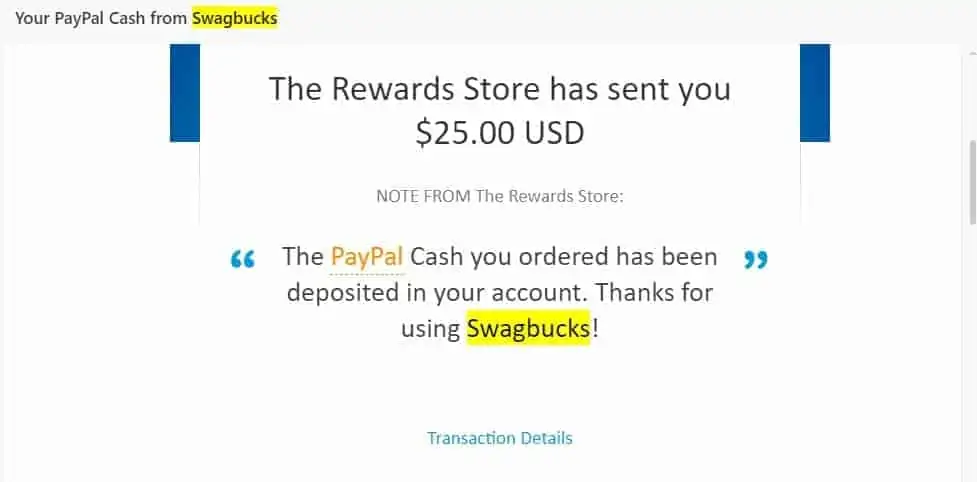 Currently, Swagbucks also offer a $10 bonus for just signing up. You can join below, get your bonus, and start earning points or cash with surveys.
MyPoints is another survey site owned by Swagbucks and works just like Swagbucks! They also pay Paypal Cash ($25 worth of points). To increase your earning potential with surveys, I recommend signing up with MyPoints, too!
---
Pinecone Research pays $3 per consumer survey you completed. The best thing about Pinecone Research is that you will never get disqualified for any survey. Once you are accepted into Pinecone Research, the company will send you 1 to 4 surveys that you can complete in 10-15 minutes each. That makes you $12-18 per hour!
Pinecone Research is an exclusive online survey website run by Nielsen, one of the world's top market research company based in New York.
The site is exclusive because you need to be invited and then qualify to join.
---
Vindale Research is another survey company that pays up to $50 for some surveys and a $2 incentive for just signing up. There are a lot of small daily studies available on Vindale Research that pays around $1.25.
For USA, UK, Canada and Australia.
This is a fun survey site where you can earn money answering surveys, watching TV and playing games. Inbox Dollars works just like Swagbucks where you can earn cashback while you shop online, get free products, get discounts from top brands and more! Inbox Dollars has paid over $57 million in rewards to date.
---
3. Virtual assisting
Virtual assisting is one of the best jobs for stay at home moms with no experience. It pays well and all the skills needed for the job can be learned online.
It is a great online gig, especially if you have a keen eye for detail, you're a self-starter and can multi-task. Companies, businesses to busy individuals hire virtual assistants to expedite their tasks without incurring additional employment costs. The typical duties include data entry, social media management, answering emails, writing content, and more.
You have a great advantage if you can demonstrate trustworthiness and timeliness to your employer, which could lead you to keep this job longer and allow you to command higher rates in the long run.
As a virtual assistant, you can make $25 to $40 per hour, depending on the type of services you offer. Check out these resources below to learn more about how to get started working as a virtual assistant!
Related
---
4. Mystery shopping
Another fun way to earn money without experience is mystery shopping. Think of yourself as an undercover shopper sent by a third-party to observe, record, and collect data about the store or establishment. The observations you gather will be used by the company to enhance its operations and provide better service.
You might be asked to record experiences about how you were treated as a customer, sales pitches that employees gave to you, their courtesy towards you as a customer and the store's cleanliness and the employees' grooming.
The best thing about mystery shopping is that you get to sign up to as many agencies that you qualify for so you can get as much gig as you can. It's also very flexible because you'll be able to work at your own time. While you don't need to have specific skills or degree, you should at least be observant, have great writing skills (as you will be providing detailed descriptions of your observation) and be motivated.
Companies that hire mystery shoppers include Bestmark, Marketforce, GAPbuster, Secret Shopper and About Face.
---
5. Transcribing Audio Files
You can get into the transcription job market without much prior experience if you have fast and accurate typing skills. As a transcriptionist, your job is to type out audio files so they can be available in digital written format.
To start with, you need a computer, internet connection, a good keyboard, and headset. A lot of companies hire new transcriptionist without experience if you pass their writing and transcription test.
If you want to learn more about this entry-level work-from-home job, I highly recommend checking out the following free resources:
General Transcription Mini-Course
Legal Transcription Mini-Course
Related
---
6. Website testing
Working as a website tester is almost a no-brainer; hence, it doesn't require any experience at all. What you're expected to do is test out the usability features of a website or app and provide the developer with feedback. You don't have to be tech-savvy to qualify. Some companies even seek out beginners to test out their sites.
You'll review the site based on their questions and concerns, and then you provide them with your feedback. You may also be asked to do simple tasks like registering into a portal or test the navigation features. It's a simple job where you can earn around $10 for just 10-15 minutes of testing.
You can get website testing gigs at companies like Loop11, Usertesting, and WhatUsersDo.
---
7. Blogging
Think of blogging as a way to document your thoughts and feelings in an online journal. It was supposed to work that way, at least, during the early days of blogging. But soon enough, bloggers realized that they could monetize from this activity quite lucratively.
As a blogger, you can earn through affiliate marketing, ads, sponsorships, selling digital products, and more. The more you establish your credibility and grow your following, the more money you'll earn. It's also fun and rewarding, and when you get the hang of it, you'll think of it as more of a hobby than a chore, but with the potential to earn a good income.
Related
Related:
50+ Non-Phone Work-from-Home Jobs
13 Voice Over Jobs from Home for Beginners
---
8. Bookkeeping
Virtual bookkeeping is probably one of the best homebased jobs for those who love working by themselves!
The job entails lots of working with numbers and spreadsheets, and the worker needs to be highly detail-oriented. If you'd like to get started working as a bookkeeper, you will need a working computer, reliable internet connection and a bookkeeping software. You can then start sending out proposals to potential clients, even without leaving your home.
Bookkeeping requires a slight learning curve, but it isn't as demanding or rigorous as accounting. Typically, bookkeepers are responsible in entering and managing receivable and payable accounts; maintaining ledger, managing the payroll, and filing accounting reports. You'll find a lot of virtual bookkeeping jobs on the internet, most of them paying at least $20 per hour while others as much as $60 if you're already experienced.
To get started, don't miss out this FREE introductory 3-class series to help you start your own virtual bookkeeping business. This free course was created by Ben Robinson from Bookkeeping Business Launch.
Related
How to Become a Bookkeeper with No Experience
---
9. Amazon Jobs
You might think of Amazon as just a huge shopping portal, but it can actually be a great place to get work-from-home no experience jobs. In fact, there are plenty of ways to make money with Amazon, including affiliate marketing, selling your products through retail arbitrage or FBA.
If you're a designer, you can earn through Amazon Merch and if you're an artisan, you'll make money through Amazon Handmade. You can also perform a couple of menial tasks through the Amazon Turk program or as one of their customer service associates.
Jessica from The Selling Family makes six figures a year using The Amazon FBA program. She has a free 7-day email course to teach you how to get started with FBA, how to price items, the items you should buy and niche you should sell in.
Related
---
10. Data Entry
An easy no experience job you can start with at home, data entry encompasses several occupations such as typists, coders , transcriptionists (if the data that needs to be entered come from audio files) or clerks. Data entry involves inputting data into a company's system; and as a data entry operator, you may need to verify data as it is entered.
The drawback to data entry is that they are a bit hard to come by so when you see data entry roles, apply fast. You can find no experience data entry jobs from home at companies like QuickTate, SpeakWrite and Clickworker.
Related: How to Get Amazon Data Entry Jobs
---
11. Online Researcher
If you've always enjoyed reading and learning, you can make money from your endless curiosity by working as an online researcher. Some online research jobs require no previous experience in research or education. However, industry-specific research opportunities, such as court researcher, may need formal experience.
Here are a few of the places where you can find entry-level online researcher jobs:
As an online researcher at this site, you'll answer questions submitted by the company's clients. You'll spend time researching a few quality sources that answer that question and then produce an answer for the client. Top researchers at Wonder earn up to $30 per hour and make $2k per month from home or anywhere.
Other sites where you can answer questions for money include Weegy, Fixya or Help Owl.
---
Other Best Places to Look for No Experience Jobs
Now that you know that you can find and land entry-level work from home jobs, and what kind of jobs you can apply for, now it's time to know where you can find such opportunities.
1.Social Media
There are plenty of ways to find side jobs from home through the social media. You can join homebased and virtual assistant groups where job vacancies are posted from time to time or use the right hashtags to filter through your searches.
2. Tap your network for entry level work from home jobs
Your past employers, colleagues, old college friends may have something for you, so don't hesitate to contact them saying you're looking for work-at-home opportunities. Who knows, one of them can use your bookkeeping services or another needs some virtual assistance with her business. And the best thing is, you know the person you're working with.
3. Online job boards
You'll find entry level online jobs in various online jobs boards like Flexjobs, Hubstaff, AngelList, PeoplePerHour, Upwork, and Freelancer. The advantage here is that you can build your profile, upload your resume and find and get found by clients.
Are you ready for entry level work from home jobs?
Don't let the "experience" requirement intimidate you. We all have to start somewhere, right? You can start scouting for entry level work from home jobs, find one that you like and feel confident about and send in your application.
Who knows, this is the beginning to a potential long-term home-based work you've been waiting for?