Do you ever feel like you need to eat something healthy but don't want to spend a lot of time or money on it?
You're not alone. It's why I am constantly sharing easy and cheap meal ideas on this blog. I love keeping lists of healthy, delicious, and budget-friendly recipes for breakfast, dinner, and all sorts of occasions. So all I need to do is come back to my lists when I need to create a new meal plan.
A hearty soup is one of the best things to make when you're short on time and money. You can throw together a bunch of ingredients that you have on hand and presto! A delicious and nutritious meal.
Thankfully, there are tons of easy and cheap soup recipes that you can make ahead for busy days.
So go ahead and bookmark this page, because you're going to want to try them all!
More Money-Saving Tips
Use Ibotta
Ibotta is a free app that pays you for buying grocery items like bread, canned beans, meats, and more. Sign up for free here, grocery shop like you normally would, and earn cash back on qualifying items by scanning your grocery recipes using the app. As a bonys, you'll receive $10 FREE for signing up and using the app.
I've received over $1000 from Ibotta for scanning our grocery receipts on the app. Here's a quick proof: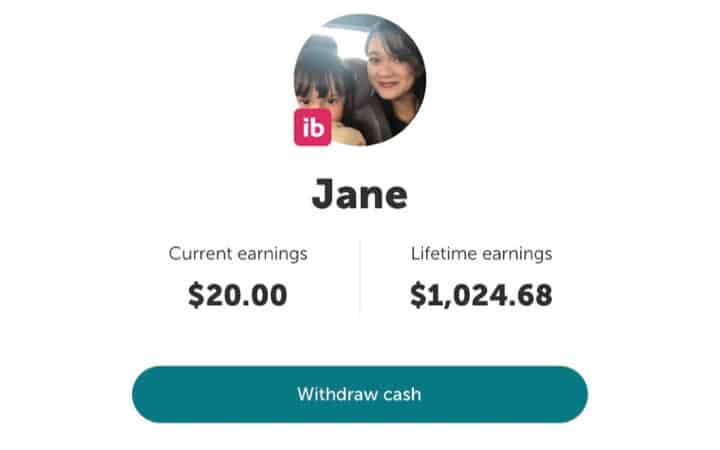 Related: Ibotta Review
Batch Cook and Freeze
Save time by batch cooking, and freezing the leftovers using silicone cups or freezing trays.
You can keep the soup in the fridge for about three months, so you'll have meals ready in a minute or two during busy days.
Meal Plan
Whether you are trying to save money or eat healthier, meal planning is a great way to achieve your goals.
By taking the time to plan out your meals, you can make sure that you have everything you need on hand and avoid buying unnecessary items and spending too much money at the store.
You can start creating a meal plan using ingredients you already have. So, check out your pantry to see what you should use soon to avoid buying food unecessarily. For more meal planning tips, check out this post.
Drop your email address below and I will send you this FREE Meal Planner ( Printable) so you can start meal planning if you haven't yet!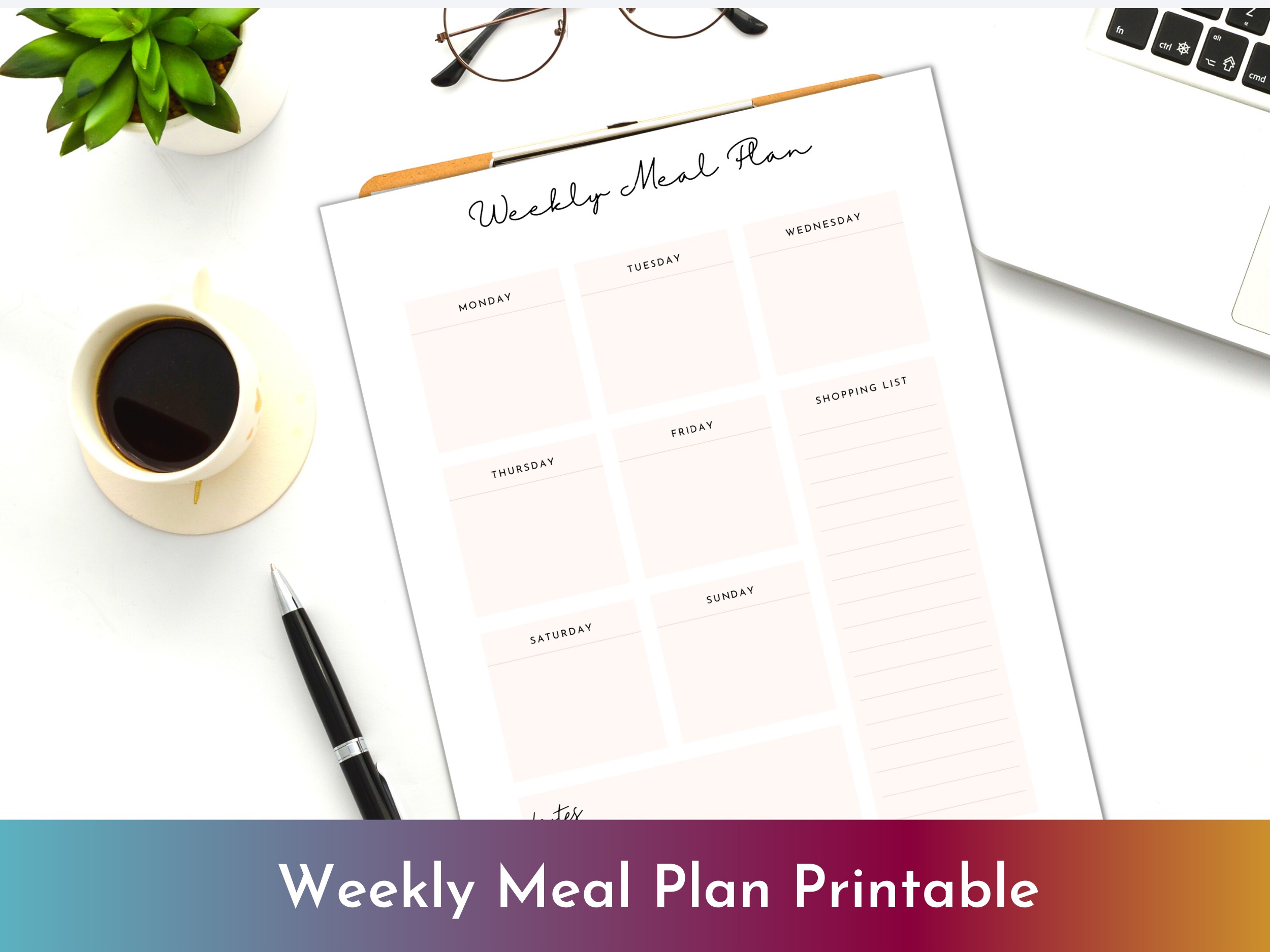 Healthy and Cheap Soup Recipes
1. Instant Pot Vegetable Soup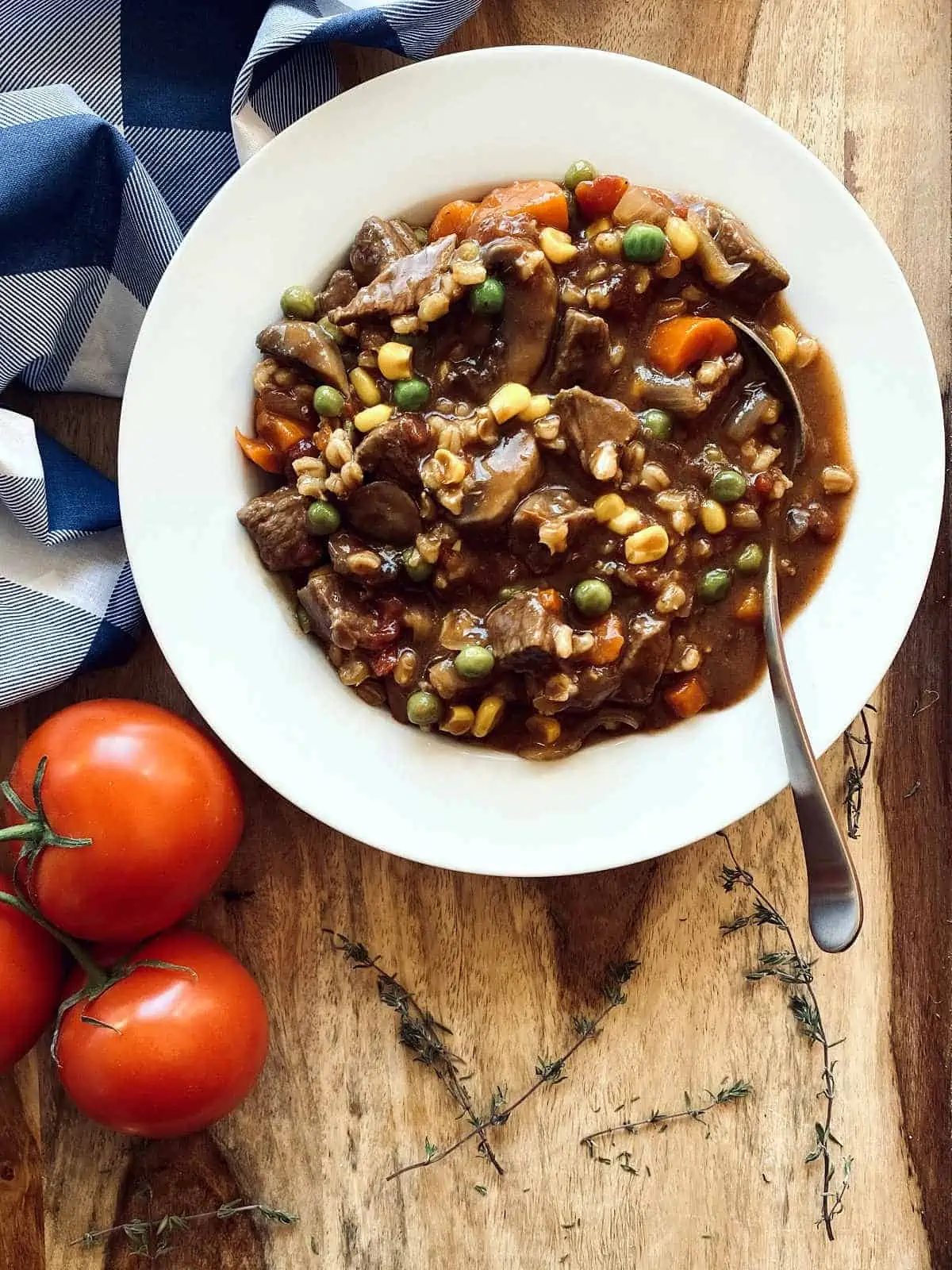 This instant pot vegetable beef soup is the perfect healthy soup recipe! This recipe uses beef broth, beef, tomato sauce, and some veggies. This one-pot meal is packed with savory flavor and is ready in 30 minutes! Perfect for meal prep and freezes well.
2. Instant Pot Bean Soup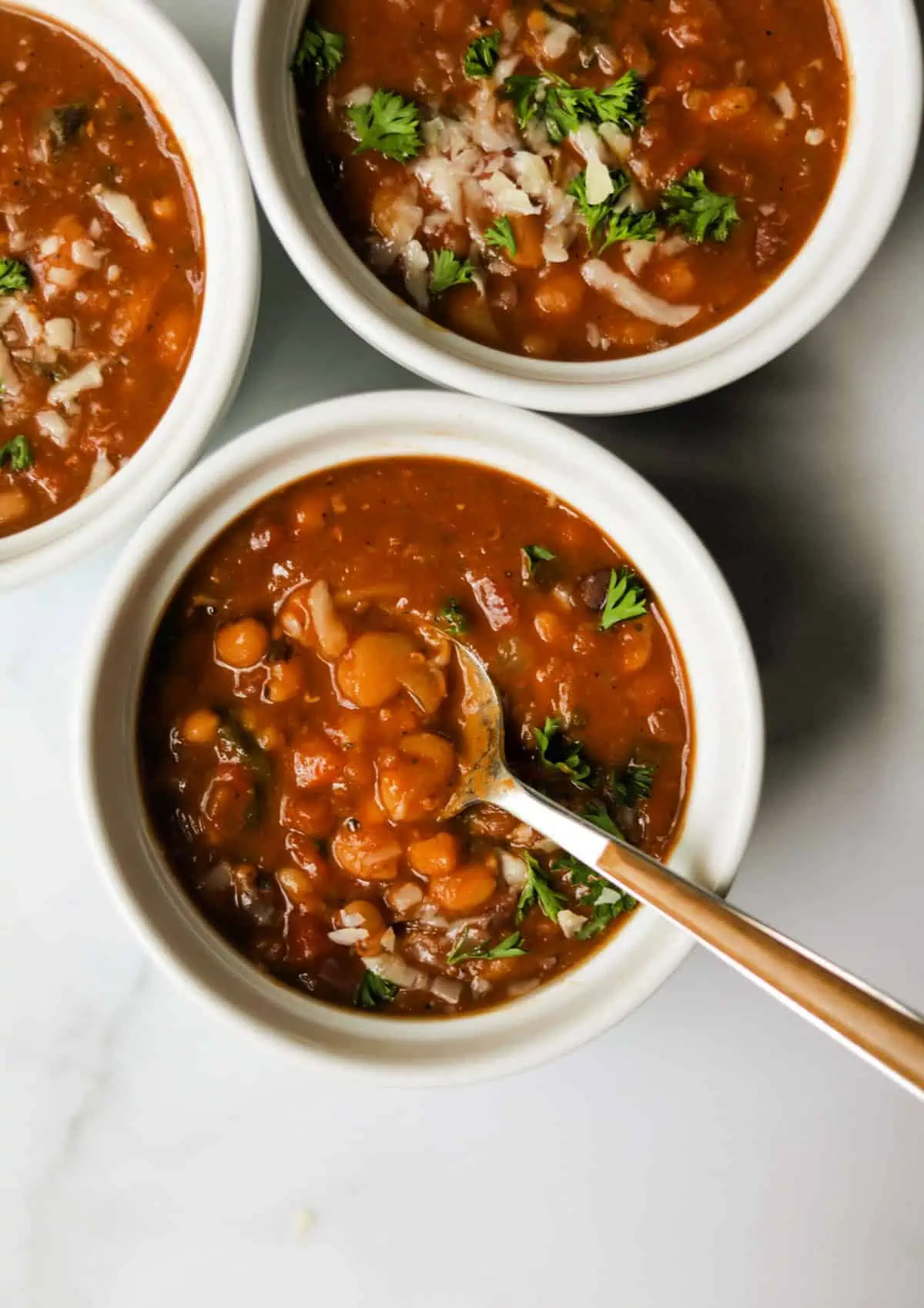 This recipe for easy Instant Pot bean soup is made with 15 types of beans, vegetables, spinach, and herbs with a flavorful tomato broth.
3. Vegan Lentil Soup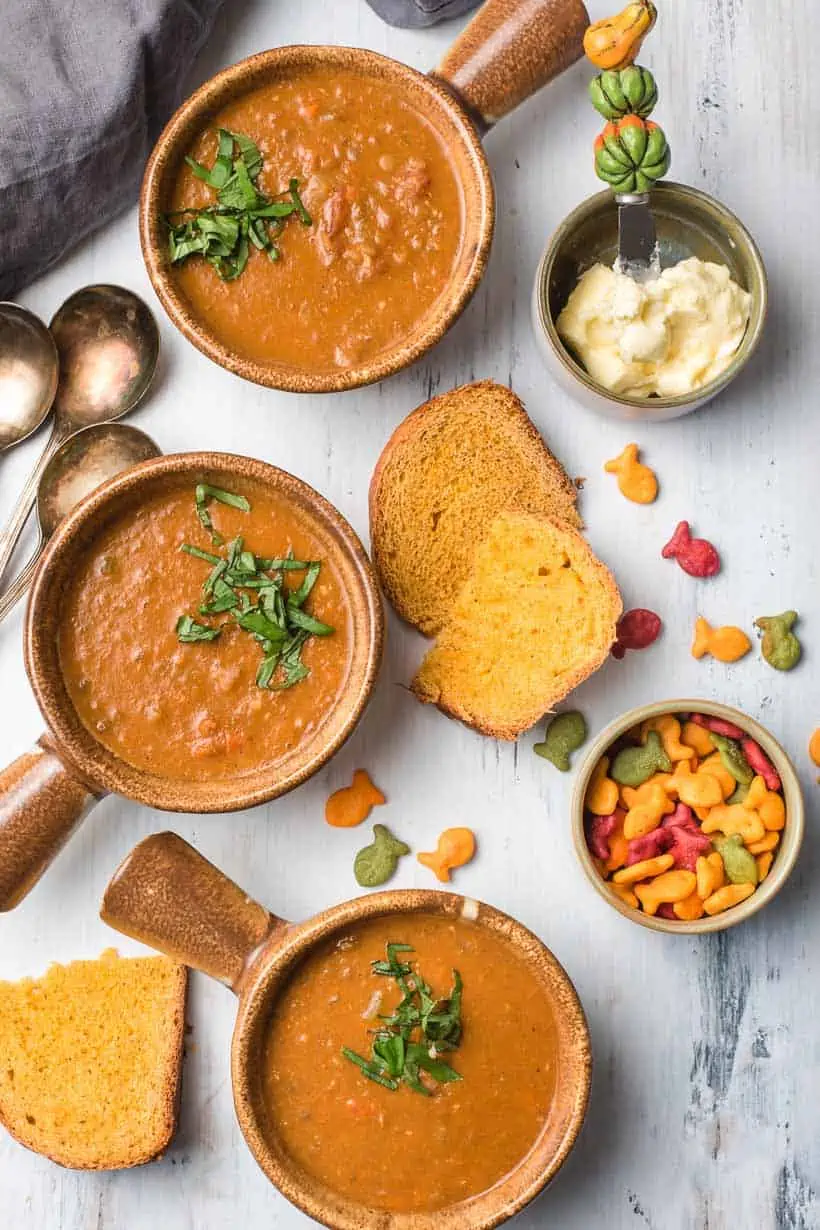 I love lentil soups so this has to be on this list! This easy recipe uses celery, diced tomatoes, carrots, and spices, and is not only vegan-approved but loved by meat lovers as well! Check out how to make this lentil soup at Neighbor Food Blog.
4. Grandma's Chicken and Rice Soup
Grandma's chicken and rice soup is made from a whole chicken, onions, celery, and rice with seasonings, butter, and Better than Bouillon for spoonfuls of comfort. Get the recipe at Beerbeware.
Related:
5. Tomato and Rice Soup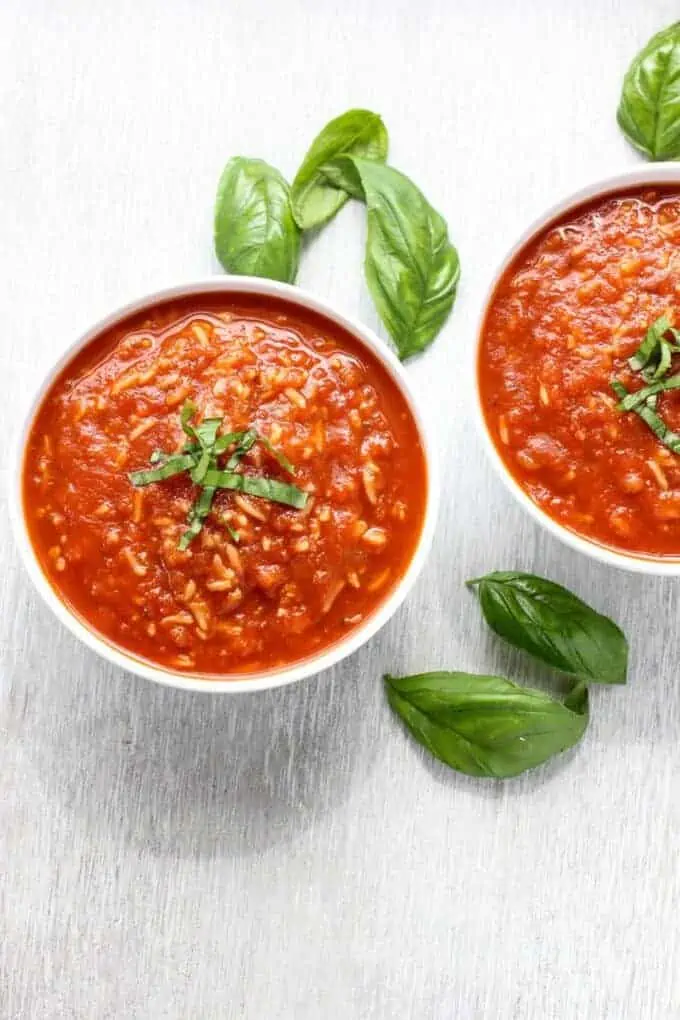 This hearty tomato and rice soup is an easy and budget-friendly dinner idea! With just a few pantry staples such as tomato paste and spices, this recipe comes together quickly.
6. Classic Potato Soup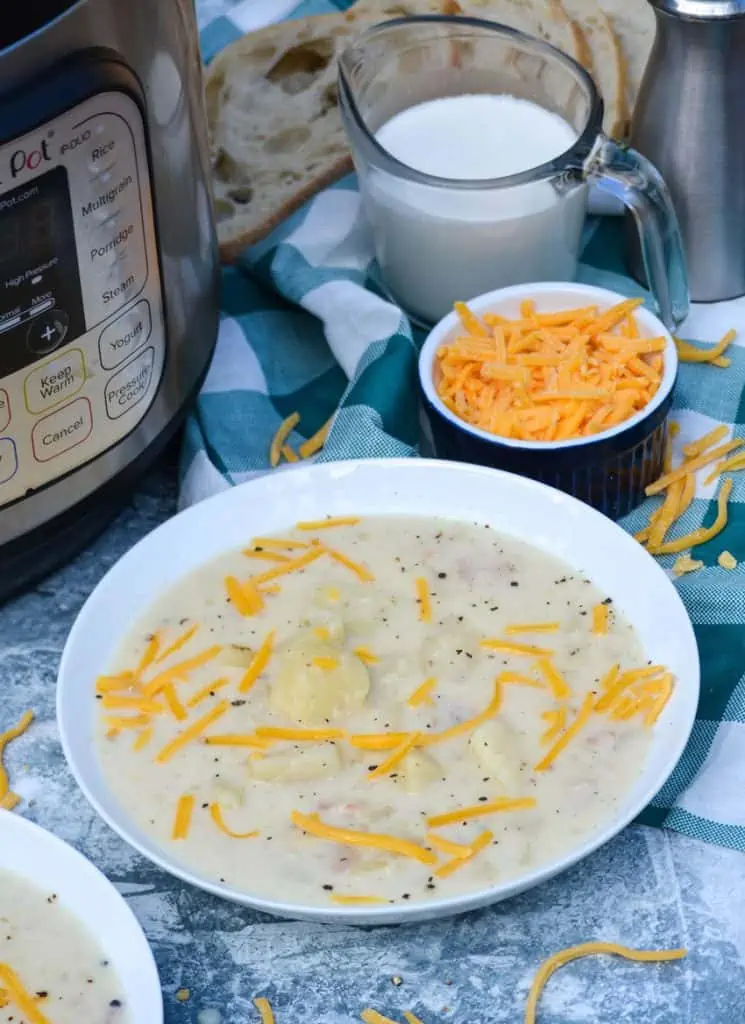 This hearty soup with diced potatoes tastes like it was slow cooked but thanks to the pressure cooker, it comes together in practically no time at all, making it the perfect dinner for any night of the week- even the busiest weeknight! Get the recipe at 4sonrus.
7. Chicken Orzo Soup
Brimming with lemon flavor and a hint of fresh ginger, this Chicken Orzo Soup is easy to make and will be on your table in just 30 minutes.
8. Vegan Pumpkin Carrot Soup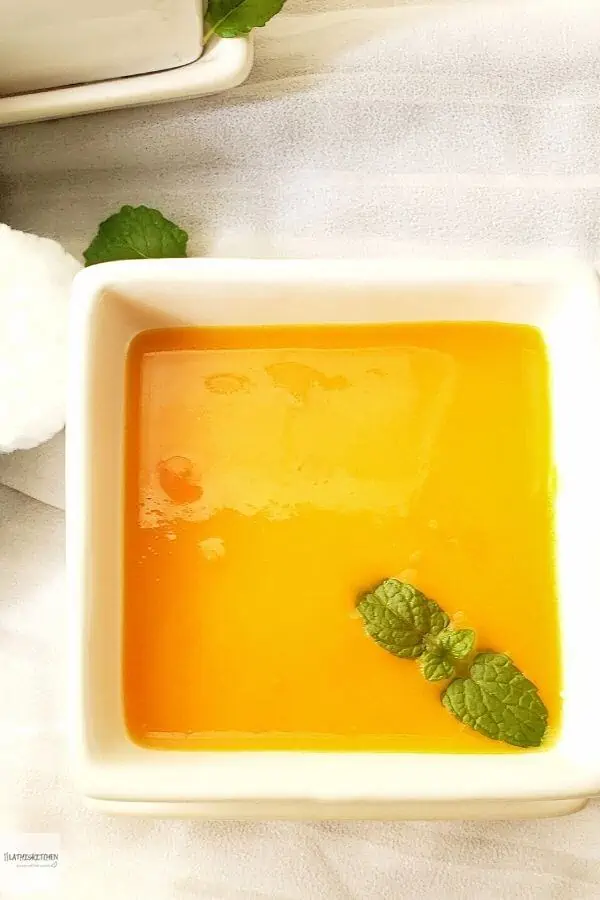 You'll love this soup! The recipe doesn't use any cream but you can always go ahead and use cream to make this soup rich. In addition, you can also cook the vegetables in vegetable broth. Check out the recipe at LathisKitchen.
9. Easy Pumpkin Soup with Coconut Milk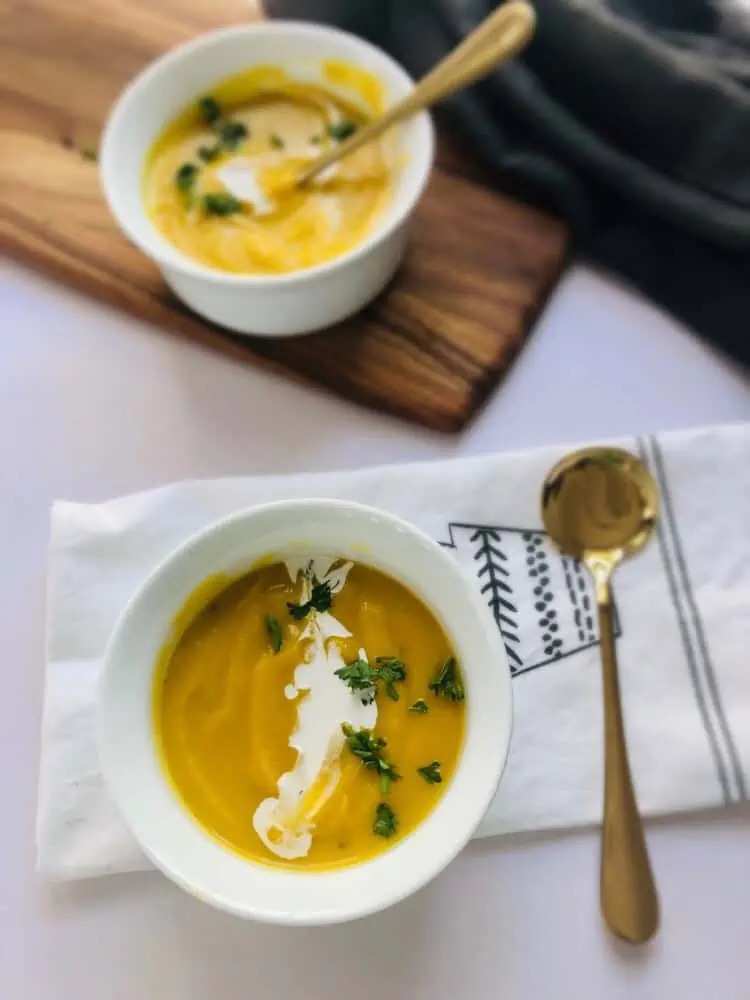 I love coconut milk so I make my pumpkin soup with coconut milk and some ginger for some spice. Check out my recipe here.
10. Broccoli and Cauliflower Soup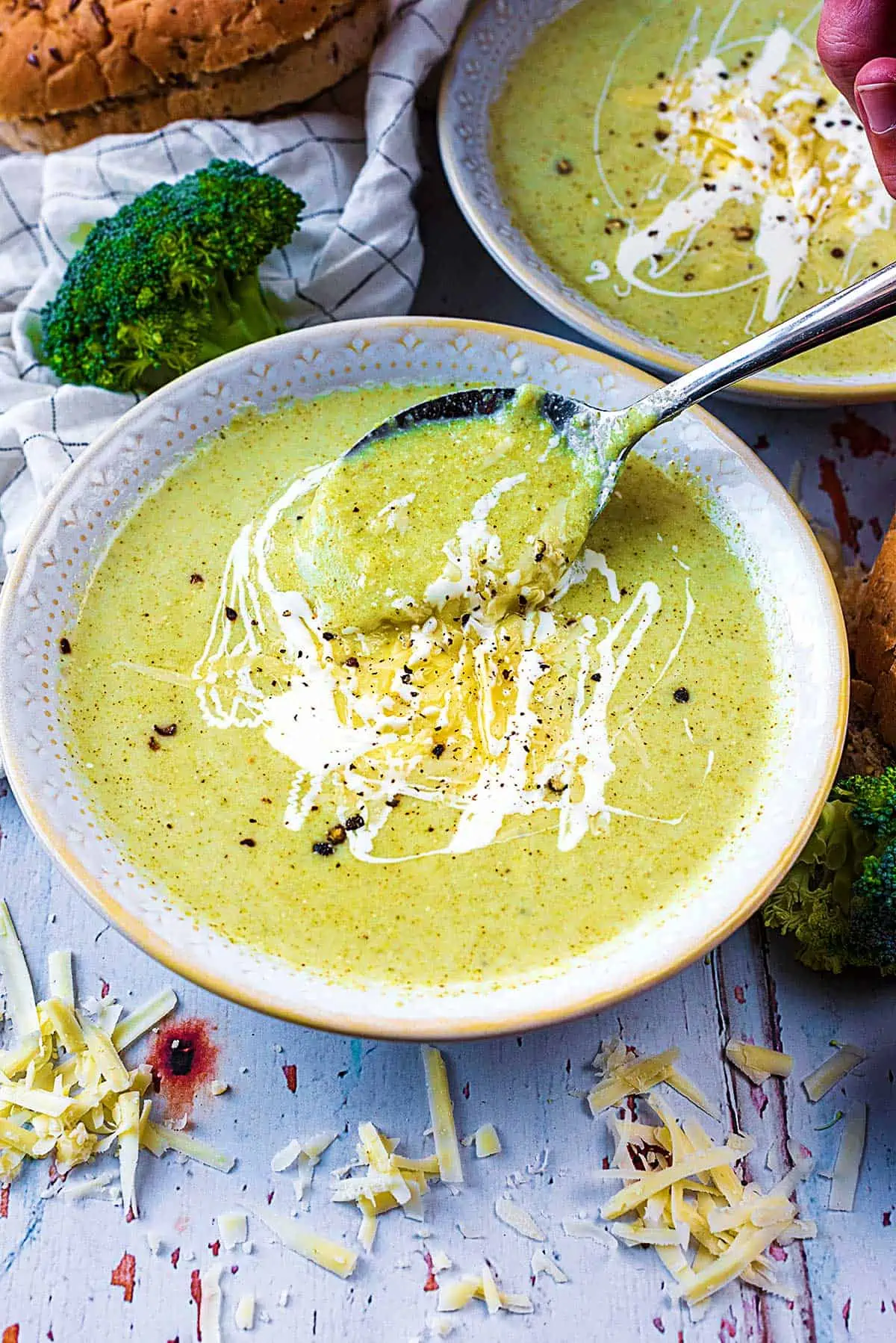 This creamy and comforting cauliflower and broccoli soup is veggie packed and an easy way to get more vegetables into your family's diet. Ready in under 30 minutes, it's warming and easy to adapt with different cheeses and toppings, so there is something for everyone!
11. Easy Tomato Soup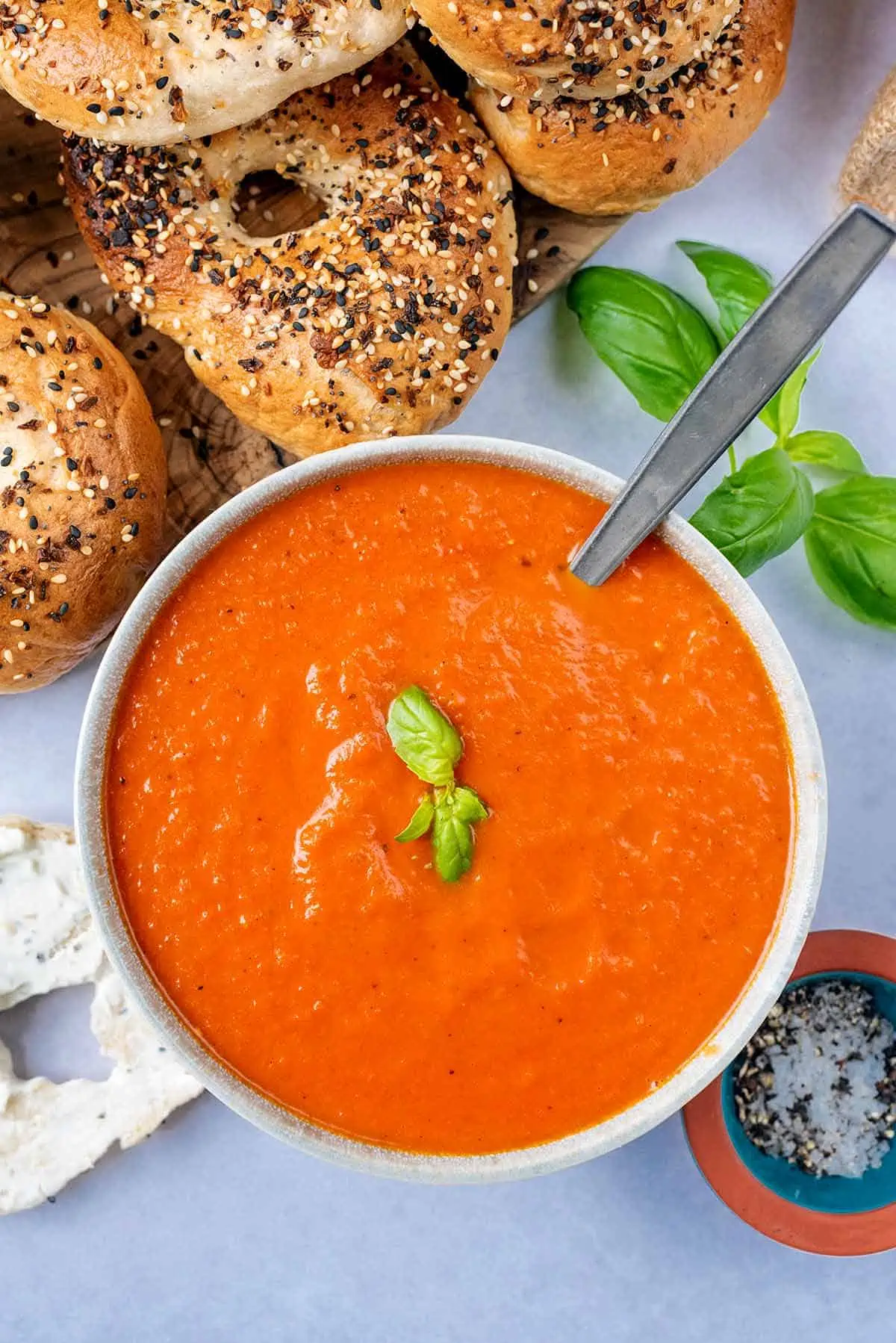 This is the easiest tomato soup recipe you will ever make. Made with tinned tomatoes and ready in under 15 minutes, it has all of the comforting flavors of homemade tomato soup, but with much less effort. Just 5 ingredients, and no fresh tomatoes needed, this is easy comfort food at its finest!
12. Vegan Lentil Soup
Easy one-pot vegan lentil carrot soup with wilted greens and all the cozy spices! This is a budget-friendly anti-inflammatory soup perfect for fall or winter, great for meal prep and lazy weeknight dinners to feed your whole family.
13. Instant Pot Pumpkin Soup
Another pumpkin soup for pumpkin lovers! This quick and easy Instant Pot Pumpkin Soup is made with canned pumpkin and takes just 10 minutes to pressure cook on high! It's smooth and creamy, with a sweet and savory flavor and hints of warming spices.
14. Ground Beef Vegetable Soup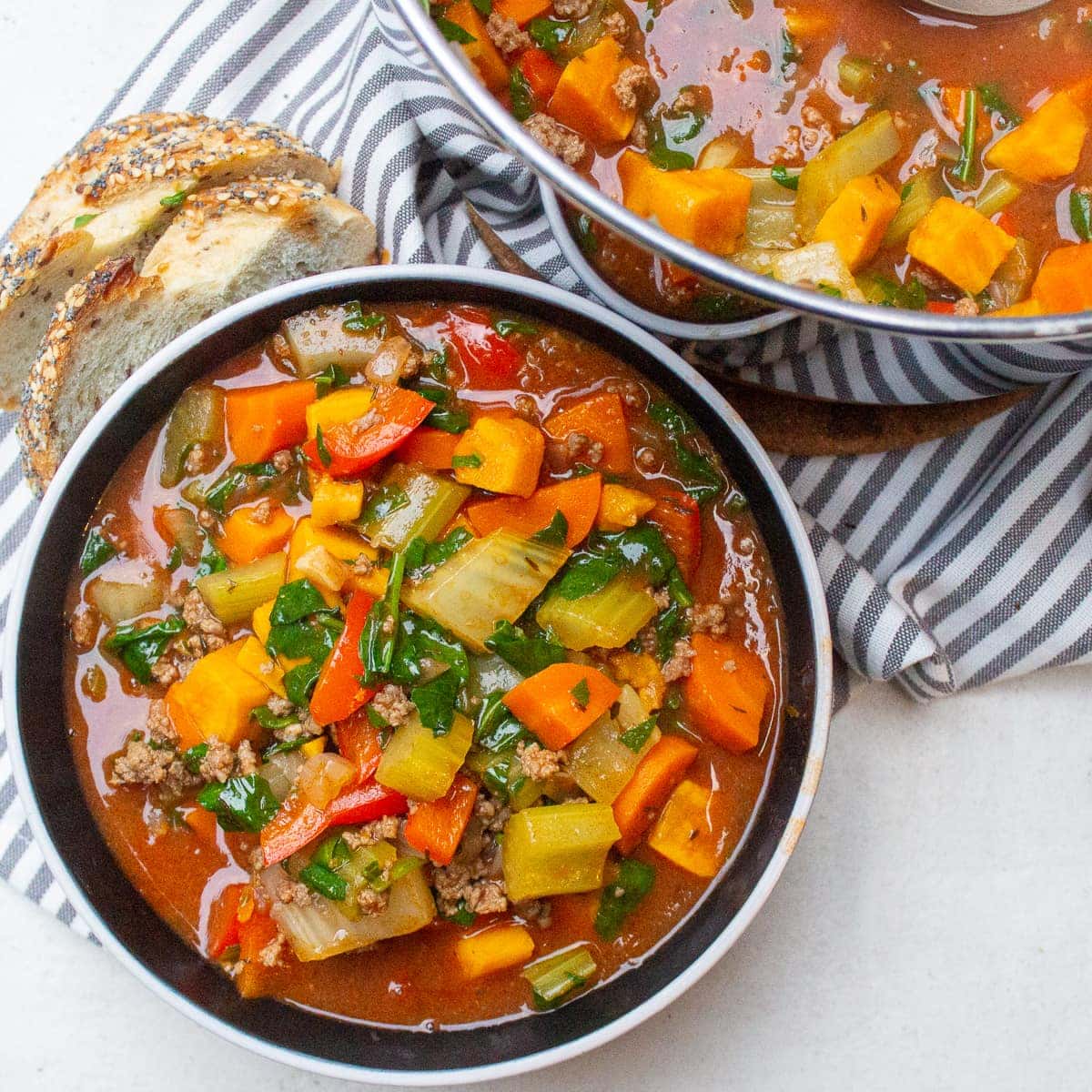 Yearning for a cozy, satisfying, and hearty soup? Then, get your apron on and start cooking this ground beef vegetable soup recipe (with a couple of shortcuts if you like). Loaded with vegetables, nutritious, and even better the next day.
Related: What to Do with a Pound of Ground Beef: 20 Simple Ground Beef Recipes
15. Italian Chickpea Soup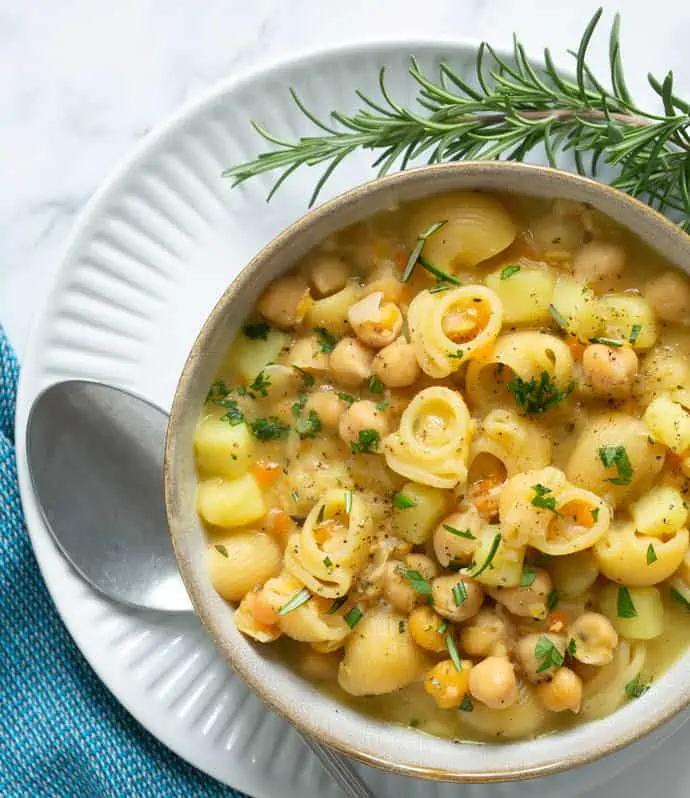 This Italian chickpea soup, aka pasta e ceci soup, is a traditional recipe full of flavour and ready in 20 minutes.
16. Cauliflower Cheese Soup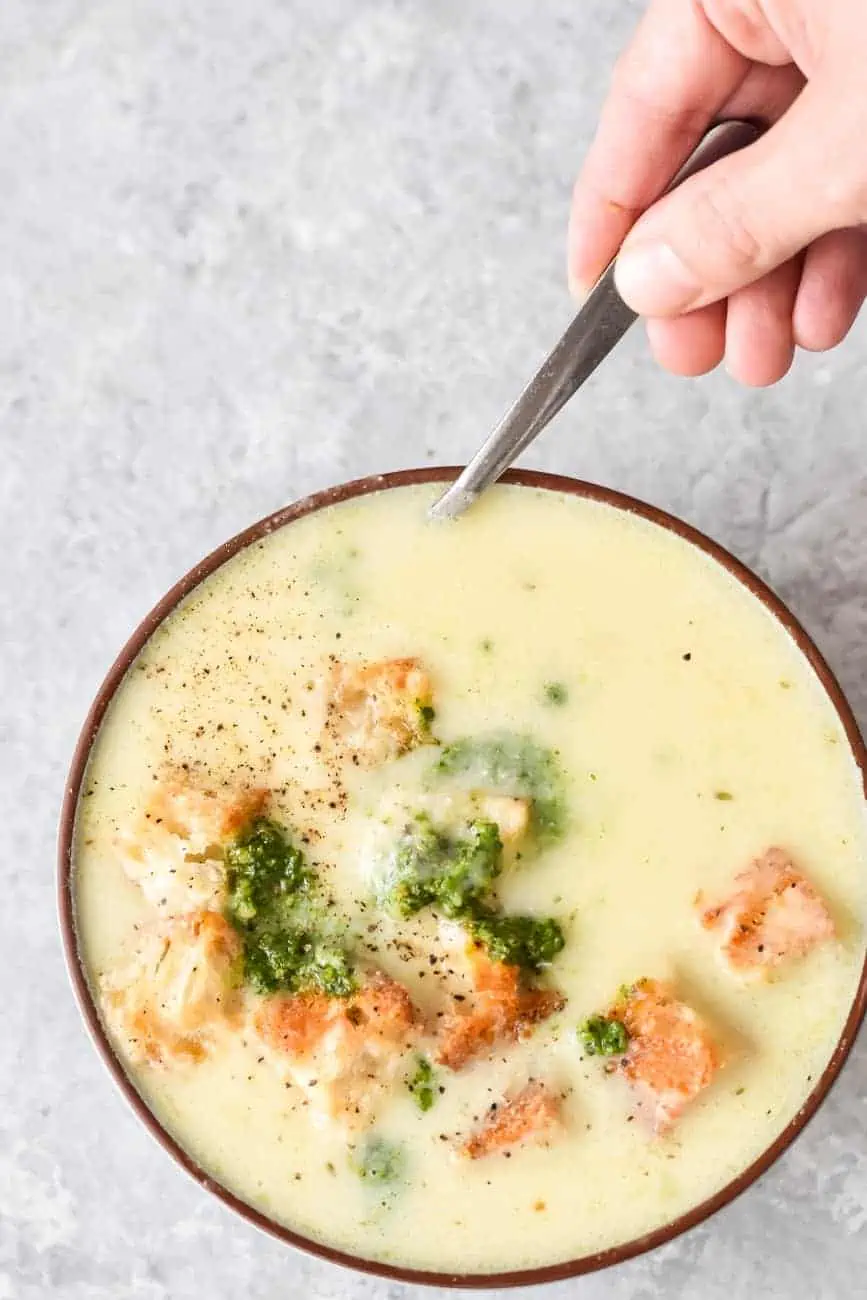 This cauliflower cheese soup recipe is such an easy dinner recipe! With just five simple ingredients, it's budget-friendly AND it's ready in just 20 minutes! It's so rich and creamy, and all you need to make it is an onion, cauliflower, olive oil, broth, and cheese!
17. Butternut Squash and Lentil Soup
This butternut squash and lentil soup is a rich combination of winter squash, spinach, cilantro and other delicious ingredients! It's a vegetarian soup that can also be made vegan with the use of vegetable broth.
18. Grandma's Vegetable Soup
Serve a bowl of comfort to your family with Grandma Jo's Veggie Soup recipe. This can be made with ingredients you likely have on hand. Recipe here.
19. Instant Pot Vegetable Soup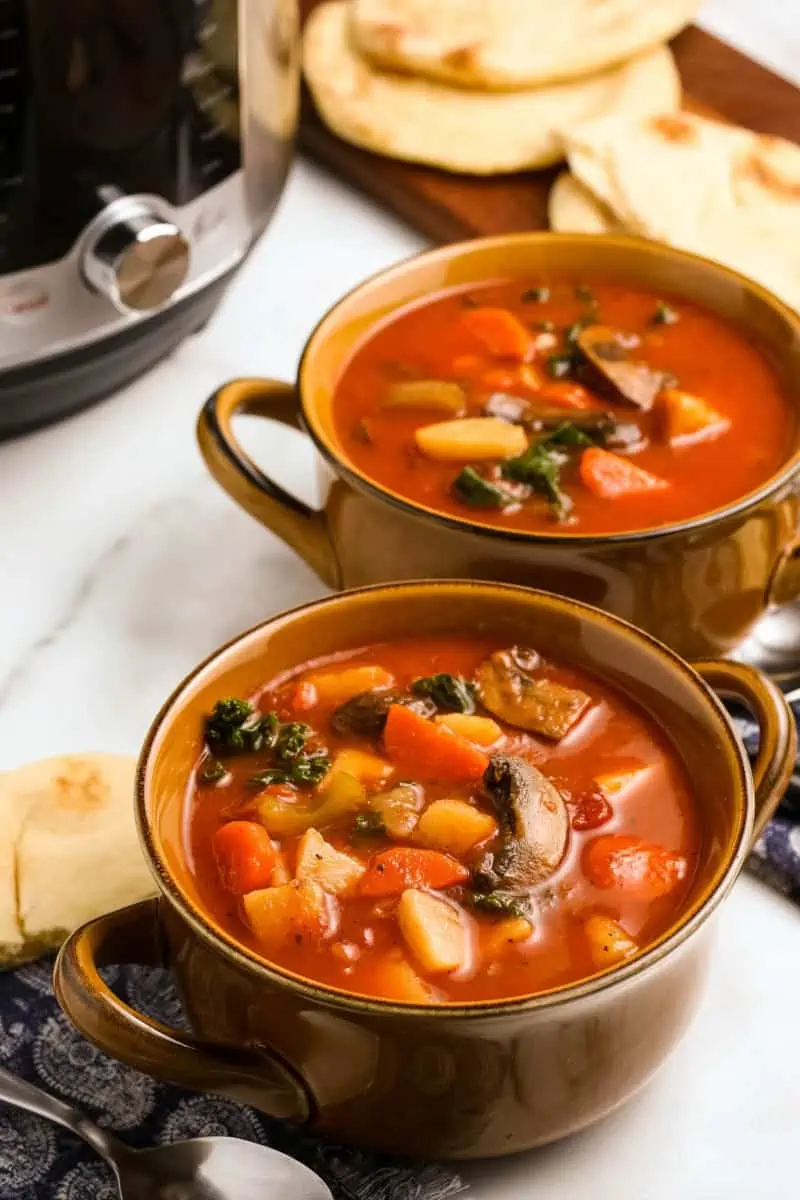 This Instant Pot vegetable soup is perfect for a quick weeknight dinner. Veggies are cooked in a tomato-based broth for a delicious comfort food meal. Check out the recipe at Diana Rumbles.
Related: The Instant Pot Pros and Cons: Should I Buy an Instant Pot?
20. Easy Homemade Vegetable Soup
This Easy Homemade Vegetable Soup Recipe is ready in 30 minutes! It's loaded with vegetables and much tastier than canned soup! Plus it's freezer-friendly and makes great leftovers!
21. Homemade Chicken Noodle Soup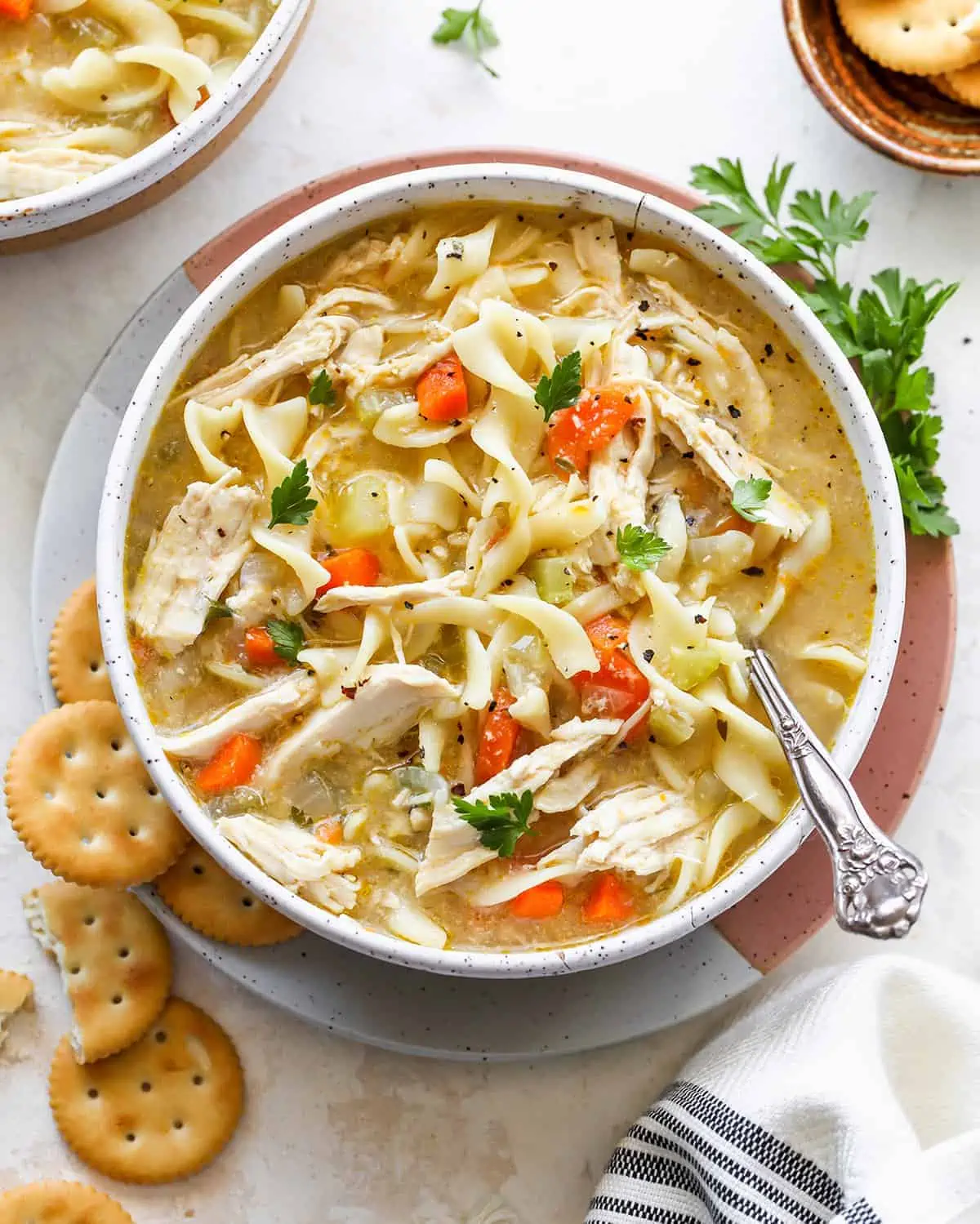 This is the best homemade Chicken Noodle Soup Recipe ever! This easy chicken noodle soup is flavorful, hearty, healthy and it's made in one pot in under an hour!
22. Clam Chowder Recipe
With only a handful of ingredients, clam chowder is one of the easiest, most affordable, and of course, most delicious recipes to make at home! Check out the recipe here.
23. Oyster Stew Recipe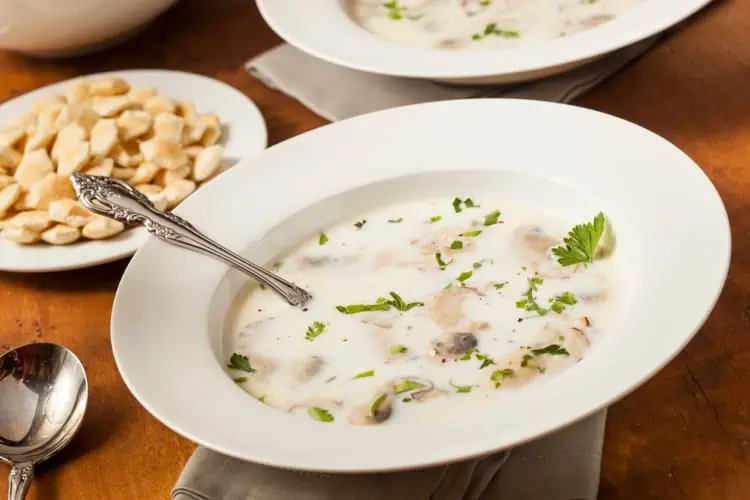 A few oysters, some milk, an onion, and 5 minutes – that's all you need to make this delicious and traditional oyster stew (which is really a soup, not a stew). Check out the recipe here.
24. Borscht Recipe
This easy one-pot vegetarian borscht recipe only takes 30 minutes to make! Delicious and wholesome winter beet soup full of nutrients makes for an easy lunch or weekday dinner.
25. Brocolli and Cheese Soup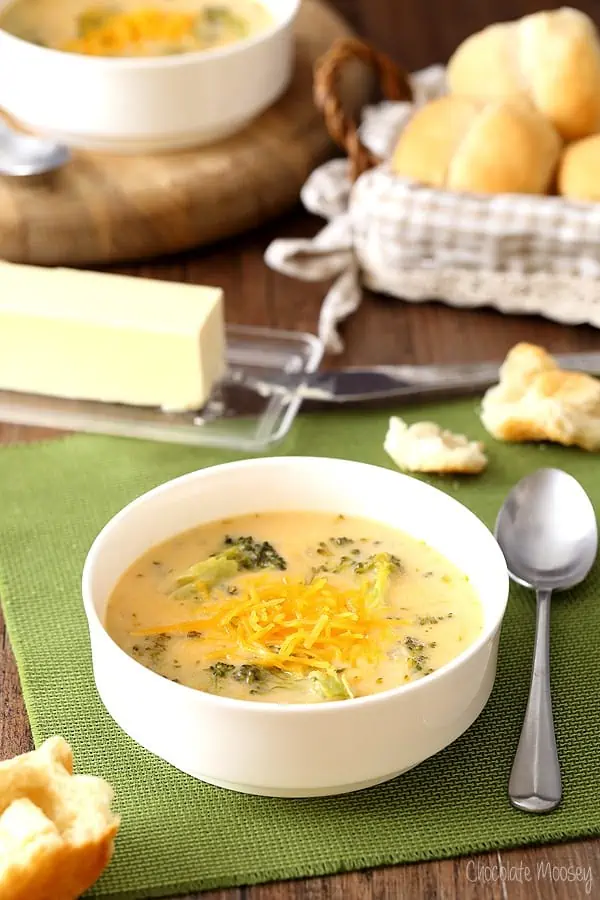 This Homemade Broccoli Cheese Soup recipe can be ready in under 30 minutes, perfect for when the weather is cold (or when you're feeling under the weather).
26. Roated Jalapeno Soup
Roasted Jalapeno Soup may sound crazy, but it's crazy good. Spice dinner up a notch with this creamy vegetarian soup.
27. Beetroot Miso Soup
Miso soup makes for a wonderfully quick, delicious and nourishing meal when you're feeling under the weather or just in need of something to fill a gap in the day. It can be incredibly simple with just three ingredients, including water, or you can add beetroot and a few other ingredients. Recipe here.
28. Taco Soup
If you love taco, then you'll love this soup as well. It has all the taco flavors in a soup perfect for cold weather. Check out this taco soup recipe here.
29. Yellow Split Pea Soup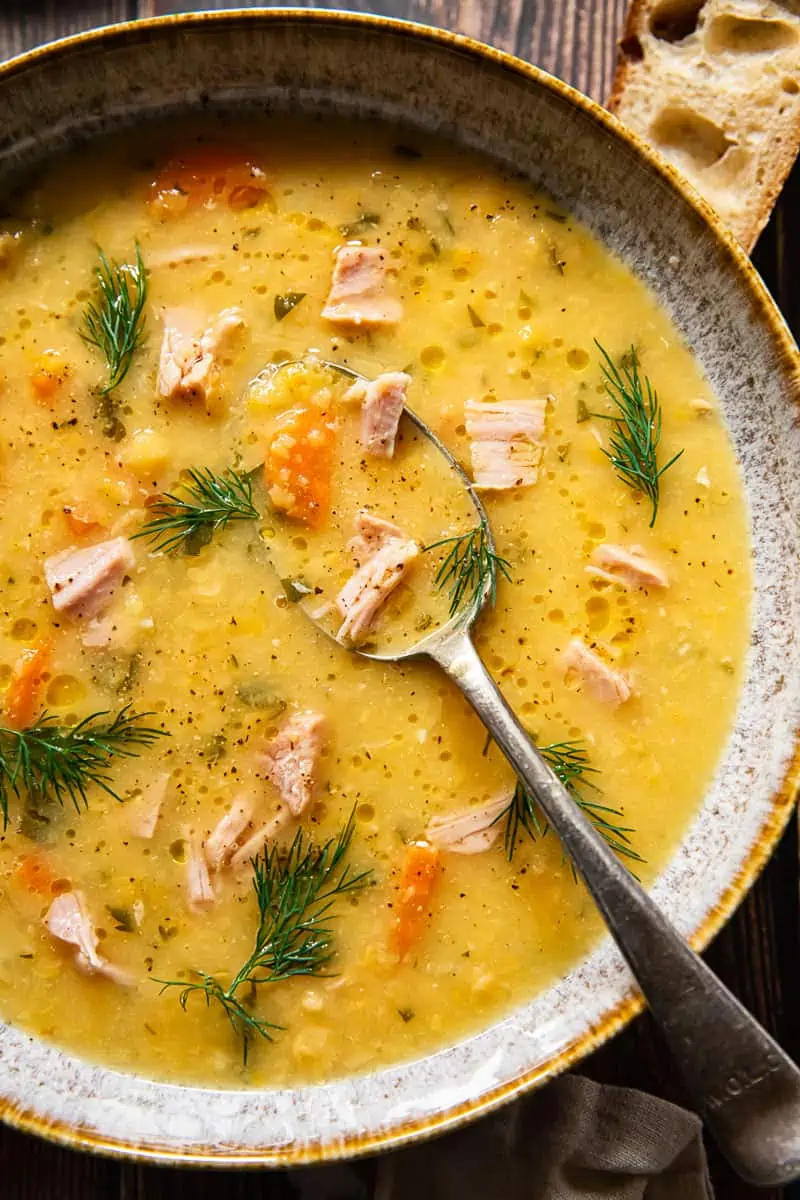 A delicious and incredibly easy yellow split pea soup with ham and a sprinkling of fresh herbs. Simple to make yet so satisfying in cold weather. Here's the full recipe.
30. Leak and Potato Soup
Perfect for a crowd, this soup is the ultimate in budget friendly meal. Get the recipe here.
31. Red Lentil Soup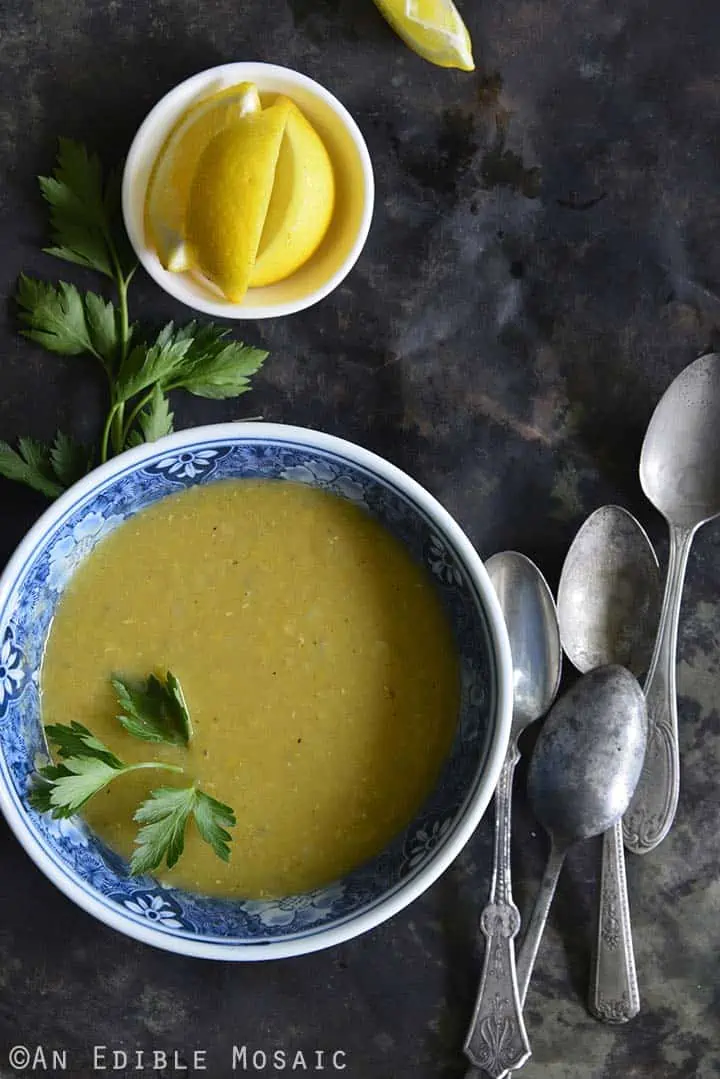 This satisfying Red Lentil Soup Recipe is easy to make, requires minimal ingredients, and has rich, deep flavor and creamy texture. It's a delicious first course to a larger meal, or it makes a perfect lunch.
32. Sausage and Spinach Soup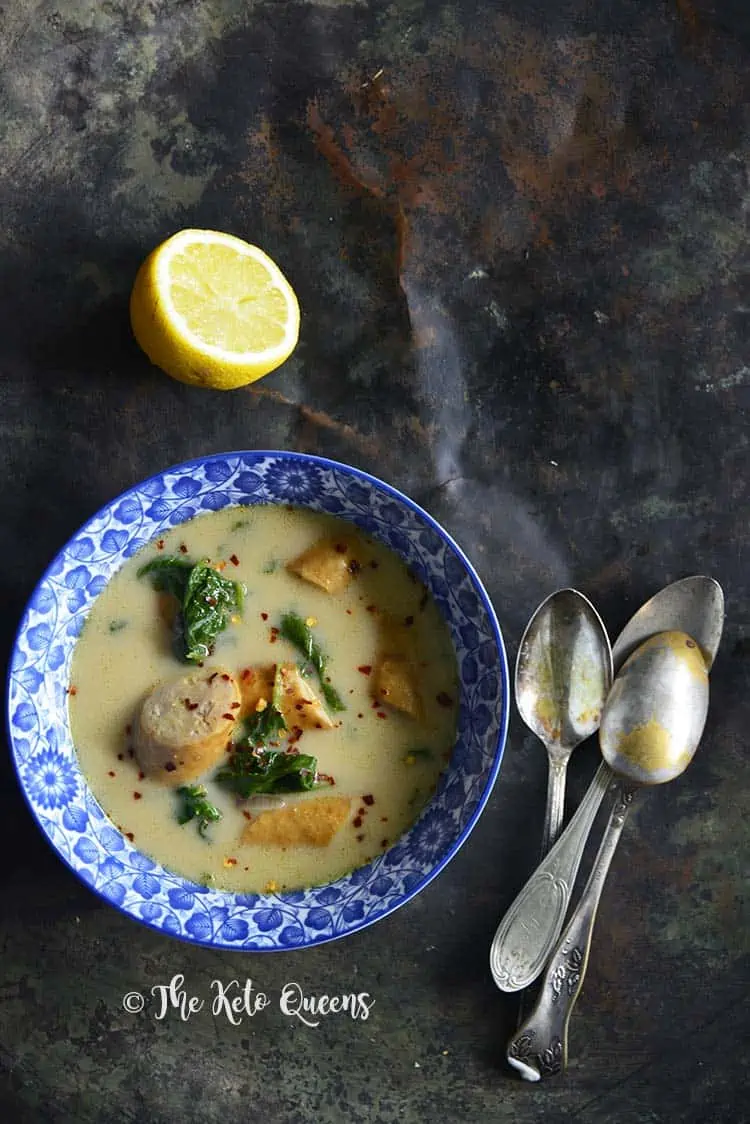 If you're looking for a sausage and spinach soup recipe, you are going to LOVE this one! It's so flavorful, creamy, and a real crowd-pleasing recipe!
33. Tortilla Soup
This Chicken Tortilla Soup is a hearty and filling dish that's a perfect way to stretch a bit of leftover chicken or turkey.
34. Black and Bean White Soup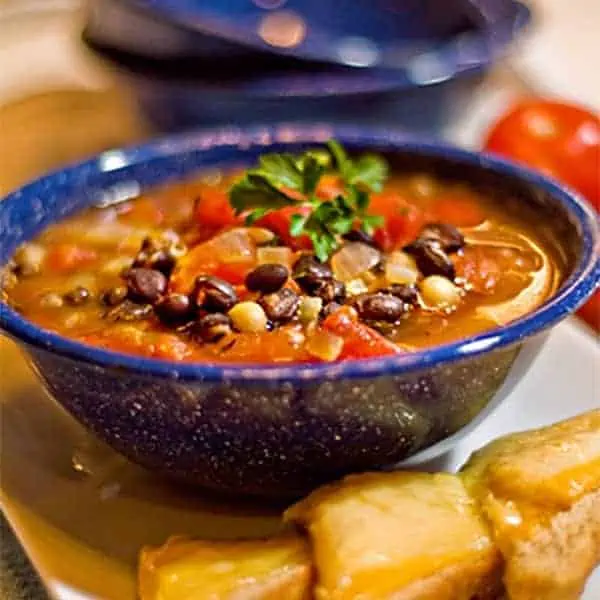 Black and navy beans combined in a beefy, tomato broth for a substantial dinner soup. Check out this delicious recipe here.
35. Ministrone Soup
Olive Garden copycat minestrone soup tastes just like the restaurant version right at home. Warm, filling, and full of veggies, this soup is still incredibly easy to make and only requires the Instant Pot or one large stock pot to make!
This recipe can be ready in less than 10 minutes so you can serve it to your hungry family any day of the week! Perfect for meal prep or dinner on even the busiest weeknight. See the full recipe here.
36. Mexican Noodle Soup
Sopa de fideo / Mexican Noodle Soup is a filling and savory soup your family will enjoy. It cooks up in minutes, making it an easy choice for weeknight dinners or as a quick make ahead meal on a Sunday afternoon. Check out The Belly Rules the Mind for the recipe.
37. Spicy Cauliflower Soup
This spicy cauliflower soup has just the right amount of heat to warm you up and make you feel cozy!
38. Mushroom Barley Soup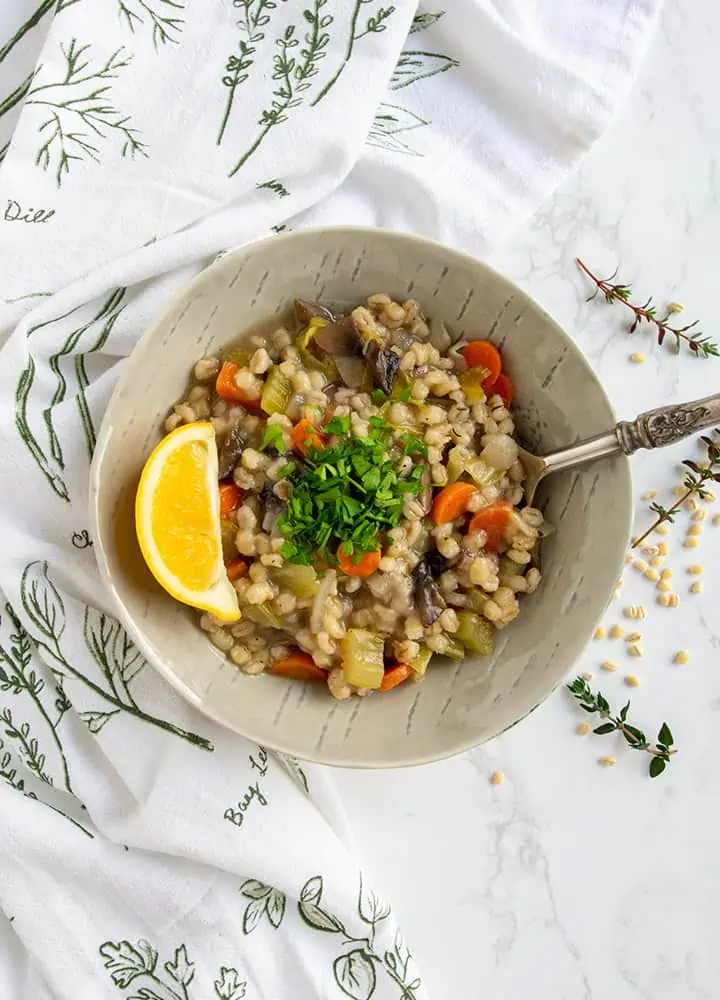 This super simple and comforting mushroom barley soup can double as a "risotto" recipe. Also works great adding leftover beef as well! Check out this yummy recipe at OMG Yummy.
39. Leftover Hearty Ham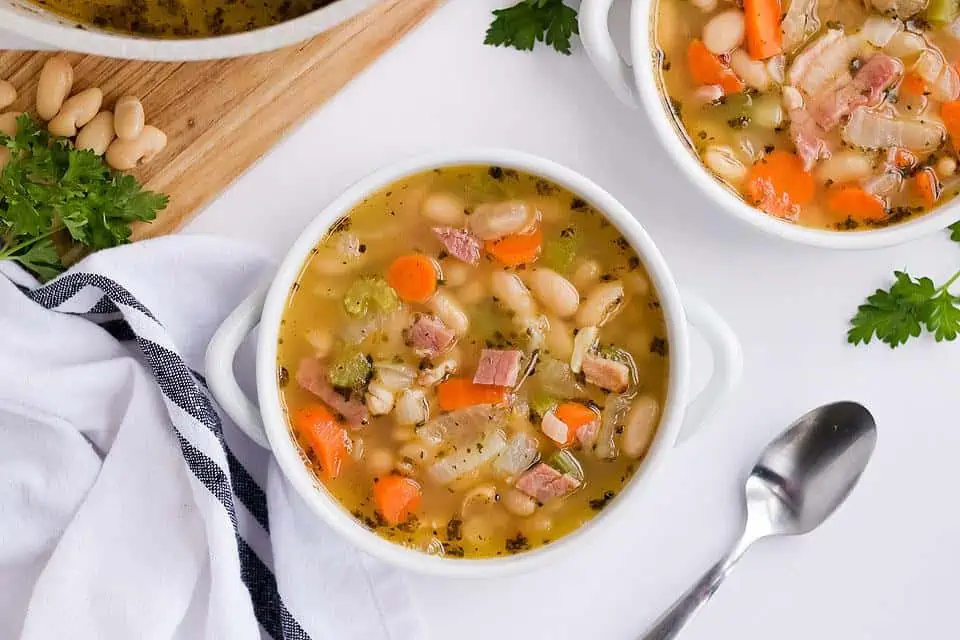 You can make this hearty ham and cannellini bean soup with leftover ham. It is full of veggies and will hit the spot on a cool day. Check out Bella's recipe here.
40. Split Pea Soup Recipe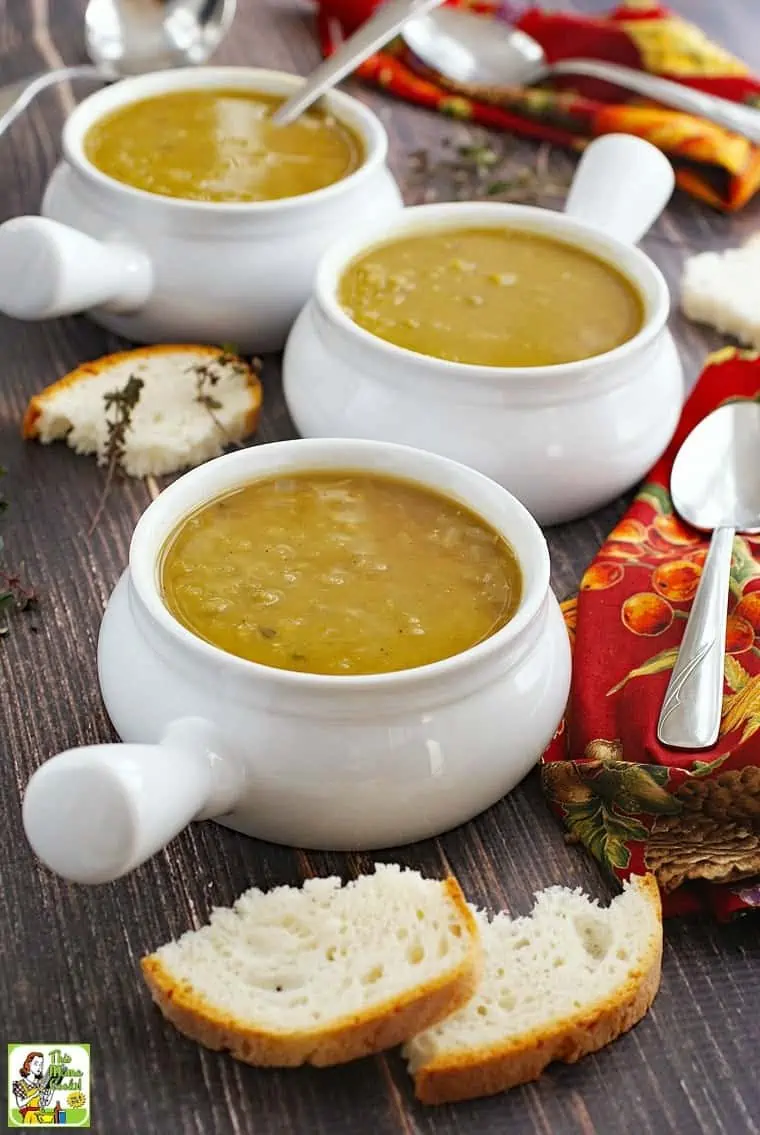 Need a quick and easy split pea soup recipe for dinner? Check out This Mama Cooks best split pea soup recipe here!
41. Spicy Potato & Sausage Soup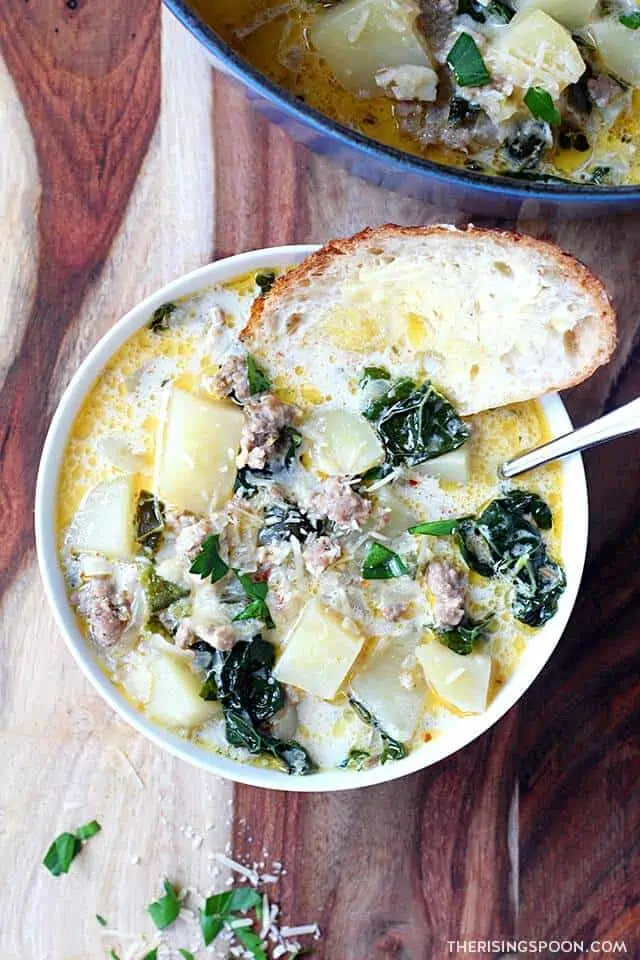 An easy one-pot recipe for creamy potato & sausage soup made with simple ingredients from your fridge & pantry. Fix a batch any time you need a filling, cozy & super comforting homemade meal. I LOVE this recipe here by The Rising Spoon!
42. Instant Pot Vegetable Soup (Frozen Vegetables)

This easy Instant Pot vegetable soup can be made quickly and is great for a meatless meal. Made with a bag of frozen vegetables and potatoes, this soup is a family favorite.Here's the full recipe by Food Lovin' Family.
43. Instant Pot Chicken Noodle Soup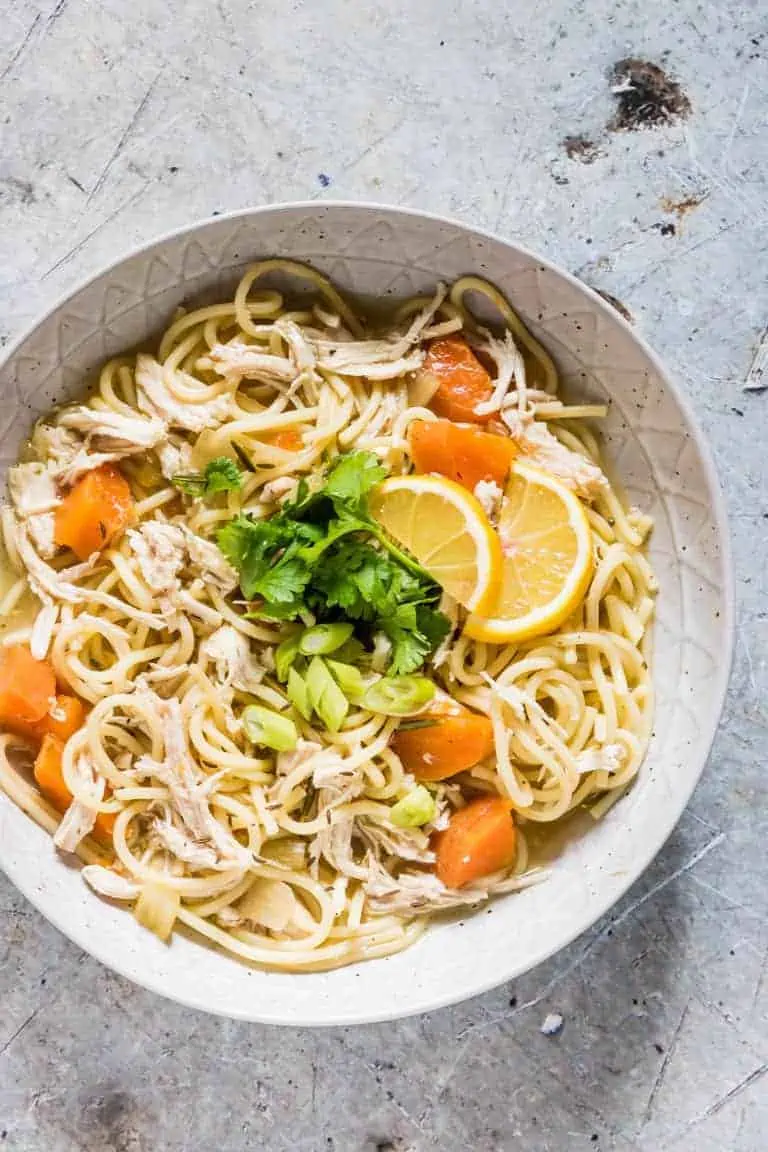 This hearty and cozy Instant Pot Chicken Noodle Soup is quick to make and high in flavor. Great for easy weeknights, meal prep and a nourishing get well soon eat. Get this recipe at Recipes from a Pantry.
44. Easy Ginger Spinach Soup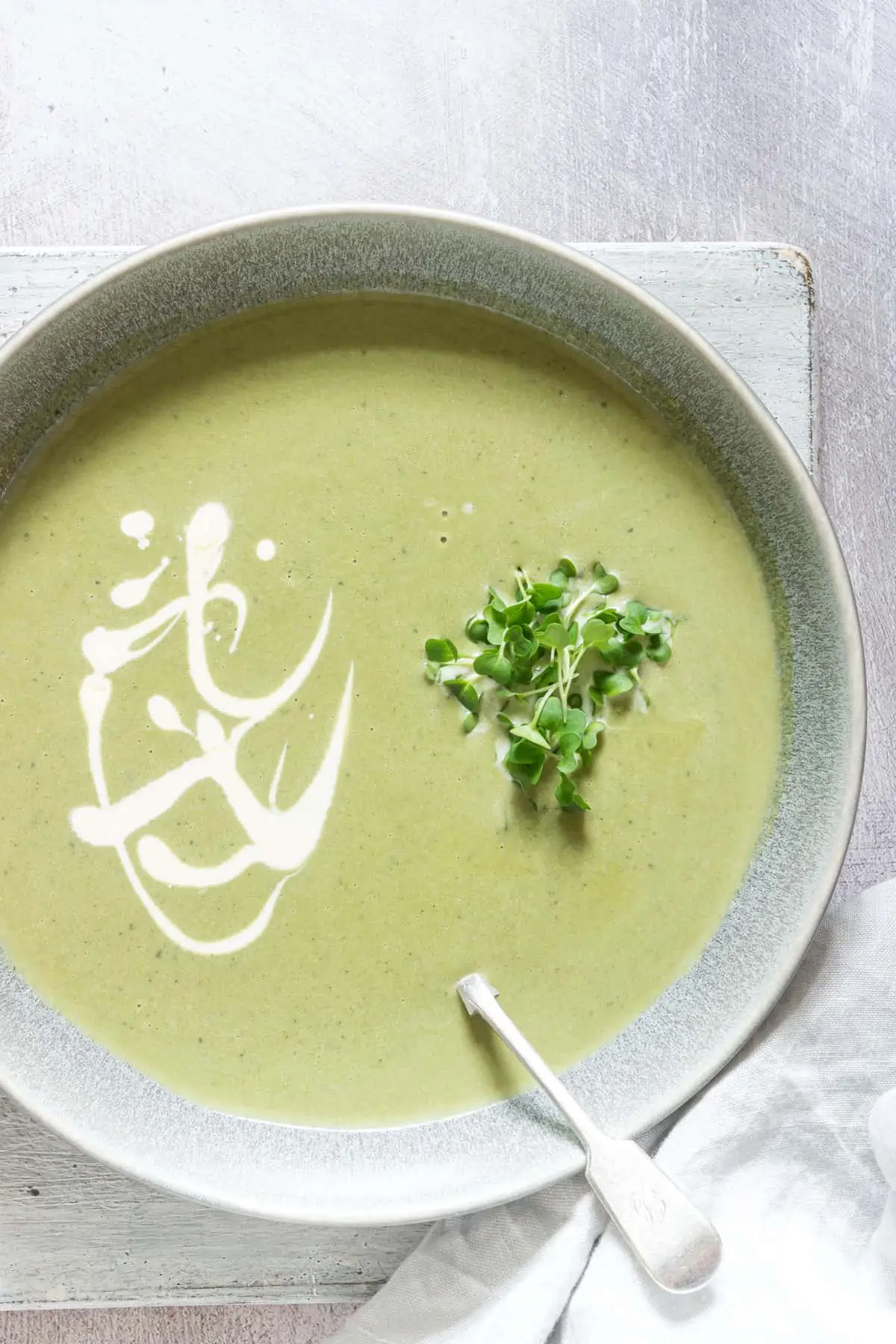 This Easy Ginger Spinach Soup (and Instant Pot Spinach Soup) is made with coconut milk for a creamy yet light meal you can serve all year round. You just need 5 minutes of prep time and 7 ingredients to make this easy and delicious zucchini spinach soup.
45. Jamaican Pumpkin Soup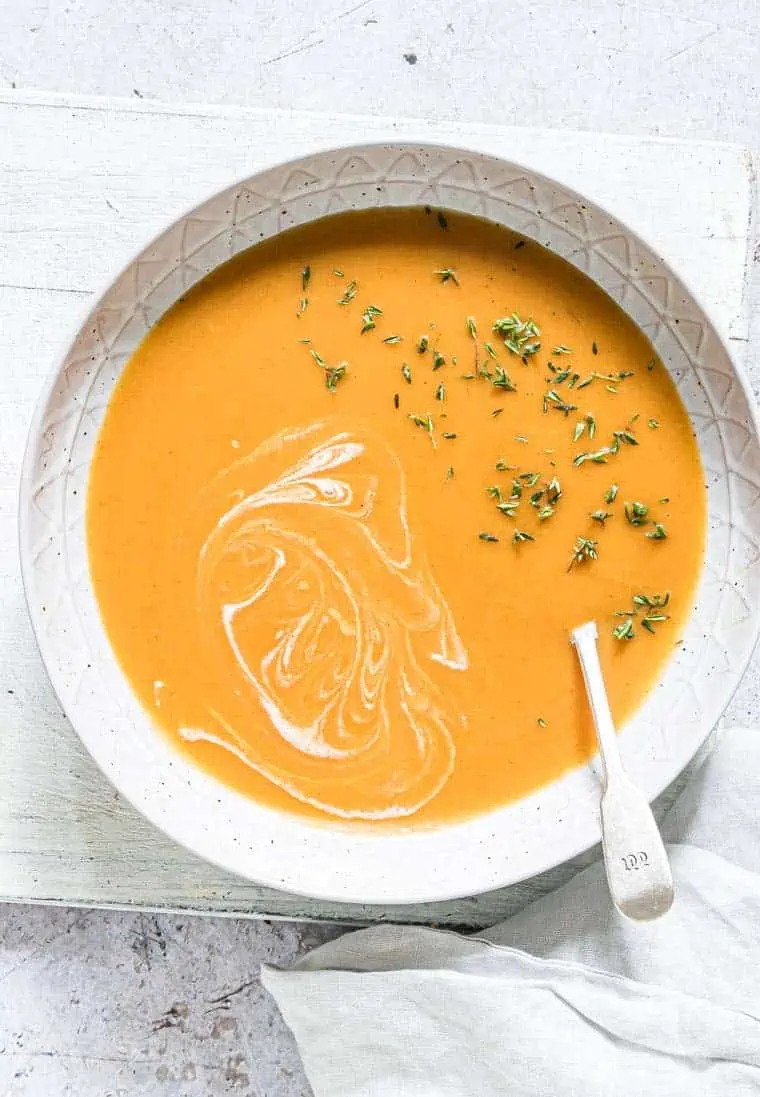 Jamaican Pumpkin Soup is full of Caribbean flavor. This is a deliciously quick and easy Jamaican soup recipe that is ready to serve in less than 20 minutes! Stove top and Instant Pot Versions. Recipe by Recipes from a Pantry.
46. Slow Cooker Chicken Tortellini Soup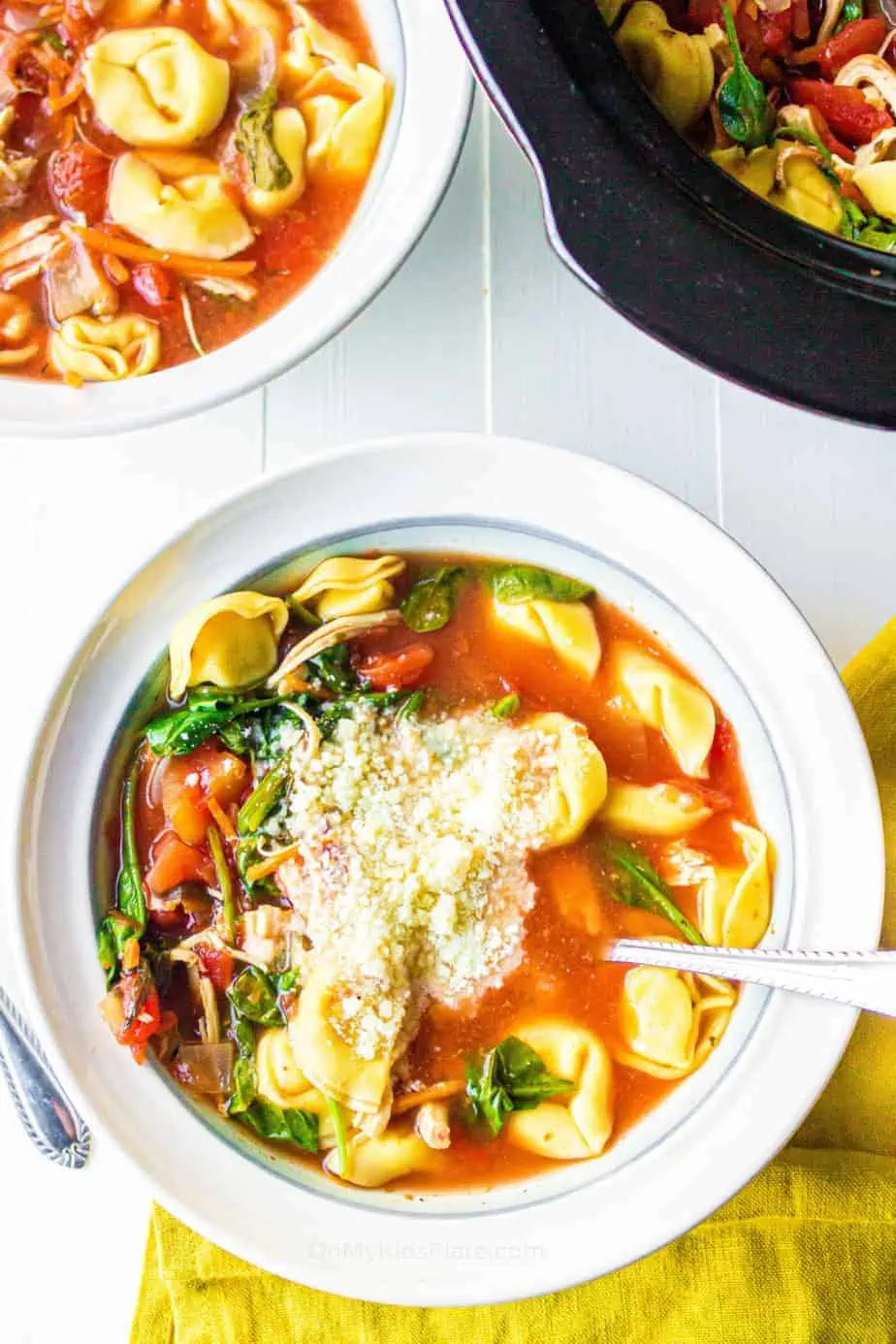 Packed full of Italian flavors, tender chicken, pillowy tortellini and vegetables, this delicious slow cooker tortellini soup makes a delicious tasty dinner or lunch. Here's a recipe by On My Kids' Plate.
47. Crockpot Potato Soup (Cheesy)
Full of tender potatoes plus ham and bacon in every bite, this delicious soup is all mixed into a creamy cheesy base that the whole family loves. Make this cozy soup to warm you up on a cold day, with delicious leftovers too! Here's another recipe by On My Kids' Plate.
48. Cheeseburger Soup
This delicious soup is like a deconstructed cheeseburger meal! Healthy, delicious, flavorful and cheap too! Make your own cheeseburger soup today! Here's how to make it by The Fresh Cooky.
49. Lazy Slow Cooker Pasta e Fagioli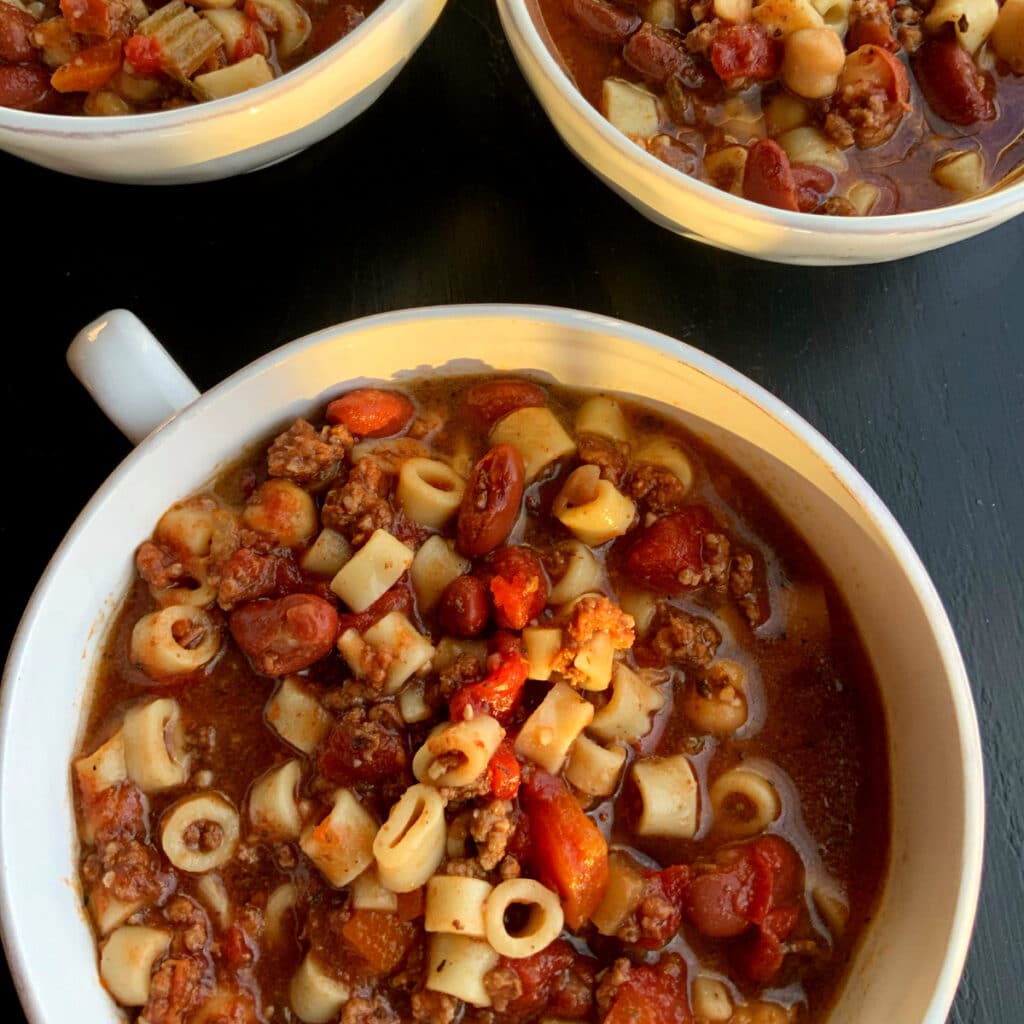 Slow cooker pasta e fagioli is an easy, warm and satisfying soup filled with ground beef, pasta and beans. This thick and flavorful dish is a full meal in a bowl! Check out The Lazy Slow Cooker's recipe here.
50. Chicken Soup with Fresh Veggies
Craving simple comfort food? Try this delicious chicken soup recipe by The Forked Spoon! Made with bone-in chicken thighs simmered into a flavorful broth and filled with tender onions, carrots, celery, and juicy shredded chicken.
51. Slow Cooker Potato Leek Soup
Slow cooker potato leek soup is a rich & creamy soup that is wonderful for your tastebuds and wallet. The classic combination of leeks and potatoes make for a bowl of comfort that everyone will love. Recipe by The Short Order Cook.
52. Leftover Ham and Bean Soup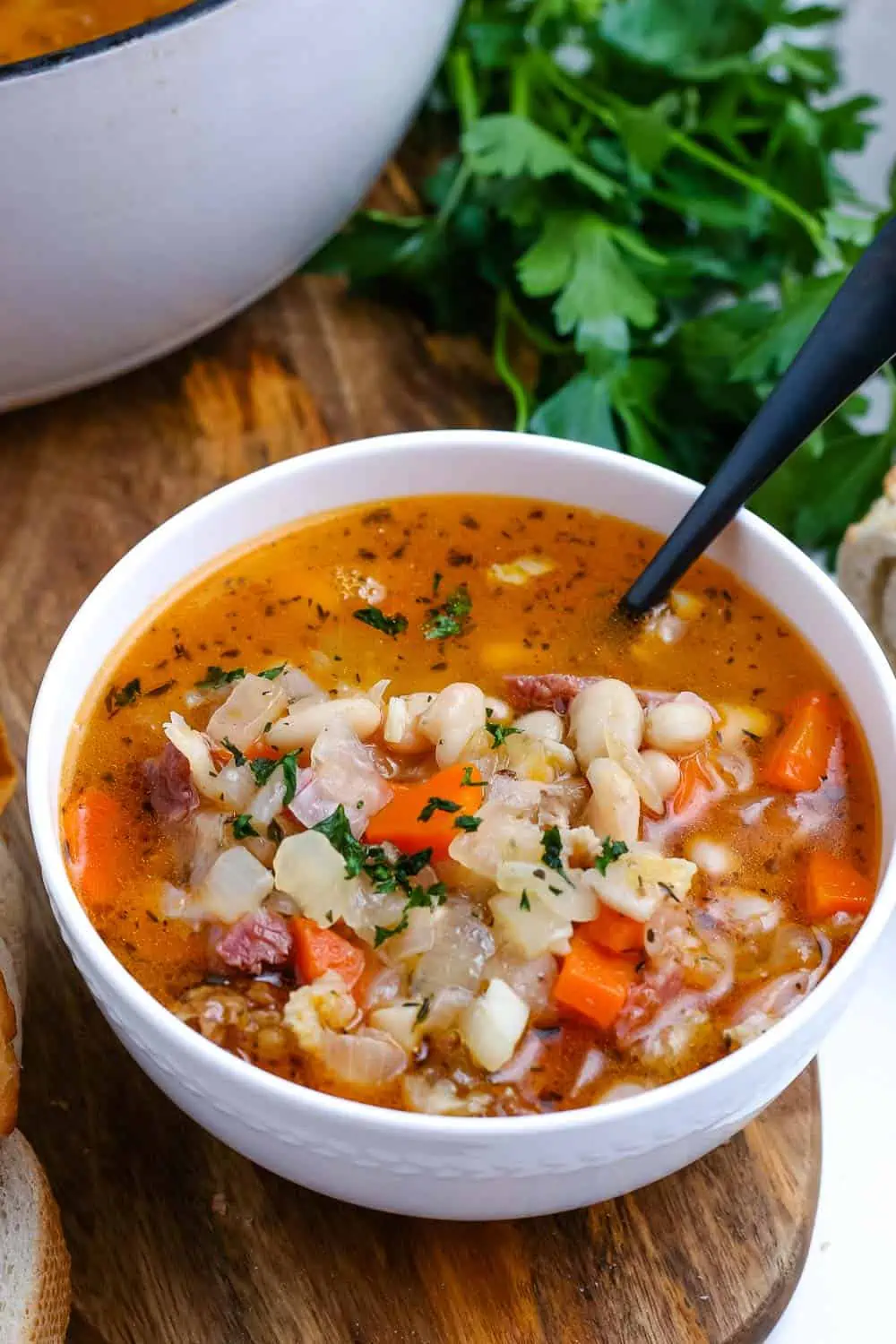 This Leftover Ham and Bean Soup is an economical recipe that makes use of a ham bone. This ham bone soup is easy to make and incredibly flavorful.
Our recipe for Ham and Bean Soup costs $7.97 to make. It makes 8 servings for only $0.99 per serving. Recipe by Easy Budget Recipes.
53. Rotisserie Chicken Noodle Soup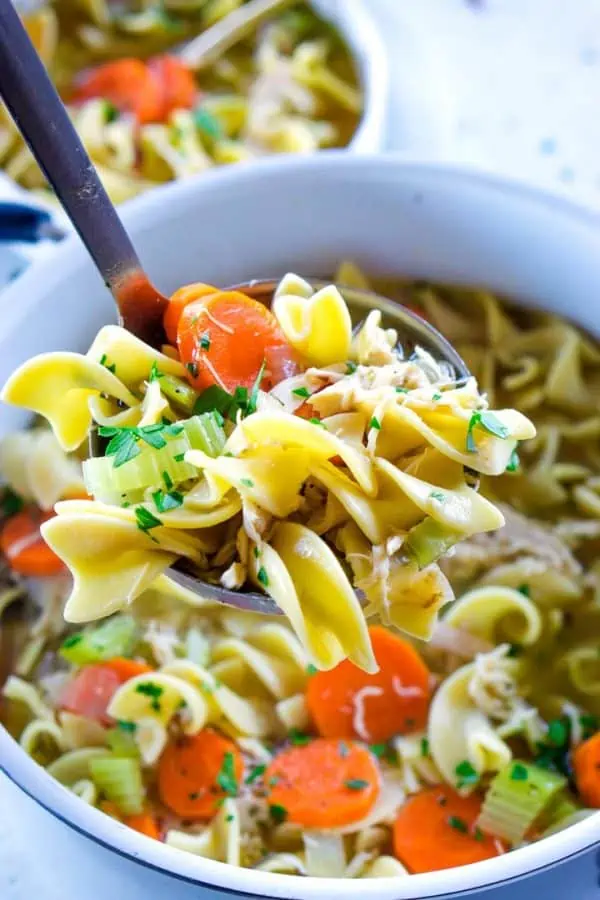 Make this quick and easy Rotisserie Chicken Noodle Soup recipe in just 30 minutes. It's the comfort food recipe your family craves for easy weeknight dinners.
It serves six and costs just $10.02 to make. That's only $1.67 per serving. Get the recipe at Food Folks and Fun.
54. Cream of Celery Soup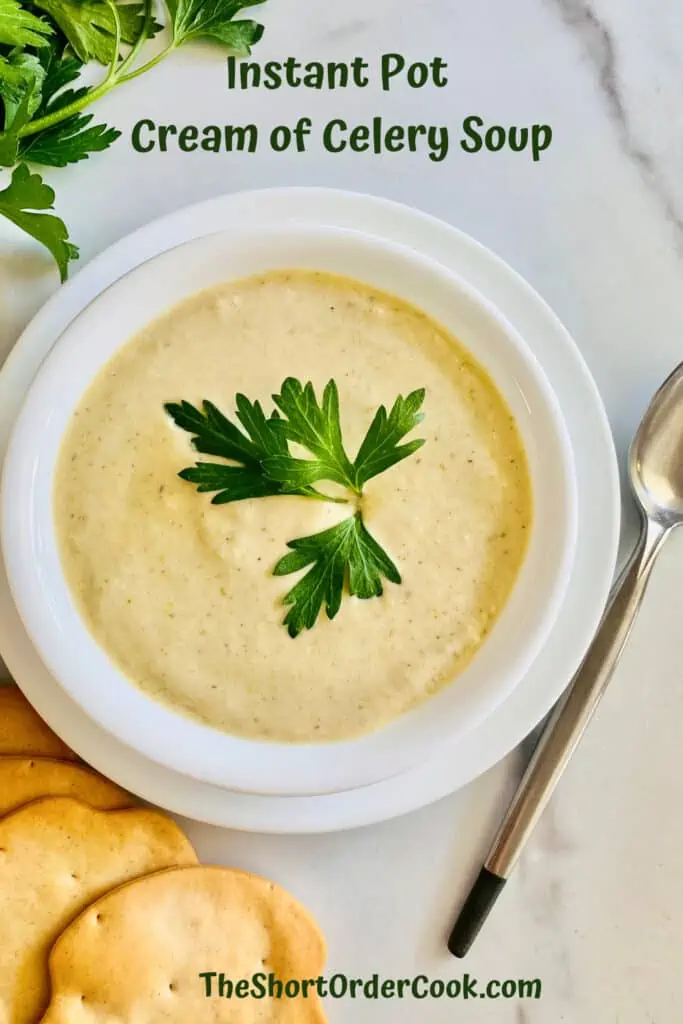 For the best homemade cream of celery soup, make it in the Instant Pot. It is a creamy, rich, and comforting recipe that is budget-friendly with ingredients you likely already have on hand. Recipe by The Short Order Cook.
55. Creamy Chicken Soup With Egg Noodles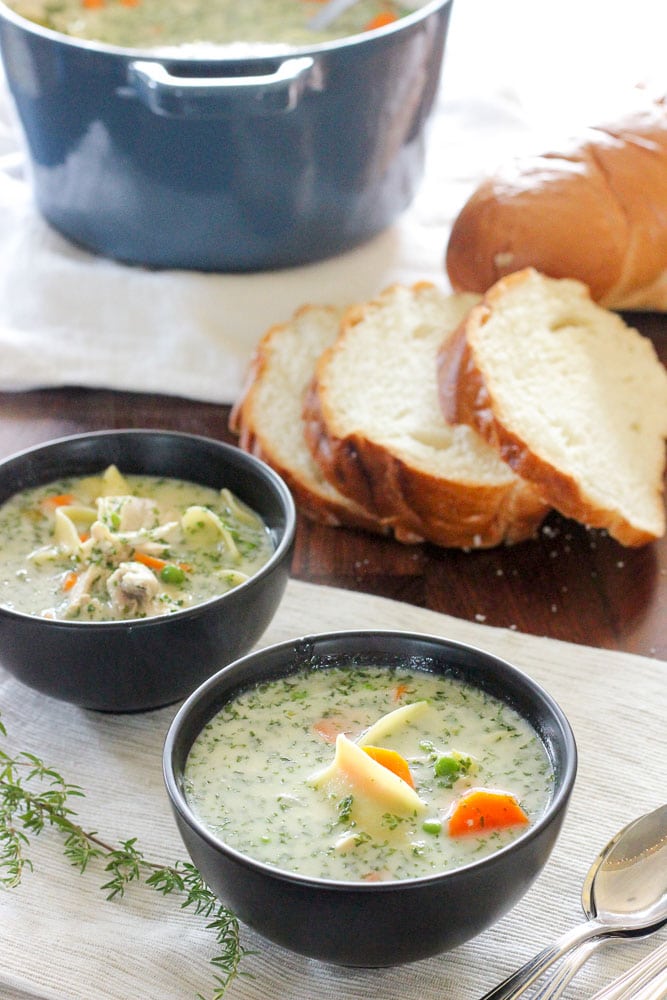 This Creamy Chicken Soup With Egg Noodles is the chicken soup dreams are made of. It's hearty, healthy, both fresh and creamy, and easy to make. Give it a try… it'll be love at first bite. Check out this delicious recipe at Delicious on a Dime.
56. Gluten-Free Brocolli Cheddar Soup
Warm up with a hearty bowl of Gluten-free Broccoli Cheddar Soup! Make this flavorful and healthy soup from scratch in about 30 minutes! Check out Wheat By the Wayside for the recipe.
57. Taco Soup
This soup costs just a few dollars to make but it's a crowd pleaser and they'll beg for it over and over again. This taco soup is spicy, warm, and hearty and so easy to make! Here's the full recipe by Little Sprouts Learning.
58. Stuffed Pepper Soup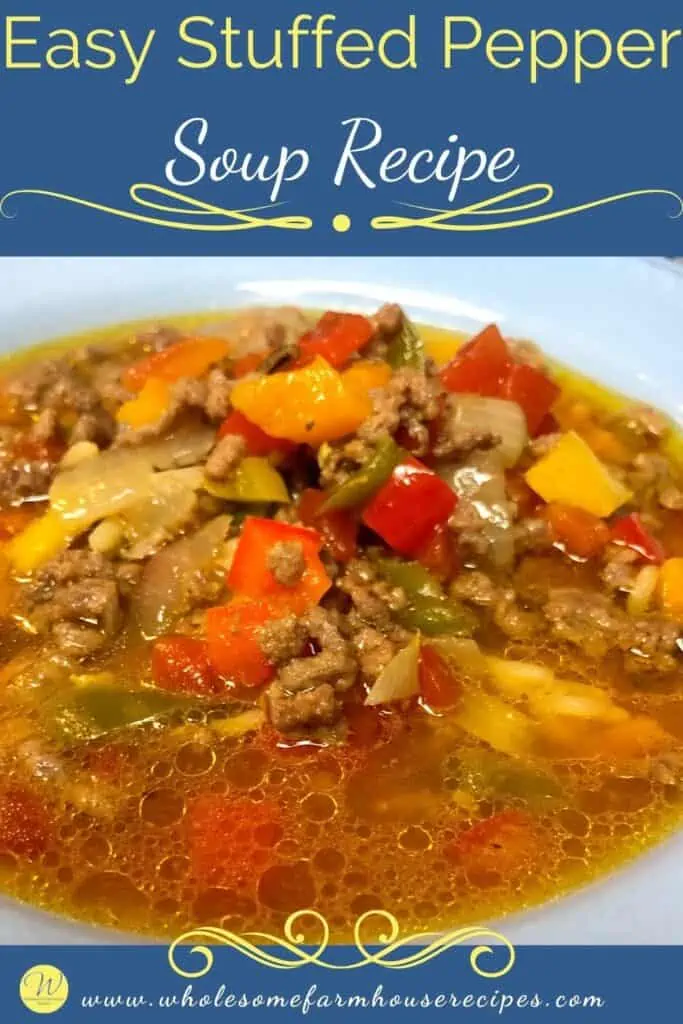 As with my classic Stuffed Peppers, this soup is made with basic ingredients such as ground beef, tomatoes, and rice. It's a great recipe for a delicious, hearty soup everyone is sure to love. Get the recipe at Wholesome Farmhouse Recipes.
59. Zucchini Carrot Soup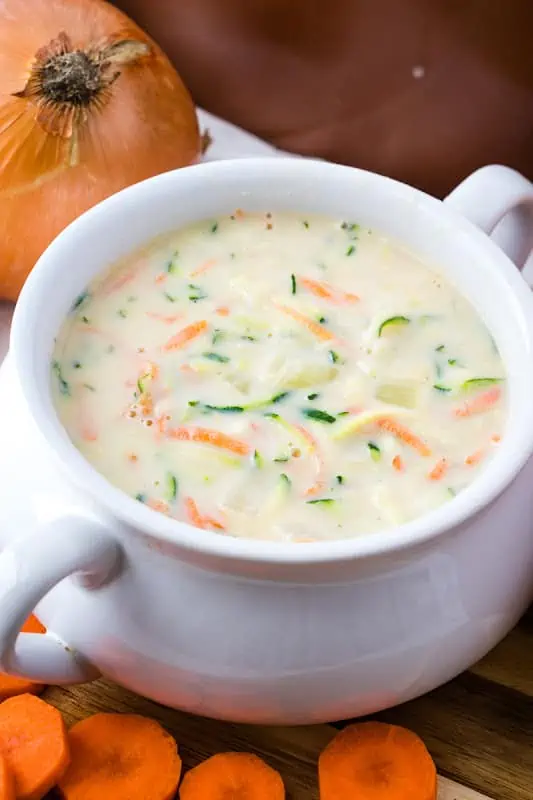 This easy and delicious soup is so perfect for lunch, dinner or freeze for later! Add leftover rotisserie chicken, bacon, cheese or herbs to make it your own! Recipe by Hot Eats and Cool Reads.
60. Ground Beef and Tomato Soup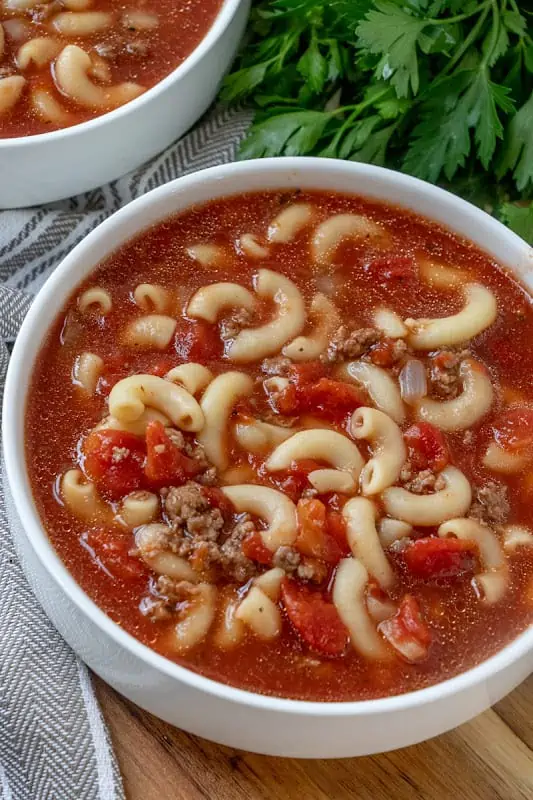 This ground beef and tomato soup is pure comfort food just like Grandma used to make! It's easy, ready in 30 minutes and SO delicious! if you're looking for another beef and tomato soup recipe with macaroni, this recipe by Hot Eats and Cool Reads is definitely worth checking out.
61. Beef Enchilada Soup
This super simple beef enchilada soup brings the flavor you know and love, requires just a handful of ingredients, and takes only 25-minutes. I love this recipe by Tao of Spice!
62. Artichoke Soup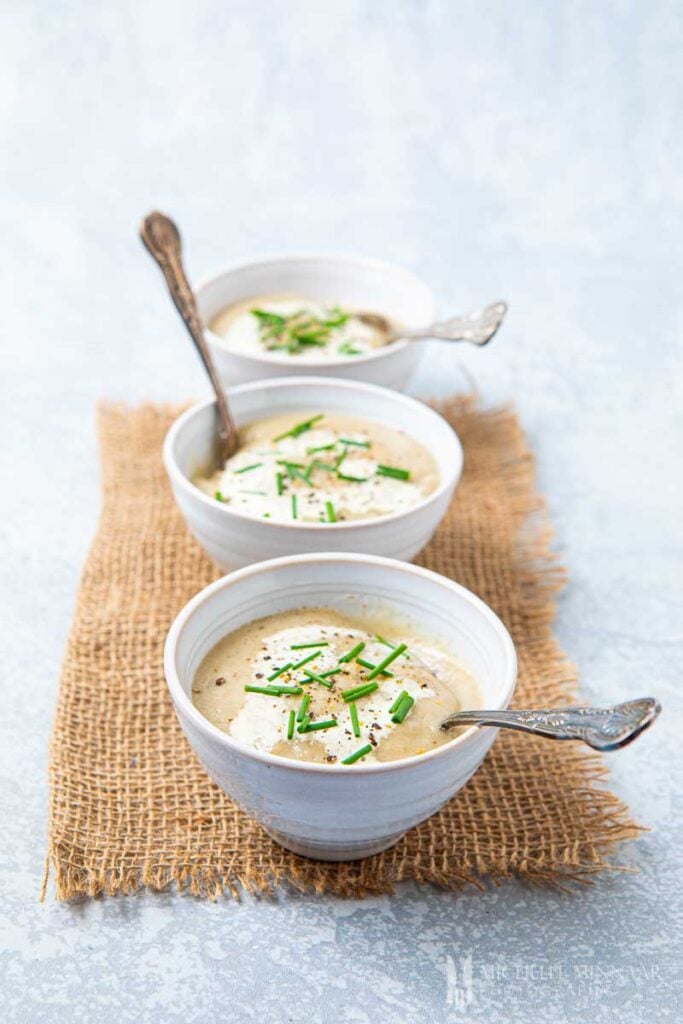 Jerusalem Artichoke Soup is offbeat, nutty and comforting on a cold day. Best eaten with a dash of cream and crusty bread. Check out Greedy Gourmet's recipe here.
63. Curried Acorn Squash Soup
Savory sweet roasted acorn squash combines with spices and ginger in this delicious Curried Acorn Squash Soup recipe. Just a few ingredients for a lot of flavor! Check out Cooking Chat Food's recipe here.
64. Butternut Squash Soup
This thick and creamy butternut squash soup is a delicious soup. The entire pot of this delicious butternut squash soup costs less than $9 to make. Recipe by Fearless Dining.
65. Low Carb Sausage and Kale Soup
This low carb Sausage and Kale soup is your next one-pot wonder! It's full of flavor and comfort, perfect for those chilly winter days. Comes together in 15 minutes! Recipe by Art from My Table.
66. Thai Curry Soup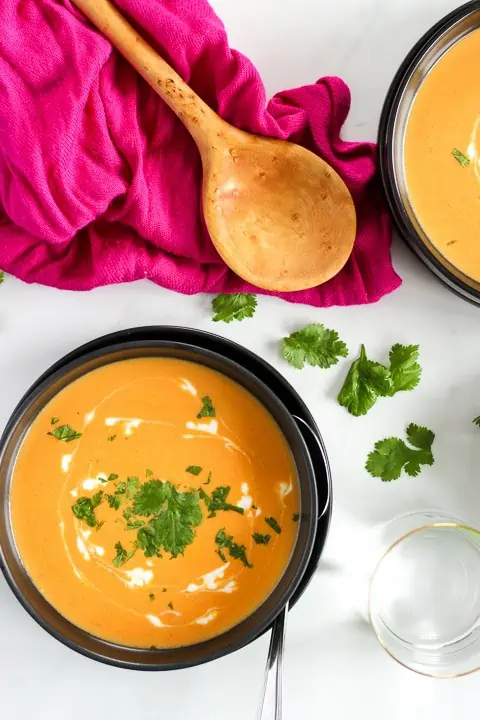 This Thai Curry Soup is the ultimate easy pantry meal. Whether you like it spicy or mild, just throw a few ingredients into a pot and enjoy this creamy, root vegetable soup in no time. Plus it freezes well! I love this recipe by Delicious on a Dime!
67. Smoky Bacon Potato Soup
This Smoky Bacon Potato Soup is cozy and smoky from the bacon and smoked paprika, and hearty and savory from the potatoes, onions and garlic. Curl up with a bowl of this soup tonight. Recipe by Delicious on a Dime.
68. Italian Wedding Soup
This Easy Italian Wedding Soup, made with frozen meatballs, is quick, easy, economical, healthy and Weight Watchers friendly!
Feel free to make this every day because it definitely ain't just for weddings. Get the recipe here.
69. Slow Cooker Rotisserie Chicken Pho Ga
Slow-Cooker Rotisserie Chicken Pho Ga makes the most of your rotisserie chicken. Use store-bought or homemade. A slow simmer in broth, spices, and aromatics extracts amazing flavor from the roasted chicken bones. Get this recipe here.
70. Lemon Lentil Soup
Here's another lentil soup recipe to try. This Lemon Lentil Soup makes for a hearty, nutritious and flavour packed soup that's budget-friendly too. It can be prepared in less than 30 minutes and also makes a great freezer meal! Recipe by Haute and Healthy Living.
There you have it–70 delicious and cheap soup recipes that you can make ahead to save time and money.
Don't forget to bookmark this page or save any of the images in this post to Pinterest so you can easily find your way back to this list later!