Wondering what to do with a pound of ground beef? Try these super simple ground beef meal ideas to stretch your budget and save money!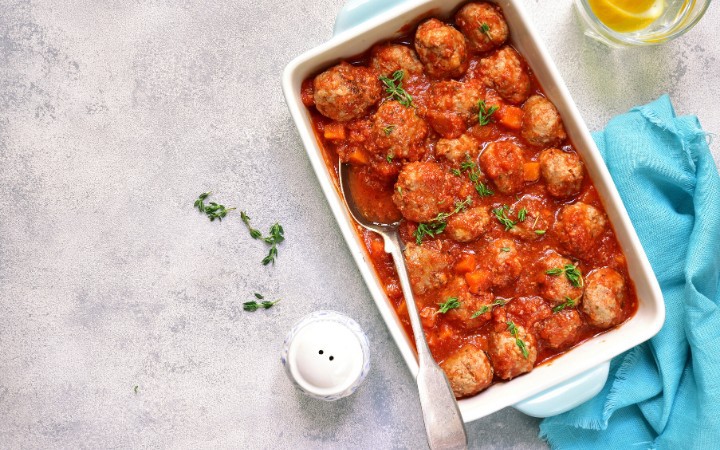 Meat is often the most expensive item on people's grocery list. Depending on the type of meat and the cut, it can require the most basic of culinary skills but also some advanced chops for more elaborate and intricate recipes. But if there's one meat that's as fool-proof as they come, that'll be ground beef.
Ground beef is one of the cheapest you can find at the supermarket, but it can make a variety of recipes for breakfast, lunch, dinner and even snacks. It's why it's a staple in my frugal kitchen! My family loves ground beef and there's not a week that goes by that I don't use it to whip up easy but delicious cheap meals.
So, if you are asking yourself, "what can I make with a pound of ground beef," you're in the right place!  Here are simple ground beef recipes ideas that you can try the next time you find yourself with a pound of ground beef.
---
Related Readings
52 Clever Ways to Save Money on Groceries
28 Incredibly Filling Dirt Cheap Meals to Eat When You're Broke
---
Simple Ground Beef Meal Ideas to Save Money
1. Enchiladas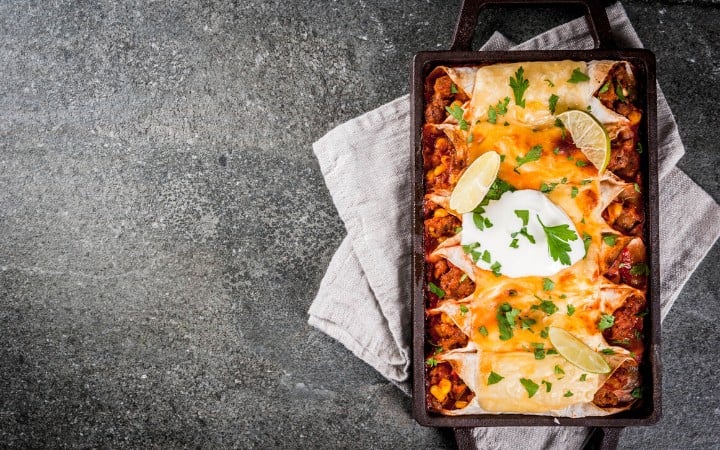 It's easy, super tasty and definitely one of the cheapest meals to make with a pound of ground beef!
Saute the beef, onion and garlic, add in beans, some seasoning, enchilada sauce, water and some salt. Simmer until the sauce mix is thick.
Put grated cheese and the beef filling in each tortilla and then roll and place them side down on the pan. Top everything with any leftover enchilada sauce and some cheese. Bake for about 20-25 minutes or until the cheese is melted.
2. Beef Chili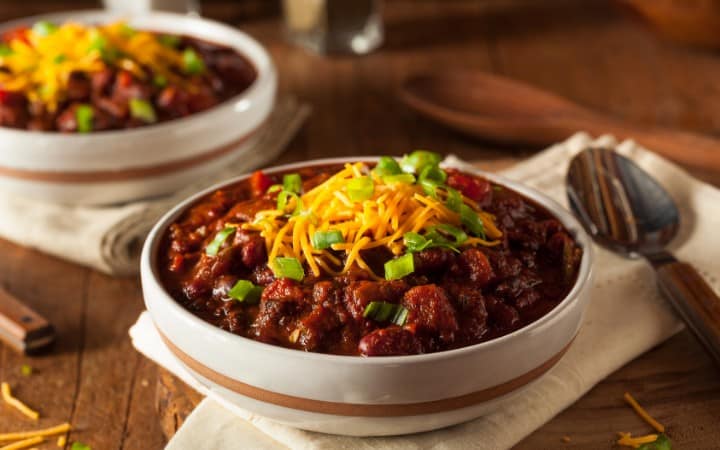 Nothing spells easy and laidback than beef chili on a Friday night.
In a saucepan, saute garlic ad onion and add in a pound of ground beef. Remove any fat. Add in some chili powder, tomato sauce, and salt and pepper to taste and canned red beans. Simmer until all the ingredients are well-cooked and serve!
3. Lettuce wrap
Swap taco chips for lettuce for a lightweight and healthy snack. Cook the ground beef in olive oil until brown, and season with salt and pepper. Add in water with thickener (corn starch), hoisin sauce (soy sauce will do if you can't find hoisin sauce) and a dash of sugar. Mix and simmer until thick.
Remove from heat and put the meat mixture in the lettuce cups and top with sliced carrots, sesame seeds or whatever you fancy and voila – a beef lettuce wrap!
4. Picadillo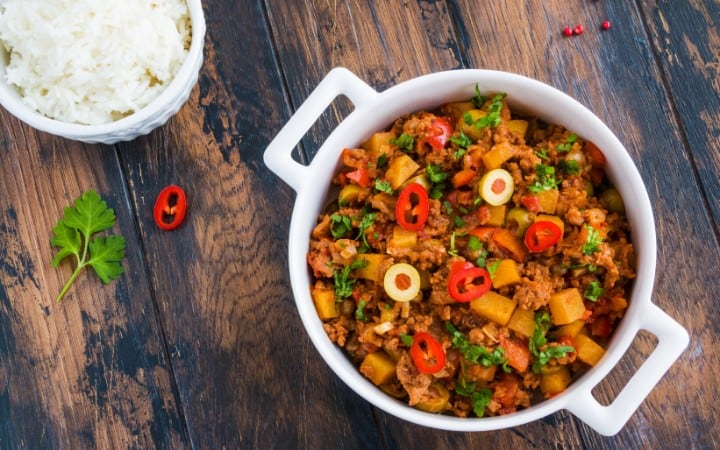 Here's an easy toss-everything-together meal you can serve for dinner. Saute onion in a pan, and add in ground beef and sliced pepper. Add in tomato sauce, some olives and raisin (optional) and a tablespoon of vinegar and simmer for 5-6 minutes. Serve on top of rice. Cheap, easy and definitely one of the most delicious recipes with 1 lb ground beef!
5. Bread pizza
You won't even need a whole pound of beef to make this! Just use your ground beef leftover from other dishes and spread a tablespoon or two of cooked ground beef on the bread. Top with cheese and bake until cheese is melted. Now you have a quick, tasty cheap meal for busy days!
6. Shepherd's Pie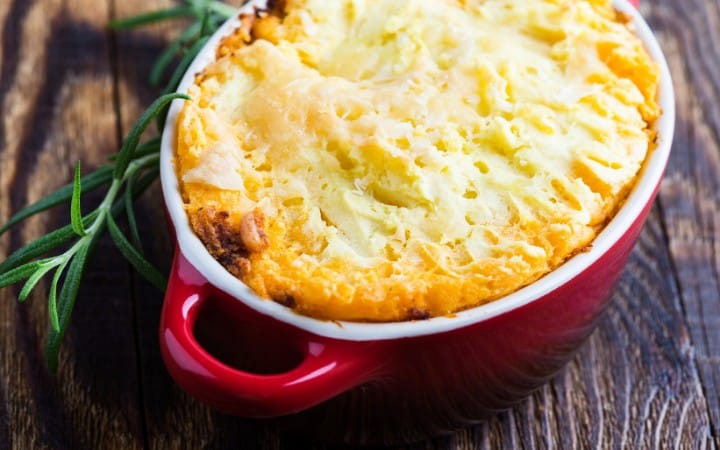 Here's another simple classic recipe when you don't know what to do with a pound of ground beef. It's simply a flavorful mix of ground beef and vegetables topped with fluffy and creamy mashed potatoes.
Cook the beef with onion and garlic over medium heat until the meat is no longer pink, and then remove fat. Add in cream of potato soup, mixed vegetables, and season to taste. Spread the entire mixture on a casserole dish and then top it with the mashed potatoes and some cheese. Bake for about half an hour.
7. Beef Empanada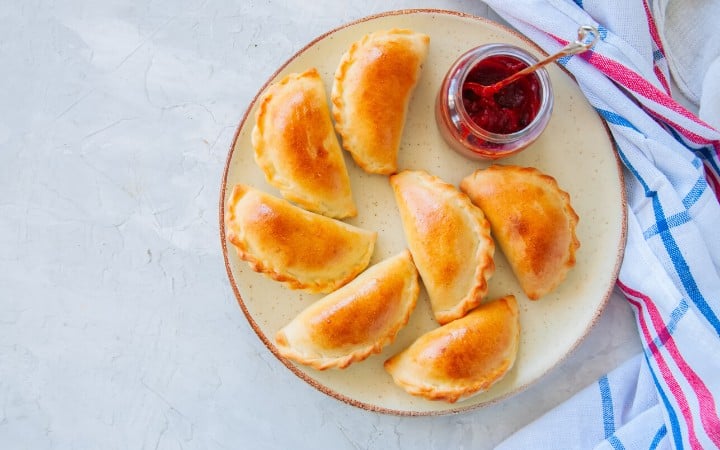 Empanadas are a bit more complicated to make than bread pizzas, but if you're looking for something to do on a lazy weekend afternoon, this recipe is definitely one to try!
You won't even need a lot of beef to make this meal, so if you have a small bowl of leftover from other ground beef recipes, you can use it as filling or reinvent it with Teriyaki sauce or Taco seasoning and an extra tomato sauce.
Place about 2 tablespoon of the meat filling in the center of each prepared dough circle. Brush one side of the dough with water and then fold to seal in the filling. You can also use the tines of a fork to fully seal the dough. They're now ready for the oven – bake until golden brown. You can also opt to brush some whipped egg onto each empanada before baking.
To make empanada dough, check out these recipes:
8. Hamburger Steak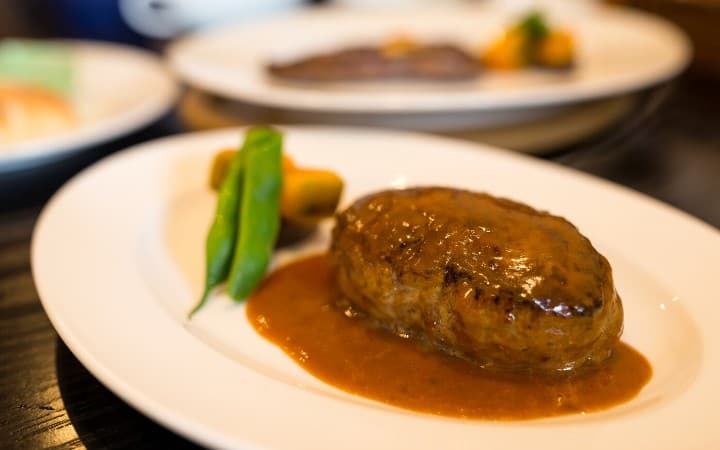 Served with rice, hamburger steak is a delicious and cheap meal you can make with a lb of ground beef.
For the patty, mix the beef, bread crumbs and seasoning (salt, pepper, onion and garlic powder if they fit your taste). Form into balls and flatten into patties. Fry the patties until they're brown on both sides and set aside.
Prepare the sauce by putting in the flour, onions and drippings in the same skillet where you fried the meat. Stir and make sure to scrape the bits of the beef off the bottom of the pan. Add beef broth and some salt to season, and simmer and stir until the gravy is thick. Put back in the patties and simmer again for several minutes before serving.
9. Beef casserole
Ahh casseroles are like comfort food, and here's one that you can do with a pound of ground beef. Cook the beef in a skillet until brown and then remove grease. Add in sugar, salt, garlic and some tomato sauce, and simmer.
In another pot, boil the noodles until they're firm to the touch and drain the water. Meanwhile, mix sour cream, cream cheese and onion in a bowl.
Once done, add some of the noodles into the casserole dish, top with the sour cream mix, before adding on top the ground beef. Repeat layering until done. Top off the layer with some cheddar cheese before popping it into the oven until it has cheese has turned brown.
10. Lasagna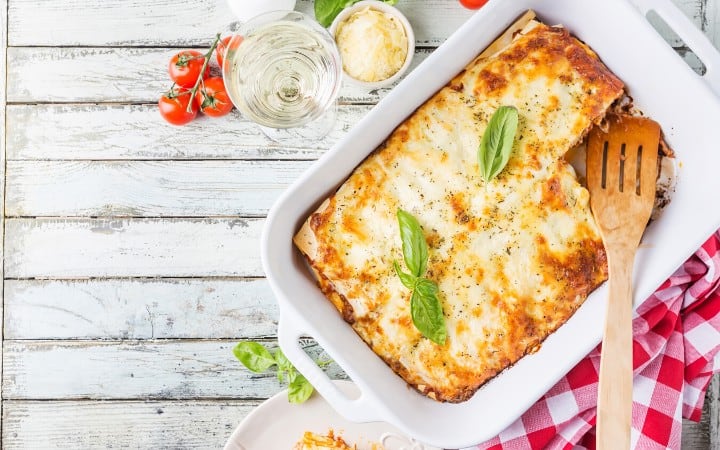 There's nothing as classic as a tasty, cheesy beef lasagna. Cook the ground beef and onion until brown, and then add the tomato sauce and herbs to form the meat sauce. Most people use dried oregano and basil but for some twist, you can also try adding spinach. Prepare in a separate bowl the eggs and cottage cheese and other cheeses you'd like to add.
Then, layer the baking dish with noodles, the cottage cheese mixture and the meat sauce. Repeat for all layers, and then sprinkle the last layer with mozzarella cheese and seasoning. Bake until the cheese is melted.
11. Meatloaf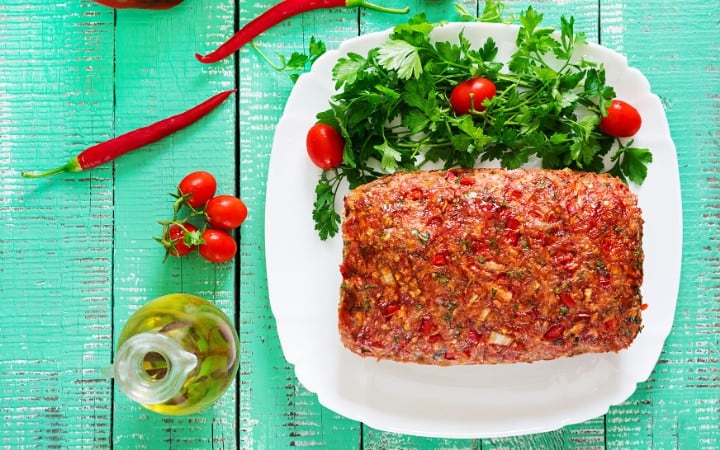 Here is another classic recipe for a 1lb ground beef. Mix thoroughly in a bowl the beef, bread crumbs, ketchup, onion, eggs, garlic, and season to taste.
Once done, take out and shape the meat into 8x 4 inch loafs on rack in a broiler pan lined in with aluminum foil. Put inside a preheated oven and bake for 45-55 minutes. Once done, you can brush some ketchup on top before cutting into slices.
12. Meatballs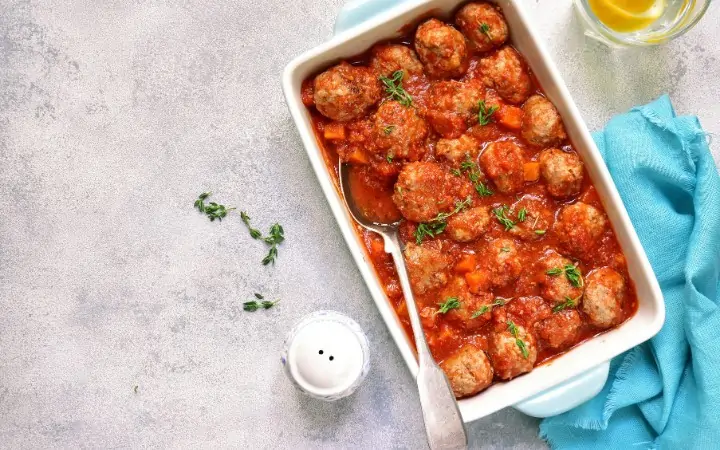 Everyone loves some good ol' meatballs in their spaghetti or soup.
To prepare, put bread crumbs and water in a bowl and leave for 5 minutes. Later, add in eggs, cheese, parsley, garlic, salt and pepper to taste and ground beef – you can also add pork if you want for more weight. Mix everything thoroughly and shape into 1-inch balls. Put in oven to bake before adding to your soup or pasta.
13. Patty Melt
If you haven't tried this yet, then this one is not to be missed!
In a large bowl, mix together the ground beef, onion powder, and salt and pepper. Form into patties – better if you can shape them into squares so they can fit bread slices. Once done, grill the patties for about two minutes until the side directly on the heat lifts easily, and then flip and do the same for the other side.
Take the bread slices, spread some dressing and then put the grilled patties, cheese and caramelized onions (optional). Melt some butter on a skillet pan, drop a sandwich with the toppings and grill until golden brown. Flip onto the other side and grill. Enjoy with some dressing or cheese on top, and ice-cold cola.
14. Beef Stroganoff
Try this for your Sunday dinner. Prepare egg noodles according to package directions and set aside. Meanwhile, saute the beef in a skillet for about 5-10 minutes and drain fat. Add beef stock and garlic powder, and let the meat mixture simmer while stirring occasionally. Remove from heat and mix it with the egg noodles. Add some sour cream and salt and pepper to taste.
15. Beef and Noodle bowl
If you liked your Asian rice bowl, then you can also try swapping rice for noodles. Cook the beef with some green onion until the meat is no longer pink, and then remove from heat and set aside. Using the same pan, add water, ramen noodles and frozen vegetables. Cook until noodles are tender.
Prepare the sauce by mixing hoisin sauce, soy sauce, brown sugar, cilantro, Sriracha sauce (if you have) and ginger in a bowl. Put back the meat prepared earlier into the skillet and the sauce, and then stir and heat for about 2 minutes. Top it with some green onions and sesame seeds.
16. Spaghetti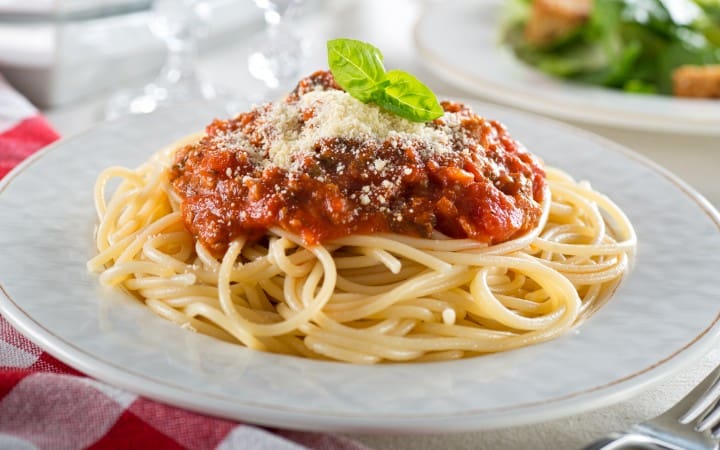 Of course, there's no list of simple ground beef recipes without spaghetti! I am sure you have your own favorite spaghetti recipe. I love mine Filipino style–sweet and with a bit of spice!
17. Beef stew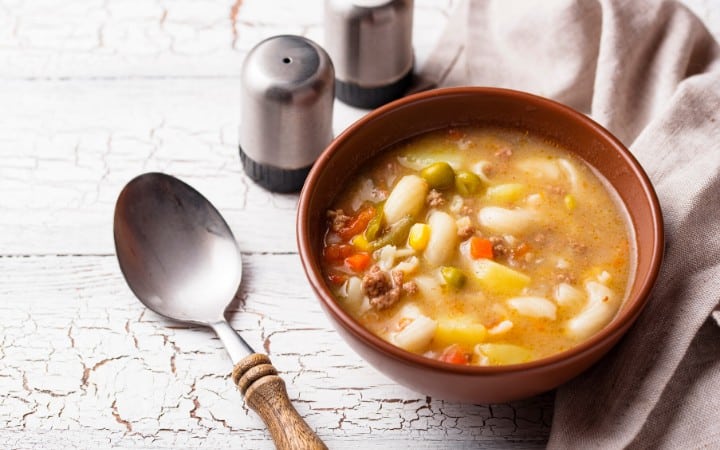 I love this on rainy days! Cook and crumble the beef on medium heat until the meat's no longer pink. Add some vegetables and cooked pasta and simmer until the vegetables are tender.
18. Hamburger Patties
How could we ever forget the most classic of them all? Serve up your burgers with some tender, juicy beef patties.
In a bowl, whisk eggs, salt and pepper together before adding the ground beef and bread crumbs. Mix until well blended. Form the patties, about ¾ inch thick, and grill, cooking each side for about 6-8 minutes (or depending on how well you want it done).
19. Bibimbap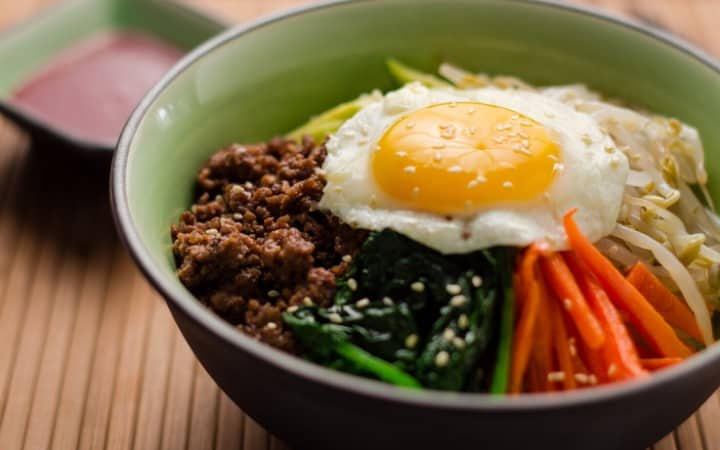 Fancy some Asian rice bowl? Here's one you can prepare with a pound of ground beef. And don't worry, it's not really as complicated as it sounds!
You'll need some steamed rice to begin with. Now, to prepare the meat, saute spinach in a pan for a few minutes, and then add some sesame oil and salt to season. Set it aside in a clean bowl. In the same pan, add the ground beef and cook until fully brown, then mix in some chili garlic sauce, soy sauce and brown sugar. Mix thoroughly until the beef is coated in the sauce.
Prepare your rice bowl by adding the cooked rice first, and then topping it with cooked spinach, and finally the cooked ground beef. You can finish by adding some sliced cucumber, shredded carrots, soft-boiled eggs, and some sliced green onions or sesame seeds on top.
20. Grilled cheese sandwich
Finally, let's cap this list off with another classic. Cook the beef and some slices of scallions in a pan until the meat is brown and crispy. Add some salt and pepper to taste.
Prepare the bread by putting a cheese slice on a slice of bread, and then add the meat and layer with another cheese slice (or two) before covering with the other slice of bread. Spread some butter on the outside of the sandwich, and bake the bread until the outside is golden and the cheese is melted.
Are You Ready to Try these Simple Ground Beef Recipes?
Certainly, there's a lot that you can do with a pound of ground beef. This 20-point list of simple ground beef recipes shows you how. The next time you shop, don't hesitate to grab some ground beef and start cooking!