Do you have a nice-sounding voice and would like to make money from it? Then an audiobook narrator job might be suitable for you! Here are the best platforms to find audiobook narrator jobs!
In case you didn't realize this yet, your voice can be an awesome asset if you want to make money from home. How? By being a voiceover actor.
Most people might think voice acting is only limited to giving voice to characters we see in animated films, commercials, and live events. But voice acting is more than this. You can also become a voice actor by narrating audiobooks.
The audiobook market is growing, and so is the demand for audiobook narrator jobs. But how do you become an audiobook narrator, how much does it pay and where can you find legit narrator jobs? We'll cover everything you need to know about audiobook narrator jobs, so keep reading.
What Does An Audiobook Narrator Do?
As the phrase suggests, narrators are the ones who recite or read aloud the text from a book, thus turning a physical or digital book into an audiobook.
Well, that's the short explanation for audiobook narration.
But according to seasoned audiobook narrators, the job goes over and beyond just reading the text material. Anybody can read a book out loud, but not everyone has what it takes to become an audiobook narrator.
According to January Lavoy, an audiobook narrator is responsible for the entire story. The job requires internalization of the story, and the characters and being able to translate these to the listeners.
Tavia Gilbert of Voices.com believes that an audiobook narrator should be able to breathe life into the material. You need the ability to paint a vivid picture through words and punctuations.
Therefore, an audiobook narrator's main responsibility is to transform a written book into audio material so that the audience can consume the content by listening to it. Audiobook narrators are also responsible for making such material engaging and interesting to create an outstanding listening experience for the users.
This post contains affiliate links. I may earn a small commission
How Do You Become An Audiobook Narrator?
Having a pleasant voice put you one step ahead in becoming an audiobook narrator. But apart from that, there are steps you can take to further hone your voice acting skills and become an accomplished narrator.
You do not need a formal education to become an audiobook narrator. However, you can train to become one. If you already have the talent for voice acting, then working as a narrator should be a lot easier for you.
Practice
Anyway, narration jobs require a lot of practice. But before that, you need to truly understand what the book is all about and what the character/s want to say. With this understanding, take the book in a quiet space (such as inside your wardrobe), and read it aloud while recording yourself.
This practice gives you some insight to analyze. Where do you make mistakes? How should the intonation be? Does your voice give justice to the emotions the text wants to convey?
Listen
It is also important that you listen to a lot of audiobooks yourself. You need to know how other narrators do their job. Study their style, and technique and take notice of little things like inflections and pauses. Listening to audiobooks from different genres and niches also helps you figure out where you'll most likely excel.
Keep Learning
There are different ways to further improve your narration skills. You can check out free and paid narration courses online. There is also an abundance of tips shared by some narrators on YouTube, so you want to check them out too. The bottom line is that there is much that you can learn from others, and you'd want to integrate these practical lessons into your own learning journey.
I recommend this free Intro Course to Voice Overs by Julie Eickhoff. Julie has been working from home as a voice artist for a range of projects, including eLearning training modules, web videos, movie theater ads, radio ads, television ads, and more.
Equipment for Audiobook Narration
Reading and recording an audiobook is just half the battle won. Nowadays, every audiobook narrator knows that it is essential to have the right equipment for recording sessions and post-production.
So, what are the things you need to become a full-fledged audiobook narrator?
A recording software (such as Audacity) to record and edit your narration
pop filter to remove popping sounds while recording
A computer or laptop to run your recording software as well as perform other tasks like communications, scheduling, marketing, billing and invoicing, etc.
These are the basic equipment you need for narrating and recording. Sure, you might have to spend upfront for these things, especially now that narrators mostly work from home and not in recording studios. But having the right equipment handy gives you more flexibility to work on your own time.
How much do audiobook narrators make?
There are a lot of factors that go into a narrator's compensation, such as years of experience, skills, type of project, and more. But according to ZipRecruiter, the national pay average for audiobook narrators is $51,826, translating to $25 per hour.
However, most audio agencies and casting companies pay at least $100 per finished hour of recording and veterans can make around $500 per hour.
Related Posts:
13 Best Voice Over Jobs from Home
How to Get Paid To Listen To Music in 2022
Where to Find Audiobook Narrator Jobs
1. ACX
ACX or Audiobook Creation Exchange is a platform that brings together Rights Holders, such as authors and publishers, and narrators and other talents in the creation and production of audiobooks.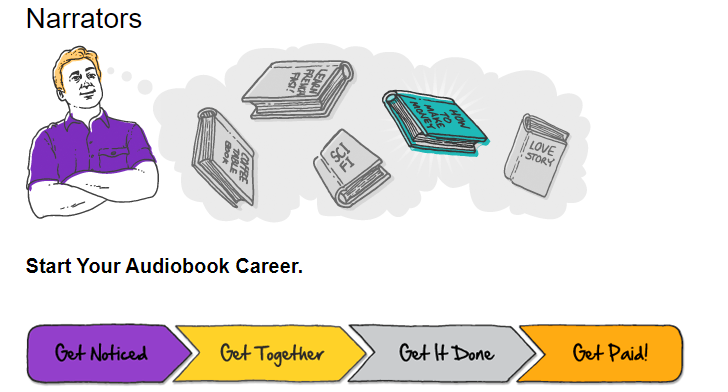 Source: ACX
ACX is one of the best websites for starting your audiobook career. You can find numerous audiobook narrator jobs here from almost every imaginable genre, and the finished products are sold on Amazon, iTunes, and Audible.
To get started at ACX, you need to create an account at ACX, build a profile and submit some samples. Then, check out audiobook narration gigs on the site, and audition for those that you're interested in.
If you get selected or shortlisted for audiobook narrator jobs, the author or the Rights Holder will make an offer for you, and if everything looks good, you can start recording the material.
You can choose to get paid with your per-hour finished rate when you complete the audiobook or get a share of the royalties.
2. Bunny Studio
Bunny Studio is one of the best places to find voice acting and audiobook narrator jobs. It is a platform popular among voice actors and clients looking for voice talents to deliver their audiobook narration needs.
Source: BunnyStudio
The hiring process on BunnyStudio appears more stringent than on other platforms.
First, you need to create an account on the website. Next, submit your application project or test. Once accepted, you can start searching for voice acting opportunities on the platform.
One of the best things about working at BunnyStudio is that it is a trusted source of voice artists, so there are always plenty of voice-acting jobs available. You also get to set your own rates. Most voice actors and audiobook narrators earn between $20 to $100 per hour. You could set higher rates as you gain experience as an audiobook narrator.
3. Findaway Voices
Findaway Voices is another fantastic platform where you can get paid for your narration skills. This website focuses on the audiobook business, so it's obviously one of the best places to search for audiobook narrator jobs.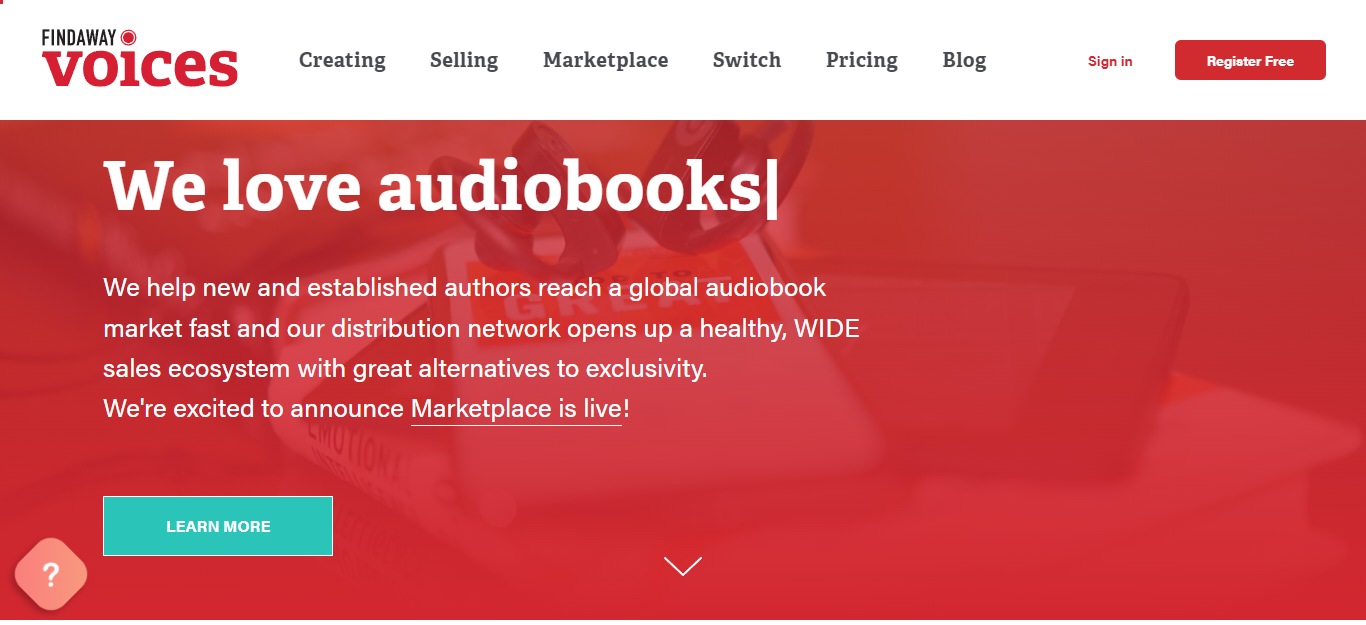 Source: Findaway Voices
Findaway Voices has its very own marketplace for narrators. Authors and publishers use this same marketplace to find the right talent for their audiobooks, so creating and maintaining a profile here can prove to be an advantage if you want to keep your career busy.
You can use Findaway Voices marketplace for free. Create a strong profile, upload your samples, audio intro and even create your own personalized URL. Tagging your audio samples with the tone, language, and genre help clients narrow down their search, allowing them to easily contact you if you have what they're looking for.
You can set your own price or per hour rate, depending on your skills, experience, and type of project you are working on.
4. Backstage
Backstage is a site that allows creatives, including audiobook narrators and voiceover actors to find jobs. This website provides you access to hundreds of casting calls and auditions, so you can search for projects that match your interests and skills.
To fully maximize the platform, you need to create a profile, upload your demos or samples and connect with clients.
It is important to remember that you need to pay a membership fee to join Backstage. But it could be well worth the cost especially because this website is a popular destination for creatives and clients searching for the right talents. Plus, most of the jobs that are posted here pay good money.
5. Voices
Voices.com calls itself the number one marketplace for voice-related jobs. So if you are into freelance voice acting and narration jobs, then you could probably land a job here.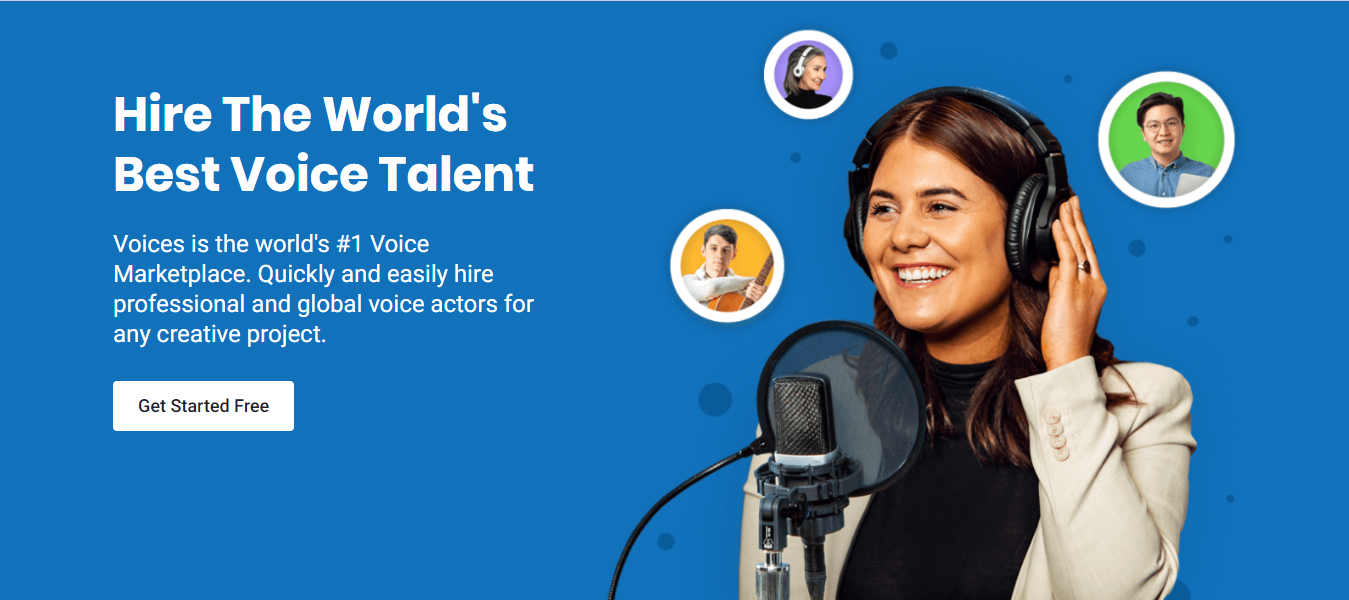 Source: Voices
Voices is a company that allows you to find work within the audiobook industry. It essentially caters to all sorts of jobs involving audio and voice, so this could be a good place to start your career in audiobook narration.
To get started, you need to create a profile on Voices, submit some of your samples and apply to jobs that interest you. You will have direct correspondence with the client, and you'd be able to negotiate your rates. Once you've agreed on the terms of the project, you can get to work, submit the material, and get paid.
You can join the website for free, but you can also opt to pay for a membership package of $399/year which allows you to become more visible on search results as well as have access to more gigs and opportunities.
6. Voice123
Voice123 is also a popular and established website that acts as a marketplace for numerous voice jobs. At Voice123, freelance, full time and professional voice artists can find jobs in narration, commercials, movies, video games, and more.
You can sign up with Voice123 for free and find work. The site sends you notifications on narrations jobs that fit your interests and budget, but you could do a more proactive approach and audition for projects. The best thing is that you work directly with clients, so you can negotiate your prices as you see fit.
You could also opt to upgrade to a premium membership to get more exposure get access to the highest-paying jobs on the platform.
7. Brilliance Audio
Brilliance Audio is a subsidiary of the Amazon company and it focuses on the production of audiobooks. With that said, Brilliance Audio is one of the best platforms if you're looking for narration jobs.
Brilliance Audio welcomes narrators from all over the world, from all sorts of interests and levels of experience. However, if you're just starting out in this career, it's best to practice several times a day to improve your skills. This way, you'd have more to offer and authors would want to keep working with you.
8. Voice Crafters
Voice Crafters has been around since 2008, providing professional audio and voiceover services to some of the world's best-known brands. It has also become one of the best platforms to find voice acting and narration jobs.

Source: Voice Crafters
Voice Crafters offers a wide array of jobs for a voice actor and narrator. You could become the talent for AVRs, commercials, eLearning materials, and of course, audiobooks.
Clients love this platform because all of its talents are pre-screened to ensure the quality of the produced materials. Plus, this agency offers multilingual voice acting services, covering acting and narration jobs in over 80 languages.
With that said, it could be a little tougher to join Voice Crafters than the other platforms mentioned here. You need to get at least five years of professional experience in voice acting and you must have your own professional recording home studio. It is also imperative that you can deliver materials quickly (a 300-500 word recording must be delivered in no more than 48 hours).
9. Voice Jungle
Voice Jungle is an agency that aims to provide the right and best talent for all sorts of voiceover projects. It helps clients meet their voice acting needs with inexpensive yet high-quality voice acting production.
As for voice artists, joining this platform is free and you don't even have to show up for casting calls and auditions.
To get started as a talent for Voice Jungle, you just need to fill up an online application form, submit a demo in MP3 format and wait to get accepted. Then, clients may contact you for potential jobs. You need to have your own recording software and home studio, and ensure that you can provide excellent quality materials within 24 hours.
You will receive your payment as soon as the client approves your work.
10. VOPlanet
VOPlanet is a casting agency where you can find legit narration jobs. Clients can post jobs on the site, and narrators can submit their auditions and then get hired.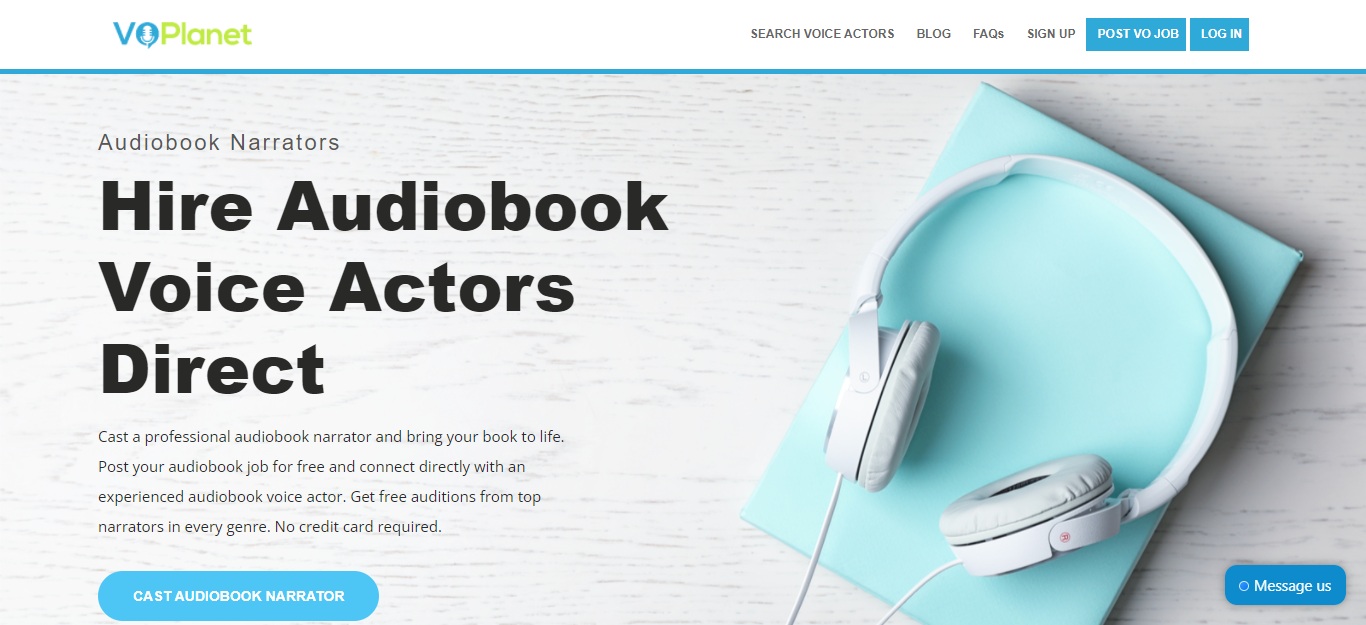 Source: VOPlanet
One of the best things about VOPlanet is it allows the client and narrator to decide to work together without any hidden fees or commission.
The start getting narration jobs on VOPlanet, you need to sign up on the platform and pay a $199 annual membership fee. You can join even if you are new to this job or already have a lot of experience under your belt. It always boils down to your voice being the perfect match for the audiobook.
The company vets all the jobs that are posted on the site. So despite having to pay a yearly membership fee, VOPlanet ensures that all narration jobs here pay well. According to its website, jobs posted here pay around four to five digits.
11. The Voice Realm
The Voice Realm is an online casting site for all jobs that involve the voice. Here you can find all sorts of voiceover work, including voice acting for commercials, internet video voiceovers, e-learning voiceover talent, and of course, audiobook narration jobs.
As a narrator, you need to apply to voice acting opportunities at The Voice Realm. You may need to send in a demo to apply for a job. You work out the details of the project, and once everything is set, you can start recording.
Take note, though, that this site is pretty selective in its hires. To increase your chances of qualifying, you must have your own studio set up, you can deliver a project quickly without compromising quality and have an excellent track record.
12. FlexJobs
Apart from voiceover agencies, you can also find narration jobs on FlexJobs, a platform for freelance, remote and part-time work.
FlexJobs vets every job listing and company on its platform, so it gives you a guarantee that all narration jobs here are legit. You'll have to pay a membership fee of $15 per month, but that would be easy to recoup since most of the jobs listed here pay good money.
This Mama Blogs has partnered with FlexJobs. You can save up to 30% on your subscription if you sign up here using this discount code: FLEXLIFE
13. UpWork
Want to find voiceover and narration jobs on a freelance basis? UpWork is one of the best places to check out.
UpWork is a freelancing platform where you can find all sorts of projects. The advantage of using UpWork is that you can snag jobs with zero to little experience, unlike casting agencies. You'll have to spend on credits, though, so you can bid on jobs. There's a lot more competition too, but it's worth giving a shot especially if you're looking to generate more experience in narrating audiobooks.
14. Fiverr
Fiverr is also a massive name in the freelance industry, and it's also a potential platform to find work in narration.
The site generally started out as a site where people can sell jobs and services for $5, hence the name Fiverr. But over the years, this has evolved and it's possible to find long-term narration jobs here as well.
One thing to remember if you dabble in Fiverr is that the price or rate for gigs here can be a little lower than what you would find on specialized sites like ACX or BunnyStudio. Still, if you want to gain more professional experience in this line of work, it is very possible to land paid projects here, particularly if you're a beginner.
Audiobook Narrator Jobs Frequently Asked Questions
Can anyone be an audiobook narrator?
Yes, anyone who has a talent for narration can become an audiobook narrator. However, audiobook narration is both a creative and technical undertaking, so being able to read text out loud is not enough to make you an effective one. You have to learn to give the right emotions and tone that the material calls for, plus know how to do your own recording sessions at home.
Can you make money narrating books?
Narrating books can pay lucratively especially if you have the right voice and skill that an author or publisher is looking for. Some narrators are able to work on narrating books full time, while others get enough gigs to help them make some money on the side.
How do you get a job as an audiobook narrator?
There are now plenty of platforms to find narration jobs. You could start with freelancing marketplaces like Upwork, Fiverr, and Flexjobs if you're just starting out. Once you've developed more skills and experience, and have grown your portfolio, you can consider applying to audio agencies and casting companies where you'll most likely score higher-paying projects.
Conclusion
Audiobook narration proves to be an excellent career choice for people gifted with a pleasant voice. Just with your voice and your own recording studio set up, you could start making money doing projects you like, right in the comfort of your own home.
Narrating audiobooks is not easy as it sounds. There's plenty of work you need to do in the background, so I recommend checking out Julie's free e-course to learn more about voice acting. Once you've mastered this skill and leveled up your talent, you can command good rates and make a lucrative business in voice acting.