Putting together a Thanksgiving dinner this year that's within your budget? Check out these cheap Thanksgiving recipes that will impress everybody on the dinner table!
Hosting Thanksgiving dinner is a rewarding job. But with inflation affecting every one of us, sometimes we can't help wondering how to throw a Thanksgiving feast for family and friends without blowing our budget. On top of that, you want to serve a delicious holiday meal to get the Thanksgiving vibe going.
Fortunately, you don't have to overspend or get into debt just to have a spectacular Thanksgiving dinner. There are plenty of cheap Thanksgiving recipes you can re-create and serve. From tasty traditional pumpkin pie to impressive Thanksgiving side dishes, these affordable recipes will surely get your guests asking for seconds!
30+ Divine But Cheap Thanksgiving Dinner Meals
This post contains affiliate links. I may earn a commission at NO extra cost to you for your purchases made through these links. Disclosure.
1. Instant Pot Mashed Potatoes
Mashed potatoes pair perfectly well with many main courses, like Thanksgiving turkey, so making them for the holidays is always a good idea. If you don't want to slave over the stove to make the perfect mashed potatoes, consider this one-pot mashed potatoes recipe made with just five ingredients and done in 30 minutes. Buttery, fluffy, and exquisitely delicious, this mashed potatoes recipe will surely be a hit with the whole family.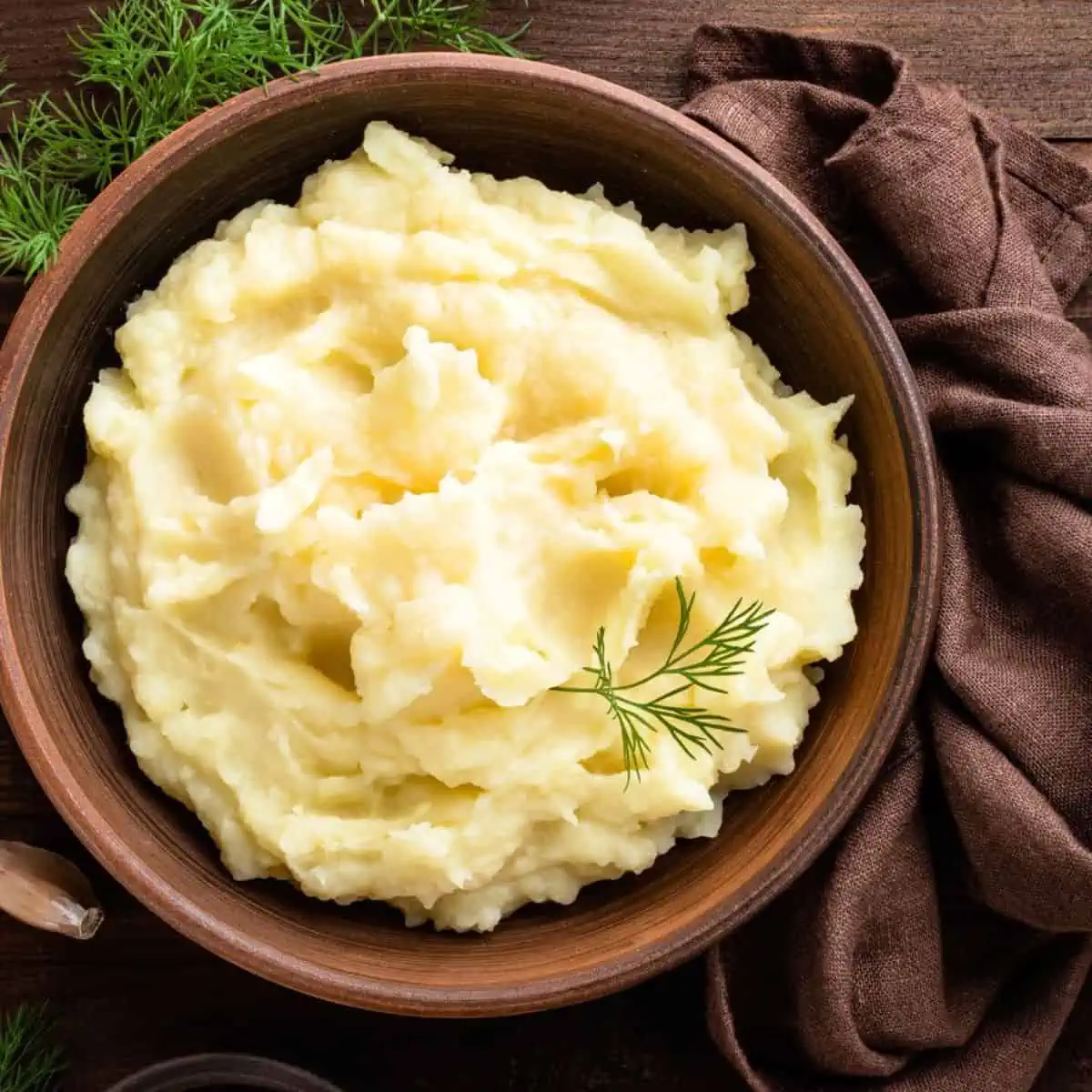 Source: Bake It With Love
2. Honey-roasted Butternut Squash
Butternut squash is quite a popular vegetable during Thanksgiving, and one of the best and cheapest recipes you can make is honey-roasted butternut squash. This fantastic side dish recipe calls for bite-sized roasted butternut squash cooked with olive oil, honey, and cinnamon, giving you the perfectly sweet, rich, and chewy side dish that pairs excellently with Thanksgiving turkey and green beans casserole.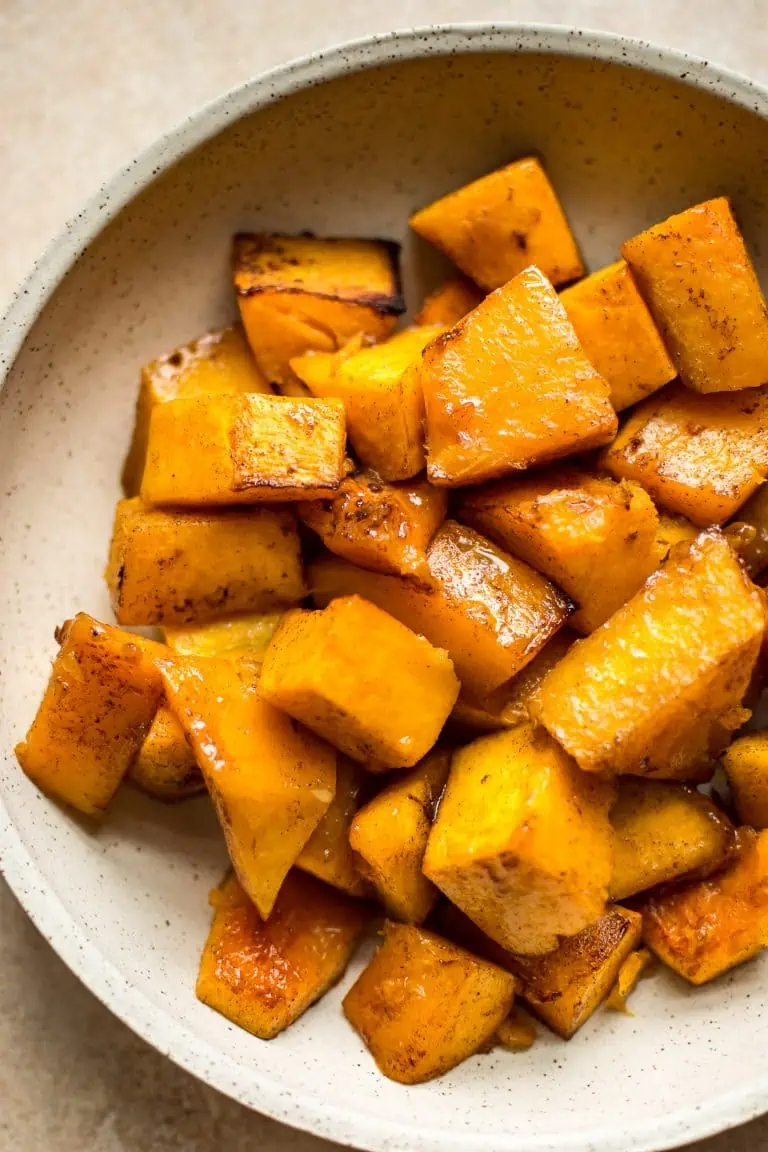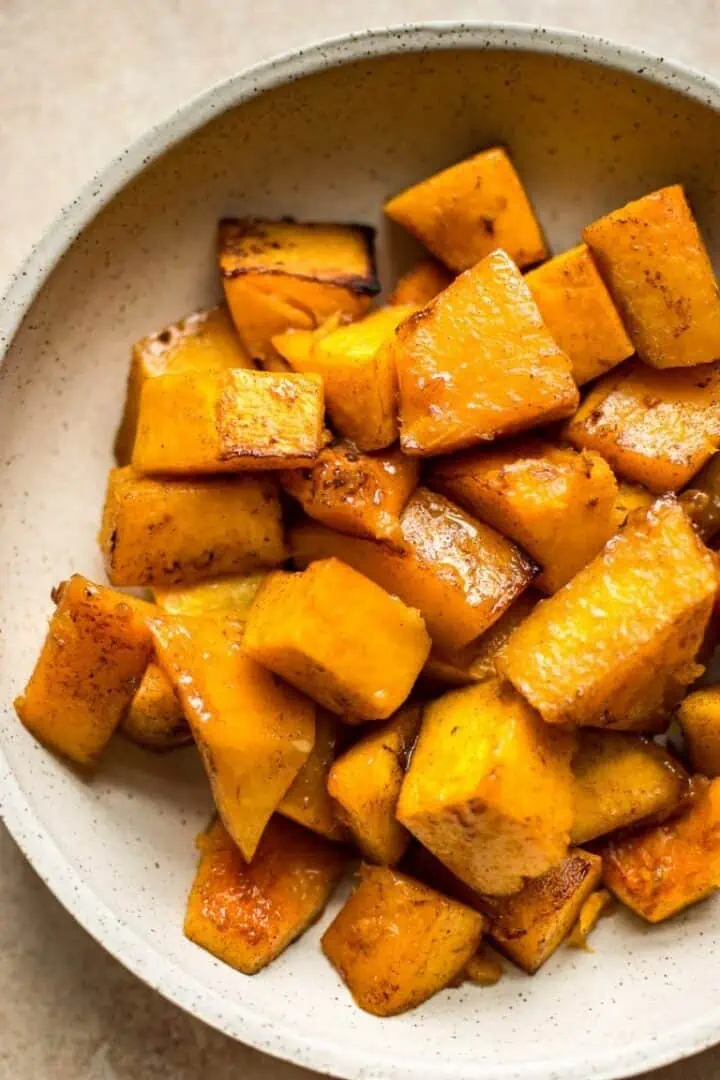 Source: Salt and Lavender
3. Pumpkin Spice Cake Balls
Pumpkin Spice Cake Balls are an excellent Thanksgiving dessert you can make this year. With just a few ingredients including spice cake mix, pure pumpkin, and pumpkin candy melts, you'll have this cute and delicious dessert that captures the essence of the fall season and Thanksgiving. Sweet and velvety, this Thanksgiving dessert will win the hearts of the young ones as well as those who are young at heart.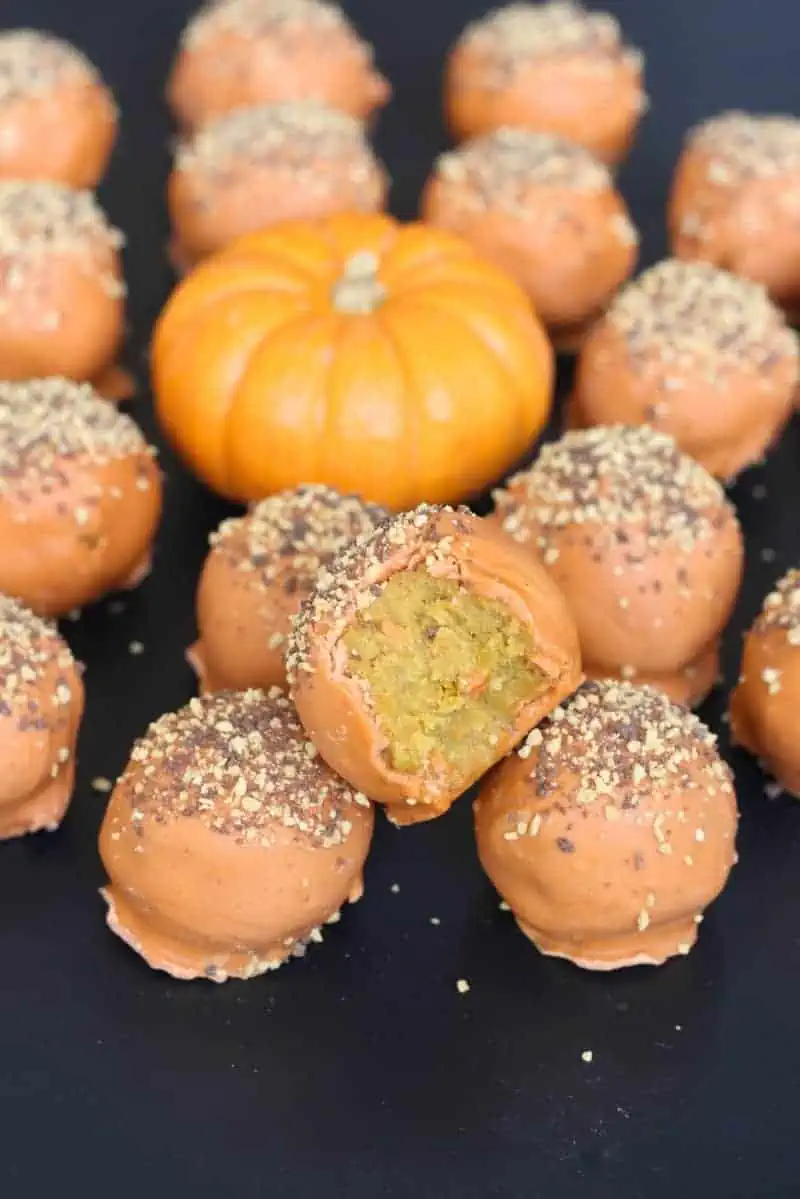 Source: The Baker Mama
4. No-bake Pumpkin Pie
No Thanksgiving dinner seems complete without the traditional Pumpkin Pie. But if you could be a better baker, don't fret! This no-bake pumpkin pie recipe helps you make your pumpkin pie from scratch with no baking required! It is filled with a rich and sweet filling made with pumpkin puree, vanilla extract, and melted marshmallow. Serve with whipped cream on top to further enhance the flavors!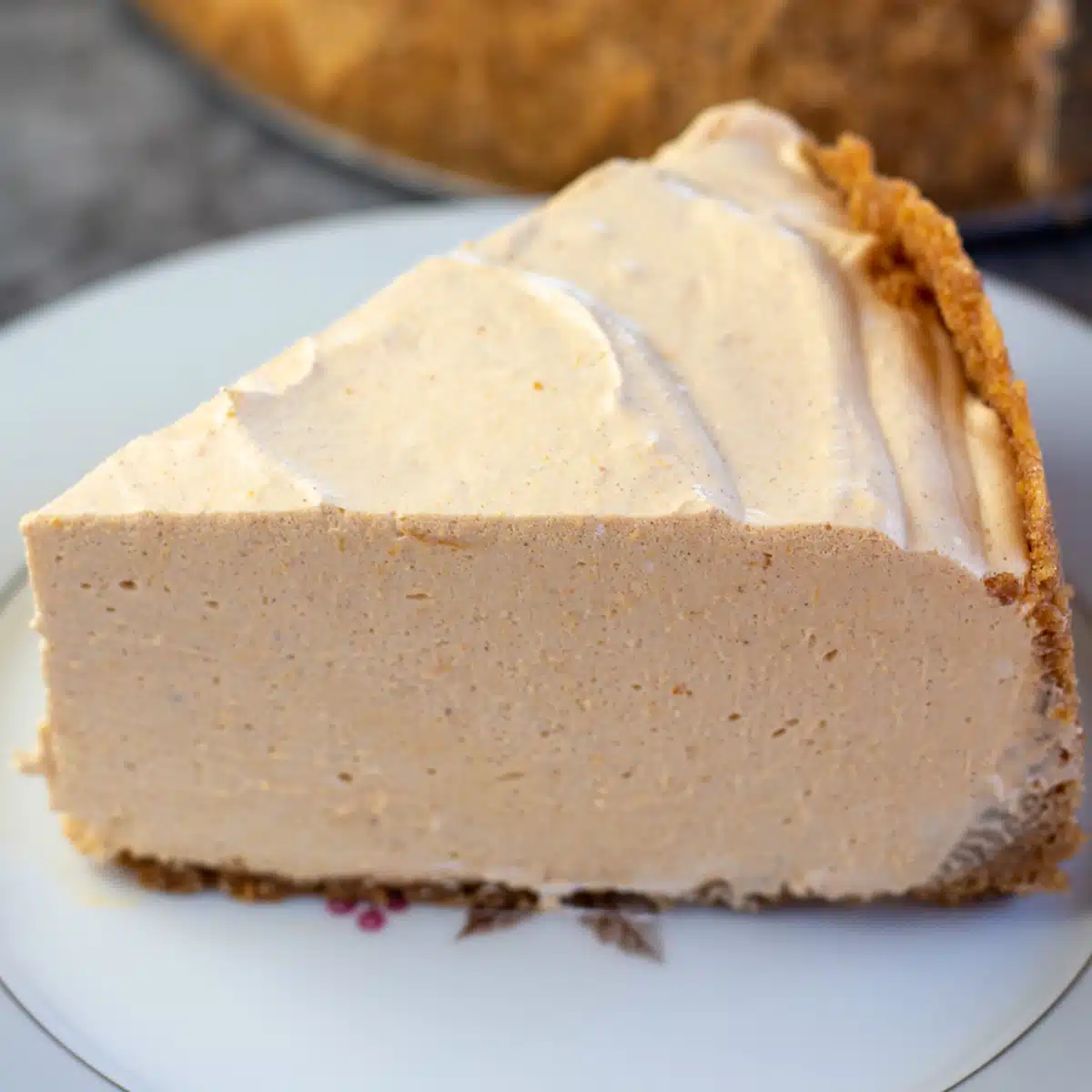 Source: Bake It With Love
5. Green Beans with Cranberries
Add dried cranberries to elevate your regular green beans and make them more special! This awesomely cheap side dish makes your holiday dinner unique without breaking the bank! You won't believe how easy it is to recreate this simple recipe and how it turns out so yummy! Boil the green beans while cooking the craisins in another pan or skillet. Toss the boiled green beans with the craisins, serve, and enjoy!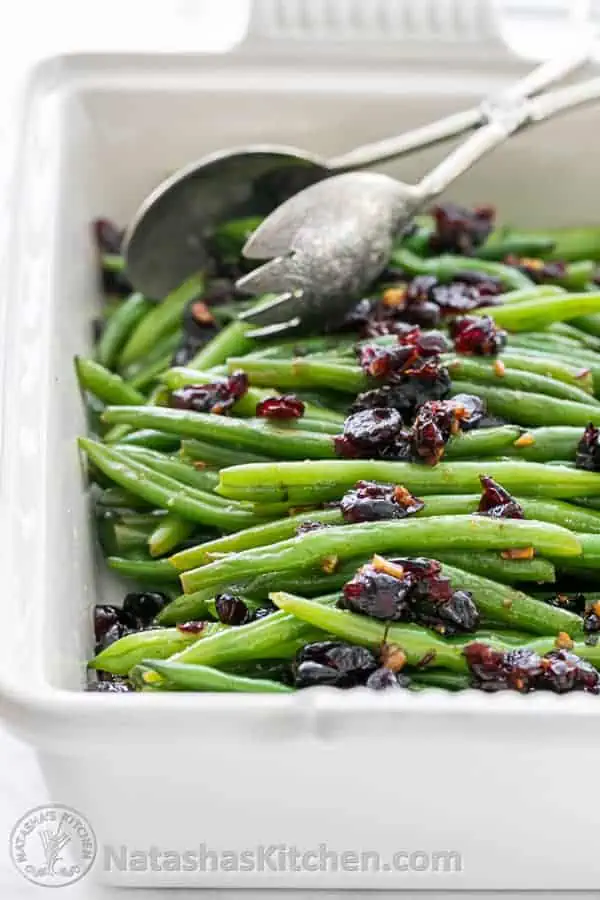 Source: Natasha's Kitchen
---
More Money-Saving Tips!
Make a meal plan! Plan out your meals for the week to avoid food waste. Check out how I meal plan on a budget and download my free meal planner template. If you don't have that much time for meal planning and are looking for a simple family-friendly meal plan to follow every week, let Erin from the $5 Meal Plan help you!
---
6. Instant pot cranberry meatballs
This might surprise you, but cranberry sauce and meatballs are fantastic! This cheap Thanksgiving recipe lets you use leftover cranberry sauce from last night's dinner. Add chili sauce and a few other pantry staples and mix them with meatballs you've made from scratch. This recipe is cheap to save money, and it is so delicious that it makes the perfect addition to your day-after-Thanksgiving spread.
Source: Life Made Simple
7. Thanksgiving Cobb Salad
Indulge in a remarkable gastronomic experience withthis Thanksgiving Cobb Salad recipe. This cheap and easy salad is one of the best things to serve on the holiday table. This cobb salad might look fancy, featuring crispy pancetta, a slew of fall fruits, roasted squash, and then topped with warm maple bacon dressing, but it's effortless to make! All the fall colors and flavors in one delicious plate!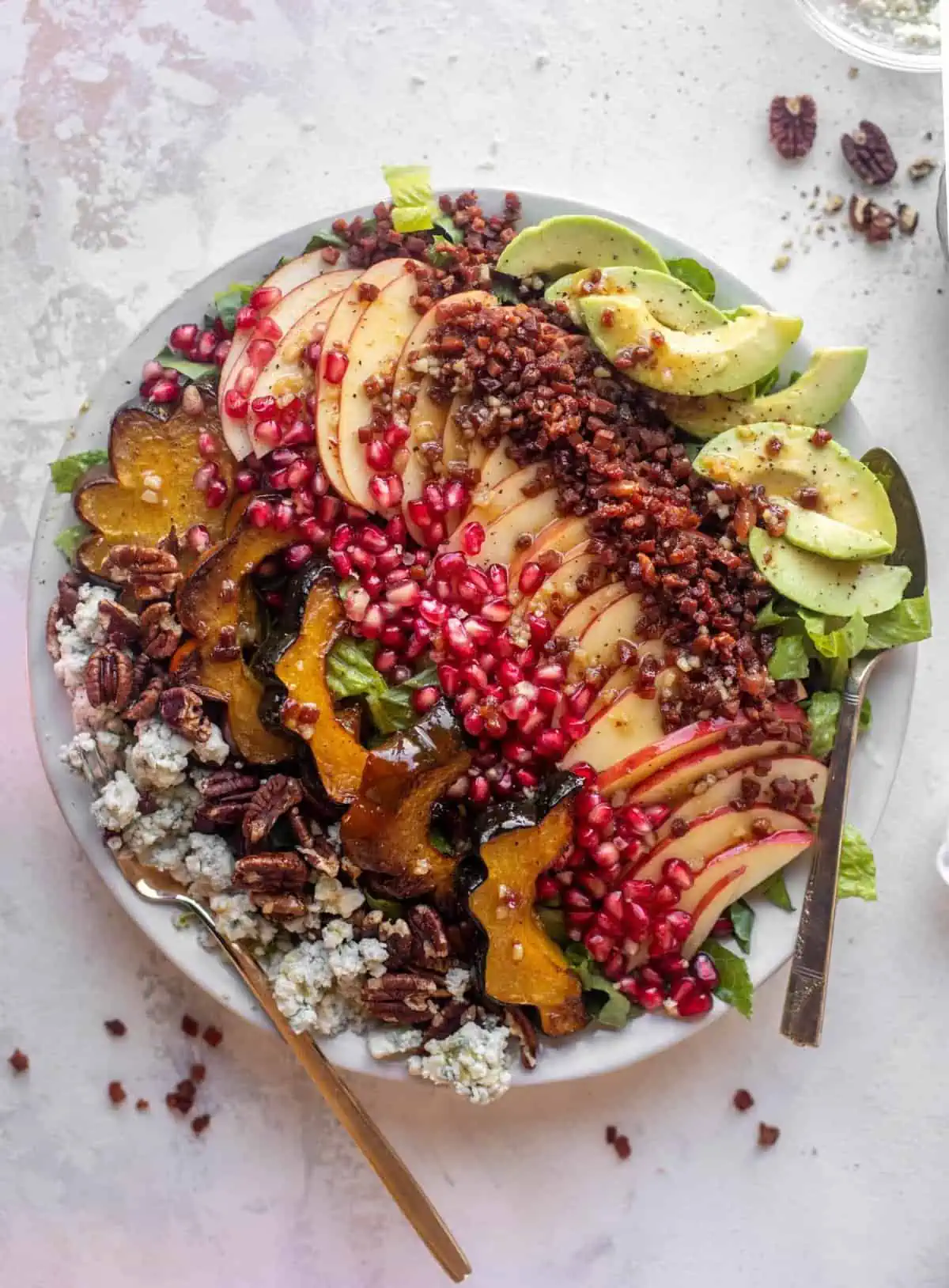 Source: How Sweet Eats
8. Twice-Baked Sweet Potatoes
Recipes made with sweet potatoes are always a staple in Thanksgiving dinner. They're cheap, filling, and naturally sweet–the perfect combination in a comforting side dish. But twice-baked sweet potatoes are something else! You scoop the insides of the sweet potatoes, fill them with a creamy mixture made with cream cheese, cinnamon, and nutmeg, and bake them. If you want them sweet, add toasted pecans and cinnamon. But if you prefer them savory, just top them with a dollop of sour cream, bacon, and cheese!
Source: Life Made Simple
9. Cream of mushroom soup
This homemade mushroom soup recipe is another easy and cheap Thanksgiving recipe you should try this year. It calls for basic pantry staples like chicken broth, spices, flour, milk, and butter. It is warm and flavorful, making it the perfect soup for fall. This soup also complements other dishes on your Thanksgiving dinner, such as roasted vegetables, light salad, or bread.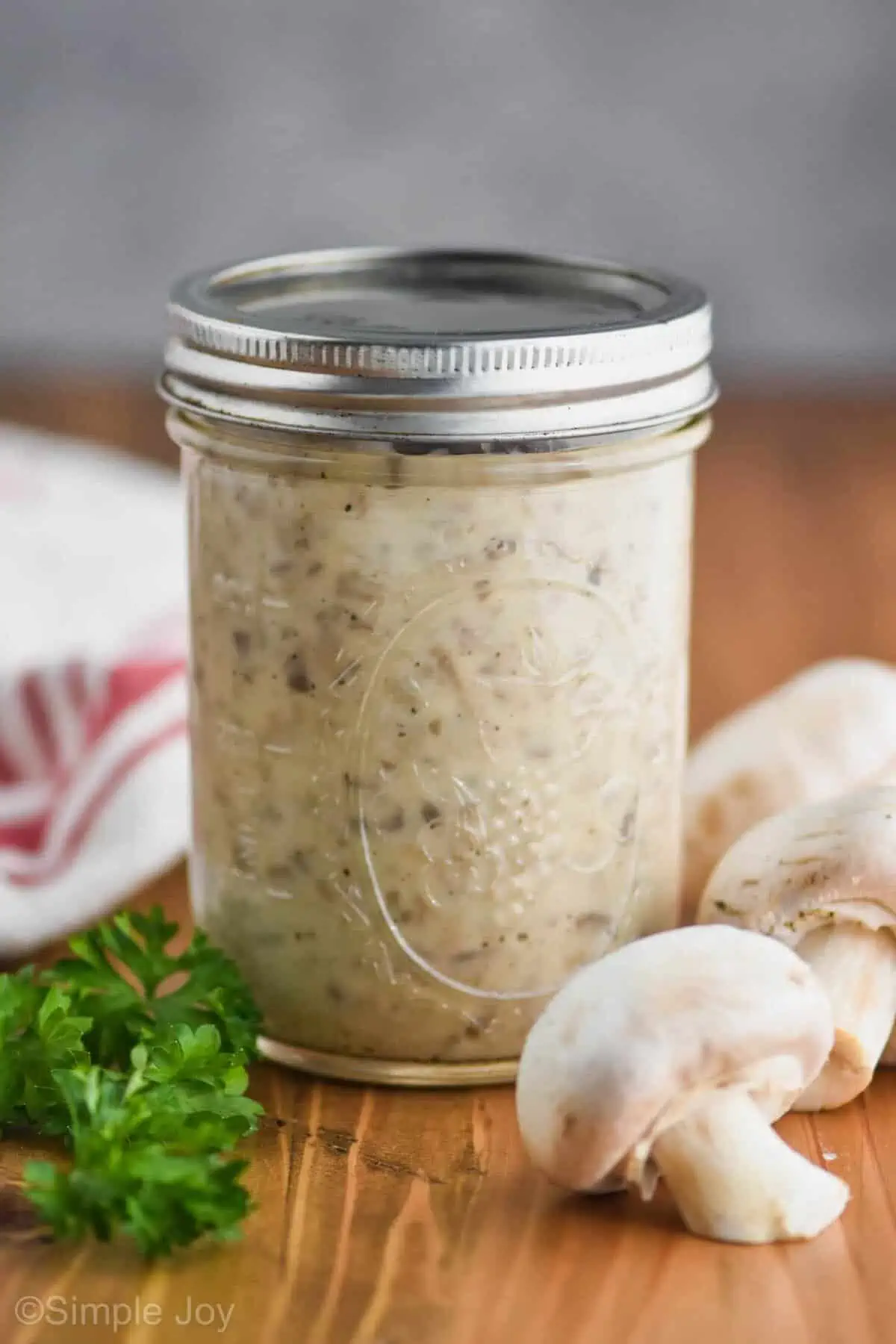 Source: Simple Joy
10. Pumpkin Pie Milkshakes
Can't get enough of pumpkin pies in the fall? I know how you feel. That's why I searched for the best pumpkin pie milkshake recipe which combines two of my favorite things: pumpkin puree and vanilla ice cream. This is one of the most heavenly Thanksgiving recipes that totally deserves a spot on the holiday table. And if you prefer to kick off Thanksgiving dinner with a dessert, this milkshake is the best way to do it! Kudos to The Thirsty Feast for this fantastic recipe!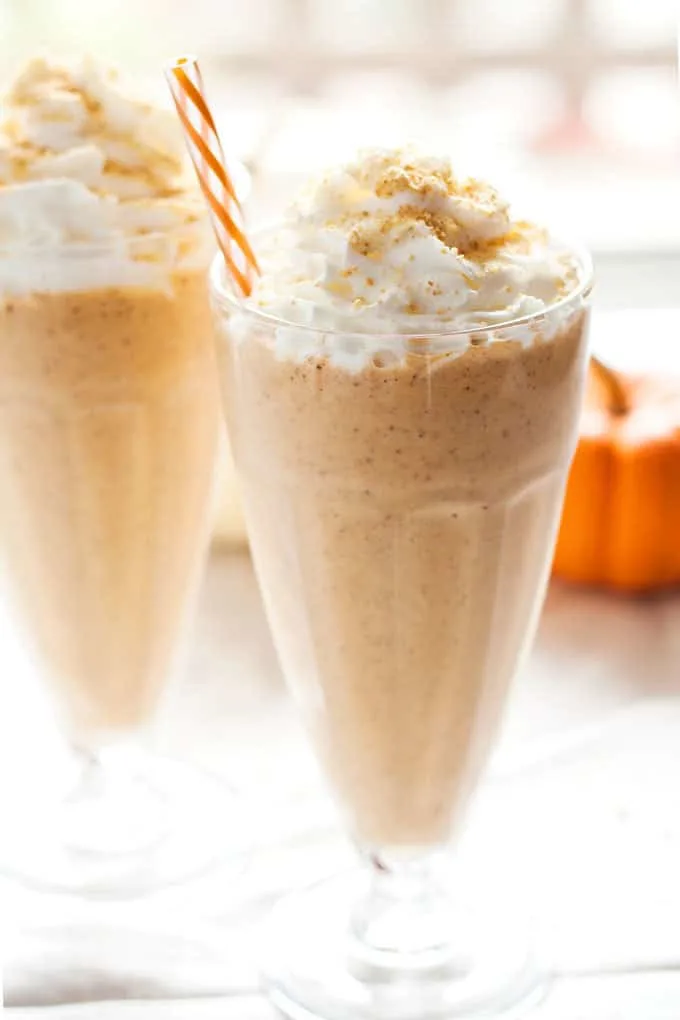 Source: The Thirsty Feast | Honey and Birch
11. Potatoes Au Gratin
Potatoes are oneof my favorite comfort foods, so I'll be making a potato-based dish or two for Thanksgiving dinner. I love this Potatoes Au Gratin recipe from Spoon Fork Bacon. Featuring thinly sliced potatoes soaked in garlicky and cheesy goodness, it is made even more remarkable with its harmonious combination of flavors and textures! Use heavy cream, Parmesan, and cheddar cheese for the best results.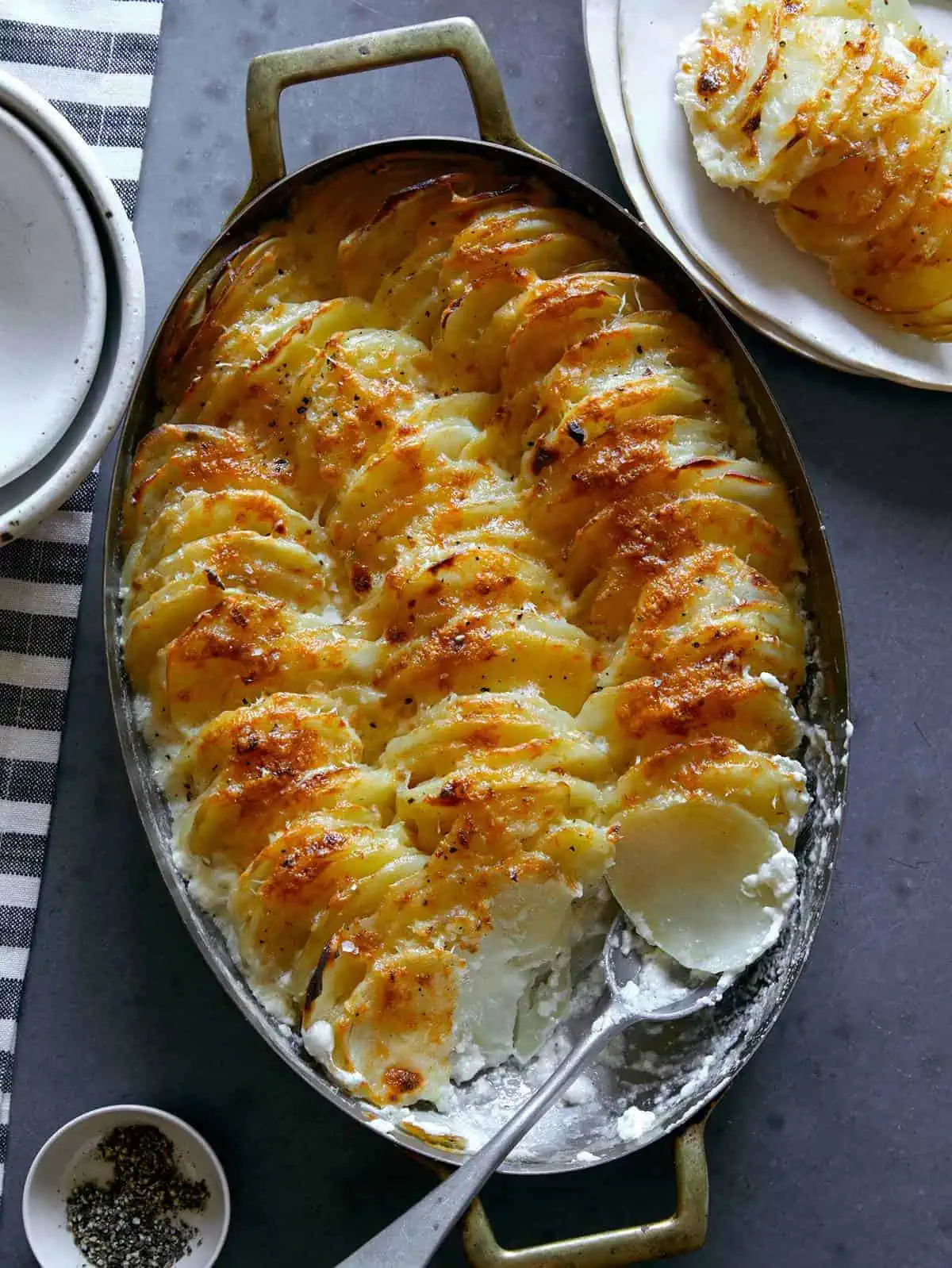 Source: Spoon Fork Bacon
12. Homemade Creamed Corn
When it comes to Thanksgiving side dishes, creamed corn is a must-have for many of us. This one from A Couple Cooks is highly recommended if you're looking for creamed corn with the classic autumn flavor. This recipe makes creamed corn from scratch (using fresh, not canned corn) and other ingredients such as milk, cheese, butter, and heavy cream. Rich, comforting, and utterly delicious, you can't miss out on this classic side dish this year.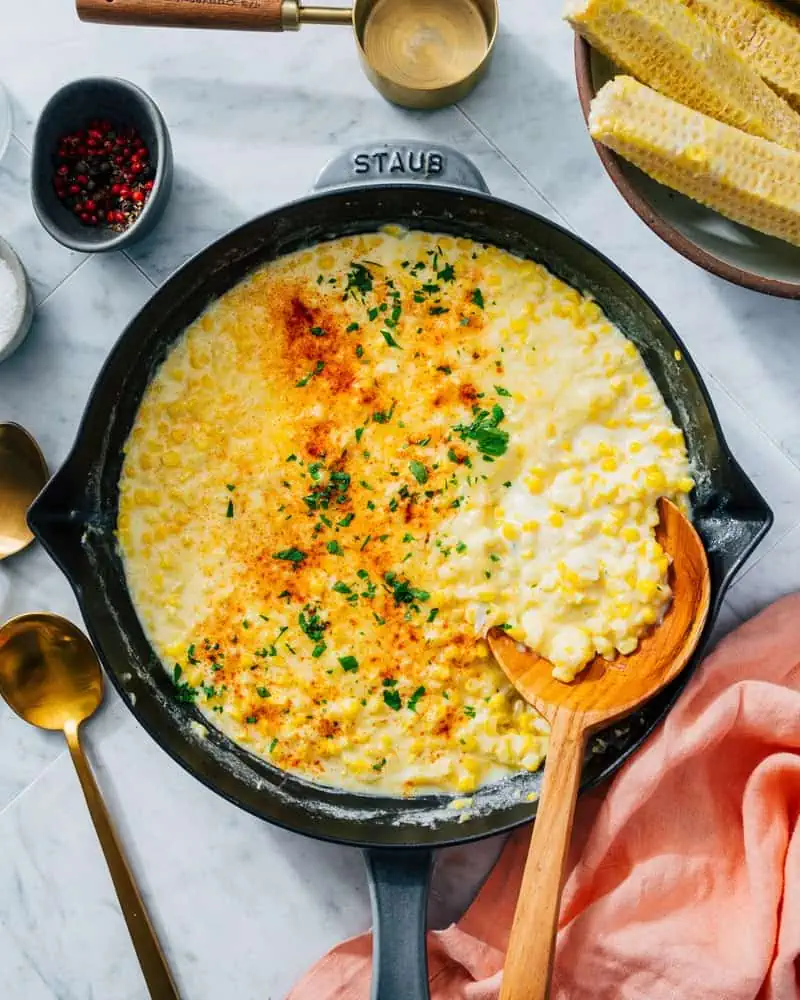 Source: A Couple Cooks
13. Baked Brussel Sprouts
Whether or not you love brussel sprouts, you will love this cheesy brussel sprouts casserole recipe. This is one of the best side dishes to serve on Thanksgiving Dinner this year and in the future. It calls for a few essential ingredients, which means it is budget-friendly, but the dish is so scrumptious your guests would surely be asking for seconds. Plus, it comes together in 30 minutes, so it's a great addition to the holiday table, even at the last minute.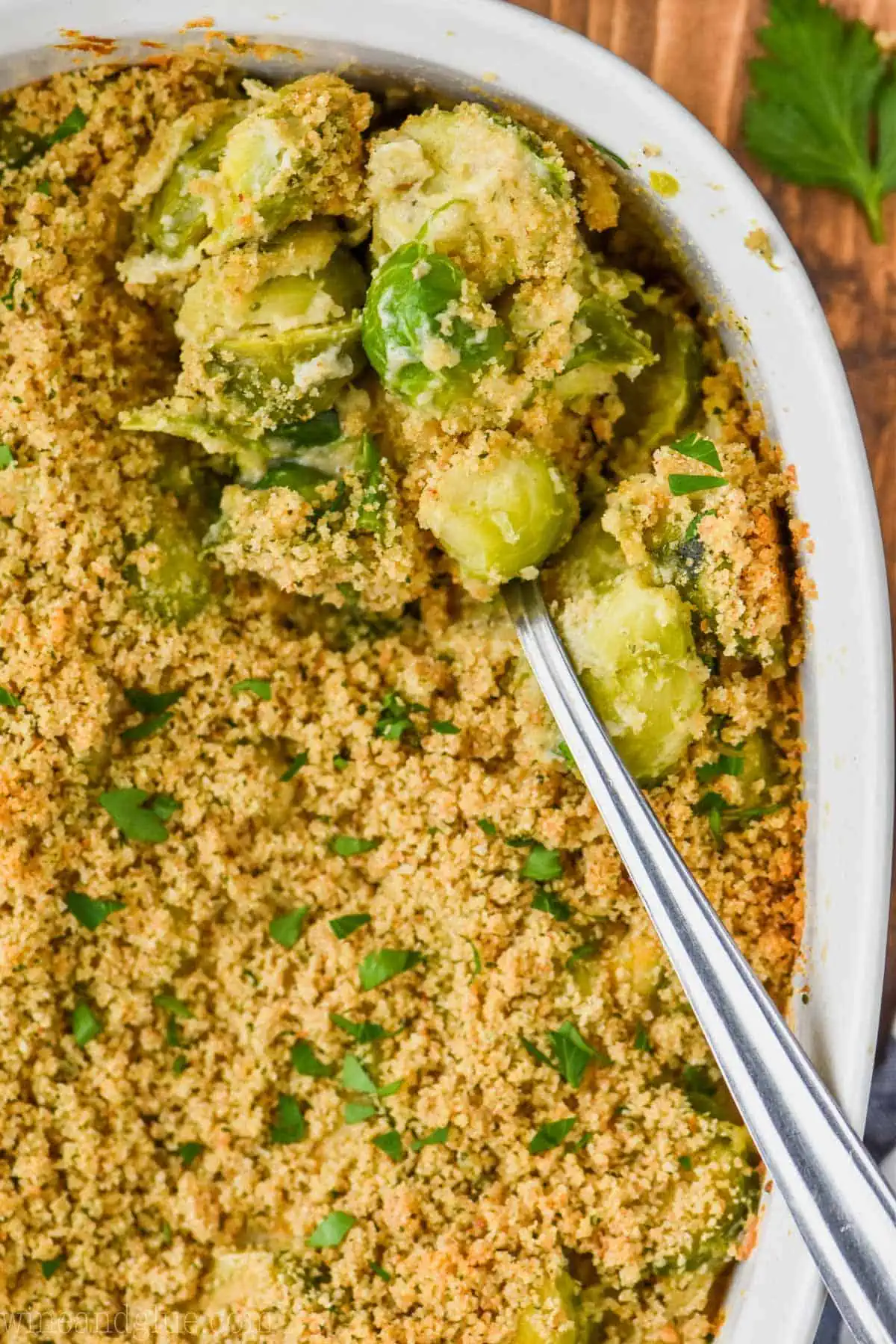 Source: Simple Joy
14. Easy Roast Turkey
Roasting the whole turkey is a tradition in so many homes during Thanksgiving. But admit it–it'sintimidating, and you're probably scared of getting it all wrong and messed up. This easy roast turkey by Salt and Lavender makes cooking turkey for your Thanksgiving feast easy. This recipe uses loads of butter to ensure crispy skin and all the flavors. It also comes with a sausage stuffing recipe and pairs perfectly with sweet potato casserole.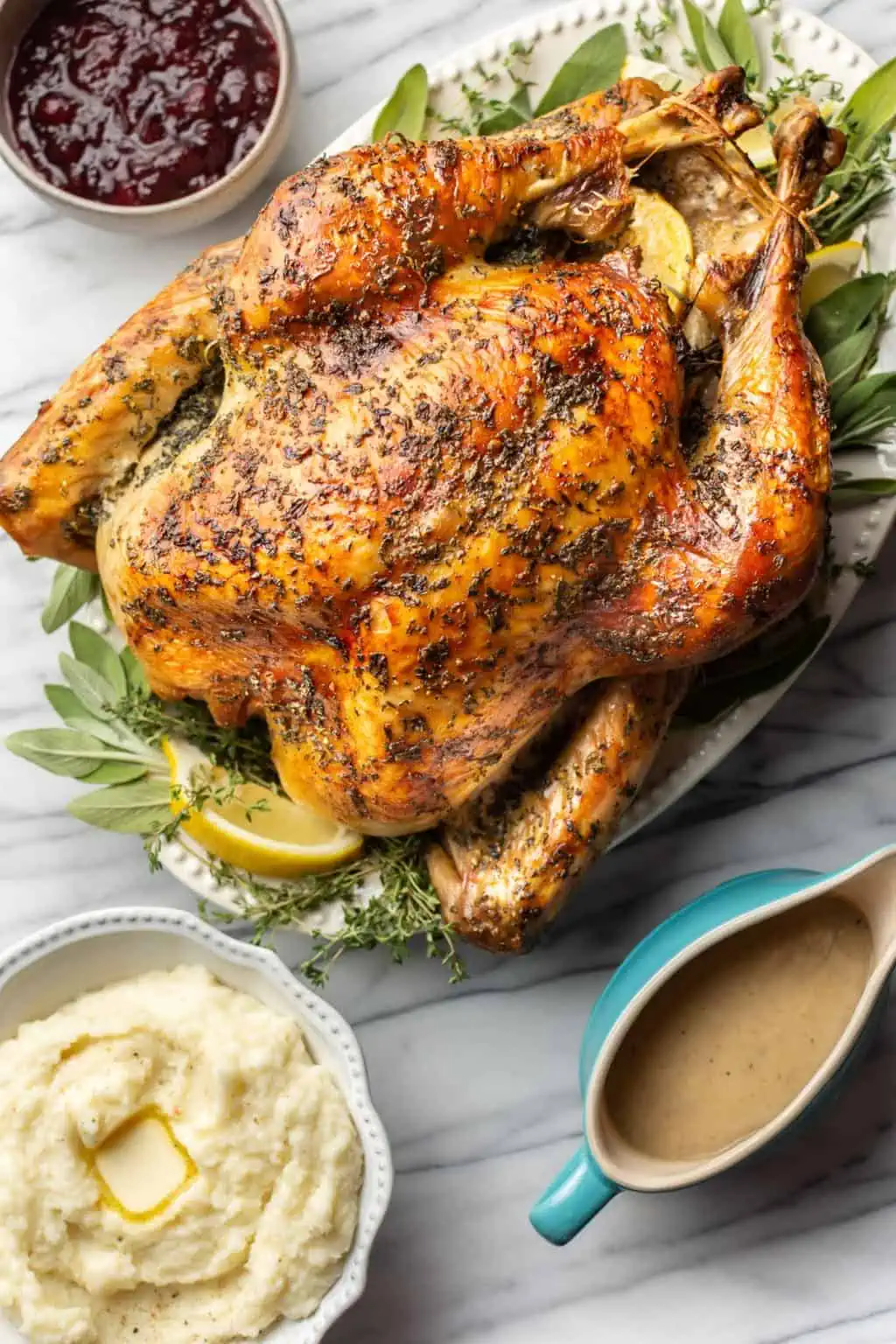 Source: Salt and Lavender
15. Upside-Down Berry Peach Skillet Cake
Check out this cast iron skillet upside-down peach cake if you want a perfect dessert to elevate your Thanksgiving dinner. The delightful pairing of a moist cake with a cooked blend of berries and peaches is delicious, especially with a dollop of creamy vanilla ice cream! Fresh peach slices and berries are cooked in a cast iron skillet, crowned with a batter mixture, and then baked to perfection. Thanks to A Beautiful Plate for this recipe!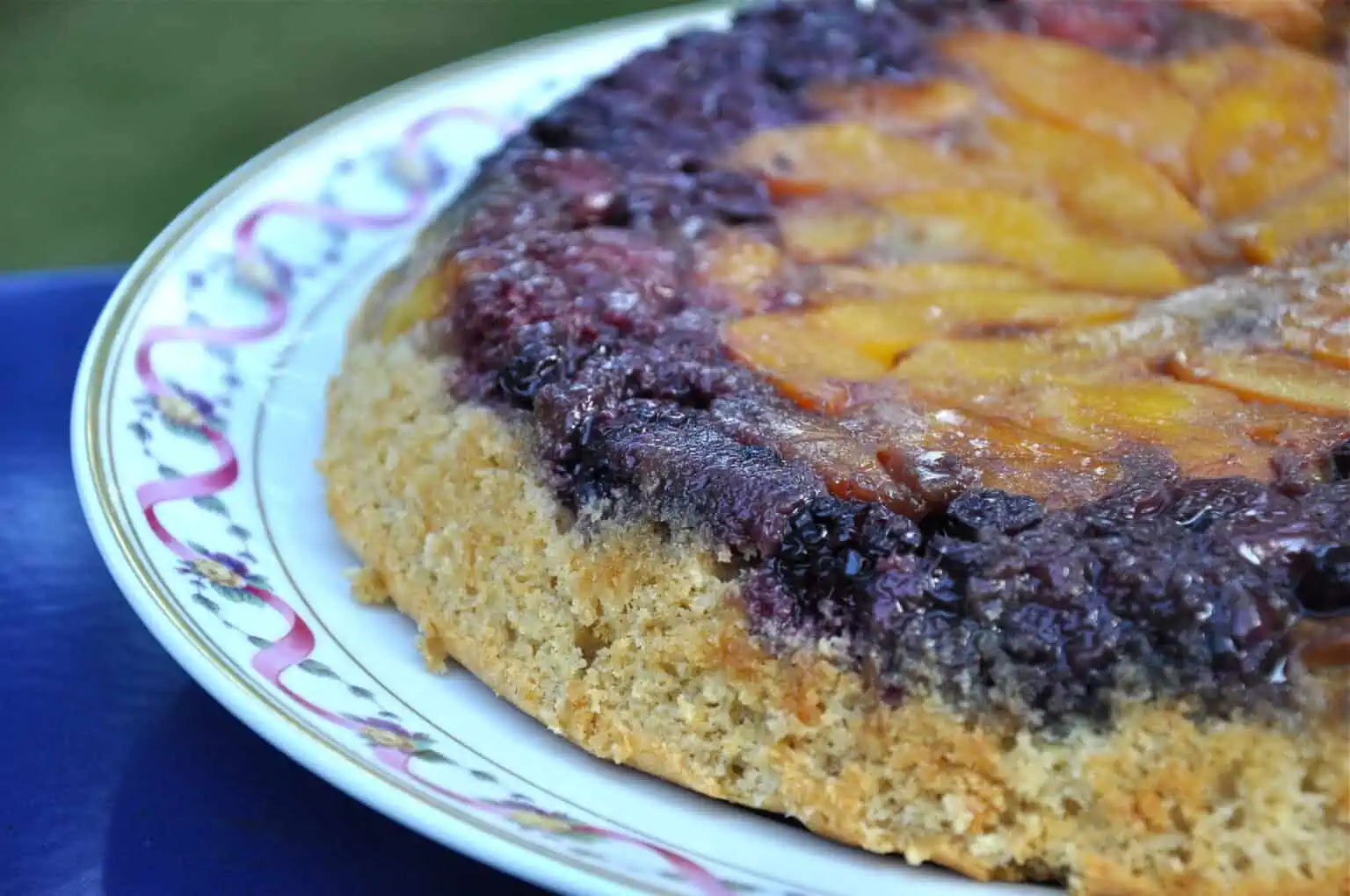 Source: A Beautiful Plate
16. Cranberry Apple Stuffing
Looking for an affordable and hassle-free turkey stuffing recipe? This one by Renee Nicole's Kitchen features a delectable blend of sweet and tangy flavors from apples and cranberries. With a few pantry staples, turkey stock, and dried cranberries, you can quickly whip up this stuffing without any fuss. Simply place the mixture in a large baking dish and transfer it inside the turkey once it's done.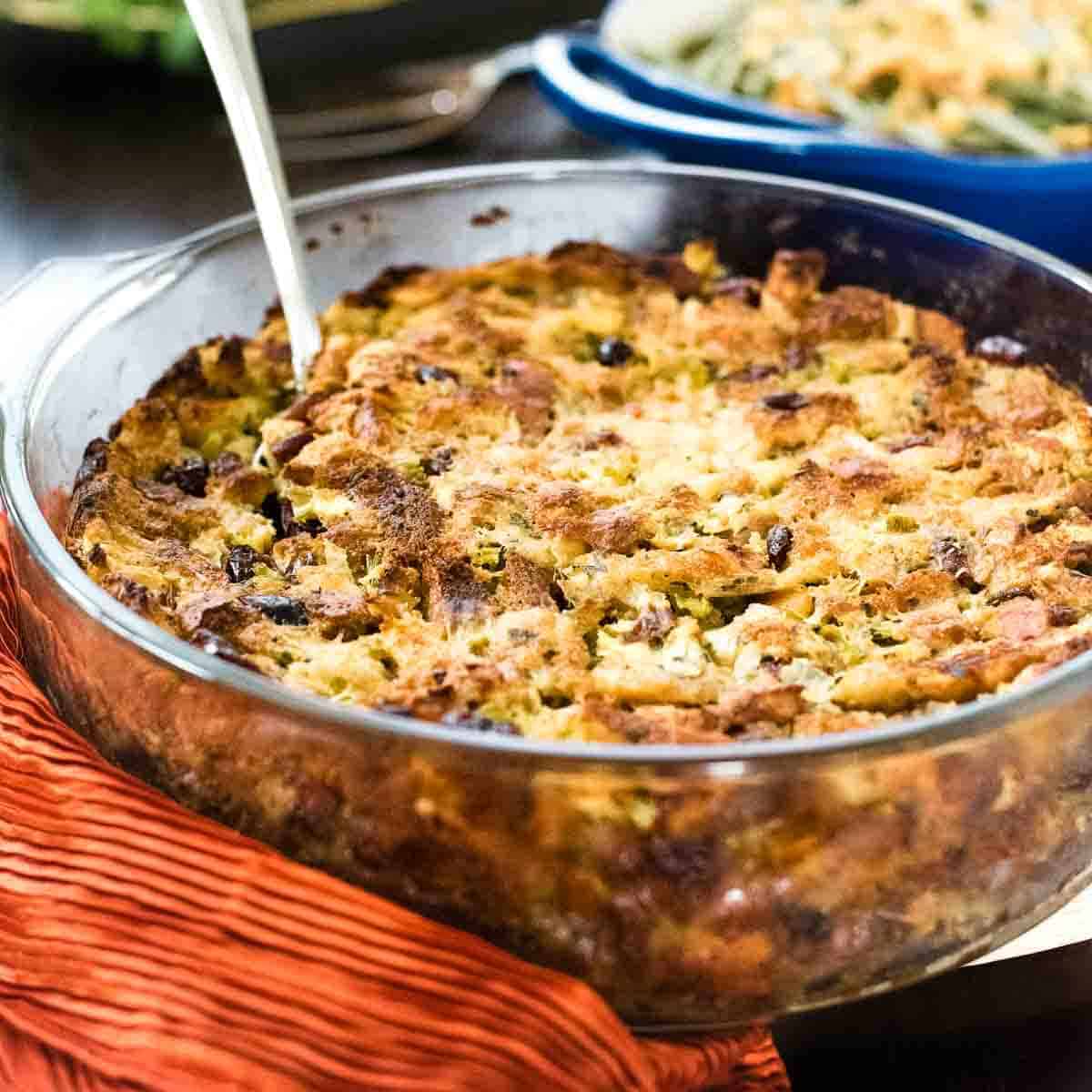 Source: Renee Nicole's Kitchen
17. Herbed Roast Turkey Breast
To save money, you might want to forego doing the whole turkey thing and settle for turkey breast instead. If so, Spend With Pennies has just the right recipe for you! Herbed roast turkey breast is perfect for feeding a smaller crowd. Perfectly seasoned with herbs like rosemary, thyme, and parsley, this recipe features tender and moist turkey breast, so easy to cook and carve and pairs perfectly with homemade gravy.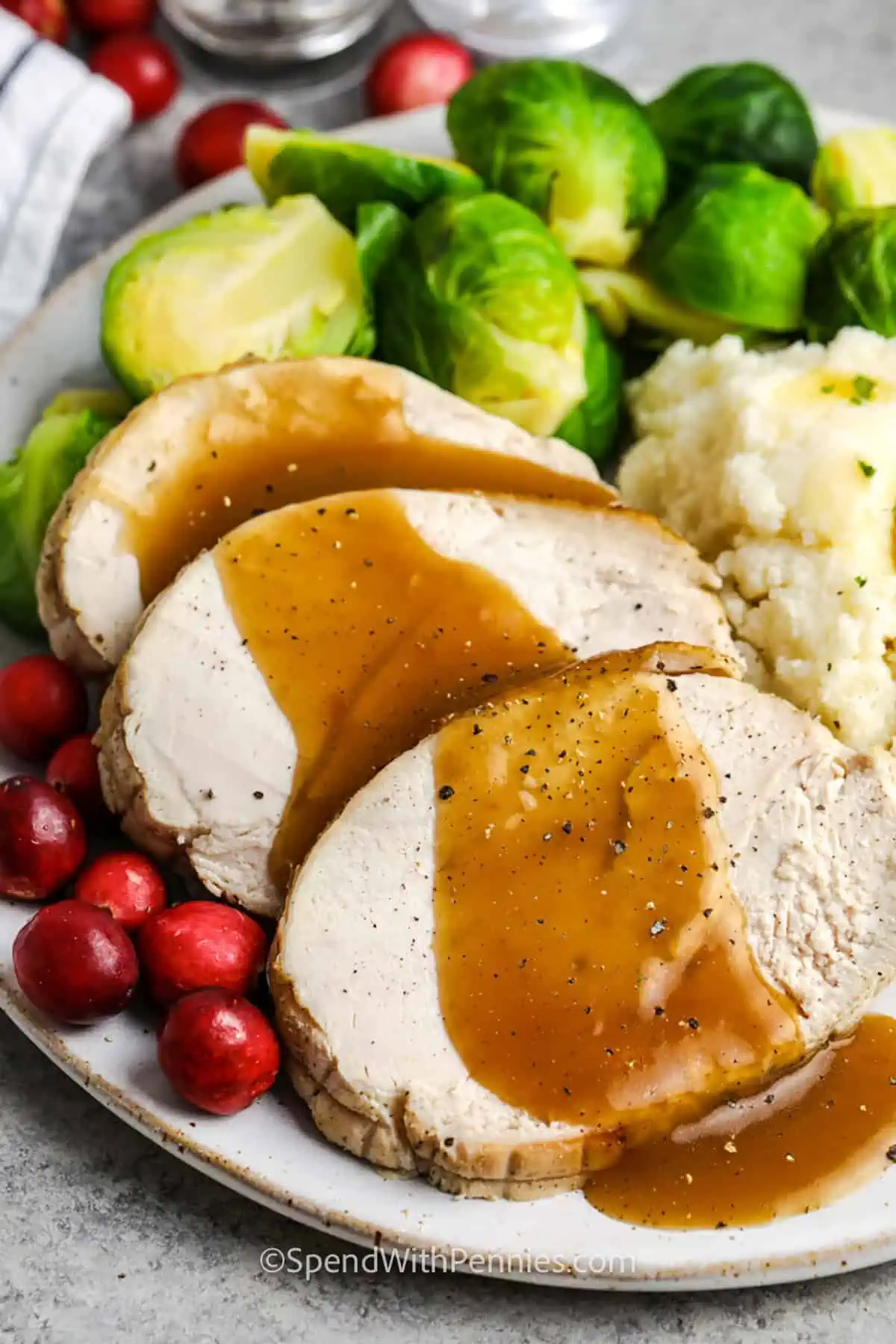 Source: Spend with Pennies
18. Pumpkin And Potato Casserole
When it comes to fall flavor, pumpkin and potatoes are the stars of the show. This baked casserole brings these two veggies together for an ultimate Thanksgiving side dish that's bound to be remembered. Imagine this: layers of pumpkin and potatoes baked to golden crisp perfection around the edges but gooey and soft in the center. How can you ever go wrong with the yumminess of this dish?!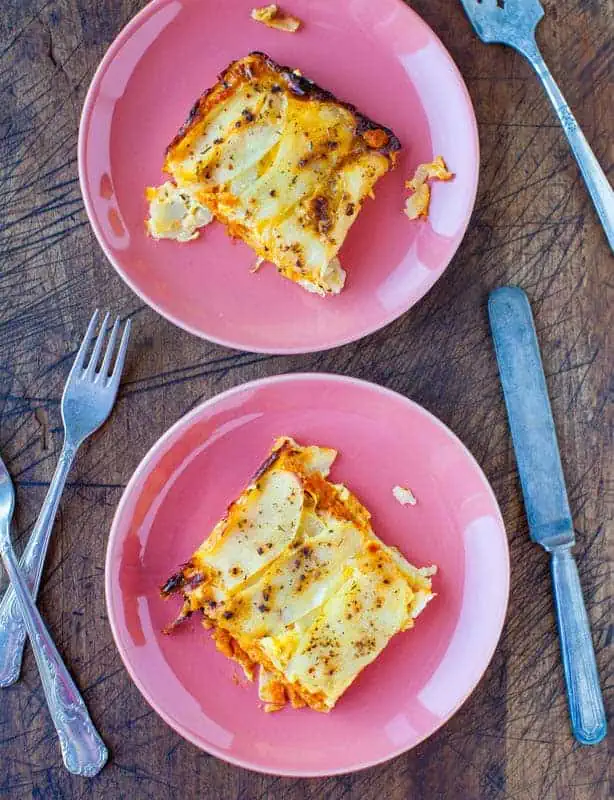 Source: Averie Cooks
19. Vegetarian Meatloaf and Cranberry Thanksgiving Leftover Sandwich 
This Thanksgiving sandwich recipe is the perfect way to re-purpose your leftovers and turn them into a satisfying meal that everybody will love. The best thing about this recipe is that you don't need to cook anything. Gather the leftovers, take out two slices of bread, and heat it on your grilled pan. Although it might have been days since Thanksgiving, this fantastic sandwich will bring back all the flavors that made you happy and thankful that day, from the velvety cranberry sauce and the yummy meatloaf to the distinct tastes of vegan cheeses.
20. Cranberry Pork Roast
While we could all agree that it's always turkey day during Thanksgiving, you may want to venture out and serve something different but still tasty and unforgettable–like this cranberry pork roast recipe by Jo Cooks, for example. Pork loin is browned in a cast iron skillet and then cooked with cranberry sauce, honey, and orange zest. This Thanksgiving main dish is tasty, flavorful, and succulent, and will surely wow everyone and make them forget about turkey altogether. Cranberry pork roast is best served with other classic Thanksgiving side dishes such as sweet potato casserole, mashed potatoes, or glazed carrots.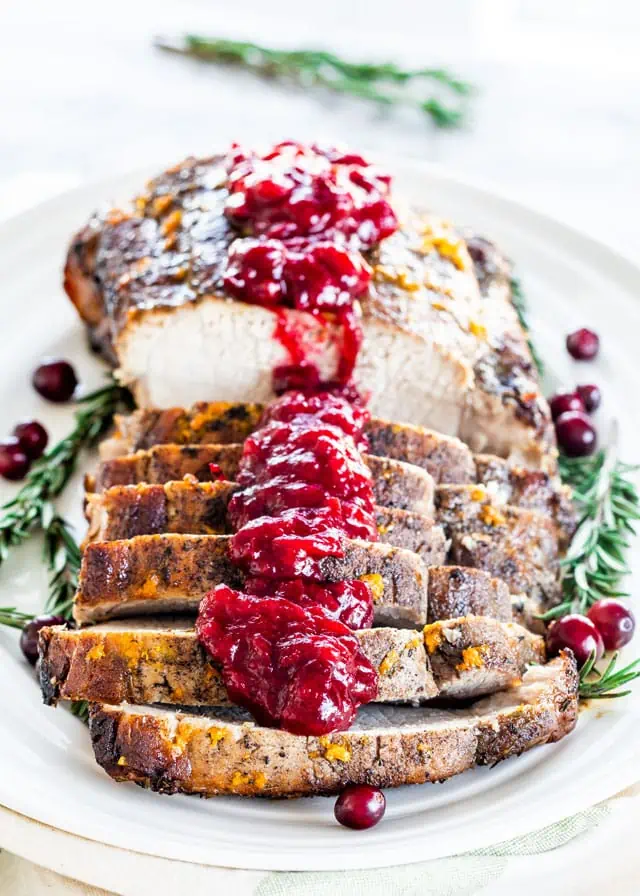 Source: Jo Cooks
21. Bacon-Wrapped Chicken Bites
Want an effortless gourmet appetizer that looks expensively delicious but is really cheap and budget-friendly? Bacon-wrapped chicken bites are precisely that! Tender bite-sized chicken chunks are wrapped with smoky bacon and then cooked with a brown sugar glaze. The flavors are unmistakably perfect to start your Thanksgiving dinner on the right note while allowing you to impress your guests without breaking the bank!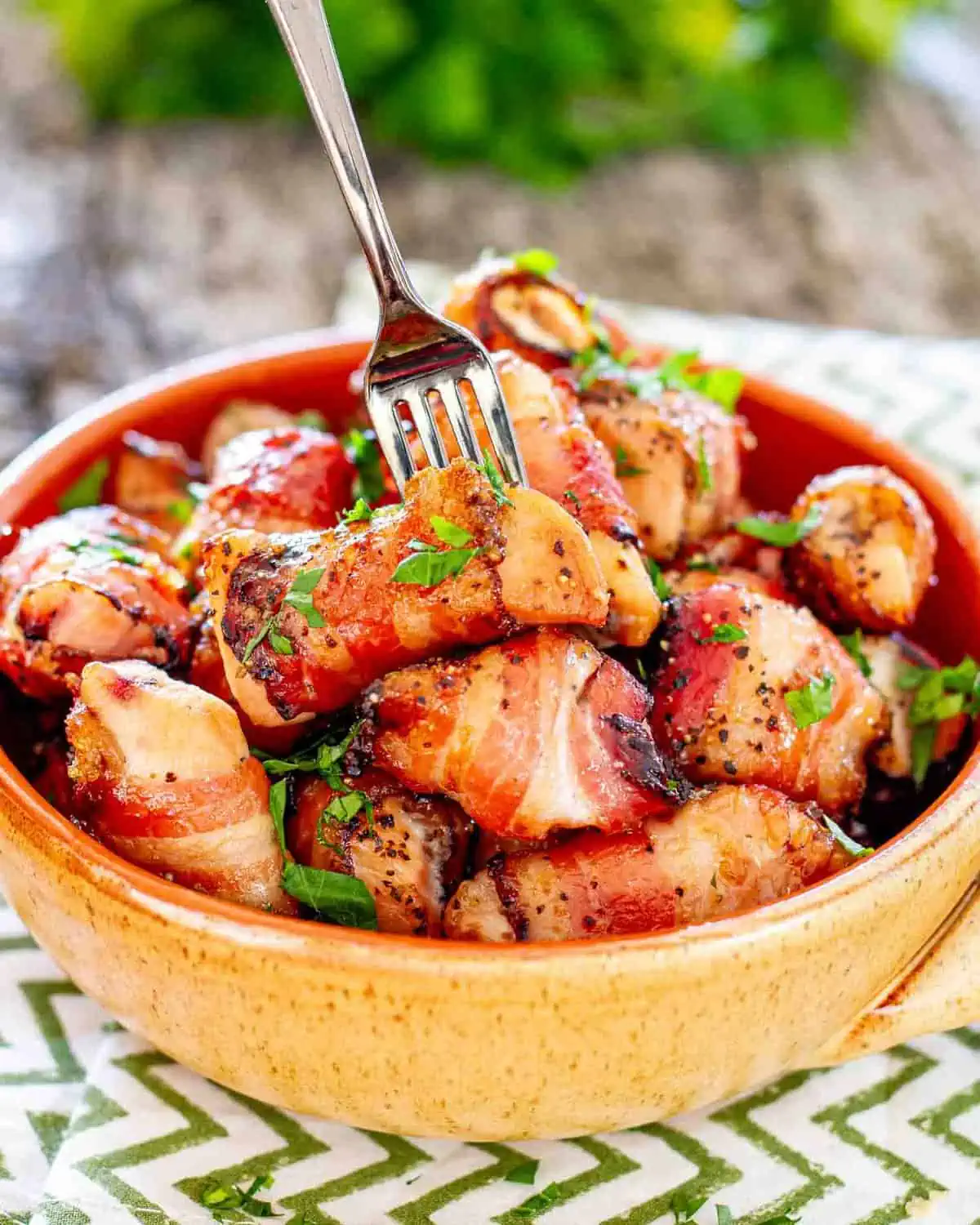 Source: Jo Cooks
22. Candied Sweet Potatoes With Pecans
While it's very common to see sweet potato casseroles on Thanksgiving, there are so many other things you can make with sweet potatoes that are perfect for Thanksgiving, such as these candied sweet potatoes. It's as easy as peeling, slicing, and cooking the sweet potatoes in brown sugar sauce and then serving them with chopped pecans for more crunch and texture. It's a fantastic dish you can quickly create an hour before Thanksgiving dinner.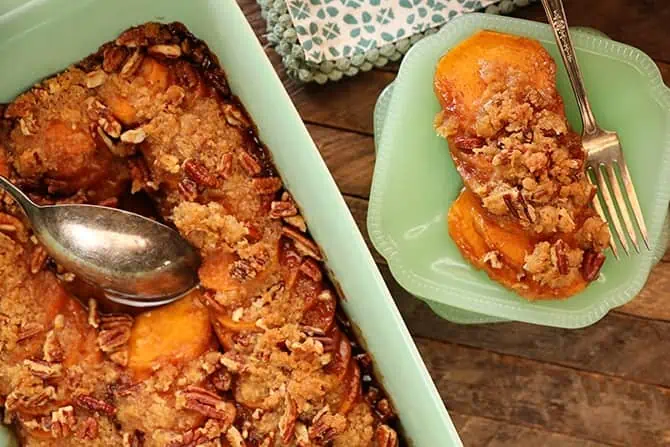 Source: Southern Bite
23. Pear Cranberry Pie Recipe
Pies are the traditional desserts to serve on Thanksgiving, and while most people do it with pumpkin and apples, you can make yours a little different by following this Pear Cranberry Pie recipe. Fresh cranberries and pears add gorgeous hues to your holiday table, while the delicious combination of sweet and tangy flavors, plus a distinct kick of ginger and cinnamon, truly makes this pie so remarkable. Also, the flaky and crisp pie crust pairs perfectly with the delicious pear and cranberry filling.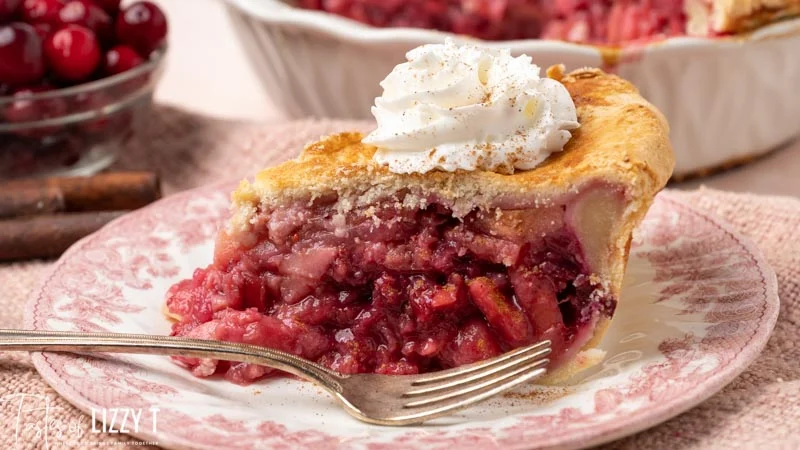 Source: Tastes of Lizzy T
24. Leftover Turkey Casserole
So much planning goes toward the Thanksgiving dinner itself, but have you ever wondered what to do with your leftovers? This turkey casserole recipe is perfect for using up those Thanksgiving leftovers! With short noodles coated in a creamy mushroom chicken sauce with peas, and green beans, and finally topped with grated Parmesan cheese! It does not have the typical Thanksgiving casserole profile, but you can easily make it with just a few ingredients you already have and expect it to be a huge hit post-Thanksgiving!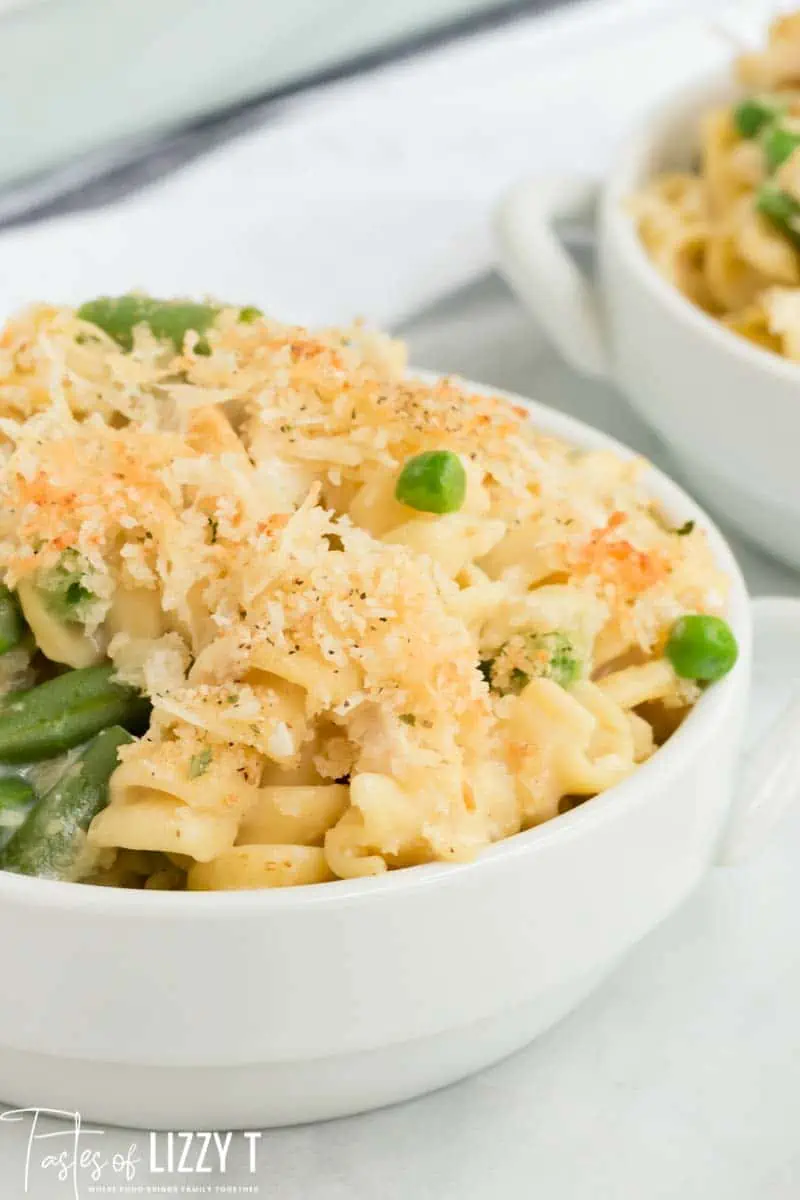 Source: Tastes of Lizzy T
25.  Homemade Spinach Dip
Making a delicious and healthy spinach dip that's cheap is one of the best ways to save money, impress your guests, and even get kids to eat vegetables. Looking for a homemade dip that is easy to make and tastes better than the ones you buy at the stores? This creamy spinach dip is the perfect solution! It's a delicious dip that goes great with bread and vegetables and is made with simple ingredients from your kitchen and pantry. It's an excellent appetizer to start your Thanksgiving party or any other occasion.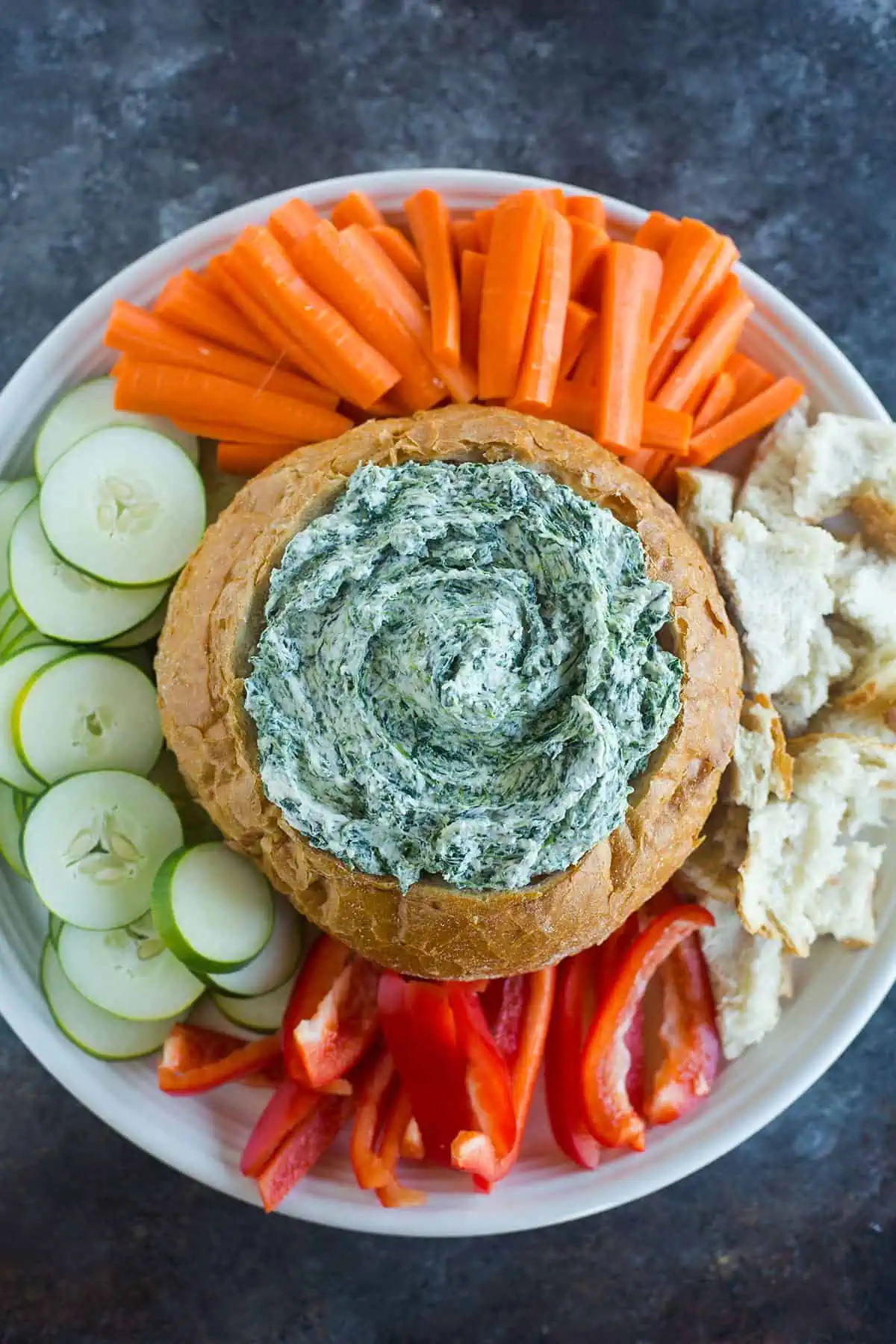 Source: Brown Eyed Baker
26.   Homemade Broccoli Casserole
Indulge in the ultimate comfort food dish with this broccoli casserole made entirely from scratch. You won't be able to get enough of the flavorful combinations of fresh broccoli tossed in creamy-cheesy mushroom sauce and topped with Ritz crackers. It is easy and cheap to make and is guaranteed to be a hit, even for non-veggie lovers! You can also plan on making this dish aheadif you want to save time, and just add the Ritz cracker topping jright before it hits the oven.
Source: Brown Eyed Baker
27.  Fall Farro Salad
Fall Farro Salad is a festive grain salad that encapsulates all the fall flavors. This nutritious salad has farro, roots, vegetables, nuts, and a creamy dressing, making it a lighter addition to your spread. You can substitute some of the veggies with those you have on hand, top it with feta cheese and hazelnutsit's–guaranteed to taste fantastic! You can serve it freshly made or chilled. It's great to takeit to your family or friend's home for a Thanksgiving potluck.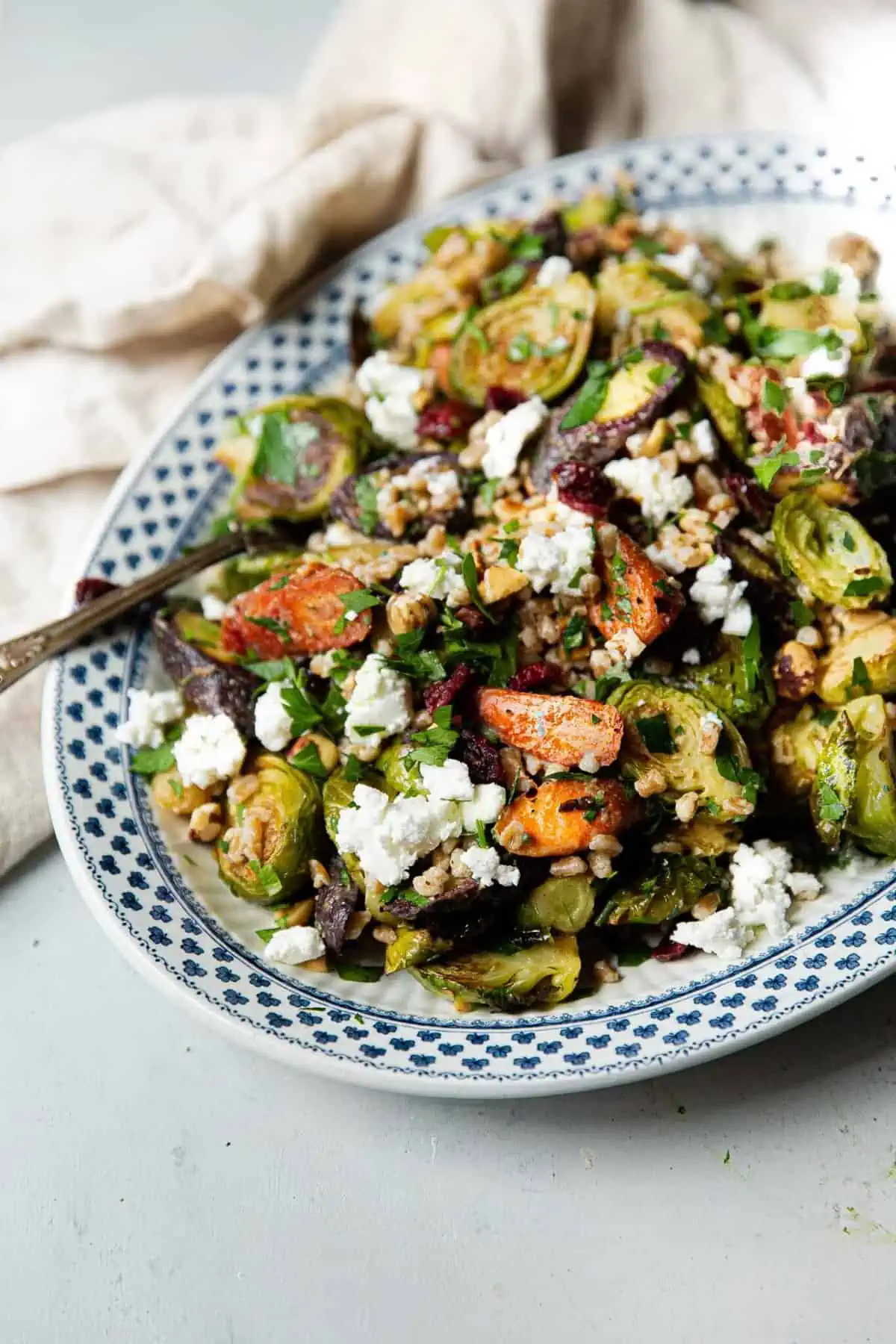 Source: A Beautiful Plate
28. Vegetable Bread Stuffing
Are you looking for vegan Thanksgiving recipes that pack a punch? This vegetable bread stuffing recipe might just be what you need! Cubes of sourdough bread mixed with mushrooms and a couple of inexpensive vegetables, some herbs and spices, and you'll have an awesomely light and cheap stuffing that's definitely going to be a crowd pleaser! Plus, this stuffing recipe is so versatile you can pair it with other Thanksgiving recipes such as green bean casserole, risotto, and cranberry sauce.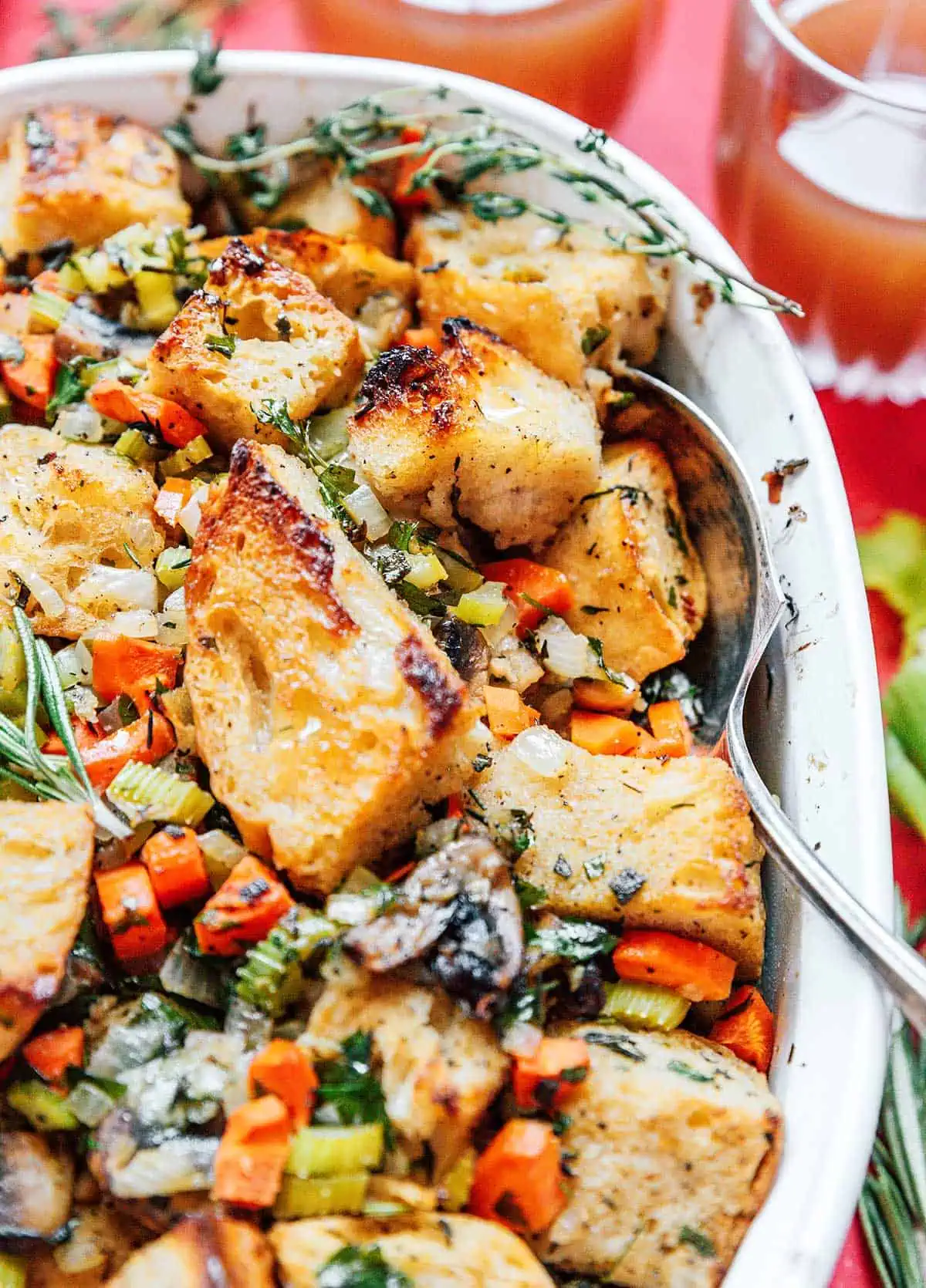 Source: Live Eat Learn
29.  Stuffed Mushrooms with Coconut Bacon
Looking for vegan and gluten-free Thanksgiving recipes? Check out these stuffed mushrooms with coconut bacon–perfect for the holidays! Just cook the filling made of mushroom stems in coconut oil, fresh herbs and a few spices, stuff the caps withvegan cheese (save some for garnish), chopped nuts, and coconut bacon. Cheesy, rich, and tasty, this recipe will effortlessly elevate your holiday spread!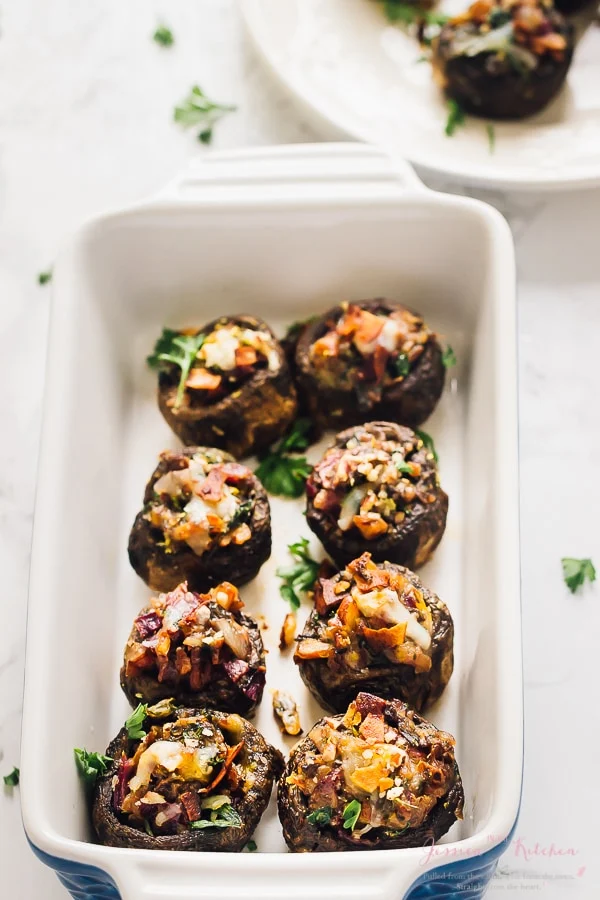 Source: Jessica In The Kitchen
30.  Turkey Stew
If you're at a loss with what to do with all that leftover turkey, it's time to consider making it into a turkey stew. This stew is an easy recipe that doesn't require a lot of ingredients other than leftover turkey from last night's party. You can add in a couple of vegetables such as potatoes and carrots, along with turkey stock or chicken broth, and thicken it with a cornstarch slurry or mashed potatoes. It's the perfect way to utilize extra meat and save money. Additionally, you can substitute any ingredients you don't have with something that's already in your pantryCook it in a crockpot to save time in the kitchen.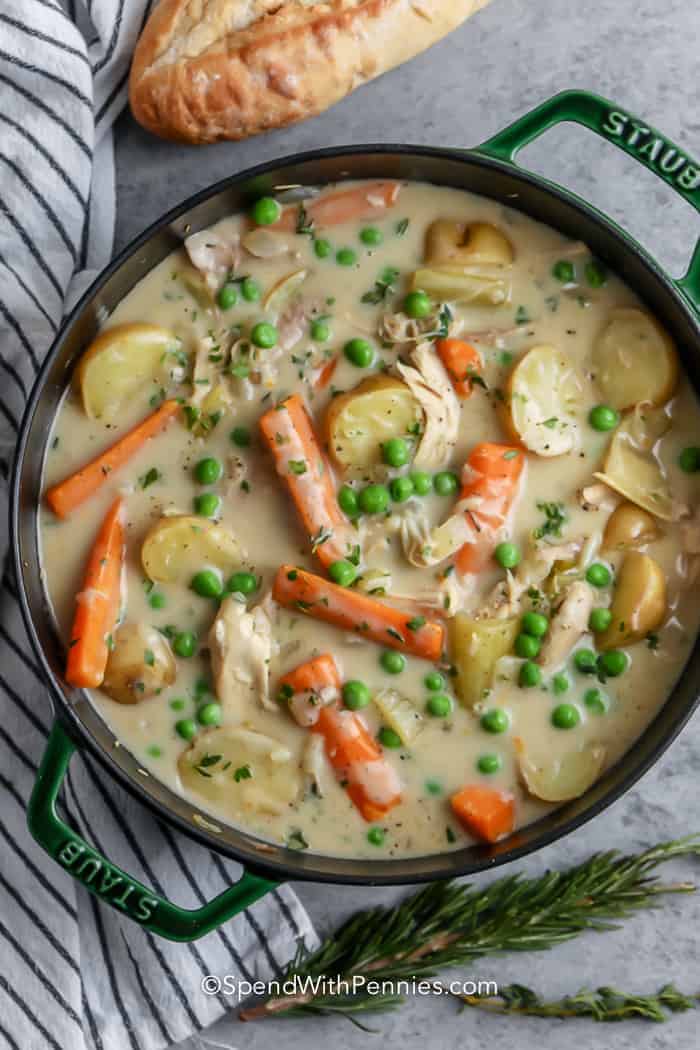 Source: Spend With Pennies
31.   Air Fryer Turkey Croquettes
After cooking up a storm for the big day, the thing you want to avoid most is spending any more unnecessary time in the kitchen. And if you've got lots of turkey leftovers, you'd want to re-purpose them into easy and cheap meals that are just as delicious. So, these croquettes are the answer to boththose dilemmas. Turkey is chopped up into small pieces, then stuffing is wrapped around the pieces and formed into a ball. Dip your turkey balls into breading and dump them in the air fryer. Serve with gravy for an even greater gastronomic effect. How easy is that?! Thanks to This Old Gal for this fantastic recipe!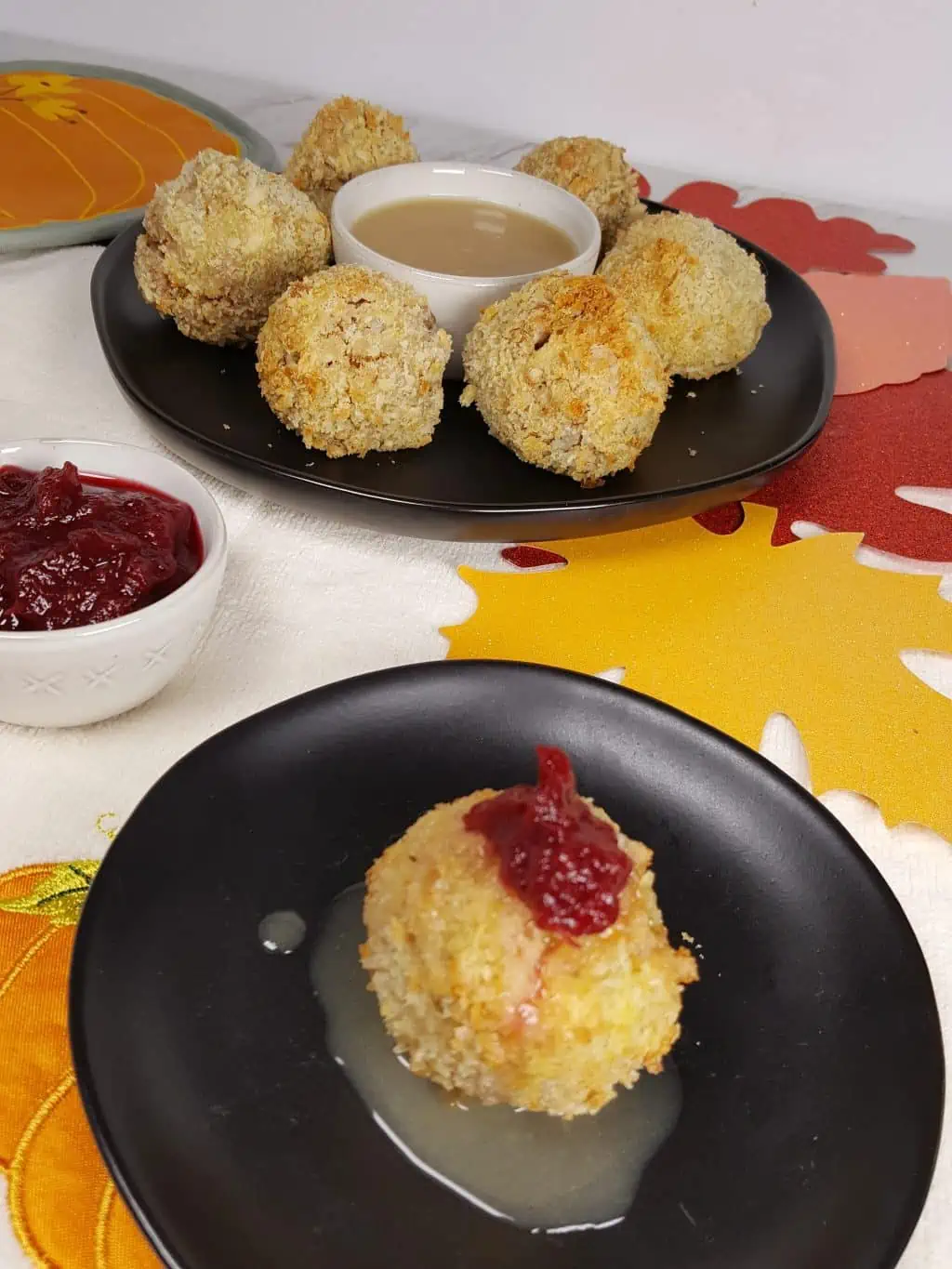 Source: This Old Gal
32.   Chipotle Creamed Corn With Garlic
If you want to serve something that's different but still feels oddly familiar, check out this Chipotle Creamed Corn recipe. Use frozen corn, chipotle peppers, butter, heavy cream, and spices. Apart from being rich, creamy, and savory, this creamed corn recipe features a crunchy breadcrumb top that adds more layers to its textures and flavors. It's wildly easy, it's budget-friendly, and even a novice cook can easily make this dish and impress her guests. Try it!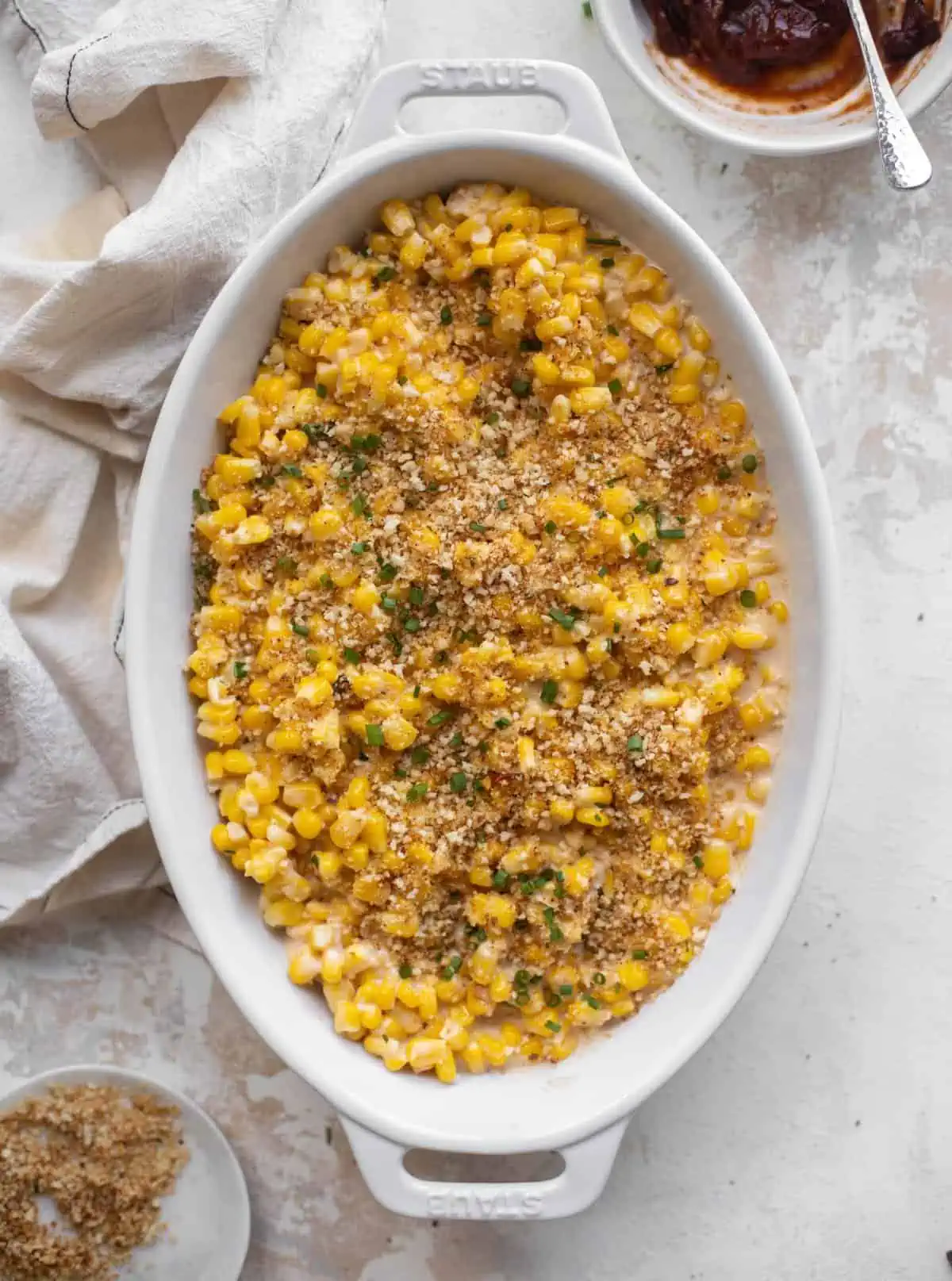 Source: How Sweet Eats
33.  Smokey Roasted Chickpea Salad
If you want lighter, healthier side dishes that could go well with your Thanksgiving feast, this Smokey Roasted ChickpeaSalad recipe will not disappoint you. This recipe calls for vegetables (such as chickpeas, broccoli, and sugar snap peas), olive oil, sour cream, spices, and other ingredients already in your pantry. Veggies coated with olive oil are baked on a baking sheet to the desired doneness. They're then tossed with buttermilk salad dressing and topped with nuts for an added texture.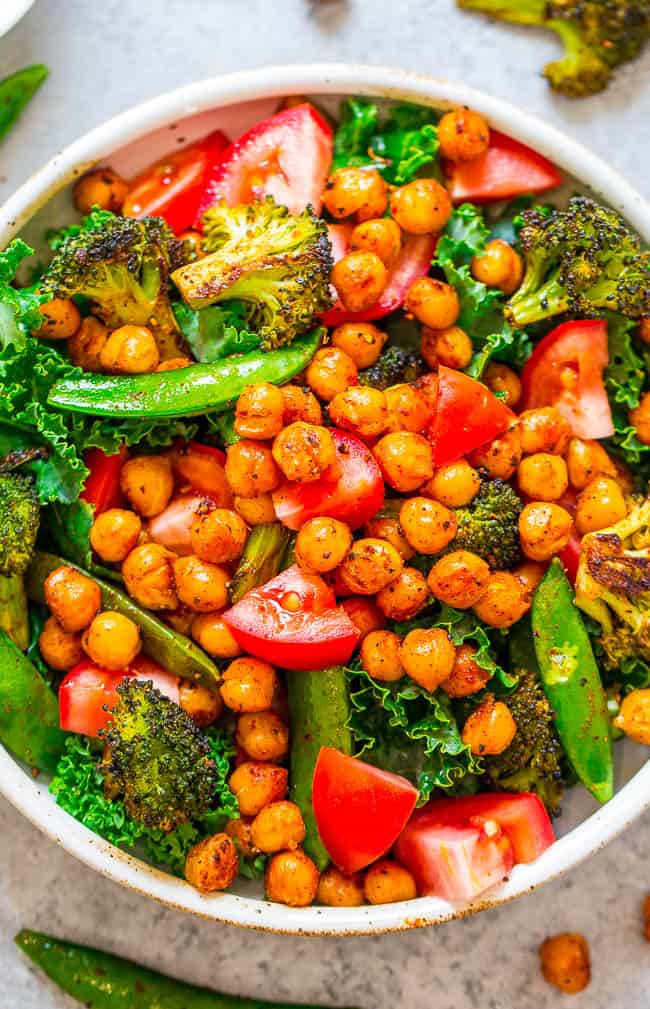 Source: Averie Cooks
There you have it–30+ easy, delicious and cheap meals you can make this Thanksgiving!
Tried any of these recipes? Let us know in the comments below!