Do you want to give thoughtful and practical gifts without breaking the bank? These DIY Dollar Store Christmas gifts are sure to delight your family and friends!
Are you looking for thoughtful Christmas gifts that are cheap? You're in the right place!
I love searching the internet for cheap gifts we can give our loved ones most especially during the holidays.   
If you're a natural DIYer, then this list of inexpensive DIY Dollar store gifts is for you! Not only can you save money, but you also put a more personalized touch into the holiday gift.
I totally get that you may not have the time to make gifts. If so, here's a versatile gift set you can give to your loved ones. I am the creator of this product and I've sold over a thousand pieces of this on Amazon. Right now, you can get this product on my Etsy shop for less than 50% off its original price. For a limited time, you can get this gift set for less than $10!
Still want to make a DIY gift? Let's explore the best DIY Dollar Store Christmas gift ideas under $10 or $20!
DIY Dollar Store Christmas Gifts Ideas
1. Gift Basket Ideas
A really good way to put together several items as gifts for your recipient is to come up with gift basket ideas. The Dollar Store is teeming with so many supplies for every known interest or pastime, so it's really possible to put together a gift basket idea in one trip. For instance, if the receiver likes baking, then a baking gift basket like this one from the DIY Mommy should do the trick.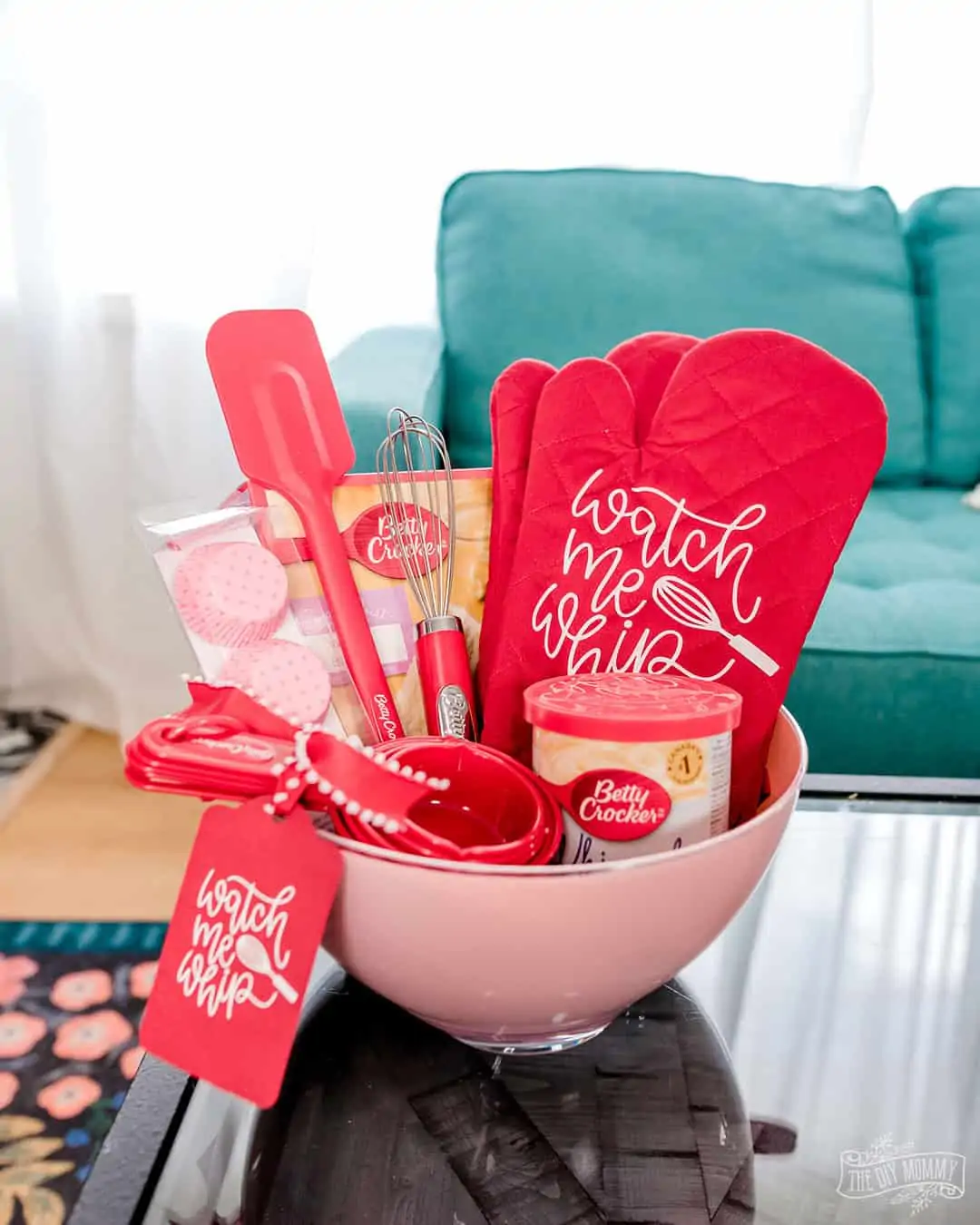 Source: The DIY Mommy
And here's a spa pampering set gift basket:
And here's a hot cocoa gift basket by Hunny I'm Home DIY: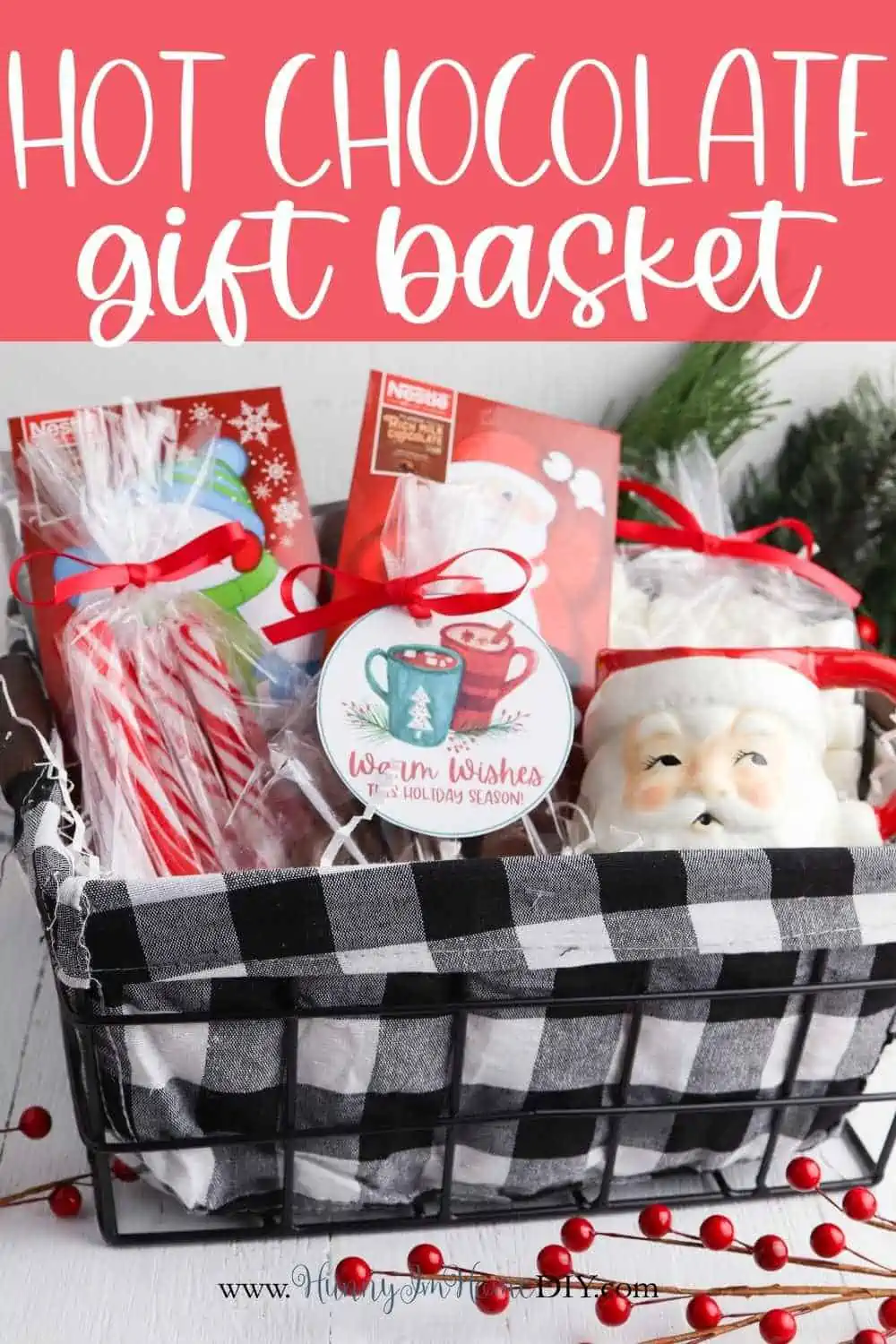 Source: Hunny I'm Home DIY
Related Posts:
2. Mason Jar DIY Christmas gifts
Mason jars are inexpensive, and it's super easy to use them in DIY Christmas gift ideas. With some crafting supplies, you can easily turn ordinary mason jars into fun and cute Christmas crafts!
For instance, you can use mason jars to make candles. Add in some essential oils like peppermint for that Christmasy feel, and finish with a gift tag and a ribbon. This is certainly one of the best Dollar Store Christmas gifts your ten bucks could buy!

Source: A Pumpkin And A Princess
3. Stuffed Oven Mitts
Another way to level up Dollar Store Christmas gift basket ideas is to actually use something else to hold the goodies, like oven mitts you can buy from a Dollar Store! Fill the oven mitts with the recipients' favorite items: candy, chocolates, sheet masks, kitchen tools — anything! They could then use the oven mitts in the kitchen.
Source: Yellow Bliss Road
4. Personalized Mug
Mugs are classic gifts, and Dollar Tree is teeming with every kind of mug imaginable! But instead of giving just a plain generic mug, you put a more personalized touch by putting your creativity to work and making this Dollar Store gift even more special. This easy reindeer Dollar Store mug, for instance, is a DIY Christmas gift befitting the season!
Source: Must Have Mom
5. DIY Scented Candles
It's impossible to resist the tempting aroma of scented candles. So if you are thinking of Dollar Tree Christmas gifts, you can never go wrong with them! These cheap Christmas gift ideas are easy to DIY, and you can purchase all that you need from Dollar Tree. You can bring up the level of presentation of your candles by decking it with fun accessories, making them even more stunning at any party.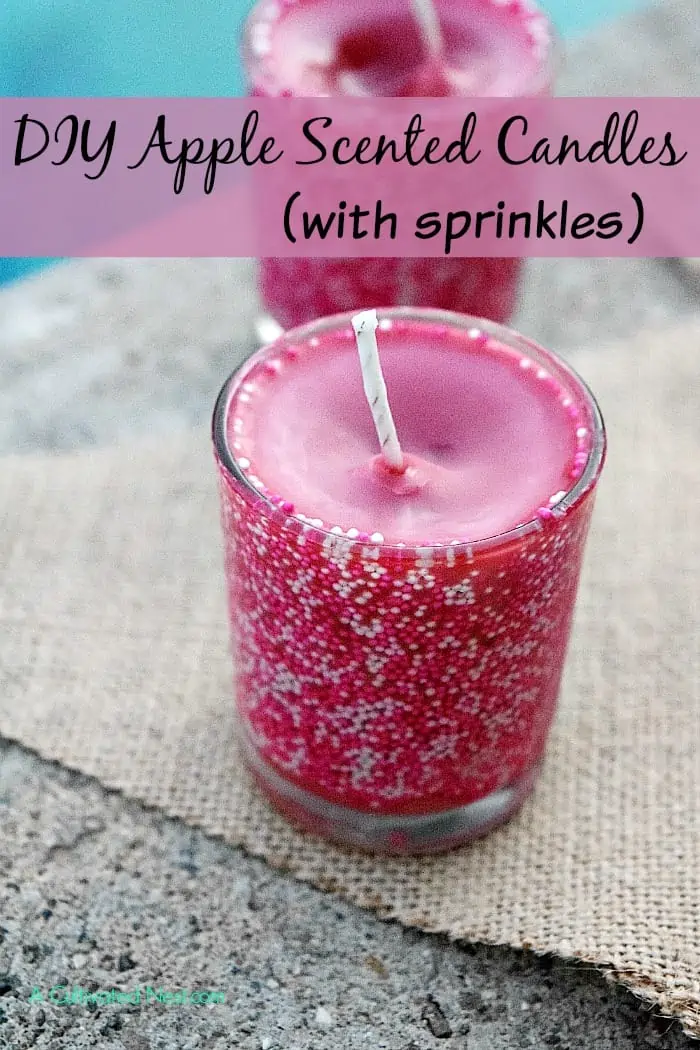 Source: A Cultivated Nest
6. DIY Dollar Store Photo Frame Decor
Would you believe that touching up an inexpensive photo frame could make such a fine DIY Dollar Store Christmas gift? You can customize a photo frame decor with your chosen photo, wall art prints, quotes, and more. DIY With Amber has successfully revamped a photo frame she bought from Dollar Store and turned it into this amazing holiday gift.
Source: DIY With Amber
7. Gold-Painted Glass Vase
Dollar Tree never runs out of its supply of glass vases. But you can still level up an ordinary-looking vase and turn it into a thoughtful DIY Dollar Store Christmas gift by painting it with gold. It would definitely look so good on your Christmas table (or any other day of the year!)
Source: Lovingly
Easiest Ways to Make Money Online
8. DIY Dollar Store Mirror
There are plenty of mirrors in the Dollar Tree store, but most are generic looking. But you can easily make a mirror look a bit fancy and elegant by enhancing its looks. This DIY mirror is one of the best Dollar Store Christmas gift ideas you can do and give to special people this holiday season.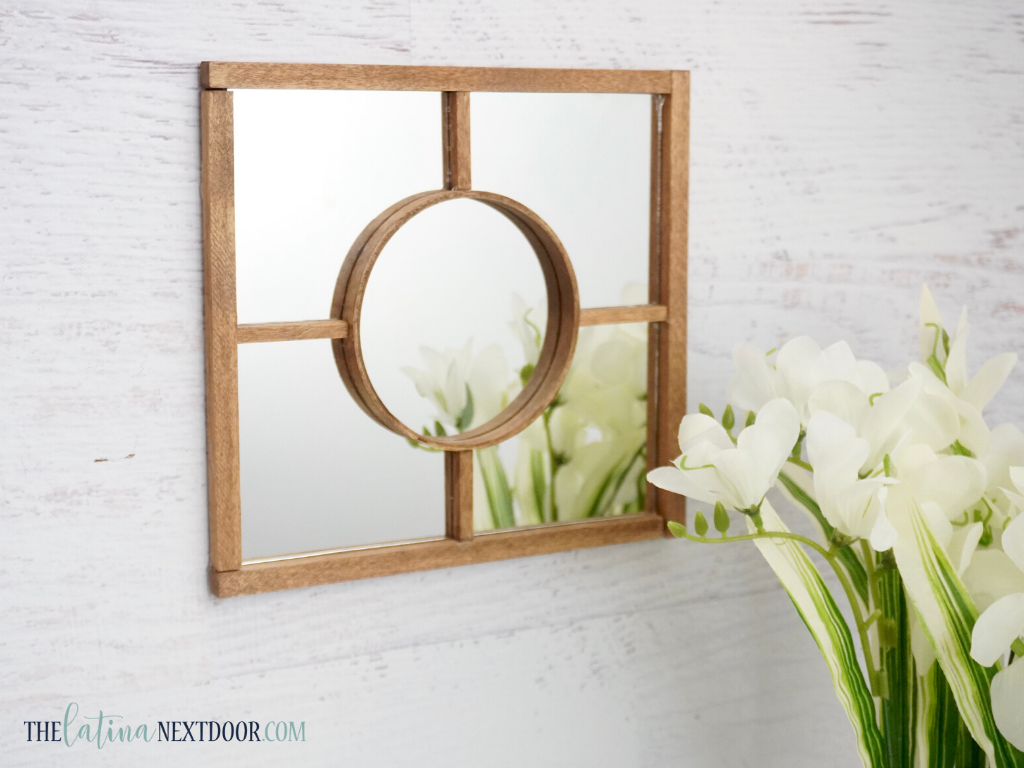 Source: The Latina Next Door
9. DIY Lemon Plates
Fancy-looking plates often cost money, but if you want to give someone who would love plates without breaking the bank, you ought to check out this easy and inexpensive craft of making your lemon plates. You need lemon-printed napkins to come up with this, and paint it down with some Mod Podge. Of course, you can pick any holiday-themed design if you want it more fitting for the season.
Source: My 100 Year Old Home
10. Mason Jar Christmas Ornament
I know; some people just can't get enough of mason jars. Thankfully, you can always buy mason jars at any Dollar Tree store and turn them into cheap Christmas gift ideas (but I assure you, they don't look cheap!) This mason jar craft, for example, brings a lot more cheer to your recipient's Christmas tree (and you can easily do these with some crafting supplies, still coming from Dollar Store).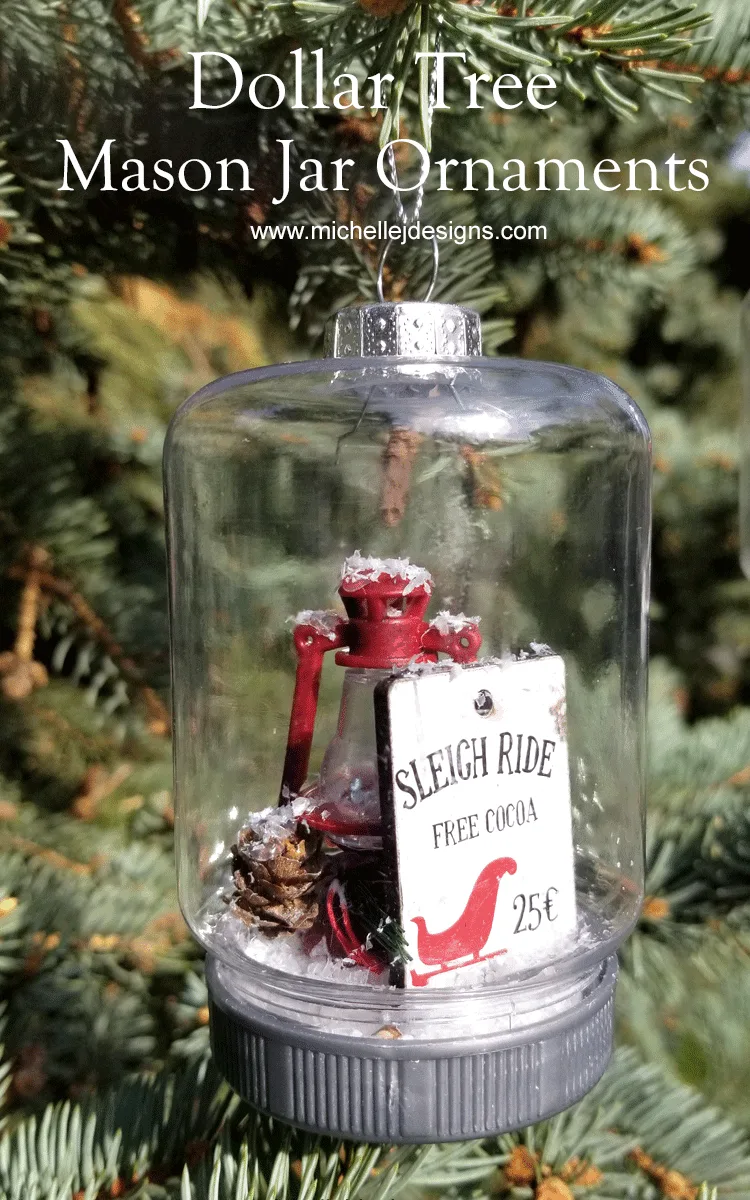 Source: Michelle J Designs
11. DIY Reindeer Beer
If the recipient loves beer, you can quickly whip this Dollar Store Christmas gift for him. The Reindeer features his favorite beer brand but with a fun twist. You fashion reindeer antlers using pipe cleaners and glue on some googly eyes. This is one cheap gift idea you can do even at the last minute!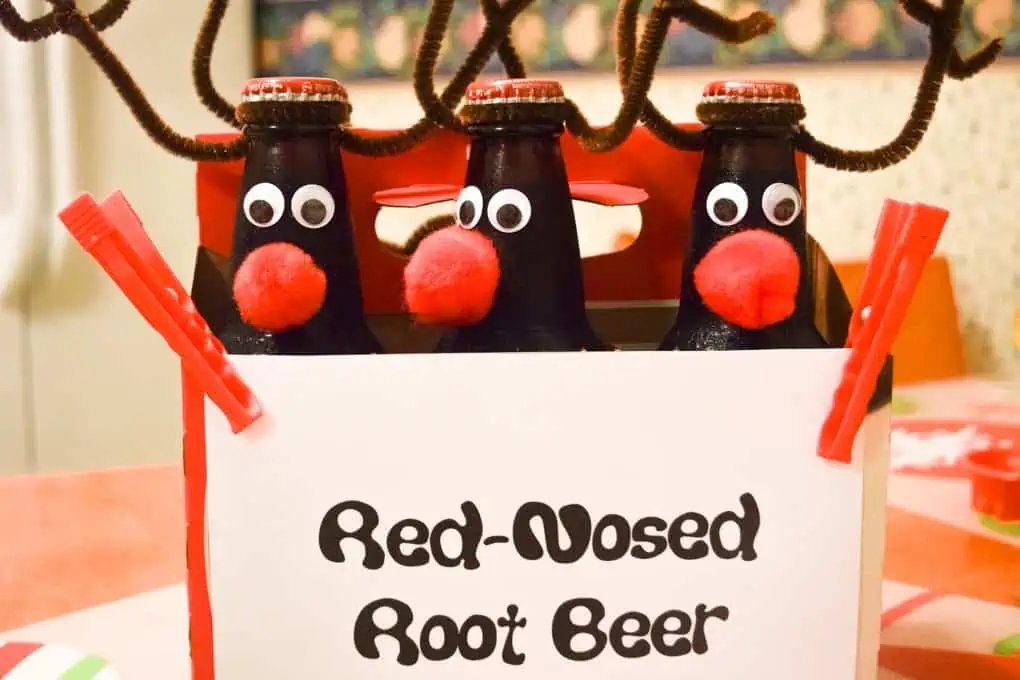 Source: This Little Home of Mine
12. Puzzles and Games Gift basket
School kids would love this DIY Dollar Store Christmas gift idea! You just have to put together a couple of puzzles and games and give these as a gift set. It's practical, useful and cheap!
13. DIY Monogram Holiday Wreath
Wreaths are foolproof gifts for the holiday season. But if you want to give it a touch of more love and sincerity, you can easily come up with a DIY holiday wreath with supplies coming from the Dollar Tree store.
Source: Craftaholics Anonymous
14. DIY Snow Globe Photo Decor
Photo-based gifts are some of the most thoughtful presents you can give this holiday season (or any other time of the year). You could learn how to make a snow globe photo ornament like the one below and give them to family and friends. They can hang this on their Christmas tree and treasure the present as a keepsake.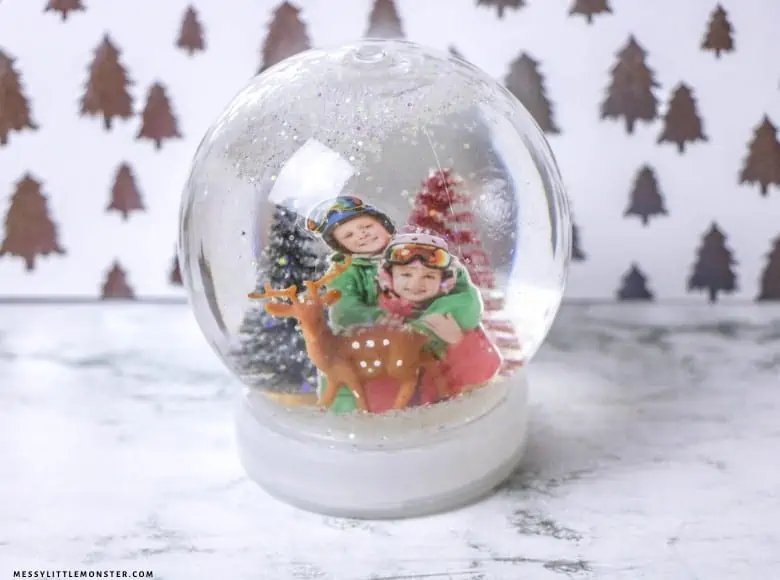 Source: Messy Little Monster
15. DIY Dry Erase Whiteboard
One of the cheapest yet practical DIY Dollar Store Christmas gifts you can give someone who always wants to list down things is this dry-erase whiteboard. You can easily create a couple of these for your friends and family on a budget. All you need is a frame from the Dollar Store, some fancy paper, and a white erase pen!

Source: One Little Project
16. DIY Mint Sugar Scrub
One of the easiest Dollar Store gifts you can put together is to create your own mint sugar scrub. Some people just don't have the luxury of time to visit spas, so this holiday gift idea is perfect for them. You just need to make your mint sugar scrub (all the ingredients are available on Dollar Tree) and give them away to family and friends. Put the scrub in pretty glass containers and finish with a gift tag!
Source: Practically Functional
14. Personalized Monogrammed Candles
Candles are staple pieces during the holiday season. They make great home decor on the Christmas table. And if you learn how to make candles on your own, why not take the extra mile and make your candles even more special by putting a monogram on each piece? This might just be a small detail, but it instantly elevates the beauty of your gift!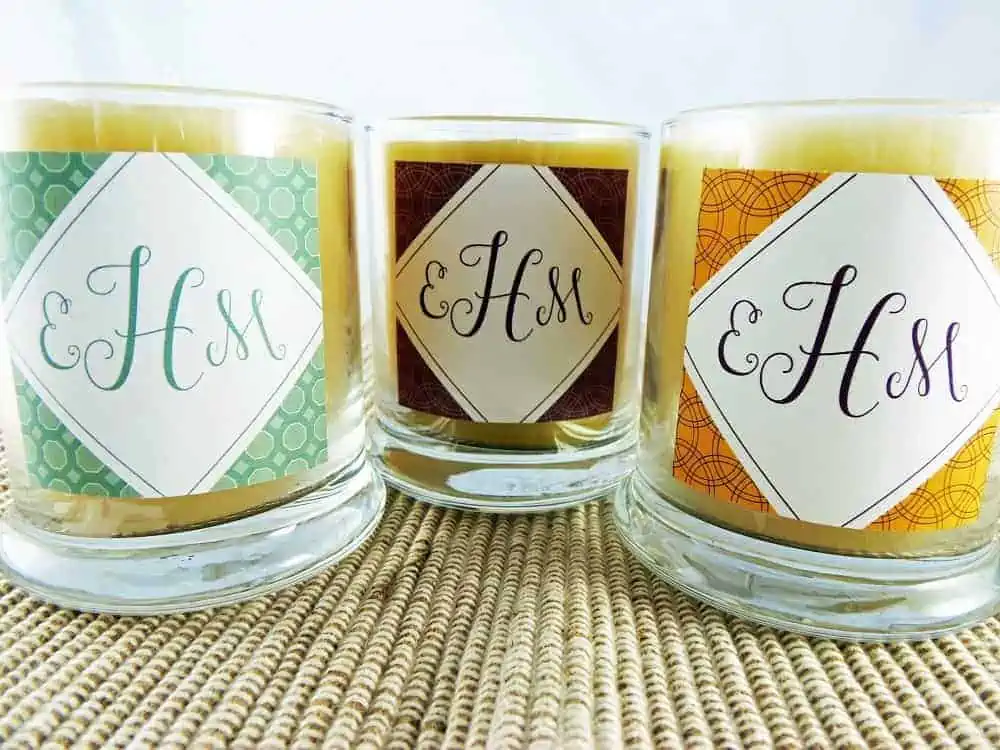 Source: My Frugal Home
15. Scalloped Sharpie Mug
Now, this is another Dollar Store Christmas gift that ends up looking cute and fancy. All you need is a plain white ceramic mug and a gold sharpie to create this fun and cute gift. You can put in some candy and chocolates before wrapping it up with clear plastic and tying it with ribbon. This is practically one of the easiest Dollar Tree Christmas crafts you can do on a budget!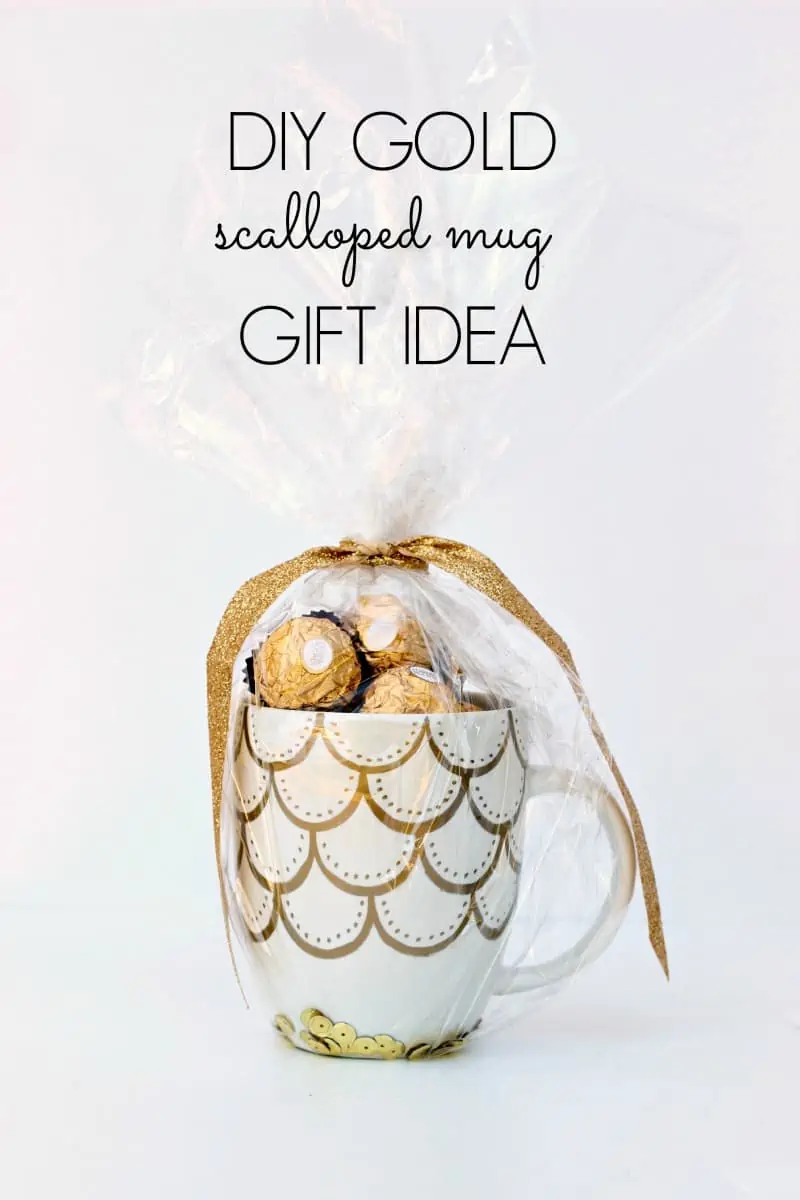 Source: Classy Clutter
16. Christmas Tea Towels
This is a super fun Dollar Store gift; kids can even help you do it. All you need are some plain tea towels, paint, and cookie cutters. Just stamp the tea towels with cookie cutters dipped in paint. It's a perfect Dollar Tree Christmas present for family, friends, and neighbors!
17. Mason Jar Lid Magnets
You can use mason jar lids to create cute-size picture frames. As these have magnets, your recipient can stick these on the fridge to hold paper pieces and bills. But these crafts are already pretty on their own, so you can use them as keepsakes as well.
Source: Unoriginal Mom
Using a tin mailbox you can buy from a Dollar Tree store, decorate it with crafting supplies to bring out a new level of awesome! All you need is some paint, paper, cardstock, ribbon, glitter, and you can put together this fantastic Christmas gift that your family and friends will love! Check how it's done here.
19. Faux Granite Coasters
This craft idea is so simple, and inexpensive but turns out cute and pretty! Faux granite coasters make great Dollar Tree Christmas gifts and are perfect to gift to just about anybody. You can easily create this gift idea home after shopping for supplies at any Dollar Tree store.
Source: It's Always Autumn
20. Chicken Wire Frame
You can put a fun twist to the generic photo frame by using chicken wire instead. Then, use clothespins to clip the photos. This wonderful Dollar Tree Christmas craft costs next to nothing, and creating it is easy too. I suggest printing a couple of pictures, art prints and inspirational quotes to go along with this holiday gift.
Source: Undomestic Mom
21. Gift Card Tree
Gift cards are some of the best gifts you can give someone, especially if you want him or her to get something that they really want. Say you've collected a couple of gift cards and are ready to give them as gifts, now you want to spice up the presentation. This holiday season, you can hand the gift cards to a mini Christmas tree so the recipient can still use the tree as a decor.
Source: The Chirping Moms
22. DIY Cutting Board Tablet Holder
This Dollar Tree Christmas gift idea is borderline genius! And the best thing is, you can re-create this and give this as a holiday gift to people you love, especially those who spend a lot of time in the kitchen, looking up recipes on their iPads.
Source: Love Grows Wild
Dollar Tree is home to all sorts of fun, cheap finds, many of which you can use to DIY thoughtful and practical holiday gifts. These gift ideas prove that you don't have to spend much money on gift-giving. With some creativity, time, and effort, you can put together wonderful gifts that your family and friends will surely love.