Are you looking for more ways to save money? Check out this list of things to buy to save money in the long run!
One of the things I've learned about frugality is that it isn't always about spending less and saving every penny you make. For me, it's more about eliminating expenses that are not aligned with your priorities and spending more on things that truly have value.
In order to master the concept of frugality, I think it is important to know how and where to spend your money. Begin by spending on things that will add value to your life and help increase your savings over time.
So, you've decided to embrace the frugal life but don't have any idea where to start? Here's my short list of things to buy to save you money in the long run.
This post contains affiliate links. This means I may earn a small commission, at NO extra cost to you, if you make a purchase through these links . Please read my Disclosure for more information.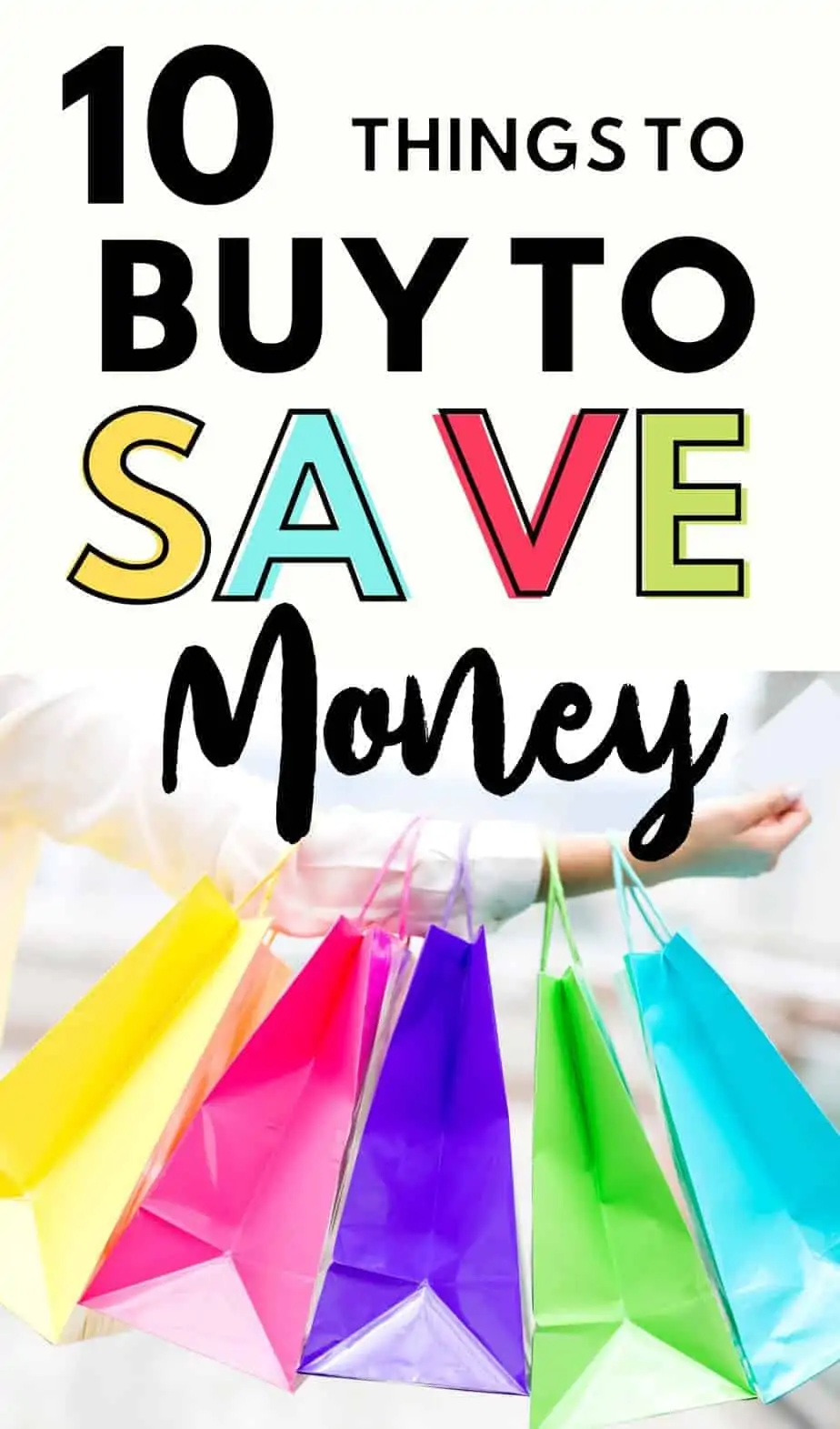 What to Buy to Save Money in the Long Run?
Instant Pot
Many of us love to eat out and it's easy to see why. Sitting down for a fancy dinner at a restaurant sounds more convenient and relaxing than spending time in the kitchen. However, while enjoying a great meal at your favorite restaurant once in a while is fine, eating out more often can create a huge dent in your budget which obviously is not good for your financial health.
If you are serious about saving a huge chunk of money on food but don't have lots of time to spend in the kitchen, an Instant Pot should be at the top of your list.
This is hands-down my favorite investment for the kitchen as it serves multiple purpose and saves me a lot of time and energy. It is a pressure cooker, rice cooker, slow cooker, yogurt maker, and warmer in one; and it prepares dishes up to 70% faster to support your busy lifestyle
I really love my Instant Pot and honestly, I regret not purchasing one sooner. It does not only allow me to cook a wide range of great meals easily, but it also allows me to cook on a budget.
Using the Pressure Cooker feature, you can turn tough, less expensive cuts of meat and other cheaper ingredients to make hearty and flavorful meals in just minutes. Simply toss all the ingredients in the Instant Pot, switch it on, and enjoy a sumptuous meal in minutes.
Related Posts:
How to Live Cheap: 35 Cheap Living Tips for Families
15 Genius Walmart Hacks to Save Money at Walmart
How to Save Money on a Low Income: 14 Things to Stop Buying to Save Money
Coffee Maker
Are you a coffee lover? If you can't function without coffee every day, invest in a good coffee maker and coffee thermos travel mug such as this one. This cute thermos travel mug enables you to enjoy your hot or cold beverages all day long wherever you are.
With these two little investments, you can skip those expensive trips to the coffee shop and put more bucks into your savings account.
Amazon Prime Membership
If you haven't already purchased an Amazon Prime membership, now would be the perfect time to finally sign up if you prefer shopping for food online. Prime members could receive cheaper groceries and 5% cash back every time they shop at the Whole Foods market. Plus, shipping is free with Amazon Prime!
In addition, you'll enjoy free movies and TV shows with your Amazon Prime membership. Try Amazon Prime 30-Day Free Trial to see if this service works for you. You can cancel anytime with no questions asked so it's absolutely risk-free.
Energy Efficient Light Bulbs
Energy is expensive so we invested in these energy-efficient light bulbs or LED lights. I think it's one of the best money-saving inventions that should be on your list of things to buy to save money.
In certain areas of the house such as the kitchen, bedroom, front entrance, and patio, we installed these LED lights that can be programmed to turn on and off at a certain time and that we can switch on and off from our phones.
That way, if we left lights on when nobody is home, we can switch them off no matter where we are, through our phones. When we are away from the house and can't come home until it gets dark, we can remotely turn on the lights for our dogs.
The bulbs are more expensive though than the conventional lights but they help us save energy and money in the long run (most especially if you constantly forget to turn off lights like me!)
Meal Prep Containers
Leftovers are treated as gold in every frugal family's house so we make sure that we store food properly using airtight containers to avoid wasting food. These containers are not only great for leftovers but are also perfect for meal prepping and keeping food such as salads or vegetables fresh for days.
I also use Ziplock freezer bags for freezer meals. I cook big batches of food and store them in the freezer to save time and money.
Advanced Power Strips
High summer electric bills can ruin a good budget plan. If your energy bills are taking a big bite out of your monthly budget, then it may be time to be more energy-conscious. Reduce your energy consumption by investing in a few advanced power strips. Electronic devices, even when turned off, are using electricity. Power strips do their job by preventing excess energy from being drained.
Important: There are many types of Advanced Power Strips to fit different people's needs. For example, if you often fall asleep when watching TV at night, an activity monitor APS can turn everything off for you. Research about the best product that suits your needs.
Water Leak Sensors*
Water leaks may sound like a minor inconvenience, but they can cause major damage to your home and possessions and lead to big-dollar repairs if not fixed right away. Therefore, water leak sensors are a wise investment. These innovative smart home devices detect water leaks so you can prevent them before they rob you of your savings.
* This is one of the frugal home items that we are still looking to buy.
Grass Trimmer
If you have a big yard and want to trim the grass yourself, a trimmer or mower is a great investment that could save you hundreds per year.
We used to trim our yard ourselves for many years, helping us save thousands. Unfortunately, now with a baby and tight schedules, we have to call for help and now realized how much we were saving in the past few years! The gardener charges us $50 per month and that's an extra expense of $600 per year!
Water Filter
We invested in a good water filtering system so we no longer have to buy bottled water. It's a hefty investment at first but it sure will help us save more money in the long run. By totally avoiding buying bottled water, you are also helping the environment!
Clothes Line or Drying Rack
Air drying clothes could help you save more than $100 a year over a dryer. However, if you don't have enough space for a clothesline or it's not allowed in your neighborhood, you can use a clothes rack instead and save the same amount.
This foldable clothes rack is a great option if you have small space.
Love this post? Pin this!
---
Want more money saving tips? Check out these popular articles!
---
I WOULD LOVE TO HEAR FROM YOU!
What are the most practical home essentials you've spent your money on? What kind of household products provide more value to your life?