Most of us make resolutions at the start of the year. We vow to lose more weight, earn and save more money, and become better people in general. But rarely do I hear people say, "I want to simplify my life this year."
It's probably because most of us live complicated lives and we just sort of gotten used with the complexities. I know how that feels because, for most of my life, it was never really that simple. Life is too demanding in all aspects – money, career, personal, family and social relationships – that simple is barely a word to describe it. I myself always find making a lengthy mental list of things that I need to accomplish and roles that I need to fulfill.
Ever since I embarked on my minimalist journey, I also took it upon myself to purge the complexities in life. I wanted to streamline my processes, spend more time on what matters, become more organized and overall live a simpler life. For me, a simpler life is life with less distractions, that is more focused and that is more fulfilling.
PIN THIS! OR follow me on Pinterest!
If you're about to embark on the same journey, here are the major starting points to consider:
1.List your Tasks for the Next Day Before Going to Bed
Mornings are such busy times for everybody. In between cooking breakfasts, preparing kids for school and cleaning the house, a lot of tasks can vanish from your mind as you go through the bustle of the day. You might forget some of the important stuff, like your baby's vaccination due today, you need to go to the PTA meeting or answer important emails or return calls. You were busy, so you thought you were productive, but it doesn't mean you were getting tasks accomplished according to priority.
Simplifying your events the next day begins with the night before. Take advantage of the peace and quiet of the night to reflect on the crucial tasks you need to accomplish tomorrow and arrange them accordingly. Not only will you sleep better knowing that you have the next day somewhat figured out, but it also reduces stress the following day.
Action tip: Buy yourself a nice planner or notebook where you can jot down your tasks and ideas. It's one of the best investments you can make for yourself to get started with organizing your tasks and staying inspired!
2.Minimize Social Media Consumption
In a world where we can so easily connect, share information and interact real-time, social media has become a primary driver in our daily lives. But could it be that we're spending way too much time on social media? Yes, as a matter of fact, we do. According to this survey conducted by Nielsen, US adults spend half of their day on social media.
Social media is a time warp. It can be easy to get too occupied scrolling other people's feeds that we forget the more important matters in real life. Not only that, but social media also subject you to unnecessary comparisons, leading to loss of confidence and insecurity.
You don't have to deactivate all your social media accounts, but it does help to unplug a couple of times of day or week to enjoy what's really in front of you.
Action tips:
Set a time each day when you can scroll through, read messages or send responses on your accounts. It also helps to eliminate social media use during meals, family times, vacations and dates with your partner.
Use your free time to start a new hobby or try

online side job ideas

!
3. Streamline your Finances
Finances are one of the most complicated things many of us have to deal with. But there are ways to simplify it to a certain level.
First, I believe in not owing too many credit cards. Save for one or two that helps you build credit and source of funding in case of emergency; you don't need six or seven of them. There's always the temptation to overspend to get into more debts. But if you have just one credit card, and you are very conscious of your spending, your financial life would be so much simpler.
Next, automate your finances. Have your savings automatically transferred from your payroll or checking account into your savings account. Also, consider paying your recurring bills on autopilot. It removes the stress of missing deadlines and suffering from late fees.
Finally, use cash for routine spending. Create a budget and decide how much you need per week for food, transportation, grocery, and other miscellaneous spending. Take this amount and segregate them accordingly. Not only will this trick keep you from overspending, but it also helps instill better financial discipline.
Use these FREE cash envelopes I created for you so you can get started with cash envelope budgeting. It will help you stay on budget and avoid the stressful aftermath of overspending.
Action tips:
Hide your credit cards
Pay your bills on autopilot.
Try the cash envelope budgeting
PRO TIP: Track your money. You can simply use Excel sheet to record where your money goes or write it down on a budget binder.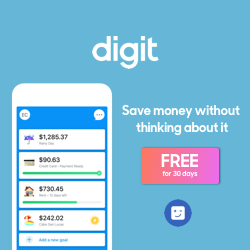 If you are comfortable using money apps, I highly recommend Digit for budgeting, tracking your expenses and boosting savings. Digit makes tracking and saving money and analyzing your expenses so easy. There is a monthly fee of $ $2.99 but you can try it FREE for 30 days to see if it works for you. Cancel anytime.
4.Simplify your Meals
In many households, what to eat can lead to a debate. How about identifying meals to cook and making the ingredients available right from your fridge or pantry? If you can take out the guesswork in meal planning, then you can become less stressed on what to feed your family.
Create a meal plan that would last you a week. Hit the shops and buy everything that you need to cook those meals. Identify days when you would be eating out, or ordering takeout, as well as devise what you can eat for snacks. The more conscious you are of your meals, the healthier your options are and the more time and money you can save.
Action Tips:
If you need help with meal planning or simply don't have time to do it, try the $5 Meal Plan ( $5 meals for the entire family). For only $5 a month, you will receive a delicious meal plan per week + a shopping list. Most meals in this meal plan only cost $2 per person or $5 per family, so it's a great tool to use if you want to save money on food, avoid eating out or stop throwing out food.
For a limited time, they offer a FREE 14-day trial through this link. You can cancel anytime with no questions asked so it is absolutely risk-free!
5.Eliminate Your Clutter
Many of us subconsciously validate our status with the material things we own. We think that it makes us good or that it impresses other people. But how many clothes have you not worn in your closet still with tags on them? How many times did you buy something because it was on sale, or because you thought it was pretty? And yet, how many times did you consider letting some things go as you acquire new ones?
I have been there and now that I no longer live a materialistic lifestyle, I realized one important thing: The more you hoard things, the more cluttered your life becomes.
You have way too many options you find it hard to decide. But if you pare down your material possessions to the most basic and essential ones, the decisions come easier.
Action tip:
Purge your home with all the extras and unused items and consider donating or selling them. Remove the attachment to things, especially those that aren't even valuable to you. Eliminating your clutter makes both your home and mind seem more organized and spacious.
6. Create a Capsule Wardrobe
I believe this is not for everyone as I know many women who can't get rid of their stuff or don't want to have less stuff. But if you always stand in front of your closet for 15 or more minutes wondering what the heck to wear, maybe it's time to downsize your closet and create a capsule wardrobe. A capsule wardrobe is basically a wardrobe that contains select pieces that can be mixed and matched to create a variety of outfits.
Contrary to popular beliefs, a capsule wardrobe doesn't have to be boring and is not a form of deprivation. In fact, the main purpose of creating one is to be able to create outfits you'll love and you'll wear without thinking too much.
7. Use a Crockpot
I think of the crockpot as one of the best inventions of all time. When life gets really busy, I just dump the ingredients into a crockpot and come home to a sumptuous meal that's ready to eat. Doesn't that sound simpler?
8. Learn to say no!
You might find this tip far from easy if you are anything like me who have difficulty saying no to requests, fearing it might hurt established relationships. But I think learning to say no is essential if you want to simplify your life. If there's any commitment (family, friends, church, hobbies, work) that's too taxing and is stressing you out, maybe it would help if you drop one of them.
9. Build an Emergency Fund.
If you've not started this, now is the time to start saving. Having an emergency fund will reduce your stress not only when an emergency comes up but also before it even happens. If you are not totally convinced why you should have an emergency fund, maybe this story might compel you to start one. It was one of my driving force to build my own emergency fund.
Related posts
How to Save $3000 in 5 Months When You Are Broke
10. Create a More Functional Kitchen.
I can't emphasize enough how creating a more functional kitchen really helped me in simplifying my life. A few months ago, I tossed out a lot of items from my kitchen, emptied a few drawers, and donated duplicate items to create my own minimalist kitchen. Creating your own minimalist kitchen can help you save time, simplify your cooking, reduce overwhelm, among many other benefits, so you can focus more on what matters.
Related Post
How to Create Your Own Minimalist Kitchen
11.Practice 1 In 1 Out Rule
The 1 In and 1 Out Rule is a very effective way of keeping your baseline from slipping out of control. This teaches you to become more mindful about new purchases. If you buy a new pair of jeans, let go of another one that you are not wearing.
12. Rethink Relationships
I've learned that clutter is not only physical. Clutter can also be toxic, pernicious relationships. I am sure you'll agree that getting rid of this clutter is the hardest struggle to overcome most especially if it involves people who have been around us for years.
I am not in the position to tell you what to do with those relationships. What I can only say is that after rethinking my relationships, I have found relationships that are meaningful and relationships that only breed negativity.
I have ditched the harmful ones and have found more time for myself , for growing other relationships and for beneficial hobbies that improve my well-being. I realized that when it comes to relationships, quality is more important than quantity. Quality relationships are those that let you grow, that are meaningful and that don't drain the vitality from your life.
FINAL THOUGHTS
It's about time that we become honest to ourselves and consider what we value the most. Life is pretty complicated as it is, but that doesn't mean you need to live with the complications. Decide to purge, reduce, eliminate and simplify things and routines and your life should begin to see a semblance of organization, peace, and harmony.
I WOULD LOVE TO HEAR FROM YOU!
Is simplifying life one of your goals this year? How are you going to simplify your life?